Each week, we bring you the latest whisky news on WhiskyCast, but a lot can happen during the week. Now, you can keep up with whisky news as it happens here on WhiskyCast.com!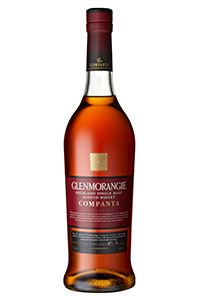 January 9, 2014 – Glenmorangie has released the fifth expression in its Private Edition range of single malts. Companta is the third in the series to use wine casks for finishing, with a combination of Burgundy wine casks from Clos de Tart and fortified wine from Côtes du Rhône.
Glenmorangie's Dr. Bill Lumsden first used wine casks in the Private Edition range with the 2010 release of Sonnalta PX (Pedro Ximenez Sherry), then in the 2012 release of Artein with Sassicaia wine casks from Tuscany. The 2011 Finealta recreated whisky from Glenmorangie's history using old batting recipes, and the 2013 release of Ealanta used virgin American Oak casks. In a news release, Lumsden cited the craftsmanship of the winemakers behind the Grand Cru Clos de Tart wines in his choice of those casks for Companta.
"As a true wine aficionado, some of my most memorable visits have been to Burgundy, where the dedication and attention to detail that goes into their craft never ceases to amaze me. The smaller vineyards of the region don't seem to worry about yields, costs, or timings. They work tirelessly, simply to produce the very best wine. In the same spirit as Glenmorangie, they stop at nothing in the pursuit of perfection."
Companta is the Scottish Gaelic word for "friendship", and the whisky is bottled at 46% ABV with no chill-filtering. It will be available at whisky specialist retailers worldwide with a recommended retail price of £69.99 ($115 USD).
Tasting notes for Glenmorangie Companta will be available soon.
Links: Glenmorangie
---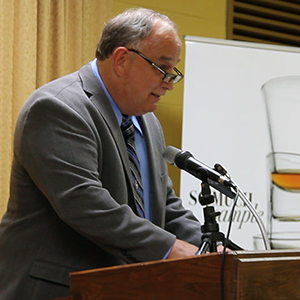 January 8, 2014 – Kentucky Distillers Association members have elected Heaven Hill's Joe Fraser as the association's Chairman for 2014. Fraser was Vice Chairman during 2013, and takes over for Rick Robinson of Wild Turkey.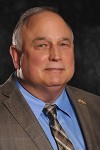 Fraser is Vice President of Operations for Heaven Hill, with oversight for its Bernheim Distillery in Louisville and the main Heaven Hill production and maturation facilities in Bardstown. He joined the company in 2011 following stints at Treasury Wine Estates and Ste. Michelle Wine Estates. In an interesting twist, Fraser and Robinson become the first two Canadian natives to serve as KDA chairmen in back-to-back years. Robinson will remain on the KDA board for 2014.
KDA members also elected Diageo North America's Andrea Wilson as Vice Chairman. She is responsible for the drinks giant's North American whiskey strategy and management. Brown-Forman Master Distiller Chris Morris was named Secretary-Treasurer. Four Roses Chief Operating Officer John Rhea and Maker's Mark Chief Operating Officer Rob Samuels will serve as board members for 2014.
Each of the Association's seven "Heritage Member" distilling companies has a seat on the board. In addition, Louisville-based Michter's has "Proof Member" status, and there are 10 craft distilleries with "Craft Distiller" member status.
---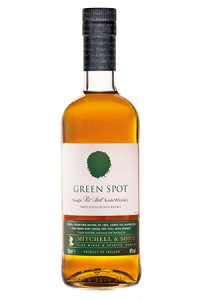 January 7, 2014 – For years, Irish whiskey fans have made it a point to pick up a bottle or two of Green Spot Irish Whiskey at the duty-free shops in Irish airports as they head home. The classic single pot still whiskey has rarely been available outside of Ireland, but Irish Distillers plans to start sending Green Spot to the US starting this spring. In addition, the previously announced North American launch of Redbreast 21 Year Old will also take place at the same time. As reported in Episode 445 of WhiskyCast, Redbreast 21 was introduced last September at Whisky Live Paris, and has been available in limited amounts in Ireland and France since then.
Green Spot was created by the Dublin-based wine and spirits merchant Mitchell & Sons, and gets its name from the spot of green paint that appeared on casks of the whiskey in Irish pubs, back when merchants bought bulk whiskey from distillers and blended it for distribution to pubs and grocers. Green Spot was one of several whiskies named for their paint spots, including Blue Spot, Red Spot, and Yellow Spot – which was revived by Irish Distillers in 2012.
Green Spot has traditionally been produced by Irish Distillers at Midleton in cooperation with Mitchell & Sons, and is part of the Single Pot Stills of Midleton range of Irish whiskeys. The range was launched in 2011, and has expanded over the last three years to include additional expressions of Powers and the new Redbreast 21, along with the Barry Crockett Legacy and Yellow Spot.
For Mark Gillespie's tasting notes on Green Spot, visit the Tasting Notes section of WhiskyCast.com. Tasting notes for Redbreast 21 will be available soon.
---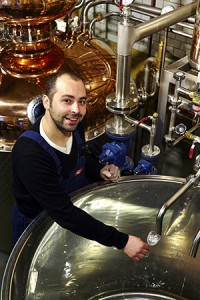 January 6, 2014 – London was once a major distilling center, though primarily focused on gin and rum production. Over the years, spirits companies moved their production out of London to more rural areas of the UK, and that heritage gradually disappeared. Now, the London Distillery Company is producing whisky in what may be the UK's smaller distillery — just 1,200 square feet. The distillery uses the UK's smaller licensed commercial whisky still, with just 650 litres of capacity, and required special approval from HM Revenue & Customs to begin operations.
Darren Rook's venture has been producing gin for the last year, but only received its final licenses to distill whisky several weeks ago. Rook considered other locations for his distillery, but in an interview with Mark Gillespie for the next episode of WhiskyCast, he cited London's own distilling tradition and the desire to create a unique identity for his whiskies:
"We could have went to Scotland, but the craft distilling movement that's coming over here…you can see it growing slowly and gradually with the smaller-scale stills, people being a little bit more artisanal…to take that out of London and put it on a farm or take it to Scotland and kind of duplicate what the Scotch industry is already doing…for me it would have felt wrong. There was the need to move the industry here in the UK forward."
In fact, going forward means going back to the past for Rook. His distillery's initial work is focusing on older strains of barley and yeast used in London's whisky distilleries a century ago and experimenting with them using modern distilling techniques. The barley is being hand-malted in a traditional style using one of the few remaining floor maltings in England, and Rook is working with longtime distillers John McDougall and Dr. Jim Swan to test different varieties to come up with a final recipe.
"We'll do fermentation trials where we move the barley and the yeast forward together over the decades, so we'll have the barley and the yeast from 1905, jump to 1910, 1920's, 1930's…you kind of see the distilling industry stop around the Second World War,  and then it picked back up again in the 1940's and 50's. We'll creep everything forward from that and hopefully, we'll get an artisan view of how whisky over the last century has changed."
Rook plans to focus on gin production to cover the costs of making whisky, and pledges that he will not sell any whisky until it is ready. "It might be that you don't see something for 12, 15 years," he said.
Links: London Distillery Company
---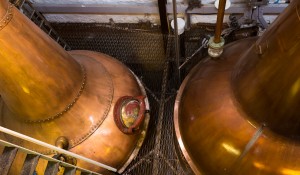 January 4, 2014 – A new report from the Scottish Government shows the value of Scotch whisky exports worldwide nearly doubled over the ten-year period from 2002 to 2012, with the value for 2012 reaching a record £4.3 billion ($7 billion USD). The volume of exports over the same period showed a 32% increase, reflecting increasing prices and exports of more premium bottlings over the period. The report is based on data from HM Revenue & Customs, which tracks all whisky production and exports for tax purposes.
In a statement, Scottish Food & Drink Minister Richard Lochhead cited the devolved government's role in promoting whisky exports as part of an overall goal of increasing Scotland's food and drinks economy.
"I'm particularly pleased that these results show a 51 per cent rise in the value of exports since 2007.  We export to 173 countries, from the United States – which has more than doubled its spend on our national drink – Brazil and China, to Bermuda, Papua New Guinea and the Vatican City. This just exemplifies how important Scotch Whisky is not only to the Scottish economy, but to our deserved reputation as a Land of Food and Drink."
The United States remains the single largest market for Scotch whisky, with the value of exports reaching £758 million ($1.24 billion USD) in 2012, the last complete year for which data is available. In 2002, the value of whisky exports to the U.S. was £302.5 million ($496.4 million USD).  The next four largest export markets based on value are France (£434 million/$712 million USD), Singapore (£339.2 million/$556.6 million USD), Spain (£195.3 million/$320.5 million USD), and Germany (£168.8 million/$277.1 million USD).
Singapore's ranking reflects the city-state's role as a major shipping hub for the Asia-Pacific region, while Spain has dropped from second place in 2002. The troubled Spanish economy has resulted in a net drop in whisky exports since 2002, when Scotland exported £256 million ($420.1 million USD) of whisky to Spain.
Links: Scottish Government
---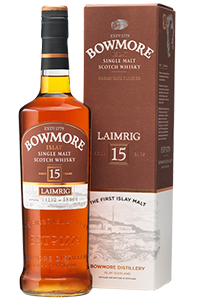 January 4, 2014 – Bowmore is continuing its recent trend of Gaelic-named whiskies with Laimrig, a 15-year-old single malt. The whisky's name comes from the Scottish Gaelic word for "pier", and honors the historic stone pier at the distillery on the shores of Loch Indall.
Laimrig was finished in Spanish Oak ex-Sherry butts, and is bottled at 53.7% ABV. 18,000 bottles are being released worldwide through whisky specialist retailers.
Links: Bowmore
---
December 23, 2013 – Charles Gordon, one of the pioneers of the Scotch whisky industry, has died at the age of 86 in New York City. Gordon was the great-grandson of William Grant, the founder of William Grant & Sons, and served as the company's life president upon his retirement as chairman in 2008. He joined the family-owned company's board as a director in 1953.
Gordon is widely credited with turning single malt Scotch into a worldwide drink when he decided to put the company's marketing muscle behind Glenfiddich 50 years ago, labeling it as a "single malt" for the first time. While some malts were exported outside Scotland previously, Glenfiddich became one of the first with a global presence and helped pave the way for the global boom in single malt sales. In a statement, his son and current company chairman Glenn Gordon praised his father's legacy:
"We are all very proud of my father's achievements in his very full and energetic lifetime, and give thanks for the legacy that he has left us with. He touched the lives of many, many people and will be sorely missed by all. In our family and our business, which my father always intertwined, he very much believed in a spirit of partnership. In his memory, we will continue to build this spirit, and with it our independent family business, for future generations".
Gordon was also responsible for overseeing construction of the company's Girvan grain whisky distillery in 1963, which became the principal source of grain whisky for the Grant's blended Scotch whiskies. He was noted for riding his bicycle around the distillery grounds to supervise the construction, and some historians note that workers responded by welding the bicycle to one of the distillery's cooling towers on the first day of production. Ironically, that day was December 25, 1963 — and Gordon passed away almost 50 years later to the day. William Grant & Sons marked the 50th anniversary of Girvan's commissioning this year with the first official distillery bottling of Girvan single grain whisky, and plans to release several more expressions in 2014.
A personal note to show the esteem his employees had for him…several years ago, I had asked a William Grant & Sons executive in New York City to help me arrange an interview with Charles Gordon. While we were discussing the idea and Mr. Gordon's likely reticence, he told me Mr. Gordon would probably want to know my questions in advance. As a longtime journalist, I told him that I never give questions in advance…even when I interviewed the President of the United States in 1992. He responded "But Charlie is far more important than the President!" Regrettably, we never got a chance to do the interview.
Our condolences go out to the Gordon family and everyone at William Grant & Sons.
Links: William Grant & Sons
---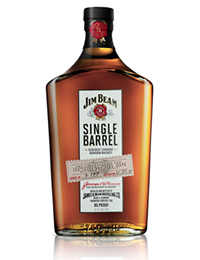 December 18, 2013 – Jim Beam has a lot of different Bourbon variations, but there's always been one thing missing from the lineup…until now. Starting in March, there will be a single barrel version of Jim Beam available for the first time. The launch follows on the success of Knob Creek's single barrel version introduced several years ago.
Jim Beam Single Barrel will be bottled at 47.5% ABV (95 Proof), and carry a recommended retail price of $34.99 (750ml). In an interview with WhiskyCast's Mark Gillespie, Beam's Fred Noe said the single barrel version will be aged longer — between 5 and 7 years, and bottled at a higher proof than the regular Jim Beam White Bourbon.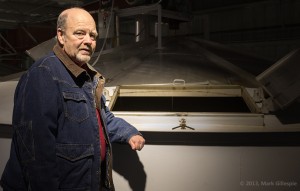 "We're picking barrels from the outer edges of the rack house," Noe said. "The regular Jim Beam, we do a vertical cross-section from high, middle, and low-storage barrels…when we do these single barrel selections, we're picking barrels from higher storage areas and lower, then bottling them from those areas. You're getting some variation, and that's the key, you know, getting a little bit of variation with Single Barrel."
In addition, visitors to the Jim Beam American Stillhouse in Clermont, Kentucky will be able to hand-fill their own bottle starting in February, with sales of full barrels expected to begin by the end of 2014. Noe said barrel customers will be able to sample and select their own barrel, which will be bottled for them at the distillery. The Stillhouse has offered hand-bottling of Knob Creek for almost a year, but this will be the first time that visitors have been able to fill a bottle of Jim Beam at the distillery.
Links: Jim Beam
---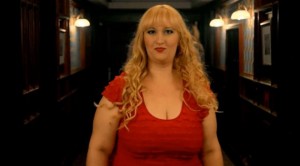 December 17, 2013 – Just a week after the Dewar's "Meet The Baron" online video captured the attention of social media users and sparked a grassroots protest that led to the ad being pulled off the Internet, the U.S. spirits industry's leading trade organization has ruled on a complaint over the ad. The Distilled Spirits Council's Code Review Board reviewed the ad on Monday and ruled that it violates the body's Code of Responsible Practices, specifically a section banning the use of sexist images or content:
Beverage alcohol advertising and marketing materials should not degrade the image, form, or status of women, men, or of any ethnic, minority, sexually-oriented, religious, or other group.
"Meet the Baron" was produced for Dewar's by the Montreal-based Sid Lee ad agency, and shows the suave, charismatic "Baron" helping an ordinary man through a series of challenging situations, including one where a large blonde woman approaches him at a bar and a second showing the duo with a group of "Swedish bikini models."
Canadian whisky blogger Johanne McInnis filed the complaint with DISCUS, even though Dewar's and its parent company Bacardi removed the ad from YouTube and other web sites on Wednesday (December 11).  McInnis provided WhiskyCast with a copy of the email she received Tuesday from DISCUS staff member Lynne Omlie:
Dear Ms. McInnis:

Once again, thank you for using the Code Review Board process.  The Board convened yesterday to deliberate upon your complaint regarding the "Meet the Baron" advertisement and found that video in violation of the Responsible Content Provision No. 24 of the DISCUS Code of Responsible Practices for Beverage Alcohol Advertising and Marketing.  As you are aware, the advertiser already had removed the video from the digital medium where it was posted.  If you have any questions concerning the Code Review Board's action and/or otherwise, please do not hesitate to call.

Best regards,
Lynne
After withdrawing the video, Bacardi and Dewar's issued a statement describing the "Baron" video as "representing a camaraderie that is important to our target consumer," and while not apologizing for the ad, acknowledged that not everyone might agree with it. After our original story on the DISCUS Board's ruling Wednesday evening, Dewar's and Bacardi issued the following statement through their PR firm:
Bacardi U.S.A., Inc. is proud to be a longstanding member of Distilled Spirits Council of the United States ("DISCUS"), the self-governing body for the liquor industry that helps brands like DEWAR'S maintain responsibility in its advertising and marketing practices.  On December 16th, the DISCUS Code Review Board reviewed our DEWAR'S 'Meet the Baron' online video and found it to be in violation of the DISCUS Code.

We value our consumers feedback, whether it's critical or complimentary and we consistently review feedback received from our consumers.  Due to our internal review, we had already removed 'Meet the Baron' from our YouTube page prior to the DISCUS Code Review Board's decision.  While we strive to be inclusive of many demographics, we have a wide array of consumers who respond to a variety of unique and focused marketing messages, in different ways. As the world's most awarded blended Scotch whisky, DEWAR'S embraces its responsibility to both its consumers, the DISCUS Code and to the industry.
The DISCUS Code Review Board is made up of spirits industry executives, and self-polices the industry with the backing of federal regulators. Its sanctioning authority is limited to asking that an ad be revised or withdrawn, which can cost a company tens or hundreds of thousands of dollars in production costs and cancelled advertising orders. DISCUS spokesman Frank Coleman told WhiskyCast in an interview last week that the Board has had 100% compliance with rulings from the group's member companies, with significant compliance from non-member companies. This is the board's second ruling of the year, and the first for a whisky ad since Wild Turkey's "Give 'Em The Bird" ads in 2011.
Links: DISCUS | Dewar's | Bacardi | Sid Lee
---
December 17, 2013 – The Macallan brags about its "Six Pillars" of quality, and has now released the fifth of six "Six Pillars" expressions in conjunction with Lalique. The latest in the series is "The Spiritual Home", a 62-year-old Macallan distilled in 1950, matured in American Oak sherry casks, and bottled at 53.1% ABV in an exclusive Lalique crystal decanter. It is named after the Easter Elchies mansion on the grounds of the Speyside distillery, which is said to be The Macallan's spiritual home.
Since 2005, The Macallan has released 50, 55, 57, and 60-year-old single malts in bespoke Lalique crystal decanters honoring one of the "Six Pillars". The bottlings have been highly sought by collectors, and the latest release carries a recommended retail price of ¢16,000 ($26,000 USD) in the UK, where 400 decanters will be available through whisky specialist retailers. There has been no word on how many decanters will be exported to other key markets around the world, including North America and Asia.
Last month, Edrington announced plans for a £150 million expansion project at The Macallan that will include a completely new distillery adjacent to the current one, which will be mothballed for future use when the project is completed in 2017.
Links: The Macallan
---