Each week, we bring you the latest whisky news on WhiskyCast, but a lot can happen during the week. Now, you can keep up with whisky news as it happens here on WhiskyCast.com!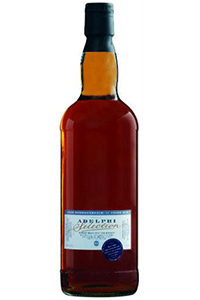 January 5, 2014 – Scotland's Adelphi Distillery Ltd. has reached a deal with Chicago-based Terlato Wines to import and market its single-cask bottlings in the US market. The two companies plan four quarterly releases each year, starting with an initial batch of four Adelphi Selection expressions: a 14-year-old Highland Park, a 21-year-old Bunnahabhain, a 23-year-old Glen Grant, and a 32-year-old BenRiach. Recommended retail prices will range from $170 to $475. No details were announced on which markets the Adelphi Selection whiskies will be available in initially.
Terlato imports and distributes wines and spirits from at least 13 countries around the world, including wines from golf legend Jack Nicklaus, Champagne from France's Bollinger, and the Terlato family's own California wines. In a news release, Adelphi's Alex Bruce described Terlato as the partner Adelphi had been searching for in the US market:
"We both have a 'no-compromises' philosophy when it comes to quality. Their success in luxury marketing is proven, and coupled with their excellent industry relationships, we are in a great position to bring Adelphi Scotch Whiskies to America's most discerning Scotch Whisky enthusiasts."
The deal does not yet include whisky from Adelphi's new Ardnamurchan Distillery on Scotland's Ardnamurchan peninsula. The distillery is expected to open later this year, but will not have any whisky ready to release for a minimum of three years, and likely much longer.
For more information on Adelphi's history, listen to Mark Gillespie's interview with Antonia Bruce of Adelphi in Episode 339 of WhiskyCast from October, 2011.
Links: Adelphi | Terlato Wines
---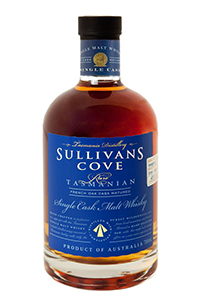 February 5, 2014 – Sullivan's Cove is Tasmania's best-selling single malt whisky, and the Tasmania Distillery has been forced to start limiting exports of its most popular expression to satisfy domestic demand. Sullivan's Cove French Oak was named Best Australian Whisky in Whisky Magazine's 2013 World Whisky Awards, and has also received numerous other awards in international competitions.
In a news release, Master Distiller Patrick Maguire said the decision to limit exports will ensure availability of the French Oak expression for the next five years.
"The industry has come a very long way over the past few years and this is exactly the situation that we hoped we would be in one day, we just didn't expect it to happen this soon. It is a great problem to have and we are making all efforts to ensure that sufficient stock remains available for our Australian customers."
Domestic sales now account for 90% of Sullivan's Cove sales, up from 40% four years ago as Australians embrace locally-produced whiskies.
Links: Sullivan's Cove
---
February 4, 2014 – Global demand for Bourbon and Tennesee Whiskey helped push US spirits exports to a new record during 2013, with total projected exports of more than $1.52 billion dollars, according to a report released today in New York City by the Distilled Spirits Council of the United States. The report is based on US Commerce Department export data, and shows overall US whisky exports broke the billion-dollar mark for the first time with a 5% increase over 2012 on total export sales of $1.1 billion.
"It's not the biggest industry in the United States, but it's nice to see that we're catching up with the other exports," DISCUS Chief Executive Officer Adm. Peter Cressy told reporters and analysts in a briefing at the New York Yacht Club. In addition, distilled spirits sales continued to grow in the domestic market, with a market share of 34.7% — up from 34.3% in 2012 and a total of 6% since 2000. Key factors in the growth on both fronts are being seen as product innovation, the whisky renaissance, and a growing middle class worldwide, according to Christine LoCascio, DISCUS Senior Vice President for International Trade. "There is a genuine affection for 'Brand America' as a symbol of quality and taste."
The industry trend toward premiumization is also receiving credit for the growth in US spirit sales, along with new trade agreements that have opened up emerging markets and lowered spirits tariffs in other markets. Whiskies account for 70% of US spirits exports, and Canada remains the largest export market with projected sales of $212.1 million in 2013. The UK, Australia, Germany, and France round out the top five export markets, followed by Japan, Spain, The Netherlands, Mexico, and Italy. Six of the top ten export markets are members of the European Union, and DISCUS officials noted that US spirits exports to the EU have tripled since tariffs were eliminated on distilled spirits in 1994. The EU accounts for 45% of all US spirits exports.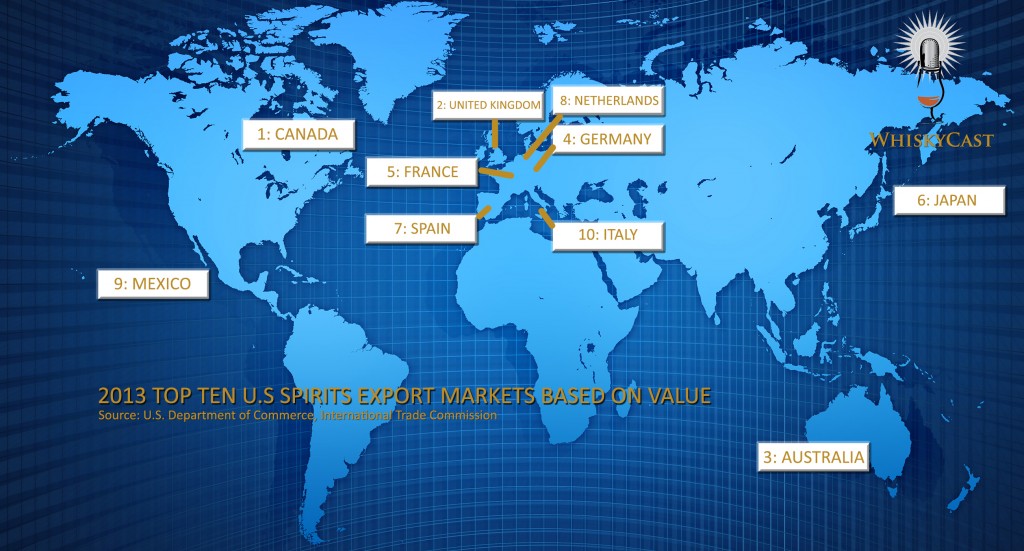 On the domestic front, whisky sales jumped 6.2% during 2013, with sales of more than 52 million 9-liter cases during the year, and accounts for 80% of the industry's volume growth. Irish Whiskey led the percentage increases again in 2013 with 17.5 growth over 2012,  blended whiskey sales rose 14.3%, Single Malt Scotch sales gained 11.6%, and combined sales of Bourbons and Tennessee Whiskeys were up 6.8%. Falling below the average were Canadian Whisky sales (still up 2.9%), and Blended Scotch Whisky sales (up 2%). It should be noted that Blended Scotch sales amounted to 7.8 million cases in 2013, compared to 1.8 million cases of Single Malt Scotch whiskies.
DISCUS executives also cited the trend in many states to remove Prohibition-era restrictions on liquor sales, along with the rapid growth in craft distillers. 82 distillers have joined the organization as "Small Distiller Affiliate Members", and there are now more than 400 licensed craft distillers in the US.
The entire DISCUS briefing can be heard here:
---
January 31, 2014 – It's become a ritual when flying into the US…clear passport control, claim your bags, and then try to cram that bottle of whisky from the duty-free shop inside your suitcase before re-checking it for your connecting flight and a visit to the security checkpoint. That changes starting today, as the Transportation Security Administration is changing its rules for carry-on liquids to allow for duty-free alcohol purchases…in most cases.
According to CNN and the TSA's web site, passengers flying into the US from another country will be allowed to carry liquids in bottles larger than 100ml, as long as the bottle is inside the sealed, tamper-resistant bag used for travel retail purchases and can be screened at a security checkpoint. Whiskies being carried through a security checkpoint will be screened using the same scanners that are used for medicines in bottles larger than three ounces.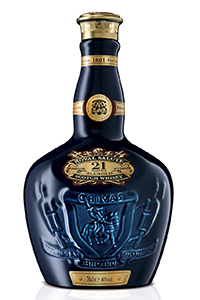 The change is not universal, though. TSA officers must be able to see the liquid inside the bottle as part of the screening process, which may force some travelers to either put a bottle into a checked bag or give up the bottle. The TSA specifically lists ceramic decanters such as those used for the Royal Salute blended Scotch whiskies (pictured), along with opaque and metallic bottles and warns that other containers may not be able to be screened. While not specifically addressed, that suggests that canisters and boxes that cover the entire bottle could be rejected at US security checkpoints. One suggestion — ask that the bottle be removed from its packaging and placed in the sealed bag separately with the packaging.
There is no change in the restrictions for domestic passengers within the US, with liquids restricted to containers smaller than 3.4 ounces (100ml).
---
January 31, 2014 – Here are some of the headlines in this week's whisky industry news:
LVMH has named Marc Hoellinger the full-time CEO of The Glenmorangie Company effective February 1. Hoellinger has been the acting CEO and President since September, when Paul Skipworth took a leave of absence for personal reasons. Hoellinger has also been serving as the director of marketing strategy for Moet Hennessy's wines and spirits, where he has been based in Paris since 2011. Hoellinger was previously Glenmorangie's director of international marketing and communications, and will now move to the company's downtown Edinburgh headquarters in The Cube. Skipworth will stay with Moet Hennessy as a senior vice president for strategy.
Lagging sales in China and other developing whisky markets is hurting the bottom line for Diageo. The world's largest spirits company reported a 1.8% increase in global sales for the first half of the fiscal year Thursday, after posting a 2.2% gain during the first quarter. Chief Financial Officer Deirdre Mahlan told analysts she expects sales to rise in the second half of the year, but declined to predict by how much. The company's sales in China fell 22% over the previous year, largely because of Chinese crackdowns on gifting and personal spending by government officials. Sales also fell in other Asian nations, most of Africa with the exception of South Africa, and slightly in Europe on weak economies in Ireland and Southern Europe. North American sales gained about 5%.
Diageo CEO Ivan Menezes is pledging $200 million in annual savings from budget cuts to be implemented between now and 2017, as he puts a "flatter" management structure into place. He also refused to rule out additional acquisitions, and told reporters that the company will look at acquiring global brands as they become available. However, most of the remaining large global brand owners, such as Brown-Forman, are family-controlled, which makes acquisitions difficult to accomplish. He also addressed September's Scottish independence referendum for the first time, urging both the Scottish and UK governments to avoid any major policy changes that could add any burdens to the Scotch whisky business. Diageo depends on Scotch whisky sales for about 30% of its annual sales.
LVMH reported a 9% gain in profits from its wine and spirits units for the 2013 calendar year. CEO Bernard Arnault cited consistent sales growth in Asia and the US, while European sales grew in what he described as a "challenging economic environment."
San Antonio, Texas-based Ranger Creek Brewing & Distilling will sell its whiskies outside of Texas for the first time when the Small Caliber series goes on sale in Nashville, Tennessee starting February 7. Ranger Creek head distiller T.J. Miller is an alumnus of Nashville's Vanderbilt University, and in a news release, Miller cited the city's strong support for artisanal distilleries as one of the key reasons for entering the market.
Beam plans to build a new 600,000 square foot distribution center in Franklin County, Kentucky, with construction to begin by the end of February. The new facility will handle distribution and logistics for distilled spirits bottled at Beam's bottling plant in nearby Frankfort, and is expected to create 60 full-time jobs. The center will be managed by a logistics company to be named later this year.
The Spencerfield Spirit Company is releasing a new blended malt Scotch whisky for sale in the UK. The Feathery is named for one of the earliest golf ball designs — a leather pouch stuffed with feathers. The whisky is blended from malts matured in sherry casks, and bottled at 40% ABV with no age statement. Pricing information was not made available.
Links: Glenmorangie | LVMH | Diageo | Ranger Creek | Beam | Spencerfield Spirit Company
---
January 31, 2014 – Thor was the warrior, Loki the trickster. Now, Highland Park is expanding its Valhalla Collection of single malts with Freya, named after the Norse goddess of love.  The 15-year-old single malt from Orkney will be released on February 7, with a recommended retail price of £150 ($247 USD).
Freya is the third of four whiskies to be released in the Valhalla Collection, and is bottled at 51.2% ABV. Highland Park global controller Gerry Tosh described the whisky in a news release as capturing Freya's personality as told in Nordic legends.
"Freya is the only female to feature in The Valhalla Collection and being a serene, spiritual and giving goddess, she brings a fresh allure and depth to the lineup.  Her beauty and majesty are said to make her utterly captivating and I think people might feel the same about this smooth and classy single malt.  It is unmistakably Highland Park, but offers a rich, full burst of flavour that reflects this Warrior God's mesmeric aura and feisty dominant side."
Tasting notes for Highland Park Freya will be available soon at WhiskyCast.com.
Links: Highland Park
---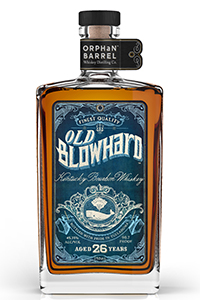 January 30, 2014 – Diageo's North American unit is releasing more information about the upcoming launch of its Orphan Barrel line of whiskies, following an unscheduled early announcement by Diageo CEO Ivan Menezes during a November analyst meeting in London. As previously reported, Barterhouse Whiskey and Old Blowhard Whiskey will be available in limited amounts starting in March. The two Bourbons are currently being bottled at Diageo's George Dickel Distillery in Tullahoma, Tennessee.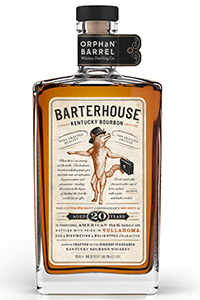 Barterhouse is a 20-year-old Kentucky Bourbon, and is said to have been "discovered in old warehouses" at the company's mothballed Stitzel-Weller Distillery in Louisville. It is being bottled at 45.1% ABV (90.2 proof), and is expected to retail for around $75 USD per 750ml bottle. Old Blowhard is a 26-year-old Kentucky Bourbon also said to have been "found" at Stitzel-Weller, and will be bottled at 45.35% ABV (90.7 proof) with a recommended retail price of $150 per 750ml bottle.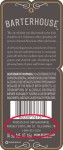 The language Diageo is using in its news releases and labeling would indicate that the whiskies were not actually distilled at Stitzel-Weller, which closed in 1991. The company continues to use Stitzel-Weller's maturation warehouses for casks destined for Bulleit Bourbon and other whiskies, and there appear to be no remaining casks of Stitzel-Weller's own spirit available. Diageo has not identified the source for either Bourbon, and is bottling them under the "Orphan Barrel Whiskey Distilling Company" label using the term "Produced By", which is one of the legal terms a whisky producer can use when bottling whiskies that it did not actually distill. Note that a distiller can also legally use the term "Produced By," however, the demand from Bourbon connoisseurs for any whiskey distilled at Stitzel-Weller would clearly justify usage of that link on the labeling (and a significantly higher price), were the whiskey in Old Blowhard actually from Stitzel-Weller. It is known that the whiskey for both brands came from a distillery in Kentucky, since they are both labeled as "Kentucky Bourbon" — which means the whiskey was distilled and matured entirely within the Commonwealth of Kentucky.
As Menezes said during the November analyst meeting, Diageo plans to use the Orphan Barrel label for rare and "forgotten" whiskies from around the world. The company has hinted at future releases under the Orphan Barrel brand, and there have been reports of a third Bourbon to be called "Rhetoric." However, a search of the Treasury Department's Tax & Trade Bureau label approval web site shows no applications for a Bourbon under that name.
This story will be updated as more details become available.
Links: Diageo
---
January 29, 2014 – The inaugural Kentucky Bourbon Affair scheduled for May 14-18 in the Louisville area has sold out all 50 of its "Golden Tickets" at $1,350 each, and tickets for single events will go on sale sooner than originally planned. Tickets for each of the eight distillery experiences, opening and closing ceremonies, and evening events will be available starting Friday, January 31. The event was created to honor the 50th anniversary of the 1964 Congressional resolution that declared Bourbon as "America's Native Spirit."
"We thought that our Bourbon fans would be very passionate about this event, but we have been politely overwhelmed," Kentucky Distillers Association President Eric Gregory told WhiskyCast's Mark Gillespie in a telephone interview. "The 50 Golden Tickets sold out in just over a week, and we probably could have sold at least 25 more," he said. The tickets give their purchasers first choice of five of the eight distillery experiences, along with all of the other events and special gifts. Because the events will be held at eight distilleries ranging from Louisville to Lexington and south to Loretto, no one will be able to participate in more than five because of scheduling and travel time.
Single-event tickets will be priced between $100 and $250, with the highest-priced tickets going for VIP access to the closing event on May 18. Details of the evening have not been officially released, but it is expected to be held at one of Louisville's exclusive private clubs and will feature live music and high-end Bourbon tastings.
According to Gregory, the overwhelming interest in the Kentucky Bourbon Affair will likely lead to it becoming an annual event each May, but will not detract from the KDA's support for the Kentucky Bourbon Festival held each September in Bardstown. "We absolutely, positively support the Kentucky Bourbon Festival, and will continue doing so," he said. "Their events are more centered around Bardstown and things to do there…these events are really centered around the distilleries themselves."
Links: Kentucky Bourbon Affair | Kentucky Distillers Association
---
January 29, 2014 – Whiskey distilling will return to Dublin later this year, now that planning permission has been granted for the Teeling Whiskey Company's proposed distillery in Newmarket Square. Managing Director Jack Teeling told WhiskyCast's Mark Gillespie in a phone interview today that construction will begin soon, with plans to start distilling by this autumn.
"There's existing structures that we can utilise for the distillery," Teeling said. "The main thing is that it's a fully operational distillery with around 500,000 litres of triple pot still operation." The Newmarket Square site is actually the site of the old Bosby Distillery, with a former brewery across the road. It is also 5 to 10 minutes by foot to the Teeling family's original Dublin distillery on Marrowbone Lane, which opened in 1782. "Unfortunately, we couldn't find a location on that street that was suitable for what we wanted to do, but where we found, Newmarket Square, is an area with a long association with brewing and distilling," he said.
The €10 million ($13.65 million USD) project will also include a visitors center. However, Teeling said construction of the center will require demolition work that will delay the opening of the center until the spring of 2015. The distillery project is expected to create at least 50 construction jobs and 30 full-time jobs, and the announcement was hailed by Irish Jobs Minister Richard Bruton. In a news release, Bruton said the Irish government has targeted the food and drink industry for support in creating jobs with the potential to increase exports.
"Irish whiskey in particular is an area where there is rapidly-growing international demand, providing huge potential for jobs growth in Ireland. Today's announcement by Teelings that it will invest €10million in a new distillery in the Liberties with the creation of 30 new jobs and 50 temporary construction jobs is great news and a strong indication of what is possible in this area. This will bring a huge boost to the local community."
The distillery will also secure a whiskey supply for the Teeling whiskies going forward. The current Teeling cask inventory is based on casks Jack Teeling acquired in the years when his family owned the Cooley Whiskey Company before selling it to Beam at the end of 2011.  The company's whiskies are currently sold in Ireland and 18 export markets, and Teeling signed a deal with Infinium Spirits earlier this month to make its whiskies available in the US starting in April.
This weekend's episode of WhiskyCast will include more from our interview with Jack Teeling.
Links: Teeling Whiskey Company
---
January 28, 2014 – Sahara Force India, the Formula One team led by Vijay Mallya, made its 2014 pre-season testing debut today in Jerez, Spain. It was the first public display of the team's 2014 cars and livery, but there was no sign of Whyte & Mackay for the first time since Force India entered F1 in 2008. The Scotch whisky producer is owned by United Spirits, Ltd., which was owned by Mallya's UB Group until operational control of USL was sold to Diageo last year. The 2014 cars now carry logos for USL's Royal Challenge Indian whisky in the same spots where Whyte & Mackay logos previously appeared. In an email, a Force India spokesman told WhiskyCast that UB Group decided to use Royal Challenge on the team's cars this year instead of Whyte & Mackay, but did not specify the reason.
Mallya remains on the USL board of directors, and India's Supreme Court is expected to hear an appeal from USL and Diageo on Friday seeking to overturn a Karnataka High Court ruling blocking the sale by UB Holdings of approximately 7% of USL's outstanding shares to Diageo. Those shares were pledged as collateral for loans to UB Holdings and Mallya's Kingfisher Airlines, and creditors won a court ruling last month blocking the sale of those shares without their consent.
Whyte & Mackay had been featured prominently on Force India's cars from the team's debut in 2008, following Mallya's purchase of the assets of the defunct Spyker F1 team. Last year, driver Paul Di Resta was named a global brand ambassador for Whyte & Mackay. However, the Scottish driver was not retained for 2014 by Force India, and his status with Whyte & Mackay is unknown. In addition to the livery, Whyte & Mackay does not appear as one of the team's 2014 partners in the Force India press kit, though there are still Whyte & Mackay logos minimally displayed on the Force India web site. No formal announcement of the sponsorship change was made, and Whyte & Mackay executives have not responded to our request for more information.
The move is likely linked to the proposed sale of approximately 70% of Whyte & Mackay to satisfy competition concerns raised by the UK's Office of Fair Trading in November. Regulators have delayed a recommendation to block Diageo's acquisition of control over USL out of fears that adding the Whyte & Mackay portfolio to Diageo's own extensive Scotch whisky holdings would reduce competition in the UK's market for blended Scotch whisky. Diageo and USL have offered to sell all of Whyte & Mackay, except for the Dalmore and Tamnavulin malt whisky distilleries, which they want to retain to supply malt whisky for their needs in India and other export markets. While the OFT is considering Diageo's proposal, there have been various news reports out of India that the USL board is prepared to consider selling the entire Whyte & Mackay unit.
Diageo's Johnnie Walker blended Scotch whisky continues as a sponsor of the McLaren Mercedes F1 team in 2014.
Editor's note: This story was updated on January 31 with additional information from a Sahara Force India spokesman.
Links: Sahara Force India | Whyte & Mackay | United Spirits | Diageo | Royal Challenge | McLaren Formula 1
---