Each week, we bring you the latest whisky news on WhiskyCast, but a lot can happen during the week. Now, you can keep up with whisky news as it happens here on WhiskyCast.com!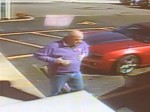 November 3, 2013 – The man shown in a surveillance camera video from a liquor store in Elizabethtown, Kentucky has come forward and met with investigators in the theft of $26,000 worth of Pappy Van Winkle whiskey.  Chris Pickett and his lawyer told Franklin County sheriff's deputies that he went into the store to ask about buying some Pappy Van Winkle Bourbon, not to sell it. Pickett was attending a wedding in South Carolina when investigators posted the video on YouTube, and arranged to meet with them when he returned to Kentucky last week.
Pickett is the principal at Bardstown High School, and while he described himself as a Bourbon collector, he told investigators he has never visited Buffalo Trace Distillery. His lawyer told the Lexington Herald-Leader that Pickett had been eating lunch at a restaurant across the street, and stopped in to see if the store had any Pappy available.
Approximately 65 cases (195 bottles) of Pappy Van Winkle's Family Reserve 20-year-old Bourbon and nine cases (27 bottles) of Pappy Van Winkle's Family Reserve 13-year-old Rye whiskey were stolen from a secured warehouse at Buffalo Trace Distillery in Frankfort. The whiskey was being prepared for shipment when the theft was discovered, and Franklin County Sheriff Pat Melton is working on the premise that the theft occurred over a period of several weeks by someone with access to the warehouse.  Melton has declined to comment on Pickett's statement, and says there are no new leads in the case.
UPDATE: On November 23, Sheriff Melton told the Lexington Herald-Leader that Pickett has been cleared as a potential suspect in the Pappy case.
Links: Old Rip Van Winkle Distillery | Buffalo Trace | Franklin County Sheriff's Department
---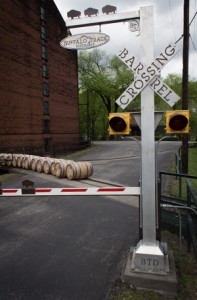 October 29, 2013 – The latest Experimental Collection release from Buffalo Trace compares a little-considered factor in the final taste of a whisky — the length of time barrel staves are allowed to dry before being made into a barrel.
15 years ago, Buffalo Trace commissioned two sets of barrels from Independent Stave Company. One set had the distillery's standard specification of 6 months of seasoning, while the second set was allowed to dry for 13 months. Both sets of barrels were filled with the standard Buffalo Trace rye-based spirit and left to mature in the same warehouse. Regular sampling from both sets showed a striking difference in flavor, according to Master Distiller Harlen Wheatley. In a news release, he said the result for the standard barrels was a Bourbon with flavors of caramel, vanilla, and oak.
"We've found the six months allows our wood to season and bring enzymes to the surface that allow the wood to produce just the right amount of tannins and wood sugars during the charring process. This allows for the alcohol to extract those flavors efficiently while aging. In this experiment, we wanted to explore the changes as the stave drying time was increased from our 'standard' six month stave drying to 13 months of stave drying time. The differences were marked, with the longer stave drying time yielding a sweet, but robust flavor."
Both sets of barrels have now been bottled as part of Buffalo Trace's Experimental Collection series, with 375ml bottles of each to be available at whisky specialist retailers starting in November at a recommended retail price of $46.35 each.
Links: Buffalo Trace
---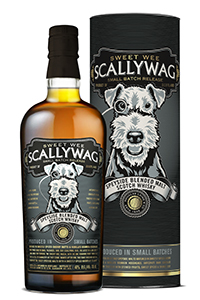 October 28, 2013 – Douglas Laing & Co. has released the second new whisky brand since the Laing Brothers went their separate ways earlier this year. Fred Laing, his daughter Cara, and their team have created a sidekick for the company's Big Peat blended malt — a Speyside blended malt known as Scallywag.
The whisky is blended exclusively from the company's stocks of Speyside malt whiskies, including casks from Macallan, Glenrothes, and Mortlach. The name, and the Fox Terrier that adorns the label, have an even closer family tie. In a news release, Fred Laing cited his family's tradition of having Fox Terriers around the house:
"From a chance sketch by a designer of our sweet, wee, rascal of a Fox Terrier, our Scallywag Malt Whisky was born! "Sweet" was the key which focused us on Speyside. Its cask selection is self-evidently heavy on the sherry background, balanced by first-fill bourbon casks – so the resulting 'Vatted' Malt comes with an excellent pedigree".
Scallywag is bottled at 46% ABV, with no chill filtering, and will be available at whisky specialist retailers starting in November.
Links: Douglas Laing & Co.
---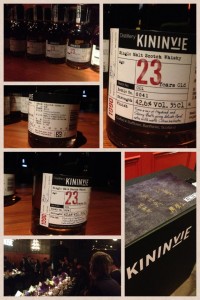 October 26, 2013 – Kininvie was the "secret distillery" at the William Grant & Sons campus in Dufftown that is home to Glenfiddich and The Balvenie. It existed as a separate stillhouse near the Balvenie's stillhouse, but shared mash tuns and washbacks with the Balvenie. The stills were also used to produce the Hazelwood-labeled single malts, most notably those honoring the late Janet Sheed Roberts, the last surviving granddaughter of William Grant.
The Kininvie stills ran only as needed to supply malt whisky for blending purposes, and there was officially never any intent to bottle Kininvie as a single malt — until now. This week, what is believed to be the first official bottling of Kininvie went on sale in Taiwan, with an estimated 7,000 bottles (375ml) of the 23-year-old whisky available at a recommended price of NTD$7,000 ($238 USD). Malt Maniac Ho-Cheng Yao reported the release on the Malt Maniacs & Friends Facebook page, along with his tasting notes:
"Brown color, the first impression is the nutty nose with slightly sulfury, obviously the sherry cask influence. The Honey and floral nose is still clear, plus lots spice and grassy nose. The back ground is malty sweet, it is especially clear when taste it, The palate is rounded and mild. Very and probably too easy to drink. Medium light body, yet lingering long. Sweet in palate makes you want to dilute some water, but it actually very drinkable if you taste straight. Very nice vatting and immediately reminds me Master Brian Kinsman's style."
In addition, samples of a cask-strength Kininvie were poured earlier this month at WhiskyFest New York during a master class with Brian Kinsman. The 23-year-old Kininvie available in Taiwan likely was distilled during the year Kininvie opened in 1990, and it's not clear whether William Grant & Sons plans wider releases of Kininvie.
Links: William Grant & Sons
---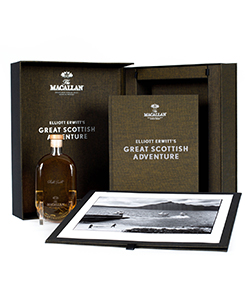 October 26, 2013 – The Macallan's latest release in its Masters of Photography Series of limited-edition bottlings features legendary photographer Elliott Erwitt's view of Scotland. Erwitt's "Great Scottish Adventure" took him around Scotland to make photos of the people (and the dogs, his favorite subjects) that make Scotland unique.  His travels included the Highlands and the Islands, along with Edinburgh and Glasgow.
Erwitt is the fourth photographer to be featured in the series, along with Rankin, Albert Watson, and Annie Leibovitz. The Macallan's whisky maker, Bob Dalgarno, selected 58 single casks for this year's release. Each cask was paired with one of Erwitt's original prints, with 35 bottle and print combinations to be available for each cask. The Elliott Erwitt Edition includes a signed and numbered 11″ x 14″ print, along with a book featuring 158 of Erwitt's images from his Scottish adventure. The book also contains a custom 375ml glass flask filled with the single cask whisky matched to the print.  Only 35 sets of each print and whisky combination will be produced, for a total of 2,030 bottles worldwide.
In a news release, Erwitt compared the art of photography and the "decisive moment" to the art of making whisky:
"Photography is an art of observation – it's about creating something extraordinary out of the ordinary. You choose a frame and then wait until the right time for something magical to come along and fill it. I realized while working on this project that this is exactly the way Bob, the Whisky Maker, works when creating The Macallan. He envisages how he wants a particular whisky to taste, selects the perfect cask to create it, and then he waits! Timing is everything,"
The recommended retail price for the Elliott Erwitt Series package is £1,500 ($2,425 USD).
Links: The Macallan
---
October 26, 2013 – The Teeling Whiskey Company has applied for planning permission to build a distillery and visitors center in the New Market Square neighborhood of southwest Dublin. The Fountain newswire reports brothers Jack and Stephen Teeling want to convert a warehouse into a distillery capable of producing up to 500,000 litres of spirit each year. The site would also include a visitors center, gift shop, and event space along with offices and laboratory space.
During a June interview on WhiskyCast, Jack Teeling said he hoped to bring his family's distilling roots back to Dublin, where his ancestors opened a distillery on Marrowbone Lane in 1782. He founded the Teeling Whiskey Company shortly after leaving Cooley, which his family controlled from its founding in 1987 until selling the company to Beam at the end of 2011.
The distillery would be Dublin's first working distillery since the closings of the Old Jameson Distillery on Bow Street and the Powers Distillery on Johns Lane in 1975 and 1976, when Irish Distillers consolidated most of its distilling at Midleton in County Cork. It is separate from the distillery project being coordinated by their father, John Teeling, to convert the former Great Northern Brewery in Dundalk into a whiskey distillery.
This story will be updated as more details are available.
Links: Teeling Whiskey Company
---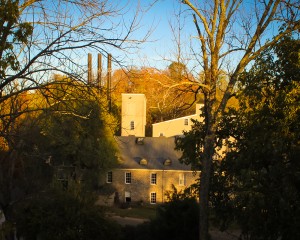 October 25, 2013 – As Brown-Forman starts work on the $35 million expansion project of its Woodford Reserve Distillery in Versailles, Kentucky, the company has announced plans for an additional expansion this fall.
While the original project will be limited to the distillery's production side, with additional stills and warehousing capacity, the new project will expand the visitors center on the hill overlooking the distillery. The center will be remodeled to include a dedicated tasting room, replacing the current tasting tables in the center's common area. There will also be updates to the center's displays and gift shop, along with expanded catering facilities to handle meetings and other events held at the visitors center.
According to Brown-Forman, around 135,000 people visited Woodford Reserve over the past 12 months. The project will cost approximately $1.6 million, and will be eligible for more than $400,000 in tourism-based tax incentives from the Commonwealth of Kentucky over the next ten years.  Work on the project will continue through the winter.
Links: Woodford Reserve
---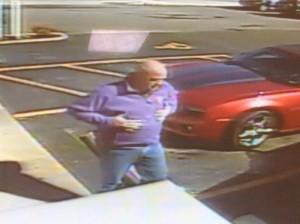 October 25, 2013 – The "Pappy Posse" may be narrowing the search for a suspect in the theft of $26,000 worth of Pappy Van Winkle's Family Reserve 20-year-old Bourbon and 13-year-old Rye whiskies from Buffalo Trace Distillery. Franklin County Sheriff Pat Melton told WhiskyCast's Mark Gillespie today that his investigators are following up on "numerous tips" received after surveillance video from a liquor store in Elizabethtown, Kentucky was posted on YouTube.
In the video from October 20, 2013 shortly before 2:00pm, a man wearing what appears to be a Bardstown High School sweatshirt walks into and out of the store. An employee told deputies that the man inquired whether the store would be interested in "a large quantity of Pappy Van Winkle." Approximately 195 bottles of the 20-year-old Bourbon and 27 bottles of the 13-year-old Rye were taken from a secured warehouse at Buffalo Trace over a period of one to two months. The theft was discovered on October 15 when Buffalo Trace workers were preparing to ship the annual release of Pappy Van Winkle whiskies to regional distributors.
Mark Gillespie's October 25 interview with Franklin County Sheriff Pat Melton

Sheriff Melton is asking anyone with information on the man wanted for questioning or with other tips on the theft to report them via the department's "Text-a-Tip" line at 502-320-3306 or send a message to investigators through the department's Facebook page. So far, no reward has been offered for information leading to an arrest and conviction in the case.
Citing the ongoing investigation, both the Van Winkle family and Buffalo Trace executives have declined requests for comment on the theft. Buffalo Trace produces the Van Winkle whiskies under contract for the Van Winkle family. The remaining Pappy Van Winkle 2013 inventory is being shipped to distributors for release.
Editor's note: This story was updated on November 3, 2013 with additional information. Please click here to read the story.
Links: Franklin County Sheriff | Old Rip Van Winkle Distillery | Buffalo Trace
---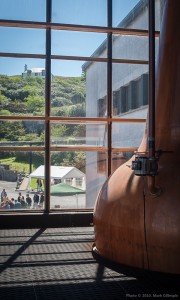 October 25, 2013 – With longtime Caol Ila distillery manager Billy Stitchell set to retire at the end of the year, Diageo has named David Wood to become the Islay distillery's new site operations manager when Stitchell steps aside after nearly 40 years at Caol Ila. Wood has been working at nearby Lagavulin Distillery, and is now training with Stitchell to learn Caol Ila's unique features.
"His background is at Lagavulin, and prior to that in whisky retailing," Diageo's Dr. Nick Morgan told WhiskyCast's Mark Gillespie in an interview. "Strangely, his career path mirrors that of Georgie Crawford (Lagavulin's current manager), who also came out of retailing into distilling, so there's a precedent for that."
Billy Stitchell is the fourth generation of his family to work at Caol Ila over the years, and the family is being honored with this year's Caol Ila expression in Diageo's annual rare malts release, the Caol Ila Unpeated Stitchell Reserve. It's one of the rare times Diageo has honored an individual distiller or family of distillers on a single malt release.
"We really felt, and by coincidence, not design, it was simply a great opportunity to acknowledge the fact that Billy has been at Caol Ila for almost 40 years," Morgan said.
"His family have been there for several generations, both at Caol Ila and other distilleries around and about there, and in these days, that's a pretty unique contribution to the industry. As we look forward, it will probably be an even more unusual occurrence, and I don't think you can let that pass without acknowledging it, even if it is sort of an exceptional thing for us to do."
The Stitchell bottling will be available at retailers during November, with a recommended retail price of £70 ($113) for the cask-strength (59.6% ABV) single malt.
Links: Caol Ila
---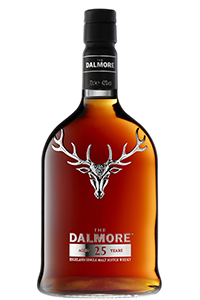 October 21, 2013 – The Dalmore has had many expressions in its permanent range over the years, but is now adding a 25-year-old expression for the first time, though in limited numbers. The Whyte & Mackay-owned distillery will release 3,000 bottles of The Dalmore 25 annually, with a recommended retail price of £600 ($970 USD).
Master Blender Richard Paterson created the new expression using a complex combination of American white oak casks, Palomino Fino Sherry casks, first-fill ex-Bourbon barrels, and Tawny Port pipes from Portugal. In a news release, Paterson explained the influence of the complex combination on the final result:
"The Dalmore 25 is matured in casks that have previously housed a very special grape which creates a sweeter style of sherry. As a result, the cask has gifted a wonderful palate of orange peel, chocolate truffles and spiced gingerbread."
The Dalmore 25 is being unveiled at this week's TFWA travel retail conference in Cannes, France. Availability has not been announced, but is likely to start with the travel retail market.
Links: The Dalmore
---