Each week, we bring you the latest whisky news on WhiskyCast, but a lot can happen during the week. Now, you can keep up with whisky news as it happens here on WhiskyCast.com!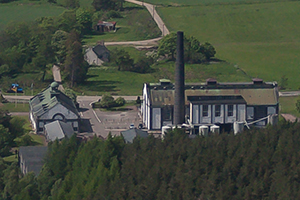 March 6, 2014 – Since it opened in 1960, Tormore Distillery has been one of Speyside's more unusual distilleries. Built originally by Schenley International's Long John division, the distillery was designed by Sir Albert Richardson as an architect's dream — with a signature clock that chimes every 15 minutes. However, the distillery along the A95 has rarely been open to the public, and only available in limited amounts as a single malt.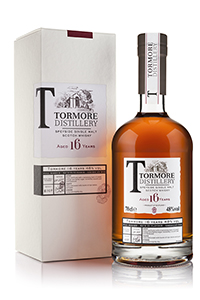 Chivas Brothers is changing that with a re-launch of Tormore, replacing the 12-year-old expression with new 14 and 16-year-old malts, a new branding campaign to highlight the distillery's heritage, and a new web site. The moves follow an expansion of production capacity in early 2012 and the appointment of Neal Corbett as master distiller that spring.
Both whiskies have been launched initially in France, and will appear in other markets during 2014. The 14-year-old was matured in American Oak casks, bottled at 43% ABV, and will sell for a recommended price of €42  ($58 USD, £35 GBP). The 16-year-old was also matured in American Oak, but is bottled without chill-filtering at 48% ABV, It will carry a recommended price of €56 ($78 USD, £46 GBP).
Both whiskies will be available in limited amounts, reflecting the rarity of Tormore as a single malt.
Links: Tormore
---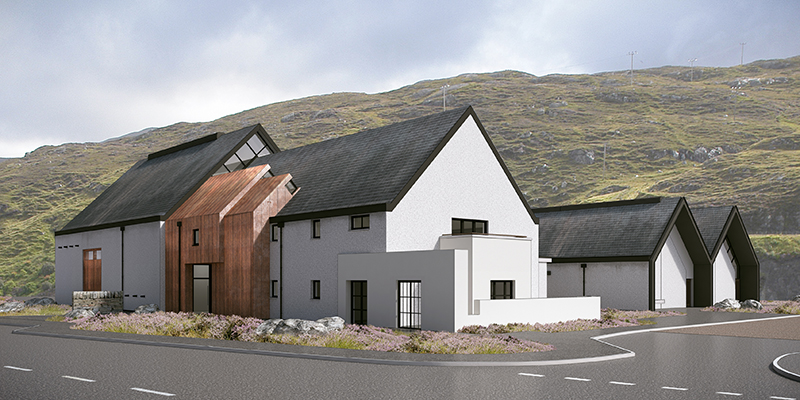 March 5, 2014 – The boom in distillery construction continues in Scotland, as work is now underway on the £10 million ($16.7 million USD) Isle of Harris Distillery in Tarbert. The distillery will be the first legal one to be built on the island in Scotland's Outer Hebrides, and is expected to open in the spring of 2015. The distillery will produce "The Hearach" single malt, using the Gaelic name for Harris residents, along with a Harris gin.
The project is being built with a combination of private and public investment and a goal of creating 20 full-time jobs on the economically distressed island. 17 private investors are taking part in the project, while the Scottish Government and Highlands & Islands Enterprise are providing a combined £2.8 million ($4.7 million USD) in economic development grants. In a news release, distillery director Simon Erlanger said the goal is to help improve the island's economy as well as make a good whisky.
"The Hearach single malt will create sustainable employment and economic growth and optimism for the people of Harris – while the spirit of Harris itself will shape the unique character of this new whisky. Harris is an elemental place. The way of life in the island has deep roots, its people take time to savour what they enjoy and we believe The Hearach single malt will reflect that."
The distillery will be capable of producing 300,000 litres of spirit each year once production begins, though the single malt will not be sold for several years while the initial production runs are maturing. Scottish law requires spirit to be matured for a minimum of three years before it can legally be called whisky.
Listen to this weekend's episode of WhiskyCast for more details on this story.
Links: Isle of Harris Distillery
---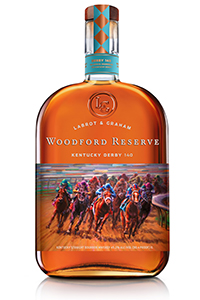 March 5, 2014 – The annual Run for the Roses is still almost two months away, but Woodford Reserve's 2014 Kentucky Derby bottle has already broken from the gate and is heading for retailers. Woodford Reserve is the official Bourbon of the Kentucky Derby, and Louisville artist David O. Schuster's painting "The 4th Turn" is featured on this year's bottle for the 140th running of the Derby on May 3.
Schuster's painting features a field of horses and jockeys rounding the final turn at Churchill Downs. In a news release, Woodford Reserve brand director Jason Kempf said the artist's local heritage made him the ideal choice for the brand's 16th Kentucky Derby bottle.
"David O. Schuster has been a fixture of the city's art community for over a decade, making him the ideal selection as the 140th Kentucky Derby bottle artist. Schuster has a true ability to craft beauty and wonder from his equine subjects, and Woodford Reserve is honored to showcase his work on this year's commemorative Derby bottle."
The 1-liter bottle will be available at retailers throughout the US this month, with a recommended retail price of $43.99.
Links: Woodford Reserve | Churchill Downs
---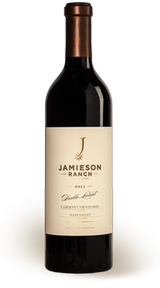 March 5, 2014 – Two whisky distillers are squaring off in court over allegations of trademark infringement by competitors.
A California winemaker has filed a lawsuit in a pre-emptive strike against Irish Distillers after the Dublin-based Pernod Ricard unit threatened legal action over the winery's "Jamieson Ranch Vineyards" brand name. According to Law360.com, Madison Vineyard Holdings LLC has asked a federal judge to declare that its Napa Valley operations do not infringe on the Irish Distillers-owned Jameson Irish Whiskey brand.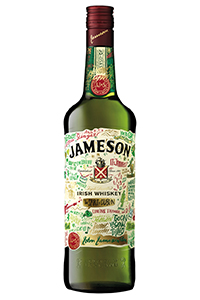 Irish Distillers succeeded in getting the US Patent and Trademark Office to delay a ruling on Madison's application for a trademark on "Jamieson" for at least 90 days, and sent a "cease-and-desist" letter to Madison last week. Irish Distillers claimed the "Jamieson" brand would cause consumer confusion and give the impression that Madison's wine's were authorized or endorsed by Jameson.  Madison's lawsuit claims there would be no confusion between the two brands, and wants the court to declare that for the record.
Meanwhile, Sazerac has filed a lawsuit in federal court against Princeton, Minnesota-based Crosby Lake Spirits Company over its "Bison Ridge" Canadian whisky. Sazerac, which owns Buffalo Trace Distillery in Kentucky, claims the Bison Ridge name and packaging are designed to confuse consumers into thinking the whiskey is from Buffalo Trace. Sazerac wants the court to order Crosby Lake to change the name and packaging for Bison Ridge, publish corrective advertising indicating that there are no links between the two brands, and pay damages to Sazerac.
In an email, Sazerac CEO Mark Brown noted that the company is fiercely protective of its trademarks. WhiskyCast has reached out to Crosby Lake for comment. This story will be updated as more details become available.
Links: Jamieson Ranch Vineyards | Irish Distillers | Sazerac/Buffalo Trace | Crosby Lake Spirits Company
---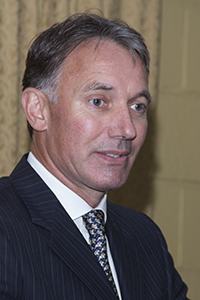 March 5, 2014 – Beam Inc. chief executive and president Matt Shattock won't be in Bill Ackman's league, but he stands to make a significant profit from Suntory's proposed $16 billion offer for the largest US-based spirits company. Ackman, who was Beam's largest shareholder through his Pershing Square hedge fund when the Suntory deal was announced on January 13, has been estimated by analysts to reap up to $700 million in profits from his stake in Beam. Beam shareholders are scheduled to vote March 25 on the offer, which is expected to close in April assuming regulatory approval in the European Union. Beam announced today that US regulators have given their approval to the deal.
Beam's 8-K disclosure form (NYSE: BEAM) filed this week with the US Securities and Exchange Commission shows Shattock, who became Beam's CEO in 2009 and guided the former Fortune Brands division through its Ackman-inspired breakup, holds stock options worth $29.4 million that would vest at the time of the sale. Shattock also owns $6.6 million in Beam shares outright, and is in line to receive around $4 million in performance-based stock awards.
Suntory has pledged that Beam's existing management team will remain in place after the acquisition, but Shattock is eligible for a "golden parachute" severance payment valued at $8.55 million if Suntory terminates his employment within two years after the deal closes.
The disclosure form shows Beam's senior executives could split nearly $110 million dollars between them in stock options, owned shares, and performance-based stock awards. Chief Financial Officer Robert Probst's package is valued at nearly $14 million, while Beam North America president Bill Newlands could net nearly $8.5 million. Both men are also eligible for "golden parachute" payments valued at around $2.6 million dollars. Albert Baladi, who heads Beam's EMEA (Europe/Middle East/Africa) unit, is eligible for a $2.2 million severance payment.
Stock options give the owner the right – but not the requirement – to buy shares at a pre-determined price that can be lower than the market price. However, Beam's filing indicates that the executive options will be converted into a cash payment equal to Suntory's offer of $83.50 per share.
---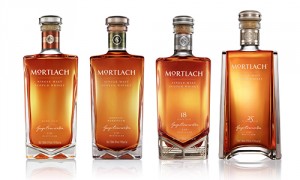 March 4, 2014– Diageo's plans to engineer Mortlach as a luxury single malt brand took a major step forward today with the unveiling of pricing and packaging for the four expressions to be released this summer.
The malts will come in bespoke bottles designed by the New York and Paris-based design firm Raison Pure. The bottles are a tribute to Scottish engineering heritage, with a range of girders and arches reminiscent of those found on the landmark Forth Bridge near Edinburgh.
In a telephone interview with WhiskyCast's Mark Gillespie, Diageo's Dr. Nick Morgan cited the Cowie family's engineering background as a key factor in the design. George Cowie founded Mortlach in 1823, and his son Alexander later took over management of the distillery. "In designing the bottles, we wanted to celebrate the Cowies, and we wanted to celebrate more broadly the great Victorian engineering tradition that's so largely writ across Scotland's history," Morgan said. "I think when you see, and your listeners see the bottles, they'll immediately understand where the designers Raison Pure have taken their inspiration from in order to produce bottles that are truly unique."

The four expressions will come in two sizes: Mortlach Rare Old, Rare Old Special Strength (travel retail exclusive), 18 and 25 year old will be sold in 500ml bottles in Europe and Asia, while the US will receive 750ml bottles. 500ml bottles are not legal for sale in the US under federal law. The initial rollout will come in late June and early July in London and Berlin, followed immediately by Singapore, Taiwan, Beijing, Shanghai, and Hong Kong. The Mortlach whiskies will arrive in New York, Chicago, and San Francisco this fall.
Pricing for the US market has not been determined yet because of the different bottle size, but Diageo has announced the recommended UK pricing for all four expressions (click the links for Mark Gillespie's tasting notes):
Mortlach Rare Old: £55
Mortlach Special Strength: £75
Mortlach 18: £180
Mortlach 25: £600
To learn more about the distillery and its unique 2.81X distillation process, listen to Episode 454 of WhiskyCast for a tour of Mortlach with distillery managers Steve McGingle and Sean Phillips, along with a discussion of the four expressions with Diageo master blender Dr. Matthew Crow.
Links: Classic Malts | Raison Pure
---
March 3, 2014 – Here's an update on new whiskies hitting the market or receiving additional distribution.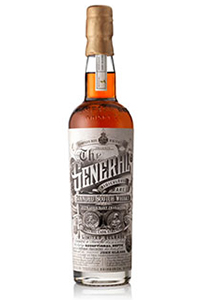 Compass Box has released The General in the US, Canada, and South Africa, following previous releases in the UK and Europe. The General is a blended Scotch whisky that came from two very old parcels of whisky blended years ago and left to marry in casks. While there's no age statement on The General, the youngest parcel of whisky is known to be at least 33 years old. Only 1,698 bottles were released worldwide.
Arran is releasing its oldest whisky yet…a 17-year-old single malt matured in ex-Sherry casks. 9,000 bottles will be available worldwide. The Arran 17 will be available at the end of March, and the distillery will release its first 18-year-old whisky in 2015. In addition, Arran plans to release the third and final edition in the Devil's Punch Bowl Trilogy series this June in time for the annual Arran Malt & Music Festival at the distillery on June 27 and 28.
Blackadder has released the latest expression in its Statement Raw Cask series of bottlings. The 30-year-old Glen Esk replaces the sold-out 40-year-old Ladyburn bottling. Blackadder is also expanding distribution of its Black Snake single malt range into Europe following its debut in April. Black Snake takes single malt casks from an undisclosed distillery and blends them into a single sherry cask for bottling using a solera-style system. As the cask is drained to two-thirds full, more whisky is added to top off the cask. The concept means some whisky from the original vatting will always remain in the cask. There are currently six different battings underway, with First Venom from Vat #2 now available along with Second Venom from Vat #1.
Links: Compass Box | Arran | Blackadder
---
March 3, 2014 – Town Branch, the Lexington distillery owned by Pearse Lyons' Alltech conglomerate, is adding a rye whiskey to its lineup. The Lexington Herald-Leader's Janet Patton reports Town Branch Rye will make its debut this month in Kentucky, Ohio, and Indiana, joining Town Branch Bourbon and the Pearse Lyons Reserve single malt.
Town Branch has been distilling small amounts of rye whiskey for the last several years at both its original distillery located inside the Lexington Brewing Company and the new Town Branch Distillery that opened across the road last year. According to the Herald-Leader, master distiller Mark Coffman is using a mashbill of 55% rye, 30% corn, and 15% malted barley to make the whiskey, which is matured for four years at warehouses in the Bardstown area.
Town Branch Rye is expected to sell for around $50 a bottle, and will be available in limited amounts. A release party is planned for March 13 in Lexington.
Links: Town Branch
---
March 3, 2014 – The UK-based private equity firm Exponent has acquired the Loch Lomond Distillery Company from the Bulloch family for an undisclosed sum. The deal includes Loch Lomond Distillery in West Dunbartonshire, Glen Scotia Distillery in Campbeltown, and the Glen Catrine bottling plant in Ayrshire, along with the single malt brands from both distilleries, the High Commissioner blended Scotch brand, and a gin brand.
Exponent will own a majority stake in the new Loch Lomond Group, with the company's new management team holding equity stakes as well. Former Imperial Tobacco executive Colin Matthews will serve as CEO, while former Diageo Chief Financial Officer Nick Rose will chair the new company. In a news release, Matthews pledged to take advantage of the growth in global demand for Scotch whisky.
"Loch Lomond, Glen Catrine and Glen Scotia have built a sound business platform with brands that perform well in the UK and in a number of international markets. The growth of the Scotch whisky industry in recent years offers a great opportunity to develop further the Loch Lomond business, to refresh and expand the product portfolio, and to move into a number of new international markets building on the excellent progress the company has already made."
Exponent's portfolio of companies includes the vegetarian food brand Quorn, Gorkana Group, and magazine publisher Immediate Media. The deal apparently did not include a non-compete clause for Sandy Bulloch, who ran the family-owned business until the sale. Bulloch is launching a new distillery project at Portvadie on Loch Fyne in Argyll, and has applied for planning permission from Argyll and Bute Council. In the meantime, Portvadie is launching two blended Scotch whiskies, Sandy's Blend and Sandy's Voyage, according to the distillery's web site.
WhiskyCast has requested interviews with Colin Matthews and Sandy Bulloch. This story will be updated as more details become available.
Links: Loch Lomond | Exponent Private Equity  | Portvadie Distillery
---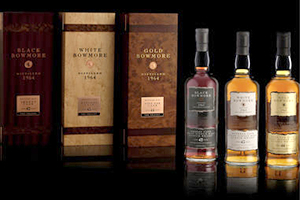 February 28, 2014 – A complete set of the 2007-2009 Bowmore Trilogy series brought the high bid at Bonhams during Wednesday's auction of rare whiskies in Edinburgh. The Black, White, and Gold Bowmores from 1964 sold for £16,250 ($27,166 USD), including premiums. The range was released over three years, starting with the 42-year-old Black Bowmore in 2007. The White Bowmore was released in 2008, and the Gold Bowmore completed the trilogy in 2009. By comparison, a single 1995 bottling of Black Bowmore from the original series of releases in the mid-90's went for £4,375 ($7,300 USD).
The runner-up was a 55-year-old Macallan Lalique decanter from the Six Pillars series that brought a winning bid of £12,500 ($20,897 USD). A 1938 Macallan bottled by Gordon & MacPhail went for £5,625 ($9,400 USD), while a Macallan Select Reserve 52-year-old distillery edition from 1946 sold for £4,750 ($7,940 USD).
The next Bonhams auction will be in New York City on April 29.
Links: Bonhams
---