Each week, we bring you the latest whisky news on WhiskyCast, but a lot can happen during the week. Now, you can keep up with whisky news as it happens here on WhiskyCast.com!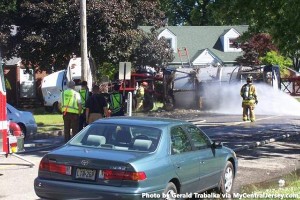 June 13, 2013 – The source and destination of the Scotch whisky being hauled in a tanker truck that flipped and caught fire in Woodbridge, New Jersey last week has been identified. The whisky in the tanker was Clan MacGregor blended Scotch being delivered to the William Grant & Sons bottling plant in nearby Edison, New Jersey, according to a company executive.
The truck overturned June 5 in a residential neighborhood, struck a parked car and a utility pole, and briefly caught fire when whisky spilled from a relief valve on top of the tank and ignited. Firefighters from the nearby Fords Fire Company in Woodbridge were on the scene within minutes, and extinguished the fire before the bulk of the whisky inside the tank could erupt. The truck's driver suffered minor injuries in the accident, and was treated at an area hospital.
Clan MacGregor is blended at the William Grant & Sons facilities in Scotland, and product destined for the U.S. market is shipped in bulk to the Grant facility in Edison for bottling. U.K. laws allow bulk exports of blended Scotch whisky for bottling outside of Scotland, but the practice is generally limited to so-called "value" brands. Most Scotch whisky producers bottle their premium brands of blended Scotch in Scotland, and U.K. laws mandate all single malt Scotch whiskies be bottled exclusively in Scotland.
Links: William Grant & Sons | Clan MacGregor
---
June 12, 2013 – Edrington Group will end its U.S. distribution agreement with Rémy Cointreau at the end of March, 2014. The two companies have worked together since 1985, when Rémy's US unit started handling distribution for Edrington's Scotch whisky brands. Rémy executives announced the decision in Paris Tuesday during a presentation to analysts on the company's annual results.
The current deal covers The Macallan and Highland Park single malt Scotch whiskies, The Famous Grouse and Cutty Sark blended Scotches, and Brugal Rum, and will not be renewed when the current contract expires on March 31, 2014. Edrington executives have not indicated their future plans for the US market, but there is strong speculation that the company will set up its own distribution unit for the world's largest Scotch whisky market (by volume). The company already has an office and small marketing staff in New York City's Chelsea neighborhood, and Just-Drinks.com cites an unidentified Rémy spokesperson as saying Edrington plans to handle its US distribution in-house.
The move was not unexpected following Rémy's own entry into the Scotch whisky market with the acquisition of Bruichladdich last year. While Edrington officials never made any public statements criticizing the deal, it is expected that Rémy will eventually take over US distribution for Bruichladdich, and continuing the agreement would have put control of Edrington's key brands in the hands of a direct competitor.
---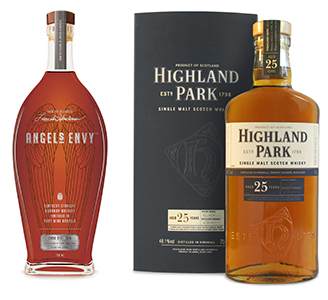 June 11, 2013 – F. Paul Pacult of the Spirit Journal has released his annual list of the world's top spirits, with whiskies dominating the top 10 and a first-ever tie for the title of "Best Spirit in the World". Angel's Envy Cask Strength Bourbon and Highland Park 25 Single Malt Scotch tied for the top spot. In a news release, Pacult described his difficulty in choosing between the two:
"I could not say that the Angel's Envy was even a hair better than the great and venerable Highland Park 25 and therefore I ended up calling a tie for the Best Spirit in the World. Clearly, however, they were the two finest expressions of distillation that I tasted within the last twelve months."
Whiskies took nine of the top ten spots counting the tie at the top. The rest of the Top Ten includes the 2012 George T. Stagg Bourbon from Buffalo Trace, Elijah Craig 20 Cask Strength Bourbon from Heaven Hill, the 30th Anniversary Edition single malt from St. George's Spirits, Longmorn 16 Single Malt from Chivas Brothers, Heaven Hill's 2012 Parker's Heritage Collection Bourbon, Bowmore's 10-year-old Dorus Mor (sold as Tempest outside the U.S.), and the Colonel E. H. Taylor Barrel Proof Bourbon from Buffalo Trace. The two non-whiskies in the top ten were the Christian Drouin 1992 Pays d'Auge Calvados from France and Brugal's Papa Andres 2013 Edition Rum from the Dominican Republic.
The complete list includes 22 American whiskies, 18 Scotch whiskies, and 2 Irish whiskies, and can be found at the Spirit Journal's web site.
---
June 11, 2013 – Speyside's smallest distillery is to undergo a major expansion, including a 50% increase in its work force. The hiring process at Gordon & MacPhail's Benromach Distillery in Forres will be easier than it sounds, though…since only one person will be needed to accomplish that 50% increase.
The distillery currently operates with a staff of two, Keith Cruickshank and Mike Ross, and a third distiller will be hired to help double production. Two new maturation warehouses will be built at the distillery, and Gordon & MacPhail will also hire Benromach's first brand manager to handle marketing responsibilities at company headquarters in Elgin. In a news release, Gordon & MacPhail managing director Michael Urquhart said the family-owned company plans a seven-figure investment in Benromach.
"It's been a huge success and we know we will need to increase production if we are to meet demand in the future. Whisky production is a business that needs vision and long term planning and this is a sign of the confidence we have in the Benromach brand."
During an interview with WhiskyCast's Mark Gillespie last month in Episode 425, Urquhart cited Benromach's 40% increase in worldwide sales during 2012, as well as projections for continued growth.  Benromach expressions are currently available in 40 countries around the world.
2013 marks the 15th anniversary of the distillery's re-opening in 1998, after a 5-year refitting and renovation project following Gordon & MacPhail's acqusition of Benromach in 1993.
---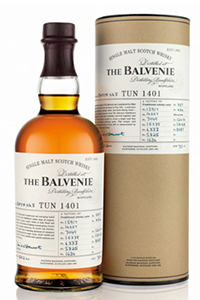 June 13, 2013 – The Balvenie will release the latest batch of Malt Master David Stewart's special Tun 1401 single malt later this week at the distillery's Whisky Fête in London this week. The event will celebrate craftspeople and their creations, and will be held from June 13-15.
Stewart creates his Tun 1401 bottlings by selecting special casks of The Balvenie from the distillery's inventory to be blended together in Tun 1401, one of the vatting tuns at the distillery. Batch #8 came from 9 American Oak casks and three European Oak ex-sherry barrels, and is being bottled at 50.2% ABV.
This batch will be released in the U.K. and European markets. Each batch is earmarked for a specific market in rotation — Batch #7 was released earlier this year in the global travel retail market, and the upcoming Batch #9 will likely be released in North America.
This story will be updated as more details become available.
---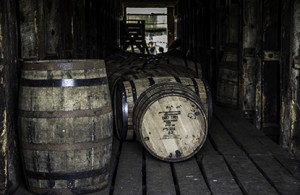 June 13, 2013 – Taxes make up a significant portion of the price of a single bottle of whiskey, but one of those taxes may be on the way out. WHAS Television in Louisville reports Kentucky's Congressional delegation is once again trying to end one of the so-called "barrel taxes" on whiskey and other distilled spirits producers.
The U.S. government (and many states) tax whisky production based on the amount of spirit that comes off the still, and again at the time the final product is bottled. However, distillers who age their product are not allowed to deduct the cost of holding that inventory while it matures, which can be as long as 18 years or more for some Bourbons. While the tax itself can be hard to explain, Kentucky Distillers Association President Eric Gregory compares it to the tax deduction for interest on home mortgages, in which a home owner can deduct the interest on one's mortgage from income taxes each year. In a phone interview, Gregory explained that the current tax requires distillers to absorb the entire cost of maturing whiskey from the time it is distilled until the time it's bottled (at which time the costs can be deducted), and puts Bourbon and other producers of aged spirits at a disadvantage to producers of vodka and other spirits that are typically not aged.
Kentucky Republican Rep. Andy Barr of Lexington and his colleagues are re-introducing the Aged Distilled Spirits Competitiveness Act. The bill was last introduced in 2011, but died in committee without receiving a vote.
This issue should not be compared with Kentucky's state "ad valorem" tax, which imposes an annual property tax on each barrel of whiskey held in a distiller's inventory. Distillers have complained for years that the tax costs them money that would be reinvested in production and jobs, while putting them at a competitive disadvantage to whiskey distillers in other areas.
---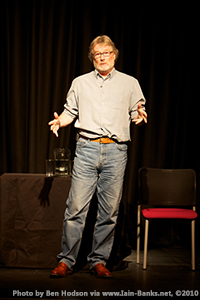 June 9, 2013 – Noted Scottish author Iain Banks has died of cancer at the age of 59. While writing both mainstream novels and science fiction (as Iain M. Banks), he was known to whisky lovers for his 2003 classic "Raw Spirit", which chronicled his travels on a mission to visit every whisky distillery in Scotland. While Banks was known during that period for his love of whisky, he chose to make some changes in his life in the years after the publication of "Raw Spirit" and cut back on his drinking, according to an account by The Guardian's Neil Gaiman.
Banks announced on his web site in April that he had been diagnosed with an advanced case of gall bladder cancer, and in keeping with his typically dark humor, noted that he had asked his partner Adele Hartley to do him "the honour of becoming his widow." In addition to the wedding, Banks also started working on what would be his final book, with the main character being a man dying of cancer while being cared for by his teenage son. "The Quarry" was scheduled for publication later this year, but his publishers sped up printing in hopes of publishing the book while Banks was still alive. Little Brown will release "The Quarry" on June 20.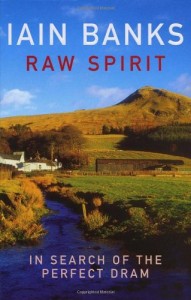 Iain Banks was born February 16, 1954 in Dunfermline, Scotland, and attended the University of Stirling. His first book, "The Wasp Factory", was published in 1984, and his later mainstream works included ""The Crow Road" and "Complicity". Banks entered science fiction in 1987 with "Consider Phlebas", adding the first letter of his middle name (Menzies) to his byline. In all, he wrote more than 20 books, and is viewed by many critics as one of Scotland's leading writers.
---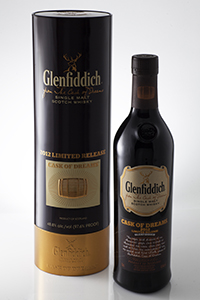 June 5, 2013 – Glenfiddich is releasing its 2013 Cask of Dreams limited edition bottling in the U.S. market, following a year-long competition during 2012 to encourage whisky lovers to share their dreams. While dreams submitted through the Glenfiddich web site have been written on the actual casks used in producing the 2013 bottling, 24 winners were selected to have their names and dreams featured on the Cask of Dreams bottle.
One lucky winner, identified only as "Trent", won $15,000 to achieve his dream of heli-skiing in Alaska's Chugach Mountain range. The Chugach range near Anchorage is home to Alyeska Resort, along with some of the most extreme skiing territory in North America, and a number of U.S. Olympic Ski Team members have come from the area, including 1994 gold and silver medalist Tommy Moe. (Editor's note: Mark skied at Alyeska once while living in Anchorage during the 90′s, but his exploits were limited to the beginner's runs.) 
The original Cask of Dreams concept was created two years ago by Glenfiddich's U.S. team to honor the legacy of William Grant, who founded Glenfiddich in 1887 with a dream of creating the "best dram in the valley". The 2013 bottling was created by Malt Master Brian Kinsman from a series of American Oak casks, then finished in virgin American Oak casks. 6,600 bottles will be available at selected U.S. retailers with a suggested price of $99.
Links: Glenfiddich
---
June 5, 2013 – George S. Grant has been named a director of J&G Grant, the family business that owns Glenfarclas Distillery in Speyside. He's the sixth generation of the family to work in the business, and the son of current J&G Grant chairman John Grant.
George joined the family business in 1997, and now serves as sales director with responsibility for managing the company's sales worldwide. He also serves as the distillery's lead brand ambassador and travels around the world to promote Glenfarclas, which has seen sales grow by more than 75% over the last four years.
---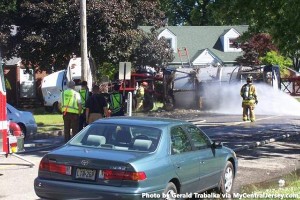 June 5, 2013 (Updated June 13)  – Police in Woodbridge, New Jersey are trying to figure out what caused a tanker truck hauling 6,000 gallons of Scotch whisky to flip and catch on fire at an intersection in a residential neighborhood today. Firefighters and a hazardous materials team responded to the accident within minutes, helped by the fact that the Fords Fire Company station was located within a block of  the accident scene. A photo of the scene on MyCentralJersey.com shows the aftermath of the crash, which set a small amount of whisky on fire when it spilled from a pressure relief valve on the top of the tank and ignited. The truck also hit a telephone pole and a parked car, which was also damaged in the fire.
The driver was working for B-Line Trucking of Newark, and suffered minor injuries in the crash. According to NJ.com, the company declined to comment on the accident.
Update: On June 18, Caspar MacRae of William Grant & Sons acknowledged in a phone interview with WhiskyCast's Mark Gillespie that the whisky in the truck was Clan MacGregor blended Scotch destined for the company's bottling facility in nearby Edison, New Jersey.
---