Each week, we bring you the latest whisky news on WhiskyCast, but a lot can happen during the week. Now, you can keep up with whisky news as it happens here on WhiskyCast.com!
February 27, 2014 – Maker's Mark will break ground next month on a $70 million expansion of the historic distillery in Loretto, Kentucky that will increase capacity by 50% with the addition of a third distillery line inside the historic stillhouse. Beam directors approved the project Wednesday, and Commonwealth officials signed off Thursday morning on changes to an existing package of tax incentives that will provide $5 million in assistance. In addition to the distillery expansion, the project will include up to nine new 50,000 barrel rickhouses that Maker's Mark has been building around the Loretto area for the last three years along with $3 million worth of infrastructure additions, including new access roads and parking lots. This project has been in the works since 2008, and follows a previous expansion of distilling capacity in 2005.
In a telephone interview with WhiskyCast's Mark Gillespie Friday, Maker's Mark President Rob Samuels said the project will allow Maker's to meet the increasing global demand for Bourbon. "We think this is the beginning of a really robust period of growth and demand for Maker's and premium Bourbon, and this expansion ties in with our existing growth plan," he said. "We do have existing supply to support in the range of growth that we've seen over the last 25 years with Maker's Mark, so when the available Bourbon from this third still comes on line, it will be a continuation of that growth trajectory." Maker's Mark sold 1.4 million cases of whisky during 2013, up nearly 11 percent from 2012. Unlike other Bourbon distillers, which are able to buy, sell, or trade whiskey stocks as needed to meet demand, every drop of Maker's Mark is distilled and bottled in Loretto using a unique wheat-based mashbill.
The distillery expansion is expected to take 18 months to complete, with the first spirit expected to come off the new still late in 2015 and be ready for bottling around six years later. The announcement comes a year after Maker's Mark raised the ire of its fans by lowering the strength of its Bourbon in the US from 45% ABV to 42% ABV in order to stretch existing supplies. Rob Samuels reversed the decision less than a week later following a social media-led protest, and the estimated 30,000 bottles of the lower-strength Maker's are now collector's items.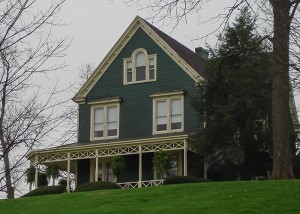 In a telephone interview with WhiskyCast's Mark Gillespie, Samuels said the distillery's visitor experience will also be changed dramatically. The current welcome center will be closed, and visitors will now arrive at the Victorian house on the hill that overlooks the distillery. A walkway down the hill will be built for visitors to reach the stillhouse, along with new parking lots at the house. Samuels said the existing access roads to the distillery have become a problem because of increasing truck, visitor, and employee traffic. New access roads and parking lots will take vehicle traffic out of the heart of the distillery campus, improving access and safety at the same time.
The decision also comes as Beam prepares for a March 25 shareholder vote on Suntory's $16 billion offer to buy the company. Suntory's interest in expanding outside its home market in Japan was the key reason for the move, and the acquisition will make Suntory the largest Bourbon producer and the third-largest spirits company worldwide.
Editor's note: This story was updated on March 1 with additional information. 
Links: Maker's Mark
---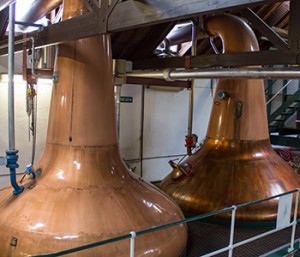 February 26, 2014 – Yet another Speyside distillery is set for expansion, as Inver House Distillers and its parent company International Beverage Holdings will invest £4 million ($6.7 million USD) to boost capacity at Speyburn Distillery in Rothes. The project will take Speyburn from 1.8 million litres a year to more than 4 million annually when it is completed at the end of 2014.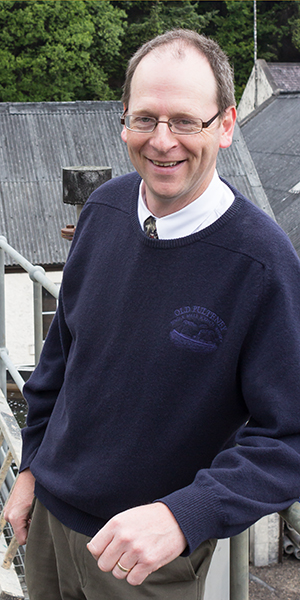 The expansion will include additional stills and production equipment, which will have an additional goal of reducing the distillery's energy use by 20% while more than doubling the production. Most of Speyburn's output is used for Inver House and the company's other blended whiskies, but its 10-year-old single malt whisky is one of the top-selling whiskies in the US market. Speyburn 25 and the no age statement Bradan Orach malts have also received praise in international competitions.
The new distilling equipment will be supplied by Forsyths of Rothes, located just down the road from the distillery. In a news release, distillery manager Bobby Anderson said the switch to newer technology will not diminish the quality of Speyburn's spirit.
"This is an exciting time for everyone here at the distillery and we are working with a great team of local companies to deliver the expansion programme, whilst retaining the great traditions and time-honoured techniques involved with crafting our whisky. It's exciting for us to know that even more people around the world will be able to enjoy a taste of Speyburn as the project progresses this year."
Speyburn sales worldwide are expected to grow by 15% this year, and Inver House managing director Graham Stevenson is optimistic about the potential for continued growth in Scotch whisky sales to emerging markets in Africa, Asia, and South America.
Links: Speyburn
---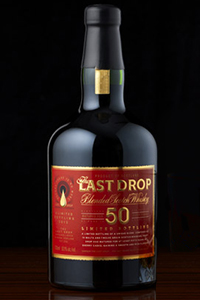 February 26, 2014 – It's been almost seven years since James Espey, Tom Jago, and Peter Fleck unleashed the original Last Drop blended Scotch from 1960 on the world. The men behind Johnnie Walker Blue Label, Chivas Regal 18, and other legendary blended Scotches pledged at the time that they would only release new whiskies when they found casks that they considered to be worthwhile. Since then, the only release from The Last Drop was a Cognac from 1950, and the original 1960 Scotch is now sought after by collectors willing to pay as much as £4,000 ($6,700) when a bottle comes on the secondary market.
Now, they are releasing a 50-year-old blended Scotch whisky from the final remaining stocks of that whisky. In an interview with WhiskyCast's Mark Gillespie, James Espey explained that they didn't bottle all of the three casks that produced the 1960.
"We decided to take a chance and put some back into new wood because we wanted to blend it up to over 50 years minimum (the oldest whisky in the original 1960 was 48 years old). It came out brilliantly…now, it was 52% alcohol in the 1960, the new whisky which had another four years in wood is well over 50. The average age is nearer to 60, and the alcohol had gone from 52 to 50.9, but magnificent."
Only 338 bottles of The Last Drop 50 Year Old will be available in the UK, US, Hong Kong, China, and a few markets to be determined, with a recommended price of £3,000 ($5,000 USD) per bottle. In the US, Infinium Spirits will be the importer, and the recommended price is expected to be in the $4,000 range.
We won't have to wait another seven years for the next release from The Last Drop, though. Tom Jago's daughter Rebecca has joined the company, and has identified a single malt Scotch whisky that will be released later this year.
Links: Last Drop Distillers | Infinium Spirits
---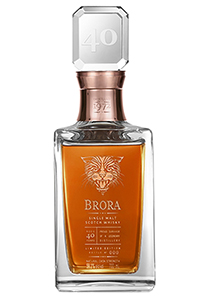 February 26, 2014 – At a recommended price of £6,995 ($11,660 USD), the Brora 40-Year-Old tops the price list for all of Diageo's single malt Scotch whiskies, and is only exceeded company-wide by a handful of rare Johnnie Walker limited editions. With just 160 bottles available, it may also be one of the smallest releases ever for the world's largest whisky maker.
The whisky for this unique release comes from 1972, considered one of the hallmark years for the now-closed distillery in the town of Brora north of Inverness in the Scottish Highlands. It was bottled at cask-strength 59.1% ABV, and is the oldest Brora expression ever released as an official distillery bottling. The Brora 40 will be available exclusively through World Duty Free's World of Whiskies travel retail shops starting April 21.
Brora was originally known as Clynelish when it opened in 1819, right up until the current Clynelish distillery was built across the road in 1968. At that time, the old distillery was closed briefly, but reopened after a few months to produce peated malt whisky for blending use and eventually renamed Brora after the town. The distillery closed permanently in 1983 during a massive shutdown of Scottish distilleries by the Distillers Company Limited.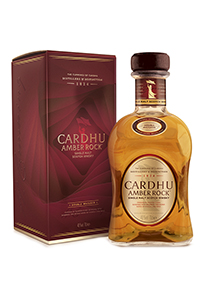 At the other end of the price spectrum, Diageo also announced plans for a new expression of Cardhu single malt to be available primarily in Europe. Cardhu Amber Rock is matured twice in toasted American Oak casks, and becomes the fourth permanent expression in the Speyside distillery's range since Cardhu 12 was re-introduced in 2005. In a news release, Diageo spokesmen explained the origin of the "Amber Rock" name as a variation on Cardhu's Gaelic translation of "black rock".
Cardhu Amber Rock will debut this spring  at whisky specialist shops in France and Belgium, and during the summer in the UK and other Western European countries with a recommended price of £41 (€50, $68.35 USD) per 70cl bottle.
Links: Classic Malts | World of Whiskies
---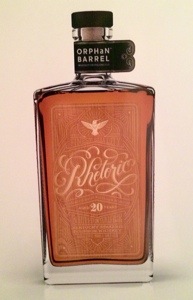 February 24, 2014 – The first two whiskies in Diageo's new Orphan Barrel range are still a few weeks away from retailers, but the third release in the series was officially announced during a tasting for media, retailers, and bartenders today in New York City. Rhetoric Kentucky Straight Bourbon is a 20-year-old whiskey from the Bernheim Distillery in Louisville, and will go on sale in May alongside Barterhouse and Old Blowhard Bourbons.
Rhetoric has a similar history to Barterhouse, also a 20-year-old whiskey from Bernheim matured in the warehouses at Stitzel-Weller Distillery. However, Diageo's Ewan Morgan told WhiskyCast's Mark Gillespie that it will have a completely different taste profile. The casks for Rhetoric were matured on a lower level of the warehouse than those used in Barterhouse, and that gives the whiskey a softer and creamier taste, according to Morgan. Rhetoric will be bottled at 45% ABV (90 proof).
Pricing for Rhetoric was not announced, and the whiskey was not poured during the New York City event. However, we have learned that Rhetoric will likely be an annual release, since there are enough casks maturing at Stitzel-Weller that will be available to use for Rhetoric as they turn 20 years old.
Mark Gillespie's tasting notes will be posted here at WhiskyCast.com when samples are made available.
Links: Diageo
---
February 22, 2014 – Mackmyra started the boom in Swedish whisky distilling when eight whisky lovers decided to build their own distillery during a hot tub party in 1998, and distilled their first spirit a year later. Since then, more than a dozen Swedish distilleries are either in production or in the planning stages, while Mackmyra's single malts were being exported to North America, Europe, and other Scandinavian countries.
However, lagging sales have caught up with the Swedish pioneer and forced the layoffs of 15 employees. The Local reports the layoffs represent about a third of Mackmyra's staff, and a company spokeswoman told WhiskyCast via email that 30 employees will keep their jobs in the wake of budget cuts. The Local's report put Mackmyra's losses for 2013 at 25 million kronor ($3.83 million USD), up from 5 million in 2012, and cited managing director Magnus Dandanell's plans to refocus the company's sales on Sweden and Germany. More details on the company's plans for Europe and North America are expected this coming week, but look for exports to be wound down in North America as existing stocks are depleted.
Mackmyra is currently working on new releases, with a finished single malt using casks from an undisclosed European wine expected to be released this spring.
This story will be updated as more details are available.
Links: Mackmyra
---
February 20, 2014 – Beam Inc. shareholders will vote March 25 on whether to accept Suntory's $16 billion offer for all outstanding shares of the largest US-based drinks company.  Shareholders will receive $83.50 per share in the deal, which has already been approved by directors of both companies. Suntory will pay $13.6 billion in cash and assume Beam's outstanding debt. Assuming all regulatory approvals are received, the deal will close in April and create the world's third-largest spirits company.
Beam's largest shareholder, activist investor William Ackman and his Pershing Square hedge fund, has already started locking in his profits from the deal. Pershing Square's latest filing with the Securities & Exchange Commission shows the hedge fund has sold 1,850,000 shares of Beam this month for an average price of $83.27 per share, bringing in around $154 million. Ackman's firm now holds about 7.1% of Beam's outstanding shares, down from 8.3% on January 31 and approximately 13% when the Suntory deal was announced on January 13. Ackman was largely responsible for pressuring Fortune Brands to break up into three separate companies in 2011, with Beam Inc. becoming a standalone spirits company.
However, one issue Beam had hoped to resolve before the sale will become Suntory's responsibility. A New York federal judge has rejected Beam's motion to dismiss a $100 million lawsuit filed last March by Sidney Frank Importing Company. The suit charges Beam broke its contract with Sidney Frank to supply bulk whiskey from Ireland's Cooley Distillery for use in Sidney Frank's Michael Collins Irish Whiskey. Beam inherited the contract when it acquired Cooley at the end of 2011, but decided to stop selling bulk whiskey to independent bottlers in order to make more whiskey available for Kilbeggan and the other former Cooley brands included in the sale.
At the time, Beam executives said they would continue to supply whiskey to customers with long-term contracts. Sidney Frank claims it had one of those contracts, but the judge rejected Beam's claim that there was no contract in place after December 31, 2007. The judge also allowed Sidney Frank's claim that Beam illegally interfered with its business by telling distributors that the Michael Collins brand would be going away.  Beam spokesmen told Law360.com that the company will continue to fight what they called a "baseless lawsuit. In a news release issued February 25, Sidney Frank CEO Lee Einsidler praised the judge's ruling.
"We are pleased by the Court's ruling although not surprised, as the facts are known and they will speak loudly for themselves.  The fact that the Court ruled completely and entirely in our favor on all three causes of action clearly shows that, given our day in Court, we will establish that our long-term contract with Cooley Distillery was in full force and effect, and that Beam wrongfully terminated the contract by unilaterally cutting off the whiskey supply at the source."
No trial date has been set.
Editor's note: The original story was updated with comment from Sidney Frank Importing Company CEO Lee Einsidler. 
Links: Beam | Suntory | Sidney Frank Importing Company
---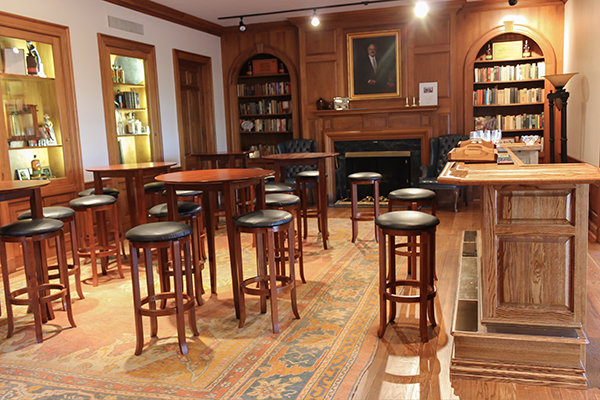 February 19, 2014 – In another sign that the world's largest spirits producer is speeding up its internal decision-making process, Diageo announced plans today to invest $2 million (USD) to renovate and expand the existing Bulleit Experience located at Louisville's Stitzel-Weller Distillery. The Bulleit brand home opened in 2011, and has been used exclusively for training events, but at the time, Bulleit founder Tom Bulleit acknowledged the potential for opening it to the public as a visitor attraction and becoming part of the Kentucky Bourbon Trail.
In a news release, Diageo executives were vague about the plans for the project, but said it will include a display on Stitzel-Weller's heritage with artifacts from the distillery, a whiskey education section, as well as "an homage to the people, land and water of Kentucky; and a celebration of the heritage, brands and people behind Diageo's award-winning collection of American whiskeys." Diageo spokeswoman Alix Dunn was unable to provide more specifics today. She indicated that company executives had just approved the overall project, and the news release was sent out because the company would be applying for building permits soon. The first phase of the project is expected to be complete in time for the Kentucky Derby in May, with the Visitor Center, a welcome center, and a gift shop to be completed this summer.
In addition to Bulleit, the new visitors center will also showcase the newly-unveiled Orphan Barrel range of whiskies. In the last episode of WhiskyCast, Diageo's Ewan Morgan referred to Orphan Barrel as one of the fastest-moving projects the company has taken on. When asked during that interview about plans for reopening Stitzel-Weller, Morgan said there was "no news to announce" at the time.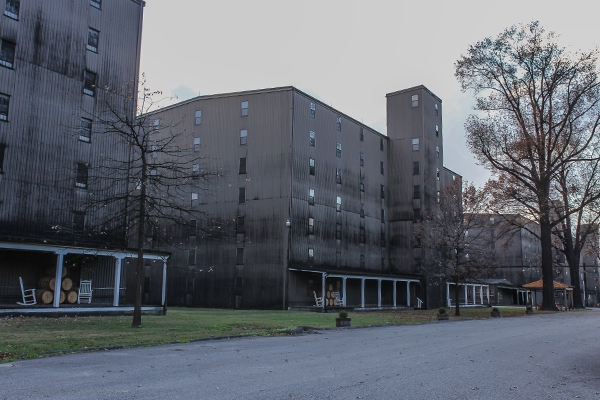 Much attention has been focused on Stitzel-Weller's future in the past year after reports that Diageo was putting together a plan to reopen the distillery, which closed in 1992 when United Distillers moved its Bourbon production from Stitzel-Weller and the old Bernheim Distillery in downtown Louisville to the current Bernheim Distillery just west of downtown. Those reports picked up steam last fall after WhiskyCast reported that Four Roses had decided to terminate its contract with Diageo to supply "white dog" spirit for Bulleit Bourbon. The contract is scheduled to expire at the end of next month, and while Diageo has not announced its plans to replace the Four Roses supply, Dunn said today that the company "intends to keep distilling Bulleit," which has become one of the fastest-growing Bourbon brands in the US. Diageo does not own an active distillery in Kentucky, and would need to contract with another in-state distiller, re-open Stitzel-Weller, or buy a distillery in order to keep branding Bulleit as a "Kentucky Straight Bourbon" when the supply of matured whiskey from Four Roses runs out several years from now.
Dunn declined to provide any guidance on when an announcement on the replacement supply for Bulleit would be made, or confirm any plans to reopen the distillery. While the distilling facilities were mothballed in 1992, the maturation warehouses have been in continuous use for maturing spirit used in Bulleit Bourbon, along with whiskies from the old and new Bernheim distilleries now being used in the Orphan Barrel range. Last year, Diageo reached an agreement with Louisville's Air Pollution Control District to resolve complaints over fungus problems in the area near the company's Miller's Lane maturation warehouses by moving whiskey from that facility to Stitzel-Weller, which was deemed in compliance with local air quality standards. The resolution of that case was seen as removing another obstacle to reviving distilling at Stitzel-Weller.
This story will be updated as more details become available.
Links: Diageo | Bulleit Bourbon
---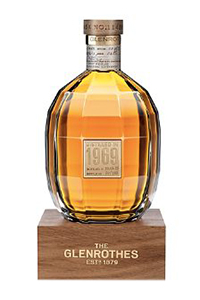 February 19, 2014 – The Glenrothes has released the second in its "Extraordinary Cask" series of single cask bottlings – a malt distilled in 1969 and matured in a refill ex-Sherry hogshead cask. In itself, the release of a single cask expression is rare for The Glenrothes. In an interview with WhiskyCast's Mark Gillespie for this coming weekend's episode, Berry Bros. & Rudd's Ronnie Cox said "we've always believed that two casks combined together will produce something greater than the sum of the parts."
Cask #11485 was filled in July of 1969, and has an unusual story. While most casks used for The Glenrothes official bottlings have remained under the distillery's control since they were filled, this cask was found in a parcel of whiskies that originally belonged to New York whisky collector and dealer Abe Rosenberg. Cox described him as a wonderful collector and connoisseur before his time of single malts.
"He had amassed quite a collection of whiskies, which in 2002 were between 27 and 45 years old, and they were then sold to a person who had purchased a company near Glasgow (believed to be Euan Shand of Duncan Taylor). In looking through the stocks, we identified a few which we thought in hopefully selecting the best of the best, would be some that help us tap the bloodline of The Glenrothes."
The cask produced just 133 bottles of whisky at a natural strength of 42.9% ABV. Berry Bros. & Rudd selected a bespoke Portugese crystal decanter, along with sterling silver trim, a leather case and Scottish Oak plinth. They will be available through Berry Bros. & Rudd in London at a price of £4,000 ($6,670 USD), along with select whisky retailers in Europe, the US, and Asia.
Update: The US importer for The Glenrothes, Anchor Distilling, announced on March 10 that the US recommended price will be $7,000 per bottle.
Links: The Glenrothes
---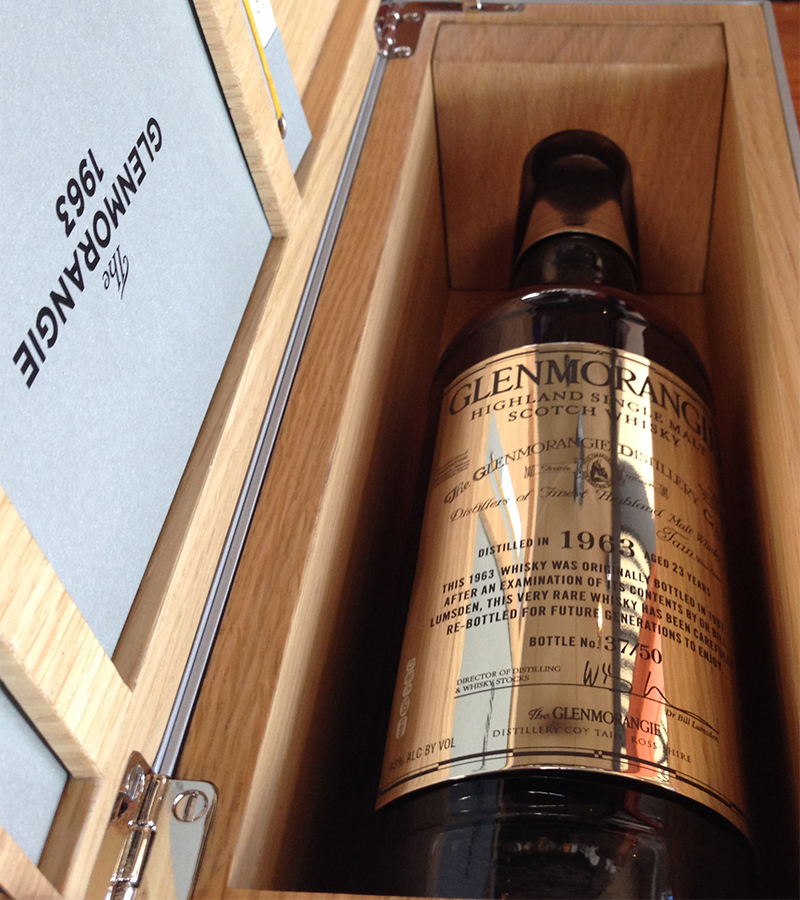 February 15, 2014 – With only 50 bottles worldwide in the re-release of Glenmorangie 1963, it's likely that most have (or will be) snapped up by private collectors. However, at least one will be available to the average whisky lover — the average whisky lover willing to spend $550 for a dram. Reserve 101, a whisky bar in downtown Houston, has acquired one of the 50 bottles, and owner Mike Raymond added it to the whisky list today following a news conference with Glenmorangie's Dr. Bill Lumsden.
"As of now, we have not heard of any other bar or restaurant in the world that has a bottle," Raymond told WhiskyCast's Mark Gillespie in a telephone interview. "It's going to be $550 for a dram, and we do ounce and a half pours, so we do a little bit heavier than the normal pour…honestly, I think that at $550 it's a steal."
Reserve 101 has Bottle #37 of the 50 that were released at the end of 2013. As previously reported here at WhiskyCast.com, the 1963 vintage was first released in 1987, but the 50 bottles were put into a corner of Glenmorangie's Broxburn warehouse in Scotland and forgotten. They were discovered when the company moved out of Broxburn a couple of years ago and refilled into new bottles with a price of $2,750 each. The 1963 vintage is believed to be one of the earliest "finished" whiskies, having been filled into Oloroso Sherry casks after their original maturation in ex-Bourbon barrels.
Raymond originally had hoped to acquire a bottle of the Glenmorangie Pride 1981 release for Reserve 101 last year, but there were no bottles available in the United States. "About that time, I started hearing rumors about the 1963," he said. His initial inquiries were met with silence, but a couple of months later, he received a phone call with details on the 1963, and a price in the same range as what he had been planning to pay for a bottle of the Pride. That didn't guarantee that Moet Hennessy USA would be able to get a bottle into Texas so that Raymond could order it. Several weeks ago, he received word that one bottle would be available in Houston and that he would get first crack at it.
"It would not surprise me that we sell it out pretty quick," Raymond said. "At an ounce and a half pour, you're only talking about 18 shots in a bottle."
Links: Reserve 101 | Glenmorangie
---