Each week, we bring you the latest whisky news on WhiskyCast, but a lot can happen during the week. Now, you can keep up with whisky news as it happens here on WhiskyCast.com!
March 14, 2014 – Call it a "Clash of the Titans" if you will, but two major distillers — and Tennessee's two largest distillery owners — are squaring off in Nashville over the definition of "Tennessee Whiskey." Last year, the General Assembly approved legislation defining legal standards for "Tennessee Whiskey" for the first time with a bill supported by Jack Daniel's owner Brown-Forman. That bill essentially required whiskies to meet the same federal standards as Bourbons in order to be called a "Tennessee Whiskey", along with requiring the use of maple charcoal filtering, and was seen as an attempt to keep moonshine producers from using the same designation for their unaged products.
This week, legislation supported by Diageo was assigned to a Tennessee Senate committee that would amend the law to allow for the use of used oak barrels and remove requirements that "Tennessee Whiskey" be matured entirely within the state of Tennessee. However, that would not change the federal requirements that whiskies be distilled and matured entirely within a single state in order to be able to call the final product a "(State name) Whiskey". Brown-Forman executives issued a news release today blasting the amendments as a Diageo-led attack on Jack Daniel's.
"They're trying to undermine the Tennessee Whiskey designation, the Tennessee Whiskey category, because they're trying to undermine Jack Daniel's," Brown-Forman spokesman Phil Lynch said during a telephone interview with WhiskyCast's Mark Gillespie.
"Jack Daniel's has made significant inroads against Scotch whisky in general and Johnnie Walker in particular in markets around the world…as evidence of that, I'll cite that in 2013, Johnnie Walker was flat over 2012 in terms of case volume and Jack Daniel's grew by five percent. Jack Daniel's along with many other American whiskies are growing rapidly, often at the expense of Scotch whisky, and so Diageo's response is to try and undermine the Tennessee Whiskey category."
Listen to the entire interview:

Diageo owns the second-largest producer of Tennessee Whiskey, the George Dickel Distillery in Tullahoma, Tennessee. Spokesman Mike DaRe acknowledged Diageo's support for the legislation during two telephone interviews, saying that "the law that was passed is anticompetitive, and kind of serves as a barrier to entry for smaller distillers." In addition, DaRe said Diageo was never given a chance to state its position on the law while it was under consideration, and claimed it was passed under false pretense. In a follow-up email, DaRe said Diageo attempted to get the bill vetoed by Gov. Bill Haslam last May, but was told to come back and propose changes during this year's legislative session. During our initial interview, DaRe said Diageo was unaware of the proposal last year as it was moving through the legislature, and (in a follow-up interview) attributed that to not having a lobbyist in Tennessee tracking alcohol-related legislation last year.
Listen to the entire interview:

DaRe denied any attempt to undermine the category, saying "our opposition to this is based on principle for the category" and that Dickel has no plans to change its production methods if the legislation is passed.
Lynch cited news reports last July that Diageo planned to move maturing whiskey stocks from the Miller's Lane maturation facility in Louisville to Tennessee as well as the Stitzel-Weller warehouses, and suggested that Diageo might try to label some of that whiskey as "Tennessee Whiskey" if it could get the law changed (notwithstanding the federal prohibition against it). Diageo's Bulleit Rye and George Dickel Rye brands use whiskey distilled at MGP-I in Lawrenceburg, Indiana, and the maturing stocks for that whiskey are matured in Diageo's warehouses along with stocks used in Seagram's 7 Crown American Whiskey.
"They called us out on this, and, you know, I think it is on principle for us about one company making something anti-competitive so that everything else has to adhere to their standard," DaRe said.
"We're pretty adamant about our stance here and not letting one brand determine the future of the category."
DaRe declined to address Lynch's accusation that the move was linked to growing sales of Jack Daniel's compared to Diageo's Scotch whiskies, or Lynch's comparison of the Tennessee move to Diageo's controversial change of Cardhu from a single malt to a "pure malt" Scotch in 2003 — which Lynch described as "screwing around with categories previously."
The bill's Senate sponsor, Sen. Mark Green, said in an email Sunday (March 16) that the intent is to help small-scale distillers.
"The newest amendment provides the smaller manufacturers the ability to use barrels that have had the inner core ground out exposing new wood. The goal is to keep the tradition of the whiskey touching new wood, while providing the smaller distillers the ability to lower costs and compete."
The bill is scheduled for a Senate State Government Committee hearing on Tuesday, March 18.
Editor's note: The bill cited by Brown-Forman (SB 2441) is listed on the General Assembly's web site as proposing a "three strikes" license revocation for liquor license holders. Phil Lynch provided a copy of amendments to this bill that include the changes to the "Tennessee Whiskey" designation. However, the General Assembly's web site does not presently show these changes. Sen. Green confirmed in his March 16 email that the bill has been amended with the language in the copy provided by Lynch. We are currently trying to schedule a telephone interview with Sen. Green. The entire audio interviews with both Phil Lynch and Mike DaRe are available to stream here, but DaRe's clarification on Diageo not having a lobbyist in Nashville during last year's session came during a follow-up interview that was recorded, but not available for streaming at the present time.
This story was edited on March 16 to include additional information. 
Links: Brown-Forman | Diageo | Tennessee General Assembly
---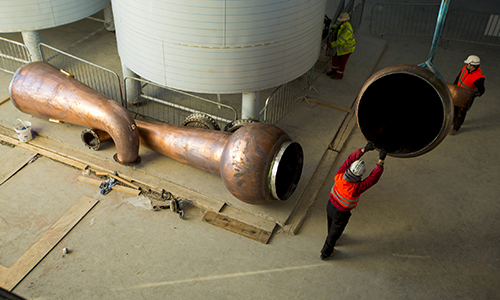 March 13, 2014 – Construction on the new Tullamore D.E.W. Distillery in Tullamore, County Offaly, Ireland has reached a milestone with the installation of four new pot stills this week. William Grant & Sons started planning for the distillery shortly after acquiring the Tullamore Dew brand from C&C International in 2010, and began construction last year on the project to bring whiskey production back to Tullamore 60 years after the original Tullamore distillery closed in 1954.
The original Tullamore stills were moved to Kilbeggan for display when the old distillery was demolished to make way for a shopping center. The new distillery's stills were moved in pieces from the Forsyths shop in Rothes, Scotland, where they were built to replicate the original stills as closely as possible. When the distillery goes into production later this year, it will be able to produce 1.84 million liters of alcohol each year.
In a news release, William Grant & Sons chief executive Stella David said "the arrival of the stills marks another step towards the return of the whiskey making tradition to Tullamore. We are excited to be marking this momentous event in a journey that has been almost 3 generations in the making".
Since acquiring the Tullamore Dew brand, Grant's has rechristened it with the initials of Daniel E. Williams, who was one of the original distillery managers. His initials became part of the Tullamore Dew brand name during his 60 years at the distillery, which was also known as the B. Daly Distillery after Capt. Bernard Daly, the owner who named Williams as his distillery manager. When the original Tullamore distillery closed, production of Tullamore Dew moved to the Powers John's Lane Distillery in Dublin and eventually to the Irish Distillers facilities in Midleton, where it is still produced under a long-term contract between Irish Distillers and William Grant & Sons.
Editor's note: Thanks to Heidi Donelon of the Ireland Whiskey Trail for historical details on the original Tullamore distillery.
Links: Tullamore D.E.W.
---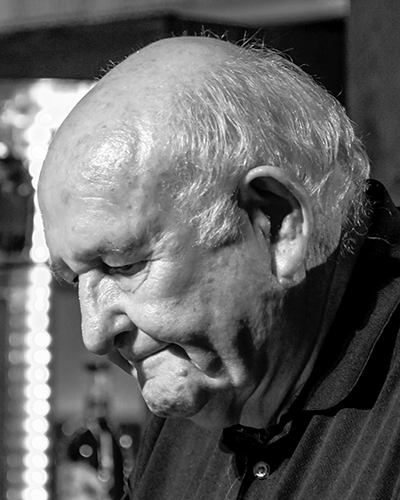 March 12, 2014 – Wild Turkey Master Distiller Jimmy Russell celebrates his 60th year at the distillery in 2014, and Wild Turkey's owners at Campari have dedicated 2014 to celebrating Russell's legacy. In addition to the Diamond Anniversary Bourbon previously reported here at WhiskyCast.com, Wild Turkey will hold several special events during the year to honor Jimmy Russell.
The first will come April 15, when the Diamond Anniversary edition will be released at a ceremony to dedicate Wild Turkey's new visitors center, which quietly opened to the public last fall and replaced the original log cabin across the road from the old distillery. The bourbon was created by Jimmy's son and Associate Master Distiller, Eddie Russell, and will be available only at the distillery until this fall, when it will receive wider distribution around the US. The ceremony will kick off Wild Turkey's "Year of Jimmy Russell".
In addition, a documentary on Russell's life and career is being produced that will follow his work at the distillery. The release date has not been announced.
In addition to being a member of the inaugural class of the Kentucky Bourbon Hall of Fame, Russell is also one of only two living Kentucky distillers with Bourbons bearing their names (Russell's Reserve). He is also the longest-tenured and oldest active Master Distiller in the Commonwealth, and has been named a Kentucky Colonel by three different governors.
Links: Wild Turkey
---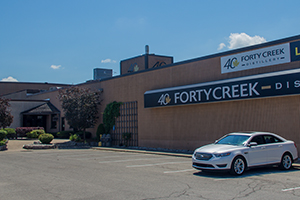 March 12, 2014 – Gruppo Campari has agreed to acquire John Hall's Forty Creek Distillery Ltd. for $185.6 million CDN ($166.7 million USD) in cash, marking the company's entry into the Canadian whisky market. John Hall will remain with the distillery as Chairman and Whisky Maker for the distillery he founded under the Kittling Ridge name in 1992 while making wines in Grimsby, Ontario.
In an interview with WhiskyCast's Mark Gillespie, John explained that his decision to sell the family-run company was based on succession planning, and that while he had a number of suitors, Campari offered the best long-term potential for building Forty Creek.
"I needed a company that had a good distribution network in the United States that could provide brand support to further grow Forty Creek in Canada and the US, and I needed a company that was stable with a long-term vision…and I needed a company that was interested in investing in Canadian whisky…I needed a company that also had respect and appreciation for the Forty Creek brand, and more importantly, the people that create it and produce it, and Campari certainly has all of those qualities." 
Listen to the entire interview:


Hall believes the deal is a milestone for the Canadian whisky industry, since most Canadian whisky is currently sold in the United States with limited global exports. Campari plans to invest in additional production capacity at Forty Creek with a goal of taking the brand worldwide to many of the 190 countries where it does business now. In addition, all of Forty Creek's current employees will be retained when the deal closes on June 2, and Hall will stay on as chairman and whisky maker. The move will allow him to focus on production and not have to devote his time to distribution issues.
The purchase price includes the distillery, all of Forty Creek's maturing whisky stocks, and its brands including Forty Creek and Canada Gold whiskies.  Campari also owns Wild Turkey in Kentucky and Glen Grant in Scotland, and Hall cited the success of Campari's stewardship of Wild Turkey as one of his reasons for picking it over other potential buyers. The company's Campari America unit distributes Wild Turkey and Glen Grant, along with many other whisky brands, such as Bowmore, Auchentoshan, Glen Garioch and The Glenrothes single malts from Scotland, Nikka from Japan, and Taiwan's Kavalan single malt whisky.
Forty Creek has won Canadian Whisky of the Year honors at the Canadian Whisky Awards in three of the competition's four years, and has won numerous other awards in worldwide competitions.
Links: Forty Creek | Gruppo Campari
---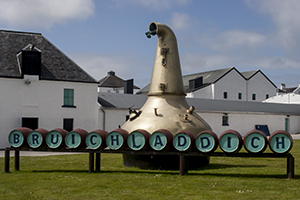 March 11, 2014 – Bruichladdich is taking its core range out of retail markets around the world because of supply problems, but will continue to make the Laddie Ten, Laddie Sixteen, and Laddie Twenty-Two expressions available through the distillery's online and Islay shops. During an interview with Bruichladdich executives Monday in New York City, chief executive Simon Coughlin explained the problem as one of too much demand and not enough supply.
"They've always been on allocation, ever since we released the first Ten, which as you know was a celebration of the tenth anniversary of the reopening of the distillery (2011)," Coughlin told WhiskyCast's Mark Gillespie. "They've always been on allocation, right up until now, and we are moving into a slightly different world, where with global allocations and global markets, it's going to be difficult to sustain it everywhere…you wind up giving everyone a few hundred cases, and it's not enough for them to get their teeth into." Bruichladdich was acquired by Remy Cointreau almost two years ago, and is gradually moving away from independent distributors in many key markets into Remy's global distribution system. As part of that process, the goal will be to make more product available in Bruichladdich's strongest-selling markets, including the US. Remy Cointreau USA took over US distribution of Bruichladdich from Winebow in January, and the distillery executives were in New York for meetings with their new colleagues.
The distillery will continue to make its Laddie Classic available to retailers, along with the latest Octomore 6.1 peated single malt, Black Art 4, and Port Charlotte expressions. Coughlin did not rule out bringing back the Laddie Ten at some point in the future, reminding the distillery's longtime fans that "it's like everything at Bruichladdich, it's a moveable feast."
On another note, the distillery is expected to resume production around the end of March after being shut down since December because of a mechanical problem with the distillery's traditional cast-iron mash tun. Production Director Jim McEwan said the teeth inside the tub that are used to guide the rake that stirs mash during cooking had worn out, and denied rumors of an explosion inside the   distillery.
"I don't really know where the rumors came from, because we've got web cameras everywhere and you can watch the mash tun being taken out piece by piece…the old lady decided it was time to get her teeth done."
McEwan explained that the tun had been in use since 1881, and with only one remaining company in Scotland capable of doing the custom casting work needed for the repairs, the distillery had to go on a waiting list. "It had to be done, because the rigging gear was refusing to work…now that's really dangerous because if the teeth slip and the whole thing crashes in, you can never, ever recast the whole mash tun." McEwan said the thought of replacing the vintage tun with a modern lauter-style tun was never considered, even though it might allow them to produce more mashes. "We actually love the mash tun and the speed at which it goes at that takes us six and a half hours to do a mash…we don't care, it's not about time, it's a slow process to strain the sugars out gently."
McEwan and Coughlin say the shutdown will not affect the distillery's plans to double production this year to more than 1.5 million liters of alcohol. The distillery has not been run at full capacity since it reopened in 2001, and they say the lost time can be made up by adding several hours of distilling time each week if necessary.
Editor's note: This story was changed to correct the start of Remy Cointreau USA's distribution of Bruichladdich from April 1 to January 1, 2014. 
Links: Bruichladdich
---
March 6, 2014 – Louisville-based Brown-Forman reported a 12% increase in net income for the third quarter (ending January 31) on strong global sales of Jack Daniel's and Woodford Reserve whiskies, with sales for Jack Daniel's up 8% during the first three quarters of the fiscal year that ends April 30. The family-controlled company earned 82 cents per share, beating the Bloomberg analysts estimate of 75 cents.
The global outlook is shown in Brown-Forman's net sales, which gained 5% to nearly $1.1 billion for the quarter. However, US sales only rose by 3%, while Brown-Forman reported double-digit gains in China, Brazil, Russia, India, and other developing markets. Jack Daniel's Tennessee Honey flavored whiskey helped push the overall gains for the Jack Daniel's brand with a 30% gain over the previous year, while Woodford Reserve sales were up by 27%. Old Forester Bourbon sales were up 25%, while Early Times (American whiskey and Bourbon expressions) fell 9%. Jack Daniel's accounts for almost half of Brown-Forman's overall sales each year.
During a conference call Wednesday with reporters and analysts following the earnings release, CEO Paul Varga projected overall earnings per share for the fiscal year of around $3 per share.
"We delivered great top- and bottom-line results in the third quarter, continuing the momentum from the first half. We believe our top-tier performance was due primarily to the global strength of the Jack Daniel's trademark, disciplined innovation, our favorable skew to outperforming categories and price points, and our limited exposure to some of the emerging markets that have decelerated."
Company executives projected Woodford Reserve will soon reach one million cases in annual sales. Brown-Forman is investing $35 million to expand production capacity at the Woodford Reserve Distillery in Versailles, Kentucky.
Varga downplayed recent reports that Brown-Forman could be an acquisition target following Suntory's $16 billion deal to acquire Beam. The Brown family controls a majority of Brown-Forman's key tier of shares, while the shares widely traded on exchanges carry less voting control. This would make an acquisition of the company difficult without the family's consent.
Links: Brown-Forman (NYSE: BFA & BFB)
---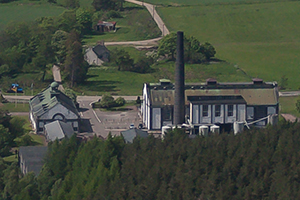 March 6, 2014 – Since it opened in 1960, Tormore Distillery has been one of Speyside's more unusual distilleries. Built originally by Schenley International's Long John division, the distillery was designed by Sir Albert Richardson as an architect's dream — with a signature clock that chimes every 15 minutes. However, the distillery along the A95 has rarely been open to the public, and only available in limited amounts as a single malt.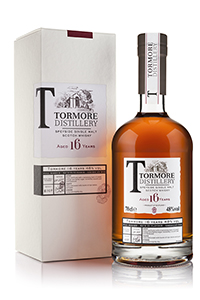 Chivas Brothers is changing that with a re-launch of Tormore, replacing the 12-year-old expression with new 14 and 16-year-old malts, a new branding campaign to highlight the distillery's heritage, and a new web site. The moves follow an expansion of production capacity in early 2012 and the appointment of Neal Corbett as master distiller that spring.
Both whiskies have been launched initially in France, and will appear in other markets during 2014. The 14-year-old was matured in American Oak casks, bottled at 43% ABV, and will sell for a recommended price of €42  ($58 USD, £35 GBP). The 16-year-old was also matured in American Oak, but is bottled without chill-filtering at 48% ABV, It will carry a recommended price of €56 ($78 USD, £46 GBP).
Both whiskies will be available in limited amounts, reflecting the rarity of Tormore as a single malt.
Links: Tormore
---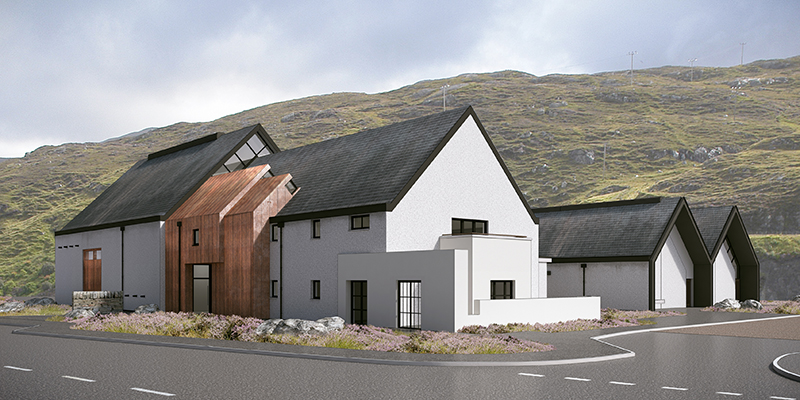 March 5, 2014 – The boom in distillery construction continues in Scotland, as work is now underway on the £10 million ($16.7 million USD) Isle of Harris Distillery in Tarbert. The distillery will be the first legal one to be built on the island in Scotland's Outer Hebrides, and is expected to open in the spring of 2015. The distillery will produce "The Hearach" single malt, using the Gaelic name for Harris residents, along with a Harris gin.
The project is being built with a combination of private and public investment and a goal of creating 20 full-time jobs on the economically distressed island. 17 private investors are taking part in the project, while the Scottish Government and Highlands & Islands Enterprise are providing a combined £2.8 million ($4.7 million USD) in economic development grants. In a news release, distillery director Simon Erlanger said the goal is to help improve the island's economy as well as make a good whisky.
"The Hearach single malt will create sustainable employment and economic growth and optimism for the people of Harris – while the spirit of Harris itself will shape the unique character of this new whisky. Harris is an elemental place. The way of life in the island has deep roots, its people take time to savour what they enjoy and we believe The Hearach single malt will reflect that."
The distillery will be capable of producing 300,000 litres of spirit each year once production begins, though the single malt will not be sold for several years while the initial production runs are maturing. Scottish law requires spirit to be matured for a minimum of three years before it can legally be called whisky.
Listen to this weekend's episode of WhiskyCast for more details on this story.
Links: Isle of Harris Distillery
---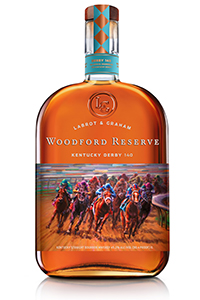 March 5, 2014 – The annual Run for the Roses is still almost two months away, but Woodford Reserve's 2014 Kentucky Derby bottle has already broken from the gate and is heading for retailers. Woodford Reserve is the official Bourbon of the Kentucky Derby, and Louisville artist David O. Schuster's painting "The 4th Turn" is featured on this year's bottle for the 140th running of the Derby on May 3.
Schuster's painting features a field of horses and jockeys rounding the final turn at Churchill Downs. In a news release, Woodford Reserve brand director Jason Kempf said the artist's local heritage made him the ideal choice for the brand's 16th Kentucky Derby bottle.
"David O. Schuster has been a fixture of the city's art community for over a decade, making him the ideal selection as the 140th Kentucky Derby bottle artist. Schuster has a true ability to craft beauty and wonder from his equine subjects, and Woodford Reserve is honored to showcase his work on this year's commemorative Derby bottle."
The 1-liter bottle will be available at retailers throughout the US this month, with a recommended retail price of $43.99.
Links: Woodford Reserve | Churchill Downs
---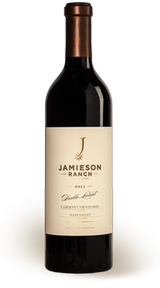 March 5, 2014 – Two whisky distillers are squaring off in court over allegations of trademark infringement by competitors.
A California winemaker has filed a lawsuit in a pre-emptive strike against Irish Distillers after the Dublin-based Pernod Ricard unit threatened legal action over the winery's "Jamieson Ranch Vineyards" brand name. According to Law360.com, Madison Vineyard Holdings LLC has asked a federal judge to declare that its Napa Valley operations do not infringe on the Irish Distillers-owned Jameson Irish Whiskey brand.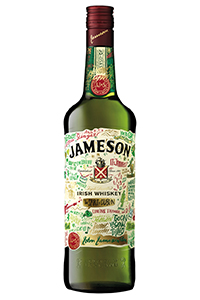 Irish Distillers succeeded in getting the US Patent and Trademark Office to delay a ruling on Madison's application for a trademark on "Jamieson" for at least 90 days, and sent a "cease-and-desist" letter to Madison last week. Irish Distillers claimed the "Jamieson" brand would cause consumer confusion and give the impression that Madison's wine's were authorized or endorsed by Jameson.  Madison's lawsuit claims there would be no confusion between the two brands, and wants the court to declare that for the record.
Meanwhile, Sazerac has filed a lawsuit in federal court against Princeton, Minnesota-based Crosby Lake Spirits Company over its "Bison Ridge" Canadian whisky. Sazerac, which owns Buffalo Trace Distillery in Kentucky, claims the Bison Ridge name and packaging are designed to confuse consumers into thinking the whiskey is from Buffalo Trace. Sazerac wants the court to order Crosby Lake to change the name and packaging for Bison Ridge, publish corrective advertising indicating that there are no links between the two brands, and pay damages to Sazerac.
In an email, Sazerac CEO Mark Brown noted that the company is fiercely protective of its trademarks. WhiskyCast has reached out to Crosby Lake for comment. This story will be updated as more details become available.
Links: Jamieson Ranch Vineyards | Irish Distillers | Sazerac/Buffalo Trace | Crosby Lake Spirits Company
---