Each week, we bring you the latest whisky news on WhiskyCast, but a lot can happen during the week. Now, you can keep up with whisky news as it happens here on WhiskyCast.com!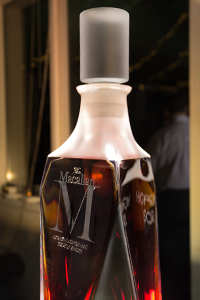 January 20, 2014 – Hong Kong charities will benefit from Saturday's auction of a rare six-liter decanter of The Macallan M to the tune of $4.9 million HKD ($628,000 USD), the highest price ever paid for a whisky at auction. The auction at Sotheby's Hong Kong gallery brought interest from bidders around the world, and broke the current Guinness world record of $460,000 set in 2010 when a Lalique decanter of 64-year-old Macallan was auctioned at Sotheby's in New York City to benefit Charity: Water. The winning bidder's name was not released.
The decanter was one of four six-liter decanters created by Lalique for The Macallan M and designed by Fabien Baron, and was the only one that will be available to the public. Edrington Group, the owner of The Macallan, will retain two for the company's archives, and the remaining one was acquired privately by an Asian investor.  The super-size decanters are identical in design to those produced for The Macallan M's retail bottlings, and the one auctioned in Hong Kong was the only one engraved with the signatures of Macallan whisky maker Bob Dalgarno, Fabien Baron, and Lalique's Silvio Denz.
The record must still be certified by Guinness World Records, a process that can take up to a year and requires affidavits from witnesses to the auction. Until the Hong Kong results are certified, the $460,000 New York auction price will continue to be considered the official world record.
Links: The Macallan | Sotheby's Hong Kong
---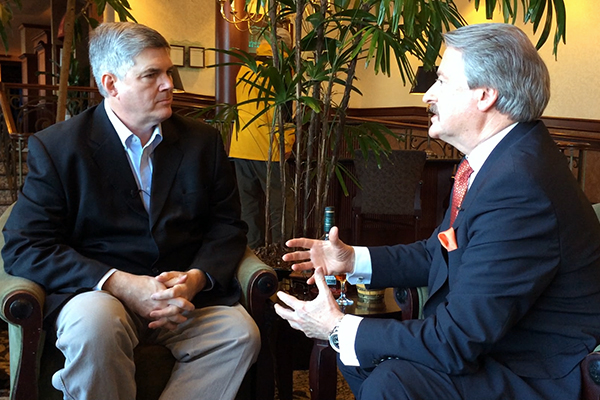 January 19, 2014 – Whyte & Mackay's future is up in the air again, and it's something the Scotch whisky producer's longtime master blender has become used to.
"I've been with the company coming up 44 years…I've seen nine takeovers, I'm on my 19th boss, I don't know how many different marketing people I've seen, but a lot in that time," Paterson told WhiskyCast's Mark Gillespie in an exclusive interview during the Victoria Whisky Festival. "So, when I see all these different takeovers, I get a little bit disappointed…because there's one word that sticks out more than anything else, and that's inconsistency."
The UK's Office of Fair Trading is currently considering a proposal from Diageo and United Spirits, Whyte & Mackay's parent company, to sell off most of Whyte & Mackay in order to satisfy the regulators' concerns over competition in the blended Scotch whisky market. Diageo acquired operational control of India-based United Spirits during 2013, while holding around 25% of the company's stock. Under the proposal, Diageo would retain the Dalmore and Tamnavulin malt whisky distilleries, while selling the Jura and Fettercairn malt whisky distilleries, the Invergordon grain whisky distillery, and the entire Whyte & Mackay blended Scotch portfolio.
However, India's CNBC-TV18 reported today that Suntory has made an offer of just under $1 billion (USD) for all of Whyte & Mackay with the backing of three private equity investors. The story cites "unidentified sources", and Suntory declined to comment on the report. Last week, India's Business Standard reported that United Spirits directors were prepared to consider a bid for the entire Whyte & Mackay unit, even though Diageo's proposal to the Office of Fair Trading cited the need to retain the Dalmore & Tamnavulin distilleries to supply malt whisky for the United Spirits brands sold in India.
Richard Paterson is responsible for creating the company's entire range of whiskies, but is most often identified with The Dalmore's luxury single malts. He has been a key part of the brand's promotional campaigns for years, including a range at Harrod's that carries his name. Should the current plan be implemented, it's not clear which side he would stay with, but he remains hopeful that a solution will be found that allows Whyte & Mackay to remain intact.
"No matter which part of the world I go to, there's always somebody who's going to take over. The rumors are rife everywhere I go to, and every time there's a dinner in Scotland, people create more…people are like that, you know, rumors just fly. But hopefully, one day it will settle down and we'll know which direction, whether it will be split up. I personally do not hope it will not be split up, but we cannot say at this present time…it looks a little bit uneasy."
Paterson admits some frustration with the current situation, which has also forced him to put his plans to identify and train his eventual successor on hold until Whyte & Mackay's future is sorted out. However, he said he remains hopeful of being able to finish his career on a high note with the company. "Although we go through these very painful takeovers, that are not only frustrating for someone like myself, but you've got to think about the other people in the company," he said. "Hopefully, when we do get that final takeover and we know what's happening, then we can settle down and have a rosy future."
For more of Richard Paterson's comments on the Whyte & Mackay situation, listen to Episode 462 of WhiskyCast. The entire WhiskyCast interview with Richard Paterson will be available soon on WhiskyCast HD.
Links: Whyte & Mackay | United Spirits | Diageo | Office of Fair Trading 
---
January 16, 2014 – The 2012 edition of Corby's Lot No. 40 took top honors as Canadian Whisky of the year in the 2013 Canadian Whisky Awards presented tonight at the Victoria Whisky Festival. Corby's win ends a three-year run at the top for Forty Creek's John Hall in the tightest race yet in the competition's four years.
"I've never, ever seen it like this, honestly," Canadian Whisky Awards founder Davin de Kergommeaux told WhiskyCast's Mark Gillespie after the ceremony. "The top three whiskies came within .2 of each other." Lot No. 40 edged out Forty Creek's Heart of Gold and Masterson's 10-year-old Straight Rye for the top spot in blind judging by nine whisky writers and bloggers from Canada and the USA.* The whisky was produced at Corby's Hiram Walker Distillery in Windsor, Ontario by master blender Dr. Don Livermore, and was a favorite among Canadian whisky lovers during the 1990's until it was withdrawn from the market around 2000. In 2012, Livermore recreated the 100% rye recipe for Lot No. 40 with guidance from Mike Booth, the original blender who created it using a seven-generation family recipe of malted and unmalted rye.
"We were very excited," said Corby's Dave Weaver after receiving the award. "We knew it was a great product and was doing great things in the marketplace, so we couldn't be happier." John Hall, while slightly disappointed in being beaten by the slimmest of margins, saw the Corby win as a positive for Canadian whisky overall. "I am extremely pleased that I lost by only .2 of a point, but I am also extremely pleased that there's a lot more exciting Canadian whiskies out there now."
In fact, most of the 2013 award-winning whiskies were not even on the market when the competition began four years ago. According to  de Kergommeaux, the flavor of the Canadian whisky profile is changing as new whisky drinkers enter the market. "They want big, bold whiskies…we've got these wonderfully rich, full-bodied whiskies with lots of flavor."
Here is the complete list of award winners.
Whisky of the Year – Lot No. 40
Connoisseur Whisky of the Year Best New Whisky – Forty Creek Heart of Gold
Connoisseur Whisky of the Year Domestic Market – Alberta Premium Dark Horse
Connoisseur Whisky of the Year Multi Market – Lot No. 40
Sippin' Whisky of the Year Domestic Market – Last Mountain Private Reserve
Sippin' Whisky of the Year Export Market – Canadian Rockies 10 Years Old
Sippin' Whisky of the Year Multi Market – Royal Canadian
Whisky Value of the Year Domestic Market – Canada Gold
Whisky Value of the Year Multi Market – Canadian 83
Award of Excellence Canadian Whisky Profile – John K. Hall Forty Creek Distillery
Award of Excellence New Distillery of the Year – Still Waters
Award of Excellence – Innovation – 35 Maple Street for Masterson's 100% wheat and 100% barley whiskies.
Award of Excellence Line Extension – Kruger/Mondia for Spicebox Pumpkin Spiced Whisky
Flavoured Whisky of the Year Domestic Market – Forty Creek Cream
Flavoured Whisky of the Year Export Market – Wiser's Spiced No. 5
Flavoured Whisky of the Year Multi Market – Crown Royal Maple
Award of Excellence Flavoured Whisky of the Year – Forty Creek Cream
For the first time, craft distillers were honored with awards. Last Mountain of Saskatchewan was honored for its Private Reserve, a blend of whiskies sourced from other distillers. The distillery is currently maturing its own whisky for the required three years before bottling. Ontario's Still Waters Distillery was honored for launching the first micro-distilled Canadian single malt whisky with its Stalk & Barrel line of whiskies.
A complete list of medal winners can be found at the Canadian Whisky web site.
*Editor's note: WhiskyCast's Mark Gillespie was a member of the judging panel. The other judges included Davin de Kergommeaux, Johanne McInnis, Jason Debly, André Girard, Kris Shoemaker, Chip Dykstra, Blair Phillips, and Graham MacKenney.
Links: Canadian Whisky
---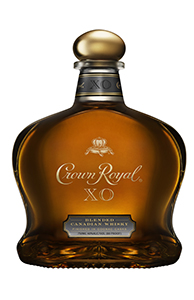 January 16, 2014 – Crown Royal will release a new addition to its range later this month with the debut of Crown Royal XO, a blended Canadian whisky finished in Cognac casks from France. The new expression was crafted by Crown Royal master blender Andrew MacKay using 50 different varieties of whiskies distilled at the Crown Royal distillery in Gimli, Manitoba, and finished in French Limousin Oak casks.
Crown Royal XO will be available starting in late January, with a suggested retail price of $49.99 (750ml). Tasting notes will be available soon at the WhiskyCast web site.
Links: Crown Royal
---
January 16, 2014 – Diageo's £1 billion expansion of its Scotch whisky production capacity is moving ahead with plans for a £30 million ($45 million USD) project at Clynelish Distillery near the town of Brora in the Highlands. Planning permits for the project have been submitted to Highland Council, with work expected to start later this year. In addition, Diageo executives plan to meet next month with local residents to outline the scope of the project and plans to minimize any impact on the community.
The project will double the capacity of Clynelish, with a new mash tun, 10 new washbacks, and six new stills to be installed alongside the existing equipment, which currently produces 4.5 million litres of spirit each year. In addition, the project will include a bio-energy plant that will use distillery waste products to generate methane gas to reduce the distillery's energy impact.
The current Clynelish Distillery was built in 1968, across the road from the original distillery built in 1819. That distillery closed briefly, then reopened a year later under the Brora name to produce a peated single malt whisky until it closed permanently in 1983. Clynelish malts are sold as part of Diageo's Classic Malts range.
Links: Diageo | Classic Malts
---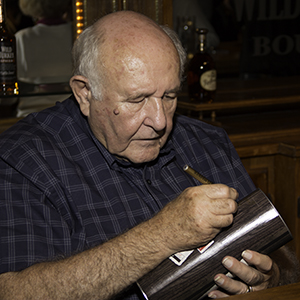 January 16, 2014 – Wild Turkey Master Distiller Jimmy Russell will mark his 60th anniversary with the distillery this year, and a special bottling to commemorate the occasion is in the works. While Wild Turkey has not officially announced the release of "Diamonds" yet, the news was included in the Kentucky Bourbon Affair's announcement this week. Participants in the Wild Turkey event during the Bourbon Affair will get a chance to taste the single barrel Bourbon, for which a release date has not been disclosed.
Jimmy went to work at the distillery in 1954, and trained under Wild Turkey's second Master Distiller, Bill Hughes, and Ernest Ripy, the son of Wild Turkey's original distiller. He was named to the Kentucky Bourbon Hall of Fame's inaugural class in 2000, and is one of only two living distillers with a Bourbon named after him (Russell's Reserve).
For an in-depth interview with Jimmy Russell from 2009, listen to Episode 193 of WhiskyCast.
Editor's note: Wild Turkey announced on March 10 that the Diamond Anniversary expression will debut at the distillery on April 15 during a ceremony to dedicate the new visitors center. The whiskey will be available only at the distillery until this autumn, when it will receive wider — but still limited — distribution. 
Links: Wild Turkey | Kentucky Bourbon Affair
---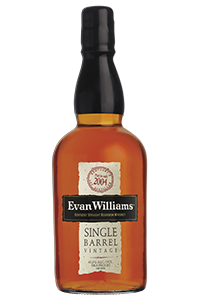 January 14, 2014 – Heaven Hill's annual release of Evan Williams Single Barrel Bourbon is now in its 19th year with the release of the 2004 vintage this week. The 2004 edition's barrels were filled under the supervision of Master Distillers Parker and Craig Beam and matured in rickhouses at Heaven Hill's maturation warehouses in Bardstown, Kentucky, before bottling at around 10 years of age. While the proof will remain consistent (43.3% ABV), the bottling dates will vary slightly based on barrel selection and the length of time it takes to bottle each year's edition.
This year's vintage will have a unique flavor compared to previous vintages, according to Parker Beam. In a news release, he described the profile he was looking for in selecting the barrels for the 2004 edition.
"For this 2004 vintage, we went with a character that is maybe a bit more assertive and bold than in years past, as consumer tastes seem to be leaning more toward robust whiskeys.  We therefore have selected barrels that sit a bit higher up in the warehouses where the temperature gradients over the 9 or 10 years of aging were a bit more extreme."
In 2013, Evan Williams Single Barrel was named to the Spirit Journal's Hall of Fame, and has won numerous awards over the years. The 2004 vintage will be available throughout the US, with a recommended retail price of $26.99.
Links: Evan Williams | Spirit Journal
---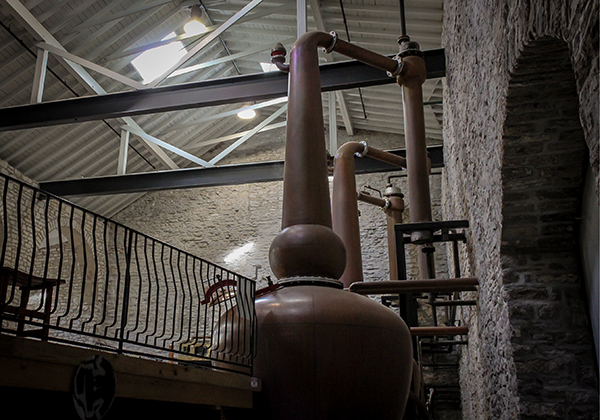 January 13, 2014 – Many of Kentucky's leading Bourbon distillers will join forces in May to mark the 50th anniversary of a 1964 Congressional resolution honoring Bourbon with the "Kentucky Bourbon Affair." The Kentucky Distillers Association-organized festival is being described by KDA President Eric Gregory as an "elite Bourbon fantasy camp" that will be centered in Louisville from May 14-18, 2014.
The program includes events at eight KDA member distilleries that will include behind-the-scenes tours, private tastings, culinary experiences, and the first opportunity to tour Louisville's historic Stitzel-Weller Distillery for the first time since it closed more than 30 years ago. The program also includes opening and closing receptions produced in coordination with the Original Makers Club and several Louisville restaurants. In a news release, Gregory said the event will focus on marking the 50th anniversary of the Congressional resolution that declared Bourbon as "America's Native Spirit."
"We couldn't think of a better way to celebrate the golden anniversary proclaiming America's only native spirit than by giving our passionate fans a rare opportunity to go 'behind the barrel' and truly experience the elegance of Kentucky Bourbon."
50 "golden tickets" allowing purchasers first choice of the distillery seminars, evening event tickets, and special gifts will go on sale Tuesday, January 14 for $1,350 each. Individual tickets for the seminars and events will go on sale at a later date, with prices to be announced later as well. Attendees will be able to attend select up to five of the eight distillery events, which will be scheduled to allow for travel time between the distilleries located between Louisville on the west, Lexington to the east, and Loretto to the south.
Participating distilleries include Bulleit (Stitzel-Weller), Four Roses, Heaven Hill, Jim Beam, Maker's Mark, Town Branch, Wild Turkey, and Woodford Reserve — all members of the Kentucky Distillers Association.
Links: Kentucky Bourbon Affair | Kentucky Distillers Association
---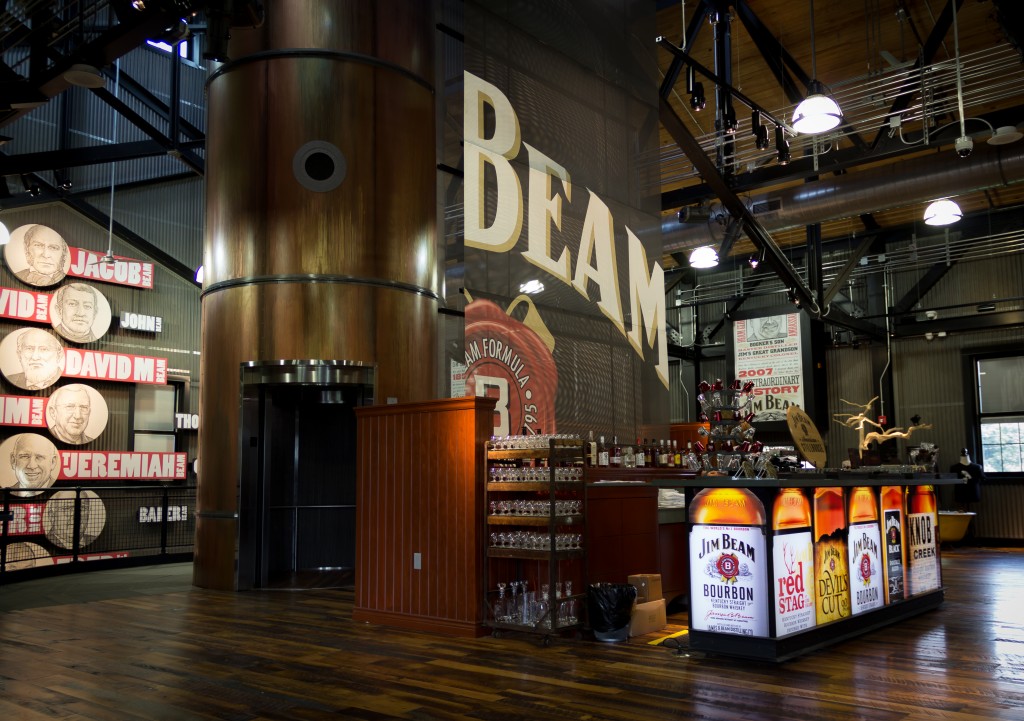 January 13, 2013 – Suntory, with whisky distilling units in Japan and Scotland, is gearing up to become one of the three largest players in the global whisky industry. The Tokyo-based company has agreed to pay $16 billion in cash and debt to acquire Beam, Inc. and take a major role in the Bourbon, Canadian, and Irish whisky segments while expanding its Scotch portfolio. The move was not completely unexpected, since Suntory had expressed an interest in teaming up with Diageo to buy Beam in 2012. However, Beam CEO Matt Shattock had maintained firmly even since the company was split off from other Fortune Brands units in 2011 that it would remain independent, and had been on an acquisition spree of its own in vodka and rum production.
In a news release, the two companies announced that Suntory will pay $83.50 USD per share in cash to shareholders and assume Beam's outstanding debt — a 25% premium over Beam's closing price of $66.97 per share in New York trading on Friday (January 10).  The deal is expected to close in the second quarter of 2014, assuming regulatory and shareholder approval. Beam will become a unit of Suntory, but remain headquartered in Deerfield, Illinois with Shattuck and the Beam management team continuing to manage day to day operations. This approach is consistent with the way Suntory has managed its Morrison Bowmore Distillers unit in Scotland since acquiring it from the Morrison family in 1984.
Beam is the largest Bourbon producer, and the acquisition gives Suntory a global presence with brands like Jim Beam, Maker's Mark, and Knob Creek. It is expected to make Suntory a solid #3 in the global whisky industry behind Diageo and Pernod Ricard, and analysts cited by Bloomberg News do not expect either company to make a counter-offer for Beam. Beam's largest shareholder (13%) is the activist investor Bill Ackman, who pushed for the 2011 breakup of Fortune Brands to increase shareholder value. That led to the sale of the Acushnet golf division and a spinoff of home improvement and security units, leaving Beam as a standalone spirits company. Various analysts have estimated that Ackman stands to make nearly $700 million in profit from the sale to Suntory, based on the rising price of Beam shares since Ackman started acquiring his stake in 2011.
Suntory raised $4 billion last year in a public offering for its soft drinks division, and CEO Nobutada Saji has pushed the company to expand outside of its core Japanese market. Suntory is reported to be one of the potential bidders for Whyte & Mackay, which India's United Spirits and Diageo have offered to divest in order to satisfy UK regulatory concerns over Diageo's deal for a controlling stake in USL.
Here's our analysis of how the combined companies would look by distilleries and brands: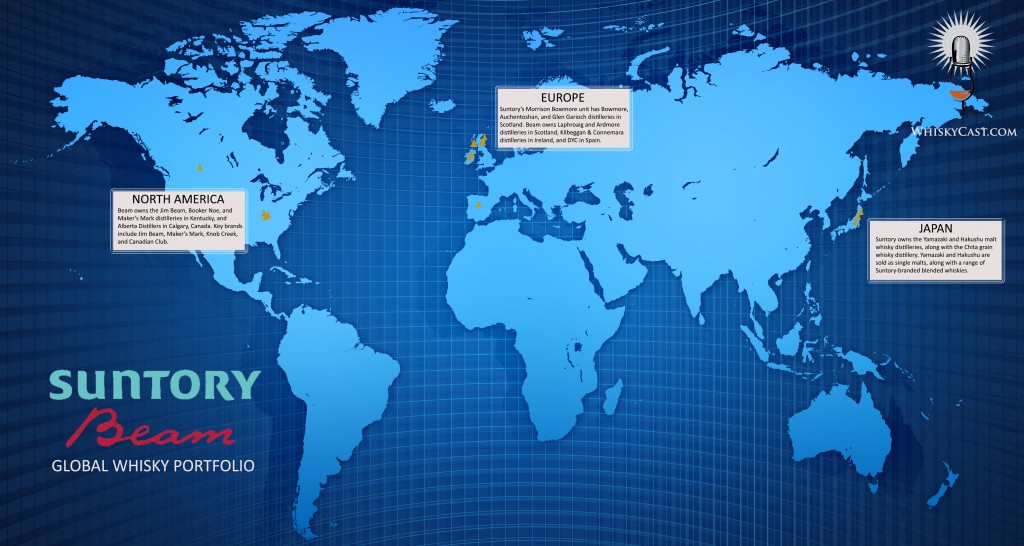 Despite the scale of this portfolio, the deal is not likely to raise regulatory concerns in either the US or the UK. Suntory's presence in the US market is minimal, and its ownership of Morrison Bowmore Distillers and Beam's Scotch portfolio would not be large enough to trigger competition concerns.
Beam has declined our requests for interviews at this time, but this story will be updated as more details become available.
---
January 13, 2014 – Two of Australia's leading whisky distillers are joining forces, as the investor group that acquired a majority stake in Lark Distillery last summer has now agreed to acquire Old Hobart Distillery, which produces Overeem Whisky. Casey and Jane Overeem agreed to sell their distillery to Lark's owners effective January 17, and Overeem will become a wholly owned subsidiary of Lark Distillery Pty Ltd.
In a news release, both parties announced that Casey Overeem will go into "semi-retirement" while working in quality control and occasional promotional work as needed. Jane Overeem will stay on as Marketing Manager for both Lark and Overeem brands, and will also serve as Overeem's principal brand ambassador. The two whisky brands will continue to be produced separately, while sales and marketing operations will be combined.
Lark founders Bill and Lyn Lark agreed last July to sell a majority stake in their family-owned company to a group of Hobart-based investors led by Troy Trewin, who will serve as CEO for both Lark and Overeem after the deal closes. Lyn Lark stepped aside on January 1, while keeping a non-executive seat on the company's board. Bill Lark is scaling back his work with the company, but will continue to serve as Lark's global brand ambassador. The Larks founded their distillery in 1992, when they received the first license to distill whisky in Tasmania since 1839. Since then, they've been the unofficial leaders of Australia's growing whisky distilling industry. For more details on the Lark family, you can listen to a 2007 interview with Bill Lark in Episode 96 of WhiskyCast.
We have reached out to both companies for interviews, and this story will be updated as more information is available.
Links: Lark Distillery | Old Hobart/Overeem Whisky
---