Each week, we bring you the latest whisky news on WhiskyCast, but a lot can happen during the week. Now, you can keep up with whisky news as it happens here on WhiskyCast.com!
April 10, 2014 – After more than a year of fighting with Vermont state officials over its plans to build a farm distillery, WhistlePig Farm in Shoreham has finally received state approval to start construction on its distillery. WhistlePig founder Raj Bhakta told WhiskyCast Wednesday night at Whisky Live New York that the regional environmental commission's permit was granted on Monday, and "the cranes are moving as of 8am this morning."
Vermont Department of Natural Resources officials opposed WhistlePig's plans to build a distillery at the farm on the grounds that WhistlePig's whiskey could not be considered an agricultural product. That argument centered on the department's opinion that water was the main ingredient in whiskey, not grain, and the state's laws require that at least 50 percent of whatever a farm makes must come from that farm. Without the designation as a farm, WhistlePig would fall under more stringent "Act 250" rules for commercial developments. The objections also focused on WhistlePig's current practice of importing bulk whiskey from Canada's Alberta Distillers and using the farm for maturation and bottling. In a 2013 Vermont Public Radio interview, Natural Resources Board chairman Ron Shems noted that "WhistlePig right now is not growing anything that goes into its whiskey."
Bhakta told WhiskyCast that the Vermont debate over whiskey as a farm product has not been resolved. "We have a commercial permit, not a farm-based permit, but a commercial permit to grow our own grain and to build a distillery and get that going," he said. "That's a legal question at the end of the day, but for us, most interestingly, is the actual realization of something truly unique that we've been working towards for years." The former reality show contestant ("The Apprentice") expects to begin distilling on the farm by the end of the year, assuming no major delays in construction. Veteran distiller Dave Pickerell is WhistlePig's Master Distiller, and has been responsible for developing the distillery plans while selecting barrels from Alberta Distillers for the current WhistlePig expressions.
Listen to Mark Gillespie's interview with Raj Bhakta:

The distillery also drew objections from neighboring farm owners worried about the potential impact on their crops from so-called "black mold" fungus caused by alcohol vapors. The environmental commission's permit allows WhistlePig to store up to 6,000 barrels of whiskey on-site, and WCAX-TV reports that commission members do not expect any mold issues as long as the distillery stays within those limits. WhistlePig is currently maturing several hundred barrels on the farm. However, opponents have 30 days to appeal the commission's ruling in court.
Links: WhistlePig
---
April 9, 2014 – Master Distillers Parker Beam and Edwin Foote are the latest inductees in Whisky Magazine's Hall of Fame. Both men were inducted during a ceremony at the World Whiskies Conference today in New York City, joining Barry Crockett, Dennis Malcolm, Jim McEwan, and Frank McHardy as the Class of 2014. Crockett, Malcolm, McEwan, and McHardy were inducted last month during the World Whiskies Awards ceremony in London on the eve of Whisky Live London.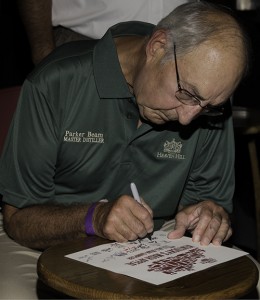 Parker Beam has spent his entire 54-year career at Heaven Hill, following in his father Earl's footsteps and becoming Master Distiller in 1975. Last year, he was diagnosed with ALS, and his fight inspired Heaven Hill to dedicate the 2013 edition of Parker's Heritage Collection whiskey to funding ALS research through the "Parker Beam's Promise of Hope Fund." He was unable to attend the ceremony in New York, but continues to work at the distillery and on his family farm. Heaven Hill's Bernie Lubbers spoke on Beam's behalf and noted that he spent part of the day tending his herd of 200 cattle. Lubbers told WhiskyCast's Mark Gillespie that while the honor came as no surprise to him and his colleagues, Parker Beam himself never saw it coming.
"They didn't know they were going to be rock stars," Lubbers said of both inductees. "Back in the 1970s and 1980s, people weren't talking about that. Wouldn't we all want somebody to recognize us in the twilight of our careers as a lifetime achievement, and this is a worldwide acknowledgement, so he's just blown away by it."
Listen to Parker Beam's speech at his 50th Anniversary celebration on October 23, 2009:

Foote spent much of his career at the old Henry McKenna Distillery in Kentucky, and joined Stitzel-Weller as Master Distiller in 1983. He was the distillery's final master distiller when it closed in 1992, and spent the final years of his career at UDV's Bernheim Distillery in Louisville before retiring. Like Beam, he was also unable to attend the ceremony in New York. His daughters Elizabeth and Margaret accepted on his behalf.
"It was beyond his wildest imagination," Elizabeth Cross told WhiskyCast. "The whole resurgence of Bourbon appreciation and culture and industry has surprised no one more than Dad." Foote was the guest of honor last month at a Kentucky Derby Museum tasting led by Fred Minnick which drew Bourbon aficionados from around the country. He shared the news of his induction in an email with his daughters and son, according to Cross. "He said 'I would love to go, but I just don't believe I can', and he was just absolutely speechless."
Listen to Mark Gillespie's interview with Edwin Foote in September, 2012:

Whisky Magazine created the Hall of Fame several years ago to replace its annual Lifetime Achievement Awards. Beam and Foote are the 21st and 22nd members of the Hall of Fame, which is selected by the magazine's editorial staff and management.
Links: Whisky Magazine Hall of Fame
---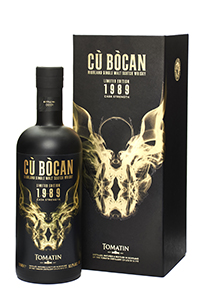 April 10, 2014 – During a recent WhiskyCast interview, Tomatin distillery manager Graham Eunson hinted at more releases under the  distillery's Cù Bòcan brand. Now, Tomatin is releasing a limited-edition 1989 vintage of Cù Bòcan stemming from a happy accident in June of that year. At that time, Tomatin did not use peated malt in any of its whiskies, but accidentally wound up with a batch that was distilled and filled into ex-Bourbon casks for maturation. The Cù Bòcan 1989 uses the three remaining casks from that production run.
The whisky has been bottled at 53.2% ABV, with 1,080 bottles to be available worldwide except for the US at a recommended retail price of £199.99 GBP ($335 USD).
Links: Cù Bòcan 
---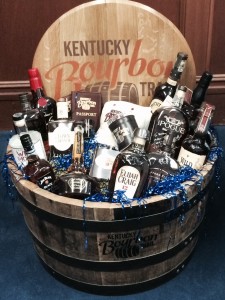 April 8, 2014 – Here's hoping that Connecticut Governor Dannel Malloy likes Bourbon, because he's going to be getting a lot of it. Malloy won a bet with Kentucky Gov. Steve Beshear after the University of Connecticut defeated the University of Kentucky Monday night in the NCAA men's basketball championship game.
Beshear didn't have to buy the Bourbon to pay off the bet, though. The Kentucky Distillers Association put up a half-barrel full of Kentucky Bourbon and other goodies in what has become an annual tradition. As Kentucky and Louisville moved on during the tournament, the stakes increased, according to KDA President Eric Gregory. "Each time the Cats won, we upped the ante and added more barrels, so he's going to get 13 bottles of our premium Bourbon brands, along with Bourbon Trail flasks, t-shirts, barrel heads, all sorts of things."
Gregory, a proud Kentucky fan and alumnus, congratulated Connecticut on the victory. "It was a great victory…we're sad to see the Bourbon go, but we'll make more," he said in an interview with WhiskyCast's Mark Gillespie at the World Whiskies Conference in New York City. Had Kentucky won the game, Gov. Malloy would have paid off with a basket of Connecticut wines, chocolate, and beer.
An email to Gov. Malloy's press office asking about the Governor's plans for the Bourbon basket was not returned. This story will be updated as more details are available.
Links: Kentucky Distillers Association
---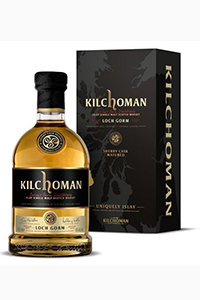 April 8, 2014 – Kilchoman is releasing a new edition of Loch Gorm, its Islay single malt named for the distillery's water source. The five-year-old malt is matured in Oloroso sherry butts, and will be bottled at 46% ABV.
This is the second edition of Loch Gorm, following last year's debut for the expression. Loch Gorm is Kilchoman's only malt matured exclusively in ex-Sherry casks. 17,100 bottles of the 2014 Loch Gorm will be available worldwide, with a recommended retail price of £59 GBP ($99 USD).
Links: Kilchoman
---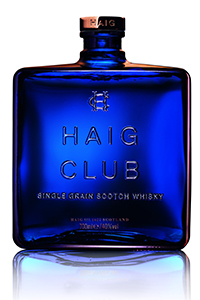 April 8, 2014 – Single grain Scotch whiskies have often been the red-headed stepchildren of the Scotch whisky industry: rare, unusual, and often maligned by connoisseurs. However, it's one of the few sectors with room for growth, and Diageo is planning a major push into single grains with the launch of Haig Club. The whisky was announced today as a partnership with soccer's David Beckham and entertainment entrepreneur Simon Fuller after more than two years of development.
While Haig Club is new, the House of Haig legacy goes back almost 400 years. Its modern legacy dates back to 1824, when John Haig founded the Cameronbridge grain distillery near Edinburgh and started producing whisky using continuous stills. Haig's name lives on with the Haig blended Scotch, and his legacy also includes the Dimple Scotch Whisky brand. Cameronbridge also produces the Cameron Brig single grain Scotch, sold primarily within Scotland.
"We take grain whisky very seriously," said Diageo Director of Whisky Outreach Dr. Nick Morgan in an interview at the World Whiskies Conference in New York City. "It's sometimes wrongly considered to be quite a passive ingredient in blended Scotch whisky — we think it's a very active ingredient, we pay a lot of care and attention to how we make it."
"We have a lot of skin in the grain whisky game, and we've always wanted to find an opportunity to bring different styles of grain whisky in front of consumers, and I think that's what we've done with Haig Club."
Listen to Mark Gillespie's entire interview with Dr. Nick Morgan

The launch of Haig Club follows last year's entry into premium single grain Scotch by William Grant & Sons, which released a 25-year-old single grain from its Girvan distillery and plans additional expressions this year. Unlike the initial Girvan expression, Haig Club will carry no age statement. According to Morgan, it is blended from Cameronbridge whiskies distilled from wheat and malted barley, followed by maturation in a mix of refill American Oak, first-fill ex-Bourbon casks, and rejuvenated casks.
Beckham and Fuller, the creator of "American Idol" and other media properties, are partners with Diageo in Haig Club, and were involved in developing the final blend for the whisky. The two will play key roles in developing the Haig Club brand and image as the whisky is launched later this year, while Beckham will also appear in a responsible drinking campaign for the brand. Haig Club is intended to be a non-traditional choice for consumers who want to try something different, with a focus on the cocktail market.
"The liquid has certainly been developed to be quite versatile," Morgan said. "We're looking at drinkers who possibly aren't engaged with the Scotch whisky category at the moment…they may be spirits drinkers, they certainly aspire to drink things like Scotch, but may have found the existing offerings on the market too much for them, a bit too difficult for one reason or another, a bit too stuffy and conventional perhaps. We're trying to bring a new age to Scotch with this product."
Pricing for Haig Club has not been announced, but will be released closer to the whisky's launch. According to Morgan, the whisky is likely to appear in global travel retail outlets first, with domestic rollouts in key markets near the end of the year.
Editor's note: This story was updated following an interview with Dr. Nick Morgan of Diageo in New York City.
Links: Diageo
---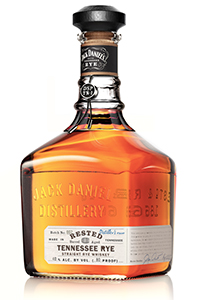 April 7, 2014 – Jack Daniel's is following up on the 2012 release of an unaged rye whiskey with a second limited-edition release, now that whiskey laid down in 2012 has been in casks for nearly two years. "Rested Tennessee Rye" will be available in limited amounts at retailers later this month, even though Master Distiller Jeff Arnett cautioned in a news release that it's not reached full maturity yet.
"Given the success of Unaged Rye, we felt like we should offer our friends another limited-quantity rye expression with a brief exposure to the barrel that's still handcrafted with the same passion and quality they expect from all of our products. And we hope they'll remember that, as good as this new offering is – it's still just a taste of what's to come."
Rested Tennessee Rye uses the same mashbill as Unaged Rye: 70% rye, 18% corn, and 12% malted barley. As with the other Jack Daniel's whiskies, it also uses the same spring water, yeast strain, and the traditional charcoal mellowing process. Arnett did not specify how much longer he thinks the rye whiskey will need to reach full maturity.
Rested Tennessee Rye will be available in 750ml bottles for a recommended price of $49.99 USD.
Links: Jack Daniel's
---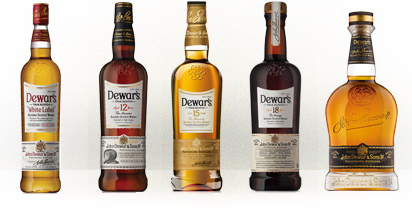 April 7, 2014 – The five blended Scotches that make up the Dewar's range of whiskies are getting new packaging designed to focus on the brand's heritage. The move comes as Dewar's parent Bacardi implements a new marketing campaign under the banner "True Scotch Since 1846." The UK, Spain, and Greece will see the new bottles first, with a gradual rollout worldwide across all markets.
The highlight of the new bottles includes a Celtic trefoil knot embossed above the label on the front of each bottle in the range. In a news release, the company noted that the interlocking "D's" represent the three men at the heart of the Dewar's legacy: John Dewar and his sons, John Alexander Dewar and Tommy Dewar. Dewar's executive Stephen Marshall told WhiskyCast the re-design is a return to that legacy. "The essence of the brand is really about people being true to themselves," he said during an interview at the World Whiskies Conference in New York City. "It was important to reference that and show that in the packaging."
"We took a step back…we went into the archives and took a great agency (Stranger & Stranger) with us, looked at the pack through the years, and we thought, right, we need to get back to that authenticity that we used to have. Although it was a great design (the current packaging), we felt it wasn't as effective as it had been in the past."
In addition, the packaging for Dewar's Signature will also include a certificate of authenticity signed by Master Blender Stephanie Macleod, the seventh person to serve as Master Blender for the Dewar's range since 1846. The changes also include a major upgrade at the Dewar's World of Whisky visitors center located at Aberfeldy Distillery near Pitlochry in the Scottish Highlands. The center will reopen later this month after being closed for renovations. Marshall noted that the World of Whisky had not been updated since its opening in 2003, and among the new features will be a blending lab where visitors can create their own personal blend.
Aberfeldy's single malt range is also receiving a new packaging design, which Marshall said will be unveiled later this month.
Editor's note: This story was updated on April 10 following an interview with Stephen Marshall of Dewar's. 
Links: Dewar's
---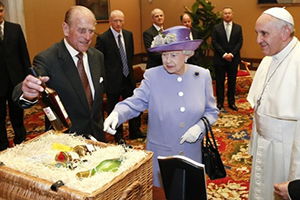 April 5, 2014 – Queen Elizabeth brought along a gift basket for Pope Francis when she and Prince Philip visited the Vatican on Thursday. It was the first meeting between the Pope and the Queen, who also serves as the titular head of the Church of England.
The gift basket was filled with food and products from the Royal estates, including a bottle of Balmoral single malt whisky from the Queen's Balmoral Castle in Scotland. However, there is no distillery located on the estate, which raises the question of where the whisky actually comes from.
Fear not…while the estate does not have its own distillery, it has the next best thing. The Balmoral single malt is actually produced less than a mile away at Diageo's Royal Lochnagar Distillery in Ballater, which received a royal warrant from Queen Victoria in 1848. According to the distillery's web site, manager John Begg invited the queen for a visit after she named Balmoral as her official holiday residence. She turned up three days later with her husband, Prince Albert, and three of their children. Lochnagar's whisky was less than three years old at the time, since the distillery had been opened in 1845 after Begg decided to build on the south bank of the River Dee. However, it was impressive enough that Queen Victoria immediately presented Begg with a royal warrant to supply her with whisky.  Begg changed the name of the distillery to Royal Lochnagar, and continued to supply whisky to the British royal family until his death in 1880. His name lives on in the John Begg line of blended Scotch whiskies.
The Balmoral single malt presented to Pope Francis is a 15-year-old whisky exclusive to Balmoral Castle and available through its online shop. In fact, Royal Lochnagar does not have a 15-year-old expression in its official range.
Links: Royal Lochnagar
---
April 4, 2014 – Morrison Bowmore is launching a new series of Bowmore single malts exclusively for the travel retail market. The "Black Rock" and "Gold Reef" malts will carry no age statement, while "White Sands" is a 17-year-old malt matured in the legendary Vaults No. 1 at the Islay distillery. Gold Reef and White Sands will be bottled at 43% ABV, while Black Rock will be bottled at 40% ABV. All three will be available in travel retail shops worldwide.
Black Rock is matured in first-fill Spanish oak ex-Sherry casks, while Gold Reef uses first-fill ex-Bourbon casks. The whiskies will be priced at £44.99 GBP ($75 USD) for Black Rock, £59.99 GBP ($99.50 USD) for Gold Reef, and £79.99 GBP ($133 USD) for White Sands.
Bowmore brand ambassador Gordon Dundas advises that the new series will replace the distillery's existing travel retail lineup, which includes the Bowmore 100° Proof single malt.
Editor's note: This story was updated with additional information provided by the distillery.
Links: Bowmore
---