Each week, we bring you the latest whisky news on WhiskyCast, but a lot can happen during the week. Now, you can keep up with whisky news as it happens here on WhiskyCast.com!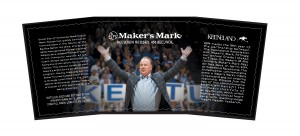 April 2, 2014 – University of Kentucky basketball coach John Calipari has his team in the NCAA's Final Four this weekend in Arlington, Texas, but his football counterpart gets the trophy at Keeneland for the running of this year's Maker's 46 Mile on April 11. Mark Stoops is featured on the commemorative Maker's Mark bottle that will go on sale Friday (April 4), with a part of the proceeds to benefit the University of Kentucky's Gill Heart Institute. 10,000 bottles will be available in Kentucky, and Stoops will join Maker's Mark's Rob Samuels and Bill Samuels Jr for a bottle signing at Keeneland on the morning of the Grade 1 stakes race.
Stoops is the brother of Oklahoma football coach Bob Stoops and Oklahoma defensive coordinator Mike Stoops. They lost their father to a heart attack at the early age of 54, and in a news release, Stoops said he jumped at the chance to help raise funds to improve cardiac care in Kentucky.
"I'm certainly honored to be on the label of this year's bottle, especially with the proceeds helping to bring ever-better cardiac care to the people of Kentucky. I've been here long enough to appreciate both the significance of the Gill Heart Institute's work and the unique role this commemorative bottle plays to help support it. I'm deeply grateful to Keeneland and Maker's Mark for making this happen."
This is the 18th year for the commemorative Maker's Mark Keeneland charity bottlings, with more than $7 million raised for Kentucky charities so far. Calipari was featured on the 2010 Keeneland bottle.
Links: Maker's Mark
---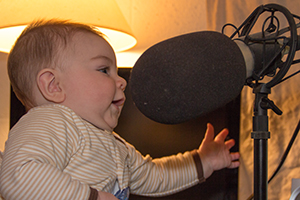 April 1, 2014 – CaskStrength Media is pleased to welcome a new host for WhiskyCast, as Hunter Smith will replace Mark Gillespie starting with this week's episode. Smith, an 18-month-old child prodigy, earned the position because of his appeal to a new generation of whisky consumers. In a news release, CaskStrength Media managing director Christina Philburn said the weekly show's new host will guarantee the long-term future of WhiskyCast.
"Mark's done a great job over the last nine years, but just as people today don't want to drink their grandfather's whisky, they don't want to hear about it from an old guy. Hunter's appeal stretches across all generations, and look at those cheeks! You just want to pinch them!"
While it is highly unusual for an 18-month-old to become a whisky journalist, Mark Gillespie pointed out that Hunter's family ties were a key factor in his selection. "We knew the kid had talent when he started experimenting with fermentation at 13 months by hiding bottles of apple juice next to the radiator. After a couple of weeks, they had a smell not unlike some young whiskies. True, he hasn't taken the next step to distilling anything yet, but the quality of his fermented spirit makes him a Master Distiller in my book. Plus, if you've ever changed one of his diapers, you know Hunter has peat in his DNA."
In the news release, Hunter Smith was quoted as being honored to take on the series of podcasts his grandfather created in 2005.
"Boppa baaa boo gaa, umm, ha, ha, ha. Boppa old, da da da."
(Translation: "Mark has worked hard for many years, and it is an honor to be asked to take on this responsibility.")
While there are no laws prohibiting minors from writing about distilled spirits, Hunter and the CSM management team have agreed that he will not publish whisky tasting notes for now. "It's probably not a good idea for the Whisky Fairies to visit Hunter before the Tooth Fairy does," CSM executive Aria Gillespie-Smith noted.
---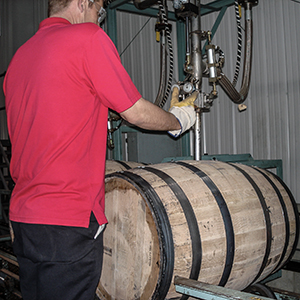 March 31, 2014 – Kentucky's House of Representatives has signed off on a bill that gives the state's Bourbon distillers a long-sought break on the taxes they pay each year on every barrel of maturing whiskey in their warehouses. The so-called "ad valorem" tax generates about $13 million each year for local governments and school districts, but the bill passed today preserves that revenue stream while allowing distillers to take a credit on their corporate income taxes to offset the ad valorem taxes.  The compromise requires the distillers to reinvest that money in their Kentucky operations, and the credit will be phased in over the next five years.
"We are appreciative that the General Assembly recognizes our signature Bourbon industry as a major economic development engine of the Commonwealth," Kentucky Distillers Association president Eric Gregory said in a news release. "This reinvestment tax credit will allow our distilleries to create more jobs and increase investment in the state." According to the KDA, Kentucky's taxes on distilled spirits are the third-highest in the nation, and the Commonwealth is the only state that imposes the ad valorem tax on distillers. Gregory said the offset will encourage more growth in the craft distilling community, along with another bill approved by the General Assembly that creates a special license for craft distillers with reduced licensing fees.
The bill was part of a package of tax reforms recommended in 2012 by a commission appointed by Governor Steve Beshear, and was approved by the Senate last week. The bill now goes to Gov. Beshear for his signature.
---
March 31, 2014 – Diageo may have lost a battle temporarily to change last year's Tennessee state law setting standards for what can be called "Tennessee Whiskey", but is now challenging part of that law and the state's interpretation of it in a Nashville federal court. The 2013 legislation also updated a long-standing state law requiring Tennessee distilleries to mature all of their spirits within the same county as the distillery. That law has been on the books since 1937, when Tennessee repealed its Prohibition-era ban on distilling for Moore, Coffee, and Lincoln counties only. The 2013 change allows distillers to expand their maturation sites to adjacent counties only.
Diageo is suing the Tennessee Alcoholic Beverage Commission and director Keith Bell with the hopes of overturning not only the 2013 expansion, but the original 1937 requirement. According to the Nashville Business Journal, Bell notified Diageo on March 20 that it was potentially in violation of the "Storage Statute" for moving spirits from its George Dickel Distillery in Tullahoma (Coffee County) to the Stitzel-Weller Distillery's warehouses in Louisville, Kentucky for maturation. Bell's letter requested the company's response by March 28, which was the day Diageo's lawsuit was filed. In an email, Bell explained that his agency was following up on a media report that Dickel-produced spirits were being moved to Louisville.
"Our inquiry was the first step to determine whether further investigation was warranted. At this time, no citations have been issued nor administrative proceedings initiated by the TABC."
In its court filing, Diageo acknowledges that it has moved some of its distilled spirits — other than the distillery's flagship George Dickel Tennessee Whiskey — from Tullahoma to Louisville (while not specifying which products those spirits were being used for). The lawsuit claims Tennessee's law violates the U.S. Constitution's protection of interstate commerce, and would force the company to either invest in new maturation facilities near the distillery or lease warehouse space from other property owners in the immediate area. The lawsuit also suggests that Diageo could cut back on production of those spirits at Dickel or move that production outside of Tennessee, with a potential loss of jobs in either case.
Bell and the Commission have not filed a response to Diageo's lawsuit with the court. WhiskyCast has reached out to Diageo for more details, and this story will be updated as more information becomes available.
Links: Diageo | George Dickel | Tennessee Alcoholic Beverage Commission
---
March 25, 2014 – With no agreement between competing Tennessee distillers on proposed changes to the state's 2013 law setting specific standards for "Tennessee Whiskey", Sen. Mark Green followed through on his threat to pull the bill from the floor and refer it to a "summer study" committee. During an interview with WhiskyCast's Mark Gillespie last Friday, Green said he wanted a "win-win" compromise that would be supported by all of the state's distillers while helping smaller ones become more competitive.
The referral means changes won't be considered during this year's legislative session, which is scheduled to end around May 1, and is a short-term victory for Jack Daniel's owner Brown-Forman, which pushed for passage of the original legislation last year. That law requires any whiskey carrying the designation "Tennessee Whiskey" to be matured in new charred oak barrels and conform to other production standards as Bourbons, along with using charcoal "filtering" (also known as the "Lincoln County Process"). Brown-Forman wanted the law in order to keep producers of unaged white whiskies and moonshine from being able to call their products "Tennessee Whiskey". However, the state's Alcoholic Beverage Commission has interpreted the law to allow the use of modifying words such as "White" between "Tennessee" and "Whiskey".
A group of distillers led by George Dickel owner Diageo asked Sen. Green to sponsor changes amending the 2013 law to allow smaller distillers to use "rejuvenated casks", in which layers of wood that had been saturated with whiskey in previous uses is removed to expose fresher wood. Green had supported the idea on the grounds that it would allow small-scale distillers to save money, but ran into opposition from Brown-Forman and a handful of other small-scale distillers. In a news release, Diageo executive Guy L. Smith IV called the "summer study" referral a positive step.
"The Tennessee legislature has done the right thing and now, rather than having one company dictate for everyone, we can do this the right way and come together in an open forum to discuss how to create the best standards for Tennessee whiskey.  In the meantime, we will continue to make George Dickel the same way we always have. This is a good day for Tennessee, for distillers big and small, and for consumers of Tennessee whiskey."
However, it should be noted that General Assembly observers have referred to "summer study" as a place where "bills go to die quietly" and there are no guarantees that changes would be introduced in the 2015 legislative session.
This story will be updated as more details become available.
Links:  Tennessee General Assembly | Brown-Forman | Jack Daniel's | Diageo | George Dickel
---
March 25, 2014 – As expected, Beam Inc. shareholders voted overwhelmingly to accept a $16 billion takeover bid from Japan's Suntory Holdings today during a shareholder meeting in Deerfield, Illinois. The acquisition will make Suntory the world's third-largest spirits company, and makes the family-run company the largest producer of Bourbon whiskey while giving it major stakes in Irish, and Canadian whiskies and expanding its Scotch whisky portfolio. Suntory has owned Morrison Bowmore Distillers in Scotland since 1984, and the acquisition must still receive European Union approval.
In a news release, Beam Chief Executive Officer Matt Shattock said the merger with Suntory will create even more opportunities going forward.
"We appreciate the confidence Beam shareholders have placed in our company over the years, and we're pleased that confidence is being rewarded.  Indeed, at the acquisition price of $83.50 per share, total shareholder return will stand at 106% since Beam began trading as a standalone spirits company in October of 2011."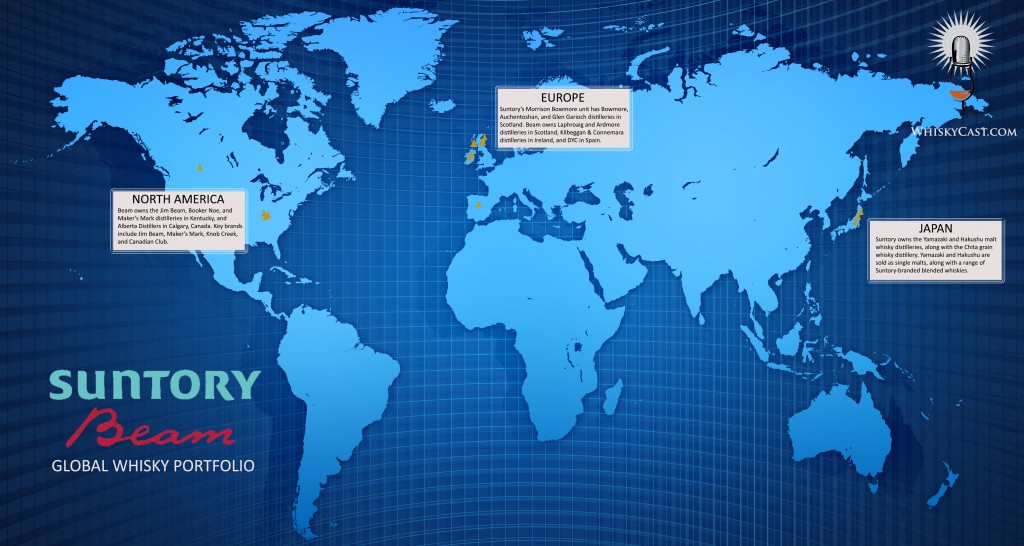 Beam was part of the Fortune Brands conglomerate until 2011, when activist investor William Ackman pushed for Fortune to break up in a bid to unlock "shareholder value." Fortune's Acushnet golf division was sold to an investor group made up of South Korean investors and Fila Golf, while the home improvement and security division was spun off, leaving Beam as a standalone company. Suntory is taking on about $2 billion in Beam debt as part of the $16 billion acquisition.
Beam and Suntory expect to close the transaction during the week of April 28, assuming final regulatory approval from the EU. Beam's headquarters will remain in the Chicago suburb of Deerfield, Illinois, and no major management changes are expected. Shattock and other key Beam executives hold "golden parachute" contracts making them eligible for sizable payouts if terminated during the first two years after the transaction closes.
---
March 24, 2014 – Members of The Explorers Club have traveled to the most distant reaches of the Earth and as far as the moon's surface over its 120-year history. The club's next expedition may be into a New York City federal courtroom, now that the group has filed a lawsuit against Diageo over its Johnnie Walker Explorers' Club travel retail series of Scotch whiskies. The Explorers Club, which is based in New York City and has chapters around the world, claims Johnnie Walker owner Diageo is infringing on its trademark for the Explorers Club name.
According to the New York Post, the club sent Diageo a "cease-and-desist" letter last spring, several months after the line was launched in November of 2012 with the "Spice Road" expression. The "Gold Route" blend was released in March of 2013, and the "Royal Route" blend completed the Trade Routes series in October. The lawsuit claims Diageo's use of the Explorers Club name on the three whiskies misleads consumers into believing that the group has endorsed the whiskies. The Explorers Club filed the lawsuit last week after negotiations with Diageo broke down, and the club is seeking either a licensing fee for the use of its name or the removal of the whiskies from the market. No court date has been set.
Diageo spokesman Jim Sias responded to our request for the company's side of the story in this email. "We just learned of the actions that were filed and do not have a comment at this time."
This story will be updated as more details become available.
Links: Johnnie Walker | The Explorers Club
---
March 22, 2014 – The Jewish Whisky Company has partnered with Virginia's Catoctin Creek Distillery to produce its first rye whiskey for sale to Single Cask Nation members. The whiskey comes from a single cask matured for slightly more than two years at the distillery, with the first year in an ex-Bourbon cask and the second year in a used white wine cask.
In a news release, Jewish Whisky Company co-founder Jason Johnstone-Yellin noted that this is the first American whiskey bottled for Single Cask Nation members.
"We couldn't be more thrilled to partner with Catoctin Creek on this whisky. Becky and Scott (Harris) produce some gorgeous spirits; we'd been pouring alongside them for years at various whisky festivals, and over the years we've become friends. We are delighted to bottle Catoctin Creek as the first American offering for Single Cask Nation."
The whisky has been bottled at cask-strength 61.6% ABV, and just 286 bottles will be available at a price of $75 each.
Links: Single Cask Nation | Catoctin Creek
---
March 22, 2014 – The next committee hearings are set for Tuesday in the Tennessee General Assembly's debate over changes to standards for what can legally be called "Tennessee Whiskey", but the proposal's Senate sponsor is trying to broker a compromise. Sen. Mark Green has proposed an amendment that would allow distillers producing less than 25,000 cases of whiskey annually to use so-called "rejuvenated casks" and still be able to call their product "Tennessee Whiskey." The casks would have to be ground or planed on the inside to remove layers of wood saturated with whiskey from a previous use.
"I sent that to the Jack Daniel's guys on, I believe, Thursday," Sen. Green told WhiskyCast's Mark Gillespie in a telephone interview. "We've not heard back from them yet, so I'm just waiting to hear from them. If they like the new amendment, then we've got a win-win and if they don't, then we're back to the drawing table." Green suggested that he's willing to pull his bill off the floor and end action on it until next year if no compromise can be reached. However, that would be exactly what Jack Daniel's owner Brown-Forman wants, since it opposes any changes to the bill passed in last year's session and signed into law last May.
"Jack Daniel's brought it to us last year, and we were told that the other guys didn't have a problem with it. Well, we were told that by Jack Daniel's…and we didn't…I guess one of us should have picked up the phone and said 'hey, Dickel, do you like this definition?' We didn't…and you know, this is what happens. I wasn't involved in the legislation last year, other than to just support it…but when it was brought to me this year and the discrepancy revealed, I thought, well, this was probably not fair and not right, so we've got to do something about it."
Listen to the entire interview:

Green introduced legislation last month at the request of Diageo and some of the state's craft distillers to remove requirements enacted last year that force distillers to use new charred oak barrels and mature their whiskies entirely within the state in order to be able to call their products "Tennessee Whiskey." That legislation was supported by Brown-Forman, which wanted to keep what it termed as "inferior whiskies" from hurting the global image of "Tennessee Whiskey." Jack Daniel's is the most widely-exported American whiskey, and is sold in more than 150 countries around the world.
Not only are Brown-Forman (Jack Daniel's) and Diageo (George Dickel) on opposite sides of the debate, but many of the state's craft distillers are split down the middle as well. Green wants both sides to come to an agreement that protects the overall integrity of the state's brand while also protecting small-scale distillers and allowing them to compete, and said he will not allow the state to be dragged into a battle over international sales. In a March 14 WhiskyCast interview, Brown-Forman spokesman Phil Lynch accused Diageo of promoting the changes as a way to undermine global sales of Jack Daniel's out of fears that it was cutting into sales of Johnnie Walker and Diageo's other Scotch whiskies. While Diageo's George Dickel is the number-two selling Tennessee whiskey, its sales are a fraction of Jack Daniel's — though still large enough that it would not be covered by the exemption Sen. Green has proposed.
"I'm not going to kowtow to someone's strategic initiative in their corporate international business practices. We're going to maintain the definition of Tennessee Whiskey in a way that makes sense, so if it's new oak wood that this whiskey touches and that's what makes the taste, then I don't see a problem with allowing the smaller guys to take the inside of that thing out, lower their costs, and allow them to compete."
The senator also wants to hear from both companies on what effect the definition of "Tennessee Whiskey" included in the North American Free Trade Agreement and other international trade treaties has on Tennessee's ability to set its own standard. NAFTA carries the weight of federal law, and in interstate commerce, federal laws generally take priority over state laws.
"Canada and Mexico shall recognize Bourbon Whiskey and Tennessee Whiskey, which is a straight Bourbon Whiskey authorized to be produced only in the State of Tennessee, as distinctive products of the United States."
Thomas Hogue, a spokesman for the Treasury Department's Tax & Trade Bureau, said in an email that those standards apply only to recognize Bourbon and Tennessee Whiskies as "distinctive products of the United States" when they are sold in foreign markets, but do not apply in the domestic market. While declining to comment specifically on the Tennessee law, Hogue noted that the 21st Amendment to the Constitution gives states broad powers over the sale, distribution, and labeling of alcoholic beverages within their borders. However, Green said there may be a question over whether Tennessee can set a definition for whiskey produced for sale outside of the state.
Links: Tennessee General Assembly | Brown-Forman | Jack Daniel's | Diageo | George Dickel
---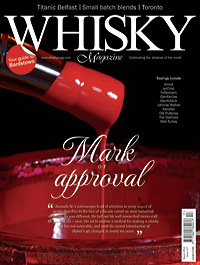 March 21, 2014 – Whisky Magazine editor Rob Allanson is leaving Paragraph Publishing to join William Grant & Sons, where he will serve as Global Brand Ambassador for the Grant's range of blended Scotch whiskies. Allanson will succeed Ludo DuCroq, who was recently promoted to a position overseeing the company's team of brand ambassadors for its various whiskies and other spirits.
"It's been nine years now, it's been a long time," Allanson told WhiskyCast's Mark Gillespie in a phone interview from London, where he helped present the 2014 World Whiskies Awards and Icons of Whisky Awards for the magazine. "Damian (Riley-Smith, the owner of Paragraph Publishing) said last night when he announced it that I've done 50% of the magazine's lifespan now…I'm the longest-serving editor that they've had there, but all good things have to change eventually." He also served as editor for Paragraph's Scotland Magazine in addition to his role at Whisky Magazine.
Allanson will be replaced by Rupert Wheeler, who has contributed stories for the magazine for several years and will serve as managing editor. Wheeler will oversee a team of regional contributing editors responsible for covering whisky news in their specific areas.
Editor's note: Mark Gillespie is a former contributing editor for Whisky Magazine, and stepped aside from his role earlier this year to focus exclusively on WhiskyCast. 
Links: Whisky Magazine
---