Each week, we bring you the latest whisky news on WhiskyCast, but a lot can happen during the week. Now, you can keep up with whisky news as it happens here on WhiskyCast.com!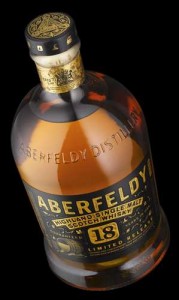 April 24, 2014 – Aberfeldy's single malts are the heart of the Dewar's range of blended Scotch whiskies, and the company is starting a major push for the brand with a new 18-year-old expression. The new malt will be rolled out this month in the travel retail market, joining the current 12 and 21-year-old expressions available at whisky specialist shops. It's bottled at 40% ABV, but pricing has not been announced.
The new look for the 18-year-old reflects Dewar's plans to invest in the Aberfeldy brand, and it will be carried over to the 12 and 18-year-old malts over the course of the year. Stephen Marshall of Dewar's told WhiskyCast's Mark Gillespie in a recent interview that the current Aberfeldy packaging hasn't been changed since the malts went on sale in 2003, and needs an upgrade.
In addition, Dewar's parent company Bacardi plans to expand availability of its Glen Deveron series of travel retail malts worldwide following last year's launch in selected markets. Both moves are being viewed as a first step expected to lead to additional single malt releases in the coming year.
Links: Dewar's
---
April 24, 2014 – Chivas Brothers has added a new permanent expression to The Glenlivet's Nadurra range of single malts that has the unique distinction of being the first regular Glenlivet bottling to be matured exclusively in ex-Sherry casks. The Glenlivet Nadurra Oloroso is matured in Oloroso Sherry casks, and will debut in travel retail at Frankfurt's Gebr. Heinemann whisky shop this month along with World Duty Free's World of Whiskies shop in London's Heathrow Terminal 5.
Nadurra was introduced in 2006 as a 16-year-old cask-strength version of The Glenlivet, and has had only one addition to the range since then, a 1991 Triumph barley limited edition release. Nadurra has been released in batches over the years, with a primary focus on ex-Bourbon casks. This marks the first permanent addition to the Nadurra range, though it is being bottled at 48% ABV unlike the regular cask-strength Nadurra expressions. Pricing for the Nadurra Oloroso has not been announced.
In addition, Chivas Brothers is also completing a special range for its Ballantine's blended Scotch whiskies that focuses on four of the malt distilleries that add their own unique touch to the blend. The final expression in the 17-heart-old Signature Distillery series features Glentauchers Distillery in Speyside, and will be available in Asia-Pacific travel retail outlets starting this month at a recommended price of $78 USD. The three previous expressions in the series featured Scapa, Miltonduff, and Glenburgie distilleries.
Links: The Glenlivet | Ballantine's | Chivas Brothers
---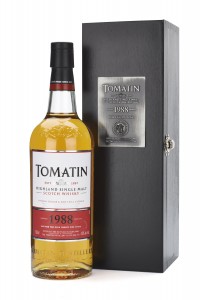 April 24, 2014 – Tomatin is making a major change to its core range of Highland Single Malt Scotch Whiskies, with two new additions replacing two longtime parts of the lineup. The distillery is releasing a new 14-year-old Port Cask-finished single malt, along with a 1988 vintage malt. The two malts will replace the existing 15 and 30-year-old expressions in the Tomatin core range, which will include the Tomatin Legacy (no age statement), 12, and 18-year old malts.
The 1988 Vintage uses a combination of ex-Bourbon and Port casks, and will be released in batches. Batch #1 will have 2,500 bottles at 46% ABV and be available worldwide with a recommended retail price of £159.99 GBP ($250 USD).
The new Tomatin 14-year-old was matured for 13 years in ex-Bourbon casks, then filled into Portuguese Port pipes that had previously been used to mature Tawny Port for more than 30 years. It is bottled at 46% ABV, and will carry a recommended retail price of £48.99 GBP ($55 USD for 750ml bottles) per 70cl bottle.
In addition, Tomatin has made a change in the bottling strength for its 12-year-old single malt, raising it to 43% ABV from the previous 40% strength.
For an interview with Tomatin Distillery Manager Graham Eunson, listen to Episode 469 of WhiskyCast.
Links: Tomatin
---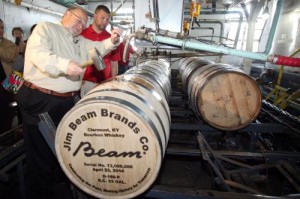 April 23, 2013 – When Prohibition ended in 1933, Colonel Jim Beam was prepared to resume distilling Bourbon. He'd already identified a site for the family's new distillery in Clermont, Kentucky, and started construction as soon as possible after the repeal. By the end of 1934, the first barrels of whiskey were already maturing in Beam's warehouses. Nearly 80 years later, his descendants hammered in the bung on barrel number 13,000,000 today. Seventh-generation Beam family member and global brand ambassador Fred Noe did the honors along with his son Freddie, who is following in the family tradition and starting his career at Beam's Booker Noe Distillery in Boston, Kentucky. The total includes barrels filled at the Booker Noe Distillery named for Fred's father, legendary master distiller Booker Noe.
"I guess, in this case, 13 is a lucky number," Fred Noe said in a news release. "As a family, we're proud of this milestone. It speaks loudly and proudly to our longevity and history, and bolsters our position as the world's largest producer of bourbon. We've been making bourbon a long time and we've made a lot of it." The ceremony comes less than 3 years after Noe filled and sealed Barrel #12,000,000 in 2011, and he projected the next million barrels will be filled even more quickly given the global demand for Bourbon. The milestone barrel will be placed on display in Rackhouse D on the Clermont distillery grounds, which is open to visitors as part of the Jim Beam American Stillhouse experience.
The ceremony comes just a week before Beam's $16 billion acquisition by Suntory is scheduled to be completed. Suntory is buying Beam as a way to diversify its product base and marketing outside of Japan, with the various Jim Beam expressions seen as a key factor in that decision.
Links: Jim Beam
---
April 23, 2014 – In the latest burst of expansion in Bourbon Country, Sazerac has announced plans to invest $71 million to expand production capacity at its three Kentucky distilleries: Buffalo Trace in Frankfort, 1792 Barton in Bardstown, and Glenmore in Owensboro. The Metairie, Louisiana-based company will add approximately 110 jobs to its Kentucky workforce when the projects are completed, according to the Lexington Herald-Leader.
The projects have been approved for $7.4 million in tax incentives from the Kentucky Economic Development Finance Authority. Last week, Governor Steve Beshear signed a new law supported by the Kentucky Distillers Association that will allow the state's distilleries to take a credit on their corporate income taxes for the money they pay in so-called "barrel taxes" on maturing whiskey, with the credits to be reinvested in capital projects within the state. The credits will be phased in over the next five years when the law takes effect starting in 2015, and Sazerac's expansion is the first to be announced since the new law was signed.
Buffalo Trace will get a new bottled goods warehouse with computerized inventory storage and retrieval equipment, while Glenmore will get a new distribution center with similar high-tech inventory control systems and upgrades to its maturation warehouses. Barton is slated to receive additional production capacity.
Sazerac declined to make executives available for interviews to discuss the expansion.
Links: Sazerac | Buffalo Trace
---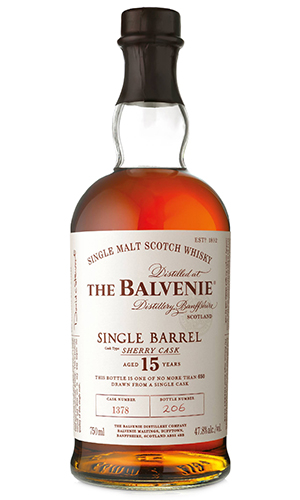 April 23, 2014 – The Balvenie will expand its range of single barrel malts with a new 15-year-old Sherry Cask expression, and plans are in the works for a 25-year-old single cask release in the near future. The Balvenie's global brand ambassador, Sam Simmons, said in an interview today that the 15-year-old expression will be available in the UK starting on May 2 coinciding with a special concert at Balvenie Castle, and in the US market during early May. The move follows last year's successful launch of a 12-year-old single barrel expression, and the new 15-year-old variant is expected to gradually replace The Balvenie's current 15-year-old Single Barrel that has been available for many years. The new 15-year-old will be available in limited quantities, due to the small number of ex-Sherry casks in the distillery's inventory.
"We'll end up with a 12, 15, and a 25 from three different types of casks," Simmons said. The 12-year-old uses first-fill ex-Bourbon casks, while the upcoming 25-year-old version will use refill casks — a nod to an older 25-year-old version. "I was a big fan of the 25-year-old when we had it…I think the last time we made it was in 2003," Simmons said. "A lot of people lament its loss…mature Balvenie from a single barrel, especially a refill, is sweet and quite luxurious."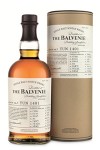 In addition, last November's Tun 1401 Batch #9 release for the US market may well mark a milestone for the series. The Tun 1401 bottling use vintage casks selected by Malt Master David Stewart for blending in the distillery's Tun 1401 vatting tun, which has a capacity of only 2,000 litres. Because of that, Tun 1401 releases have been rotated through the US/Asia, UK/Europe, and travel retail markets. However, a new vatting tun is under construction with an estimated capacity of 8,000 liters, and Simmons said that should allow for wider releases of Tun 1401 releases in the future.
The current tun is filled with Stewart's latest batch. "You can visit it at the distillery, probably if you're lucky, David might let you stick your finger in the top of the tun and have a wee taste, but currently there's no plan to bottle it, and probably the next Tun that we'll see bottled will be the new tun. It's really David Stewart's call." There's also no decision on what the new tun will be called, since Tun 1401 will continue to be used after the new one is commissioned.
Editor's note: This story was updated on May 5, 2014 with a new photo of the 15-year-old expression. 
Links: The Balvenie
---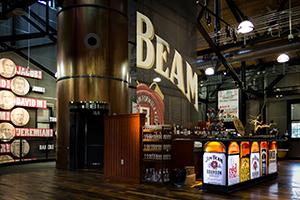 April 22, 2014 – Suntory's $16 billion acquisition of Beam has been approved by European Commission competition regulators. The merger had already been approved by US regulators, but needed European Commission approval because both companies have holdings in Scotland and extensive sales networks in Europe.
In a news release, Beam CEO Matt Shattock said the approval clears the way for the merger to close next Wednesday (April 30), with Beam shares to stop trading on the New York Stock Exchange at the close of the trading day. Beam shareholders will receive $83.50 per share in cash, and Beam will become part of privately-held Suntory Holdings when the deal closes.
"We have been working with Suntory to help ensure a smooth integration as we create the world's #3 premium spirits company, which will possess a dynamic portfolio across key categories, powerful global routes to market, and strong innovation capabilities. Our portfolios and operations are highly complementary, so we'll be focused on sustaining our momentum and generating sales synergies as we bring our companies together."
While no official announcement has been made, the Japan Times reports Shattock will continue as chief executive of what will be known as Beam Suntory when the deal closes, and Suntory plans to move the headquarters for its global alcoholic beverage business to Beam's Chicago-area offices. Suntory's food, soft drinks, and wellness business units will continue to be run from company headquarters in Tokyo, while its domestic whisky business will report to Beam Suntory executives in the US but continue to coordinate product development and sales in Tokyo. Beam spokesman Clarkson Hine declined to comment on the Japan Times report today, citing a company policy against commenting on rumors or speculation.
Suntory's goal in acquiring Beam was to diversify by boosting international sales as the Japanese market matures, and the plan is to take advantage of Beam's extensive global distribution network to increase exports of its Yamazaki and Hakushu single malts, along with the Hibiki range of blended whiskies and the rest of Suntory's alcoholic beverage portfolio. Last month, Suntory announced plans to invest around $9.7 million (USD) to increase capacity at its Hakushu distillery by around 30 percent. The move follows a similar expansion last year at its Yamazaki distillery near Osaka.
Editor's note: This story was updated with a response from Beam spokesman Clarkson Hine. 
---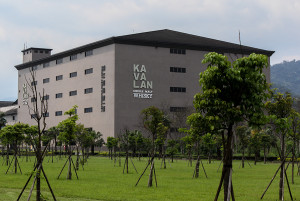 April 21, 2014 – After months of delays, Kavalan's single malt whiskies from Taiwan will go on sale in the US market starting later this week. Kavalan's parent company, King Car Distillery, Ltd., signed a distribution agreement with San Francisco-based Anchor Distilling last fall, and had hoped to have the whiskies available in January. According to Anchor president David King, the delay was caused by regulators at the Treasury Department's Tax & Trade Bureau during the label approval process for the seven Kavalan whiskies intended for sale in the US. Delays of this sort are common for single malt whiskies from "non-traditional" whisky-producing countries, since the US does not have a legal definition for "single malt" whiskies produced outside of Scotland, Ireland, or Canada. That lack of a standard has caused issues for whiskies exported to the US from India, Australia, Sweden, and England, along with other nations.
Now that the labeling issue has been resolved, the seven expressions will be available starting on Friday, April 25. The range includes Kavalan Classic, the original release from King Car, along with Kavalan Concertmaster, Kavalan King Car Conductor, and expressions matured in Bourbon, Fino and regular Sherry casks, and a Vinho Barrique expression. All seven have received awards in international competitions. The whiskies will initially be available in New York, Illinois, California, Florida, and Texas, but Anchor plans to distribute them nationally over the next several months.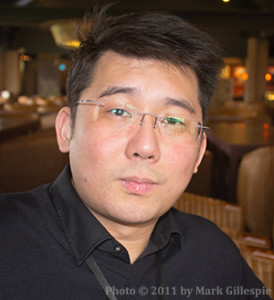 "I'm very happy and very excited that our Kavalan single malt whisky is finally available in the US," Kavalan Master Blender Ian Chang told WhiskyCast's Mark Gillespie in a telephone interview. In addition to the labeling issue, Chang also cited last autumn's budget-related shutdown of the US government as a key reason for the delay. "Kavalan was first exported to Europe without any problems, so we didn't think it would take so long here."
"I do apologize to all of the consumers in the US who were expecting Kavalan…it took a while, but we are here now."
Listen to Mark Gillespie's interview with Kavalan's Ian Chang:

King Car's history dates back to 2002, when Taiwan was forced to end its government monopoly on distilling as a condition of joining the World Trade Organization. Taiwanese industrialist and whisky lover T.T. Lee and his son, Y.T. Lee, seized the opportunity to establish Taiwan's first whisky distillery. The Lee family's King Car business spans a range of food and nutritional products, including a bottled spring water plant in Yi-Lan Province on Taiwan's eastern coast. With a source of high-quality water handy, they built a distillery on the site with assistance from longtime whisky industry consultant Dr. Jim Swan. Master Blender Ian Chang and Swan filled the first casks in 2005. Kavalan first made headlines in 2010, when two-year-old spirit from the distillery beat three-year-old Scotch whiskies in a blind tasting conducted by the Times of London.
For more on Kavalan's story, watch the WhiskyCast HD episode on Kavalan.
Editor's note: This story was updated following an interview with Ian Chang of Kavalan. 
Links: Kavalan | Anchor Distilling
---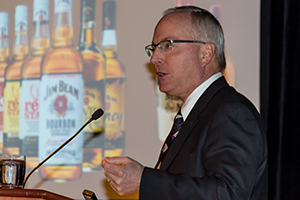 April 18, 2014 – Three senior Beam, Inc. executives have announced their plans to step down after Suntory's $16 billion acquisition of Beam is completed. In a regulatory filing today, Beam said North American President Bill Newlands (shown) will become a part-time strategic consultant for the company when his resignation takes effect on May 31. Newlands has been in charge of Beam's entire North American operations since 2010, when he was promoted from his previous position heading US operations. He joined Beam in 2005 following the breakup of Allied Domecq, where he served as president of the company's North American wine unit.
In addition, Chief Financial Officer Robert Probst and Corporate Controller Leo Mierzwcki will be resigning for personal reasons. The filing says both men chose to leave because of the "impact on their roles due to the impending acquisition." Probst joined Beam in 2008 as senior vice president and CFO, according to his official biography on Beam's web site. He previously headed up Baxter International's mergers and acquisitions team, and spent 8 years at Diageo in key financial roles. His resignation will be effective on May 31.
Mierzwcki has been Beam's chief accounting officer since 2009, and was part of the team that helped guide Beam's transition to a standalone spirits company in the breakup of Fortune Brands. His resignation will be effective on July 10. 
Links: Beam 
---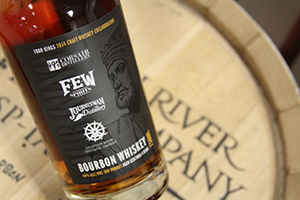 April 18, 2014 – Distillers have long been known for collaborating with each other on techniques, recipes, and even supplying spare parts or still time when needed. Rarely, though, do they join forces to blend their whiskies together…with the exception of special charity bottlings such as last year's Master Distillers' Unity Bourbon to raise money for the ALS Association's "Parker Beam's Promise of Hope Fund." Now, four Midwestern craft distillers have joined forces to create the limited-edition "Four Kings Bourbon" that will go on sale in Chicago next week.
"Like many things in this business, it happened over a glass of whiskey," Ryan Burchett of Iowa-based Mississippi River Distilling Company said. Burchett had been on a craft distilling panel with Bill Welter of Michigan's Journeyman Distillery and Paul Hletko of Few Spirits during WhiskyFest Chicago last year, and were sitting at a bar with Andrew Webber of Corsair Artisan Distillery. "We talked about our different whiskies and talked about craft, and each distillery poured a sample. I said 'boy, that would have been cool if we would have, like, had a blend or something and we could have poured that' and we got to talking and said "we should do that for next year." Their initial enthusiasm was tempered by the realization that each distiller had a different distributor, and getting the four distributors to cooperate could be difficult.
Listen to Mark Gillespie's interview with Ryan Burchett:

Enter Brett Pontoni, whisky specialist for the Chicago-based Binny's Beverage Depot chain. Pontoni helped solve the distribution problem by offering to take the entire production run. "I thought it was cool as hell that these guys wanted to get together and do this," Pontoni told WhiskyCast's Mark Gillespie in a telephone interview. "My only involvement was saying 'guys, I can't believe that this is gonna be anything but great, and I'm more than happy to guarantee that if necessary, I'll take everything just to make sure the project launches and nobody's hung with anything." With that, the distributors agreed to work together, seeing the potential to help raise the profile of all four distilleries.
With that issue solved, the distillers went to work. Each distillery contributed 30 gallons of Bourbon, with Burchett, Welter, and Hletko using their standard Bourbon mashbills. "Our friends at Corsair in Nashville, they're the experts on doing funky stuff," Burchett said. "They threw in some bourbon that had some experimental grains in it, some smoke and things like that, and that gives it a unique finish too." Corsair sent 15 gallons of its regular Bourbon and 15 gallons of Bourbon made with smoked wheat, which makes the final blend a four-grain Bourbon with corn, rye, wheat, and malted barley. Burchett blended the whiskey at his distillery on the banks of the Mississippi River in Le Claire, Iowa, and his marketing agency came up with the "Four Kings" name and label incorporating the logos of all four distillers.
"It's cocky, we know that, but we all just kind of liked it and it gave it a brand all of its own even with our individual distilleries all labeled on the bottle. We just thought it was cool…it's a first, so let's do it and stake our claim to something unique."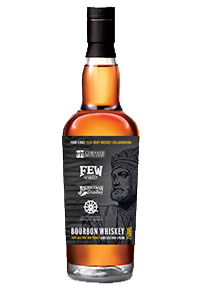 The final blend produced around 700 bottles, of which 600 will go on sale April 24 exclusively through Binny's starting that night with the annual Binny's World of Whiskies festival. There will also be a tasting party with the distillers that night at Delilah's, which will be one of the four bars to carry Four Kings along with Fountainhead, Clark Street Ale House, and The Bar on Buena.
Burchett hopes to make the collaboration an annual event. "I think this hopefully opens Pandora's Box for other producers to say 'hey look, this can be done,' and do this regionally, out east, out west, in the south, whatever. We certainly don't claim to have staked our spot as the only ones who can do collaborations, so I'm hoping you'll see more of it and certainly we want to do it again in Chicago next year."
Editor's note: This story was updated with additional information following an interview with Brett Pontoni. 
Links: Mississippi River Distilling Company | Corsair Artisan Distillery | Few Spirits | Journeyman Distillery | Binny's | Delilah's Chicago | Fountainhead | Clark Street Ale House | The Bar on Buena
---