Each week, we bring you the latest whisky news on WhiskyCast, but a lot can happen during the week. Now, you can keep up with whisky news as it happens here on WhiskyCast.com!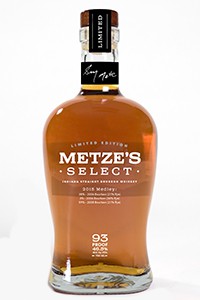 July 21, 2015 – The 170-year-old distillery in Lawrenceburg, Indiana has gone through many name changes in recent years after being known as the Seagram's Distillery for many years. Today, it's known as MGP or MGP Ingredients, and until now, all of the distillery's recent production has been sold to other whiskey companies for bottling under their own labels. While the very name "MGP" causes some whiskey lovers to have a hissy fit over the lack of transparency practiced by some of the distillery's customers, there's generally been little argument over the quality of the whiskey distilled and matured in Lawrenceburg.
Greg Metze is MGP's master distiller, and the distillery's first retail release under MGP ownership will be known as Metze's Select Bourbon when it is released in September. In a nod to transparency, the distillery is releasing Metze's blending formula, with 59% of the blend coming from a 2008 batch of whiskey with a 21% rye mashbill. The rest of the blend was distilled in 2006, with 38% using that same mashbill and 3% using a 36% rye mashbill. Metze's Select is being bottled at 46.5% ABV, and 6,000 hand-numbered bottles will be available through the distillery's distribution deal with Anchor Distilling Co.
The whiskey is technically the second released under MGP ownership, following last year's charity bottling of Mezte's Medley Indiana straight whiskey as part of Lawrenceburg's Whiskey City Festival to raise money for the local United Way chapter. That whiskey was not sold on the retail market.
Links: MGP
---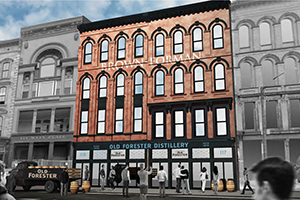 July 20, 2015 – Two weeks after a four-alarm fire ripped through the historic whiskey warehouses on Louisville's Main Street, Brown-Forman plans a groundbreaking ceremony next door for the $45 million dollar Old Forester Distillery and visitors center project. The ceremony is scheduled for Wednesday at the "Whiskey Row" site, which received only minor damage in the fire that caused extensive damage to the 111 Whiskey Row development that Brown-Forman and members of the Brown family are investing in.
The Old Forester Distillery project is separate from the 111 Whiskey Row development, and was announced last September. Brown-Forman plans to build the distillery on the site at 117 and 119 Main Street using two historic buildings that were used as whiskey warehouses between 1857 and the Prohibition Era. The building will also house a visitors center for Old Forester, which will continue to be produced at Brown-Forman's main distillery on Dixie Highway on Louisville's west side. The new distillery will eventually replace much of the Old Forester production at the Dixie Highway facility, and will include a cooperage, bottling line, and maturation warehouse space when it opens in early 2017.
The project is just one of several distilleries planned as part of the revival of Louisville's Whiskey Row. Heaven Hill's Evan Williams Bourbon Experience opened in 2013 at the western end of Main Street, and the Peerless Distilling Co. began production earlier this year nearby at the corner of 10th and Main. That end of Main Street is also home to the historic building being renovated as a small-scale distillery and visitors center for Michter's, while construction has started at the eastern end of Main Street for the new Louisville Distilling Co./Angel's Envy distillery. At its peak in the late 1800's, Main Street was home to dozens of whiskey warehouses and offices for whisky distillers and bottlers, though historians note that no distilleries were ever located on "Whiskey Row" at the time.
Editor's note: This story was updated with new details on the timetable for opening the distillery and production plans announced as part of the July 22 groundbreaking. 
Links: Old Forester
---
July 20, 2015 – While Scotch Whisky is by far Scotland's largest non-oil export product, much of the industry is controlled by companies headquartered far outside of Scotland – a sore point for some Scottish nationalists. With the Scottish National Party (SNP) now dominating the devolved Scottish government in Edinburgh and Scotland's Parliamentary delegation in Westminster, a group of party activists wants the SNP to consider some form of intervention in the whisky industry.
According to the Herald Scotland, the group led by former Diageo executive Donnie Blair, labor union leader Bill Ramsay, and the Common Weal think tank are submitting a motion for consideration at the SNP's annual party conference scheduled for October in Aberdeen. While the motion recognizes Scotch Whisky's role in the Scottish economy, the activists want a bigger piece of the pie to remain in Scotland.
"Conference calls upon the Scottish Government to establish a task force to consider… how to further develop the employment potential of the Scottish whisky industry.. to look at the feasibility of reforming the licensing regime for distilleries… to ensure that more of the revenue raised from the activities of the industry stay in stay in Scotland [and to] examine the feasibility of increasing the revenue of the industry"
That's a direct shot across the bow at the multinational corporations that own most of Scotland's whisky distilleries, including London-based Diageo, Paris-based Pernod Ricard (Chivas Brothers), Bahamas-based Bacardi (Dewar's), and Japanese-owned Beam Suntory. The activists cite studies claiming that 83 percent of the Scotch Whisky industry is owned by non-Scottish companies, while only around 2 percent of the industry's revenues stay within Scotland.
Scotch Whisky Association executives have criticized those studies, and following the Herald's report Sunday, SWA spokeswoman Rosemary Gallagher defended the industry's economic impact in an email to WhiskyCast. "Scotch Whisky is of major benefit to the economy," she said. "It adds more than £3 billion in value in Scotland and a total of £5bn across the UK. The industry supports around 40,000 jobs and is the linchpin of many communities"
There's no guarantee that the motion will actually make it to the SNP conference agenda. Last week, SNP leader and First Minister Nicola Sturgeon praised the Scotch Whisky industry for its success in international trade, and suggested that the industry could be a model for other Scottish business sectors.
It should be noted that, with a few exceptions, the Scotch Whisky industry was generally opposed to the 2014 Scottish independence referendum supported by the SNP on the grounds that it could upset global trade agreements worked out by UK diplomats over the last decade that protect Scotch Whisky exports. At the time, a number of industry executives privately expressed concerns that there might be some form of political "payback" for taking that position.
Links: Scottish National Party | Common Weal | Scotch Whisky Association
---
July 15, 2015 – Keith Kerkhoff is mad. Actually, he's more than just mad.
"I'm pissed off," the co-founder of Templeton Rye Whiskey said after picking up the phone Wednesday, the day after a settlement was announced covering three separate class-action lawsuits filed against Templeton Rye over its labeling. While the terms of the settlement have not yet been filed with the U.S. District Court in Chicago, Kerkhoff confirmed that consumers who purchased Templeton Rye since 2006 will be eligible to apply for refunds of either $3 or $6 per bottle (up to six bottles) depending on whether they have receipts. The settlement must still be approved by District Court Judge Joan Gotschall, and only then will lawyers establish a procedure for consumers to apply for the refunds.
"Snakes stealing…it's legalized stealing," Kerkhoff said while declining to comment on why he and co-founder Scott Bush decided to settle the case instead of going to trial. "It's all about greedy people…what damage was done…if people didn't like our product, they wouldn't have bought a second bottle. They bought it because of the unique taste, the unique flavor we have, and the story behind it."
Listen to Mark Gillespie's entire interview with Keith Kerkhoff:

That story was part of the reason behind the lawsuits filed in Chicago and Iowa. Templeton Rye had been marketed as being derived from the Kerkhoff family's Prohibition-era whiskey recipe. which the brand's web site has described as being a favorite of legendary mobster Al Capone. The founders had always been clear about the fact that their whiskey has been distilled and matured at MGP Ingredients in Lawrenceburg, Indiana, but was shipped to Templeton, Iowa for bottling. In a WhiskyCast interview last year, Kerkhoff and Bush confirmed that they add a proprietary flavoring compound and local water to replicate the original Kerkhoff family recipe's taste before bottling in Templeton. In the lawsuits, plaintiffs accused Templeton Rye of misrepresenting itself as a "small batch" whiskey distilled in Iowa using a "Prohibition-era recipe" – and claimed they paid more for Templeton Rye than they would have had they known the complete story.
"We had it on our web site that it was being distilled in Indiana," Kerkhoff said. "We never said it was distilled in Iowa…we said that it was 'Made in Iowa' on a t-shirt, and we never had that on the bottle." Templeton Rye bottles have always carried the term "Produced & Bottled by Templeton Rye Spirits LLC, Templeton, Iowa" – which complies with federal regulations for whiskies produced by so-called non-distiller producers such as Templeton. Last fall, "Distilled in Indiana" was added to the back label of Templeton Rye bottles, and Kerkhoff said his brand is committed to being a leader in label transparency.
Kerkhoff acknowledged the settlement includes a maximum cap for the fund that will be established to cover the cost of refunds and legal fees, but declined to specify the limit of Templeton Rye's exposure or the settlement earlier this year that relieved the company's insurer of responsibility for defending or paying any damages in the lawsuits. He admitted that the cost of the settlement may make it hard for the founders to continue supporting charitable and community programs in Templeton, where the whiskey producer is one of the farming town's major employers.
"It's all about the community…it's about us donating to the community of Templeton and being an Iowa company…we've always supported the Western Iowa and the state of Iowa with a lot of charities. We gave $250,000 toward the building of a community center in Templeton, Iowa…we were the lead donor on that….we are a company that's progressive and does a lot of good things."
No court date has been set for a hearing on the settlement. WhiskyCast has contacted the Chicago-based lawyers for the plaintiffs, but has not received a response.
This story will be updated with additional information as needed.
Links: Templeton Rye
---
July 13, 2015 – Iowa's Templeton Rye Whiskey has settled a series of class-action lawsuits filed last year over allegations that the company intended to defraud consumers about the origins of its whiskey. Terms of the settlement, which must still be approved by U.S. District Court Judge Joan Gotschall, will offer consumers who purchased Templeton Rye since 2006 a refund of $3 per bottle for up to six bottles with no proof of purchase. Consumers with receipts will be eligible to receive $6 per bottle for up to six bottles, according to the Chicago Tribune. The deal also requires that the terms "Small Batch" and "Prohibition Era Recipe" be removed from the Templeton Rye label. The terms of the settlement have not yet been filed with the court.
The first suit was filed last September in Chicago's Cook County Chancery Court, and accused Templeton Rye Spirits LLC of misrepresenting Templeton Rye as a "small-batch" whiskey distilled in Iowa by not disclosing that it was distilled at the MGP Ingredients distillery in Lawrenceburg, Indiana using a standard rye whiskey recipe. Two additional lawsuits filed in Chicago and Iowa making similar claims were consolidated in Judge Gotschall's court late last year, and the court docket shows settlement talks have been underway for the last six months. Federal law gives the federal court system jurisdiction over interstate class-action lawsuits, as well as those seeking more than $5 million in damages.
Templeton Rye co-founders Keith Kerkhoff and Scott Bush committed last August before the suits were filed to change the whiskey's labeling to reflect its original state of distillation. In a prepared statement, Kerkhoff said the company was able to prove to the plaintiffs that Templeton Rye was not a "stock whiskey" because of its use of additional flavorings to match the taste of the original Kerkhoff family recipe and local water.
"Though the relationship between Templeton Rye and our Indiana-based distillery partner is described on our website, we recognize that our marketing efforts should have provided more clarity about our production process. As a result, we've made adjustments to our label and marketing materials. With these changes, we're eager to move ahead and refocus on bringing the history and spirit of the community of Templeton, Iowa, to life through Templeton Rye Whiskey as we share 'The Good Stuff' with whiskey lovers everywhere."
According to a spokesperson for Templeton Rye, neither Kerkhoff nor Bush intend to comment publicly on the settlement, though the Chicago Tribune report quoted Kerkhoff as saying "This is unfortunate, but we're not looking back, we're only looking forward." WhiskyCast has asked attorneys for Chicago-based Edelson PC, which represented the plaintiffs, to comment on the case, but has not received a response.
Since the terms of the settlement have not been filed with the court, it is not known whether there is a limit on the total amount of refunds that Templeton Rye Spirits LLC will have to pay. The distillery's owners will be on the hook for the entire amount of the settlement after their insurance company filed a separate lawsuit in an Iowa federal court seeking to be released from any obligation to cover the costs of defending Templeton Rye in the labeling lawsuits. Society Insurance cited the class-action lawsuits'  accusations of deceptive marketing as being outside the scope of its coverage for Templeton's policy. That lawsuit was dismissed in April after Templeton accepted Society's position and withdrew its claims for coverage under the policy.
Update: A web site for filing claims has been established as of August 7, 2015.
Editor's note: This story was updated with details of the settlement as reported by the Chicago Tribune, along with additional information on Templeton Rye's insurance coverage. 
Links: Templeton Rye | Edelson PC
---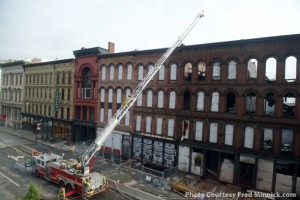 Updated July 12, 2015 – The Civil War-era facades of the old whiskey warehouses along Main Street are still standing for now, but whether they will be able to survive the aftermath of Monday's (July 6) four-alarm fire that caused extensive damage to the structures is still very much in doubt. Louisville firefighters are now blaming sparks from either a cutting torch or grinder for the fire in the warehouses next to Brown-Forman's planned Old Forester Distillery and visitors center. Construction workers had left the site shortly before the fire was reported, according to various media reports. Investigators believe sparks used by one of the tools reached combustible material in the building's basement and smoldered for some time before bursting into flame.
The three buildings essentially destroyed in the fire were owned by Main Street Revitalization, an investor group that included Brown-Forman along with individual members of the Brown family. The group acquired the buildings along Main Street at First Avenue in 2011 to keep them from being demolished, and was starting work to redevelop them into the "111 Whiskey Row" project with a combination of retail, office, and apartment space. The adjacent buildings owned by Brown-Forman received relatively minor damage, and company executives are waiting for structural engineers to review the site before moving forward with construction later this summer on the $45 million project.
WDRB-TV in Louisville obtained this copy of an email sent to Brown-Forman employees by the company's executives Tuesday.
As many of you may know, three buildings along Louisville's Whiskey Row on West Main Street were heavily damaged by fire Monday afternoon.  The fire started in the building adjacent to the buildings where we will build the Old Forester Distillery and Visitor Experience and spread in the opposite direction (toward the east) away from our buildings.  Thankfully, no one was injured in the fire.

As far as we know this morning, our Old Forester Distillery buildings suffered little damage. However, we will need to get structural engineers to inspect them before we can be assured of their exact condition.  At this point, however, our plans remain unchanged and we will continue with preliminary work and hold a ground-breaking ceremony later this summer and begin construction on the project.  The timing of that event could change based on the condition of both our buildings and the three other buildings involved in the fire, but as of now we do not know of any reasons to change our plans to develop the Old Forester Distillery on Whiskey Row.

Unfortunately, the fate of those three buildings engulfed in the fire is much worse, as all experienced very heavy damage.  The hope is that the three facades of the buildings can be saved, preserving the look and feel of Louisville's nineteenth century Whiskey Row.

Brown-Forman is one of the investors in Main Street Revitalization, the organization that was created and funded by several community leaders as well as our company several years ago to purchase and save the Whiskey Row buildings from demolition.  The preservation of our historic structures in our community and elsewhere is vitally important to us, as they reflect the unique character and history of a place. So Brown-Forman and Main Street Revitalization join with preservationists everywhere in lamenting the serious damage done to the three historic buildings on Louisville's Whiskey Row.  We are grateful, however, that the two Old Forester Distillery buildings were spared from the ravages of the fire, thanks to providence and the work Main Street Revitalization did to stabilize the structures prior to our purchase of the buildings last month.

All of us at Brown-Forman and Main Street Revitalization commend the excellent work of the Louisville Fire Department for keeping the fire from spreading west to our Old Forester Distillery buildings and preventing the blaze from damaging other occupied buildings nearby.

We will update you further about the condition of the Old Forester Distillery and other Whiskey Row buildings when we know more.
Louisville fire officials hope to allow structural engineers into the buildings this week to examine the damage, but have blocked access so far because of the potential for the remaining walls and facades to collapse in strong winds or rain. A spokesman for the 111 Whiskey Row project told the Louisville Courier-Journal that decisions will not be made on when or whether the development can proceed until after the engineering review is completed.
This story will be updated with additional information as needed.
Editor's note: This story was updated with new details on the cause of the fire.
Links: Brown-Forman | Main Street Revitalization
---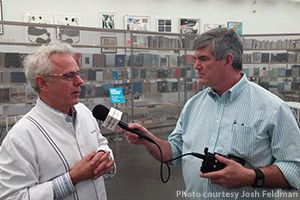 July 4, 2015 – Chef David Bouley is one of America's leading chefs, and it's almost impossible to get reservations at his namesake restaurant in New York City's TriBeCa neighborhood. Before opening the original Bouley in 1987, the Sorbonne-trained Connecticut native worked at some of Manhattan's legendary restaurants and has a wall full of awards for both his culinary and writing prowess.
For Suntory's New York City launch of the Hibiki Japanese Harmony blended whisky at a dinner on June 30, 2015, Chef Bouley and his colleague, Chef Isao Yamada, prepared a dinner featuring smoked salmon, Colorado Lamb, and other courses using the Hibiki as both an ingredient and a complementing drink. However, what may have been the most memorable dish of the evening wasn't found on the menu…Chef Bouley and his team prepared ice cream using the Hibiki and organic prunes – just because they had some whisky left to work with.
After dinner, New York Daily News reporter Jeannette Settembre and WhiskyCast's Mark Gillespie had a chance to talk with Chef Bouley about whisky, food, and that ice cream. Here's the interview:
Chef Bouley owns his namesake restaurant in Manhattan, along with Brushstroke, the Bouley Test Kitchen, and the Bouley Botanical event space.
---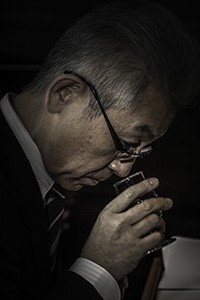 July 3, 2015 – Shinji Fukuyo was named Suntory's chief blender in 2009, and is only the fourth person to hold that title in the company's history. His responsibilities include the Yamazaki and Hakushu single malts, along with the Hibiki range of blended Japanese whiskies and the entire Suntory Whisky portfolio.
His whiskies have won numerous awards over the years, and he is regarded as one of Japanese whisky's leading innovators. His latest creation is the Hibiki Japanese Harmony blend, which is being released this month worldwide.
Earlier this year, we sat down for a conversation in New York City with the help of interpreter Hidemi Harada.
Links: Suntory Whisky
---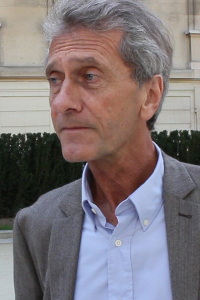 July 3, 2015 – The Law of Unintended Consequences – better known as the saying "it seemed like a good idea at the time" – has raised its ugly head again. France's Glann ar Mor Distillery in Brittany will close next month, not for economic reasons, but because of what the distillery's founders claim are political and regulatory reasons. A new "protected geographical indication" for Brittany whiskies is in the final stages of implementation by the French government, and the Donnay family believes the standards will make it impossible for them to continue to produce their whiskies in the region.
Jean and Martine Donnay founded Glann ar Mor 18 years ago, and joined with three other area distillers in 2009 to pursue the "Whisky de Bretagne" geographical indication as a way to promote their products and protect themselves from unfair competition. Jean Donnay said that process fell apart in early 2012 after Glann ar Mor and two other members of the group decided to drop out. "The drawbacks and disadvantages of the geographical indication were stronger than the advantages," he explained in a telephone interview.
Listen to Mark Gillespie's interview with Jean Donnay:

As with wine appellations, geographical indications for whiskies in France are controlled by the Institut National de l'Origine et de la Qualité (INAO). Donnay claims the agency decided last year to revisit the issue with the support of one of the three distillers who had initially backed out, and he claims the agency established requirements for the "Whisky Breton/Whisky de Bretagne" designation that favor large-scale distillers at the expense of artisan distillers like Glann ar Mor. "We found ourselves in a situation where we knew the geographical indication would happen, and it had become unacceptable," he said. The proposed geographical indication has been submitted to European Union officials in Brussels for approval, and could take effect in early 2016 if approved. 
Without signing on to accept the geographical indication and its requirements, Glann ar Mor would be unable to not only refer to its whiskies as "Breton Whisky", but would have to remove all references to Brittany from its labels and packaging. Donnay was told by a regulator that would include a graphic showing a map of the Brittany region that appears on the back of Glann ar Mor and the Kornog peated whisky bottles, but that he still would be able to list the distillery's address. "We must present our whisky labeling in a way that nobody can know where it comes from," he said. In addition, Donnay would be forced to stop producing his single malt rye whisky and mothball his alembic still, since the requirements mandate the exclusive use of malted barley and pot stills.
The Donnays are still exploring options for the future, and are not ruling out the possibility of moving the distillery out of Brittany. They are also progressing with work on their Gartbreck Distillery on Islay, though Donnay declined to link the two projects for now and said more news on Gartbreck will be announced in coming weeks.
WhiskyCast has contacted the INAO for a response to Donnay's claims, and this story will be updated as more information becomes available.
Editor's note: This story has been updated to include the French terms for Breton Whisky. In addition, we are making available a PDF file (in French) of the INAO's proposed standards for "Whisky de Bretagne" that have been submitted to the European Union for approval. 
Links: Glann ar Mor | Institut National de l'Origine et de la Qualité
---
July 1, 2015 – David Beam, the last distiller at Jim Beam to carry the family name, passed away at his farm near Bardstown, Kentucky on Monday (June 29) at the age of 74. Born Daniel David Beam on January 23, 1941 at his family's home on the distillery grounds in Clermont, he spent 38 years working at the Jim Beam Distillery before retiring in 1996. He and his wife Belle also owned the Old Kentucky Home Motel in Bardstown for 21 years, according to his obituary in the Nelson County Gazette.
As longtime Bourbon historian and writer Chuck Cowdery noted in his blog, David Beam and his brother Baker succeeded their father Carl as the head distillers at Beam, with Baker working the 12-hour day shift and David working the night shift to keep the distillery running 24 hours a day.
David Beam is survived by his brother, along with a daughter, three sons, and seven grandchildren. Our condolences go out to the entire Beam family.
Links: Jim Beam
---