Each week, we bring you the latest whisky news on WhiskyCast, but a lot can happen during the week. Now, you can keep up with whisky news as it happens here on WhiskyCast.com!
April 15, 2014 – Australia is the 12th largest market for Scotch whisky exports, with growth of 7% last year. It's also one of the worst markets for counterfeit Scotch whiskies, according to the Scotch Whisky Association, which claims at least 40 brands of fake Scotch whiskies are being sold in Australia. Now, the SWA and its members will have greater power to get the impostors off the market — or at least get them rebranded as something other than Scotch whisky. Australian officials have granted the SWA a "certification trademark" for Scotch whisky, which will allow the trade body to take legal action to remove fakes from the market.
The problem dates back to 2000, when Australia revamped its food safety laws in coordination with New Zealand and removed specific protection for Scotch whisky. That, combined with a lack of enforcement, opened the floodgates for counterfeit whisky makers. According to the association, local companies have been diluting real Scotch whisky with other spirits and selling the adulterated product as Scotch. In a news release, SWA legal adviser Alan Park described the new trademark as a breakthrough for the industry.
"I have been involved in actions against many fake 'Scotch Whisky' products in Australia in recent years. Registration of Scotch Whisky as a certification trade mark is a major breakthrough and will make it easier to crack down on fakes and therefore protect consumers, although the onus to prevent the sale of fakes still rests on the industry. It has taken time and effort to achieve this result and we would like to thank the UK Government and European Commission for their support. Scotch Whisky exports are of immense value to the economy so overseas protection is vital. We will be monitoring the market and will use our new protection for Scotch Whisky to take decisive action against fakes."
The Association's team of lawyers has fought fake whiskies for decades, and former SWA chief executive Gavin Hewitt once called it the association's most important function during a WhiskyCast interview.
Links: Scotch Whisky Association
---
April 14, 2014 – Woodford Reserve's first national television campaign made its debut during the season premiere of "Mad Men" on AMC Sunday night, and the episode was barely over before critics started slamming the first commercial as "sexist." The ad features a woman talking about the kind of man she imagines drinking Bourbon, and is the first of six commercials in the series created by Minneapolis-based advertising agency Fallon Worldwide.
Most of the criticism came via Twitter, with CNN.com's Kat Kinsman providing some of the most vocal commentary: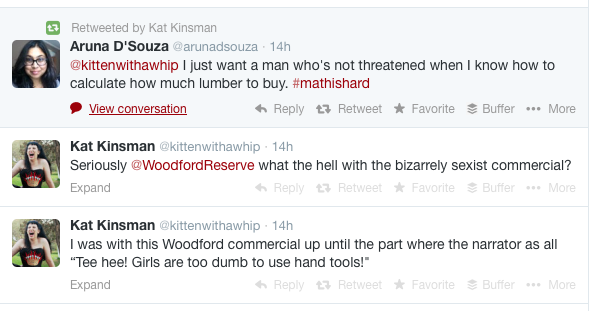 Women were not the only ones who appear to be upset with the ad's content:


Woodford Reserve spokeswoman Andrea Duvall described the campaign's overall goal as one of celebrating the complexity and diversity of Bourbon drinkers. In a telephone interview, she told WhiskyCast's Mark Gillespie that sexism never entered the discussion.
"We recognize that people are talking about it (the "Bookshelf" ad), and it was not our intent to offend. This is about celebrating the Bourbon drinker from a number of different contexts."
The debate over gender roles and presentation in whisky advertising reached a new level in December, when a social media-led campaign forced Dewar's to withdraw an online video because of its portrayal of women. The ad was later deemed to violate the Distilled Spirits Council's Code of Responsible Practices by the trade body's Code Review Board. However, the Canadian whisky blogger who helped lead that campaign doesn't see any issues with the Woodford Reserve commercial. In an email, Johanne McInnis said she doesn't view the Woodford commercial as sexist at all, with a woman narrator and no "half-naked" women in "hooker makeup and heels."
"When she sees a guy drinking bourbon she sees someone who is smart, good with his hands & respects that she's not "cute" because she doesn't know how to use it. May not be the most brilliant marketing ad, but this is a great step in a gender neutral position."
A second ad in the series tells a story from the man's point of view, and four additional ads will be rolled out on broadcast and cable networks over the next several weeks. Duvall says at least one of the ads will run during NBC's coverage of the Kentucky Derby on May 3. Woodford Reserve is the official Bourbon of the Kentucky Derby, and the controversy developed as the brand was announcing its annual Kentucky Derby $1,000 Mint Julep campaign to raise funds for the Old Friends Thoroughbred Retirement Center.
Editor's note: This story was updated with comments from Woodford Reserve spokeswoman Andrea Duvall.
Links: Woodford Reserve | CNN.com Eatocracy Blog
---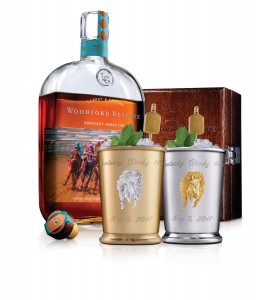 April 14, 2014 – With the 140th running of the Kentucky Derby less than three weeks away, Woodford Reserve has started taking bids for its annual $1,000 Mint Julep cocktails to be served at Churchill Downs on Derby Day. Proceeds from the 9th annual event will benefit the Old Friends Thoroughbred Retirement Center, which provides a safe home and medical care for retired race horses. The cups will be on sale online through May 1, but must be picked up at Churchill Downs on May 3.
This is the 89th year that the Derby has been known as the "Run for the Roses", in honor of the rose garland traditionally placed around the winning horse's neck. A total of 89 Mint Juleps will be available, with 79 to be served in a sterling silver "Kentucky Rose Cup" priced at $1,000 each. Ten gold-plated "Royal Rose Cups" will be available for $2,000 each. Both versions will contain the same cocktail, to be made this year with rose-themed ingredients including rose-infused ice, candied rose petals, and Woodford Reserve Distiller's Select Bourbon. Each cup will come in a box made from the same American White Oak used for Woodford Reserve's barrels, with a fabric liner specially designed by Vineyard Vines. The apparel company has also produced a special series of accessories to be sold only at the Woodford Reserve Distillery's visitors center, with all proceeds to go to Old Friends as well.
Last week, Woodford Reserve held a grand opening for the newly-expanded visitors center at the distillery in Versailles, Kentucky. The $1.9 million dollar expansion project includes a new tasting room, expanded dining space, and facility upgrades. Brown-Forman is also investing an additional $35 million to expand production capacity at the distillery, which dates back more than 150 years and is listed on the National Register of Historic Places.
---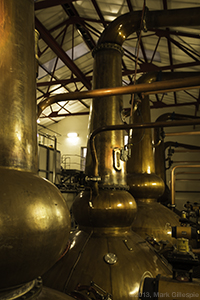 April 11, 2014 – As the Scotch Whisky Association released 2013 export data showing a second consecutive flat year, the trade body's chief executive expressed concerns over September's Scottish independence referendum and its potential impact on the Scotch whisky industry. David Frost, while not openly suggesting that Scots vote against seceding from the United Kingdom, suggested in a news release that Scotland's foreign trade benefits from the governments in Edinburgh and London working together.
"As a former ambassador, I know that the industry also depends on strong political support from government, for example to influence European Union negotiations on our behalf or to press other countries to allow better access to their markets.  Both the UK and Scottish Governments have played an important role in this so far.  Whatever the outcome of the Scottish referendum, as an industry exporting to around 200 markets we will continue to need the backing of an effective diplomatic network with the necessary global reach, commercial expertise, and capacity to influence."   
It has been suggested that a "yes" vote on independence would force the future Scottish government to renegotiate the many trade treaties signed by the UK government in recent years that include specific protection for Scotch whisky against counterfeiting and punitive tariffs. Frost did not address that in the SWA's news release, and the Scottish National Party-led pro-independence campaign has not addressed the issue directly.
Meanwhile, the overall value of Scotch whisky exports dipped slightly during 2013. According to HM Revenue & Customs data, the value of Scotch whisky exports for 2013 was £4.259 billion ($7.12 billion USD), down from £4.273 billion ($7.15 billion USD) during 2012. However, the volume of Scotch whisky exports rose by 3%, with single malt exports gaining 5%.
France remains the single largest market for Scotch whisky by volume with a 16% gain, following an off-year in 2012 linked to a tax increase at the beginning of 2012 that saw importers accelerate their orders during late 2011 to avoid the increase. The United States saw an 8% gain with a value of £819 million GBP ($1.37 billion USD), and remains the largest market by value. Exports to India grew by 12% despite no progress in trade talks between India and the European Union, and SWA officials are hopeful that negotiations will resume following the upcoming Indian elections.
The Asia-Pacific region suffered sharp declines, with double-digit drops in exports to China, Japan, Taiwan, and South Korea linked to slower regional economic growth and government austerity measures. Singapore, which serves as a regional shipping hub, showed a 3% decline. South Africa saw an 8% gain in volume (1% in value), while Brazil and Mexico led Latin America with volume increases of 26% in Brazil and 15% in Mexico – where Scotch whisky has become one of the UK's fastest-growing exports according to the SWA.
Despite what would appear to be another flat year for the industry, Frost remains confident in the overall strength of Scotch whisky.
"The industry's impressive performance makes a major contribution to the UK's trade performance. The unprecedented investment programmes in Scotch Whisky by producers show that in the long term they are confident that demand will continue to grow. However, in the short run, there are some economic headwinds.  Formal and informal barriers to trade remain.  We should remember that the industry's success does not come automatically but is based on hard work, investment and careful stewardship."
According to HMRC data, Scotch whisky accounts for 85% of Scotland's food and drink exports, and nearly 25% of the UK's overall food and drink exports. SWA officials were unavailable for interviews today.
Links: Scotch Whisky Association | HM Revenue & Customs Statistics
---
April 10, 2014 – After more than a year of fighting with Vermont state officials over its plans to build a farm distillery, WhistlePig Farm in Shoreham has finally received state approval to start construction on its distillery. WhistlePig founder Raj Bhakta told WhiskyCast Wednesday night at Whisky Live New York that the regional environmental commission's permit was granted on Monday, and "the cranes are moving as of 8am this morning."
Vermont Department of Natural Resources officials opposed WhistlePig's plans to build a distillery at the farm on the grounds that WhistlePig's whiskey could not be considered an agricultural product. That argument centered on the department's opinion that water was the main ingredient in whiskey, not grain, and the state's laws require that at least 50 percent of whatever a farm makes must come from that farm. Without the designation as a farm, WhistlePig would fall under more stringent "Act 250″ rules for commercial developments. The objections also focused on WhistlePig's current practice of importing bulk whiskey from Canada's Alberta Distillers and using the farm for maturation and bottling. In a 2013 Vermont Public Radio interview, Natural Resources Board chairman Ron Shems noted that "WhistlePig right now is not growing anything that goes into its whiskey."
Bhakta told WhiskyCast that the Vermont debate over whiskey as a farm product has not been resolved. "We have a commercial permit, not a farm-based permit, but a commercial permit to grow our own grain and to build a distillery and get that going," he said. "That's a legal question at the end of the day, but for us, most interestingly, is the actual realization of something truly unique that we've been working towards for years." The former reality show contestant ("The Apprentice") expects to begin distilling on the farm by the end of the year, assuming no major delays in construction. Veteran distiller Dave Pickerell is WhistlePig's Master Distiller, and has been responsible for developing the distillery plans while selecting barrels from Alberta Distillers for the current WhistlePig expressions.
Listen to Mark Gillespie's interview with Raj Bhakta:

The distillery also drew objections from neighboring farm owners worried about the potential impact on their crops from so-called "black mold" fungus caused by alcohol vapors. The environmental commission's permit allows WhistlePig to store up to 6,000 barrels of whiskey on-site, and WCAX-TV reports that commission members do not expect any mold issues as long as the distillery stays within those limits. WhistlePig is currently maturing several hundred barrels on the farm. However, opponents have 30 days to appeal the commission's ruling in court.
Links: WhistlePig
---
April 9, 2014 – Master Distillers Parker Beam and Edwin Foote are the latest inductees in Whisky Magazine's Hall of Fame. Both men were inducted during a ceremony at the World Whiskies Conference today in New York City, joining Barry Crockett, Dennis Malcolm, Jim McEwan, and Frank McHardy as the Class of 2014. Crockett, Malcolm, McEwan, and McHardy were inducted last month during the World Whiskies Awards ceremony in London on the eve of Whisky Live London.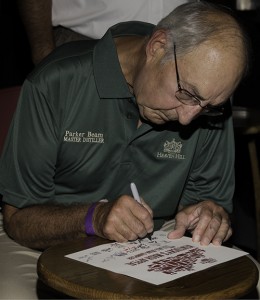 Parker Beam has spent his entire 54-year career at Heaven Hill, following in his father Earl's footsteps and becoming Master Distiller in 1975. Last year, he was diagnosed with ALS, and his fight inspired Heaven Hill to dedicate the 2013 edition of Parker's Heritage Collection whiskey to funding ALS research through the "Parker Beam's Promise of Hope Fund." He was unable to attend the ceremony in New York, but continues to work at the distillery and on his family farm. Heaven Hill's Bernie Lubbers spoke on Beam's behalf and noted that he spent part of the day tending his herd of 200 cattle. Lubbers told WhiskyCast's Mark Gillespie that while the honor came as no surprise to him and his colleagues, Parker Beam himself never saw it coming.
"They didn't know they were going to be rock stars," Lubbers said of both inductees. "Back in the 1970s and 1980s, people weren't talking about that. Wouldn't we all want somebody to recognize us in the twilight of our careers as a lifetime achievement, and this is a worldwide acknowledgement, so he's just blown away by it."
Listen to Parker Beam's speech at his 50th Anniversary celebration on October 23, 2009:

Foote spent much of his career at the old Henry McKenna Distillery in Kentucky, and joined Stitzel-Weller as Master Distiller in 1983. He was the distillery's final master distiller when it closed in 1992, and spent the final years of his career at UDV's Bernheim Distillery in Louisville before retiring. Like Beam, he was also unable to attend the ceremony in New York. His daughters Elizabeth and Margaret accepted on his behalf.
"It was beyond his wildest imagination," Elizabeth Cross told WhiskyCast. "The whole resurgence of Bourbon appreciation and culture and industry has surprised no one more than Dad." Foote was the guest of honor last month at a Kentucky Derby Museum tasting led by Fred Minnick which drew Bourbon aficionados from around the country. He shared the news of his induction in an email with his daughters and son, according to Cross. "He said 'I would love to go, but I just don't believe I can', and he was just absolutely speechless."
Listen to Mark Gillespie's interview with Edwin Foote in September, 2012:

Whisky Magazine created the Hall of Fame several years ago to replace its annual Lifetime Achievement Awards. Beam and Foote are the 21st and 22nd members of the Hall of Fame, which is selected by the magazine's editorial staff and management.
Links: Whisky Magazine Hall of Fame
---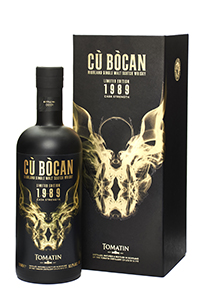 April 10, 2014 – During a recent WhiskyCast interview, Tomatin distillery manager Graham Eunson hinted at more releases under the  distillery's Cù Bòcan brand. Now, Tomatin is releasing a limited-edition 1989 vintage of Cù Bòcan stemming from a happy accident in June of that year. At that time, Tomatin did not use peated malt in any of its whiskies, but accidentally wound up with a batch that was distilled and filled into ex-Bourbon casks for maturation. The Cù Bòcan 1989 uses the three remaining casks from that production run.
The whisky has been bottled at 53.2% ABV, with 1,080 bottles to be available worldwide except for the US at a recommended retail price of £199.99 GBP ($335 USD).
Links: Cù Bòcan 
---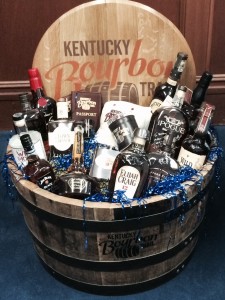 April 8, 2014 – Here's hoping that Connecticut Governor Dannel Malloy likes Bourbon, because he's going to be getting a lot of it. Malloy won a bet with Kentucky Gov. Steve Beshear after the University of Connecticut defeated the University of Kentucky Monday night in the NCAA men's basketball championship game.
Beshear didn't have to buy the Bourbon to pay off the bet, though. The Kentucky Distillers Association put up a half-barrel full of Kentucky Bourbon and other goodies in what has become an annual tradition. As Kentucky and Louisville moved on during the tournament, the stakes increased, according to KDA President Eric Gregory. "Each time the Cats won, we upped the ante and added more barrels, so he's going to get 13 bottles of our premium Bourbon brands, along with Bourbon Trail flasks, t-shirts, barrel heads, all sorts of things."
Gregory, a proud Kentucky fan and alumnus, congratulated Connecticut on the victory. "It was a great victory…we're sad to see the Bourbon go, but we'll make more," he said in an interview with WhiskyCast's Mark Gillespie at the World Whiskies Conference in New York City. Had Kentucky won the game, Gov. Malloy would have paid off with a basket of Connecticut wines, chocolate, and beer.
An email to Gov. Malloy's press office asking about the Governor's plans for the Bourbon basket was not returned. This story will be updated as more details are available.
Links: Kentucky Distillers Association
---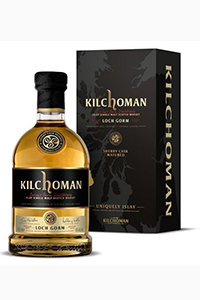 April 8, 2014 – Kilchoman is releasing a new edition of Loch Gorm, its Islay single malt named for the distillery's water source. The five-year-old malt is matured in Oloroso sherry butts, and will be bottled at 46% ABV.
This is the second edition of Loch Gorm, following last year's debut for the expression. Loch Gorm is Kilchoman's only malt matured exclusively in ex-Sherry casks. 17,100 bottles of the 2014 Loch Gorm will be available worldwide, with a recommended retail price of £59 GBP ($99 USD).
Links: Kilchoman
---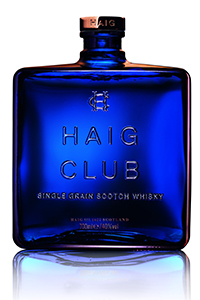 April 8, 2014 – Single grain Scotch whiskies have often been the red-headed stepchildren of the Scotch whisky industry: rare, unusual, and often maligned by connoisseurs. However, it's one of the few sectors with room for growth, and Diageo is planning a major push into single grains with the launch of Haig Club. The whisky was announced today as a partnership with soccer's David Beckham and entertainment entrepreneur Simon Fuller after more than two years of development.
While Haig Club is new, the House of Haig legacy goes back almost 400 years. Its modern legacy dates back to 1824, when John Haig founded the Cameronbridge grain distillery near Edinburgh and started producing whisky using continuous stills. Haig's name lives on with the Haig blended Scotch, and his legacy also includes the Dimple Scotch Whisky brand. Cameronbridge also produces the Cameron Brig single grain Scotch, sold primarily within Scotland.
"We take grain whisky very seriously," said Diageo Director of Whisky Outreach Dr. Nick Morgan in an interview at the World Whiskies Conference in New York City. "It's sometimes wrongly considered to be quite a passive ingredient in blended Scotch whisky — we think it's a very active ingredient, we pay a lot of care and attention to how we make it."
"We have a lot of skin in the grain whisky game, and we've always wanted to find an opportunity to bring different styles of grain whisky in front of consumers, and I think that's what we've done with Haig Club."
Listen to Mark Gillespie's entire interview with Dr. Nick Morgan

The launch of Haig Club follows last year's entry into premium single grain Scotch by William Grant & Sons, which released a 25-year-old single grain from its Girvan distillery and plans additional expressions this year. Unlike the initial Girvan expression, Haig Club will carry no age statement. According to Morgan, it is blended from Cameronbridge whiskies distilled from wheat and malted barley, followed by maturation in a mix of refill American Oak, first-fill ex-Bourbon casks, and rejuvenated casks.
Beckham and Fuller, the creator of "American Idol" and other media properties, are partners with Diageo in Haig Club, and were involved in developing the final blend for the whisky. The two will play key roles in developing the Haig Club brand and image as the whisky is launched later this year, while Beckham will also appear in a responsible drinking campaign for the brand. Haig Club is intended to be a non-traditional choice for consumers who want to try something different, with a focus on the cocktail market.
"The liquid has certainly been developed to be quite versatile," Morgan said. "We're looking at drinkers who possibly aren't engaged with the Scotch whisky category at the moment…they may be spirits drinkers, they certainly aspire to drink things like Scotch, but may have found the existing offerings on the market too much for them, a bit too difficult for one reason or another, a bit too stuffy and conventional perhaps. We're trying to bring a new age to Scotch with this product."
Pricing for Haig Club has not been announced, but will be released closer to the whisky's launch. According to Morgan, the whisky is likely to appear in global travel retail outlets first, with domestic rollouts in key markets near the end of the year.
Editor's note: This story was updated following an interview with Dr. Nick Morgan of Diageo in New York City.
Links: Diageo
---