Each week, we bring you the latest whisky news on WhiskyCast, but a lot can happen during the week. Now, you can keep up with whisky news as it happens here on WhiskyCast.com!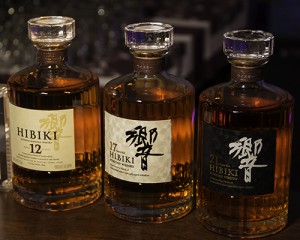 May 9, 2014 – Suntory's Hibiki 21 and 17-year-old blended Japanese whiskies have won numerous awards in international competitions, but have never been made available in the US market before. In the first major product announcement since Suntory closed its $16 billion acquisition of Beam last week, Suntory will bring the two blends into the US market starting in September to join the Hibiki 12-year-old blend.
The announcement came during a launch party Thursday night in New York City, which will be one of the first markets to get the Hibiki 17 and 21. The final decision has yet to be made, but Suntory's Neyah White said in a WhiskyCast interview that New York, Los Angeles, and Northern California are likely to be the launch markets in the US, with limited amounts in other major cities this fall and nationwide distribution expected in 2015. The final decisions will be made in conjunction with Beam Suntory executives as Suntory integrates its existing portfolio of spirits into the Beam Suntory distribution system.
The Hibiki blends are considered to be the flagship whiskies of Suntory's range, combining malt whiskies from the company's Yamazaki and Hakushu distilleries with corn-based grain whisky from the Chita grain whisky distillery. In a WhiskyCast interview, Suntory chief blender Seiichi Koshimizu said through a translator that the whiskies are blended to be in harmony with Japan's unique nature. "Although Japanese whisky has been inspired by the Scottish traditional way of making whisky, the Japanese, especially Suntory, have truly dedicated themselves to making a unique whisky." The interview with Seiichi Koshimizu will be featured on an upcoming episode of WhiskyCast.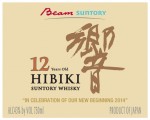 While the Hibiki 12 will continue to be available in the US, questions have been raised about a potential change for the expression after Beam Suntory applied for a new label approval certificate from the Treasury Department's Tax & Trade Bureau. The label highlights the new merger between Suntory's spirits business and the former Beam, Inc. However, Suntory USA President Toshi Kumakura confirmed that the label is for a special bottling of Hibiki 12 that will be presented to Beam Suntory employees to celebrate the merger, and will not be available to the public.
Mark Gillespie's tasting notes for the Hibiki 21 and the Hibiki 12 are available at WhiskyCast.com, and tasting notes for the Hibiki 17 will be available soon.
Links: Suntory
---
May 9, 2014 – A dark horse emerged from the bidding as the winner in Diageo's sale of Whyte & Mackay, the Scotland-based unit of India's United Spirits. Emperador, the Phillippines-based brandy producer owned by billionaire Andrew Tan's Alliance Global Group, will pay approximately £430 million GBP ($724.5 million USD) for Whyte & Mackay, according to India's Business Standard.  Emperador's bid beat out reported bids from Gruppo Campari, former Whyte & Mackay owner Vivian Imerman's Vasari Capital, KKR Group, and Lion Capital. The Business Standard report quotes Tan as calling whisky the second fastest growing spirits segment behind brandy.
"With this acquisition Emperador will be exposed to two of the fastest growing spirits segments in the world. The global demand for Scotch whisky has shown strong growth over recent years and is expected to continue this momentum going forward. We are continuously looking to enhance shareholder value through earnings accretive investments. We believe that Whyte and Mackay is a prized asset with excellent growth opportunity and its acquisition is in line with our plans to enhance our product portfolio. Whyte and Mackay has a global distribution network in over fifty countries that Emperador Brandy will have access to."
United Spirits founder Vijay Mallya bought Whyte & Mackay in 2007 from Imerman and Robert Tchenguiz for £595 million GBP ($974 million USD). Whyte and Mackay executives declined to confirm the sale price, but spokeswoman Jill Inglis issued a brief statement in an email to WhiskyCast.
"We can confirm that this morning a deal was signed between United Spirits Great Britain Limited and Emperador UK Limited (a subsidiary of Emperador Inc) for the purchase by the latter for 100% of Whyte and Mackay. We are looking forward to welcoming and working with our new owners."
Diageo acquired control of Whyte & Mackay as part of its deal to obtain a controlling interest in United Spirits. However, the UK's Office of Fair Trading moved to block the deal because of concerns over competition in the market for blended Scotch whisky. Diageo had offered to mitigate the concerns by selling approximately 80 percent of Whyte & Mackay while holding on to the Dalmore and Tamnavulin malt whisky distilleries, which company executives said were necessary to supply United Spirits with whisky for its portfolio. Emperador has agreed to a three-year supply contract for bulk whisky as part of the agreement.
The sale must still be approved by Indian regulators and the Office of Fair Trading, which had put Diageo's mitigation proposal on hold until a buyer was found for Whyte & Mackay. India's Reserve Bank must also approve the deal, since it could result in the write-off of loans from United Spirits to Whyte & Mackay. In addition, a lawsuit by United Spirits creditors seeking to block the original Diageo-USL deal is still on appeal before the Supreme Court of India.
Links: Whyte & Mackay | Alliance Global | Diageo | United Spirits
---
May 10, 2014 – Distilleries are preparing for a new round of releases, and here's the latest that we have confirmation on…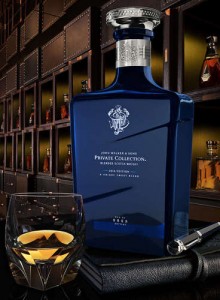 Diageo is releasing the first in a new series of John Walker & Sons Private Collection series whiskies at Singapore's Changi Airport this month, with other Asia-Pacific travel retail outlets to follow in June. The 2014 edition kicks off what will be an annual release for the luxury expression, with 8,888 bottles to be available at a recommended price of around $750 USD each.  Johnnie Walker master blender Jim Beveridge used 29 experimental casks from his private reserve to create the 2014 edition.
Ireland's Teeling Whiskey Company has confirmed the release of limited-edition 26 and 30-year-old Irish single malts, as first mentioned by managing director Jack Teeling in a February WhiskyCast interview. The 26-year-old Gold Reserve received a year's extra maturation in white Burgundy wine casks, while the 30-year-old was matured exclusively in a Bourbon cask. Approximately 1,000 bottles of the Gold Reserve will be available at a recommended price of €475 ($600 USD), while 250 bottles of the Platinum Reserve will be available for €1,500 ($2,000 USD) at Dublin's Celtic Whiskey Shop and The Loop's Irish Whiskey Collection shop at Dubin Airport at first, with limited amounts to be available later through select whisky specialist retailers.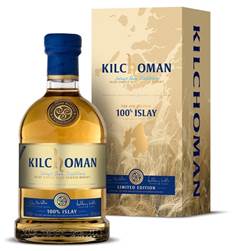 Kilchoman is releasing the fourth edition of its 100% Islay malt on Monday (May 12). The whisky is distilled from barley grown on farmland next to the distillery, and is produced "grain to glass" on site. 80% of the whisky comes from 5-year-old first-fill ex-Bourbon barrels, while the remaining 20% comes from 4-year-old first-fill ex-Bourbon barrels. It's bottled at 50% ABV and will be available worldwide with a recommended price of £69.95 ($118.50 USD) per bottle.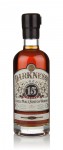 Maverick Drinks, the independent bottler owned by the founders of Master of Malt, is debuting a new range of so-called "sherry monsters" under the "Darkness" brand. The initial releases include a 15-year-old Benrinnes finished in Oloroso casks (shown), a 15-year-old Macallan finished in Pedro Ximenez casks, and a 21-year-old Ardbeg finished in Oloroso casks. The range will be available through whisky specialist retailers and Master of Malt. On the blended Scotch front, Master of Malt has released a new 10-year-old blend that will be available exclusively through the online retailer for £39.95 ($67.50 USD). The blend is bottled at 47.5% ABV with no chill-filtering or caramel coloring.
Finally, details are still being kept secret, but the Polish wealth management behind vintage releases of Karuizawa and Glenfarclas single malts plans to announce its next release in a May 13 webcast. Wealth Solutions has acquired a cask of a 66-year-old single malt distilled in 1948, but has not disclosed which distillery produced the whisky. Wealth Solutions plans to sell 160 bottles of the whisky for an as-yet undisclosed price.
Links: Johnnie Walker | Teeling Whiskey Company | Celtic Whiskey Shop | Irish Whiskey Collection | Kilchoman | Maverick Drinks | Master of Malt | Wealth Solutions
---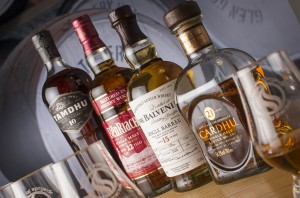 May 8, 2014 – The Spirit of Speyside Festival has honored four Speyside single malts in its annual whisky competition. The winners were decided by public votes during a series of tasting and judging sessions around Speyside during the festival from a group of short-listed finalists determined in pre-festival judging.
BenRiach's 12-year-old Sherry Wood malt took top honors for whiskies 12 years and younger, while The Balvenie's 15-year-old Single Cask won for malts 13 to 20 years old. Cardhu 21-year-old won in the category for 21-year-old malts, while Tamdhu's 10-year-old won the award for best distillery limited edition.
Nearly 350 people voted on the eight finalists during the tasting sessions, and in a change from tradition, the awards were presented on Sunday night during a closing-night ceilidh at Glen Grant Distillery. In previous years, the winners were determined by voting at a banquet on the festival's opening night.
The 2015 Spirit of Speyside Festival will run from April 30-May 4, 2015.
Links: Spirit of Speyside Festival
---
May 5, 2014 – Scotland, Golf, and Whisky: three words that just go together naturally. The Moray Golf Club in Lossiemouth has a history that dates back 125 years, and was founded by leaders in the whisky industry who also had a passion for golf and laid down  casks of their whiskies for the club's use. The club's early captains included John Fleetwood Cumming of Cardhu, John Harr of Glenlossie-Glenlivet, and R.I. Cameron, who managed the Linkwood, Teaninich, Tamdhu, and Benrinnes distilleries during his career. Now, the club has signed a special deal with Elgin-based Gordon & MacPhail to serve not only as the club's sole wine and spirits supplier, but also to produce a special range of bottlings for the club. The range will include a 15-year-old Speyside malt from an undisclosed distillery bottled to celebrate the club's 125th anniversary this year, according to current club captain John Ellwood.
"This deal is about trying to reinforce our link with whisky history," Ellwood said in a telephone interview. "Given that Moray is the heart of whisky production and there's been such a strong relationship over the years, we wanted to try and reinforce that."
Listen to Mark Gillespie's interview with John Ellwood:

The club has now accomplished its goal of being able to serve single malts from every distillery in Morayshire and Speyside in the clubhouse – something that no area golf club has ever been able to offer before. "We've got them all…these obviously range in price 'cause some of them are pretty rare now," Ellwood said. The club's current house malt is a Glen Moray bottling that sells for £1.65 GBP ($2.80 USD) per dram, and the most expensive dram behind the bar is a rare Glen Craig that sells for £34 ($57.25 USD) per dram.
The club's two courses were designed by golf legends Old Tom Morris and Henry Cotton, and are popular with golfers visiting Scotland. Ellwood said greens fees and the bar are two of the three major sources of the club's income, along with member fees. Gordon & MacPhail's Stephen Rankin said in a news release that the agreement will make Moray Golf Club more than just a golf club, but a destination for whisky lovers.
"The club's objective is to have something unique to offer in order to attract tourists to the clubhouse. No one else is doing it on the same scale as Moray Golf Club, and there is certainly no other club making such a feature of it."
The agreement also calls for Gordon & MacPhail to provide staff training, and the deal extends the longtime ties between the club and Gordon & MacPhail. "They were founded six years after ourselves, and we've been dealing with them ever since that time," Ellwood said. "They obviously have the expertise in whisky, and have served as a conduit for us to all the distilleries and organized the purchase of all those whiskies." Several members of the Urquhart family are also members of the club.
Editor's note: This story was updated on May 9 following an interview with John Ellwood. In addition, Gordon & MacPhail's Michael Urquhart advised us on May 16 that while he is not a member at Moray, his brother and nephew are members. 
Links: Moray Golf Club | Gordon & MacPhail
---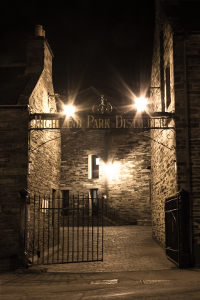 May 2, 2014 – Edrington has completed its plans for new regional distribution units with the formation of Edrington Americas, which will handle importing, sales, and marketing for the company's line of Scotch whiskies including The Macallan, Highland Park, The Famous Grouse, and Cutty Sark. Last year, Edrington opened similar units in the Middle East and Southeast Asia, with the goal of taking more control of its own destiny in key markets.
The move ends years of work with Remy Cointreau USA, but Edrington Americas President & CEO Paul Ross said in a telephone interview that the two companies parted amicably. "We doubled our revenue in the USA in the last three years, and that's obviously been in partnership with Remy," he said. "We're not leaving Remy because of problems, we're leaving Remy because the time was right and we see opportunities for growth and innovation that might have been restricted otherwise." Ross has a goal of doubling revenue again over the next five years, and says the best way of making that happen will be by getting closer to consumers than was possible previously.
Listen to Mark Gillespie's interview with Paul Ross:

In addition to the Edrington whisky portfolio, the new unit will handle Brugal Rum and Snow Leopard Vodka out of headquarters in New York and regional offices in Miami, Dallas, Southern California, and Chicago. The Chicago office will also be responsible for coordinating Canadian sales and marketing with Beam Suntory, which will continue to distribute Edrington's brands in Canada.
While the switch is likely to show up almost immediately on Edrington's bottom line, Ross said the move was made with long-term planning in mind. "This isn't just about the next quarter or the next year, this is really about the long game….five or ten years, and our ownership structure allows us to think that way." The company is controlled by The Robertson Trust, Scotland's largest charity, and generated £15.3 million GBP ($25.8 million USD) for Scottish charities in 2013.
Links: Edrington
---
May 2, 2014 – The ongoing legal battle between the Scottish Government and the Scotch Whisky Association will be resolved in Luxembourg instead of Edinburgh after Scotland's highest court referred the case to the European Court of Justice. The Court of Session's ruling came in the SWA's appeal of an earlier ruling upholding the government's plan to set a minimum price of 50 pence per unit of alcohol. The government's goal is to reduce Scotland's epidemic of alcohol abuse by raising overall prices, but the SWA has long argued that minimum pricing violates European Union laws and would be ineffective in solving the abuse problem. SWA Chief Executive David Frost praised the ruling in a news release, saying that the case was eventually going to wind up in Europe's highest court.
Meanwhile, First Minister Alex Salmond is being attacked by critics after he referred to Scotland as "a nation of drunks" in an interview with GQ Magazine published this week. Salmond blamed the nation's alcohol abuse epidemic on what he described as a "lack of confidence, maybe, as a nation" — and said the minimum pricing plan would help improve public health and Scotch Whisky exports.
"I promote whisky. I do it on the argument that it's a quality drink, has a worldwide cachet, that its recent great success in markets like China is about social emulation and authenticity, not cheapness. My argument is that if you are promoting it as authentic and of great worth, you cannot promote it from a nation of drunks."
Salmond's comments brought immediate and sharp criticism from Labour, Conservative, and Liberal Democratic leaders. The Scotsman reports a Labour spokesman called the statement "jaw-dropping," and added "You can imagine what Alex Salmond would be saying had a Westminster politician had made exactly the same comment."
There is no timetable for the Luxembourg court to reach a decision, but cases typically take 12 to 15 months from referral to a final ruling.
---
April 30, 2014 – Japan's Suntory Holdings has officially completed its $16 billion (USD) acquisition of Beam, Inc., creating the world's third-largest spirits company with significant presence in Bourbon, Canadian, Irish, and Scotch whiskies as well as Suntory's Japanese whisky business. The deal closed after the end of New York trading today, with Beam shareholders receiving $83.50 per share in cash in the company's final day of trading.
As projected in a Japan News story last week, the new company will be called Beam Suntory and be headquartered at Beam's current headquarters in the Chicago suburb of Deerfield, Illinois. Matt Shattock will be Chairman and Chief Executive Officer of the combined company, which will take over responsibility for Suntory Liquors Limited's existing spirits portfolio by the end of 2014. In a news release, Shattock said the new company will leverage its entire portfolio globally with a strengthened distribution system.
"By combining the world leader in Bourbon and Japan's leading spirits company, we have created a stronger global business with an even better premium portfolio."
Suntory Holdings is privately held by Japan's Saji family. Chairman and President Nobutada Saji sought to broaden the company's base outside of its traditional market in Japan, and acquiring Beam accomplishes that goal. The combined sales of both companies pre-merger during 2013 was $4.6 billion (USD), placing Beam Suntory behind only Diageo and Pernod Ricard in global spirits sales. In the company's news release, Saji predicted the union of Beam and Suntory will lead to continued growth.
"Since its founding, Suntory Group has always shared the spirit of 'Yatte Minahare – Go for it!' in taking on new challenges, creating new opportunities, and living our corporate values.  Beam's heritage of over 200 years is also characterized by a spirit of entrepreneurialism, creativity and courageous decisions that exemplify the same 'Yatte Minahare' spirit.  I believe this common spirit and our combined strengths will be a powerful driving force as the new Beam Suntory excites consumers around the world with our portfolio of premium brands. At the same time, Beam Suntory will remain true to Suntory's corporate philosophy, 'In Harmony with People and Nature,' in developing a rich experience of life based on real needs in the communities  in which we do business, coexisting with people and their nature surroundings."
While the Beam Suntory news release does not directly address the issue, Suntory's Morrison Bowmore Distillers unit in Scotland will be included in the new Beam Suntory structure. The new company's web site lists all of Morrison Bowmore's single malt brands (Bowmore, Auchentoshan, Glen Garioch, and McClelland's) under the Beam Suntory portfolio. Suntory acquired Morrison Bowmore from the Morrison family in 1984, and had operated the company as a standalone unit reporting to company executives in Tokyo. In an email tonight, Beam Suntory spokesman Clarkson Hine confirmed that the Morrison Bowmore brands will be a key part of the new company's future plans.
This transaction has created an even stronger Scotch portfolio, with Bowmore, Auchentoshan and McClelland's an excellent complement to Laphroaig, Ardmore and Teacher's. Premium Scotch is one of the most attractive global spirits categories and we have ambitious growth plans in Scotch. While it's premature to discuss the specifics of integration matters, I can tell you we plan to take a very careful and thoughtful approach and learn from each other. Current operations will continue as they are for the time being, and we will now begin the important task of bringing the operations of two great companies together while maintaining the momentum of the business.
The merger would give Beam Suntory control of two of Islay's eight currently working distilleries at Bowmore and Laphroaig, but that did not raise any competition concerns among regulators. Diageo also owns two Islay distilleries (Lagavulin and Caol Ila), while the remaining distilleries are independently owned, and it is possible that owning two distilleries on the island may generate some cost savings through joint procurement for malted barley and other supplies.
Editor's note: This story was updated with additional information. 
Links: Beam Suntory
---
April 28, 2014 – Louisville leaders are hoping to capitalize on the boom in Bourbon sales worldwide by adding new opportunities for visitors to the city, which already counts 4,200 Bourbon-related jobs and an economic impact of more than $300 million each year. Mayor Greg Fischer's task force, known as the Bourbon & Food Work Group, released a report today suggesting six key areas to focus the city's tourism and convention marketing efforts in promoting Bourbon-related economic development. The suggestions range from training programs for hospitality industry workers to the construction of a Bourbon-themed visitors center on Main Street.
"Fortune Magazine recently said we're in a 'Billion-Dollar Bourbon Boom'," Fischer said in a news release. "But while trends come and go, bourbon is a proud part of Louisville's history, a big part of our present and, with this plan, will be an even bigger part of our future. This is our chance to increase the momentum so that Louisville and bourbon are as classically paired as Napa Valley is to wine." 
It's just a unique time to be in Kentucky, and especially Louisville," said Stacey Yates of the Louisville Convention & Visitors Bureau in a telephone interview. "The amazing development that we've seen over the past decade with premiumization of the product and the things that the Bourbon industry has continued to do and the global demand being what it is, combined with the more recent tourism effort to tell people that this is indeed the homeplace of Kentucky Bourbon…it's sort of been the perfect storm over the last several years."
Listen to Mark Gillespie's entire interview with Stacey Yates:

One key tourism development proposal featured in the report is the potential to expand the Kentucky Bourbon Affair into a "signature Bourbon and Food Festival" starting in 2015. The Kentucky Distillers Association is sponsoring the first Bourbon Affair next month, with events in Louisville and at the KDA's member distilleries stretching from Lexington to Loretto. KDA officials have expressed interest in making the Bourbon Affair an annual event, based on the demand for tickets so far. The report also recommends a larger Bourbon-themed presence at Louisville International Airport, which currently has only a Woodford Reserve-themed bar and restaurant and display ads for a number of Bourbon brands.
The city will take public comments on the report until May 31, and Fischer hopes to implement suggestions with support from the Bourbon industry, the local restaurant industry, and the Louisville Convention & Visitors Bureau. The report is available online.
Editor's note: This story was updated following an interview with Stacey Yates of the Louisville CVB.
Links: LouisvilleKY.gov | Kentucky Bourbon Affair | Bourbon Country
---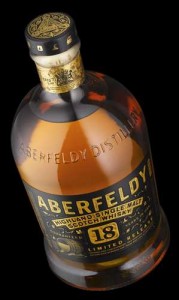 April 24, 2014 – Aberfeldy's single malts are the heart of the Dewar's range of blended Scotch whiskies, and the company is starting a major push for the brand with a new 18-year-old expression. The new malt will be rolled out this month in the travel retail market, joining the current 12 and 21-year-old expressions available at whisky specialist shops. It's bottled at 40% ABV, but pricing has not been announced.
The new look for the 18-year-old reflects Dewar's plans to invest in the Aberfeldy brand, and it will be carried over to the 12 and 18-year-old malts over the course of the year. Stephen Marshall of Dewar's told WhiskyCast's Mark Gillespie in a recent interview that the current Aberfeldy packaging hasn't been changed since the malts went on sale in 2003, and needs an upgrade.
In addition, Dewar's parent company Bacardi plans to expand availability of its Glen Deveron series of travel retail malts worldwide following last year's launch in selected markets. Both moves are being viewed as a first step expected to lead to additional single malt releases in the coming year.
Links: Dewar's
---