Each week, we bring you the latest whisky news on WhiskyCast, but a lot can happen during the week. Now, you can keep up with whisky news as it happens here on WhiskyCast.com!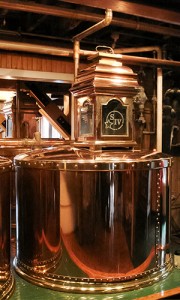 June 11, 2014 — Maker's Mark is working on a limited-edition cask-strength version of its popular Bourbon, with plans to make it available for sale at the distillery this autumn.  In an email to members of the Maker's Mark Ambassadors affinity group, president Rob Samuels acknowledged that it will be testing the new version with selected bartenders this summer.. The distillery has often given special guests a chance to taste Maker's Mark drawn straight from the barrel, and Samuels told WhiskyCast's Mark Gillespie in a telephone interview June 16 that the idea came from a discussion with his father, Bill Samuels, Jr.
"I lobbed the idea that wouldn't it be interesting, a nice complement to what we do, to first make available Maker's Mark at barrel proof or cask strength only in Loretto with our friends. What we're seeing is a huge surge in visitors, and most all of them are coming from outside the region…so these are folks that have a huge real interest in soaking up the uniqueness of what we do, and ultimately as a distiller, you are who you are when your whisky flows directly out of the barrel."
Listen to Mark Gillespie's entire interview with Rob Samuels:

The announcement comes after last week's TTB label approval for the new version, which was noticed by observers tracking the agency's online label approval registry. The label submission lists the ABV for the new version at 50% ABV, but the Ambassadors email indicates that the bottling strength for each batch will vary from 54% to 57%. Distillers are allowed to change the actual bottling strength on a label without submitting revised applications for approval.
The announcement comes 16 months after Maker's Mark tried to reduce the bottling strength of its Bourbon from 45% ABV to 42%, citing a shortage of maturing casks and the need to stretch inventory to meet demand. The decision was reversed within a week after a social media-fueled outcry from the brand's fans, but approximately 30,000 bottles of the lower-proof Maker's Mark made it to retail outlets before the change in plans. During the interview, Samuels said the limited availability of the cask-strength version makes it feasible to produce without having an impact on production of the standard Maker's Mark and Maker's 46 expressions. He also cited the consumer response to the bottling strength change as part of the reason behind the new offering, noting that there have been numerous consumer requests over the years for a cask-strength version. However, he stressed that it will likely never become a mainstream product. "I envision that even if there's a huge surge in demand, which there very well could be, that it would always be very, very limited," he said. "We just don't have the supply to be everywhere, behind every bar in the world."
Maker's Mark is beginning a $70 million expansion project that will increase the distillery's capacity by 50% in coming years. Construction on new access roads and parking for visitors is expected to begin next month, and a stillhouse expansion is scheduled to be completed in the summer of 2015. Beam Suntory has also acquired additional land in Loretto for maturation warehouses, with plans to build at least two new warehouses for the next seven or eight years, according to Samuels.
Pricing for the Maker's Mark Cask Strength has not been determined. It will likely go on sale at the distillery's visitors center in mid-September in time for the annual Kentucky Bourbon Festival.
Editor's note: This story was updated on June 16 following an interview with Rob Samuels. 
Links: Maker's Mark
---
June 11, 2014 – Tennessee state regulators have dropped their inquiry into Diageo's use of its warehouses at the Stitzel-Weller Distillery in Louisville for maturing whiskey from its George Dickel Distillery in Tennessee. A state law requires whiskey distilled in Tennessee to be matured in the same county as the distillery or an adjacent county, and the Tennessee Alcohol Beverage Commission asked Diageo in March to explain why it was moving whiskey distilled at Dickel out of state. Diageo responded with a federal lawsuit challenging the constitutionality of the law, which dates back to the end of Prohibition.
During a hearing on that lawsuit in Nashville Tuesday, Dickel master distiller John Lunn testified that the spirit moved to Kentucky has been earmarked for blending into other Diageo spirits, and has never been used in a George Dickel-branded product. According to the Associated Press, Lunn said approximately 16,000 barrels of Bourbon and wheat whiskey have been moved from the Tullahoma facility since 2009 because of a lack of warehouse space on-site. Diageo was unable to find additional warehouse space within Tennessee, and had considered stopping production at Dickel until the decision was made to move barrels to Stitzel-Weller.  The company completed work in April on a new $7 million warehouse, and is considering plans to build another warehouse in the near future. Diageo's Alix Dunn told WhiskyCast's Mark Gillespie in a June 13 telephone interview that casks were only moved in 2009, with no movement of casks since then.
After Lunn's testimony, Tennessee Assistant Attorney General Kyle Hixson told the court that he had decided Diageo did not violate the state's law, and would not be seeking penalties against Diageo. Alcohol Beverage Commision executive director Keith Bell told WhiskyCast in April that no formal investigation had ever been opened, but that his office had only inquired informally into Diageo's practices after they were mentioned in a Louisville Courier-Journal article.
The hearing was adjourned immediately after Hixson's announcement, but the lawsuit has not been dismissed. "We can't comment on the specifics of the lawsuit because it is still pending, but we're going to be working cooperatively with Director Bell and with his colleagues at the ABC in Tennessee and the AG's office, and that agreement that we'll work on together will resolve the underlying lawsuit," Dunn said.
Editor's note: This story was updated on June 13 with additional information following an interview with Diageo's Alix Dunn.
Links: Diageo | George Dickel | Tennessee Alcoholic Beverage Commission
---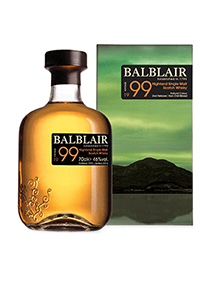 June 10, 2014 – Inver House's Balblair Distillery will take its 1999 vintage into worldwide distribution later this month after launching it in travel retail outlets earlier this year. The  second release of Balblair 1999 will replace the distillery's 1997 vintage, which has been available as part of the core Balblair range for several years in two separate releases.
As with all of Balblair's vintage expressions, the 1999 was selected by distillery manager John MacDonald from a range of ex-Bourbon casks and Sherry butts matured at the distillery in Edderton, Scotland. It is bottled at 46% ABV, and will carry a recommended UK retail price of £60 ($100 USD) per 70cl bottle.
Editor's note: This story was updated with additional information provided by Inver House. 
Links: Balblair
---
June 10, 2014 – With the Ryder Cup scheduled for this September at Scotland's Gleneagles Resort, Diageo is releasing a commemorative edition of Johnnie Walker Blue Label to mark the occasion. The 40th Ryder Cup will be the first held in Scotland in 41 years, and pits teams from the European Union and the United States over four days of competition September 24-28 at the Perthshire course, which is owned by Diageo. Gleneagles is also the home of the European PGA Tour's Johnnie Walker Championship.
2,350 bottles of the Johnnie Walker Blue Label Ryder Cup Limited Edition will be available through UK whisky specialist retailers, with a suggested retail price of £225 ($377) per 70cl bottle. Each bottle features an etched image of the Gleneagles Hotel, along with the Ryder Cup logo.
Links: Johnnie Walker | Ryder Cup
---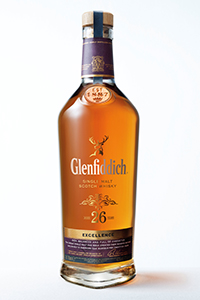 June 9, 2014 – William Grant & Sons is adding  a new permanent expression to its flagship single malt range with the release of Glenfiddich Excellence 26 Year Old. This is the second expression in the Excellence line of premium Glenfiddich releases, following the previous release of the Excellence 18 Year Old. It is also the first Glenfiddich expression matured exclusively in ex-Bourbon casks, according to a news release.
William Grant & Sons director Peter Gordon said in the news release that the new expression is a prime example of the family-owned company's goal of producing the best possible whiskies.
"As a family-run company we've always challenged established whisky-making norms because we care personally about the quality of our single malts. We cherish our independence because it allows us to innovate and create superior whiskies, and 'Excellence' is a prime example of this. This new addition to our collection of rare single malts confirms that as a company still run by our founder's descendants we remain committed to fulfilling my great-great grandfather's vision to create 'the best dram in the valley'."
Glenfiddich Excellence 26 Year Old is bottled at 43% ABV, and is available through whisky specialist retailers for a recommended retail price of £350 ($595 USD) in 70cl bottles. However, it will carry a recommended US retail price of $499.99 (750ml bottles) when it becomes available in the autumn.
Editor's note: This story was updated on June 26 with additional information following the UK release. 
Links: Glenfiddich
---
June 5, 2014 – Brown-Forman CEO Paul Varga is looking to expand his company's line of flavored whiskies based on the success of recent extensions of the Jack Daniel's brand. During a conference call with analysts Wednesday following the release of Brown-Forman's quarterly earnings, Varga cited the success of Jack Daniel's Tennessee Honey. The whiskey-based liqueur sold more than 1 million cases worldwide during the past year, and Varga said Brown-Forman will use the lessons learned from launching Tennessee Honey in future product development.
"I'm sitting and looking at a category that in the United States alone, if you just — just our rates and estimates of what's happening in the flavored whiskey as a segment in the United States, the latest numbers have it significantly largely than the — I'll just cite the Irish whiskey category or the cognac category. And as the more recent three-month trends related to flavored whiskey as a general segment reflects that continued growth. I mean, it will be larger than scotch pretty soon. And so you are sitting in and you are weighing — you don't want to be too slow or too fast on either one of those."
Brown-Forman introduced Jack Daniel's Tennessee Honey four years ago in the US market, and is now testing a cinnamon-flavored "Tennessee Fire" version in three US states. Chief Financial Officer Jane Morreau told analysts flavored whiskey is "driving some of the most explosive growth that we've seen in the spirits industry in years."
Brown-Forman reported a 17% increase in fourth-quarter earnings for the fiscal year ending April 30, with earnings of $0.62 per share – outperforming analyst consensus estimates of $.58. Overall sales for the Jack Daniel's brand rose 8% worldwide, with international sales growing by 10% and domestic sales by just 6%. Woodford Reserve sales were up by 26%, with a 16% gain for Old Forester. Varga hinted that Brown-Forman will try to expand export sales of both brands and the company's other whiskey brands to take advantage of what he called "the global whiskey opportunity."
NYSE ticker: BF.B
Links: Brown-Forman
---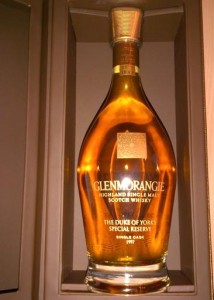 June 4, 2014 – Prince Andrew — also known as the Duke of York — has donated a rare bottle of Glenmorangie single malt to an online and live auction benefitting the charity Children in Crisis. The whisky dates back to 1997, when he visited Glenmorangie and laid down a single cask of whisky in an ex-Bourbon barrel. The cask was bottled in 2011 and labeled "The Duke of York's Special Reserve." A bottle from the same cask was sold last year at auction with a winning bid of £45,000 GBP ($75,335 USD).
The auction is part of the Art Antiques London charity gala on June 10, with proceeds going to Children In Crisis programs to provide educational opportunities to children in developing countries. In a news release, Children In Crisis executive director Koy Thomson said "Education is the key to children's futures and peace in the communities in which they live. We hope that auctioning the Duke of York's Special Reserve Whisky will raise vital funds for Children in Crisis to continue our work. We cannot thank him enough."
Other items up for auction include a private dinner for eight in the Directors' Dining Room at Berry Bros. & Rudd in London, tickets for the Wimbledon Men's Final, and various travel experiences.
Links: Children In Crisis | Glenmorangie
---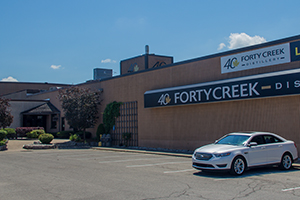 June 3, 2014 – As expected, Gruppo Campari has completed its acquisition of John Hall's Forty Creek Distillery in Grimsby, Ontario…along with the distillery's maturing whisky stocks and intellectual property. In a news release, Campari announced the final acquisition price as $192.8 million CAD ($182.4 million USD) in cash, up from the originally announced price of $185.6 million CAD in March.
As previously reported, John Hall will stay on as Chairman and Whisky Maker under Campari's ownership, with all production management to remain in Grimsby. Forty Creek will become part of Campari's global distribution network, with plans to expand availability in Canada and the United States at first. During a May 13 interview on the unveiling of this year's "Evolution" limited edition release, Hall expected Campari to invest in additional production and maturation capacity in Grimsby as well.
Listen to Mark Gillespie's interview with John Hall:

Campari also completed its acquisition of Italian bitters producer Averna Group for €103.7 million ($143 million USD). The two acquisitions are expected to help replace the loss of Campari's distribution rights in the US for Suntory's Japanese whiskies and its Morrison Bowmore division's Scotch whiskies. Suntory will switch its US distribution on July 1 after completing its $16 billion acquisition of Beam, with the re-named Beam Suntory adding both lines to its US portfolio. At the time, Campari executives noted that the Suntory-owned brands were responsible for about one percent of the company's global sales.
Links: Forty Creek | Gruppo Campari | Beam Suntory
---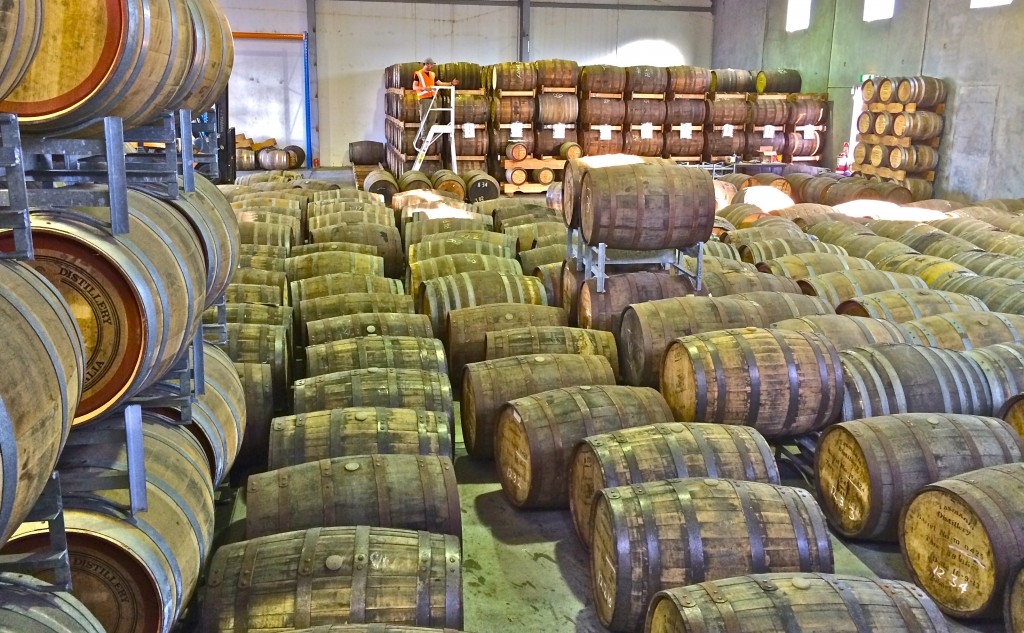 June 3, 2014 – Australia's award-winning Tasmania Distillery in Cambridge is in the middle of a month-long relocation project that will quadruple the distillery's size. The distillery has won major awards for its Sullivan's Cove Australian Single Malt, including this year's World Whiskies Award for "World's Best Single Malt" for its French Oak expression, but has been unable to expand production because of space constraints. The distillery's owners had been working for several years to get planning permission to convert an old railway tunnel into a maturation warehouse, according to distillery manager Patrick Maguire. However, they gave up on that plan last month when warehouse space next door became available, and purchased the space two weeks ago.
"Last week, we moved all the barrels from our old bond store that we were leasing from somewhere else on the other side of the city," Maguire said in a Skype interview. "We'll be starting the process of  moving the still and all the equipment and all the stock and setting up in the new place." Maguire hopes to have the move completed by the end of June, however, utility services to the new facility will have to be upgraded to handle the increased power demand from distilling operations. "If all goes well, maybe in the next three weeks we can have everything in there…if not, hopefully before the end of next month," he said.
Listen to Mark Gillespie's interview with Patrick Maguire:

The new facility will have a tasting room and display area, along with dedicated staff space and offices along with the distilling and maturation areas. However, the biggest change will be the ability to welcome visitors for the first time. The current distillery was never intended to handle visitors, but with the recent success of Sullivan's Cove in international competitions, whisky lovers have been finding their way to the distillery.
"We've never advertised where we are, simply because we can't deal with tourists properly," Maguire said. "Right from the start, we've had people turning up every day anyway, so we've had quite a nice little retail trade going on, but since we won the 'World's Best Whisky Award', we've had huge numbers of people come through and it's been a problem because we've basically had to put the whole staff on and we've got nowhere to put these people." In fact, two visitors were waiting for a tour while Maguire finished his interview with WhiskyCast's Mark Gillespie. "It's fantastic to have all the interest and have all these people here, but it really does get in the way of what we need to do."  Maguire plans to add staff specifically for guiding visitors and working in the tasting room when the new facility is completed, and said that it will add another facet to the business.
Editor's note: This story was updated on June 5 following an interview with Patrick Maguire. 
Links: Tasmania Distillery
---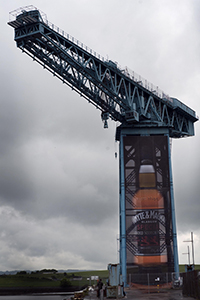 June 3, 2014 – UK competition regulators will open a public comment period on Diageo's plans to sell Whyte & Mackay to Filipino billionaire Andrew Tan's Alliance Global Group for $724.5 million USD. In an email, spokeswoman Siobhan Allen of the Competition & Markets Authority said the public consultation could begin as early as next week, though a final date has not been set. The Competition & Markets Authority took over many of the regulatory duties of the former Office of Fair Trading, which had imposed conditions on Diageo's acquisition of a controlling stake in Vijay Mallya's United Spirits last year.
The OFT objected to the deal on the grounds that allowing Diageo to take control of United Spirits and its Whyte & Mackay unit would place too much of the market for bulk sales of blended Scotch Whisky into Diageo's hands. Diageo had originally offered to resolve the agency's concerns by selling all of Whyte & Mackay except for the Dalmore and Tamnavulin malt whisky distilleries, which it had hoped to retain to supply bulk whisky for use in the United Spirits brands sold in India and other export markets. Tan's agreement to buy Whyte & Mackay covers 100% of the company, and includes a three-year contract to supply whisky to United Spirits. OFT regulators decided to delay approval of Diageo's mitigation plan until after a buyer had been found, with the expectation that the buyer would be obligated to keep supplying private-label customers with blended Scotch whisky.
Assuming the sale is approved, Tan is expected to merge his Emperador brandy unit with Whyte & Mackay. Emperador dominates the Southeast Asian brandy market, and Tan hopes to leverage Whyte & Mackay's global distribution network to expand Emperador's reach into other markets.
Diageo representatives declined to comment on the CMA's decision today. WhiskyCast has also reached out to Alliance Global and Whyte & Mackay for responses. This story will be updated as more information becomes available.
Editor's note: This story was updated following a response from Diageo. 
Links: Competition & Markets Authority | Alliance Global | Diageo | Whyte & Mackay
---