Each week, we bring you the latest whisky news on WhiskyCast, but a lot can happen during the week. Now, you can keep up with whisky news as it happens here on WhiskyCast.com!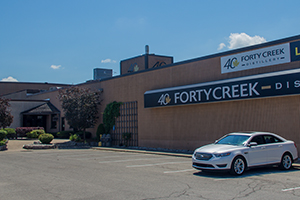 June 3, 2014 – As expected, Gruppo Campari has completed its acquisition of John Hall's Forty Creek Distillery in Grimsby, Ontario…along with the distillery's maturing whisky stocks and intellectual property. In a news release, Campari announced the final acquisition price as $192.8 million CAD ($182.4 million USD) in cash, up from the originally announced price of $185.6 million CAD in March.
As previously reported, John Hall will stay on as Chairman and Whisky Maker under Campari's ownership, with all production management to remain in Grimsby. Forty Creek will become part of Campari's global distribution network, with plans to expand availability in Canada and the United States at first. During a May 13 interview on the unveiling of this year's "Evolution" limited edition release, Hall expected Campari to invest in additional production and maturation capacity in Grimsby as well.
Listen to Mark Gillespie's interview with John Hall:

Campari also completed its acquisition of Italian bitters producer Averna Group for €103.7 million ($143 million USD). The two acquisitions are expected to help replace the loss of Campari's distribution rights in the US for Suntory's Japanese whiskies and its Morrison Bowmore division's Scotch whiskies. Suntory will switch its US distribution on July 1 after completing its $16 billion acquisition of Beam, with the re-named Beam Suntory adding both lines to its US portfolio. At the time, Campari executives noted that the Suntory-owned brands were responsible for about one percent of the company's global sales.
Links: Forty Creek | Gruppo Campari | Beam Suntory
---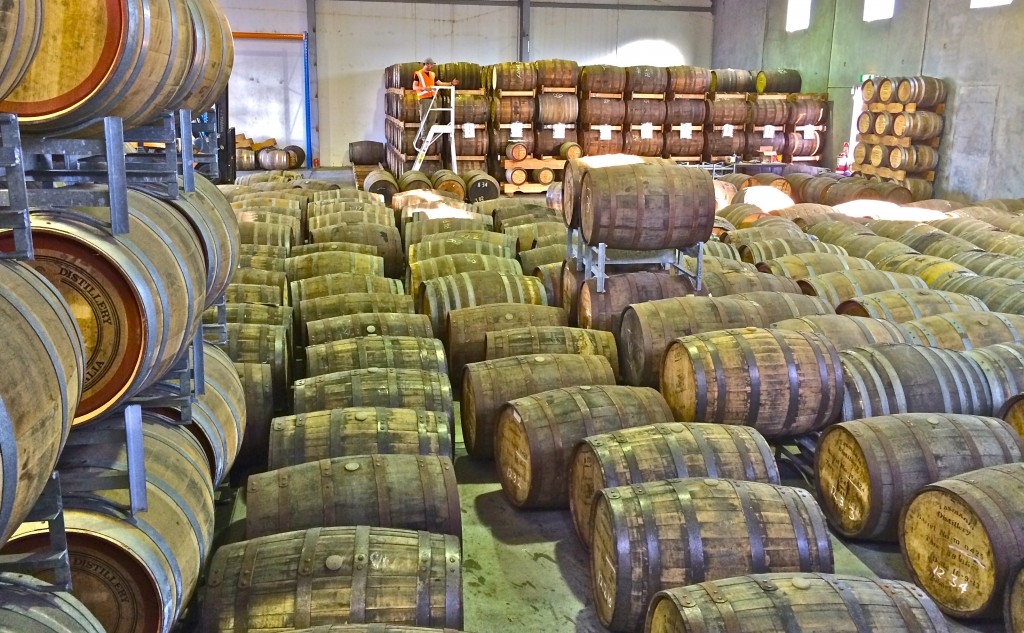 June 3, 2014 – Australia's award-winning Tasmania Distillery in Cambridge is in the middle of a month-long relocation project that will quadruple the distillery's size. The distillery has won major awards for its Sullivan's Cove Australian Single Malt, including this year's World Whiskies Award for "World's Best Single Malt" for its French Oak expression, but has been unable to expand production because of space constraints. The distillery's owners had been working for several years to get planning permission to convert an old railway tunnel into a maturation warehouse, according to distillery manager Patrick Maguire. However, they gave up on that plan last month when warehouse space next door became available, and purchased the space two weeks ago.
"Last week, we moved all the barrels from our old bond store that we were leasing from somewhere else on the other side of the city," Maguire said in a Skype interview. "We'll be starting the process of  moving the still and all the equipment and all the stock and setting up in the new place." Maguire hopes to have the move completed by the end of June, however, utility services to the new facility will have to be upgraded to handle the increased power demand from distilling operations. "If all goes well, maybe in the next three weeks we can have everything in there…if not, hopefully before the end of next month," he said.
Listen to Mark Gillespie's interview with Patrick Maguire:

The new facility will have a tasting room and display area, along with dedicated staff space and offices along with the distilling and maturation areas. However, the biggest change will be the ability to welcome visitors for the first time. The current distillery was never intended to handle visitors, but with the recent success of Sullivan's Cove in international competitions, whisky lovers have been finding their way to the distillery.
"We've never advertised where we are, simply because we can't deal with tourists properly," Maguire said. "Right from the start, we've had people turning up every day anyway, so we've had quite a nice little retail trade going on, but since we won the 'World's Best Whisky Award', we've had huge numbers of people come through and it's been a problem because we've basically had to put the whole staff on and we've got nowhere to put these people." In fact, two visitors were waiting for a tour while Maguire finished his interview with WhiskyCast's Mark Gillespie. "It's fantastic to have all the interest and have all these people here, but it really does get in the way of what we need to do."  Maguire plans to add staff specifically for guiding visitors and working in the tasting room when the new facility is completed, and said that it will add another facet to the business.
Editor's note: This story was updated on June 5 following an interview with Patrick Maguire. 
Links: Tasmania Distillery
---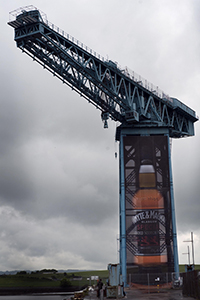 June 3, 2014 – UK competition regulators will open a public comment period on Diageo's plans to sell Whyte & Mackay to Filipino billionaire Andrew Tan's Alliance Global Group for $724.5 million USD. In an email, spokeswoman Siobhan Allen of the Competition & Markets Authority said the public consultation could begin as early as next week, though a final date has not been set. The Competition & Markets Authority took over many of the regulatory duties of the former Office of Fair Trading, which had imposed conditions on Diageo's acquisition of a controlling stake in Vijay Mallya's United Spirits last year.
The OFT objected to the deal on the grounds that allowing Diageo to take control of United Spirits and its Whyte & Mackay unit would place too much of the market for bulk sales of blended Scotch Whisky into Diageo's hands. Diageo had originally offered to resolve the agency's concerns by selling all of Whyte & Mackay except for the Dalmore and Tamnavulin malt whisky distilleries, which it had hoped to retain to supply bulk whisky for use in the United Spirits brands sold in India and other export markets. Tan's agreement to buy Whyte & Mackay covers 100% of the company, and includes a three-year contract to supply whisky to United Spirits. OFT regulators decided to delay approval of Diageo's mitigation plan until after a buyer had been found, with the expectation that the buyer would be obligated to keep supplying private-label customers with blended Scotch whisky.
Assuming the sale is approved, Tan is expected to merge his Emperador brandy unit with Whyte & Mackay. Emperador dominates the Southeast Asian brandy market, and Tan hopes to leverage Whyte & Mackay's global distribution network to expand Emperador's reach into other markets.
Diageo representatives declined to comment on the CMA's decision today. WhiskyCast has also reached out to Alliance Global and Whyte & Mackay for responses. This story will be updated as more information becomes available.
Editor's note: This story was updated following a response from Diageo. 
Links: Competition & Markets Authority | Alliance Global | Diageo | Whyte & Mackay
---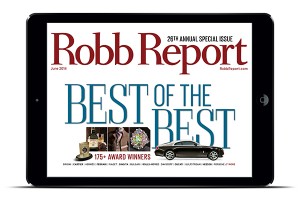 May 29, 2014 – Robb Report, the magazine focusing on high-end luxury items of all shapes and sizes, is out with its 26th annual "Best Of The Best" edition featuring the editorial staff's selections for the world's best…period. The magazine's editors selected Redbreast 21 Single Pot Still Irish Whiskey as their choice for the year's best spirit out of a field of more than 150 different spirits from around the world.
"We don't do it so much by category, like we want so many single malts, we want so many rums, but what's good, what's of Robb Report quality," Senior Contributing Wine, Spirits, & Cigars Editor Richard Carleton Hacker said in a telephone interview. "People always think that means high-priced…that's not true. It means value for the dollars…when I had the Redbreast 21, I will never forget it because it has such a creamy aftertaste, and the fact that it was an Irish whiskey, and I think I even said in the article it personifies all that an Irish whiskey should be."
Listen to Mark Gillespie's entire interview with Richard Carleton Hacker: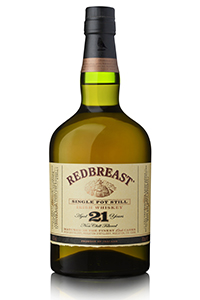 The final judging was done by a panel of Robb Report editors, according to Hacker. "We had a rum, we had a vodka, all of them superb and excellent…and the Redbreast 21 just kept rising to the forefront, if you will…it just lingered and lingered and everyone said 'this is pretty spectacular'." The runners-up included Glenmorangie Companta, the John Walker & Sons Odyssey, and Michter's Celebration Sour Mash whiskies.
"On one hand, it's great to hear it being referenced as the pinnacle of Irish whiskeys," said Brendan Buckley of Irish Distillers in a telephone interview. "What we feel so excited about is that we have so much more to come, and the beauty of what we've been doing is that we're seeing the work that was done 15, 20, 30 years ago in terms of distilling and laying down whiskeys so that the palette that Billy (Leighton) is working from and the inventory he's working from means that this is potentially the tip of the iceberg and there's more incredible whiskeys of a similar complexity and equally similar age that we can draw from, so if he has a high benchmark, I think we've got even better to come."  Buckley said the next expression in the Single Pot Stills of Midleton range will be released in October, but declined to provide additional details, saying only "watch this space."
Irish Distillers Pernod Ricard introduced Redbreast 21 in France during the fall of 2012, and began exporting it to the United States during the fall of 2013. It is the oldest Single Pot Still Irish Whiskey available, and is distilled at Midleton Distillery in County Cork, Ireland. Last year, the Redbreast 12-year-old expression made it to the final round of judging, narrowly losing out to Appleton Estate 50-year-old Jamaica Independence Reserve Rum in a field that also included The Dalmore Cigar Malt Reserve, WhistlePig Triple One Straight Rye, and the Abraham Bowman Limited Edition Port-Finished Bourbon.
Other "Best Of The Best" selections included the BMW M6 Gran Coupe (sedans), Porsche's 918 Spyder (convertibles), Doral's Blue Monster golf course, and the Fuente Fuente Opus X Angel's Share cigar. Hacker suggested the Angel's Share as a perfect cigar to match with the Redbreast 21. "That particular cigar has got the same creamy undertaste, and it just lingers…you take a puff and blow the smoke out, you don't have to take another puff right away because you're still tasting that wonderful mixture of flavors…it's like the Redbreast 21, you sip it, you chew it, you swallow it…it just stays with you and just lingers."
Editor's note: This story was updated with additional information on the finalists and an interview with Brendan Buckley of Irish Distillers.
Links: Robb Report | Redbreast
---

May 29, 2014 – Diageo plans to solve its Bourbon supply issues by spending $115 million to build a new whiskey distillery in Shelby County, Kentucky east of Shelbyville. The plan announced today will result in a new distillery capable of producing 1.8 million proof gallons of spirit a year for what the company described in a news release as "current and future Diageo bourbon and North American Whiskey brands." In the release, Diageo North America President Larry Schwartz said the project will cement the company's future in the North American whiskey market.
"The distillery will build on our presence in Kentucky and we are committed to being a productive member of the local community.  We are very thankful for the support we have received thus far from state and local officials and look forward to a long and fruitful working relationship."
Diageo has agreed to purchase 300 acres of land on Benson Pike east of Shelbyville, approximately halfway between Louisville and Lexington. Construction could begin by the end of this year, with the distillery to begin production by the end of 2016. The distillery must still receive state and local governmental approval, but in the news release, Shelby County Judge-Executive Rob Rothenburger praised the project as a welcome investment.
"The Shelby County Fiscal Court is very excited that Diageo is proposing to expand its worldwide distillation operations by building a state-of-the-art distillery in Shelby County.  We look forward to a great partnership with Diageo and we welcome them to the community."
Rothenburger was out of town and unavailable for interviews this week, according to an aide. Company officials will hold an open house for community members on June 10 at the Shelbyville Country Club to discuss the project's impact on the community. A public hearing is scheduled for June 17 in Shelbyville. The site will also include six warehouses for maturing whiskey, with approximately 100 acres of land to serve as a buffer zone around the distillery and warehouses. While the Diageo news release pledged that the distillery will be designed with environmental protection in mind, the company faces a class-action lawsuit in a Louisville federal court along with other whisky producers over allegations that mold problems on homes near their facilities has been caused by alcohol vapors coming from maturation warehouses.
Diageo's investment appears to answer the long-term question of a source for Bulleit Bourbon, which had been distilled at Four Roses Distillery in Lawrenceburg under a long-term supply contract that was to end in March. As reported here in September, Four Roses had notified Diageo that it would exercise its right to terminate the contract, citing the need to use the distilling capacity for its own whiskies. Four Roses and Diageo executives have declined to comment on the contract since then, with the only statements from Diageo during that time suggesting that a solution was being developed. Bulleit is Diageo's primary Bourbon brand, along with the Orphan Barrel line of vintage whiskies introduced this year. Those whiskies were distilled at the old and new Bernheim distilleries in Louisville, but Diageo has not owned a working distillery in Kentucky since it sold the current Bernheim Distillery to Heaven Hill in 1999.
The announcement may also quash speculation for now about plans to revive the Stitzel-Weller Distillery in Louisville, which has been closed since 1992. Diageo is expanding the current Bulleit Experience visitor attraction at the distillery, which opened as a training facility in 2011, and plans to add it to the Kentucky Bourbon Trail in the near future. Company sources have confirmed that plans were being developed to reopen the distillery, which faces a number of environmental and safety issues that would add to the cost of reviving it. Diageo's news release did not address whether the new distillery will have a tourism element. However, it should be noted that while the city of Shelbyville is "wet" (meaning liquor sales are allowed), the rest of Shelby County is "dry" with no liquor sales or tastings allowed at present. The distillery is located in the "dry" part of the county, meaning that any on-site visitor attraction would not be allowed to offer tastings or sell whiskey without a change in the law.
This story will be updated with more details. As of now, Diageo has declined to make company executives available for interviews, saying that there "are a number of steps in the process that have to be cleared" first.
Editor's note: This story was updated to include an architect's rendering of the proposed distillery supplied by Diageo, along with information on Shelby County's "dry" status and Judge-Executive Rob Rothenburger's unavailability for interviews.
---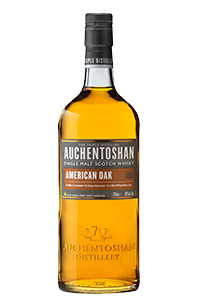 May 26, 2014 – Here's the latest on new whiskies, with two Feis Ile bottlings from Lagavulin and Caol Ila, a new Auchentoshan, and three Bourbons from the Buffalo Trace Experimental Collection range.
Auchentoshan American Oak will be the most widely available of these whiskies as a permanent addition to the distillery's range of single malts. It is the first Auchentoshan to be matured exclusively in first-fill ex-Bourbon casks, and will be available in most markets with a recommended US retail price of $39.99 (750ml bottles). Tasting notes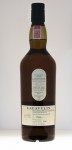 Lagavulin and Caol Ila unveiled their annual Feis Ile bottlings to be available exclusively at the distilleries during this week's Islay Festival of Malt & Music. Lagavulin's festival bottling was selected again this year by the distillery's legendary warehouseman, Iain McArthur, and comes from European Oak Sherry butts filled in 1995. 3,500 bottles are available at cask-strength 54.7% ABV. Caol Ila's bottling was selected by the distillery's new manager, David Wood, who took over during the winter following the retirement of longtime manager Billy Stitchell. Wood selected a series of refill American Oak hogsheads filled in 2002 for this year's expression, with 1,500 bottles at 55.5% ABV. Both whiskies are priced at £99 ($167 USD), with a limit of two per person.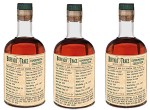 Buffalo Trace's latest Experimental Collection release is a series of three different Bourbons sharing the same mashbill and maturation time, but each one was matured on a different level of Warehouse K at Buffalo Trace. The goal was to see what difference the levels might make on the final Bourbon, with one matured on the first floor, one on the fifth floor, and the third on the top floor of the nine-story warehouse. All three versions will be available in limited amounts at whisky specialist retailers in the US over the next several weeks, with a suggested retail price of $46.35 each (375ml bottles). Tasting notes
Links: Auchentoshan | Lagavulin | Caol Ila | Buffalo Trace
---
May 21, 2014 – Dewar's will take advantage of a new loan program from the UK's Green Investment Bank to upgrade its Aberfeldy Distillery with new biomass-fueled boilers that will eliminate the distillery's use of fuel oil. The GIB is making £5 million GBP ($8.4 million USD) available to distilleries to finance energy efficiency projects following last year's successful investment at Tomatin Distillery. Tomatin is on track to reduce its greenhouse gas emissions by 80% once the biomass boiler comes on line later this year, according to a GIB news release.
The Aberfeldy project will replace aging oil-fired boilers that generate steam to heat the stills with new boilers that are fueled by wood pellets produced by Balcas Limited in Invergordon using wood from sustainably-managed forests. The pellets burn more efficiently than fuel oil, allowing the distillery to reduce its energy costs as well as its carbon footprint. Balcas is an investor in the GIB's loan fund, which is being managed by the investment firm Equitix. 50 percent of the loan funds come from the Green Investment Bank, with the remaining 50 percent from private sector investors.
Bacardi, the parent company of Dewar's, has already installed a similar biomass-fueled boiler at its Bombay Sapphire gin distillery in Laverstoke Mill, England, and plans to upgrade a tequila distillery in Mexico later this year. GIB spokeswoman Ronit Wolfson said in an email to WhiskyCast that three more Scotch whisky distillery projects are expected to be announced in the coming months, but did not specify which distilleries or companies are considering the upgrades.
Links: Green Investment Bank | Dewar's 
---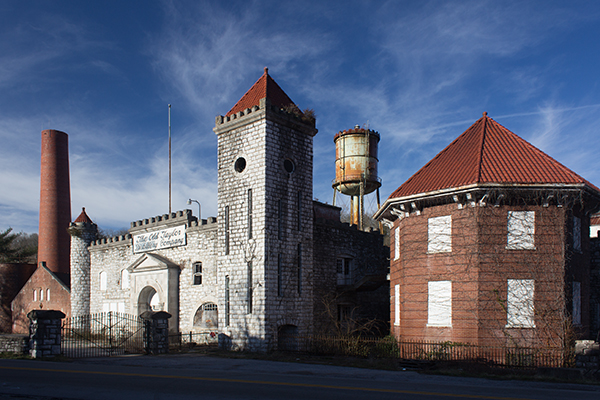 May 21, 2014 – "It's not a question now of if, but when." That's how Will Arvin, one of the partners behind the latest plans to restore the historic Old Taylor Distillery, answers those who wonder whether the distillery will ever reopen. In a brief telephone conversation, Arvin confirmed Peristyle LLC's plans to invest $6.1 million in cleanup and restoration of the 83-acre site with a goal of starting whiskey distilling in the fall of 2015. The project will be completed in phases to allow distilling and use of the castle-style main building for special events while additional restoration work on other buildings is completed.
Old Taylor was closed in 1972 by Jim Beam, which had acquired the distillery from National Distillers and continued to use some of the warehouses for maturing whiskey until 1994. While many of the original buildings are still standing, time, nature, and vandals have taken their toll. The site is overgrown with weeds, brush, and vegetation that will need to be cleared before work on the buildings can begin in hopes of restoring Col. E. H. Taylor Jr.'s original vision for what was once one of Kentucky's landmark distilleries. Last August, Kentucky Distillers Association president Eric Gregory told the Lexington Herald-Leader's Tom Eblen that "the first thing you would have to do is come in with a tanker truck of Roundup (herbicide) and see what you have under all this."
Old Taylor was built in 1887, and federal government records show it was the first distillery to produce one million cases of straight Bourbon. The distillery still has some of the 1972-era distilling equipment in place, according to those who have been allowed inside, along with one of the oldest bonded whiskey warehouses still standing. There have been several attempts to restore the distillery in recent years, but each one failed. According to the Herald-Leader, Arvin and his business partner, Wes Murry, paid $950,000 for the site. Kentucky economic development officials have already approved up to $250,000 in tax rebates and incentives for the Peristyle project, which is expected to create at least 10 full-time jobs. However, the distillery will likely carry a new name when it opens, or at least its whiskey will have a new name. Beam sold the Old Taylor trademark to Sazerac in 2009, and its Buffalo Trace Distillery in Frankfort produces whiskey under the Old Taylor and Col. E. H. Taylor brands.
The distillery is located on McCracken Pike about five miles southeast of Brown-Forman's Woodford Reserve Distillery, and just around the corner from another historic landmark, the Old Crow Distillery. Also closed by Beam in 1972 but used until recently to mature whiskey, the Herald-Leader reports Old Crow has also been sold to investors who plan to restore it and open a craft distillery on the site.
This story will be updated when more information becomes available.
---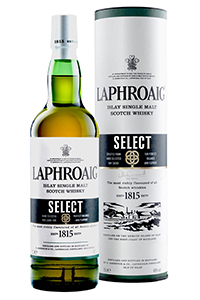 May 20, 2014 – Laphroaig distillery manager John Campbell has been busy. In addition to running daily operations at the Islay distillery, Campbell personally selected the casks for Laphroaig's newest expression, Laphroaig Select. The no-age-statement single malt is being rolled out worldwide in limited amounts through whisky specialist shops, though there are plans to make it a permanent expression over time. The expression is also being sold as Laphroaig Select Cask in Australia.
"This was John's idea," said Laphroaig global ambassador Simon Brooking in an interview Tuesday evening. "This is an homage to Ian Hunter, one of the distillery managers who had a big impact on the whisky and the popularity of Laphroaig…he traveled globally, and was really the first distillery manager to do so for Laphroaig. It's the reason why Laphroaig is as popular as it is in Sweden and the United States here today." Hunter became Laphroaig's manager in 1908 when his parents, aunt, and a cousin inherited the distillery from Alexander Johnston. He eventually wound up owning the distillery, which he bequeathed to the equally legendary Bessie Williamson upon his death in 1954.
Listen to Mark Gillespie's interview with Simon Brooking: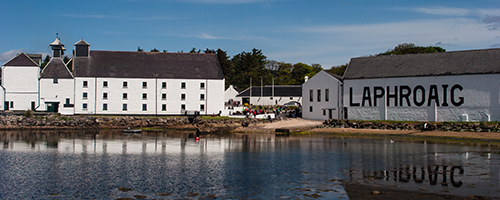 Campbell created the blend for Laphroaig Select from four of the distillery's existing expressions, Triple Wood, Quarter Cask, PX Cask, and the Laphroaig 10-year-old, with final maturation in new American Oak casks. The whisky is bottled at 40% ABV with no caramel coloring, and will sell in the UK for a recommended retail price of £34.99 GBP ($59.00 USD) per 700ml bottle. Approximately 12,000 bottles will be available in the US later this summer, with pricing for the 750ml bottles still to be announced. Tasting notes are not available yet, but will be posted when a sample becomes available.
Laphroaig's other new malt will debut at the distillery during the upcoming Islay Festival of Malt & Music, which begins this weekend. The annual Cairdeas Feis Ile bottling for 2014 was finished in an Amontillado wine cask. Pricing has not been announced yet, but Beam Suntory has confirmed that around 1,000 cases will be available in the US later this year, and it's also expected to be available in other markets as well.
Editor's note: Thanks to Marcel van Gils at LaphroaigCollector.com for historical information on Ian Hunter. This story was updated on May 22 with additional information on the Cairdeas Feis Ile bottling's US availability. 
Links: Laphroaig
---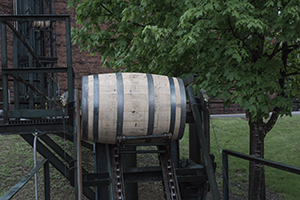 May 15, 2014 – Buffalo Trace's 13th batch of Single Oak Project experimental Bourbons will arrive at whisky specialist retailers later this month as the project enters its final year. The Single Oak Project started in 1999 when the late Ronnie Eddins selected 96 trees in a Missouri forest to be turned into barrels, with each tree producing a barrel from the top half and lower half of the trunk. One of the variables the project was designed to test was whether wood from the top or bottom of a tree had a difference on the flavor of the whiskey, and this batch specifically examines that question.
Each of the 12 Bourbons in the batch comes from barrels made from the top half of a tree, and all 12 share the same barrel entry proof and stave seasoning time. The variables that differ from bottle to bottle include the mashbill (rye or wheat), wood grain size, char level, and warehouse location. All 192 whiskies were matured for eight years and bottled at the same time and strength (40% ABV), and the latest batch will be available in 375 ml bottles for a recommended retail price of $46.35.
So far, 156 of the 192 single-cask Bourbons in the Single Oak Project series have been released since 2011, with the final 36 coming through the summer of 2015. The distillery has been collecting consumer feedback and votes online, along with tasting notes, and plans to take the final winner and use it as a template for a permanent Single Oak Project Bourbon release.
Links: Buffalo Trace | Single Oak Project
---