Each week, we bring you the latest whisky news on WhiskyCast, but a lot can happen during the week. Now, you can keep up with whisky news as it happens here on WhiskyCast.com!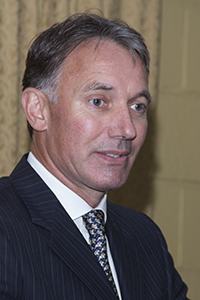 March 5, 2014 – Beam Inc. chief executive and president Matt Shattock won't be in Bill Ackman's league, but he stands to make a significant profit from Suntory's proposed $16 billion offer for the largest US-based spirits company. Ackman, who was Beam's largest shareholder through his Pershing Square hedge fund when the Suntory deal was announced on January 13, has been estimated by analysts to reap up to $700 million in profits from his stake in Beam. Beam shareholders are scheduled to vote March 25 on the offer, which is expected to close in April assuming regulatory approval in the European Union. Beam announced today that US regulators have given their approval to the deal.
Beam's 8-K disclosure form (NYSE: BEAM) filed this week with the US Securities and Exchange Commission shows Shattock, who became Beam's CEO in 2009 and guided the former Fortune Brands division through its Ackman-inspired breakup, holds stock options worth $29.4 million that would vest at the time of the sale. Shattock also owns $6.6 million in Beam shares outright, and is in line to receive around $4 million in performance-based stock awards.
Suntory has pledged that Beam's existing management team will remain in place after the acquisition, but Shattock is eligible for a "golden parachute" severance payment valued at $8.55 million if Suntory terminates his employment within two years after the deal closes.
The disclosure form shows Beam's senior executives could split nearly $110 million dollars between them in stock options, owned shares, and performance-based stock awards. Chief Financial Officer Robert Probst's package is valued at nearly $14 million, while Beam North America president Bill Newlands could net nearly $8.5 million. Both men are also eligible for "golden parachute" payments valued at around $2.6 million dollars. Albert Baladi, who heads Beam's EMEA (Europe/Middle East/Africa) unit, is eligible for a $2.2 million severance payment.
Stock options give the owner the right – but not the requirement – to buy shares at a pre-determined price that can be lower than the market price. However, Beam's filing indicates that the executive options will be converted into a cash payment equal to Suntory's offer of $83.50 per share.
---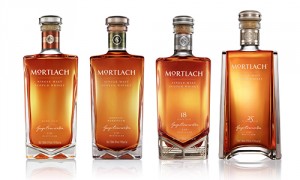 March 4, 2014- Diageo's plans to engineer Mortlach as a luxury single malt brand took a major step forward today with the unveiling of pricing and packaging for the four expressions to be released this summer.
The malts will come in bespoke bottles designed by the New York and Paris-based design firm Raison Pure. The bottles are a tribute to Scottish engineering heritage, with a range of girders and arches reminiscent of those found on the landmark Forth Bridge near Edinburgh.
In a telephone interview with WhiskyCast's Mark Gillespie, Diageo's Dr. Nick Morgan cited the Cowie family's engineering background as a key factor in the design. George Cowie founded Mortlach in 1823, and his son Alexander later took over management of the distillery. "In designing the bottles, we wanted to celebrate the Cowies, and we wanted to celebrate more broadly the great Victorian engineering tradition that's so largely writ across Scotland's history," Morgan said. "I think when you see, and your listeners see the bottles, they'll immediately understand where the designers Raison Pure have taken their inspiration from in order to produce bottles that are truly unique."

The four expressions will come in two sizes: Mortlach Rare Old, Rare Old Special Strength (travel retail exclusive), 18 and 25 year old will be sold in 500ml bottles in Europe and Asia, while the US will receive 750ml bottles. 500ml bottles are not legal for sale in the US under federal law. The initial rollout will come in late June and early July in London and Berlin, followed immediately by Singapore, Taiwan, Beijing, Shanghai, and Hong Kong. The Mortlach whiskies will arrive in New York, Chicago, and San Francisco this fall.
Pricing for the US market has not been determined yet because of the different bottle size, but Diageo has announced the recommended UK pricing for all four expressions (click the links for Mark Gillespie's tasting notes):
Mortlach Rare Old: £55
Mortlach Special Strength: £75
Mortlach 18: £180
Mortlach 25: £600
To learn more about the distillery and its unique 2.81X distillation process, listen to Episode 454 of WhiskyCast for a tour of Mortlach with distillery managers Steve McGingle and Sean Phillips, along with a discussion of the four expressions with Diageo master blender Dr. Matthew Crow.
Links: Classic Malts | Raison Pure
---
March 3, 2014 – Here's an update on new whiskies hitting the market or receiving additional distribution.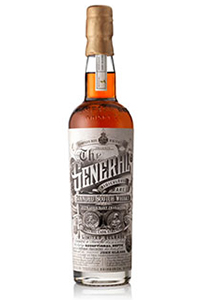 Compass Box has released The General in the US, Canada, and South Africa, following previous releases in the UK and Europe. The General is a blended Scotch whisky that came from two very old parcels of whisky blended years ago and left to marry in casks. While there's no age statement on The General, the youngest parcel of whisky is known to be at least 33 years old. Only 1,698 bottles were released worldwide.
Arran is releasing its oldest whisky yet…a 17-year-old single malt matured in ex-Sherry casks. 9,000 bottles will be available worldwide. The Arran 17 will be available at the end of March, and the distillery will release its first 18-year-old whisky in 2015. In addition, Arran plans to release the third and final edition in the Devil's Punch Bowl Trilogy series this June in time for the annual Arran Malt & Music Festival at the distillery on June 27 and 28.
Blackadder has released the latest expression in its Statement Raw Cask series of bottlings. The 30-year-old Glen Esk replaces the sold-out 40-year-old Ladyburn bottling. Blackadder is also expanding distribution of its Black Snake single malt range into Europe following its debut in April. Black Snake takes single malt casks from an undisclosed distillery and blends them into a single sherry cask for bottling using a solera-style system. As the cask is drained to two-thirds full, more whisky is added to top off the cask. The concept means some whisky from the original vatting will always remain in the cask. There are currently six different battings underway, with First Venom from Vat #2 now available along with Second Venom from Vat #1.
Links: Compass Box | Arran | Blackadder
---
March 3, 2014 – Town Branch, the Lexington distillery owned by Pearse Lyons' Alltech conglomerate, is adding a rye whiskey to its lineup. The Lexington Herald-Leader's Janet Patton reports Town Branch Rye will make its debut this month in Kentucky, Ohio, and Indiana, joining Town Branch Bourbon and the Pearse Lyons Reserve single malt.
Town Branch has been distilling small amounts of rye whiskey for the last several years at both its original distillery located inside the Lexington Brewing Company and the new Town Branch Distillery that opened across the road last year. According to the Herald-Leader, master distiller Mark Coffman is using a mashbill of 55% rye, 30% corn, and 15% malted barley to make the whiskey, which is matured for four years at warehouses in the Bardstown area.
Town Branch Rye is expected to sell for around $50 a bottle, and will be available in limited amounts. A release party is planned for March 13 in Lexington.
Links: Town Branch
---
March 3, 2014 – The UK-based private equity firm Exponent has acquired the Loch Lomond Distillery Company from the Bulloch family for an undisclosed sum. The deal includes Loch Lomond Distillery in West Dunbartonshire, Glen Scotia Distillery in Campbeltown, and the Glen Catrine bottling plant in Ayrshire, along with the single malt brands from both distilleries, the High Commissioner blended Scotch brand, and a gin brand.
Exponent will own a majority stake in the new Loch Lomond Group, with the company's new management team holding equity stakes as well. Former Imperial Tobacco executive Colin Matthews will serve as CEO, while former Diageo Chief Financial Officer Nick Rose will chair the new company. In a news release, Matthews pledged to take advantage of the growth in global demand for Scotch whisky.
"Loch Lomond, Glen Catrine and Glen Scotia have built a sound business platform with brands that perform well in the UK and in a number of international markets. The growth of the Scotch whisky industry in recent years offers a great opportunity to develop further the Loch Lomond business, to refresh and expand the product portfolio, and to move into a number of new international markets building on the excellent progress the company has already made."
Exponent's portfolio of companies includes the vegetarian food brand Quorn, Gorkana Group, and magazine publisher Immediate Media. The deal apparently did not include a non-compete clause for Sandy Bulloch, who ran the family-owned business until the sale. Bulloch is launching a new distillery project at Portvadie on Loch Fyne in Argyll, and has applied for planning permission from Argyll and Bute Council. In the meantime, Portvadie is launching two blended Scotch whiskies, Sandy's Blend and Sandy's Voyage, according to the distillery's web site.
WhiskyCast has requested interviews with Colin Matthews and Sandy Bulloch. This story will be updated as more details become available.
Links: Loch Lomond | Exponent Private Equity  | Portvadie Distillery
---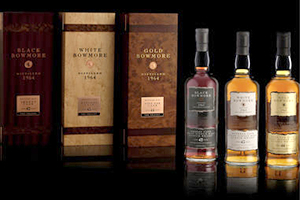 February 28, 2014 – A complete set of the 2007-2009 Bowmore Trilogy series brought the high bid at Bonhams during Wednesday's auction of rare whiskies in Edinburgh. The Black, White, and Gold Bowmores from 1964 sold for £16,250 ($27,166 USD), including premiums. The range was released over three years, starting with the 42-year-old Black Bowmore in 2007. The White Bowmore was released in 2008, and the Gold Bowmore completed the trilogy in 2009. By comparison, a single 1995 bottling of Black Bowmore from the original series of releases in the mid-90's went for £4,375 ($7,300 USD).
The runner-up was a 55-year-old Macallan Lalique decanter from the Six Pillars series that brought a winning bid of £12,500 ($20,897 USD). A 1938 Macallan bottled by Gordon & MacPhail went for £5,625 ($9,400 USD), while a Macallan Select Reserve 52-year-old distillery edition from 1946 sold for £4,750 ($7,940 USD).
The next Bonhams auction will be in New York City on April 29.
Links: Bonhams
---
February 27, 2014 – Maker's Mark will break ground next month on a $70 million expansion of the historic distillery in Loretto, Kentucky that will increase capacity by 50% with the addition of a third distillery line inside the historic stillhouse. Beam directors approved the project Wednesday, and Commonwealth officials signed off Thursday morning on changes to an existing package of tax incentives that will provide $5 million in assistance. In addition to the distillery expansion, the project will include up to nine new 50,000 barrel rickhouses that Maker's Mark has been building around the Loretto area for the last three years along with $3 million worth of infrastructure additions, including new access roads and parking lots. This project has been in the works since 2008, and follows a previous expansion of distilling capacity in 2005.
In a telephone interview with WhiskyCast's Mark Gillespie Friday, Maker's Mark President Rob Samuels said the project will allow Maker's to meet the increasing global demand for Bourbon. "We think this is the beginning of a really robust period of growth and demand for Maker's and premium Bourbon, and this expansion ties in with our existing growth plan," he said. "We do have existing supply to support in the range of growth that we've seen over the last 25 years with Maker's Mark, so when the available Bourbon from this third still comes on line, it will be a continuation of that growth trajectory." Maker's Mark sold 1.4 million cases of whisky during 2013, up nearly 11 percent from 2012. Unlike other Bourbon distillers, which are able to buy, sell, or trade whiskey stocks as needed to meet demand, every drop of Maker's Mark is distilled and bottled in Loretto using a unique wheat-based mashbill.
The distillery expansion is expected to take 18 months to complete, with the first spirit expected to come off the new still late in 2015 and be ready for bottling around six years later. The announcement comes a year after Maker's Mark raised the ire of its fans by lowering the strength of its Bourbon in the US from 45% ABV to 42% ABV in order to stretch existing supplies. Rob Samuels reversed the decision less than a week later following a social media-led protest, and the estimated 30,000 bottles of the lower-strength Maker's are now collector's items.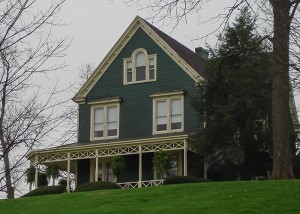 In a telephone interview with WhiskyCast's Mark Gillespie, Samuels said the distillery's visitor experience will also be changed dramatically. The current welcome center will be closed, and visitors will now arrive at the Victorian house on the hill that overlooks the distillery. A walkway down the hill will be built for visitors to reach the stillhouse, along with new parking lots at the house. Samuels said the existing access roads to the distillery have become a problem because of increasing truck, visitor, and employee traffic. New access roads and parking lots will take vehicle traffic out of the heart of the distillery campus, improving access and safety at the same time.
The decision also comes as Beam prepares for a March 25 shareholder vote on Suntory's $16 billion offer to buy the company. Suntory's interest in expanding outside its home market in Japan was the key reason for the move, and the acquisition will make Suntory the largest Bourbon producer and the third-largest spirits company worldwide.
Editor's note: This story was updated on March 1 with additional information. 
Links: Maker's Mark
---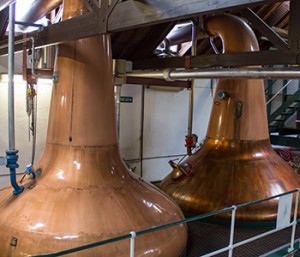 February 26, 2014 – Yet another Speyside distillery is set for expansion, as Inver House Distillers and its parent company International Beverage Holdings will invest £4 million ($6.7 million USD) to boost capacity at Speyburn Distillery in Rothes. The project will take Speyburn from 1.8 million litres a year to more than 4 million annually when it is completed at the end of 2014.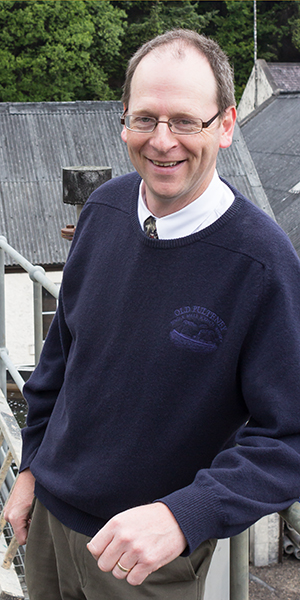 The expansion will include additional stills and production equipment, which will have an additional goal of reducing the distillery's energy use by 20% while more than doubling the production. Most of Speyburn's output is used for Inver House and the company's other blended whiskies, but its 10-year-old single malt whisky is one of the top-selling whiskies in the US market. Speyburn 25 and the no age statement Bradan Orach malts have also received praise in international competitions.
The new distilling equipment will be supplied by Forsyths of Rothes, located just down the road from the distillery. In a news release, distillery manager Bobby Anderson said the switch to newer technology will not diminish the quality of Speyburn's spirit.
"This is an exciting time for everyone here at the distillery and we are working with a great team of local companies to deliver the expansion programme, whilst retaining the great traditions and time-honoured techniques involved with crafting our whisky. It's exciting for us to know that even more people around the world will be able to enjoy a taste of Speyburn as the project progresses this year."
Speyburn sales worldwide are expected to grow by 15% this year, and Inver House managing director Graham Stevenson is optimistic about the potential for continued growth in Scotch whisky sales to emerging markets in Africa, Asia, and South America.
Links: Speyburn
---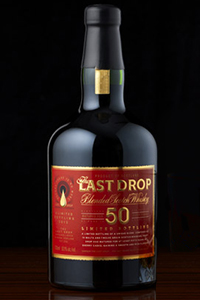 February 26, 2014 – It's been almost seven years since James Espey, Tom Jago, and Peter Fleck unleashed the original Last Drop blended Scotch from 1960 on the world. The men behind Johnnie Walker Blue Label, Chivas Regal 18, and other legendary blended Scotches pledged at the time that they would only release new whiskies when they found casks that they considered to be worthwhile. Since then, the only release from The Last Drop was a Cognac from 1950, and the original 1960 Scotch is now sought after by collectors willing to pay as much as £4,000 ($6,700) when a bottle comes on the secondary market.
Now, they are releasing a 50-year-old blended Scotch whisky from the final remaining stocks of that whisky. In an interview with WhiskyCast's Mark Gillespie, James Espey explained that they didn't bottle all of the three casks that produced the 1960.
"We decided to take a chance and put some back into new wood because we wanted to blend it up to over 50 years minimum (the oldest whisky in the original 1960 was 48 years old). It came out brilliantly…now, it was 52% alcohol in the 1960, the new whisky which had another four years in wood is well over 50. The average age is nearer to 60, and the alcohol had gone from 52 to 50.9, but magnificent."
Only 338 bottles of The Last Drop 50 Year Old will be available in the UK, US, Hong Kong, China, and a few markets to be determined, with a recommended price of £3,000 ($5,000 USD) per bottle. In the US, Infinium Spirits will be the importer, and the recommended price is expected to be in the $4,000 range.
We won't have to wait another seven years for the next release from The Last Drop, though. Tom Jago's daughter Rebecca has joined the company, and has identified a single malt Scotch whisky that will be released later this year.
Links: Last Drop Distillers | Infinium Spirits
---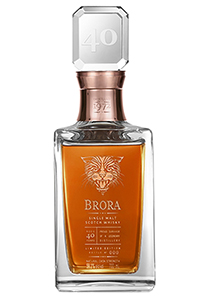 February 26, 2014 – At a recommended price of £6,995 ($11,660 USD), the Brora 40-Year-Old tops the price list for all of Diageo's single malt Scotch whiskies, and is only exceeded company-wide by a handful of rare Johnnie Walker limited editions. With just 160 bottles available, it may also be one of the smallest releases ever for the world's largest whisky maker.
The whisky for this unique release comes from 1972, considered one of the hallmark years for the now-closed distillery in the town of Brora north of Inverness in the Scottish Highlands. It was bottled at cask-strength 59.1% ABV, and is the oldest Brora expression ever released as an official distillery bottling. The Brora 40 will be available exclusively through World Duty Free's World of Whiskies travel retail shops starting April 21.
Brora was originally known as Clynelish when it opened in 1819, right up until the current Clynelish distillery was built across the road in 1968. At that time, the old distillery was closed briefly, but reopened after a few months to produce peated malt whisky for blending use and eventually renamed Brora after the town. The distillery closed permanently in 1983 during a massive shutdown of Scottish distilleries by the Distillers Company Limited.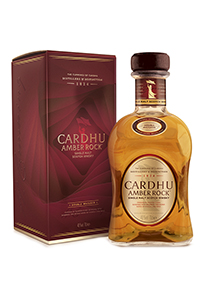 At the other end of the price spectrum, Diageo also announced plans for a new expression of Cardhu single malt to be available primarily in Europe. Cardhu Amber Rock is matured twice in toasted American Oak casks, and becomes the fourth permanent expression in the Speyside distillery's range since Cardhu 12 was re-introduced in 2005. In a news release, Diageo spokesmen explained the origin of the "Amber Rock" name as a variation on Cardhu's Gaelic translation of "black rock".
Cardhu Amber Rock will debut this spring  at whisky specialist shops in France and Belgium, and during the summer in the UK and other Western European countries with a recommended price of £41 (€50, $68.35 USD) per 70cl bottle.
Links: Classic Malts | World of Whiskies
---