Each week, we bring you the latest whisky news on WhiskyCast, but a lot can happen during the week. Now, you can keep up with whisky news as it happens here on WhiskyCast.com!
May 15, 2014 – Diageo's Orphan Barrel line of rare whiskies will expand to a third release in June with Rhetoric. As reported by WhiskyCast in February, Rhetoric is a 20-year-old Bourbon distilled at both the Old and New Bernheim distilleries in Louisville and matured in the warehouses at nearby Stitzel-Weller Distillery. Unlike the first two Orphan Barrel releases, Old Blowhard and Barterhouse Bourbons, Rhetoric will be a semi-permanent addition to the range with what Diageo described in a news release as "progressive aging." Each annual release will be a year older, meaning the 2015 release will be a 21-year-old whiskey.
While Rhetoric has the same pedigree as Old Blowhard and Barterhouse, including a mashbill of 86% corn, 8% barley, and 6% rye, it will have a different taste profile. According to Diageo's Ewan Morgan, the casks used for Rhetoric were matured on lower levels of the Stitzel-Weller warehouses, leading to a softer and creamier taste.
Rhetoric's 2014 edition is bottled at 45% ABV, and will be available in limited quantities with a recommended retail price of $85 per 750ml bottle.
Links: Diageo
---
May 13, 2014 – Scotch Whisky Association chief executive David Frost is raising even more concerns over the impact of September's Scottish independence referendum on the industry. In the association's annual review, Frost did not come out openly against independence, but called on Scottish National Party leaders to provide more clarity on currency, taxation, and potential regulatory changes that would be imposed on the business community if the referendum succeeds. Frost joins a host of executives from Scotland's industrial, financial, and energy sectors expressing worries about the impact on Scotland's economy. In a telephone interview, Frost said the industry needs that clarity to protect the industry's growth.
"Our member companies don't have a vote…we're not going to tell people how to vote, but also, we can make our products only in Scotland, so naturally we've been talking to our members pretty consistently since I took over in January, and I think before that" Frost said. "I've really been trying to set out what's important to us in the business environment, what has made us successful and what we see as the potential risks if Scotland does vote for independence and what kind of reassurances we'd need to look forward." He noted that the Scottish Government's 600-page "white paper" on independence released last November only contained two references to the Scotch whisky industry, leading to uncertainty on the government's plans for the industry.
Listen to Mark Gillespie's interview with David Frost:

Frost joined the SWA January 1 after leaving the UK's diplomatic corps and serving as Director for European Trade and International Affairs in the Department for Business, Innovation, and Skills. During his diplomatic service, he represented the UK at European Union headquarters in Brussels, and one of his biggest concerns is the question of whether an independent Scotland would be a member of the European Union. In the SWA's report, Frost called EU membership fundamental to Scotch whisky's success:
"We are able to export tariff-free across the single market, use EU to eliminate market access problems, and benefit from the EU's clout in trade negotiations. Of course, everything in the EU is perfect and, in my view, many areas need reform. But even a temporary interruption of EU involving exclusion from the single market or the customs union, if this were a consequence of independence, would be damaging and difficult to manage."
Scottish First Minister Alex Salmond and other government leaders have claimed Scotland is already a member of the EU as part of the United Kingdom, and that Scottish membership would be expedited if not automatic. That position has been refuted by European Union and European Commission leaders. including Commission President Jose Manuel Barroso of Spain, who has said an independent Scotland would have to apply for membership in the same manner as other candidate countries in a process that could take years. New members require unanimous approval from the current 28 EU member nations, and a single "no" vote could keep Scotland out of the EU. Spanish Prime Minister Mariano Rajoy has been very vocal in opposing any "fast-track" plans for Scotland, largely because his country faces its own secessionist movement in Catalonia.
"We're a business that relies on predictability and stability," Frost said. "I think you have to take seriously the remarks of President Barroso and others that it would be very difficult if not impossible for Scotland to join quickly…now, he is the President of the Commission, so you have to take that seriously. Reasonable people can differ, I think, about what actually might happen…the political framework will determine that, but the views of the President of the Commission and of the UK government, I think, are pretty persuasive ones."
The referendum is scheduled for September 18. Should it pass, Scotland would leave the United Kingdom in March of 2016.
Editor's note: This story was updated on May 15 following an interview with David Frost. 
Links: Scotch Whisky Association
---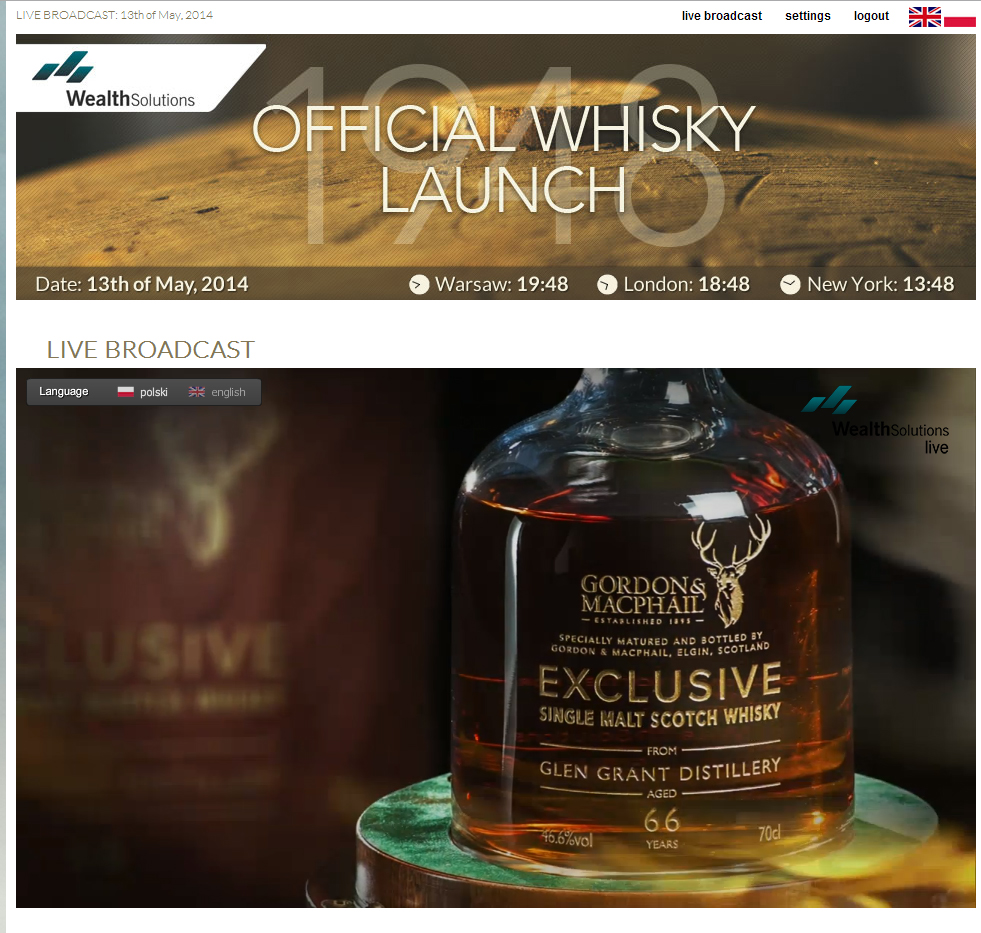 May 13, 2014 – Wealth Solutions, the Warsaw-based investment firm, has collaborated with Gordon & MacPhail on its third release of a rare single malt whisky for the firm's customers. During a live webcast today, the two companies unveiled a single cask bottling of 66-year-old Glen Grant malt distilled for Gordon & MacPhail on April 10, 1948 and matured in a first-fill Sherry butt housed in the company's Elgin warehouse. Only 161 bottles (46.6% ABV) were released, and 159 were sold in advance to Wealth Solutions customers for an undisclosed price. One was poured for audience tasting during the webcast, and the remaining decanter will be awarded as a prize to one of the viewers of the webcast.
"When you taste the whisky, to begin with you just get that lovely chili peppers spicy note coming through," Gordon & MacPhail managing director Michael Urquhart said in a telephone interview. "Adding a drop of water, that chili spice kind of drops back and you get more of that French fruit salad coming through…really absolutely delicious."
Listen to Mark Gillespie's entire interview with Michael Urquhart:

Wealth Solutions entered the collectors' whisky market in 2012 with a single cask 1953 Glenfarclas single malt released in cooperation with the distillery, and followed it up in 2013 with a 1964 Karuizawa Japanese single malt from Number One Drinks Company. The firm specializes in sourcing rare wines, whiskies, and artwork sought by collectors.
Gordon & MacPhail has had long-term contracts with many of Scotland's distilleries to fill its casks with new-make spirit for decades, and is known to have a number of vintage Glen Grant casks in its inventory. In 2012, the company released a 60-year-old Glen Grant single cask to mark the 60th anniversary of Queen Elizabeth's ascension to the throne. Gordon & MacPhail is also responsible for the two oldest whiskies to ever be released: the 70-year-old Mortlach in 2009, and the slightly older 70-year old Glenlivet in 2011. The two whiskies make up Gordon & MacPhail's exclusive Generations range of rare single malts.
Editor's note: This story was updated on May 16 following an interview with Gordon & MacPhail's Michael Urquhart.
Links: Wealth Solutions | Gordon & MacPhail
---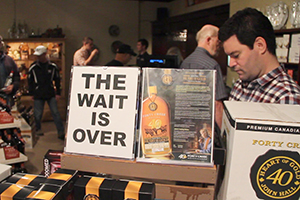 May 11, 2014 – There's no "creationism vs. evolution" debate in the world of whisky. Great whisky makers create their whiskies and evolve over time, and that's the case as Forty Creek's John Hall prepares to unleash his newest creation this fall. Forty Creek Evolution is the latest in Forty Creek's annual series of limited edition bottlings, and while it is the oldest whisky Forty Creek has ever released, it will not carry an age statement.  Hall described the unique process for Evolution in a WhiskyCast interview.
"I pot-distilled some whiskies and put them into American White Oak barrels, aged them for three years, and then I decided to re-distill it to further concentrate the flavors within the whiskies. Then, what I did was I refilled them into French Oak barrels that I had been using to age my Cabernet Sauvignon wine in, which is a fairly heavy-duty red wine, and just left it there for about nine years."
Listen to Mark Gillespie's interview with John Hall:

Hall picked the name Evolution because the flavor evolves over time, and because Forty Creek is going through its own evolution right now. The deal announced earlier this year in which Gruppo Campari will acquire Forty Creek for $185.6 million CDN ($166.7 million USD) is expected to be completed on June 2. Hall will continue as Chairman and continue to oversee Forty Creek's whiskies after the deal closes, with Campari expected to invest in additional production and distribution capacity. "Right up until now, I've only been able to sell Forty Creek in Canada and the US just because of my limited resources, where as now we'll be able to take it further to other countries," Hall said. While the initial focus will remain on developing nationwide distribution in Canada and the US, Hall suggests Australia and Brazil might be the first new markets for Forty Creek, though he stressed that a final decision has not been made.
As in previous years, Evolution will be released during Forty Creek's annual release weekend at the distillery in Grimsby, Ontario on September 27 and 28. Approximately 9,000 numbered bottles will be available to reserve through the distillery's web site starting at noon EDT on May 21, with consumers able to reserve the numbered bottle of their choice for pickup in September at the distillery. Bottles #1 and #2 will remain in John Hall's collection, but numbers beginning with #3 will be available on a first-come, first-served basis.
Editor's note: This story was updated on May 13 following an interview with John Hall.
Links: Forty Creek
---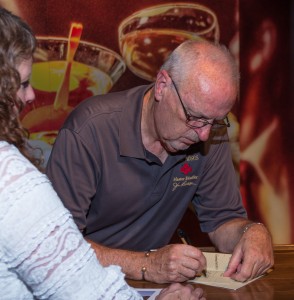 May 11, 2o14 – Four Roses has unveiled the annual release of its Limited Edition Single Barrel Bourbon for 2014, and once again, the 2014 version features one of the distillery's 10 different Bourbon recipes selected by Master Distiller Jim Rutledge. This year's version is known to the distillery's staff and its most ardent fans as "OESF" — a designation that covers the mashbill and specific yeast type unique to each variety. Here's how the formula works, according to the Four Roses web site:
O = Means the whiskey was distilled at Four Roses
E = A mashbill of 75% corn, 20% rye, and 5% malted barley
B = A mashbill of 60% corn, 35% rye, 5% malted barley
S = Straight whiskey  – minimum of two years of maturation under US law
V/K/O/Q/F = Specific yeast strains that create different flavor characteristics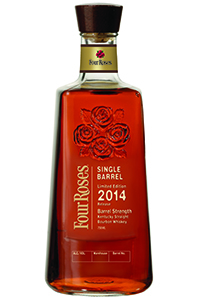 In this case, the 2014 Limited Edition Single Barrel was distilled at Four Roses using the 75% corn mashbill and the "F" yeast strain, then matured for 11 years. For comparison, the standard Four Roses Single Barrel is designated as "OBSV", which means it is made using the higher-rye mashbill with the "V" yeast strain. It should be noted that the "O" and "S" designations are consistent across all ten recipes, meaning that the two key variables that differentiate them are the mashbill and specific yeast variety.
This year's edition is bottled at barrel strength, which means that strength will vary from bottle to bottle with a range of between 54.15 and 63.8% ABV. Approximately 5,000 bottles will be available at US retailers starting in June, and for the first time, each bottle will carry a special toast from the winner of Four Roses' "Year Of The Toast" competition that marked the distillery's 125th anniversary. Frank Wheatley of Louisville, Kentucky submitted the winning entry:
"If I could age like Bourbon, I wouldn't mind getting old."
Links: Four Roses
---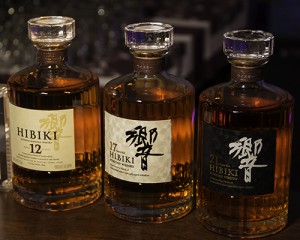 May 9, 2014 – Suntory's Hibiki 21 and 17-year-old blended Japanese whiskies have won numerous awards in international competitions, but have never been made available in the US market before. In the first major product announcement since Suntory closed its $16 billion acquisition of Beam last week, Suntory will bring the two blends into the US market starting in September to join the Hibiki 12-year-old blend.
The announcement came during a launch party Thursday night in New York City, which will be one of the first markets to get the Hibiki 17 and 21. The final decision has yet to be made, but Suntory's Neyah White said in a WhiskyCast interview that New York, Los Angeles, and Northern California are likely to be the launch markets in the US, with limited amounts in other major cities this fall and nationwide distribution expected in 2015. The final decisions will be made in conjunction with Beam Suntory executives as Suntory integrates its existing portfolio of spirits into the Beam Suntory distribution system.
The Hibiki blends are considered to be the flagship whiskies of Suntory's range, combining malt whiskies from the company's Yamazaki and Hakushu distilleries with corn-based grain whisky from the Chita grain whisky distillery. In a WhiskyCast interview, Suntory chief blender Seiichi Koshimizu said through a translator that the whiskies are blended to be in harmony with Japan's unique nature. "Although Japanese whisky has been inspired by the Scottish traditional way of making whisky, the Japanese, especially Suntory, have truly dedicated themselves to making a unique whisky." The interview with Seiichi Koshimizu will be featured on an upcoming episode of WhiskyCast.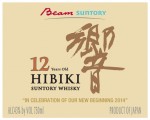 While the Hibiki 12 will continue to be available in the US, questions have been raised about a potential change for the expression after Beam Suntory applied for a new label approval certificate from the Treasury Department's Tax & Trade Bureau. The label highlights the new merger between Suntory's spirits business and the former Beam, Inc. However, Suntory USA President Toshi Kumakura confirmed that the label is for a special bottling of Hibiki 12 that will be presented to Beam Suntory employees to celebrate the merger, and will not be available to the public.
Mark Gillespie's tasting notes for the Hibiki 21 and the Hibiki 12 are available at WhiskyCast.com, and tasting notes for the Hibiki 17 will be available soon.
Links: Suntory
---
May 9, 2014 – A dark horse emerged from the bidding as the winner in Diageo's sale of Whyte & Mackay, the Scotland-based unit of India's United Spirits. Emperador, the Phillippines-based brandy producer owned by billionaire Andrew Tan's Alliance Global Group, will pay approximately £430 million GBP ($724.5 million USD) for Whyte & Mackay, according to India's Business Standard.  Emperador's bid beat out reported bids from Gruppo Campari, former Whyte & Mackay owner Vivian Imerman's Vasari Capital, KKR Group, and Lion Capital. The Business Standard report quotes Tan as calling whisky the second fastest growing spirits segment behind brandy.
"With this acquisition Emperador will be exposed to two of the fastest growing spirits segments in the world. The global demand for Scotch whisky has shown strong growth over recent years and is expected to continue this momentum going forward. We are continuously looking to enhance shareholder value through earnings accretive investments. We believe that Whyte and Mackay is a prized asset with excellent growth opportunity and its acquisition is in line with our plans to enhance our product portfolio. Whyte and Mackay has a global distribution network in over fifty countries that Emperador Brandy will have access to."
United Spirits founder Vijay Mallya bought Whyte & Mackay in 2007 from Imerman and Robert Tchenguiz for £595 million GBP ($974 million USD). Whyte and Mackay executives declined to confirm the sale price, but spokeswoman Jill Inglis issued a brief statement in an email to WhiskyCast.
"We can confirm that this morning a deal was signed between United Spirits Great Britain Limited and Emperador UK Limited (a subsidiary of Emperador Inc) for the purchase by the latter for 100% of Whyte and Mackay. We are looking forward to welcoming and working with our new owners."
Diageo acquired control of Whyte & Mackay as part of its deal to obtain a controlling interest in United Spirits. However, the UK's Office of Fair Trading moved to block the deal because of concerns over competition in the market for blended Scotch whisky. Diageo had offered to mitigate the concerns by selling approximately 80 percent of Whyte & Mackay while holding on to the Dalmore and Tamnavulin malt whisky distilleries, which company executives said were necessary to supply United Spirits with whisky for its portfolio. Emperador has agreed to a three-year supply contract for bulk whisky as part of the agreement.
The sale must still be approved by Indian regulators and the Office of Fair Trading, which had put Diageo's mitigation proposal on hold until a buyer was found for Whyte & Mackay. India's Reserve Bank must also approve the deal, since it could result in the write-off of loans from United Spirits to Whyte & Mackay. In addition, a lawsuit by United Spirits creditors seeking to block the original Diageo-USL deal is still on appeal before the Supreme Court of India.
Links: Whyte & Mackay | Alliance Global | Diageo | United Spirits
---
May 10, 2014 – Distilleries are preparing for a new round of releases, and here's the latest that we have confirmation on…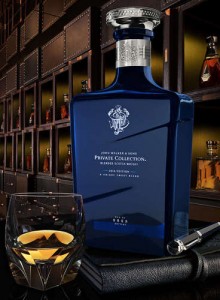 Diageo is releasing the first in a new series of John Walker & Sons Private Collection series whiskies at Singapore's Changi Airport this month, with other Asia-Pacific travel retail outlets to follow in June. The 2014 edition kicks off what will be an annual release for the luxury expression, with 8,888 bottles to be available at a recommended price of around $750 USD each.  Johnnie Walker master blender Jim Beveridge used 29 experimental casks from his private reserve to create the 2014 edition.
Ireland's Teeling Whiskey Company has confirmed the release of limited-edition 26 and 30-year-old Irish single malts, as first mentioned by managing director Jack Teeling in a February WhiskyCast interview. The 26-year-old Gold Reserve received a year's extra maturation in white Burgundy wine casks, while the 30-year-old was matured exclusively in a Bourbon cask. Approximately 1,000 bottles of the Gold Reserve will be available at a recommended price of €475 ($600 USD), while 250 bottles of the Platinum Reserve will be available for €1,500 ($2,000 USD) at Dublin's Celtic Whiskey Shop and The Loop's Irish Whiskey Collection shop at Dubin Airport at first, with limited amounts to be available later through select whisky specialist retailers.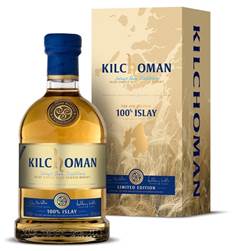 Kilchoman is releasing the fourth edition of its 100% Islay malt on Monday (May 12). The whisky is distilled from barley grown on farmland next to the distillery, and is produced "grain to glass" on site. 80% of the whisky comes from 5-year-old first-fill ex-Bourbon barrels, while the remaining 20% comes from 4-year-old first-fill ex-Bourbon barrels. It's bottled at 50% ABV and will be available worldwide with a recommended price of £69.95 ($118.50 USD) per bottle.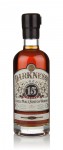 Maverick Drinks, the independent bottler owned by the founders of Master of Malt, is debuting a new range of so-called "sherry monsters" under the "Darkness" brand. The initial releases include a 15-year-old Benrinnes finished in Oloroso casks (shown), a 15-year-old Macallan finished in Pedro Ximenez casks, and a 21-year-old Ardbeg finished in Oloroso casks. The range will be available through whisky specialist retailers and Master of Malt. On the blended Scotch front, Master of Malt has released a new 10-year-old blend that will be available exclusively through the online retailer for £39.95 ($67.50 USD). The blend is bottled at 47.5% ABV with no chill-filtering or caramel coloring.
Finally, details are still being kept secret, but the Polish wealth management behind vintage releases of Karuizawa and Glenfarclas single malts plans to announce its next release in a May 13 webcast. Wealth Solutions has acquired a cask of a 66-year-old single malt distilled in 1948, but has not disclosed which distillery produced the whisky. Wealth Solutions plans to sell 160 bottles of the whisky for an as-yet undisclosed price.
Links: Johnnie Walker | Teeling Whiskey Company | Celtic Whiskey Shop | Irish Whiskey Collection | Kilchoman | Maverick Drinks | Master of Malt | Wealth Solutions
---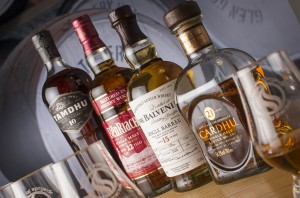 May 8, 2014 – The Spirit of Speyside Festival has honored four Speyside single malts in its annual whisky competition. The winners were decided by public votes during a series of tasting and judging sessions around Speyside during the festival from a group of short-listed finalists determined in pre-festival judging.
BenRiach's 12-year-old Sherry Wood malt took top honors for whiskies 12 years and younger, while The Balvenie's 15-year-old Single Cask won for malts 13 to 20 years old. Cardhu 21-year-old won in the category for 21-year-old malts, while Tamdhu's 10-year-old won the award for best distillery limited edition.
Nearly 350 people voted on the eight finalists during the tasting sessions, and in a change from tradition, the awards were presented on Sunday night during a closing-night ceilidh at Glen Grant Distillery. In previous years, the winners were determined by voting at a banquet on the festival's opening night.
The 2015 Spirit of Speyside Festival will run from April 30-May 4, 2015.
Links: Spirit of Speyside Festival
---
May 5, 2014 – Scotland, Golf, and Whisky: three words that just go together naturally. The Moray Golf Club in Lossiemouth has a history that dates back 125 years, and was founded by leaders in the whisky industry who also had a passion for golf and laid down  casks of their whiskies for the club's use. The club's early captains included John Fleetwood Cumming of Cardhu, John Harr of Glenlossie-Glenlivet, and R.I. Cameron, who managed the Linkwood, Teaninich, Tamdhu, and Benrinnes distilleries during his career. Now, the club has signed a special deal with Elgin-based Gordon & MacPhail to serve not only as the club's sole wine and spirits supplier, but also to produce a special range of bottlings for the club. The range will include a 15-year-old Speyside malt from an undisclosed distillery bottled to celebrate the club's 125th anniversary this year, according to current club captain John Ellwood.
"This deal is about trying to reinforce our link with whisky history," Ellwood said in a telephone interview. "Given that Moray is the heart of whisky production and there's been such a strong relationship over the years, we wanted to try and reinforce that."
Listen to Mark Gillespie's interview with John Ellwood:

The club has now accomplished its goal of being able to serve single malts from every distillery in Morayshire and Speyside in the clubhouse – something that no area golf club has ever been able to offer before. "We've got them all…these obviously range in price 'cause some of them are pretty rare now," Ellwood said. The club's current house malt is a Glen Moray bottling that sells for £1.65 GBP ($2.80 USD) per dram, and the most expensive dram behind the bar is a rare Glen Craig that sells for £34 ($57.25 USD) per dram.
The club's two courses were designed by golf legends Old Tom Morris and Henry Cotton, and are popular with golfers visiting Scotland. Ellwood said greens fees and the bar are two of the three major sources of the club's income, along with member fees. Gordon & MacPhail's Stephen Rankin said in a news release that the agreement will make Moray Golf Club more than just a golf club, but a destination for whisky lovers.
"The club's objective is to have something unique to offer in order to attract tourists to the clubhouse. No one else is doing it on the same scale as Moray Golf Club, and there is certainly no other club making such a feature of it."
The agreement also calls for Gordon & MacPhail to provide staff training, and the deal extends the longtime ties between the club and Gordon & MacPhail. "They were founded six years after ourselves, and we've been dealing with them ever since that time," Ellwood said. "They obviously have the expertise in whisky, and have served as a conduit for us to all the distilleries and organized the purchase of all those whiskies." Several members of the Urquhart family are also members of the club.
Editor's note: This story was updated on May 9 following an interview with John Ellwood. In addition, Gordon & MacPhail's Michael Urquhart advised us on May 16 that while he is not a member at Moray, his brother and nephew are members. 
Links: Moray Golf Club | Gordon & MacPhail
---