Each week, we bring you the latest whisky news on WhiskyCast, but a lot can happen during the week. Now, you can keep up with whisky news as it happens here on WhiskyCast.com!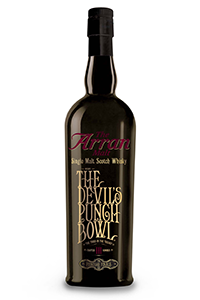 July 28, 2014 – Isle of Arran is releasing the third and final edition in its Devil's Punch Bowl series of single malts. The annual releases are named for one of the geographical features of Arran, and this year's is known as the "Chapter III: The Fiendish Finale."
In a news release, Master Distiller James MacTaggart described the whisky as a combination of malts matured in Oloroso Sherry butts and French Oak wine barriques. "Personally this is my favourite of the trilogy and it is a fantastic expression of the Arran Malt," he said. "The whisky is bottled without chill filtration at natural strength (53.4 ABV) and is unpeated making it approachable and enabling lots of flavours to be discovered."
6,660 bottles will be available worldwide through whisky specialist retailers and Arran's online shop, with a recommended retail price of £76.99 ($130 USD).
Links: Isle of Arran
---
July 26, 2014 – For the first time in more than a century, Adelphi is distilling its own malt whisky with the commissioning of the new Ardnamurchan Distillery on Scotland's Ardnamurchan peninsula. The distillery has been running for several weeks, but was officially opened on Friday in a ceremony attended by the Princess Royal, along with Adelphi's executives and invited guests.
Ardnamurchan is the westernmost distillery on the Scottish mainland, and uses 100% renewable energy in its production process. The distillery's boilers are fueled by wood chips supplied from local forests, and all of the waste products are recycled for use as animal feed and fertilizer. In a news release, Adelphi director Donald Houston said the need to be environmentally responsible was a key goal from the beginning.
"A key element of the project since its conception has been that the distillery should be run by sustainable, renewable and environmentally benign means.  With a great deal of planning and complex design work, we're proud that we have achieved this objective. The distillery represents a significant milestone in the long term plan for the development and improvement of the socio economics of Ardnamurchan and will provide enormous opportunities for the development of tourism and the direct and indirect provision of jobs in this very remote and isolated part of Scotland."
Distillery manager Graeme Bowie supervised construction at the site after joining Adelphi from Balblair, where he was the assistant distillery manager. On this week's WhiskyCast, he'll discuss how the distillery was designed and built, along with plans for the future.
Links: Ardnamurchan
---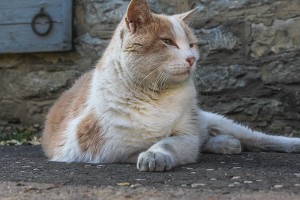 July 25, 2014 – Distilleries and cats have gone together for decades, and most distilleries have had a special "distillery cat" around with the stated purpose of chasing mice away from the grain bins. Of course, the biggest part of the distillery cat's job generally wasn't pest control, but to keep an eye on the humans running the place. This week, Woodford Reserve announced on its Facebook page the passing of Elijah, the 19-year-old tabby cat who prowled the distillery – when he wasn't sleeping in front of a warehouse door.
"We're deeply saddened to announce the passing of Elijah, our beloved Distillery Cat-in-Residence. Elijah called the Woodford Reserve barrelhouse "home" for two decades – often taking the night shift to keep watch over the barrels, ensuring the angels never took more than their share."
In a post on the Woodford Reserve Facebook page, Katie Hecker Carney described how she and her brother found the kitten when they were living near the distillery:
I still remember the day that my brother, Patrick Carney, and I found him at the end of the driveway, next to the creek, and brought him home to the house at the top of the hill. That was probably in the fall of 1995 and he was the tiniest kitten we ever had. I was so worried that our dad wouldn't let us keep him since I had recently promised not to bring home anymore cats. Patrick assured me that he would take care of Dad and insist that it was all his idea. I was so happy when I heard that Zeppelin had taken up residence at the distillery after the family moved to the other side of the farm and you guys adopted him there as Elijah."
Carney was later reunited with Elijah while working in the distillery's catering department.
---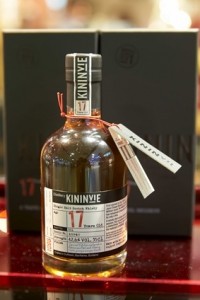 July 23, 2014 – William Grant & Sons has released a new batch of Kininvie single malt, and once again, Taiwan is the launch market for the 17-year-old expression. Last October, the first official release of Kininvie on record made its debut in Taiwan as a 23-year-old malt. Unlike that initial bottling, though, the 17-year-old will be available in other travel retail markets around the world.
Kininvie was the "secret distillery" on the William Grant & Sons campus in Dufftown that is home to Glenfiddich and The Balvenie. Kininvie had its own stillhouse, but shared mash tuns and washbacks with The Balvenie, and has been used occasionally as needed to produce malt whisky for use in the Grant's blends. Until last October's release, malt from Kininvie had never been bottled as a single malt, though a small amount was bottled under the Hazelwood label for the limited-edition whiskies honoring the late Janet Sheed Roberts, the last surviving granddaughter of William Grant.
The 17-year-old release is a blend of 80% ex-Bourbon barrels and 20% ex-Sherry casks, and has been bottled in 375ml bottles at 42.6% ABV. Pricing was not announced.
Links: William Grant & Sons
---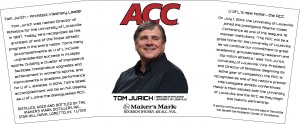 July 22, 2014 – Maker's Mark plays both sides of the Bluegrass State rivalry between the University of Kentucky and the University of Louisville down the middle, releasing Kentucky-themed commemorative bottles annually to benefit the University's Gill Heart Institute and Louisville-themed bottles to support the Cardinals' Academic Center of Excellence student-athlete support center. Of course, both colleges have had their share of NCAA Championship commemorative bottles as well. However, the latest Cardinal commemorative coming out of Loretto honors a man who works in the shadows of Louisville basketball coach Rick Pitino – even though he's Pitino's boss.
Louisville athletic director Tom Jurich will appear on the third bottle in the annual series of Maker's Mark Cardinal commemorative bottles. Jurich has been in charge of the university's athletic program since 1997, and helped mastermind the university's departure from the Big East for the Atlantic Coast Conference this year. The previous bottles in the series honored former Louisville football coach Charlie Strong, now the head coach at Texas, and Pitino's induction last year into the Naismith Basketball Hall of Fame.
8,500 one-liter bottles with the Jurich label will be available at retailers in Kentucky and Southern Indiana starting Friday, July 25. Jurich, Maker's Mark President Rob Samuels, Chairman Emeritus Bill Samuels Jr., and Master Distiller Greg Davis will appear at a bottle signing scheduled for August 13 at the KFC Yum! Center in Louisville. Tickets for the signing will go on sale July 30, and details are available through the Cardinals' web site.
Links: Maker's Mark | University of Louisville Athletics
---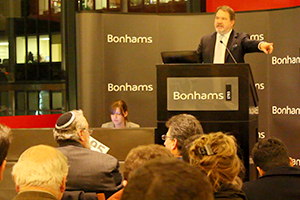 July 22, 2014 – Bonhams, the 200-year-old global auction house with galleries in London, Edinburgh, New York, Hong Kong, and other major cities, has cancelled its scheduled auction of rare whiskies scheduled for its New York City gallery on October 19. In an email Tuesday to WhiskyCast's Mark Gillespie, Bonhams lead whisky specialist Martin Green would only confirm the cancellation:
"The decision has been taken not to hold the October auction, there are no sales planned at the moment and the situation will be reviewed next year."
Green referred requests for additional information to Mariam Cebalo of Bonhams in San Francisco. In a telephone conversation Wednesday, Ms. Cebalo described the move as a "business decision" based on the profitability of the New York whisky auctions. However, she did not rule out a return to the market in the future. According to the Financial Times, the two owners of Bonhams have put the auction house up for sale, with a number of private equity firms having placed first-round bids with the investment bank hired to manage the sale. Cebalo denied any connection between the pending sale of Bonhams and the decision to wind down the New York whisky auctions.
Bonhams is one of the two leading auction houses offering regular whisky auctions, along with McTear's in Glasgow. However, Bonhams has been more aggressive in expanding its whisky auctions outside of Scotland with regular auctions in New York and Hong Kong, where Bonhams will hold its next whisky auction on August 15. The first Bonhams New York whisky auction was held in December of 2009 following a change in state law to allow auctions of distilled spirits along with wines, and since then Bonhams has held at least two whisky auctions each year at its New York gallery. This year's spring auction was held on April 30, and the top overall bid was $59,500 for a bottle of Cognac dating back to 1762. A 40-year-old Royal Salute bottled in 1993 on the 40th anniversary of Queen Elizabeth's coronation led the whiskies with a high bid of $10,115.
The cancellation was first reported on the Los Angeles Whisky Society's web site. Society members have been highly critical of Bonhams for several years over descriptions of specific whiskies in previous auctions.
Editor's note: This story was updated with reaction from Bonhams.  
Links: Bonhams
---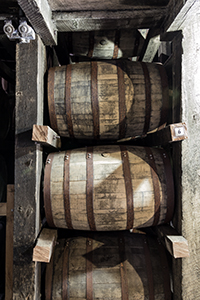 July 22, 2014 – For the first time since 1977, Kentucky's Bourbon distillers have more than 5 million barrels of maturing whiskey stored in their warehouses around the Bluegrass State. Figures released today by the Kentucky Distillers Association put the total number of Bourbon barrels in bonded storage at 5,294,988 as of December 31, 2013. When combined with maturing barrels holding American whiskey, brandy, and other spirits, around 5.9 million barrels of distilled spirits are currently maturing in the state's warehouses. The data covers all of the state's distillers and rectifiers, not just those who are members of the KDA.
The state's distillers filled 1.2 million barrels with new "white dog" spirit during 2013, the most in a single year since 1970, as the Bourbon boom has generated new interest and demand worldwide. In a news release, KDA President Eric Gregory noted that the value of barrels in bonded storage has nearly doubled since 2006 to around $1.9 billion (USD).
"We're pushing production and inventories past milestones not seen in generations. Distillers are making landmark investments, creating new jobs, driving record numbers of tourists to the state and pouring hundreds of millions into local economies. It's an incredible success story for our beloved Commonwealth and a clear forecast that the Bourbon revolution has no signs of slowing down."
Earlier this year, state lawmakers approved a tax credit for distillers allowing them to deduct the ad valorem taxes paid on each barrel of maturing spirit from their corporate income taxes, as long as the credits are reinvested on construction and other capital expenses within the state. Distillers paid more than $15 million in ad valorem taxes in 2013 to local governments and school districts.
The KDA also reported a new record for visitors along the Kentucky Bourbon Trail, with 630,000 people visiting at least one of the Trail's member distilleries during 2013.
Links: Kentucky Distillers Association
---
July 17, 2014 – The Famous Grouse is marking the upcoming Commonwealth Games in Glasgow with the release of a limited-edition single malt from its homeplace at Glenturret Distillery. The Edrington-owned brand is the official whisky sponsor of the Games, which will bring together athletes from 71 countries starting July 21.
Glenturret is the spiritual home for The Famous Grouse range of blended Scotch whiskies and home of The Famous Grouse Experience. The whisky selected as the commemorative malt for the Games is a 28-year-old single malt distilled in 1986, which was the last time the Commonwealth Games were held in Scotland. Edrington Master Blender Gordon Motion selected the casks for blending and bottling at a cask-strength 46.4% ABV.
1,800 bottles will be available through UK whisky specialist retailers and The Famous Grouse website at a recommended retail price of £150 ($257 USD).
Links: The Famous Grouse | Glasgow 2014
---
July 17, 2014 – Filipino billionaire Andrew Tan's $724.5 million (USD) acquisition of Whyte & Mackay is a step closer to completion. The UK's Competition and Markets Authority has given tentative approval to Tan's deal to buy the Scotch Whisky and gin producer from Diageo and United Spirits of India, and has opened a two-week public comment period before giving final approval. Tan's Alliance Global Group was selected in May as the high bidder for Whyte & Mackay, and Tan will merge the unit into his Emperador brandy unit assuming final approval from the CMA and the Reserve Bank of India. Indian regulators must still approve the sale, as it will require loans from United Spirits to Vijay Mallya's USL Holdings Ltd. to be written off. In addition, a court challenge to Diageo's acquisition of some USL shares pledged as collateral by Mallya-related businesses is still awaiting a final ruling by India's Supreme Court.
Diageo and United Spirits agreed to put Whyte & Mackay up for sale following a ruling by the former Office of Fair Trading that Diageo's acquisition of a controlling stake in United Spirits would hurt competition in the UK's market for blended Scotch whiskies. Whyte & Mackay supplies bulk whisky for private-label retail brands, along with its own branded whiskies, and the OFT ruled that combining the unit with Bell's and Diageo's other blended Scotch brands would be anti-competitive. The ruling was stayed while Diageo and United Spirits sought a buyer for Whyte & Mackay. Earlier this month, Diageo completed its acquisition of a majority of the outstanding shares in United Spirits, and has now taken control of the Bangalore-based company.
Diageo's filing with the CMA proposes to complete the deal by September 9, with the current Whyte & Mackay management team to stay with the unit as Alliance takes control. In addition, Diageo will not be allowed to acquire any interest in Whyte & Mackay for ten years following the transition, and its employees will not be allowed to become managers or directors of Whyte & Mackay. The agreement does allow for Diageo to buy bulk whisky from Whyte & Mackay, and Tan's purchase agreement includes a three-year contract to supply malt whisky from the Dalmore and Tamnavulin malt whisky distilleries for use in United Spirits-produced whiskies. Diageo had originally planned to hold on to both distilleries following a sale, but agreed to include them as part of the Alliance bid.
The Authority's public consultation period ends August 1, and a CMA spokesman told WhiskyCast in an email that the agency is prepared to give final approval barring any major objections. Diageo spokespersons have previously said the company will have no further comment while the CMA's review process is underway.
Links: Competition & Markets Authority | Diageo | United Spirits | Whyte & Mackay
---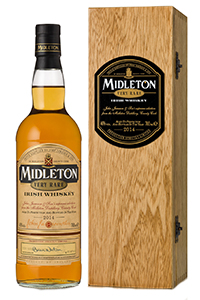 July 15, 2014 – For the first time since Irish Distillers introduced the Midleton Very Rare range in 1984, there's a very noticeable change on the label. After 30 annual releases signed by Master Distiller Barry Crockett, the 2014 edition is signed by his successor, Brian Nation. Crockett retired last year, and the main stillhouse at Midleton Distillery was named in his honor last September.
Brian Nation's first Midleton Very Rare doesn't stray from the tradition Crockett established, using a combination of Single Pot Still and grain whiskeys distilled at Midleton and matured for up to 22 years in lightly charred ex-Bourbon casks. In a news release, Nation described the pressure of living up to his mentor's legacy.
"It is a real honour for me to continue the Midleton Very Rare legacy and to have my name on the label, where Barry's signature once was. I'm very proud of the 2014 edition, as it offers real complexity with a full taste of sweet spice, vanilla, and cinnamon, which lingers before slowly giving way to notes of barley. I am confident that it will provide whiskey fans around the world with the interesting and enjoyable tasting experience that they have come to expect from Midleton Very Rare over the years – and I look forward to hearing what Barry thinks of it too!"
The 2014 Midleton Very Rare release will be available at whisky specialist retailers in Ireland and select European markets, along with the US. Pricing information has not been announced.
Links: Irish Distillers
---