Each week, we bring you the latest whisky news on WhiskyCast, but a lot can happen during the week. Now, you can keep up with whisky news as it happens here on WhiskyCast.com!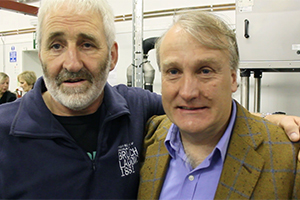 June 25, 2014 – Longtime Bruichladdich Distillery general manager Duncan McGillivray will call it a career on Friday after more than 40 years with the Islay distillery. In a blog posting on the Bruichladdich web site, CEO Simon Coughlin called  McGillivray's contributions a key chapter in Bruichladdich's history.
"Duncan's experience and quiet determination have been a central pillar in the renaissance of Bruichladdich. His ability to innovate and improvise in the face of seemingly impossible engineering challenges, combined with an extraordinary work ethic, have been an inspiration to us all from the beginning. We could not have done it without him."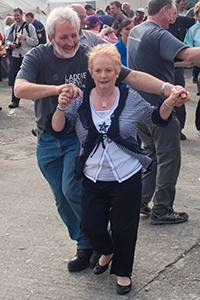 Duncan joined Bruichladdich on May 20, 1974 as an apprentice stillman, and was named Head Brewer in 1978. He was on hand as distillery manager when the former owners closed it in 1994, and helped bring it back to life when Mark Reynier and Simon Coughlin's group of investors purchased the distillery and reopened it in 2001. While Jim McEwen has been the face of Bruichladdich as Production Manager and chief whisky maker, Duncan kept the distillery running behind the scenes — on what the distillery acknowledges was "a shoestring with mostly second-hand equipment."
Listen to Mark Gillespie's interview with Duncan on June 26, 2014:

Duncan will retire in nearby Port Charlotte to spend time with his wife Susan and his grandchildren, though he's likely to show up at the distillery occasionally as Coughlin's team hopes to be able to call on him for "consulting" as needed.
On behalf of the entire WhiskyCast community, we wish Duncan a happy retirement and express our gratitude for his many contributions to the whisky community.
Editor's note: This story was updated on June 27 to include audio from our interview with Duncan McGillivray. 
Links: Bruichladdich
---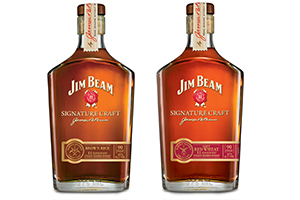 June 25, 2014 – Jim Beam is putting more emphasis on its Signature Craft line of premium Bourbons with plans to roll out six new expressions over the next year in what's being called the Harvest Bourbon Collection. The series will begin in September with the launch of Jim Beam Signature Craft Soft Red Wheat Bourbon and Signature Craft Brown Rice Bourbon. Both whiskies use grains not traditionally used in Jim Beam's regular Bourbons, and represent some of the experimentation that has been underway for many years at the Jim Beam Distillery in Clermont, Kentucky. In fact, brown rice was used along with triticale in the rare Jim Beam Signature six-grain Bourbon that was available in travel retail during 2010. Soft red wheat is the flavoring grain used in Maker's Mark Bourbon.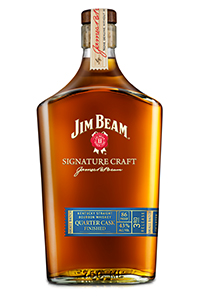 The initial releases will be followed in 2015 by Harvest Bourbon Collection whiskies featuring triticale, rolled oats, six-row barley, and high-rye content mashbills. Both initial releases will be bottled at 45% ABV and available in limited amounts for a recommended retail price of $49.99 USD.
In addition, Beam will add a new expression to the main Signature Craft line in September with the release of Jim Beam Signature Craft Quarter Cask. This expression is blended from 5-year-old Jim Beam Bourbon and what the distillery calls "a variety of fine quarter cask Bourbons, all aged for at least four years in smaller barrels."
Quarter Cask has been bottled at 43% ABV, and will be available at whisky specialist retailers for a recommended retail price of $39.99 USD. Tasting notes will be available soon at WhiskyCast.com.
Beam Suntory has not announced export plans for the three new whiskies at this time. This story will be updated as more details become available.
Links: Jim Beam
---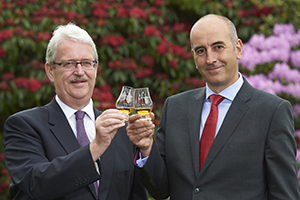 June 24, 2014 – Gordon & MacPhail Managing Director Michael Urquhart has announced his plans to retire in September, and for the first time in the family-owned company's 120-year history, a non-family member will take the reins. Ewen Mackintosh is currently Gordon & MacPhail's Chief Operating Officer, and will retain that title after the transition. Urquhart will remain as a non-executive director of the Elgin-based company.
"We are moving from what I describe as a sibling partnership, myself, my two brothers, and my sister down to the next generation," Urquhart told WhiskyCast's Mark Gillespie in a joint telephone interview with Ewen Mackintosh. "We've got to make sure that we've got the right skills in place, and that means that we're going to have some non-family as well. It's part of an evolution of the business…it's a positive evolution, and it's about taking the business to the next level." Mackintosh has spent his entire career with Gordon & MacPhail, starting as a student while attending St. Andrews University and joining the company full-time in 1991. His principal role over the years has been managing whisky supplies for Gordon & MacPhail, along with a key role in the development of Benromach Distillery, which Gordon & MacPhail acquired several years after he joined the company.
"The whole of the fourth generation who are involved in the business, together with the non-family executive directors…we're working as a team, just as Michael, David, Ian, and Rosemary operated the business during their generation, " Mackintosh said. "There was a captain of that team, and that's the way I'm viewing it…I'm just captain of the team, everyone's bringing their own skills, their own personalities to the table, and we'll use those skills to drive the business forward." Currently, five members of the fourth generation of the Urquhart family are working at Gordon & MacPhail in key positions.
Michael Urquhart will continue to remain involved in the family business in an advisory role, and will remain part of the Scotch Whisky industry as a member of the management committee for the Keepers of the Quaich. He will also continue his work with the Scottish Council for Development & Industry's Highlands & Islands Committee.
For more on this story, listen to this week's episode of WhiskyCast.
Links: Gordon & MacPhail
---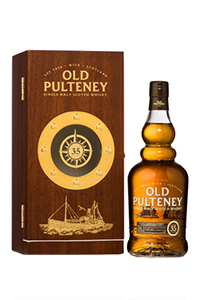 June 23, 2014 – Old Pulteney is releasing a limited-edition 35-year-old version of its single malt Scotch, with just 450 cases to be made available worldwide. In a news release, Inver House Distillers described the new expression as a combination of ex-Bourbon American Oak and ex-Sherry Spanish Oak casks. It is being bottled at 42.5% ABV.
The release follows a 2012 launch for Old Pulteney 40 Year Old from the distillery in Wick, which is the northern-most distillery on the UK mainland to have released a single malt so far. The Wolfburn Distillery is north of Wick in nearby Thurso, but has only been distilling spirit for 18 months and has not released a bottling yet.
Recommended retail pricing for the Old Pulteney 35 is £500 ($855 USD) per 70cl bottle. There will be a 75cl version for the US market, but pricing has not been determined yet.
Editor's note: This story was updated with additional information.
Links: Old Pulteney
---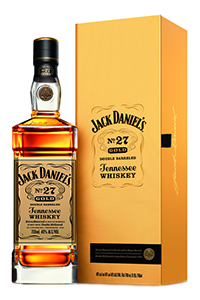 June 18, 2014 – Jack Daniel's is one of the world's best-selling whiskey brands, with nearly 12 million cases sold worldwide in 2013. Now, the Brown-Forman brand is expanding its presence in Asia with a new expression exclusively for that market, where the company reported sales gains of more than 20% in the region last year.
Jack Daniel's No. 27 plays off of the classic "Old No. 7″ legacy, but unlike the original, is finished in maple barrels and charcoal-mellowed using the traditional "Lincoln County Process" for a second time following maturation. Currently, Gentleman Jack is the only other Jack Daniel's expression that is charcoal-mellowed twice, both before and after maturation. In a news release, Master Distiller Jeff Arnett said the double-mellowing process works especially well with the maple barrel finishing to create a smoother flavor.
The whisky is being launched initially in Shanghai, China, where Brown-Forman has partnered with the Shanghai Duolun Museum of Modern Art to launch an exhibition of works by four Chinese artists created following their visits to the distillery in Lynchburg, Tennessee.  Pricing for No. 27, which will be bottled at 40% ABV, was not announced. It will be available in China, Hong Kong, and travel retail outlets in Asia.
Editor's note: This story was updated with additional details on market availability.
Links: Jack Daniel's
---

June 18, 2014 – Diageo's planned $115 million dollar Bourbon distillery has received approval from the Shelby County Planning Commission following a hearing Tuesday in Shelbyville, Kentucky. The unanimous vote clears the way for work to begin on a 300-acre site east of Shelbyville along Benson Pike. The approval was expected, as county officials had praised the project as a much-needed economic boost for the area halfway between Louisville and Lexington.
While Commission members raised no objections to the project, WAVE-TV in Louisville reports several residents living near the site expressed concerns about potential odors and fungus issues. Diageo is currently fighting a class-action federal lawsuit in Louisville over fungus problems allegedly caused by evaporating alcohol vapors from its maturation warehouses at several locations in Jefferson County. Diageo executive Guy Smith testified at the hearing that the company would be a "good neighbor" and that the location is an ideal place to make whisky. The plans call for the distillery and maturation warehouses to be built near the center of the site with an undeveloped buffer zone around the facility to minimize any impact on neighboring properties.
The new distillery is expected to have an initial production capacity of 1.8 million liters of alcohol annually, but the 300-acre site has room for expansion in the future if needed. Diageo has not specified which brands will be produced at the distillery, only that it will be used for the company's present and future Bourbon and American Whiskey needs. However, it is likely that the company's Bulleit Bourbon will be distilled there.
As reported earlier, there are no current plans for a visitors center at the new distillery. WAVE's report confirms that the distillery is located in the "dry" part of Shelby County, which generally bans alcohol sales outside of the city of Shelbyville. The county has granted exemptions allowing liquor sales at a limited number of bars and restaurants, and Diageo would have to apply for an exemption in order to be allowed to offer samples should it decide to add a visitor attraction at the site. Diageo is currently expanding its Bulleit Experience visitor center at the Stitzel-Weller Distillery in the Louisville suburb of Shively with plans to make the site part of the Kentucky Bourbon Trail.
Links: Diageo | Bulleit Bourbon | Kentucky Bourbon Trail
---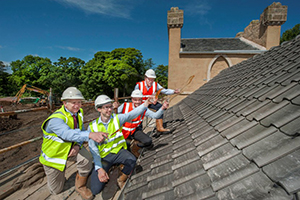 June 17, 2014 – Construction of the new Kingsbarns Distillery on the Cambo Estate near St. Andrews is on schedule, with plans to open the distillery and begin production later this year. The project has been in the works for several years, spearheaded by Doug Clement, but picked up steam in early 2013 when Weymss Malts owner William Wemyss became the principal investor and took ownership. Wemyss was on hand last week when the distillery's roof was completed for a formal "topping-out" ceremony (shown at right).
In a news release, Wemyss Malts said the distillery is scheduled to open on November 30 (St Andrews Day), with Peter Holroyd as the first distillery manager. Clement will manage the distillery's visitors center, which is expected to open in December. The Fife distillery is the closest to St. Andrews, and is expected to be a magnet for tourists attending the 2015 Open Championship on the Old Course at St. Andrews.
For more on this story, listen to Episode 406 of WhiskyCast for a January 2013 interview with William Wemyss on his plans for Kingsbarns.
Links: Kingsbarns Distillery
---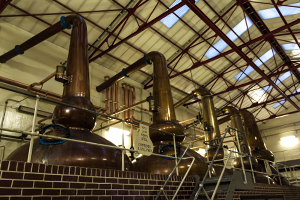 June 16, 2014 – In January, the Speyside area's representatives in Westminster and Edinburgh called for a summit meeting with chief executives of the region's two largest whisky producers. Angus Robertson represents Moray in Parliament, and Richard Lochhead is the Scottish Parliament's representative along with serving as Scotland's Rural Affairs Secretary. Together, they wanted a sit-down with Diageo's Ivan Menezes and Chivas Brothers' Laurent Lacassagne to discuss ways to develop Speyside's overall whisky industry with a goal of increasing tourism and economic development.
While they didn't get the three-way summit they wanted, The Spirits Business reports Menezes met with Robertson and Lochhead earlier this month, and Lacassagne has them penciled in for a meeting at the end of June. Lochhead and Robertson have already met with Edrington executives and discussed the ongoing plans for expansion at The Macallan announced last November. A Diageo spokesperson told The Spirits Business that no concrete plans were agreed on, but with £1 billion invested in Scotch whisky production, the company is "naturally interested in the development of Speyside and Scotland as a whole."  The largest Scotch whisky producer has expansion projects underway at many of its distilleries, including the Mortlach Distillery in Dufftown.
Lochhead has said he hopes the discussions will lead to development that puts Speyside on a par with other key drinks-producing such as France's Champagne and California's Napa Valley.
Links: Diageo | Chivas Brothers | Edrington
---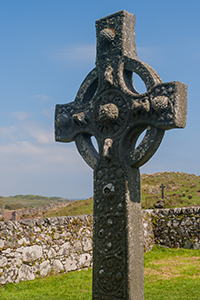 June 16, 2014 – Ardbeg is releasing a special distillery-only bottling to support The Kildalton Project, which is part of a larger program aimed at helping communities across Scotland's Northern Highlands. The North Highlands Initiative is supported by Prince Charles, and is working to help what it describes as "fragile, rural communities", and funds raised from the sale of Ardbeg Kildalton will go to help build a new community center in nearby Port Ellen.
The whisky is named after Islay's iconic Kildalton Cross, which is located near the distillery just a couple of miles east of Port Ellen. Dr. Bill Lumsden and his team at Glenmorangie created the whisky from a range of ex-Bourbon and ex-Sherry casks of varying ages. It is bottled at 46% ABV with no chill-filtering, and will be available exclusively at the distillery's visitors center for £120 ($204 USD).
Links: Ardbeg | North Highlands Initiative
---
June 12, 2014 – 2014 marks the 75th anniversary for Diageo's Crown Royal Canadian Whisky, and master blender Andrew Mackay has created a special blend for the occasion. Crown Royal Monarch 75th Anniversary Blend is a limited release that will be available in the U.S. for a recommended retail price of $75 (750ml bottle), and includes Rye whisky distilled using a traditional Coffey still at Crown Royal's distillery in Gimli, Manitoba.
"It's an act of pure creation," Mackay told WhiskyCast's Mark Gillespie in a June 19 telephone interview. "You're sitting there and you're thinking about what people would like…you're able to look at all the bits and pieces and say 'I can use this up entirely and don't have to worry about it'. That was the fun part…the challenge is always to make something that people would like…we thought about it a lot and tasted a lot of different things, and in the end, we decided to go with something that was quite flavorful."
Listen to Mark Gillespie's interview with Andrew Mackay:

Crown Royal's history dates back to 1939, when King George VI and Queen Elizabeth visited Canada and crossed the country by train. Seagam's Edgar Bronfman had his blenders create the whisky, which was packaged in purple bags — 10 cases were presented to the royal couple for their party's use during the trip. The whisky was branded "Crown Royal" after the trip and was available exclusively in Canada until 1964, when Seagram's started exporting it worldwide. Crown Royal eventually became part of Diageo's portfolio following a series of corporate mergers.
Unlike that original Crown Royal, the 75th Anniversary edition will be packaged in a silver cloth bag with gold accents. However, unlike the original, it will not be sold in its home country of Canada, with sales limited to the U.S. market exclusively.
Tasting notes will be available soon.
Editor's note: This story was updated following an interview with Andrew Mackay on June 19. 
Links: Crown Royal
---