Each week, we bring you the latest whisky news on WhiskyCast, but a lot can happen during the week. Now, you can keep up with whisky news as it happens here on WhiskyCast.com!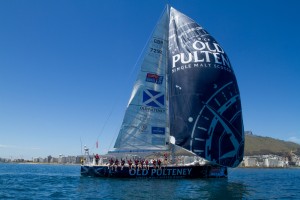 July 12, 2014 – The latest running of the Clipper Round The World Race wound up in London Friday after 11 months of sailing, with the Old Pulteney-sponsored yacht finishing sixth out of 12 teams. The Inver House-owned distillery has released a limited-edition bottling to honor its crew's accomplishments in the grueling race, along with the Wick-based distillery's own maritime heritage.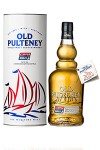 The commemorative edition comes from a combination of ex-Bourbon and ex-Sherry casks matured at the distillery, and is bottled at 46% ABV with no chill-filtering. 2,700 cases will be available worldwide with a recommended retail price of £50 ($85 USD).
Team Henri Lloyd won the 16-leg event, followed closet by the Great Britain yacht, which won the final leg of sailing from Den Helder in The Netherlands to London's St. Katharine's Docks. The next Clipper Round The World Race is scheduled to begin in London in August 2015.
Links: Old Pulteney | Clipper Round The World
---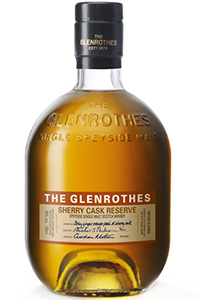 July 10, 2014 – Berry Bros. & Rudd is releasing a new expression of The Glenrothes matured exclusively in ex-Sherry casks. While the distillery is known for its extensive use of ex-Sherry casks, most of its expressions do use a small amount of malt matured in ex-Bourbon casks, and this is one of the few distillery bottlings that uses ex-Sherry casks exclusively.
The Glenrothes Sherry Cask Reserve carries no age statement, and is bottled at 40% ABV. It will be available at first in Europe and other selected markets, but the distillery's US importer has told WhiskyCast that there are no current plans to make it available in the US market. The recommended UK pricing per 700ml bottle is £55 ($94 USD) and €65 in Euro markets.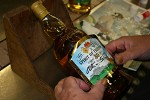 Meanwhile, Springbank is celebrating the 700th anniversary of the Battle of Bannockburn, in which Robert the Bruce led an army of Scots to victory over a much larger British force near Stirling in 1314 during the First War of Scottish Independence. The distillery has revived the old "Spirit of Freedom" trademark used by J&A Mitchell & Co. many years ago for a special blend of 30-year-old whiskies from distilleries throughout Scotland. The blend was created by now-retired Springbank production director Frank McHardy as his final project before retiring last year.
2,014 bottles of Spirit of Freedom were produced with a recommended retail price of £75 ($128 USD), and availability limited to the UK and selected export markets. The first six bottles were signed by Scottish First Minister Alex Salmond. Five will be auctioned for charity, while the sixth will remain in the company's archive.
Editor's note: This story was updated with pricing information provided by Berry Bros. & Rudd. 
Links: The Glenrothes | Springbank
---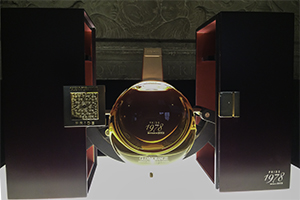 July 9, 2014 – Glenmorangie is releasing its second single malt in the Pride series with the debut of the Pride 1978 tonight in New York City. The whisky was matured in ex-Bourbon barrels for 18 years before being transferred into French Oak wine barriques from an undisclosed vineyard in the Pouillac region of Bordeaux for the final 14 years of maturation, making it not only the oldest Glenmorangie ever released at 32 years, but also the longest to have been "finished" in a wine cask.
"It's actually more delicate in character and has taken on less of the French Oak in spite of being in the French Oak barriques for longer (than the Pride 1981)," said Glenmorangie Director of Whisky Creation Dr. Bill Lumsden in an interview with WhiskyCast's Mark Gillespie. "The wine barriques may have been used twice, which is often the case with these top chateaus. The tannins are very soft, they're very nicely integrated into the whisky, and there's a lot of characteristic Glenmorangie flavors in there." He later confirmed that the barriques were used twice before being filled with the whisky.
A total of five barriques were used for the Pride 1978, with a sixth that was set aside for use in the release falling victim to a leak that went undiscovered until the casks were removed from the warehouse for bottling. As a result, only 700 one-litre bottles will be available worldwide, with a recommended retail price in the US of $5,800 each. The Pride 1978 was removed from casks and bottled in 2012 at 46.4% ABV, but was not released this year while the distillery collaborated with artist Idris Khan on a multimedia project that will also see a limited-edition Khan print included with each decanter.
Tasting notes for the Glenmorangie Pride 1978 will be available soon.
Links: Glenmorangie
---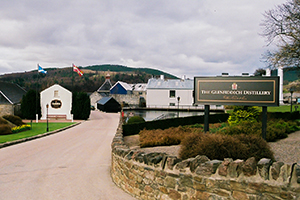 July 8, 2014 – Campaign contribution reports released today by Scotland's Electoral Commission show William Grant & Sons has invested more to support the anti-independence movement than first reported. The distiller has donated £185,000 ($316,442 USD) to groups opposing Scottish independence in the September 18 referendum, with £135,000 to Better Together and £25,000 each to Angus MacDonald and the No Borders Campaign. Sunday, the BBC and other news organizations reported Grant's had donated at least £100,000, based on preliminary information. The company is owned by members of the Grant-Gordon family, and has not commented publicly other than a statement released Sunday in which it said it supports the Scotch Whisky Association's position that the industry could be hurt by independence.
Grant's was the only whisky company reported as having donated to either side in the referendum, while the SWA has officially remained neutral – while expressing concerns that significant questions need to be answered by the Scottish National Party-led pro-independence campaign on trade and taxation issues. Former SWA chief executive Gavin Hewitt told Channel 4 in a "Dispatches" documentary interview aired Monday night that the trade group was pressured by SNP leaders to stay on the sidelines in the independence referendum. Hewitt, who retired at the end of December, has spoken out strongly against the referendum since leaving the SWA and told Channel 4 that he and his staff had at least six meetings with the SNP's Angus Robertson, who represents the Moray district in Parliament.
"He (Robertson) and the SNP have regularly tried to get the message to the Scotch Whisky Association that the Scotch whisky industry should stay out of the independence debate," Hewitt said. "He was, I think, trying to neuter business comment. There was a genuine fear that in fact if we were seen to scupper by coming out publicly against independence, there would be retribution down the track."
Robertson strongly denied the accusation. He and Richard Lochhead, who represents the district in the Scottish Parliament and serves as Scotland's Rural Affairs Minister in the SNP-led Edinburgh government, have held a series of meetings with industry executives in recent months to discuss the potential for increasing whisky-related tourism in Speyside. The meetings were private, and it is not known whether the referendum was on the agenda for discussion – or discussed privately.
---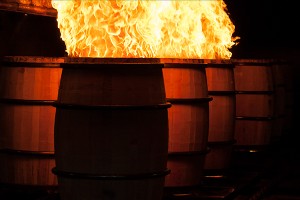 July 7, 2014 – Brown-Forman has started producing barrels for its flagship Jack Daniel's Tennessee Whiskey at the company's new cooperage in Trinity, Alabama. The $60 million dollar Jack Daniel Cooperage has been in the works for the past two years, and will create an estimated total of 200 new jobs when it reaches full production of around 700 barrels per day.
Brown-Forman held a ceremony to officially open the cooperage today, with Alabama Governor Robert Bentley praising the project as a much-needed economic boost for the Northern Alabama town, which recently lost its largest employer when International Paper shut down its plant earlier this year and eliminated nearly 1,100 jobs.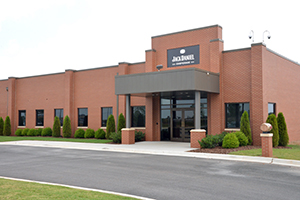 Brown-Forman's existing cooperage in Louisville, Kentucky produces more than 2,000 barrels per day to supply the company's distilleries in Tennessee and Kentucky with new barrels, but global whisky demand forced the company to invest in a second facility. "We want to be able to satisfy the world's thirst for our premium Tennessee Whiskey, and having this state-of-the-art cooperage will help us meet that demand," Jack Daniel's managing director John Hayes said in a news release.  "We couldn't be happier with this new facility and the great welcome we've received from the people of Alabama." Brown-Forman officials say the Alabama cooperage's production will help supplement the supply of Louisville-built barrels being delivered to the distillery in Lynchburg, Tennessee, using wood from the company's stave mills in Stevenson, Alabama and Clifton, Tennessee.
According to AL.com, Brown-Forman received $63 million dollars in state and local economic development incentives to build the cooperage in Lawrence County.
Editor's note: This story was edited to include additional information on economic development incentives and the local job market, along with a photo of the new cooperage provided by Brown-Forman.
Links: Brown-Forman | Jack Daniel's
---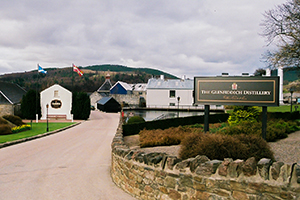 July 6, 2014 – While the larger Scotch Whisky industry has remained relatively neutral on Scotland's independence referendum set for September 18th, one of the industry's key members is backing the "Better Together" movement opposing the referendum. Family-owned William Grant & Sons has confirmed that it has donated £100,000 GBP ($171,420 USD) to Better Together, along with smaller amounts to other groups backing a "no" vote, according to the BBC. The company owns the Glenfiddich, Balvenie, and Kininvie malt whisky distilleries in Speyside, the Girvan grain whisky distillery, and produces the Grant's range of blended Scotch whiskies.
Grant's is the first major whisky producer so far to stake out a side in the debate, while other companies have limited their comments to expressing hopes that a stable economic environment can be maintained no matter which way the vote goes. In a statement provided to the BBC, company executives expressed their belief that Scottish independence could have a negative effect on the future of the company and the larger whisky industry.
"We support the stance of the SWA over independence and would refer you to their recent statement that the Scotch whisky industry enjoys substantial support from the UK government and its worldwide embassy network and from lack of trade barriers within the EU."
The Scotch Whisky Association has not taken an official position on the referendum, but as the trade body's chief executive, David Frost, told WhiskyCast in April, it has concerns that have not been addressed by the Scottish National Party-led independence movement. Frost and his members are afraid that an independent Scotland would not be accepted immediately into the European Union as SNP leaders have claimed, and that could mean an end to the tariff-free export of whisky from Scotland to EU member nations. In  addition, the SWA is concerned about the potential that numerous free trade agreements protecting Scotch Whisky that have been negotiated by UK diplomats with other countries over the last decade could have to be renegotiated by an independent Scotland.
So far, the SNP's only statement on the impact of the referendum on the whisky industry has been a suggestion that Prime Minister David Cameron's pledge to allow a referendum on whether the UK should remain an EU member could force Scotland out of the EU against its will. That referendum has not been officially scheduled, but could take place as early as 2017 depending on the outcome of the next Parliamentary election.
Scotland's Electoral Commission is scheduled to release campaign finance reports from both sides Tuesday, and those reports could indicate whether other whisky producers have joined Grant's in taking sides.
Links: William Grant & Sons
---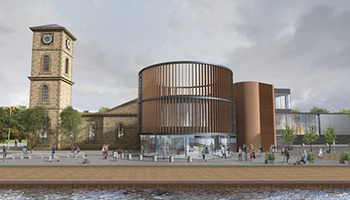 July 3, 2014 – Glasgow's city council has approved planning permission for work to begin on the city's first new malt whisky distillery in decades. That clears the way for veteran whisky industry leaders Tim Morrison and his team to start turning the historic pump house along the River Clyde into the first phase of the £10 million ($17.1 million USD) project, a museum and visitors centre. New construction on the site between Glasgow's Hydro Arena and the Riverside Museum will include the distillery building and a cafe/tasting bar, with work scheduled to be completed by the autumn of 2015.
Tim Morrison is one of the sons of Stanley Morrison, who led Morrison Bowmore's rebirth in 1964. He also owns the independent bottler A.D. Rattray, and has recruited a number of former Morrison Bowmore colleagues to work on the new venture. In a recent interview, his son Andrew Morrison explained that the site will generate tourist traffic from opening day on.
"A lot of distilleries that are new are opening in places like Lewis or Islay…being in the centre of Glasgow, our neighbor is the Riverside Museum, which has a million visitors a year, so we're definitely looking to build an experience as well as a distillery," Morrison said. The visitors centre/museum is being modeled on the Scotch Whisky Experience in Edinburgh, with plans to focus on the history of Scotch Whisky instead of a single brand. "Most experiences we've visited have been so focused on particular brands from those distilleries; we really want to talk about the history of whisky, the relationship to the Clyde, the monks, and really have a compelling reason for people to come to our site, as well as, of course, a working distillery."
Listen to Mark Gillespie's interview with Andrew Morrison:

Planning permission had been anticipated earlier this year, but the Morrison team has been working with Glasgow officials on a master plan for the site. "Glasgow's waterfront is now becoming a contemporary location," Morrison said. "It used to be shipbuilding and very industrial, and the City Council have decided that everything along there has to be contemporary. The site we're looking at is half listed building (historic preservation site) and the planners now want contemporary with listed, so it's going to be a very interesting looking distillery." The projections call for annual production of 400,000 to 450,000 litres of alcohol annually, with no maturation warehouses to be located on the site.
The Pump House site has a unique place in Glasgow's history. Tim Morrison's great-grandfather, John Morrison, originally built the structure in 1877. It served as the main entry point for the Queens Dock, and allowed Customs & Excise officers to monitor shipping traffic along the river. Restoring it to serve as the museum and visitors centre is expected to create 300 temporary construction jobs, while the project is expected to create 25 permanent jobs once the distillery goes into production.
The distillery does not have a web site at this time.
---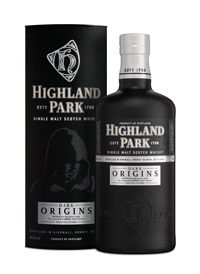 July 1, 2014 – Highland Park is jumping on the no-age-statement bandwagon with a new release. Dark Origins was inspired by Magnus Eunson, the preacher and illicit whisky maker who set up his still in the church overlooking the Orkney town of Kirkwall. While the distillery didn't get its name until after the excisemen caught Eunson — and one bought his still, his legacy remains key to Highland Park's history.
While the whisky carries no age statement, Highland Park indicates that it uses twice the number of sherry cask-matured malts than are used in its regular 12-year-old expression. Dark Origins is bottled at 46.8% ABV, and will be available starting this month at whisky specialist retailers in the UK and Europe, along with the distillery's gift shop and the Highland Park web site. The whisky will be rolled out gradually in other key markets, including the United States, over the next several months.
Links: Highland Park
---
June 26, 2014 – Bardstown, Kentucky claims the title of "Bourbon Capital of the World", with the trademark to prove it. Now, Bardstown will be getting a third Bourbon distillery with the construction of the $25 million dollar Bardstown Bourbon Distillery. Construction on the distillery is expected to begin this summer on a 100-acre site in the Nelson County Industrial Park on Bardstown's east side along the Martha Layne Collins Bluegrass Parkway.
The distillery will receive approximately $1.3 million dollars in tax rebates and economic development incentives from the Kentucky  Economic Development Finance Authority, according to a news release from Governor Steve Beshear's office. The project is expected to create 35 full-time jobs when it opens in 2016, and will be the fifth active distillery in Nelson County when it begins production — joining Barton 1792 and Willett in Bardstown, the Jim Beam Distillery in Clermont, and Maker's Mark in Loretto.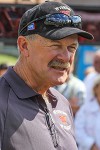 Guiding the progress will be two familiar faces in the Bourbon industry. Bourbon Hall of Fame distiller Steve Nally left his master distiller's position at Wyoming Whiskey earlier this year to return to Nelson County with his wife Donna, and will be the master distiller. Longtime distillery veteran and consultant Pete Kamer will serve as a consultant on the project, bringing nearly 40 years of experience in the whiskey industry with him.
Listen to Mark Gillespie's interview with Steve Nally:

The distillery's backers are including a visitors center in their plans, and will work with Bardstown-area restaurants to include culinary elements in the project as well.
Editor's note: This story was updated to include audio from our interview with Steve Nally. 
---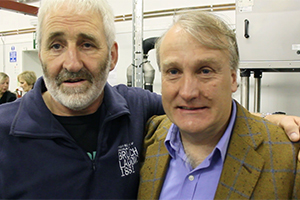 June 25, 2014 – Longtime Bruichladdich Distillery general manager Duncan McGillivray will call it a career on Friday after more than 40 years with the Islay distillery. In a blog posting on the Bruichladdich web site, CEO Simon Coughlin called  McGillivray's contributions a key chapter in Bruichladdich's history.
"Duncan's experience and quiet determination have been a central pillar in the renaissance of Bruichladdich. His ability to innovate and improvise in the face of seemingly impossible engineering challenges, combined with an extraordinary work ethic, have been an inspiration to us all from the beginning. We could not have done it without him."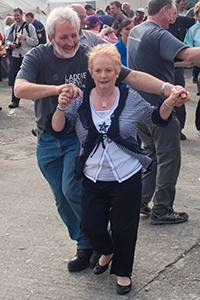 Duncan joined Bruichladdich on May 20, 1974 as an apprentice stillman, and was named Head Brewer in 1978. He was on hand as distillery manager when the former owners closed it in 1994, and helped bring it back to life when Mark Reynier and Simon Coughlin's group of investors purchased the distillery and reopened it in 2001. While Jim McEwen has been the face of Bruichladdich as Production Manager and chief whisky maker, Duncan kept the distillery running behind the scenes — on what the distillery acknowledges was "a shoestring with mostly second-hand equipment."
Listen to Mark Gillespie's interview with Duncan on June 26, 2014:

Duncan will retire in nearby Port Charlotte to spend time with his wife Susan and his grandchildren, though he's likely to show up at the distillery occasionally as Coughlin's team hopes to be able to call on him for "consulting" as needed.
On behalf of the entire WhiskyCast community, we wish Duncan a happy retirement and express our gratitude for his many contributions to the whisky community.
Editor's note: This story was updated on June 27 to include audio from our interview with Duncan McGillivray. 
Links: Bruichladdich
---