Each week, we bring you the latest whisky news on WhiskyCast, but a lot can happen during the week. Now, you can keep up with whisky news as it happens here on WhiskyCast.com!
August 15, 2015 – Russian officials have expanded their sanctions against American whiskey to take on the largest brand in the business with a targeted action against Brown-Forman's Jack Daniel's Tennessee Whiskey and its cousin, Jack Daniel's Tennessee Honey Liqueur. According to the Moscow Times, which cited a state-controlled ITAR-TASS news agency report, regional food safety officials in Sverdlovsk plan to confiscate all of the Jack Daniel's products being sold in the region for alleged violations of Russian labeling laws. The report says alcohol bottles must include a list of ingredients, the location of the distillery, and the "length of the distilling process" — all in Russian. A spokeswoman for Russia's food safety agency says the Jack Daniel's labels in question met none of those standards. and also expressed concerns that Jim Beam's labels may also not be in compliance.
"We've been selling Jack Daniel's Tennessee Whiskey in Russia for 15 years, and we've been in compliance with all regulatory and labeling requirements throughout that 15-year period of time," Brown-Forman spokesman Phil Lynch told WhiskyCast in a telephone interview. "There's no difference in the Jack Daniel's being sold today in Russia, and of course, throughout the rest of the world, from the Jack Daniel's we've ben selling in Russia for the past 15 years…so if there are any labeling compliance issues, it must be because the Russian authorities have changed the regulations without informing us and giving us any time to comply." Lynch noted that Brown-Forman has received no notification of any issues from the Russian government. While declining to provide specific data, Lynch said Russia is one of the top ten export markets for the Jack Daniel's brand.
The food safety agency is also taking issue with the honey-flavored Jack Daniel's Tennessee Honey expression over what the ITAR-TASS report called "chemical substances not common to whiskey." Lynch described the concerns as either "ignorance or politics," since Tennessee Honey is not labeled as a whisky. "It is a liqueur and it meets all the specifications and standards in Russia as a liqueur," Lynch said. "We did not comply with the whiskey specifications for Jack Daniel's Tennessee Honey because it is not a whiskey, so the government agency in the Ural Mountains that tested it as a whiskey doesn't know what the heck they're doing."
The ITAR-TASS report also cites the agency spokeswoman as saying the labels on Jim Beam Bourbon sold in the Sverdlovsk region also violate legal requirements. WhiskyCast has asked Beam Suntory executives for any confirmation they may have received from Russia.
Last week, the Russian consumer protection agency moved to block imports of Sazerac's Kentucky Gentleman Bourbon based on allegations that laboratory analysis found evidence of phthalates in the whiskey, and has since banned imports of beer and spirits from Ukraine along with a wider ban on most food products from Western nations. Russian officials have long used the food safety and consumer protection agencies as tools in foreign policy disputes, and the recent round of sanctions has been regarded as retaliation for sanctions imposed by the US, European Union, and other allies against Russia for its support of rebel forces in Ukraine.
This story will be updated as more information becomes available.
Editor's note: This story was updated to include a link to the Moscow Times coverage, along with additional information from the ITAR-TASS reports citing a potential problem with Jim Beam labels. 
Links: Brown-Forman | Jack Daniel's | Beam Suntory | Jim Beam
---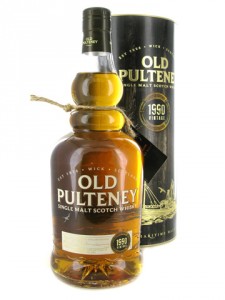 August 14, 2014 – Old Pulteney's 1990 vintage was named the Spirit of Whisky Fringe winner at this past weekend's Whisky Fringe festival in Edinburgh. 1,300 attendees at the annual Royal Mile Whiskies-organized event were able to cast ballots for their favorite whiskies of the three-day festival. The win for the Wick distillery ends two years at the top for the Tomatin 30-year-old, which has been replaced in the distillery's lineup since last year's festival.
Runner-up honors went to the Glenglassaugh 1978, followed by the 21-year-old single malt from Ben Nevis and the new Highland Park Dark Origins expression. Ardbeg Uigeadail finished in the top five for the third straight year, following last year's third-place finish and another fifth-place finish in 2012.
The rest of the top ten vote-getters were the Glenlivet 25, Balblair's 1990 vintage, the Kilchoman Small Batch, Bunnahabhain 18, and Glen Moray 25. All of this year's top ten whiskies were official distillery bottlings, with no independent bottlings cracking the list.
Links: Royal Mile Whiskies
---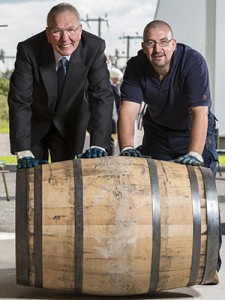 August 12, 2014 – One of Scotland's smallest distilleries has nearly doubled its storage capacity with the addition of two new maturation warehouses. Benromach has completed work on the two new warehouses, announced last year as part of an expansion that also saw the distillery's staff grow by 50% — from two on-site workers to three.
The Gordon & MacPhail-owned distillery's newest employee, Brian Williams, helped roll the first cask into the new warehouses with the help of a Benromach veteran. Tom Anderson was a stillman at Benromach when it was originally mothballed by Diageo predecessor United Distillers in 1983, but still lives in one of the distillery's on-site cottages. In a Gordon & MacPhail news release, managing director Michael Urquhart said "we are absolutely delighted that Tom was able to open our new warehouses at Benromach. These are exciting times for our classic, hand-crafted single malt whisky but whisky is a long-term business and the foundations for our success were laid when Tom worked here and in the years before that."
The two warehouses take Benromach's on-site storage capacity from 8,000 casks to 15,000, and were built by local contractors with support from Highlands & Islands Enterprise.
Links: Benromach | Gordon & MacPhail
---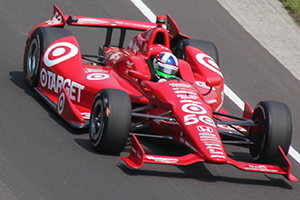 August 12, 2014 – The Balvenie is kicking off its second annual Rare Craft Collection tour in Carmel, California this weekend with a collection of handcrafted works curated by three-time Indianapolis 500 winner Dario Franchitti. The opening weekend is timed to coincide with the annual Rolex Monterey Motorsports Reunion at nearby Mazda Raceway Laguna Seca, which will feature more than 500 historic race and sports cars from the pre-1980 period.
For the collection, Franchitti selected a group of artisans working with everything from handmade guitars and glassblowing to custom furniture. In a telephone interview with WhiskyCast's Mark Gillespie, Franchitti described one of the exhibits that had special significance for him:
"The guys at Steelhead Studios did a table using bits of my old IndyCar," he said. "They used one of the manifolds from the engine, they used some gear ratios from the final drive, all kinds of things like that." Franchitti follows last year's debut curator, clothing designer Todd Snyder.
The collection will be on display at Carmel Plaza through August 16, followed by stops in eight other US cities through December.
Los Angeles: August 26–27
Seattle: September 9–10
Austin: September 16- 17
Chicago: September 30–October 1
Boston: October 7–8
Washington: October 21-22
New York: November 17–22
Aspen: December 5–7
Listen to Mark Gillespie's interview with Dario Franchitti:

The collection will be displayed in a gallery format, which will also include tastings of various Balvenie expressions. Franchitti recently visited the distillery and had a personal tasting session with longtime Balvenie Malt Master David Stewart. "What a nice person, an amazing man, but what a gift he has too…I could not believe the stuff he was detecting. When he says 'can you taste this, can you smell that', once he points it out to you, you can sort of get it, but before that it's a very difficult thing and it's definitely a gift that he has."
In addition to his three Indianapolis 500 victories in 2007, 2010, and 2012, Franchitti also won four IndyCar Series championships before a career-ending crash last year in Houston. He was awarded an MBE by Queen Elizabeth this past June.
Editor's note: This story was updated on August 15 following an interview with Dario Franchitti.
---
August 11, 2014 – Teeling Whiskey Company has started construction work on Dublin's first whiskey distillery since the closings of the Old Jameson Distillery and the Powers John's Lane Distillery in the mid-1970's. The Newmarket Square site will use existing buildings to speed up the construction process, with stills and hardware expected to arrive at the site in October and the first distillation runs to begin by the end of the year. A visitors centre is still on track to open in the spring of 2015, just in time for the start of Dublin's summer tourism season.
The company is owned by brothers Jack and Stephen Teeling, the sons of Cooley Whiskey founder John Teeling and part of a family with distilling roots in Dublin dating back to 1872 at the family's original Marrowbone Lane distillery. Their current range of whiskies using casks acquired from Cooley and Kilbeggan distilleries is available in Ireland and 25 other countries around the world.
Planning permission for the Newmarket Square site was granted by Dublin officials last January. The distillery will have three pot stills with an annual production capacity of 500,000 litres of alcohol, and is expected to create 30 permanent jobs.
Links: Teeling Whiskey Company
---
August 8, 2014 – The escalating battle of economic sanctions between Russia and Western nations over the situation in Ukraine has already seen restrictions on Russia's energy and financial sectors from the West, while Russia upped the ante this week by imposing a year-long ban on food imports from the US, Great Britain, Canada, and major European nations.
Scotland will be affected by the sanctions, according to First Minister Alex Salmond. In a Scottish Government news release, Salmond was quoted as saying the Holyrood government is already responding to the sanctions:
"This action by Russia will clearly have an impact on some sectors within the Scottish economy, most notably on the mackerel industry which exports £16 million worth to Russia annually from the UK. The Cabinet Secretary for Rural Affairs, Food & Environment, Richard Lochhead, has already spoken to representatives from the fishing industry and will be meeting with industry heads as a matter of urgency.  We will continue talks with companies and producers who export to Russia most likely to be impacted to fully understand the effect of the ban, and also to gauge the ripple effect caused by the ban across the rest of Europe."
Scotch Whisky is Scotland's biggest export to Russia, with around £25 million GBP ($41.9 million USD) of exports annually. While whisky was left off the Russian sanctions list, Scotch Whisky Association government and communications director David Williamson told WhiskyCast's Mark Gillespie that the industry cannot become complacent.
"We've been monitoring the situation very closely in Russia in recent days working very closely with the UK Government," Williamson said. "It's very fortunate the current sanctions list don't affect Scotch Whisky…it's focused more on food and vegetables, meat and dairy products, but certainly that shouldn't make anyone complacent in the spirits industry. We have to watch very carefully to ensure that we're not caught up in any future sanctions."
Listen to Mark Gillespie's interview with David Williamson:

Scotch Whisky accounts for about 1.5% of Russia's total annual imports of European spirits, according to Williamson. While that percentage has been growing, he describes Russia as a "challenging market" for many reasons. "We had hoped that with Russia's accession to the World Trade Organization, that that would mean there was a greater approach to a legal framework in our area, that there would be an opportunity to improve the trading framework, and this of course is a step in the wrong direction."
So far, only one whisky has been targeted for sanctions by the Russian government. Earlier this week, Russia's consumer protection agency moved to ban imports of Sazerac's Kentucky Gentleman Bourbon produced at the 1792 Barton Distillery in Bardstown, Kentucky. The agency cited improper registration of the brand in the customs union that encompasses Russia, Belarus, and Kazakhstan, along with laboratory analysis showing evidence of phthalates in the whisky. The organic compound has been linked to various health problems, including infertility and neurological damage. Sazerac executives have declined to comment on the government's allegations.
Links: Scotch Whisky Association | Sazerac
---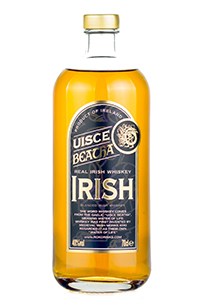 August 8, 2014 – Irish Whiskey has been the fastest-growing segment of the global whisky industry, and two more players are joining the market in the coming month. ROK Spirits, owned by entrepreneurs John Paul DeJoria and Jonathan Kendrick, will launch Uisce Beatha Irish Whiskey in Europe and the US in September. DeJoria is best known in the spirits industry as the co-founder of Patron Tequila, and is also the founder of the Paul Mitchell hair care products line, while Kendrick has been a key investor in mobile communications technology.
The whisky is a four-year-old blend of grain and pot still whiskeys from what the company describes as "one of the oldest distilleries in Ireland," without disclosing the name. Pricing has not been announced yet.
In addition, the fledgling Glendalough Irish Whiskey will launch a 7-year-old Irish single malt later this month, with plans to release 10 and 13-year-old versions in the near future. The Irish Times reports former national rugby team captain Brian O'Driscoll has joined the company as an investor in the Wicklow-based distillery, which is currently producing a line of seasonal gins as well. The company was founded in 2011, and has just completed work on its distillery. While the source of the 7-year-old whiskey has not been specified, it is known that Bushmills is the only Irish distillery producing single malt whiskey of that vintage.
The Irish Times reports that Glendalough has hired brand managers in New York and Washington, DC to help launch the single malt in the US market.
Links: Uisce Beatha | Glendalough
---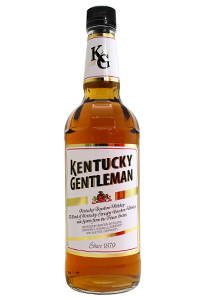 August 7, 2014 – Sazerac's Kentucky Gentleman Bourbon is one of the Western products being targeted in a tit-fot-tat escalation of trade sanctions between Russia, the US, and the European Union over Russia's hard-line stance on Ukraine. Russia has now banned the import of most food products from the US, Canada, and European Union members in retaliation for escalating economic sanctions against Russian energy and financial companies. However, the Scotch Whisky Association confirmed Friday that its whiskies are not on the sanctions list, and the Kentucky Gentleman ban appears to be isolated for now.
Kentucky Gentleman is distilled at Sazerac's 1792 Barton Distillery in Bardstown, Kentucky, and Russia's consumer protection agency moved to ban imports of the Bourbon earlier this week. The state-controlled ITAR-TASS news agency reported Monday that Rospotrebnadzor claims Kentucky Gentleman is not properly registered for sale in the customs union of Russia, Kazakhstan, and Belarus, even though its bottles carry the union's registration logo. The agency also claims laboratory analysts found evidence of phthalates in the whiskey. The organic compound has been linked to infertility and other health problems, and is often found in plastic products. While many distillers are increasing their use of PET-based plastic bottles, Sazerac CEO Mark Brown confirmed in an email that all of the company's exports are bottled in glass.
In a separate email, Sazerac spokeswoman Amy Preske told WhiskyCast that the company has not been contacted by Rospotrebnadzor as of today, and will have no comment on the agency's claims. Privately-held Sazerac does not release sales data for its brands, but a report from the Distilled Spirits Council of the United States based on US Customs data shows Bourbon and Tennessee Whiskey exports to Russia in 2013 were valued at $285,323 – compared to a global export value of $1.1 billion (USD) for the same period.
Editor's note: This story was updated on August 8 with confirmation from the Scotch Whisky Association that the Russian sanctions do not include Scotch Whisky as of now. 
Links: Sazerac | Distilled Spirits Council of the US | Scotch Whisky Association
---
August 5, 2014 – Diageo is looking for a legal lifeline now that a New York state judge has ruled for the Explorers Club in its lawsuit over the Johnnie Walker Explorers' Club line of Scotch whiskies. Law 360.com reports Manhattan Justice Charles Ramos has issued a permanent injunction banning Diageo from using the Explorers' Club name under a state law banning the commercial use of established names for "benevolent, humane, or charitable" organizations without permission. The Club's members have included legendary explorers from Sir Ernest Shackleton to astronaut Buzz Aldrin, and the organization funds scientific research and educational programs, making it eligible for relief under the state law.
Ramos has not ruled on the scope of his order yet, and Diageo executives have objected to a New York Post report that Ramos has ordered Diageo to remove the three whiskies in the range from travel retail outlets. The company has not received a written copy of the judge's ruling yet. Following an April court hearing, Ramos ruled that Diageo adopted the Explorers' Club name to lead consumers to believe the whiskies were "connected or affiliated" with the club, leading to an estimated $50 million in sales. Diageo and the Club had been in talks to license the name before the range was launched in late 2012, but the talks broke down and Diageo went ahead with the launch of the initial Trade Route series.
Diageo's lawyers had fought the lawsuit on several grounds, including a pending federal lawsuit filed by the Club accusing the company of trademark infringement. Their arguments also highlighted the brand's global heritage and the Walker family's history of world travel. However, the Explorers Club lawyers countered with video of a duty-free store employee in London claiming that the Explorers' Club whiskies were actually made at the Club's New York headquarters. It was not made clear whether the worker was a Diageo employee or working for the retail outlet, and it should be noted that had the claim been true, the whiskies would not have been able to legally be referred to as "Scotch" whiskies.
Diageo spokeswoman Alix Dunn told WhiskyCast in an email that the company is "extremely disappointed and disagree(s) with the decision of Judge Ramos."
"We are awaiting official receipt of the order and are planning to seek to stay the injunction while we immediately appeal this case."
It is not clear whether the ruling extends outside of the US, since the Explorers' Club range is sold in travel retail outlets worldwide. The 120-year-old Explorers Club is pursuing a separate trademark infringement case in federal court seeking monetary damages for the use of its name.
Editor's note: This story was updated on August 6 to reflect that the judge's initial ruling did not immediately order the removal of Explorers' Club whiskies from retail outlets, but that a permanent injunction was issued barring Diageo from using the Explorers' Club name. This story will be updated when the judge's final ruling is issued. 
Links: Diageo | Johnnie Walker | The Explorers Club
---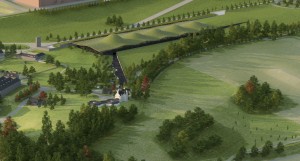 August 5, 2014 – As expected, Moray Council members have given the green light to Edrington's plans for a £100 million ($168 million USD) expansion at the Macallan Distillery in Speyside. The decision clears the way for construction to begin within the next six weeks, according to Edrington director of single malts Ken Grier, with completion expected in 2017 on an all-new distillery and visitors center that will be built near the current distillery.
"It's a very exciting time for The Macallan, and it's a great testament to the power of single malt Scotch Whisky around the world and its growth," Grier said in an August 8 telephone interview with WhiskyCast's Mark Gillespie. The project is being designed by the renowned London-based architects Rogers, Stirk, Harbour and Partners, and will be built with much of the distillery below ground level and topped by a series of rolling grass-covered hills to mimic the surrounding landscape.
"We believe in doing things that are incredibly beautiful, stuff that nobody else has done, and obviously things that really are all about extreme quality and real mastery, and of course, working with Rogers, Stirk, and Harbour – this is the first time ever in the industry that anyone has actually designed and will build a named architect-designed distillery."
Listen to Mark Gillespie's interview with Ken Grier:

Speyside-based contractors will handle most of the engineering and management work once construction begins. Forsyths of Rothes will build the distilling equipment, while Robertson Group will serve as general contractor on the site. No estimates on the local economic impact of the project have been announced, but the construction work is expected to create a significant number of jobs, while increased visitor traffic once the distillery is completed is likely to create a long-term economic impact.
"You'll get people from all over the world wanting to visit this iconic architectural masterpiece," Grier said. "Graham Stirk, the partner at Rogers, Stirk, & Harbour who designed it, has done a phenomenal job in producing something in some ways, we think, is very much like the Carrousel du Louvre standing next to the Louvre…you've got some incredible architecture merit with a real legacy , and yet, always your eye will be drawn back to Easter Elchies House, and of course, the River Spey."
The current distillery produces 9.5 million litres of spirit each year, while the new distillery is expected to have a capacity of 15 million litres.  Edrington intends to mothball the existing distillery once the new one is completed, with plans to keep it ready to return to production should additional capacity be needed in the future.
Editor's note: This story was updated on August 8 to include quotes and audio from our interview with Edrington's Ken Grier.  
Links: The Macallan | Edrington
---