Each week, we bring you the latest whisky news on WhiskyCast, but a lot can happen during the week. Now, you can keep up with whisky news as it happens here on WhiskyCast.com!
September 22, 2014 – Scotch Whisky exports fell 11 percent during the first six months of 2014 from the same period in 2013, according to new figures released today by the Scotch Whisky Association. The total value of Scotch Whisky exports for the period was £1.77 billion GBP ($2.89 billion USD), down from £1.99 billion in 2013, based on data from HM Revenue & Customs. The decline is being blamed on several factors, including economic uncertainty in several key markets, government austerity measures in China, and the strength of the British Pound on currency markets.
In a news release, Scotch Whisky Association officials described the downturn as a "leveling off" of demand, while remaining optimistic about the industry's long-term future. SWA chief executive David Frost said "we are confident that Scotch Whisky will continue to grow in the long-term as markets stabilise and new ones, such as emerging economies across Africa, open up. However, it is clear that in the short-run that there are economic headwinds affecting exports. The latest figures also act as a reminder that the success of Scotch Whisky can't be taken for granted. We need support from government to beat down trade barriers and help us access new markets overseas."
The announcement comes days after Scottish voters rejected a break with the United Kingdom, a position that received tacit support from the SWA and stronger support from several industry members. SWA executives and corporate leaders had suggested that an independent Scotland might face problems joining the European Union immediately, with the potential to lose tariff-free export status with key European trading partners. As an example, today's SWA report cited continued growth in France, where the value of exports grew by 6 percent during the first six months of 2014 to £211 million GBP ($345 million USD), cementing France's place as the second-largest export market for Scotch Whisky behind the United States. France is the top-ranked market by volume, with 86 million bottles of Scotch Whisky exported to France during the reporting period.
Scottish Cabinet Secretary Richard Lochhead said in a statement that "Scotch whisky is an iconic product, though I recognise is not immune from wider current economic difficulties across the globe. I welcome the industry's confidence in the long term future of Scotch Whisky, and its continued commitment to £2 billion of capital investment in Scotland."
Exports to the US dropped sharply during the period, with a 16 percent drop in value to ¢327.7 million GBP ($536 million USD) and a 12 percent drop in volume to 54.7 million bottles. China's anti-extravagance campaign led to declining imports of Scotch Whisky, with Brazil, Mexico, and Singapore also reporting declines. Singapore is significant because it serves as a regional transfer hub for shipping, and much of the whisky shipped through Singapore is destined for other Asia-Pacific markets. It should be noted, though, that some of that traffic may have been routed through the United Arab Emirates, where Dubai has become another major transfer point for shipments to Asia, Africa, and India. Exports to the UAE rose 54 percent during the period to an estimated £54 million GBP.
Other markets reporting gains in export value included Taiwan (39%), India (31%), Japan (18%), Canada (5%), and Australia (4%).
Links: Scotch Whisky Association 
---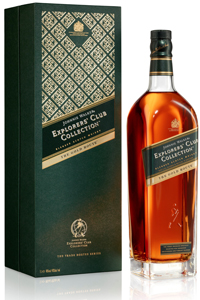 September 21, 2014 – After losing an initial round in New York Supreme Court and facing more costly legal battles ahead, Diageo has reached an agreement with The Explorers Club to settle the group's ongoing lawsuits over Diageo's use of the Explorers Club name on a line of Johnnie Walker whiskies. In August, Manhattan Justice Charles Ramos issued a permanent injection barring Diageo from using the Club's name on the travel retail range, citing a New York state law banning the commercial use of established names for "benevolent, humane, or charitable" organizations without permission. Diageo had appealed the ruling, and also faced a separate trademark infringement suit in federal court over its use of the name. Talks between the two sides had broken down before the range was launched in late 2012.
In a news release issued late Friday, both sides announced that Johnnie Walker will become a corporate sponsor for The Explorers Club through a global sponsorship and licensing agreement. In the release, Johnnie Walker Global Brand Director Guy Escolme said "this collaboration with The Explorers Club brings the history and importance of exploration to life and allows us to share our joint passion for exploration and discovery.  The Explorers Club is leading the way in world exploration, and we are privileged to be able to join them in this extraordinary effort."
The club's 3,000 members range from mountain climbers to astronauts, and past members have included legendary explorers such as Sir Ernest Shackleton. Explorers Club President Alan Nichols said in the release that "we salute Johnnie Walker for joining with us in furthering the quest for knowledge through exploration and discovery, which holds the key to all human progress.  With this new and exciting relationship, The Explorers Club will be able to enhance its grant programs, further develop its highly successful lecture series and educational events, and expand its role as the World Center for Exploration."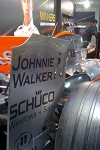 Terms of the agreement were not disclosed, but likely include royalties to be paid based on sales of the Explorers Club range in travel retail outlets worldwide. In the April court hearing before Judge Ramos, those sales during the first year of the Explorers Club range were estimated at $50 million USD.
Johnnie Walker has also decided to end its longtime support for the McLaren Formula One racing team, according to the Mirror, which placed the value of the sponsorship package at £155 million ($252.4 million USD) annually in a story published today. The brand will remain in Formula One by shifting that budget to become the official whisky of the series.
Links: Diageo | Johnnie Walker | The Explorers Club
---
September 19, 2014 – After a sleepless night of waiting for returns from around Scotland, Scotch Whisky Association leaders are praising the stability that will come from a rejection of the independence referendum. 55 percent of Scottish voters cast ballots opposing a break from the United Kingdom, and First Minister Alex Salmond has accepted the defeat while calling for Scots on both sides of the issue to unite.
"Something like 85 percent of Scots actually voted, which is an incredible turnout and shows just how important the debate has been," David Williamson of the Scotch Whisky Association said in a telephone interview Friday morning. "We have 55 percent of Scots voting to stay in the United Kingdom, and that from the Scotch Whisky perspective is welcome in that we've raised issues about potential business risks from Scottish independence and we welcome the stability that the decision this morning brings." The SWA's main concern in the weeks leading up to the election centered on an independent Scotland's ability to maintain uninterrupted membership in the European Union. A break in that membership, which was not guaranteed, would have affected the tariff-free status of Scotch Whisky exports within the EU, along with the protected status Scotch Whisky enjoys against counterfeiting.
UK officials have pledged to move forward with granting increased control over Scottish affairs to the Scottish Government and Parliament based in Edinburgh, and the BBC reports Prime Minister David Cameron has acknowledged that England, Wales, and Northern Ireland must have similar powers granted to them as well. Cameron has appointed Lord Smith of Kelvin to oversee negotiations on taxes, spending, and welfare, with basic agreements to be in place by November and draft legislation ready for Parliament by January.
Williamson said the SWA will take an active role in the talks. "We're looking forward to working with all parties going forward because this is a big industry in Scotland…we're the second-biggest industry behind oil and gas, and it was important that we made our views known…but Scotch is going to be a major cornerstone of the economy going forward, and I think we'll continue to work well with politicians from across the political spectrum."
Links: Scotch Whisky Association
---
September 17, 2014 – Ireland's newest distillery has opened as William Grant & Sons dedicated its Tullamore D.E.W Distillery, bringing whiskey production back to Tullamore for the first time since the old D.E. Williams Distillery was closed in 1954. The €35 million ($50 million USD) distillery has four copper stills designed to resemble those from the original distillery, and will be capable of producing 1.8 million litres of alcohol annually.
William Grant & Sons acquired the Tullamore D.E.W. brand from C&C International in 2011 and made the decision to build a distillery of its own the following year. The whiskey supply for the brand has come from Midleton since 1975 under a long-term supply contract, but the new distillery will eventually supply all of the whiskey bottled as Tullamore D.E.W.
To mark the occasion, William Grant & Sons is releasing a limited edition (2,014 bottles) of Tullamore D.E.W Celebratory Phoenix Single Batch. Tullamore has used a Phoenix as part of the town's crest ever since a fire destroyed most of the town in 1785. In addition to the dedication ceremony at the distillery, a special celebration is being held in New York City featuring the great-grandson of Daniel E. Williams. Patrick Williams will preside over a barrel-signing ceremony with guests invited to sign a special barrel that will be shipped to the distillery, filled with new make spirit, and laid to rest with a similar barrel signed at the distillery's event.
Links: Tullamore D.E.W.
---
September 16, 2014 – Chip Tate, the embattled founder and master distiller at Balcones Distillery in Waco, Texas, has formally denied accusations by the distillery's majority investors in a court filing earlier this month. A court hearing set for Thursday  in Waco has now been postponed until October 7 on the distillery's request for a restraining order to continue Tate's suspension last month for what the investors described as "actions detrimental to Balcones." The private equity firm PE Investors II, LLC took on a stake in Balcones last year to help fund the development of a new $10 million distillery in downtown Waco and an expansion of the current Balcones distillery founded by Tate in 2008. The move was prompted by the success of Tate's whiskies in competitions and the need to expand capacity to meet demand.
Since that filing, Tate has switched lawyers, and is now represented by David Clouston from the Dallas-based law firm of  Sessions, Fishman, Nathan & Israel. Clouston filed a response to the distillery's original allegations September 12 denying claims that Tate threatened the life of Balcones board chairman Greg Allen and threatened to burn down the distillery, and accusing Allen and his partners of mounting a hostile takeover to "to purloin the plump ripe peach that is Balcones from the founder Chip, who built it with his own two hands from scratch."
The filing claims that Tate was not "suspended" as Balcones charges, but terminated after discussions between Allen and Tate over buying each other out broke down. From the filing:
"After an extended, multiple-week dialogue between Chip and PE about buying each other out of Balcones, Greg Allen of PE, barged, unannounced and without warning, into a meeting (literally throwing open the door and stopping the meeting) Chip was having with a corn supplier at Balcones on August 5, 2014. As Chip tried to diffuse the situation created by Allen, it was revealed to Chip that two sheriff's deputies were waiting outside with instructions to remove Chip from the Balcones premises. Chip, contrary to the alleged threats stated in the Petition, assured the employees that their positions were not in jeopardy and that this was merely an issue to be worked out between owners, gathered some of his personal belongings and left the distillery with the understanding that he and Allen would continue to work towards finding a resolution to buy one or the other out. Chip had no firearms on his person, nor did he threaten Allen—as alleged in the inflammatory and false Petition. Despite being ambushed and threatened with removal by two armed deputies who were hired and told they were there to assist in the termination of an unruly employee, Chip calmly attempted to work towards a business solution with Allen, reassured the employees as to their jobs, and peacefully left the facility. He certainly never threatened, as once again falsely alleged in the Petition, to set fire to the very equipment that he had spent the majority of the previous six years helping to build, re-build, operate and maintain with his own hands. In fact, the evidence will establish that Chip was the de facto safety officer of Balcones and a compulsive "safety Sam" who constantly strove to ensure the safety of Balcones employees."
The filing also accuses Balcones directors of illegally attempting to dilute Tate's ownership stake from 27% to less than 10% by issuing $15 million in debt that could be converted into Balcones shares at $70 per unit, along with violating Tate's rights under the company's bylaws and his management agreement. According to the filing, the company's bylaws state that Tate must be present at any meeting of directors for a quorum for binding decisions to be made and that he was not present at any meeting where his suspension or the need for additional capital was discussed. In its original filing, the Balcones directors claimed Tate had not been present for several board meetings and had hurt the company's ability to raise outside capital.
In the filing, Clouston accused Allen and the Balcones directors of mounting a smear campaign to silence Tate based on false allegations, suggesting that "somewhere, Vladimir Putin is smiling." The temporary restraining order issued against Tate August 22 bans him from discussing Balcones with employees, industry contacts, and the media, along with banning him from the distillery premises.
In an email to WhiskyCast's Mark Gillespie, Clouston said "I believe Chip Tate to be a man of integrity, as well as passion for his craft." Clouston has just taken over representing Tate, who had previously been represented by Waco attorney Peter Rusek.
The attorney for Balcones, Jeffrey Armstrong of Naman, Howell, Smith, & Lee, declined to comment on the charges raised in Tate's filing today. He provided a statement from the company's directors on the $15 million in funding to finance construction of the new distillery, which is expected to begin in early 2015.
"Jared Himstedt, Distillery Manager, who's been responsible for production since day one, is still producing and releasing the same whisky our customers have come to love. This week Balcones closed on a $15 million deal to fund the construction and provide operating capital for an expanded distillery. The Company offered all of the current owners the opportunity to participate in the investment on a pro rata basis. This important funding commitment comes entirely from the owners who elected to participate."
The statement accounts for 73% of the Balcones ownership structure, with PE Investors II, LLC and Michael Rockafellow holding the combined stake. Rockafellow first bought into Balcones in 2010 with Steven Germer, acquiring a 67% stake at the time. While not specified in the statement, it is believed that Germer sold his shares in Balcones to PE Investors II. The outstanding shares are believed to be the 27% held by Tate, whom the company referred to in its statement only as "one of its management team members."
The temporary restraining order prohibits Chip Tate from speaking with the media, but he posted this tweet on his personal Twitter feed Tuesday night after our story was published with the Balcones statement:

Tate deleted the post shortly after posting it.
This story will be updated as more details become available.
Links: Balcones Distilling
Editor's note: This story was updated to include a delay in the court hearing until October 7. The September 16 statement from the company is available as a PDF file here. A PDF version of Tate's filing is available here. Court filings in civil cases represent only one side's story, and civil courts allow each side several days to respond to filings made by other parties in the case.
---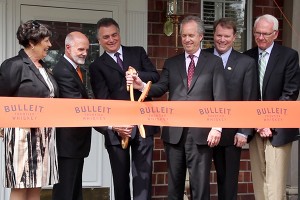 September 15, 2014 – Diageo's commitment to turning Bulleit Bourbon into a global brand continued today with the opening of the Bulleit Frontier Whiskey Experience at the Stitzel-Weller Distillery in the Louisville suburb of Shively. The project is part of a $10 million investment in upgrading facilities at the old distillery, including today's announcement that a micro-distillery is under construction with plans to start producing small batches of whiskey as part of the Bulleit visitor experience as early as May of 2015.
"I can't tell you how happy I am," Bulleit founder Tom Bulleit said during a tour of the visitor attraction following the dedication ceremony. The original Bulleit Experience opened in 2011, and Bulleit had said at the time that it would eventually open to the public. However, it was used only for training programs before closing to allow for construction work on the new project. Workers replicated existing architectural elements of the historic distillery's administration building while adding new space inside for tasting rooms and a gift shop. The building dates back to Stitzel-Weller's opening in 1935, and Bulleit now uses the office once occupied by the legendary Julian P. "Pappy" Van Winkle on what Louisville Mayor Greg Fischer called "sacred ground" during the dedication.
"He understood the need for change and growth," Sally Van Winkle Campbell said of her grandfather, while suggesting that he would be surprised to see visitors coming to the distillery as a tourist attraction. Stitzel-Weller's warehouses have been used to mature Bulleit's whiskies, while the distillery itself closed in 1992. However, Diageo's John Lunn, who oversees operations at Stitzel-Weller as well as serving as master distiller at Diageo's George Dickel Distillery in Tennessee, said the company's decision to build a new $115 million Bulleit distillery near Shelbyville, Kentucky does not rule out the possibility that Stitzel-Weller might one day be used for large-scale distilling again. The stillhouse has significant environmental issues with asbestos that helped play a part in the decision to build the Shelby County facility, but Lunn suggested that the old building could be demolished and a new stillhouse built if needed in the future.
The Bulleit Frontier Whiskey Experience will serve as the brand home for Bulleit Bourbon and Bulleit Rye, along with Diageo's new Orphan Barrel range of American whiskies. In an interview after the ceremony, Diageo North America President Larry Schwartz credited Tom Bulleit's leadership and vision for the project.
"Everybody has a vision, but not all the time can you realize that vision…to be able to realize it and to create something that Tom Bulleit was an integral part of really makes me very proud," he said. "How do you keep this big company small and entrepreneurial, and doing something like Tom, I think, really demonstrates that this big company can act very small, can be very entrepreneurial." Schwartz said the Stitzel-Weller archives will serve as a guide for developing new whiskies based on the historic whiskies produced at the distillery in the past using some of the 412,000 barrels stored on site.
The Bulleit Frontier Whiskey Experience will open to the public Tuesday, and will be the second Louisville distillery on the Kentucky Bourbon Trail. The Evan Williams Bourbon Experience operates its own micro-distillery inside the Main Street attraction, which opened last November.
---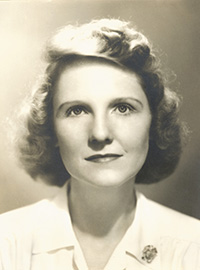 September 11, 2014 – Traditionally, the Kentucky Distillers Association keeps the names of its honorees for the Kentucky Bourbon Hall of Fame quiet until the induction ceremony each year during the Kentucky Bourbon Festival in Bardstown. However, the Class of 2014 includes just one inductee – and a history-making inductee at that. Margie Mattingly Samuels is credited with many of the innovations at Maker's Mark during its history, from the trademark red wax seal to the bottle design and even the whisky's name, will be the first woman inducted into the Hall of Fame for her work with a distillery. The induction ceremony will take place September 17 at the Bardstown Country Club.
In a news release, KDA President Eric Gregory called the selection of Margie Samuels "a historic moment that is long overdue."
"Mrs. Samuels was one of many women in our industry to be directly involved with creating and growing a legendary Bourbon brand. We are proud to honor Mrs. Samuels, and we applaud her monumental contributions that forever changed the way Bourbon is made and marketed. She transformed our industry, and we are eternally grateful."
"I think Mom would be surprised because she never really considered herself part of the business," Bill Samuels Jr. said during a telephone interview Friday. "She just would make these unbelievable pronouncements…at least in hindsight it seemed that way. She was a little bit on the strong-willed side, and Dad had enough sense to implement most of them, and it turned out brilliantly."
Listen to Mark Gillespie's interview with Bill Samuels Jr.:

Margie Samuels is often referred to as the co-founder of Maker's Mark along with her husband, T.W. "Bill" Samuels Sr. While Bill  oversaw the whisky's production in the early 1950's, she created the whisky's image and became one of the most influential women in whisky history. She grew up in the business around her father's Mattingly & Moore distillery in Louisville, and earned a chemistry degree from the University of Louisville in 1933. Four years later, she married Bill Samuels and moved to Bardstown's "Whiskey Row", where they lived next to Colonel Jim Beam and his wife Mary. They later moved to Star Hill Farm on the west side of Bardstown, where she worked on the bottle design, labels, and even the iconic typeface for the brand. She passed away in 1985.
Two of their three children, Bill Jr., Nancy, and Leslie went on to work at Maker's Mark, where Bill Jr. succeeded his father as president and ran the brand until 2011, when he turned it over to his son Rob, who runs the brand today. Margie and Leslie Samuels developed the first visitors center in the Bourbon industry in 1967. Bill Samuels Sr. was inducted posthumously into the Hall of Fame in 2002, a year after Bill Jr. was inducted in the Hall's inaugural class.
While Margie Samuels is the first woman to be inducted into the Hall for her work with a distillery, four other women have also been inducted for their work with the industry. Former Bardstown mayor and writer Dixie Hibbs was the first woman to join the Hall of Fame in 2004, Pamela Wood Gover (2005) and Mary Jane Dickerson (2009) were inducted for their work with the Kentucky Bourbon Festival, and Rita Lee Greenwell (2008) was selected for her years of service with the Kentucky Distillers Association.
Maker's Mark announced today that to celebrate the induction of Margie Samuels into the Kentucky Bourbon Hall of Fame, all visitors on September 17 who wear red and mention her name at the visitors center will receive complimentary distillery tours.
Editor's note: This story was updated with additional information and audio from our interview with Bill Samuels Jr. 
---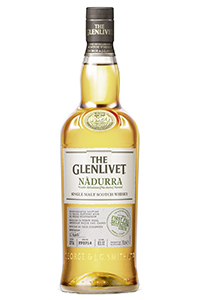 September 11, 2014 – While most of the news on new whiskies the past several days has come from Kentucky, Scotch whisky producers haven't been resting on their laurels. This week brings word of new whiskies from The Glenlivet, Compass Box, and Douglas Laing & Co.
The Glenlivet is adding to its Nàdurra range for the second time this year with the Nàdurra First Fill Selection, matured exclusively in first-fill ex-Bourbon barrels. As with the original Nàdurra releases and the Oloroso Cask Strength version released earlier this year, the expression lives up to the translation of Nàdurra from Gaelic as "natural" with no caramel coloring or chill-filtering. The First Fill Selection is bottled at 48% ABV, and will be available globally, including the UK, US, and Sweden, along with travel retail outlets at a recommended retail price of $75 USD. In addition, the Oloroso Cask Strength's availability will be expanded from travel retail to selected markets, including India, Taiwan, and Canada.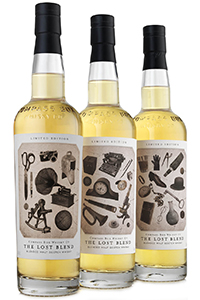 Compass Box will be releasing The Lost Blend October 1 in the US, Europe, and the UK. The blended malt is a throwback to one of the earliest Compass Box blends, Eleuthera, which was available from 2001 until 2004, when blender John Glaser could no longer get one of the three component malts used in the blend. The Lost Blend brings together Highland single malts from Clynelish and Allt-a-Bhainne with peaty Caol Ila malt from Islay, and is being bottled at 46% ABV with no chill-filtering. In keeping with the brand's reputation for quirkiness, three separate labels have been created around the theme of "lost things", and each case will contain a randomly-selected variety of the three labels. Around 12,000 bottles will be available at a recommended retail price of $120 USD.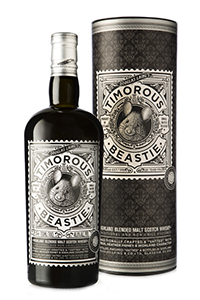 Finally, Douglas Laing & Co. is releasing a Highland companion to its Big Peat (Islay) and Scallywag (Speyside) blended malts. Timorous Beastie is blended by Fred Laing with malts from Dalmore, Glengoyne, Glen Garioch, and other distilleries. The name comes from the classic Robert Burns poem "To a Mouse", and the whisky is bottled at 46.8% ABV with no caramel coloring or chill-filtering. It will be available at whisky specialist retailers starting this month. Pricing has not been announced.
Links: The Glenlivet | Compass Box | Douglas Laing & Co.
---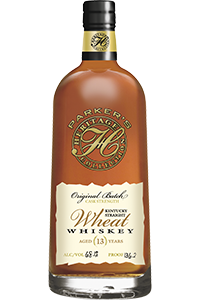 September 9, 2014 – Heaven Hill is about to begin shipping the 2014 edition in the Parker's Heritage Collection series of whiskies selected by Master Distiller Emeritus Parker Beam, and will once again donate part of the proceeds from the sale of each bottle to the ALS Association's "Parker Beam's Promise of Hope Fund." Last year's "Promise of Hope" Bourbon helped raise more than $300,000 for the fund, and Heaven Hill has pledged to donate $5 for each bottle of the 2014 edition sold. Beam was diagnosed with ALS two years ago, and while his illness has forced him to scale back his schedule, he continues to work at Heaven Hill as his health permits. However, he has added "Emeritus" to his title, and Craig Beam is now Heaven Hill's master distiller.
The 2014 edition is named "Original Batch", and is a 13-year-old straight wheat whiskey that comes from the first distillation run at Heaven Hill's Bernheim Distillery in Louisville for what eventually became Bernheim Original Straight Wheat Whiskey. In a telephone interview, Heaven Hill spokesman Larry Kass explained that the distillery had been producing wheated Bourbon for Old Fitzgerald when Heaven Hill acquired both the distillery and the brand from United Distillers in 1999.
"We had a lot of wheat in one of our silos, and Craig Beam decided in 2000 to go ahead and try a run of straight wheat whiskey with a 51% wheat formula, and we ran about 160 barrels, which was the smallest that we could do," Kass said. "We put it up on the seventh floor of Warehouse W, which is about our best warehouse there (in Bardstown), and we kind of tasted it every few months to see how it was progressing." Heaven Hill eventually released it under the Bernheim label in 2005 with no age statement, but gradually increased the age to 7 years and added an age statement to the whiskey earlier this year. The Heritage Collection release comes from the remaining barrels of that original production run that had been held back for an additional 8 years of maturation.
Listen to Mark Gillespie's interview with Larry Kass:

"Original Batch" is bottled at a cask-strength 63.7% ABV with no chill-filtering, and is the seventh edition in the annual series. It will carry a recommended retail price of $89.99 per 750ml bottle, and will be available in limited amounts.
Tasting notes will be available soon at WhiskyCast.com.
Editor's note: This story was updated to include an interview with Heaven Hill's Larry Kass. 
---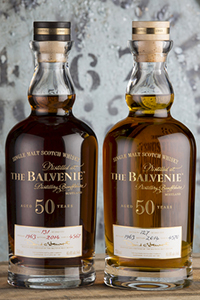 September 8, 2014 – William Grant & Sons plans to release the oldest single cask bottlings of The Balvenie single malt on record after bottling two casks of 50-year-old whisky. Both casks were filled in 1963 and bottled this year by veteran malt master David Stewart.
Cask #4567 produced 131 bottles at 45.4% ABV, while Cask #4570 produced 128 bottles at 45.9% ABV. Both bottlings are being released in a hand-crafted wood and brass case, and will carry a recommended retail price of £26,500 ($42,665 USD) at whisky specialist retailers worldwide. 15 bottles from Cask #4567 will be available in the US, according to The Balvenie.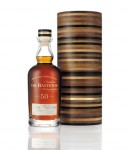 The announcement comes on the same day that Grant's announced plans to acquire the Drambuie whisky liqueur brand from the MacKinnon family for an undisclosed amount. The family-owned firm had been seen as the leading bidder for Drambuie once the MacKinnons put the brand up for sale earlier this year. The Mackinnons have owned Drambuie for nearly a century, but the brand's heritage is said to date back to 1746 when members of the unrelated Clan MacKinnon provided Prince Charles Edward Stuart, also known as "Bonnie Prince Charlie" with sanctuary on the Isle of Skye following the Battle of Culloden.
Editor's note: This story was updated to include information on US availability.
Links: The Balvenie | William Grant & Sons | Drambuie
---