Each week, we bring you the latest whisky news on WhiskyCast, but a lot can happen during the week. Now, you can keep up with whisky news as it happens here on WhiskyCast.com!
August 27, 2014 – A Chicago-based law firm is looking for consumers who bought "small-batch" whiskies from craft distillers and bottlers under what the firm suggests may be false pretenses. The site Consumer Class Actions.com suggests that a number of craft whisky brands have misrepresented their whiskies as coming from "small, independent distilleries when they are actually all made in the same large, generic distillery." The distillery is not named, but is the MGP Ingredients (MGP-I) distillery in Lawrenceburg, Indiana (formerly known as Lawrenceburg Distillers, Inc., or LDI), which produces bulk whisky for sale to bottlers and whisky producers.
The web site names 10 whisky brands and producers, while maintaining that naming those brands does not "state or imply" that an illegal act was committed. The list includes Templeton Rye, Angel's Envy Bourbon, Diageo's Bulleit Rye, George Dickel Rye, and Seagram's 7 whiskies, Breaker Bourbon (California), High West, WhistlePig Rye, Redemption Bourbon & Rye, and KGB Spirits' Rancho de Los Luceros Destileria in New Mexico. The site suggests that its attorneys are investigating to see whether "legal rights have been violated." Redemption co-owner Dave Schmier told WhiskyCast that "Small batch is not a legal term , so they need to define it and the first brands that really popularized the term were the Jim Beam small batch brands." Beam's original Small Batch Collection includes Knob Creek, Booker's, Baker's, and Basil Hayden's Bourbons.
While federal regulations ban so-called "non-distiller producers" from using the term "distilled by" in their labeling, they are allowed to use the language "bottled by" or "produced by". As Chuck Cowdery said during this week's episode of WhiskyCast, there are a number of cases where non-distiller producers appear to be violating a federal regulation requiring that the state of distillation be disclosed on whisky labels when it is different from the producer's home state. For example, the owners of Iowa's Templeton Rye have acknowledged in previous WhiskyCast interviews that their whisky is distilled at MGP-I, but that does not appear on the Templeton Rye labels. The Treasury Department's Tax & Trade Bureau is responsible for enforcing labeling regulations, but has not focused on the "state of distillation" regulation in recent years. There are no federal standards in place for defining the terms "small-batch" or "craft" whiskies.
At least five of the listed brands have either built or are in the process of building their own distilleries, including Templeton Rye, Angel's Envy, High West, Ascendant Spirits (Breaker Bourbon) and WhistlePig. It should be noted that WhistlePig does not source its whiskies from MGP-I, but from Alberta Distillers in Canada. WhistlePig owner Raj Bhakta declined to comment on the law firm's characterizations in an email to WhiskyCast.
High West distills its own whiskies in Park City, Utah, but founder David Perkins has been open in previous interviews and seminars about sourcing whisky from MGP-I. In an email, Perkins said he is "not very disturbed by this nor am I worried for anyone named. It sounds ludicrous!" 
"We absolutely do purchase whiskeys from other distillers and have always been open about this on our labels, our website, on our tours, in stories about us, in events that we hold, and in whiskey blogs."
Ascentant Spirits founder Steve Gertman told WhiskyCast that he has always been open about his company's sourcing of bulk whiskey for Breaker Bourbon while the whiskey at his California distillery is maturing, and that his labels comply with the TTB's regulations. KGB Spirits co-founder John Bernasconi ridiculed the law firm's comments in an email, saying that "I can't imagine a smaller batch than single barrel straight whiskey. We average 240 bottles/ batch (barrel)."
Seagram's 7 has been produced at MGP-I for many years, dating back to when Seagram owned the distillery (and has not been marketed as a "small-batch" whisky).
The site is owned by Edelson PC, a Chicago law firm with offices in Denver and Los Angeles that specializes in class-action litigation. Class-action lawsuits typically are brought on behalf of a group of potential clients, with the suit representing all potential victims of an action, with the goal of helping individuals take on an industry or corporation as a group instead of filing thousands of individual lawsuits.
WhiskyCast has asked the firm's designated spokeswoman for more information on Edelson's plans, but has not received a response. We have also contacted each of the brands mentioned on the firm's web site. This story will be updated with more information.
Editor's note: This story has been updated to include responses from Ascendant Spirits, KGB Spirits, WhistlePig, and Redemption, in addition to previously added comments from High West's David Perkins.
---
August 26, 2014 – This weekend's 6.0 magnitude earthquake caused millions of dollars in damage at many of Northern California's wineries and vineyards, with some wineries in the Napa Valley reporting extensive damage to both equipment and cask inventories. However, the valley's longest-established distillery reports no damage at either of its facilities other than brief power outages.
"I didn't even feel it," said Charbay Winery & Distillery's 13th-generation master distiller, Marko Karakasevic. "I turned the news on the next morning, and all of a sudden, there it was." Charbay's winery and brandy distillery is located about 30 miles from the earthquake's epicenter at American Mountain, while the family's whisky, rum, and vodka distillery in Ukiah is about 100 miles northwest of the epicenter.
"We took a look, and you know, we don't have thousands of barrels stacked to the roof, and I can say we just got really lucky," Karakasevic said.
Editor's note: This story was corrected to update Marko Karakasevic's status as a 13th-generation master distiller instead of an 8th-generation master distiller. 
Links: Charbay
---
August 26, 2014 – Monday is the Labor Day holiday in the US, and for the most extreme fans of Maker's Mark Bourbon, there will be another reason to celebrate. As WhiskyCast reported in June, the distillery has been testing a cask-strength version this summer with bartenders and distillery visitors, and the new version will go on sale Monday exclusively at the Loretto, Kentucky distillery.
Maker's Mark president Rob Samuels announced the sale date in an email to members of the distillery's Ambassadors group today. The whisky will vary in strength between 54% and 57% ABV, but pricing was not announced. In a June 16 interview, Samuels told WhiskyCast there are no plans to expand availability beyond the distillery's gift shop. "I envision that even if there's a huge surge in demand, which there very well could be, that it would always be very, very limited," he said.
Maker's Mark is in the middle of a $70 million expansion project that will increase the distillery's capacity by 50%, along with infrastructure upgrades to accommodate the thousands of visitors to the distillery each year.
Links: Maker's Mark
---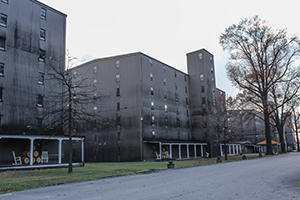 August 25, 2014 – Put this story in the category of rumor control. Diageo's groundbreaking ceremony last week for the new Bulleit Distilling Co. site in Shelby County, Kentucky appears to be the end of plans to revive distilling at the historic Stitzel-Weller Distillery on Louisville's west side. However, there will be new construction work at Stitzel-Weller starting this week, but it is not linked to a revival of the distillery, which closed in 1992.
Diageo will be building a new bottling line at Stitzel-Weller to bottle what a company spokesman described as a "range of American whiskeys." It will be the first time bottling work has been done at Stitzel-Weller in more than two decades, according to the company.
Diageo has been using Stitzel-Weller's maturation warehouses for years, and is nearing completion of work on the first phase of  upgrades to The Bulleit Experience housed in the distillery's former administration building. That project had originally been scheduled to open last spring in time for the Kentucky Derby, but is now expected to open to the public this fall. The original Bulleit Experience was completed in 2011, and while designed to be open to the public, was used only for in-house training programs.
---

August 21, 2014 – Diageo's newest distillery is still two years away from producing its first spirit, but work has begun on what will be called the Bulleit Distilling Co. in Shelby County, Kentucky. A groundbreaking ceremony for the $115 million project was held today at the 300-acre site along Benson Pike east of Shelbyville, about halfway between Louisville and Lexington just off Interstate 64.
"It's a brass ring…it's a life dream for me," Bulleit Bourbon founder Tom Bulleit said during a telephone interview with WhiskyCast's Mark Gillespie following the ceremony. The distillery's name had not been announced until the ceremony, but it will be named for the Bulleit family, which started making whiskey in Kentucky before the Civil War when Augustus Bulleit produced whiskey for nearly 30 years before disappearing while transporting his whiskey to New Orleans in 1860. Tom Bulleit is his great-great-grandson, and revived the family business in 1987 before selling it to Seagram's, and the brand is now the primary Bourbon in Diageo's global portfolio.
In a news release, Diageo North America president Larry Schwartz said "Tom Bulleit has a genuine passion for his bourbon that he shares with everyone he meets.  The growth of the Bulleit brand is the result of many years of investment and the relationships Tom has built.  We are proud to be breaking ground on the new home of Bulleit Bourbon in this wonderful location in Shelby County."
Listen to Mark Gillespie's interview with Tom Bulleit: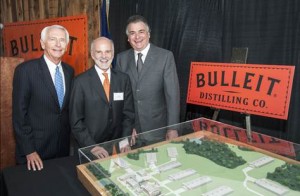 The distillery will have a capacity of 1.8 million gallons of spirit when it opens, and Tom Bulleit said most of the production will be dedicated to Bulleit Bourbon. "We'll make Bulleit here, and we'll see what else," he said. Diageo executives have said the facility will also be used to produce whiskey for use in other Diageo brands, without giving any specifics.
As WhiskyCast first reported last September, Four Roses gave Diageo notice that it would terminate its contract to distill spirit for Bulleit at the Lawrenceburg, Kentucky distillery at the end of March. Executives from both companies have declined since then to comment on the status of the contract, and Tom Bulleit said today that provisions have been made to meet Diageo's needs until the new distillery goes into production. "I never comment on our supply contracts that we have for supply contracts with people and have had through the years since we were with Seagram's," Bulleit said. "We think we're gonna be fine…we've made provisions."
No master distiller has been named for the distillery yet, and the facility is not currently expected to have a visitors center or be open for tours. Earlier this year, Diageo opened The Bulleit Experience at Stitzel-Weller Distillery in Louisville to the public after using it exclusively as a training center since 2011. The attraction will also showcase Diageo's new Orphan Barrel line of whiskies matured at Stitzel-Weller.
Editor's note: During the telephone interview with Tom Bulleit, Mark Gillespie referred to the distillery's annual capacity as 750,000 gallons, when the reference should have been to approximately 750,000 cases of whiskey. This story was updated to include comments from Diageo's Larry Schwartz and a photo from the ceremony, both supplied by Diageo. 
Links: Diageo | Bulleit Bourbon
---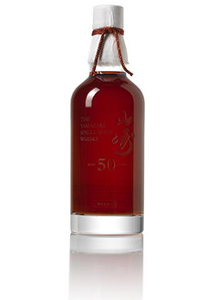 August 16, 2014 – While one of the usual suspects led the overall bidding at Bonhams in Hong Kong during Friday's auction of rare whiskies, the rare chance to bid on unusual Japanese whiskies dominated the bidding. Japanese whiskies rarely come up for auction at Bonhams and McTear's auctions in Scotland, but bottles from all of the major Japanese whisky producers of past and present were up for bids.
A 55-year-old Macallan Lalique decanter from the Six Pillars series took top honors with a high bid of  $37,932 (USD), including bidder premium. However, the runner-up was one of the few Yamazaki 50-year-old whiskies to ever appear at auction, and brought a winning bid of $37,932. Only 150 bottles were released in 2011, and Bonhams had issued a pre-auction estimate of $24,515, with the final bid reflecting the unusual level of interest in rare Japanese whiskies.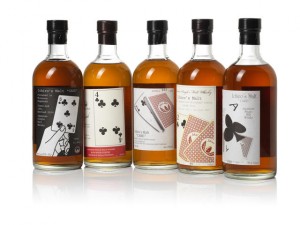 This was also one of the few auctions to showcase Ichiro Akuto's bottlings from his family's now-closed Hanyu Distillery bottled with playing card-themed labels under the Ichiro's Malts label. A five-bottle poker straight lot with the ace, two, three, four, and five of clubs sold for $20,546 dollars, and a single bottle of the Ace of Spades went for $11,063 dollars.
The auction also featured several lots from the renowned Karuizawa distillery, which was mothballed in 2001 and eventually closed permanently. A two-bottle lot of 45-year-old Karuizawa single malts sold for $15,014, while a bottle of 21-year-old Karuizawa distilled in 1965 sold for $13,434.
The next Bonhams whisky auction in Hong Kong is scheduled for November 18.
Links: Bonhams Auction Catalog
---
August 15, 2015 – Russian officials have expanded their sanctions against American whiskey to take on the largest brand in the business with a targeted action against Brown-Forman's Jack Daniel's Tennessee Whiskey and its cousin, Jack Daniel's Tennessee Honey Liqueur. According to the Moscow Times, which cited a state-controlled ITAR-TASS news agency report, regional food safety officials in Sverdlovsk plan to confiscate all of the Jack Daniel's products being sold in the region for alleged violations of Russian labeling laws. The report says alcohol bottles must include a list of ingredients, the location of the distillery, and the "length of the distilling process" — all in Russian. A spokeswoman for Russia's food safety agency says the Jack Daniel's labels in question met none of those standards. and also expressed concerns that Jim Beam's labels may also not be in compliance.
"We've been selling Jack Daniel's Tennessee Whiskey in Russia for 15 years, and we've been in compliance with all regulatory and labeling requirements throughout that 15-year period of time," Brown-Forman spokesman Phil Lynch told WhiskyCast in a telephone interview. "There's no difference in the Jack Daniel's being sold today in Russia, and of course, throughout the rest of the world, from the Jack Daniel's we've ben selling in Russia for the past 15 years…so if there are any labeling compliance issues, it must be because the Russian authorities have changed the regulations without informing us and giving us any time to comply." Lynch noted that Brown-Forman has received no notification of any issues from the Russian government. While declining to provide specific data, Lynch said Russia is one of the top ten export markets for the Jack Daniel's brand.
The food safety agency is also taking issue with the honey-flavored Jack Daniel's Tennessee Honey expression over what the ITAR-TASS report called "chemical substances not common to whiskey." Lynch described the concerns as either "ignorance or politics," since Tennessee Honey is not labeled as a whisky. "It is a liqueur and it meets all the specifications and standards in Russia as a liqueur," Lynch said. "We did not comply with the whiskey specifications for Jack Daniel's Tennessee Honey because it is not a whiskey, so the government agency in the Ural Mountains that tested it as a whiskey doesn't know what the heck they're doing."
The ITAR-TASS report also cites the agency spokeswoman as saying the labels on Jim Beam Bourbon sold in the Sverdlovsk region also violate legal requirements. WhiskyCast has asked Beam Suntory executives for any confirmation they may have received from Russia.
Last week, the Russian consumer protection agency moved to block imports of Sazerac's Kentucky Gentleman Bourbon based on allegations that laboratory analysis found evidence of phthalates in the whiskey, and has since banned imports of beer and spirits from Ukraine along with a wider ban on most food products from Western nations. Russian officials have long used the food safety and consumer protection agencies as tools in foreign policy disputes, and the recent round of sanctions has been regarded as retaliation for sanctions imposed by the US, European Union, and other allies against Russia for its support of rebel forces in Ukraine.
This story will be updated as more information becomes available.
Editor's note: This story was updated to include a link to the Moscow Times coverage, along with additional information from the ITAR-TASS reports citing a potential problem with Jim Beam labels. 
Links: Brown-Forman | Jack Daniel's | Beam Suntory | Jim Beam
---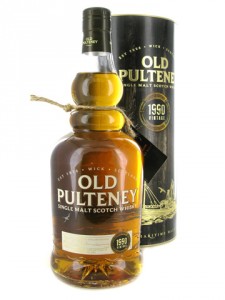 August 14, 2014 – Old Pulteney's 1990 vintage was named the Spirit of Whisky Fringe winner at this past weekend's Whisky Fringe festival in Edinburgh. 1,300 attendees at the annual Royal Mile Whiskies-organized event were able to cast ballots for their favorite whiskies of the three-day festival. The win for the Wick distillery ends two years at the top for the Tomatin 30-year-old, which has been replaced in the distillery's lineup since last year's festival.
Runner-up honors went to the Glenglassaugh 1978, followed by the 21-year-old single malt from Ben Nevis and the new Highland Park Dark Origins expression. Ardbeg Uigeadail finished in the top five for the third straight year, following last year's third-place finish and another fifth-place finish in 2012.
The rest of the top ten vote-getters were the Glenlivet 25, Balblair's 1990 vintage, the Kilchoman Small Batch, Bunnahabhain 18, and Glen Moray 25. All of this year's top ten whiskies were official distillery bottlings, with no independent bottlings cracking the list.
Links: Royal Mile Whiskies
---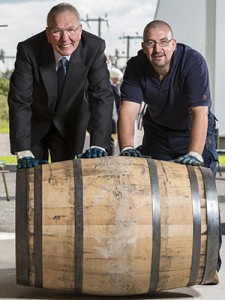 August 12, 2014 – One of Scotland's smallest distilleries has nearly doubled its storage capacity with the addition of two new maturation warehouses. Benromach has completed work on the two new warehouses, announced last year as part of an expansion that also saw the distillery's staff grow by 50% — from two on-site workers to three.
The Gordon & MacPhail-owned distillery's newest employee, Brian Williams, helped roll the first cask into the new warehouses with the help of a Benromach veteran. Tom Anderson was a stillman at Benromach when it was originally mothballed by Diageo predecessor United Distillers in 1983, but still lives in one of the distillery's on-site cottages. In a Gordon & MacPhail news release, managing director Michael Urquhart said "we are absolutely delighted that Tom was able to open our new warehouses at Benromach. These are exciting times for our classic, hand-crafted single malt whisky but whisky is a long-term business and the foundations for our success were laid when Tom worked here and in the years before that."
The two warehouses take Benromach's on-site storage capacity from 8,000 casks to 15,000, and were built by local contractors with support from Highlands & Islands Enterprise.
Links: Benromach | Gordon & MacPhail
---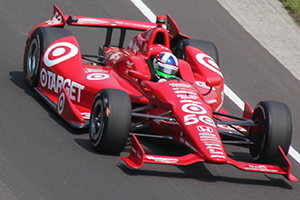 August 12, 2014 – The Balvenie is kicking off its second annual Rare Craft Collection tour in Carmel, California this weekend with a collection of handcrafted works curated by three-time Indianapolis 500 winner Dario Franchitti. The opening weekend is timed to coincide with the annual Rolex Monterey Motorsports Reunion at nearby Mazda Raceway Laguna Seca, which will feature more than 500 historic race and sports cars from the pre-1980 period.
For the collection, Franchitti selected a group of artisans working with everything from handmade guitars and glassblowing to custom furniture. In a telephone interview with WhiskyCast's Mark Gillespie, Franchitti described one of the exhibits that had special significance for him:
"The guys at Steelhead Studios did a table using bits of my old IndyCar," he said. "They used one of the manifolds from the engine, they used some gear ratios from the final drive, all kinds of things like that." Franchitti follows last year's debut curator, clothing designer Todd Snyder.
The collection will be on display at Carmel Plaza through August 16, followed by stops in eight other US cities through December.
Los Angeles: August 26–27
Seattle: September 9–10
Austin: September 16- 17
Chicago: September 30–October 1
Boston: October 7–8
Washington: October 21-22
New York: November 17–22
Aspen: December 5–7
Listen to Mark Gillespie's interview with Dario Franchitti:

The collection will be displayed in a gallery format, which will also include tastings of various Balvenie expressions. Franchitti recently visited the distillery and had a personal tasting session with longtime Balvenie Malt Master David Stewart. "What a nice person, an amazing man, but what a gift he has too…I could not believe the stuff he was detecting. When he says 'can you taste this, can you smell that', once he points it out to you, you can sort of get it, but before that it's a very difficult thing and it's definitely a gift that he has."
In addition to his three Indianapolis 500 victories in 2007, 2010, and 2012, Franchitti also won four IndyCar Series championships before a career-ending crash last year in Houston. He was awarded an MBE by Queen Elizabeth this past June.
Editor's note: This story was updated on August 15 following an interview with Dario Franchitti.
---