Each week, we bring you the latest whisky news on WhiskyCast, but a lot can happen during the week. Now, you can keep up with whisky news as it happens here on WhiskyCast.com!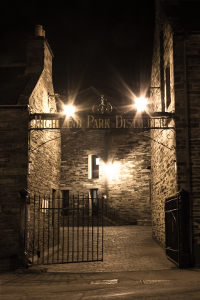 May 2, 2014 – Edrington has completed its plans for new regional distribution units with the formation of Edrington Americas, which will handle importing, sales, and marketing for the company's line of Scotch whiskies including The Macallan, Highland Park, The Famous Grouse, and Cutty Sark. Last year, Edrington opened similar units in the Middle East and Southeast Asia, with the goal of taking more control of its own destiny in key markets.
The move ends years of work with Remy Cointreau USA, but Edrington Americas President & CEO Paul Ross said in a telephone interview that the two companies parted amicably. "We doubled our revenue in the USA in the last three years, and that's obviously been in partnership with Remy," he said. "We're not leaving Remy because of problems, we're leaving Remy because the time was right and we see opportunities for growth and innovation that might have been restricted otherwise." Ross has a goal of doubling revenue again over the next five years, and says the best way of making that happen will be by getting closer to consumers than was possible previously.
Listen to Mark Gillespie's interview with Paul Ross:

In addition to the Edrington whisky portfolio, the new unit will handle Brugal Rum and Snow Leopard Vodka out of headquarters in New York and regional offices in Miami, Dallas, Southern California, and Chicago. The Chicago office will also be responsible for coordinating Canadian sales and marketing with Beam Suntory, which will continue to distribute Edrington's brands in Canada.
While the switch is likely to show up almost immediately on Edrington's bottom line, Ross said the move was made with long-term planning in mind. "This isn't just about the next quarter or the next year, this is really about the long game….five or ten years, and our ownership structure allows us to think that way." The company is controlled by The Robertson Trust, Scotland's largest charity, and generated £15.3 million GBP ($25.8 million USD) for Scottish charities in 2013.
Links: Edrington
---
May 2, 2014 – The ongoing legal battle between the Scottish Government and the Scotch Whisky Association will be resolved in Luxembourg instead of Edinburgh after Scotland's highest court referred the case to the European Court of Justice. The Court of Session's ruling came in the SWA's appeal of an earlier ruling upholding the government's plan to set a minimum price of 50 pence per unit of alcohol. The government's goal is to reduce Scotland's epidemic of alcohol abuse by raising overall prices, but the SWA has long argued that minimum pricing violates European Union laws and would be ineffective in solving the abuse problem. SWA Chief Executive David Frost praised the ruling in a news release, saying that the case was eventually going to wind up in Europe's highest court.
Meanwhile, First Minister Alex Salmond is being attacked by critics after he referred to Scotland as "a nation of drunks" in an interview with GQ Magazine published this week. Salmond blamed the nation's alcohol abuse epidemic on what he described as a "lack of confidence, maybe, as a nation" — and said the minimum pricing plan would help improve public health and Scotch Whisky exports.
"I promote whisky. I do it on the argument that it's a quality drink, has a worldwide cachet, that its recent great success in markets like China is about social emulation and authenticity, not cheapness. My argument is that if you are promoting it as authentic and of great worth, you cannot promote it from a nation of drunks."
Salmond's comments brought immediate and sharp criticism from Labour, Conservative, and Liberal Democratic leaders. The Scotsman reports a Labour spokesman called the statement "jaw-dropping," and added "You can imagine what Alex Salmond would be saying had a Westminster politician had made exactly the same comment."
There is no timetable for the Luxembourg court to reach a decision, but cases typically take 12 to 15 months from referral to a final ruling.
---
April 30, 2014 – Japan's Suntory Holdings has officially completed its $16 billion (USD) acquisition of Beam, Inc., creating the world's third-largest spirits company with significant presence in Bourbon, Canadian, Irish, and Scotch whiskies as well as Suntory's Japanese whisky business. The deal closed after the end of New York trading today, with Beam shareholders receiving $83.50 per share in cash in the company's final day of trading.
As projected in a Japan News story last week, the new company will be called Beam Suntory and be headquartered at Beam's current headquarters in the Chicago suburb of Deerfield, Illinois. Matt Shattock will be Chairman and Chief Executive Officer of the combined company, which will take over responsibility for Suntory Liquors Limited's existing spirits portfolio by the end of 2014. In a news release, Shattock said the new company will leverage its entire portfolio globally with a strengthened distribution system.
"By combining the world leader in Bourbon and Japan's leading spirits company, we have created a stronger global business with an even better premium portfolio."
Suntory Holdings is privately held by Japan's Saji family. Chairman and President Nobutada Saji sought to broaden the company's base outside of its traditional market in Japan, and acquiring Beam accomplishes that goal. The combined sales of both companies pre-merger during 2013 was $4.6 billion (USD), placing Beam Suntory behind only Diageo and Pernod Ricard in global spirits sales. In the company's news release, Saji predicted the union of Beam and Suntory will lead to continued growth.
"Since its founding, Suntory Group has always shared the spirit of 'Yatte Minahare – Go for it!' in taking on new challenges, creating new opportunities, and living our corporate values.  Beam's heritage of over 200 years is also characterized by a spirit of entrepreneurialism, creativity and courageous decisions that exemplify the same 'Yatte Minahare' spirit.  I believe this common spirit and our combined strengths will be a powerful driving force as the new Beam Suntory excites consumers around the world with our portfolio of premium brands. At the same time, Beam Suntory will remain true to Suntory's corporate philosophy, 'In Harmony with People and Nature,' in developing a rich experience of life based on real needs in the communities  in which we do business, coexisting with people and their nature surroundings."
While the Beam Suntory news release does not directly address the issue, Suntory's Morrison Bowmore Distillers unit in Scotland will be included in the new Beam Suntory structure. The new company's web site lists all of Morrison Bowmore's single malt brands (Bowmore, Auchentoshan, Glen Garioch, and McClelland's) under the Beam Suntory portfolio. Suntory acquired Morrison Bowmore from the Morrison family in 1984, and had operated the company as a standalone unit reporting to company executives in Tokyo. In an email tonight, Beam Suntory spokesman Clarkson Hine confirmed that the Morrison Bowmore brands will be a key part of the new company's future plans.
This transaction has created an even stronger Scotch portfolio, with Bowmore, Auchentoshan and McClelland's an excellent complement to Laphroaig, Ardmore and Teacher's. Premium Scotch is one of the most attractive global spirits categories and we have ambitious growth plans in Scotch. While it's premature to discuss the specifics of integration matters, I can tell you we plan to take a very careful and thoughtful approach and learn from each other. Current operations will continue as they are for the time being, and we will now begin the important task of bringing the operations of two great companies together while maintaining the momentum of the business.
The merger would give Beam Suntory control of two of Islay's eight currently working distilleries at Bowmore and Laphroaig, but that did not raise any competition concerns among regulators. Diageo also owns two Islay distilleries (Lagavulin and Caol Ila), while the remaining distilleries are independently owned, and it is possible that owning two distilleries on the island may generate some cost savings through joint procurement for malted barley and other supplies.
Editor's note: This story was updated with additional information. 
Links: Beam Suntory
---
April 28, 2014 – Louisville leaders are hoping to capitalize on the boom in Bourbon sales worldwide by adding new opportunities for visitors to the city, which already counts 4,200 Bourbon-related jobs and an economic impact of more than $300 million each year. Mayor Greg Fischer's task force, known as the Bourbon & Food Work Group, released a report today suggesting six key areas to focus the city's tourism and convention marketing efforts in promoting Bourbon-related economic development. The suggestions range from training programs for hospitality industry workers to the construction of a Bourbon-themed visitors center on Main Street.
"Fortune Magazine recently said we're in a 'Billion-Dollar Bourbon Boom'," Fischer said in a news release. "But while trends come and go, bourbon is a proud part of Louisville's history, a big part of our present and, with this plan, will be an even bigger part of our future. This is our chance to increase the momentum so that Louisville and bourbon are as classically paired as Napa Valley is to wine." 
It's just a unique time to be in Kentucky, and especially Louisville," said Stacey Yates of the Louisville Convention & Visitors Bureau in a telephone interview. "The amazing development that we've seen over the past decade with premiumization of the product and the things that the Bourbon industry has continued to do and the global demand being what it is, combined with the more recent tourism effort to tell people that this is indeed the homeplace of Kentucky Bourbon…it's sort of been the perfect storm over the last several years."
Listen to Mark Gillespie's entire interview with Stacey Yates:

One key tourism development proposal featured in the report is the potential to expand the Kentucky Bourbon Affair into a "signature Bourbon and Food Festival" starting in 2015. The Kentucky Distillers Association is sponsoring the first Bourbon Affair next month, with events in Louisville and at the KDA's member distilleries stretching from Lexington to Loretto. KDA officials have expressed interest in making the Bourbon Affair an annual event, based on the demand for tickets so far. The report also recommends a larger Bourbon-themed presence at Louisville International Airport, which currently has only a Woodford Reserve-themed bar and restaurant and display ads for a number of Bourbon brands.
The city will take public comments on the report until May 31, and Fischer hopes to implement suggestions with support from the Bourbon industry, the local restaurant industry, and the Louisville Convention & Visitors Bureau. The report is available online.
Editor's note: This story was updated following an interview with Stacey Yates of the Louisville CVB.
Links: LouisvilleKY.gov | Kentucky Bourbon Affair | Bourbon Country
---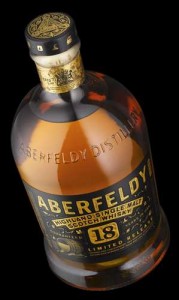 April 24, 2014 – Aberfeldy's single malts are the heart of the Dewar's range of blended Scotch whiskies, and the company is starting a major push for the brand with a new 18-year-old expression. The new malt will be rolled out this month in the travel retail market, joining the current 12 and 21-year-old expressions available at whisky specialist shops. It's bottled at 40% ABV, but pricing has not been announced.
The new look for the 18-year-old reflects Dewar's plans to invest in the Aberfeldy brand, and it will be carried over to the 12 and 18-year-old malts over the course of the year. Stephen Marshall of Dewar's told WhiskyCast's Mark Gillespie in a recent interview that the current Aberfeldy packaging hasn't been changed since the malts went on sale in 2003, and needs an upgrade.
In addition, Dewar's parent company Bacardi plans to expand availability of its Glen Deveron series of travel retail malts worldwide following last year's launch in selected markets. Both moves are being viewed as a first step expected to lead to additional single malt releases in the coming year.
Links: Dewar's
---
April 24, 2014 – Chivas Brothers has added a new permanent expression to The Glenlivet's Nadurra range of single malts that has the unique distinction of being the first regular Glenlivet bottling to be matured exclusively in ex-Sherry casks. The Glenlivet Nadurra Oloroso is matured in Oloroso Sherry casks, and will debut in travel retail at Frankfurt's Gebr. Heinemann whisky shop this month along with World Duty Free's World of Whiskies shop in London's Heathrow Terminal 5.
Nadurra was introduced in 2006 as a 16-year-old cask-strength version of The Glenlivet, and has had only one addition to the range since then, a 1991 Triumph barley limited edition release. Nadurra has been released in batches over the years, with a primary focus on ex-Bourbon casks. This marks the first permanent addition to the Nadurra range, though it is being bottled at 48% ABV unlike the regular cask-strength Nadurra expressions. Pricing for the Nadurra Oloroso has not been announced.
In addition, Chivas Brothers is also completing a special range for its Ballantine's blended Scotch whiskies that focuses on four of the malt distilleries that add their own unique touch to the blend. The final expression in the 17-heart-old Signature Distillery series features Glentauchers Distillery in Speyside, and will be available in Asia-Pacific travel retail outlets starting this month at a recommended price of $78 USD. The three previous expressions in the series featured Scapa, Miltonduff, and Glenburgie distilleries.
Links: The Glenlivet | Ballantine's | Chivas Brothers
---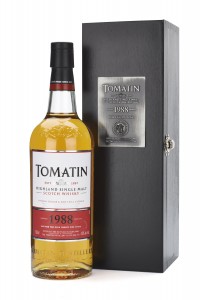 April 24, 2014 – Tomatin is making a major change to its core range of Highland Single Malt Scotch Whiskies, with two new additions replacing two longtime parts of the lineup. The distillery is releasing a new 14-year-old Port Cask-finished single malt, along with a 1988 vintage malt. The two malts will replace the existing 15 and 30-year-old expressions in the Tomatin core range, which will include the Tomatin Legacy (no age statement), 12, and 18-year old malts.
The 1988 Vintage uses a combination of ex-Bourbon and Port casks, and will be released in batches. Batch #1 will have 2,500 bottles at 46% ABV and be available worldwide with a recommended retail price of £159.99 GBP ($250 USD).
The new Tomatin 14-year-old was matured for 13 years in ex-Bourbon casks, then filled into Portuguese Port pipes that had previously been used to mature Tawny Port for more than 30 years. It is bottled at 46% ABV, and will carry a recommended retail price of £48.99 GBP ($55 USD for 750ml bottles) per 70cl bottle.
In addition, Tomatin has made a change in the bottling strength for its 12-year-old single malt, raising it to 43% ABV from the previous 40% strength.
For an interview with Tomatin Distillery Manager Graham Eunson, listen to Episode 469 of WhiskyCast.
Links: Tomatin
---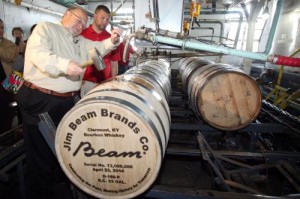 April 23, 2013 – When Prohibition ended in 1933, Colonel Jim Beam was prepared to resume distilling Bourbon. He'd already identified a site for the family's new distillery in Clermont, Kentucky, and started construction as soon as possible after the repeal. By the end of 1934, the first barrels of whiskey were already maturing in Beam's warehouses. Nearly 80 years later, his descendants hammered in the bung on barrel number 13,000,000 today. Seventh-generation Beam family member and global brand ambassador Fred Noe did the honors along with his son Freddie, who is following in the family tradition and starting his career at Beam's Booker Noe Distillery in Boston, Kentucky. The total includes barrels filled at the Booker Noe Distillery named for Fred's father, legendary master distiller Booker Noe.
"I guess, in this case, 13 is a lucky number," Fred Noe said in a news release. "As a family, we're proud of this milestone. It speaks loudly and proudly to our longevity and history, and bolsters our position as the world's largest producer of bourbon. We've been making bourbon a long time and we've made a lot of it." The ceremony comes less than 3 years after Noe filled and sealed Barrel #12,000,000 in 2011, and he projected the next million barrels will be filled even more quickly given the global demand for Bourbon. The milestone barrel will be placed on display in Rackhouse D on the Clermont distillery grounds, which is open to visitors as part of the Jim Beam American Stillhouse experience.
The ceremony comes just a week before Beam's $16 billion acquisition by Suntory is scheduled to be completed. Suntory is buying Beam as a way to diversify its product base and marketing outside of Japan, with the various Jim Beam expressions seen as a key factor in that decision.
Links: Jim Beam
---
April 23, 2014 – In the latest burst of expansion in Bourbon Country, Sazerac has announced plans to invest $71 million to expand production capacity at its three Kentucky distilleries: Buffalo Trace in Frankfort, 1792 Barton in Bardstown, and Glenmore in Owensboro. The Metairie, Louisiana-based company will add approximately 110 jobs to its Kentucky workforce when the projects are completed, according to the Lexington Herald-Leader.
The projects have been approved for $7.4 million in tax incentives from the Kentucky Economic Development Finance Authority. Last week, Governor Steve Beshear signed a new law supported by the Kentucky Distillers Association that will allow the state's distilleries to take a credit on their corporate income taxes for the money they pay in so-called "barrel taxes" on maturing whiskey, with the credits to be reinvested in capital projects within the state. The credits will be phased in over the next five years when the law takes effect starting in 2015, and Sazerac's expansion is the first to be announced since the new law was signed.
Buffalo Trace will get a new bottled goods warehouse with computerized inventory storage and retrieval equipment, while Glenmore will get a new distribution center with similar high-tech inventory control systems and upgrades to its maturation warehouses. Barton is slated to receive additional production capacity.
Sazerac declined to make executives available for interviews to discuss the expansion.
Links: Sazerac | Buffalo Trace
---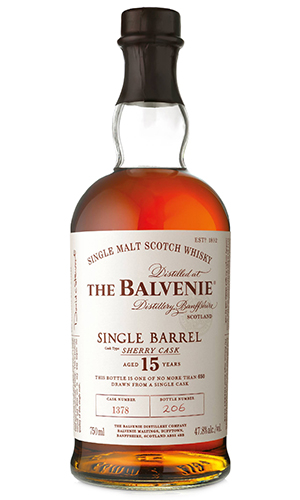 April 23, 2014 – The Balvenie will expand its range of single barrel malts with a new 15-year-old Sherry Cask expression, and plans are in the works for a 25-year-old single cask release in the near future. The Balvenie's global brand ambassador, Sam Simmons, said in an interview today that the 15-year-old expression will be available in the UK starting on May 2 coinciding with a special concert at Balvenie Castle, and in the US market during early May. The move follows last year's successful launch of a 12-year-old single barrel expression, and the new 15-year-old variant is expected to gradually replace The Balvenie's current 15-year-old Single Barrel that has been available for many years. The new 15-year-old will be available in limited quantities, due to the small number of ex-Sherry casks in the distillery's inventory.
"We'll end up with a 12, 15, and a 25 from three different types of casks," Simmons said. The 12-year-old uses first-fill ex-Bourbon casks, while the upcoming 25-year-old version will use refill casks — a nod to an older 25-year-old version. "I was a big fan of the 25-year-old when we had it…I think the last time we made it was in 2003," Simmons said. "A lot of people lament its loss…mature Balvenie from a single barrel, especially a refill, is sweet and quite luxurious."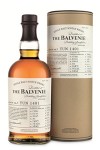 In addition, last November's Tun 1401 Batch #9 release for the US market may well mark a milestone for the series. The Tun 1401 bottling use vintage casks selected by Malt Master David Stewart for blending in the distillery's Tun 1401 vatting tun, which has a capacity of only 2,000 litres. Because of that, Tun 1401 releases have been rotated through the US/Asia, UK/Europe, and travel retail markets. However, a new vatting tun is under construction with an estimated capacity of 8,000 liters, and Simmons said that should allow for wider releases of Tun 1401 releases in the future.
The current tun is filled with Stewart's latest batch. "You can visit it at the distillery, probably if you're lucky, David might let you stick your finger in the top of the tun and have a wee taste, but currently there's no plan to bottle it, and probably the next Tun that we'll see bottled will be the new tun. It's really David Stewart's call." There's also no decision on what the new tun will be called, since Tun 1401 will continue to be used after the new one is commissioned.
Editor's note: This story was updated on May 5, 2014 with a new photo of the 15-year-old expression. 
Links: The Balvenie
---