Each week, we bring you the latest whisky news on WhiskyCast, but a lot can happen during the week. Now, you can keep up with whisky news as it happens here on WhiskyCast.com!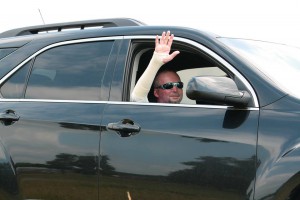 June 25, 2015 – Two months after the Silver Trail Distillery explosion that left him with severe burns and claimed the life of his cousin, Jay Rogers is back at home to continue his recovery. Rogers was released from Vanderbilt University Medical Center in Nashville, Tennessee, where he and Kyle Rogers were flown for treatment after the April 24 explosion that leveled the distillery. In a Silver Trail Facebook post, Jay was shown waving from the car as he and his fiancee Tiffany headed back to Hardin, Kentucky. The two became engaged while Rogers was hospitalized, prompting a colleague to post this on the distillery's Facebook page: "Jay's the only guy I know that goes to the hospital and comes out with a fiance. Congratulations you two!"
Rogers underwent more than a dozen surgeries to treat his injuries from the explosion, which splashed the two men with mash heated to around 204ºF. Kyle Rogers died at Vanderbilt 17 days later from a bacterial infection that doctors were unable to fight.
The Kentucky Fire Marshal's office has still not released its final report on the explosion, but the investigation is focusing on what Silver Trail founder Spencer Balentine has described as a failure of a key component in the still, which was built by Revenoor Stills in Yamhill, Oregon. Investigators have declined to comment on their probe until the final report is released. Balentine and Rogers have already filed a lawsuit against Revenoor and owner Terry Wilhelm.
Rogers' homecoming comes as Silver Trail resumed distilling for the first time since the explosion. While the distillery in Hardin has not been rebuilt, Balentine has worked out an agreement with Paul and Mary Beth Tomaszewski of the M.B. Roland Distillery in Pembroke to use their distillery until Silver Trail can be rebuilt. Balentine has already promoted Jay Rogers to Master Distiller for Silver Trail – as soon as he's able to return to work.
Editor's note: This story was updated to correct the names of Paul and Mary Beth Tomaszewski of M.B. Roland Distillery. We regret the error. 
---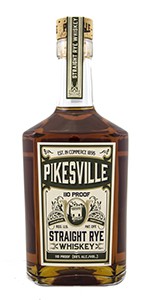 June 25, 2015 – Pikesville Rye's heritage dates back to 1895, when it was originally distilled in Maryland, and even though the whiskey has been distilled in Kentucky since Heaven Hill acquired the brand in 1982, it remains a staple in Maryland and neighboring states. In fact, when rumors started spreading about Heaven Hill's plans to create a new version of Pikesville Rye and distribute it nationally, the brand's local fans pleaded with Heaven Hill to keep their original version available. While that 3-year-old, 40% ABV (80º proof) version will still be available in the Mid-Atlantic region, the new Pikesville Rye made its debut at a tasting in New York City last night.
"Obviously, we wanted it to be a little bit older, but not too old…and then on the proof side, we experimented a little bit, but we already have a bottled in bond Rye with Rittenhouse," Heaven Hill Co-Master Distiller Denny Potter said in an interview. "We already have a lot of products that are cask-strength or barrel proof, but nobody's really done anything in between and figure out how versatile that liquid could be." Potter was tasked with coming up with the recipe using Heaven Hill's inventory of nearly 1.2 million barrels of whiskey, and settled on a 55% ABV (110º proof), six-year-old vatting of barrels selected from the top two floors of Heaven Hill's warehouses.
The Pikesville Rye project is Potter's first release since being named Co-Master Distiller alongside Craig Beam in December, and he worked extensively with Craig and Master Distiller Emeritus Parker Beam on the whiskey. He joined Heaven Hill two years ago to manage the Bernheim Distillery in Louisville after a long career at Beam Suntory, and is the first person outside the Beam family tree to serve as one of Heaven Hill's master distillers. "Obviously, what went into the barrel is a credit to them and their ideas, but at the same time, a lot happens during maturation and then you come in and get the opportunity to select what they put into the barrel years ago."
While Potter is getting much of the credit for the final whiskey, the plans were set in motion several years ago by Heaven Hill CEO Max Shapira. "We had this iconic brand that dates back from 1895 in our portfolio…it was really for many, many years just a stepchild, frankly," Shapira said in an interview. "We thought, gosh…this is a real gem going all the way back to 1895, so it has all the authenticity, the history, the heritage that you'd ever want or hope to have." Shapiro points out that Heaven Hill never stopped producing the original version of Pikesville Rye, even when Rye whiskey was completely out of favor with consumers, and notes that publicly-traded spirits companies with shareholders and Wall Street to answer to would have quietly killed off the brand years ago.  "There just wasn't much volume, but it was iconic and we just weren't going to do that to a brand with this kind of interesting history to it, so we hung around and stayed around with it, and fooled with it for all this time, and now the time has come for a real, live relaunch." While Heaven Hill's flagship Evan Williams Bourbon traces its name to 1783 and the real Evan Williams in Louisville, Shapira acknowledges Pikesville Rye may actually be the oldest brand in the company's entire portfolio, and was one of the few whiskies produced during Prohibition (for "medicinal purposes").
Pikesville Rye will initially be available in New York City, Chicago, San Francisco, and Los Angeles this summer and later this year throughout the US in limited quantities with a recommended retail price of $49.99 (750ml).
Links: Pikesville Rye | Heaven Hill
---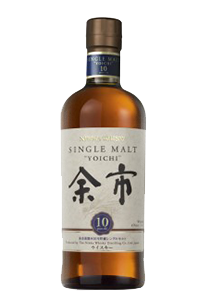 June 18, 2015 – Japan's Nikka Whisky has now confirmed plans to replace its entire range of single malts from the Yoichi and Miyagikyo distilleries worldwide over the next year with new versions that will not carry age statements. The plans have been reported in recent days by several news organizations and the Nonjatta Japanese whisky blog, and will affect whiskies now being sold around the world.
In an email, Nikka Whisky International Sales and Marketing head Emiko Kaji explained that the company's importers in various countries are being told of the plan now. She noted the current range will continue to be available while stocks exist, but new Yoichi and Miyagikyo expressions will debut in Japan starting in September with a global rollout planned during 2016. Kaji provided WhiskyCast with a copy of the letter being sent to importers, which cites the growing global interest in Japanese whisky and a shortage of aged malt whisky stocks available to bottle.
"With the current depletion, Yoichi and Miyagikyo malt whiskies, which are the base of most of our products, will be exhausted in the future and we will be unable to continue the business. Although we are now distilling spirits at full capacity, a long maturation period will be required until the spirits can be sold."
The decision affects the current Yoichi 10, 12, 15, and 20 year old single malts along with the current no-age-statement expression. The Miyagikyo 10, 12, 15, and the current no-age statement version are also being discontinued, along with the Nikka Pure White, Tsuru 17-year-old, Nikka Black 8-year-old, G&G White, and Malt Club bottlings sold mostly in Japan. Other Nikka expressions, including its Coffey Grain whiskies, Super Nikka, and Nikka From the Barrel will continue to be available, though price increases are expected throughout the lineup.
Nikka began exporting its malts to the US in 2012 through a partnership with San Francisco-based Anchor Distilling, and recently added a no-age-statement version of its Taketsuru Pure Malt to the US lineup.
Nikka is not the only Japanese distiller experiencing shortages of aged malt whisky. Beam Suntory executives have also acknowledged shortages of whisky from the Yamazaki and Hakushu distilleries. In an interview earlier this year, Suntory Holdings CEO Takeshi Niinami admitted that he has banned his executives from drinking Hakushu 15 and other Suntory single malts in order to make more bottles available for consumers. The company's Chris Bauder said in February that a no-age-statement version of the Hibiki blend would reach the market in July. Bauder has since left the company, according to a Beam Suntory spokesman. However, the plans remain in place for the Hibiki Japanese Harmony to make its debut at an event in New York City later this month.
Editor's note: This story was updated with details on Chris Bauder's departure from Beam Suntory and to add a link to the PDF file of Nikka's letter to importers. 
Links: Nikka Whisky | Suntory
---
Updated June 22, 2015 – Here's a roundup of key executive changes and moves within the whisky industry announced over the last several days: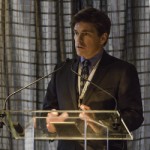 Beam Suntory: Chris Bauder has left the company after serving as General Manager for Whiskies and Cognacs, and a Beam Suntory spokesman says Bauder made a personal decision to move to a company outside the spirits industry. Bauder was the keynote speaker at the World Whiskies & Spirits Conference in February, and spoke extensively about the global boom in Bourbon sales. He is a former executive with S.C. Johnson & Son, and no successor has been named yet.
William Grant & Sons: Former Diageo marketing director Philip Gladman has been named chief marketing officer for the family-owned drinks company, which owns Glenfiddich, The Balvenie, the Grant's Blended Scotch, Drambuie, and other brands. Gladman was with Diageo for 14 years before setting up a consulting firm last year, and will oversee Grant's global travel retail business in addition to his marketing responsibilities. He replaces Maurice Doyle, who has left the company with no word on his future plans.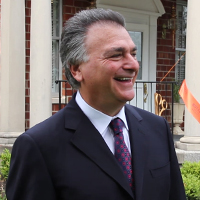 Diageo: Diageo North America president Larry Schwartz announced his plans to retire at the end of the year. The announcement came Monday as Schwartz celebrated his 40th anniversary in the spirits business. Schwartz was influential in the company's recent renewed focus on American whiskey brands, including the development of Orphan Barrel and Blade and Bow, along with the decision to build a new Bulleit distillery in Kentucky. CEO Ivan Menezes said in a news release that Schwartz's successor will be named later this year. In addition, Diageo Australia managing director Tim Salt will leave the company at the end of June for personal reasons. Salt has led the drinks giant's Australian operations since 2008.
Edrington Americas: CEO Paul Ross has announced a major shakeup in the unit's executive lineup. Christopher Spalding was named Senior Vice President and Commercial Director after serving as the unit's Northeast Division Manager, while Jim Brennan has been promoted to Senior Vice President and Marketing Director. Brennan joined Edrington Americas last year as VP of Marketing after working on the company's brands when they were distributed by Rémy Cointreau USA. Former Bacardi North America CFO  Michael Misiorski has joined the company as Executive Vice President and CFO after leaving a similar role at Stoli Group USA. Juan Gentile has been named Vice President and Regional Director for the unit's Latin America and Travel Retail operations, while Tracy Genesen is the new General Counsel and Nadege Dethy will head up Human Resources.
Uisge Source: The Scotland-based producer and distributor of bottled spring water for whisky connoisseurs has named Blair Bowman as its international business development manager, with a special emphasis on the Asia-Pacific region. Bowman sold his World Whisky Day brand to Edinburgh-based White Light Media earlier this year.
Editor's note: This story was updated to include details on Chris Bauder and Philip Gladman.
Links: Beam Suntory | William Grant & Sons | Diageo | Edrington | Uisge Source
---
June 11, 2015 – Deutsch Family Wine & Spirits' acquisition this week of Bardstown Barrel Selections is just the beginning for the family-owned company, which wants to become a key player in the whisky market. "We are really bullish on American whiskey," Deutsch president Tom Steffanci said in a telephone interview. "We look at vodka having been a 30-year trend…and we think we're in the early stages of a 30-year plus trend in American whiskey." Steffanci also noted the increased consumer interest in the provenance and variety of the spirits they buy, especially as more whisky labels note specific mashbills, barrel types, and the like.
Bardstown Barrel Selections, which was founded by Dave Schmier and Michael Kanbar in 2010 to bottle Redemption Rye, is the company's first major acquisition in the whisky sector following a failed experiment with Original Moonshine beginning in 2011. "The view at the time was…could we do with white whiskey or moonshine what Patron did with their Plata…could we come out with a really good product and price it at a really premium price and create a new segment…we had a lot of success in getting distribution, but in terms of the consumer takeaway, it didn't measure up to what we had hoped," Steffanci said. The brand is under new ownership and now is known as Stillhouse Original Moonshine, but Steffanci notes that the experiment taught them several lessons that will carry over as Deutsch begins to market Redemption Rye. "We're really good students, and we're pretty humble about learning as we go." While not revealing the price Deutsch paid for Redemption, Steffanci admits that the company paid a premium because of the demand for good American whiskey brands.
The company spent more than two years looking at deals before pulling the trigger on the Redemption Rye acquisition. "We had a list of criteria that starts with quality, then it runs to scalability…can we grow the thing and maintain the quality, does the brand have the right prices and the right offerings, does it have trade credibility…so do mixologists and aficionados feel like this is something worth their admiration," Steffanci said. The final item on the list was what he calls the "trademark Deutsch element" – delivering quality for the price. "Everything that we do checks that box, and it's real important to us that we're going to be able to deliver something where the consumer gets real value."
Bardstown Barrel Selections sources all of its whiskey from the MGP-I Distillery in Lawrenceburg, Indiana, and Deutsch has already completed a long-term supply agreement with the distillery. While stocks will be in short supply for the next two years, the company plans to make the Redemption range available nationwide over that point. While some critics have been harsh on brands that rely on MGP-I's standard recipes, the Redemption whiskies bottled by Schmier and Kandar have won awards in major US whisky competitions and Steffanci notes that the distillery's quality and efficiency is key to his goal of keeping Redemption priced at around $30 per bottle.
"The most important thing is that they understand what we've been doing," Dave Schmier said in a telephone interview. "The company has always just been simply about good whisky at a fair price and getting out there and telling the story," Schmier said, adding that Deutsch has the financial capacity to expand Redemption to a scale that he and Kandar would never be able to accomplish. The two will work with Deutsch for at least the next year during the transition, and the whiskies will continue to be bottled at Kandar's Strong Spirits bottling plant in Bardstown, Kentucky for the foreseeable future.
As for future acquisitions, Steffanci is open to exploring deals with "grain to bottle' craft distillers, but wants to avoid creating internal competition with the Redemption range by adding more Rye or high-rye Bourbon brands to the portfolio. He believes there are still wide-open possibilities in the American Whiskey segment that Deutsch could enter, and is equally bullish on the Irish Whiskey market because of the company's emphasis on value. "We really want to be able to bring things to a wide base of consumers," he said. The company generally prefers to own equity in brands and trademarks, but does handle US distribution for Pernod Ricard-owned Luksusowa Vodka. Steffanci  admits to a current fascination with Japanese whiskies, and "if the right opportunity were available, that might be available to sort out under any terms."
Links: Deutsch Family Wine & Spirits | Bardstown Barrel Selections
---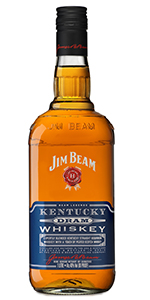 June 10, 2015 – Get ready for the purists to scream, rend their garments, and perhaps even break out the torches and pitchforks. While the lines between Scotch and Bourbon have blurred a bit because of the Scotch Whisky industry's heavy reliance on ex-Bourbon casks, blending the two whiskies together for a commercial bottling has been a line few are willing to approach, let alone cross…until now.
Beam Suntory is releasing Jim Beam Kentucky Dram, which takes traditionally-produced Jim Beam Bourbon and blends in what the company describes as "a touch of peaty Highland Scotch" in a news release. The company's Ardmore Distillery in Aberdeenshire has traditionally produced peated malts primarily for use in blending, but also releases its own single malts as well. The two whiskies were blended together and bottled at Beam's facilities in Segovia, Spain, where it produces DYC Whisky.
The result is a blend that has been bottled at 40% ABV and will be available exclusively in travel retail shops starting in July. Pricing has not been announced.
Links: Jim Beam
---
June 10, 2015 – Bardstown Barrel Selections partners Dave Schmier and Michael Kanbar have agreed to sell their company, including the Redemption brand of Ryes and Bourbons, to New York-based Deutsch Family Wine & Spirits for an undisclosed amount. The deal covers the Redemption Rye, Redemption Bourbon, and Riverboat brands, along with a white whiskey, limited edition bottlings, and their entire inventory of casks. Deutsch eventually plans to take the Redemption brand nationwide as inventory allows, and has completed a new long-term supply contract with MGP-I Distillery to supply bulk whiskey for the brands.
Schmier and Kanbar started bottling MGP-I's Rye whiskey at Kanbar's Strong Spirits bottling plant in Bardstown, Kentucky under the Redemption brand, and eventually added a Bourbon version to the range by rebranding their original Temptation Bourbon, and also added the Riverboat Rye brand. "As you see where the growth is going, you've got to prepare for it," Schmier said in a telephone interview. "With whiskey, that means buying whiskey to put in barrels today that you're not going to sell for many years down the road, so it's a pretty big financial commitment when you start growing a brand."
"Oddly enough, the more successful we were, the more broke we became…"
The partners started looking for equity investors, and their talks with Deutsch led to a sale of the entire company. The family-owned business has been primarily focused on wine with a limited spirits portfolio, but had been looking for a way to enter the whiskey market for the last two years. Deutsch president Tom Steffanci said in a telephone interview that Redemption met all of the criteria he uses when evaluating an acquisition, including quality, scalability, reputation, and value for the consumer. The company's goal is to keep Redemption's flagship brands priced at around $28 per bottle depending on individual markets, while eventually expanding supplies enough to make it a national brand.
The partners will work with Deutsch through the transition for at least a year, though their long-term plans are unclear at this point. Kanbar continues to own and operate Strong Spirits in Bardstown, while Schmier will continue with his series of Independent Spirits Expo whisky events in New York and Chicago.
Editor's note: This story has been updated with additional information following interviews with Dave Schmier and Tom Steffanci of Deutsch Family Wine & Spirits. 
Links: Deutsch Family Wine & Spirits | Bardstown Barrel Selections
---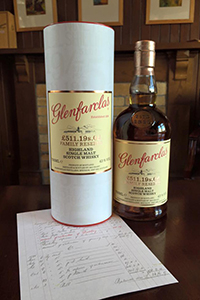 June 8, 2015 – Six generations of Grants have kept the family's tradition alive at Speyside's Glenfarclas Distillery since John Grant bought the distillery 150 years ago today. The price: a whopping £511 pounds and 19 shillings. Adjusted for inflation over time, that would be around £8,000 ($11,950 USD) today…less than what it might cost to buy a single cask of Glenfarclas from the distillery.
Today, the 5th and 6th generations of the family, managing director John Grant and global sales director George Grant, marked the anniversary with a celebration for the distillery's staff…as well as a limited edition release that will be available later this month. In addition, they filled 10 first-fill butts and 10 first-fill hogsheads that will be laid down for future anniversary bottlings. George Grant also turned down an offer of £1,000 for the distillery from an American wag who noted that given the original price, his offer was a "fair return" on the original investment.
In a telephone interview, George Grant described it as something of a strange day, noting that they celebrated the distillery's 175th anniversary just four years ago. "Although it's not a big anniversary that we're properly celebrating like we did for the 175th, it's a very important anniversary for my family," he said. "For the 175th, we did a couple of bottlings called the 175th anniversary, so we couldn't come out this year and do a 150th anniversary bottling, so we brought out a Family Reserve bottling called £511.19s.0d."
Listen to Mark Gillespie's interview with George Grant:

The Glenfarclas £511.19s.0d Family Reserve comes from predominantly first-fill ex-Sherry butts, in line with the distillery's tradition of using ex-Sherry casks for maturation. It's bottled at 43% ABV, and will be available starting June 22 worldwide, except for the United States, and will carry a recommended retail price of around £90 GBP ($138 USD).
Links: Glenfarclas
---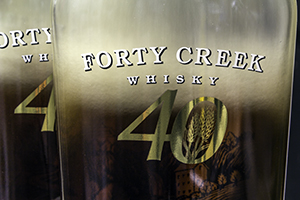 June 7, 2015 – If you're trying to visit the Forty Creek Whisky web site Monday, don't be surprised if your web browser hangs a few times. The Grimsby, Ontario distillery will start taking reservations for this year's annual Signature Edition limited-edition release at noon (EDT, 1600 GMT) with buyers able to reserve any number between 3 and 9,000 on a first-come, first-served basis. Bottles #1 and #2, as always, are reserved for Forty Creek founder and whisky maker John Hall.
This year's release will be called Forty Creek Three Grain Harmony, and as with all of the Forty Creek whiskies, is made by blending single grain whiskies distilled from rye, barley, and corn. However, the rye and barley whiskies in Three Grain Harmony are significantly older than those used in most of the distillery's whiskies. While Forty Creek has not specified how old, the distillery has told potential buyers that the stocks of rye and barley whiskies date back to "when we first began our Forty Creek Distillery" and that this is the first time those stocks have been used in a bottling. Three Grain Harmony is bottled at 43% ABV and will retail for $69.95 CDN per 750ml bottle.
While the distillery will start taking reservations for Three Grain Harmony on Monday and continue through June 26, customers will not actually be able to pick up their bottles until the distillery's annual Whisky Weekend on September 26 and 27. Those reserving bottles must pick them up at the distillery starting that weekend, with past practice dictating that remaining bottles will be on sale at the distillery's shop and a limited number of Canadian retail outlets.
Links: Forty Creek
---
June 7, 2015 – Habamus Bourbon. 
That play on the Vatican's traditional announcement of a new Pope was the way one whisky writer at the table described the final selection of a winner in Buffalo Trace's Single Oak Project Wednesday. While there was no white puff of smoke from the distillery's smokestack, winnowing down the 192 casks bottled in 2011 to find what Buffalo Trace CEO Mark Brown described as "Bourbon's Holy Grail" was almost as complex. More than 5,000 people posted tasting notes for 189 of the bottlings (only three received no scores) on the project's web site, with each being scored an average of 26.5 times. In the end, the results were too close to call, and Buffalo Trace turned to the same panel of whisky writers invited to the 2011 launch (including WhiskyCast's Mark Gillespie) to pick a winner from five finalists.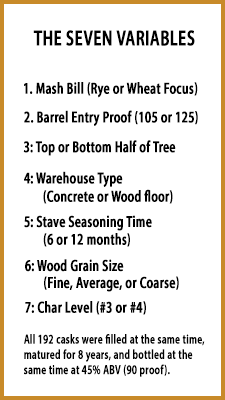 The project began some 14 years ago when the late Ronnie Eddins selected 96 American white oak trees from a forest in Missouri to be turned into unique casks for the experiment. Each tree was divided into the top and bottom half, and coopers at Independent State made a single barrel from each log. The goal was to examine seven different variables that might affect the flavor of a Bourbon and see which combination produced the best results. In 2003, each cask was filled with spirit from one of the distillery's two main mashbills, one rye-focused and one wheat-focused, placed in two specially selected warehouse ricks, and left to mature for eight years. The casks were all bottled at the same time in early 2011, and released in batches of 12 at a time four times a year, with the final release coming this past April.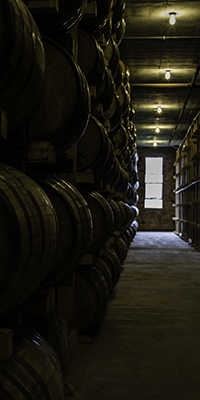 While distillers have been able to make educated guesses at the impact of some of the variables on the final whiskey, others have been a mystery. "We knew about char, we didn't know very much about grain type, and we knew nothing about top half of tree and bottom half of tree…and there are some clear patters in the data to suggest that bottom half of the tree actually has made more winning score whiskies than the top half of the tree," Buffalo Trace CEO Mark Brown said in an interview.
The winning cask of the five finalists, #80, was released in the spring of 2014 and had a rye-focused mashbill with 12 months of stave seasoning time, average grain size, 125º entry proof, #4 char, wood from the bottom half of the tree, and was matured in a warehouse with a concrete floor. Ironically, that recipe is almost exactly like the one used for Buffalo Trace's namesake Bourbon, according to Master Distiller Harlen Wheatley. "I need to look at all the data, but the one difference that I saw was the seasoning of the wood…it was a 12-month seasoning," he said, noting that the distillery normally uses casks with staves seasoned for six months and randomly selected from multiple trees with no distinction between the top and bottom half.  The other four barrels selected as finalists were #82, #109, #161, and #179.
While the distillery team will spend the next several months parsing all of the data from nearly 1,400 different variables as well as the thousands of ratings and tasting notes submitted by consumers, the plan is to start trying to replicate the specific recipe for Cask #80 and start laying down stocks of whiskey to be released starting eight years from now under the Single Oak brand. However, the experiment may also lead to other new whiskey expressions, according to Mark Brown. "It's turned out to be very fertile ground, and a lot of interesting ideas have been thrown up as a result of the world," he said.
In addition to Harlen Wheatley and WhiskyCast's Mark Gillespie, the 10 members of the tasting panel included Liza Weisstuch (Whisky Magazine), Chuck Cowdery (The Chuck Cowdery Blog), F. Paul Pacult & Sue Woodley (Spirit Journal), Lew Bryson (Whisky Advocate), Gary Regan, Jason Wilson, Christopher Null (DrinkHacker.com), and Jim Myers (The Tennessean). All of the panelists were part of the original Single Oak Project launch panel in 2011, with the exception of Gary Regan and Christopher Null. Jim Murray was part of the original panel, but was unable to attend the final tasting.
The complete interview with Buffalo Trace's Mark Brown is available in Episode 538 of WhiskyCast.
Editor's note: While Buffalo Trace covered travel expenses for WhiskyCast's Mark Gillespie and most members of the tasting panel, full editorial control over the content of this story remains with WhiskyCast. 
Links: Buffalo Trace | Single Oak Project
---