Each week, we bring you the latest whisky news on WhiskyCast, but a lot can happen during the week. Now, you can keep up with whisky news as it happens here on WhiskyCast.com!
May 11, 2015 – Perpetuum, this year's Ardbeg limited-edition release, went on sale for Ardbeg Committee members last Monday (May 4) through the distillery's online web site – for those fortunate enough to get through before the site crashed.

"It was basically a matter of demand and supply, in the sense that demand was so big on the web site that the web site stopped functioning properly," according to Glenmorangie Company spokesman Hamish Torrie. In a telephone interview, Torrie apologized for the inconvenience to Ardbeg Committee members and said the company is investigating why the site was not able to handle the expected demand.
Perpetuum marks the distillery's 200th anniversary this year, and will be available worldwide on May 30 as a part of Ardbeg Day celebrations during the Islay Festival of Malt & Music. Details on the celebration have not been formally announced, but hints have been given that it will look at the future of Ardbeg 200 years from now.
Links: Ardbeg
---
May 10, 2015 – Chatham Imports, the owner of Michter's, has filed a trademark infringement lawsuit against the investor group hoping to revive the old Bomberger's Distillery in Pennsylvania that originally produced the Michter's whiskies. The group, led by Marc Reber, Eric Wolfe and Avianna Wolfe, has the support of former master distiller Dick Stoll, who oversaw distilling at the Lebanon County distillery at the time it closed in 1989. Chatham later acquired the Michter's intellectual property rights and began producing whiskey in Kentucky under the Michter's brand name.
The lawsuit comes after dueling "cease and desist" letters between the two companies claiming rights to the Bomberger's name. In a telephone interview, Avianna Wolfe said the Pennsylvania group filed for a trademark on "Bomberger's Distillery" in 2012. "Really, what's happening is unfortunately, a case of trademark bullying," she said, noting that their first product did not reach the market for two years. "Probably because of (our) naiveté and really not understanding the legal system properly and not being well-capitalized at that point, that we probably registered it too early, so there's a time lapse between when we registered it and when our product went out."
During that period, Chatham registered a trademark for "Bomberger's Declaration" and produced a limited-edition release in September of 2014. The Pennsylvania group's first bottling of a sourced whiskey under the Bomberger's brand was released in October of 2014. "We're sold in New York, New Jersey, Connecticut, here in Pennsylvania of course, and we're working on building a distillery that's just a few miles away from the original site," Wolfe said.
Listen to Mark Gillespie's interview with Avianna Wolfe:

Chatham Imports president Joseph Magliocco responded to a request for his company's side of the story via email:
"We wholeheartedly believe in good faith that both the facts and the law support our rights to the brand Bomberger's Declaration™. We believe that new entrants to the American whiskey business are good for the category, good for the industry, and good for consumers. While we wish them well, we simply expect companies to respect one another's intellectual property rights." 
Arianna Wolfe accused Chatham of trying to outspend them in legal fees, estimating that it would cost at least $50,000 to take the case to discovery and be able to question Chatham executives under oath in the case. "The strategy is to outspend us and crush us that way," she said.
The lawsuit was filed in US District Court in New York City. No date has been set for a hearing in the case.
Editor's note: A copy of the lawsuit is available to view here. In civil cases, court filings represent only one side of a story, and should not be considered as proven facts until argued in a court. This story was updated to correct the location of the original Bomberger's Distillery from Lancaster County to Lebanon County. 
Links: Chatham Imports | Bomberger's Distillery
---
May 5, 2015 – While the "handmade" class-action lawsuit against Maker's Mark in California remains in the hands of a San Diego federal court judge, the distillery has won its bid to dismiss a similar lawsuit filed in a Florida federal court. Monday, U.S. District Court Judge Robert Hinkle granted the Beam Suntory-owned distillery's motion to dismiss a proposed class-action lawsuit by attorneys for plaintiffs Dimitric Salters and A.G. Waseem based on the same arguments as the California lawsuit.
In his ruling, Hinkle said the plaintiffs failed to make their case that Maker's Mark violated Florida consumer protection laws with claims that its Bourbon is handmade, and that there was no possible way the plaintiffs could have not known that Maker's Mark is a mass-marketed product available nationally. From the ruling:
"The term "handmade" goes back many years. The original meaning was "distinguished from the work of nature." (Oxford English Dictionary 1251, 9th ed. 1971). In that sense all bourbon is handmade; bourbon, unlike coffee or orange juice, cannot be grown in the wild.

But the term "handmade" is no longer used in that sense. The same dictionary now gives a circular definition: "handmade" means "[m]ade by hand." Id. But the term obviously cannot be used literally to describe bourbon. One can knit a sweater by hand, but one cannot make bourbon by hand. Or at least, one cannot make bourbon by hand at the volume required for a nationally marketed brand like Maker's Mark. No reasonable consumer could believe otherwise."
Beam Suntory and Maker's Mark executives praised the ruling. In a news release, Maker's Mark Chief Operating Officer Rob Samuels said "We have asserted all along that the complaints in this case were frivolous and without merit, and we are very pleased the court agreed with our position so emphatically."
Tallahassee attorney Tim Howard responded to Judge Hinkle's ruling by email:
"This Judge couldn't understand what a consumer would understand "handmade" to mean in making a purchase. While this is normally not an issue at this stage of litigation, we are researching this issue and will make some key decisions on this case over the next week. A similar case that we have against Tito's Handmade Vodka was upheld with similar facts."
Howard will decide over the next several days whether to ask the judge to reconsider his ruling or appeal to a higher court.
The judge in the California case has not issued his ruling on a similar motion by Maker's Mark and Beam Suntory to dismiss that case. The judge decided in late March that no hearings were necessary on the motion, and intends to issue a written ruling.
Editor's note: This story was updated with a response from attorney Tim Howard, who represents the plaintiffs in the case. A PDF file of the judge's ruling is available at our web site.
Links: Maker's Mark
---
May 4, 2015 – Chivas Brothers distilleries took two of the three awards in the 2015 Spirit of Speyside Festival Whisky Awards. Festival visitors voted on two finalists in each of the three categories at venues around Speyside during the weekend, with the final results announced Sunday night at the festival's closing ceilidh in Elgin.
Strathisla 12 Years Old won over Diageo's Cardhu Gold Reserve in the category for single malts 12 years old and younger or those with no age statement, while Aberlour 18 defeated the Glenfiddich 18 in competition for malts 13 to 18 years old. Diageo's Glen Spey 21-year-old took top honors for malts over 18 years old, narrowly defeating Benromach 30 Years Old.
The six finalists were selected by a judging panel of whisky writers, retailers, and industry leaders earlier this year.
Earlier in the weekend, the festival honored longtime Glen Grant veteran Dennis Malcolm with the inaugural "Spirit of Speyside Award" for his contributions to the whisky industry and the community. Whisky writer Martine Nouet was named the festival's International Ambassador of the Year, while Diageo brand support manager Linda Mellis was named Ambassador of the Year. She is responsible for marketing and brand support for Diageo's distilleries in Speyside, and also oversees the visitors centers at many of the company's distilleries.
Links: Spirit of Speyside Festival
---
April 30, 2015 – No matter who wins next Thursday's UK parliamentary elections, Scotch Whisky drinkers and the whisky industry are likely to come out as winners. That's because a key Scottish National Party leader is all but ruling out any change in the 2% cut in excise tax and duties on Scotch Whisky and other spirits announced in last month's budget address by Chancellor of the Exchequer George Osborne. Angus Robertson MP, who represents the Moray area in Westminster and leads Parliament's Scotch Whisky interests along with the SNP delegation, told WhiskyCast's Mark Gillespie in an interview at Glen Moray Distillery before the opening dinner for the Spirit of Speyside Festival that "we will be standing up for the interests of Scotch Whisky."
The Scottish National Party is being seen by many UK observers as the likely winner — no matter how the rest of the vote turns out. Pollsters show the SNP's slate of candidates across Scotland as likely to win a landslide with as many as 55 of Scotland's 59 seats in Parliament, while the Conservatives, Labour, and the Liberal Democrats are all likely to wind up with fewer than the 323 seats needed for a majority in the House of Commons. While the SNP has so far ruled out joining a coalition with any of the other parties, party leaders have ruled out any coalition with David Cameron's Conservatives. While neither side is yet acknowledging the prospects of a likely coalition between Ed Miliband's Labour Party and the SNP, the nationalists are widely expected to determine whether Miliband replaces Cameron as Prime Minister when all of the ballots are counted.
Cameron's Conservative-Liberal Democrat coalition announced a 2% cut in duties on Scotch Whisky and other spirits March 18, and observers warned at the time that a change in government could lead to a rollback of that move. Robertson cited two potential outcomes of the election if no party can win a majority: a coalition between SNP and Labour that both sides have so far publicly ruled out, and a "confidence and supply arrangement" between SNP and Labour in which support for specific issues would be negotiated in advance. Labour has already ruled that option out.
"Our relationship in Westminster, should we hold the balance of power, will be on an item-by-item basis when proposals come along, and you have an exclusive…we will be standing up for the interests of Scotch Whisky," Robertson said. While a Cameron-led government is not expected to revisit the cut in whisky taxes, the Liberal Democrats have indicated that it would be up for review should they wind up in power.
At the time the cut was announced March 18 by Chancellor of the Exchequer George Osborne, Scotch Whisky Association leaders praised the move and suggested that it could add an additional £1.5 billion pounds ($2.3 billion USD) in the whisky industry's annual impact on the UK economy, which was estimated in a study released earlier this year at around £5 billion pounds each year.
Links: Scotch Whisky Association | Spirit of Speyside Festival
---
April 28, 2015 – As Jay Rogers and Kyle Rogers recover from burns suffered in Friday's explosion at the Silver Trail Distillery in Hardin, Kentucky, thousands of dollars have already been donated in the first 24 hours since a relief fund was set up to help with their medical expenses. "We're very excited and thankful for the generosity of all of our distillers in Kentucky and Bourbon fans everywhere," said Kentucky Distillers Association president Eric Gregory.
The "Lifting Spirits – Jay and Kyle Rogers Support Fund" was established at CFSB Bank in Benton, Kentucky on Monday with support from KDA member distilleries and online donations through the KDA web site. "We've had people from all around the country that have sent in online donations…and a lot of local people in the Marshall County area have just driven to the bank and handed over cash and checks," Gregory said. The cousins were critically burned when the stillhouse exploded Friday morning as they opened the door, and were blown 25 to 30 feet away from the building in the blast. Investigators are still trying to figure out the cause of the explosion, which happened as the distillers were checking on a distilling run that had been going on for about five hours. Both men were taken by helicopter to the burn center at Vanderbilt University Medical Center in Nashville, Tennessee, where they remain in critical, but stable condition.
Gregory spoke with Silver Trail owner Spencer Balentine Monday night to get an update on the conditions of both men, and was told they're showing steady improvement to the point where skin graft surgery could begin by the end of this week. In addition to the financial support, Gregory has been coordinating distilleries in delivering food to the hospital. "Every distillery is calling and getting food sent to the hospital for the families and staff, who's been so gracious and so helpful down there, and the families, to make sure they've got everything they need, and we're starting to overlap each other."
Donations to the "Lifting Spirits – Jay and Kyle Rogers Support Fund" can be sent to CFSB Bank, P.O. Box 467, Benton, Ky., 42025. In addition, the KDA has an online donation form at the association's web site.
Links: Kentucky Distillers Association | Silver Trail Distillery 
---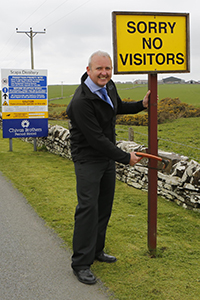 April 28, 2015 – Orkney's Scapa Distillery is one of the most remote distilleries in Scotland, yet whisky lovers have made many attempts to visit the distillery on the shore of Scapa Flow only to be greeted with a stern "No Visitors" sign. Distillery manager Brian Macaulay has been wanting to open Scapa to visitors ever since he first worked there as a relief brewer 21 years ago, and ceremonially cut down the sign to mark the opening of Scapa's new visitor center.
"It was a great pleasure…it's been something that for years having visited the distillery gives it a negative approach for such an amazing and positive product that we've got," Macaulay said in a telephone interview. Macaulay persuaded Chivas Brothers executives to invest in the visitor center, and found an enthusiastic backer in Peter Prentiss, the company's Heritage and Brands Director. The result includes a tour through the distillery, which has one of the few remaining Lomond stills in use in Scotland, along with a walk along the distillery's beachfront on Scapa Flow.
"The times are changing, and people are very much into this sort of unique and connoisseur tours and the single malts, so I think it's the right time for Scapa to open its doors," Macaulay said.
Tours will be available daily through September 28, 2015, then five days a week through November 13 before ending for the winter.
Links: Scapa
---
April 27, 2015 – Silver Trail Distillery's Jay Rogers and Kyle Rogers remain in critical condition at Nashville's Vanderbilt University Medical Center with burns suffered in Friday's explosion at the Hardin, Kentucky. They have shown gradual improvement since they were airlifted to the hospital's burn center, but still face a long and arduous recovery process.
"Jay and Kyle's families have been humbled by the outpouring of support," Kentucky Distillers Association president Eric Gregory said in a news release Monday. "They asked us to pass along their thanks for everyone's thoughts, prayers and generosity." The KDA has established a fund to help both families with medical and other expenses following the explosion, which destroyed the distillery and remains under investigation. Donations to the "Lifting Spirits – Jay and Kyle Rogers Support Fund" can be sent to CFSB Bank, P.O. Box 467, Benton, Ky., 42025. In addition, the KDA has added an online donation form to the association's web site.
"Jay and Kyle are doing better, but they still have a long way to go," Gregory said. "Please keep them in your prayers, and remember Silver Trail Founder and Master Distiller Spencer Balentine and his family during this difficult time." Valentine founded the distillery in 2011 to continue his family's tradition of making moonshine in Western Kentucky, and Silver Trail was one of the original members of the KDA's Kentucky Bourbon Trail Craft Tour for the state's craft distilleries. Many of those distilleries are working to coordinate tastings and other fundraisers for the support fund, and a benefit will be held at The Rickhouse in Bardstown on May 8. In addition, whiskey writer Fred Minnick is working on a book signing with other whiskey authors to raise money for the fund.
Editor's note: This story was updated to show that online donations are now being accepted at the KDA web site.
Links: Kentucky Distillers Association | Silver Trail Distillery 
---
April 27, 2015 – Vijay Mallya is fighting demands from the Diageo-controlled board of United Spirits, the Indian-based spirits company he built into one of the world's largest, that he resign over alleged financial improprieties. The demand came over the weekend at an emergency board meeting in Mumbai, according to several news organizations.
Diageo's move came after reviewing an audit report by PricewaterhouseCoopers. That report claims company funds were diverted between 2010 and 2012 to prop up the now-bankrupt Kingfisher Airlines and other Mallya-controlled companies before Diageo bought a controlling stake in United Spirits from Mallya in 2012. The demand that Mallya resign as chairman came days after the company's chief financial officer resigned in the wake of the audit report.
Mallya denied any improper actions in a statement released to the Financial Times and other media outlets, noting that all of the transactions complied with Indian law and were not only approved by the United Spirits board at the time, but were also accounted for in the company's financial statements reviewed by Diageo before its acquisition. Diageo ordered the audit after United Spirits repeatedly delayed reporting its results for the fourth quarter of 2014 several times over questions about a $225 million (USD) loan from the company to UB Holdings, Mallya's holding company for Kingfisher Airlines, United Spirits, United Breweries, and other enterprises.
Under the original 2012 deal in which Mallya sold control of a 28% stake in United Spirits to Diageo, he retained the right to serve as the company's chairman while agreeing to vote his shares at Diageo's direction. Diageo later acquired enough shares on the open market to control 55%, and has put new accounting measures in place at United Spirits. Analysts say Diageo could remove Mallya from the board under Indian law by putting the move to a shareholder vote, but Mallya is likely to contest such a move in court. The company's web site still features Mallya prominently on its home page for now.
Links: United Spirits
---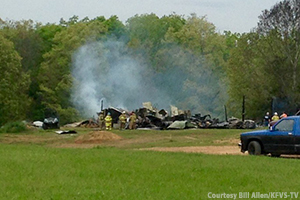 April 25, 2015 – Two distillers from Kentucky's Silver Trail Distillery are in critical condition at Vanderbilt University Medical Center in Nashville following an explosion and fire at the distillery Friday morning. Jay Rogers and his cousin, Kyle Rogers, were taken by helicopter to the hospital's burn center with what are described as serious injuries on the Silver Trail Facebook page. Silver Trail owner Spencer Balentine and his wife live in a house adjacent to the Hardin distillery, but escaped injury.
"Quite frankly, I think they're lucky to be alive," said Kentucky Distillers Association president Eric Gregory in a telephone interview. Gregory rushed to Hardin after the explosion to be with the Balentines. "The doors to the distillery were open, two big doors, and they were blown through those doors about 25-30 feet, and if those doors were closed, I think we'd had a much worse situaton…it's really just a horrible accident."
"Spencer Balentine is one of the true gentlemen in our industry…and he is distraught, and even more worried about his workers and his friends. When we asked yesterday what we can do, the first thing he said was 'I want you to pray for my guys.'"
"I just heard a big old boom and I ran outside and it was huge," neighbor Victoria Wallace told KFVS-TV. Investigators are still trying to determine the exact cause of the explosion, but Marshall County emergency management director Frank Murphy told Reuters that the two men were checking on a distilling run that had been going for about five hours when the explosion occurred as they opened the door. Firefighters from four area departments responded to the scene, but the building was completely destroyed in the fire.
Balentine opened Silver Trail in 2011, and made LBL Moonshine using his family's original recipe for the illegal moonshine his father ran in the 1950's. During Episode 388 of WhiskyCast in September 2012, he said the still he was using at the time was handed down through his family as well. Gregory said that still was not the one being used Friday at the time of the explosion, but involved a newer still Balentine had purchased since the 2012 interview. Silver Trail is a member of the Kentucky Distillers Association, and the distillery is an original member of the KDA's Kentucky Bourbon Trail Craft Tour.
40-year-old Jay Rogers had been working at Silver Trail for the last couple of years, while his 26-year-old cousin Kyle Rogers had just joined the distillery as an apprentice several years ago. An account has been established at Community Financial Services Bank in Paducah to help with their medical expenses, and a benefit is being planned at The Rickhouse in Bardstown on May 8.
This story will be updated as more information becomes available.
Editor's note: This story was updated with additional information on the explosion and the victims.
Links: Silver Trail Distillery
---