Each week, we bring you the latest whisky news on WhiskyCast, but a lot can happen during the week. Now, you can keep up with whisky news as it happens here on WhiskyCast.com!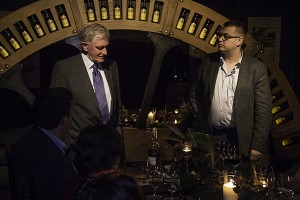 October 24, 2014 – 2014 marks two milestones for the Midleton Very Rare range from Irish Distillers: the 30th anniversary of the very first edition released in 1984 and the first release for Brian Nation as the Master Distiller for Irish Distillers following Barry Crockett's retirement in 2013. Crockett now holds the title of Master Distiller Emeritus, and briefly came out of retirement to team up with Nation to create the most exclusive (and expensive) whiskey ever produced by Irish Distillers, the Midleton Very Rare 30th Anniversary Pearl Edition.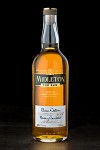 Just 117 bottles were produced, with a recommended retail price of €6,000 ($7,600 USD), with availability limited to retailers in Ireland, the UK, France, Germany, and China. 
Crockett and Nation blended the Pearl from two casks: a 1984 pot still whiskey cask and a 1981 grain whiskey cask that was filled during Crockett's first year as Master Distiller. "I have finished my part of the movement in terms of the overall symphony," Crockett said during an interview at Midleton Distillery during the unveiling of the Pearl. "Brian has taken over, and I think it's very nice to see, as it were, ending and a new phase developing under Brian's mastership." Crockett created the original Midleton Very Rare range in 1984 following a decision by the board of Irish Distillers to revive the Midleton name, which had not been used on a whiskey since the company centered production at the new Midleton distillery in 1975.
Listen to Mark Gillespie's entire interview with Barry Crockett:

While the US market will not be getting the Pearl Edition, Nation confirmed reports that Yellow Spot, another one of the single pot still Irish whiskies from Midleton, will be available in the US starting in January. Yellow Spot was reintroduced in 2012 after the original Mitchell & Sons blend disappeared from the Irish market years earlier, and stems from the days when the Mitchell family blended casks of whiskies from the various distilleries in Dublin and marked them with a spot of paint to denote the recipe before sending them on to pubs and grocers around Ireland.
Brian Nation discusses Pearl and Yellow Spot in this interview with Mark Gillespie:

US pricing for Yellow Spot has not been announced. For more details on the history of Yellow Spot, listen to our interview with Kevin O'Gorman of Irish Distillers in Episode 371 of WhiskyCast.
---
October 21, 2014 – The global boom in Bourbon sales has turned Kentucky's Bourbon industry into one of the Commonwealth's leading economic engines, according to a new University of Louisville Urban Studies Institute economic impact study. The study was commissioned by the Kentucky Distillers Association, which released the findings at a news conference today in Frankfort at Beam Suntory's new 600,000 square foot warehousing and logistics center scheduled to open in early 2015.
"It's a great success story for Kentucky," said KDA President Eric Gregory in a telephone interview. "The surge in Bourbon unfortunately coincided with the economic downturn, and at a time when the rest of the state was losing 28 to 29 percent of its work force, Bourbon was actually up 21 percent, and as one of our speakers said today, Bourbon helped cushion the blow." The report found a 77% increase in distillery-related employment since the last study in 2012, with more than 15,000 people working in industry-related jobs. The industry's overall impact on Kentucky's gross state product grew 67%, from $1.8 billion in the 2012 study to $3 billion in 2014.
Listen to Mark Gillespie's entire interview with Eric Gregory:

The number of licensed distillers has jumped from 10 in 2012 to 31 now, with much of that growth coming from the craft distilling sector. The study found approximately 127 jobs have been created by craft distillers so far with an annual payroll of more than $4 million, and estimates new capital investment in craft distilleries of up to $30 million over the next five years. That's a pittance compared to the $630 million currently planned in capital projects during the same period by the state's larger distilleries following the passage earlier this year of an income tax credit for distillers to offset the "ad valorem" taxes they pay to local governments and school districts on maturing barrels of whisky. Distillers are required to reinvest that money in new capital projects within Kentucky to be able to claim the credits.
The study also examined the industry's role on Kentucky farmers for the first time. 40% of the grain used by the state's distilleries comes from Kentucky farmers, with a $60 million economic impact. That could grow to 80%, as distillers would like to source more grain locally assuming that price and quality are the same as out-of-state suppliers. In addition, the report found a sharp increase in tourism-related spending from visitors to the state's distilleries, with a 43% increase in Kentucky Bourbon Trail visitors since 2012.
The entire report is available to review online.
Links: Kentucky Distillers Association | University of Louisville Urban Studies Institute
---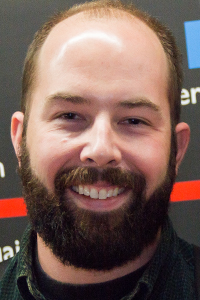 October 20, 2014 – With a gag order banning him from speaking publicly about the legal battle for control of Balcones Distilling lifted, Balcones founder Chip Tate is comparing the battle to an ugly divorce and predicts a buyout of one side by the other is inevitable. Tate remains under a restraining order issued August 22 by Texas 170th District Court Judge Jim Meyer banning him from the Balcones facilities or communicating with distillery employees, but part of the order banning him from speaking to the media or members of the public about the case has been lifted as the dispute heads for mediation.
Tate was suspended by the distillery's majority investors in August for what was termed in court filings as "actions detrimental to the distillery", including skipping board meetings and allegedly threatening to shoot Balcones chairman Greg Allen. While under the gag order, Tate could only respond in court filings. Today, he told WhiskyCast's Mark Gillespie in a wide-ranging telephone interview that not being able to defend himself against those allegations was "extremely frustrating." "I just had to wait it out and hope that people would realize how dubious it is to make such incredibly strong claims against someone on one hand and then restrain them from being able to comment on the other, " Tate said. He called last week's move by Balcones to relax the gag order and propose mediation a "pleasant surprise".
Listen to Mark Gillespie's entire interview with Chip Tate:

A contempt of court finding issued by Judge Meyer earlier this month stemmed from the distillery's claim that Tate did not return a Balcones-owned computer, hard drive, and mobile phone promptly as required by the restraining order. However, a hearing set for Wednesday at which Judge Meyer wanted to hear more testimony on the claim and possibly sentence Tate has been cancelled. Instead, a hearing will be held November 6 on whether the majority investors violated the company's bylaws by suspending Tate and a separate hearing will be held November 20 on whether to turn the temporary restraining order into a longer-lasting injunction.
The current restraining order is scheduled to expire around November 22, but Tate doesn't see any scenario in which he returns to the distillery under the current ownership structure. He holds a 27% stake in the company, while Michael Rockafellow and the 29 members of PE Investors II LLC hold the remaining 73%. However, the company bylaws require that Tate be present at any board meeting for decisions to be binding. Tate said he stopped attending the meetings when the other investors started ignoring the system of checks and balances set up in the bylaws. "They couldn't do certain things without my permission, and I couldn't do certain things without theirs," he said. "When those started to be exercised, I guess they didn't like what the operating agreement said any more."
Tate predicted that either he will be bought out of his ownership stake by the majority investors and be released from a non-compete agreement, or that he will find new investors and buy out the Oklahoma City-based group. He noted that even after Balcones Chairman Greg Allen brought sheriff's deputies to the distillery on August 5 to remove him from the premises, Allen offered a proposal to let Tate buy his group out.
In the weeks since the restraining order was issued, Tate has received widespread support on social media, and a grassroots campaign to raise funds for his legal bills raised more than $1,000 in the first five days. "I can't say how incredibly edifying and heartwarming it is," he said. "That's just been huge…that makes you understand that your love of the product, of the process, everything else, is appreciated by others, and that's a big part of why I do what I do. Thank you to everyone who's been out there doing that…I just can't say that enough."
In response to our request for a response to Tate's comments, Balcones provided a statement from director and investor Michael Rockafellow, who is not part of the Oklahoma City-based investment group, but was one of the early investors in Balcones. Rockafellow owns 15% of the company, while PE Investors II LLC owns 58%.
"All of us at Balcones Distilling understand and appreciate the interest in the recent litigation activity; however, we believe that it is not appropriate or fair at the current time to discuss the pending case beyond referring to details that are readily available in public filings and court rulings. After Judge Myers held Chip in contempt of court for violating the Court's TRO, we agreed to pursue mediation as a next step in the process. At the same time, we also agreed to narrow some of the TRO restrictions imposed on Chip in return for his agreement to abide by some other restrictions as part of an attempt to move forward."
The entire statement is available to read here at WhiskyCast.com, but did not address what the "other restrictions" are.
This story will be updated as necessary.
Editor's note: This story was updated to include a statement from Balcones, along with clarification on the ownership structure of the distillery based on information provided by Balcones Distilling.
---
October 19, 2014 – There are new developments in the ongoing dispute between Balcones Distilling founder Chip Tate and the Oklahoma City-based investor group that holds a majority stake in the Waco, Texas craft distillery. A hearing scheduled for this Wednesday (October 22) in which Tate was scheduled to be sentenced after being held in contempt of court for violating an August restraining order appears to have been taken off the docket of 170th District Court Judge Jim Meyer. Meyer ruled earlier this month that Tate was in contempt of court for not promptly returning a Balcones-owned computer, hard drive, and mobile phone after he was suspended in August.
The Waco Tribune and Whisky Advocate are both reporting that terms of the restraining order blocking Tate from speaking to reporters about the case have been relaxed, with Tate now able to discuss at least part of the case publicly. However, Tate is still not allowed to enter the Balcones facilities or communicate with employees, and his absence was conspicuous at a Balcones open house to show off plans for a new $15 million downtown Waco distillery last Tuesday.
Tate told Whisky Advocate's Fred Minnick that the dispute is headed for mediation, while the Tribune reports that two hearings have been scheduled for next month in Judge Meyer's court. Meyer will hear arguments November 6 on whether the Balcones majority owners properly followed the company's bylaws when they suspended Tate, and a November 20 hearing is scheduled on the distillery's request to turn the temporary restraining order into a longer-lasting injunction. The 90-say suspension is scheduled to end around November 22, but Tate compared the dispute to a divorce in interviews with Minnick and the Tribune, saying that "either they're going to buy me out and let me have my freedom…or they get bought out." Tate's 2013 agreement with PE Investors II LLC left him with a 27% ownership stake in Balcones and a three-year non-compete agreement.
So far, a grassroots online campaign to raise money to help pay Tate's legal bills has raised $1,340 in its first five days, with a goal of raising $100,000. The #ISupportChipTate fund has pledged to use all donations to help pay Tate's legal fees, with any remaining funds going to either help Tate buy out the majority investors or start a new distillery.
Monday afternoon, WhiskyCast's Mark Gillespie spoke extensively by phone with Chip Tate. The entire interview is now  available at WhiskyCast.com. We are still waiting for a response from a spokesman for Balcones. This story will be updated as more details are available.
Editor's note: Both the Waco Tribune and Whisky Advocate stories were published after this week's episode of WhiskyCast was produced on October 18. We plan to have a complete update in the next episode of WhiskyCast October 25. This story was edited to reflect that one of the court hearings is scheduled for November 6 instead of 7 as originally reported, and that we will be publishing an interview with Chip Tate soon. 
Links: Balcones Distilling
---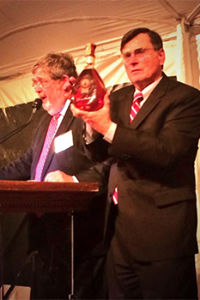 October 14, 2014 – A rare bottle of George Washington's Whiskey signed by former President Bill Clinton sold for $32,000 tonight at the annual "Spirit of Mount Vernon" gala sponsored by the Distilled Spirits Council of the United States. The bottle was #11 of 24 created when a group of master distillers gathered in 2003 at the restored George Washington's Distillery at Mount Vernon to produce a rye whiskey using the original recipe found in the mansion's archives. The whiskey was bottled three years later, with proceeds from the bottles that have been auctioned since going to charity. This year's auction raised more than $450,o0o, with $400,000 to benefit Mount Vernon's educational programs and $50,000 to benefit Wounded Warriors Family Support.
The Clinton bottle was one of only two signed by former Presidents that have been auctioned so far. In 2007, a bottle signed by George H.W. Bush brought a winning bid of $35,ooo at the Spirit of Mount Vernon gala. The winning bidder's name has not been released.
This was the 13th annual Spirit of Mount Vernon gala, continuing a partnership that began in 2000 when DISCUS members agreed to fund the reconstruction of Washington's original distillery, which was in use from 1797 to 1814 and was one of the largest whisky distilleries in the original 13 states. The annual events have raised more than $3.2 million to benefit Mount Vernon's educational programs and other charities.
Editor's note: This story was updated with additional information on the proceeds of the charity and the history of George Washington's Distillery at Mount Vernon. 
Links: Distilled Spirits Council of the United States | George Washington's Distillery | Mount Vernon
---
October 14, 2014 – Campari's Glen Grant Distillery in Speyside will be releasing a new 50-year-old single malt later this month in London. Longtime distillery manager Dennis Malcolm is scheduled to introduce the new expression at a public tasting hosted by The Whisky Exchange at Vinopolis on October 27. Malcolm selected a single sherry cask filled in October of 1963 for the bottling, which will carry a recommended retail price of £8,850 ($14,100 USD). Tickets for the tasting are available through The Whisky Exchange. 150 Glencairn crystal decanters with 18-karat gold trim are available worldwide, with 25 to be available in the US at a recommended retail retail price of $15,000 USD.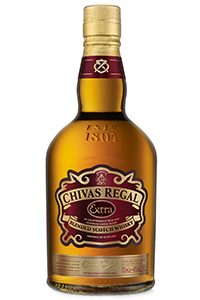 Chivas Brothers has announced plans for the first new version of Chivas Regal since the 25-year-old version of its blended Scotch was introduced in 2007. Chivas Regal Extra is blended with a high percentage of whiskies matured in ex-Oloroso Sherry casks, and was created by Master Blender Colin Scott as a tribute to the original Chivas Brothers, James and John Chivas, who started blending whiskies at their Aberdeen grocery store in the 1850's. The whisky carries no age statement, and will be available in select markets starting this month and at global travel retail outlets starting next March. Pricing and initial market availability have not been specified.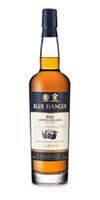 London-based Berry Bros. & Rudd has released two editions of its flagship Blue Hanger blended malt Scotch whisky. The 10th edition is available in the US market exclusively, while the 11th edition is available in the UK and other global markets. Both editions were created by Berry Bros. & Rudd Master Blender Doug McIvor, who told WhiskyCast's Mark Gillespie that demand has forced Berry Bros. to produce two annual editions of Blue Hanger.
"Rest assured it's the same quality ethos that we've always had for Blue Hanger, which is just using the best casks we have in our inventory at any given time that will work best together," McIvor said. The 10th edition carries a recommended retail price of $99.99 (USD), while the 11th edition is priced at £90 GBP ($143 USD). Both are bottled at 46.5% ABV.
Editor's note: This story was updated with additional information on the Glen Grant 50-year-old single malt provided by Campari America. 
Links: Glen Grant | Chivas Regal | Berry Bros. & Rudd
---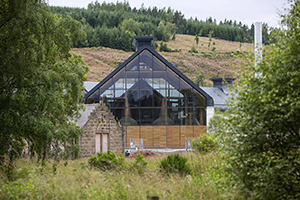 October 13, 2014 – Chivas Brothers has announced the name for its newest malt whisky distillery in Speyside, which has began production operations on the site of the former Imperial Distillery in Carron. The distillery will carry the name Dalmunach, which comes from the traditional name of a pool in the River Spey near the distillery site. Chivas Brothers executives never considered keeping the Imperial name for the new distillery, which was demolished in 2012 after being mothballed in 1998. It is the 14th malt distillery in the Chivas Brothers Scotch whisky portfolio, second only in size to Diageo's 28 malt distilleries.
As we reported in Episode 499 of WhiskyCast, the first mashing took place on September 30, with the first still runs taking place last week. Dalmunach will be capable of producing 10 million liters of spirit annually when it reaches full production, with all of the output intended for use in Chivas Regal, Ballantine's, and other Chivas Brothers blends.
While Dalmunach will be visible to hikers along the Speyside Way trail, it will not be open to the public for tours. The project took two years to complete with a number of local contractors, and created eight permanent jobs. It also marks the completion of a career for Douglas Cruickshank, who stepped down as Production Director for Chivas Brothers last year to manage the Dalmunach project. Cruickshank began his career at Imperial at the age of 15, and is preparing to retire later this year.
Links: Chivas Brothers
---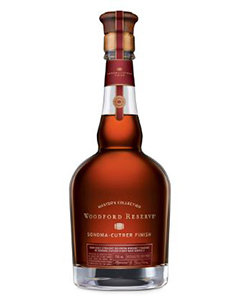 October 12, 2014 – For the second time, Brown-Forman's Woodford Reserve Distillery and Sonoma-Cutrer Vineyards have teamed up on a Woodford Reserve Master's Collection release. The eighth annual edition of the Master's Collection uses Sonoma-Cutrer's Pinot Noir red wine casks to add a final touch to Woodford Reserve's Bourbon. In 2007, the Woodford Reserve Master's Collection release used Chardonnay white wine casks from Sonoma-Cutrer.
In a news release, the whiskey was described as a collaboration between Woodford Reserve Master Distiller Chris Morris and Sonoma-Cutrer Winemaking Director Mick Schroeter. Morris said "our Master's Collection has long been a favorite of mine to produce, as it gives me the chance to focus on and experiment with our five sources of flavor, one of the core attributes of Woodford Reserve. The Sonoma-Cutrer Pinot Noir Finish allowed me to partner with Mick to develop a product that is particularly exciting, both for fans of Woodford Reserve and Sonoma-Cutrer."
The whiskey will be available starting in November at retailers in the US and select international markets, with a recommended retail price of $90 USD per 750ml bottle. Pricing for markets requiring 700ml bottles was not announced.
In addition, Brown-Forman has announced that the Woodford Reserve Double Oaked Bourbon will be available in the UK, with allocations limited to on-premise bar and restaurant accounts for now. There are currently no plans to make the expression available to retailers.
Links: Woodford Reserve | Sonoma-Cutrer
---
October 11, 2014 – Embattled Balcones Distilling founder and head distiller Chip Tate is scheduled to be sentenced on October 22 after being found in contempt of court for violating a temporary restraining order issued by 170th District Court Judge Jim Meyer banning him from any involvement in the distillery's affairs. The ruling came during an October 3 hearing in Waco, Texas, where the majority owners in Balcones Distilling are seeking to enforce a 90-day suspension against Tate issued in August following a series of disputes between Tate and Balcones chairman Greg Allen. The sentencing hearing was originally set for October 7, but was postponed until October 22 according to a court clerk. Judge Meyer is also expected to rule on whether the temporary restraining order should be expanded into a temporary injunction.
The Waco Tribune reports Meyer's contempt ruling was based on testimony that Tate did not return a computer, hard drive, and mobile phone immediately to Balcones as mandated in the restraining order issued August 22. A forensics expert hired by the distillery testified that Tate deleted files from the devices before returning them, but could not testify under cross-examination whether those files were personal or business-related. Neither Tate nor his attorney, David Clouston, have responded to our requests for information on the contempt hearing.
The contempt ruling was not linked to comments Tate has made on social media, including a Twitter post September 16 to WhiskyCast responding to our story on a Balcones statement regarding the case. The post was deleted within minutes after WhiskyCast's Mark Gillespie warned Tate that his comment might violate terms of the restraining order banning him from communicating with media and the public on the case. During the October 3 hearing, Judge Meyer warned Tate that his social media activity was walking a "fine line", according to the Waco Tribune report, which cited Tate's posts in response to suggestions by his supporters that they organize a boycott of Balcones whiskies until Tate is allowed to return to work. Tate testified that his activity on social media has been limited to responding to questions about the case by referring people to news sources that present both sides of the case.
Tate testified that he is still being paid by the distillery, but insisted that the majority investors "have effectively fired me" by banning him from entering the facility or communicating with employees. Tate holds a 27% interest in the distillery after selling a majority stake last year with a previous investor to the Oklahoma City-based private equity group led by Greg Allen in order to finance a $10 million project to convert a historic Waco warehouse into a new distillery. The investors claim Tate has hurt the expansion project by his failure to appear at board meetings, and have been forced to raise additional funds to cover the now-estimated $15 million dollar cost of the expansion. Tate's court filings have accused the Allen-led group of trying to mount a hostile takeover of the distillery by diluting Tate's share without his consent, and cite the company's bylaws and his employment agreement that state Tate must be present at any board meeting in order for a quorum at which binding actions may be taken.
This story will be updated with additional information as necessary.
Editor's note: This story was updated to include that neither Tate nor his attorney have responded to our requests for information on the October 7 hearing. Court filings in civil cases only present one side of a story, and should be taken at face value. 
---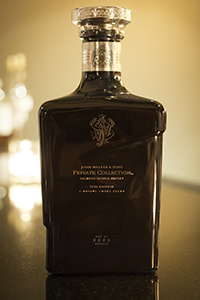 October 10, 2014 – Diageo has has released the latest in a series of high-end John Walker & Sons blended Scotch whiskies, with the US arrival of the John Walker & Sons 2014 Private Collection series. 8,888 decanters will be available worldwide, with a recommended retail price of $850 each, placing the Private Collection price-wise between the King George V edition of Johnnie Walker Blue Label and the John Walker & Sons Odyssey edition released last year.
The initial release in what will become an annual series comes from a group of unusual casks blended and set aside by Johnnie Walker master blender Dr. Jim Beveridge years ago with no definitive plans in mind for them. During a media tasting Thursday night in New York, Diageo's Ewan Morgan explained Beveridge's experiment with blending a group of malts from a variety of casks into a set of "re-juvenated" ex-Bourbon casks that had been re-charred for an undisclosed period of time. Eventually, the whisky was transferred to older "holding casks" that would have a minimal impact on the blend until Beveridge was ready to use it. Those casks were then blended with grain whiskies aged originally in first-fill ex-Bourbon casks and later in European Oak, along with smokier malts presumed to come from Caol Ila and Lagavulin.
The final blend was bottled at 46.8% ABV, and will be available at whisky specialist retailers.
In addition, Diageo's annual Classic Malts Special Releases series of single malts from a selection of the company's 28 malt whisky distilleries is working its way to retailers. The 2014 lineup includes the traditional bottlings from Port Ellen and Brora (both 35-year-old whiskies distilled in 1978), a 38-year-old Singleton of Glendullan from 1975, and a 30-year-old Caol Ila from 1983. The more esoteric expressions in this year's lineup include rare bottlings from Strathmill and Benrinnes, along with the unusual Clynelish Select Reserve. This expression carries no age statement, but was blended by Beverage from casks at least 15 years old.
Listen to Mark Gillespie's interview with Diageo's Colin Dunn

Pricing ranges from £80 GBP ($128.50 USD) for a cask-strength Lagavulin 12-year-old to £2,200 GBP ($3,534 USD) for the Port Ellen expression, which will have 2,964 bottles available worldwide. Availability for the 11 expressions in the series will differ by market.
Links: Johnnie Walker | Classic Malts 
---