Each week, we bring you the latest whisky news on WhiskyCast, but a lot can happen during the week. Now, you can keep up with whisky news as it happens here on WhiskyCast.com!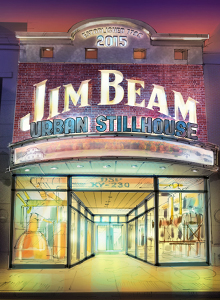 December 10, 2014 – Louisville is cementing its status as Bourbon's tourism center, as Beam Suntory committed today to build a new $5.2 million Jim Beam Urban Stillhouse visitor attraction in the Fourth Street Live entertainment district. The announcement follows a vote by the Kentucky Tourism Finance Development Authority for preliminary approval of $1.3 million in tax incentives for the project, with final approval expected later this year after a final review of expected tourism impact. The project will also be eligible for tax credits under a new state law allowing distillers to claim a credit for the taxes they pay on barrels of maturing whiskey against their state income taxes, as long as they reinvest the money on capital projects within Kentucky.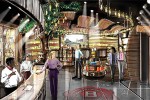 The Urban Stillhouse will be modeled on Beam's American Stillhouse at the distillery in Clermont, and will include a small-scale craft distillery similar to the one on the tour in Clermont, along with a hand-bottling line for guests, tasting room, and gift shop. It will take up space on the ground floor of Beam Suntory's Fourth Street offices in what was previously a Borders bookstore, and becomes the latest Bourbon-related visitor attraction in downtown Louisville. Similar projects include the Evan Williams Bourbon Experience and the planned Michter's attraction on West Main Street, along with Brown-Forman's planned Old Forester Distillery and the Louisville Distilling Company (Angel's Envy) distillery to be built at the eastern end of Main Street.
According to the Louisville Courier-Journal, the authority also gave preliminary approval to an incentive package worth $1.7 million for a project to restore the Old Taylor Distillery in Woodford County near Versailles. Peristyle LLC has started work on a $6.8 million project to turn the historic site into a craft distillery.
Links: Jim Beam
---
December 10, 2014 – For the first time in the company's history, one of Heaven Hill's master distillers will not have the last name of Beam. The company has named Bernheim Distillery manager Denny Potter to the post of co-Master Distiller alongside Craig Beam, who has been serving as Master Distiller since his father, Parker Beam, stepped aside earlier this year for health reasons. Craig and Parker Beam had been co-Master Distillers for the last several years, while Parker inherited the title from his father Earl in 1975.
In a news release, Heaven Hill president Max Shapira praised the Louisville native's contributions since joining the company.
"His knowledge of Bourbon production and aging—and his ability to teach and relate these subjects to the trade and consumers—make him an ideal person to help carry forth Heaven Hill's leadership position and reputation into the future. Denny is grounded in the traditions of our company and industry yet has a keen eye for innovation and emerging trends."
Potter joined Heaven Hill last year after 12 years of service at Beam, where he worked his way up to assistant distillery manager at Maker's Mark before taking up the manager's role at Beam's Cruzan Rum distillery in the Virgin Islands. He wound up his Beam career as general manager of the company's production facility in Frankfort, Kentucky. While at Maker's Mark, Potter was instrumental in designing and implementing an anaerobic processing facility that turns the distillery's waste products into methane gas for use in the distillery's boilers.
Links: Heaven Hill
---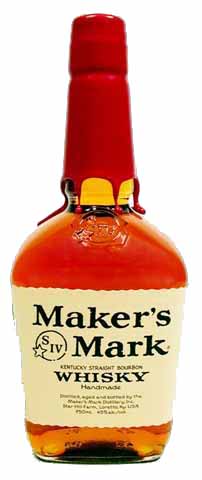 December 9, 2014 – Another lawsuit has been filed challenging the authenticity of whiskies claimed to be "handmade", this one in California against Beam Suntory's Maker's Mark Bourbon. Safora Nowruzi and Travis Williams are the lead plaintiffs in a class-action lawsuit filed December 5 in U.S. District Court in San Diego seeking more than $5 million in damages. The lawsuit alleges Maker's Mark violates California consumer protection laws by claiming to be "handmade", even though all of the equipment used in the Loretto, Kentucky distillery is mechanized.
In an email to WhiskyCast, Beam Suntory spokesman Clarkson Hine declined to comment on the specifics of the lawsuit.
"This claim is without merit, we will defend this case vigorously and we are confident that we will prevail. Beyond that, as a matter of company policy, we don't comment on the details of matters in litigation."
The lawsuit seeks to have all California residents who purchased bottles of Maker's Mark over the past four years certified as members of the class of plaintiffs in the case. Beam Suntory's attorneys have not responded to the initial filing, and as in all civil cases, are given a period of time to file their response with the court.
The lawsuit is the sixth filed this year against spirits producers accused of misleading consumers by claiming to be handmade. In September, Templeton Rye was sued in a Chicago court for not disclosing on its labels that its whiskey is distilled at MGP-I's distillery in Lawrenceburg, Indiana, and not at the company's small Iowa facility. Texas-based Fifth Generation Inc. faces at least four lawsuits in California, Florida, Illinois, and New Jersey over claims that its Tito's Handmade Vodka is not handmade, but produced in a large-scale commercial distillery.
Editor's note: The complaint against Maker's Mark is available to review here. Note that in civil cases, court filings are drafted to present the best case possible for that side's arguments, and unlike sworn testimony in depositions or a trial, are not filed under oath as to their accuracy. 
Links: Maker's Mark
---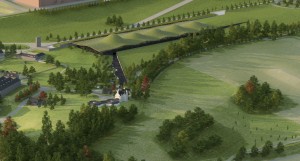 December 6, 2014 – Construction work has started on Edrington's new Macallan Distillery near Craigellachie, Scotland. Edrington chairman Ian Curle presided over a groundbreaking ceremony Monday for the £100 million ($168 million USD) project scheduled for completion in 2017.
The new distillery and visitors center will be built alongside the current Macallan distillery, which will be mothballed once the new distillery comes on line and kept in reserve for future use if needed. London-based architects Rogers, Stirk, Harbour and Partners designed the new complex, with much of the facility to be located below ground level and covered with hills to mimic the surrounding landscape. 
"We're well on track…it's hugely exciting," said Edrington director of malts Ken Grier during an interview Wednesday night in New York City. "The great thing about is the whisky will be just as good, if not better, than it always was…all the work we've done has been put in place to preserve the fine quality that we have, but we're going to have a site that will be the envy of everyone in the world."
The new distillery will be capable of producing 15 million liters of spirit annually, compared to 9.5 million for the current distillery.
Links: The Macallan | Edrington
---
Editor's note: We have produced a special bonus episode of WhiskyCast this week including the complete interviews with Chip Tate and Greg Allen.
December 6, 2014 – Chip Tate will not return to Balcones Distilling, the Waco, Texas craft distillery he founded and built from the ground up under a freeway bridge into a series of award-winning whiskies. Tate had been scheduled to return to work Friday after a judge ruled in his favor in a dispute with the distillery's majority owners, who had suspended Tate in August and obtained a restraining order banning him from the distillery or contacting its employees. However, Tate agreed to accept a buyout offer for an undisclosed amount Wednesday covering his 27 percent ownership stake in the distillery and has left the company with plans to build a new distillery of his own.
Whether Tate left voluntarily or was fired by the owners remains a bitter subject for both sides. In separate interviews with WhiskyCast's Mark Gillespie Friday, Balcones board chairman Greg Allen said the owners fired Tate for cause, while Tate insisted he resigned voluntarily. "This is kind of (like) talking to your girlfriend or whatever and saying I'm kind of wondering about our future…and it's 'you can't break up with me, I break up with you first," he said. According to Tate, it would be reasonable to assume that his plan to return to Balcones December 5 helped accelerate the buyout discussions, but Allen denied that the timing was the impetus for the settlement. "In any kind of situation like this, enough things come together and it becomes time," he said. "There have been a lot of things that have gone back and forth, different ideas that have gone back and forth…and it seemed to come together last week, and Tuesday was the day."
The settlement includes a 16-month non-compete clause banning Tate from distilling any spirits similar to those produced by Balcones during his tenure until March 5, 2016. However, Tate is already looking at sites near his Waco home for what will be called the Tate & Co. Distillery. "Part of it is just to keep it simple, and part of it is to avoid any confusion in the future about who's going to be working there for a long time," he laughed. Tate plans to produce "brown spirits" while his non-compete clause is effective, while not being specific about exactly what type of spirits he will produce. However, he plans to start distilling whisky as soon as the settlement agreement allows. "I'm glad to be in a liberated state, free to focus on more positive things…I'm ready to get back to actually making stuff."
Allen is also ready to move on, now that the management situation has been cleared up. While there have been anti-Balcones protests on various social media platforms since Tate was suspended in August, Allen says sales have grown over that period. "It's the same team, same process, same product…we're just going to keep doing what we do. I respect the way people feel, but the reality is October was the biggest sales month we've ever had," he said.
Planning work continues on the new $15 million Balcones distillery to be built in a historic Waco warehouse facility, and Jared Himstedt's place is secure as the head distiller at Balcones. Himstedt had been working with Tate since the distillery opened, but sided with the distillery's majority owners when they took action against Tate in July and August over actions they considered detrimental to the company. While Tate did not name names in our November 26 interview in which he said he planned to "set things right" when he returned to Balcones on December 5, he did say "some responsibilities would be reassigned", and it is likely that Himstedt would have been one of the first employees to be affected.
Tate continues to deny the allegations raised by Balcones in its court filings that he threatened Allen's life, along with a threat to burn the distillery down, and criticized Balcones for releasing a series of affidavits and memos from Allen and distillery employees this week outlining more specific accusations. Tate called the allegations "slander", and claims the settlement would still allow him to take legal action against Balcones and its employees since the documents were released after the settlement was signed. Those documents were provided to WhiskyCast Thursday before the interviews with Tate and Allen, and while our interview with Allen addressed the reason for releasing the documents, Allen clarified his comments in a follow-up email.
There were two reasons for providing so much detailed written information to you on Thursday. First, although we had received requests from you and many others about "what happened" at Balcones in the months leading up to the August restraining order, we did not think it was appropriate for Balcones or its employees to talk about anything other than the specific legal questions until the lawsuit was resolved. Now that we have settled, this information release on Thursday was our answer to the question of  "what happened" that has been asked of us so often over the past 120 days. Second, as the material we provided to you shows, much of what has been previously represented is simply not accurate. Some of these misrepresentations are meaningless, however some are important to the Company and are quite personal to the people who work at Balcones and rely on the Company for their livelihood. Since we have access to the actual emails, the texts, the eyewitness testimony that is supported by sworn affidavits, and the tape recordings of specific meetings —  and since none of these items were ever part of Balcones' court filings — we were confident that people interested in an accurate story would appreciate the opportunity to see these facts.
In our interview, Tate also accused Allen of reneging on an agreement to allow him to take several barrels of maturing whiskey from Balcones that he had laid down for his children after their births. Allen denied any knowledge of the agreement, calling the claim "Textbook Chip," but said the company would be willing to discuss allowing Tate to acquire some maturing whiskey after a 90-day period following the settlement.
Editor's note: Balcones has provided WhiskyCast with a copy of the settlement agreement, which is available to view here. We will not post copies of the affidavits and memos provided by Balcones on Thursday outlining allegations against Tate, since they were not filed with the court as part of the lawsuit seeking the restraining order and are not part of the public record, and therefore Tate has not been able to respond to the accusations as part of a legal proceeding. This is consistent with our practice throughout the Balcones dispute of only posting documents filed with the court. 
Links: Balcones Distilling
---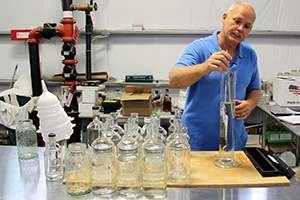 December 5, 2014 – Steve and Paul Beam started Limestone Branch Distillery in 2011 with the goal of reclaiming their family's distilling heritage. The Beams trace their lineage back seven generations to Jacob Beam on one side of the family and four generations to J.W. Dant on the other, though their more recent ancestors stopped distilling whiskey when Prohibition took effect. As part of that goal, they went looking for the rights to one of the Dant family's contributions to Bourbon history, and wound up with a new business partner and significant capital to expand Limestone Branch. The family created Yellowstone Bourbon in 1872, and the Beams contacted St. Louis-based Luxco, which acquired the Yellowstone brand in 1993.
"It's (Yellowstone) been closely associated with my family," Steve Beam said in a telephone interview. "I contacted Luxco in regards to that brand, one thing led to another, and we decided it would work out best to go in a partnership." Luxco has taken a 50 percent stake in Limestone Branch for an undisclosed amount, and the Beams will start producing Yellowstone at Limestone Branch in 2015.
Listen to Mark Gillespie's interview with Steve Beam:

In addition, Luxco will become Limestone Branch's sales and distribution arm for its T.J. Pottinger Sugar Shine and other products produced by the Beams. In a news release, Luxco chairman Donn Lux said his team had been looking for a way to enter the craft Bourbon market when the Beams came calling.
"We have been striving for some time to enter the craft bourbon market with a truly authentic story and product. After spending time with Steve and Paul, it became evident to me that their family and their company is the perfect partner for my family and Luxco. We have a shared vision, not only of the Yellowstone brand, but of the business in its entirety."
Steve Beam will remain as president and master distiller for Limestone Branch, and said the partnership was in the best interests of his family as well as the business. The Beams are planning a significant expansion of Limestone Branch to allow for production of Yellowstone and other whiskies for Luxco.
Links: Limestone Branch
---
December 5, 2014 – "There are 105 Scottish distilleries of significance…there are four in Ireland. You figure it out…"
That's how former Bruichladdich managing director Mark Reynier describes the prospects for his newest venture, the Waterford Distillery in Waterford, Ireland. Earlier this week, Reynier and his investors signed a deal to buy Diageo's former Guinness brewery in Waterford with the intent to begin distilling single malt Irish whiskey in the facility in early 2016. Reynier's team includes former Bruichladdich chairman Sir John Mactaggart and finance director John Adams, along with other investors in Bruichladdich who profited significantly from the Islay distillery's 2012 sale to Rémy Cointreau for $90 million USD and several new investors.
In a telephone interview with WhiskyCast's Mark Gillespie, Reynier described the Guinness facility as ideal for conversion into a whiskey distillery. "It's in the best barley-growing region in Europe, if not the world," he said. "It's a fantastic facility built in 2003 for 30 million Euros, absolutely state of the art stuff, and it's a combination of both things." Reynier plans to have stills installed once final environmental approvals are in place, with that being the only step needed to create a modern distillery. "It's like a giant Meccano (Erector) set…it's like a big Christmas present, you've got the biggest, most humongous kit of Meccano of all time, and that's what it feels like…I've got stainless steel coming out of my ears!"
Listen to Mark Gillespie's entire interview with Mark Reynier:

Unlike Bruichladdich, which relied on cask sales to individuals during its early years after reopening in 2001, Waterford will have enough working capital to cover the first five years of production without having to generate income. "You won't be hearing from me at all…we don't need to do anything, heads down and distill like mad…after five years of production, six years from now, we'll be ready to go," Reynier said. There will not be a master distiller, but Waterford will have a head brewer and head distiller in the traditional way distilleries were managed decades ago.
However, one Bruichladdich tradition is expected to be carried over at Waterford. When Bruichladdich re-opened in 2001, Reynier's young son Ruari helped fill the first cask. Now 14 years old, Ruari will likely be given the honor of filling the first cask at Waterford when production begins. This time, he'll likely be expected to roll it into the warehouse as well.
---
December 1, 2014 – With the growth in Irish Whiskey sales worldwide, more entrepreneurs are looking at opportunities in the fastest-growing sector of the whisky market. Former Bruichladdich managing director Mark Reynier is the latest, and has reached an agreement to buy Diageo's Guinness brewery in Waterford, Ireland with plans to convert it into a whiskey distillery. No purchase price was announced.
Reynier has reunited with his former Bruichladdich backers Sir John Mactaggart and John Adams to form Renegade Spirits Ltd. with a group of private investors from the UK and Ireland. Mactaggart was Bruichladdich's chairman, while Adams served as finance director during the rebirth of Bruichladdich from 2001 until the distillery was sold to Rémy Cointreau in 2012 for $90 million USD.
The company will begin renovation of the brewery in 2015, with plans to begin distilling in 2016. Diageo closed the Waterford brewery last year after consolidating Guinness production at the main St. James Gate brewery in Dublin. There have been breweries on the Waterford site since 1792, and the current facility opened in 2004.
This story will be updated as more details are available.
---
November 29, 2014 – While the details aren't known yet, former Bruichladdich managing director Mark Reynier is apparently getting back into the distilling business. Reynier posted a note on his Twitter feed Friday that is generating a lot of speculation.

While Reynier has not responded to the speculation online about what his new project will be, he did offer some hints in an email to WhiskyCast's Mark Gillespie.
"Don't get too excited – it's start up – so a few years will need to pass."
Reynier was responsible for assembling the investor group that acquired and reopened Bruichladdich in 2001, and served as managing director until his fellow investors voted to accept a $90 million offer from Rémy Cointreau in 2012 over his objections. While he still has a home on Islay near Bruichladdich, Reynier returned to Edinburgh full-time after the sale to Rémy was completed and has remained relatively quiet since then.
This story will be updated as more details become available.
Links: Mark Reynier on Twitter
---
Editor's note: Chip Tate and the Balcones majority owners reached a settlement December 3 in which Tate sold his 27 percent ownership stake in Balcones to the ownership group and left the company. Details are available here.  
November 26, 2014 – Balcones Distilling founder Chip Tate plans to return to the Waco, Texas distillery on December 5, now that he and the distillery's majority investors have agreed on a compromise to end the temporary restraining order that has banned Tate from any role in Balcones since August. In a telephone interview with WhiskyCast's Mark Gillespie, Tate described the past four months at Balcones as "wasting time, wasting whiskey, and wasting money." As part of the compromise to end the restraining order, Tate will not return until December 5, though the two sides remain far apart on an agreement over the future of Balcones. Tate's attorney, David Clouston, told The Waco Tribune that the December 5 date was chosen to allow both sides to get through the Thanksgiving holiday and allow time for more talks next week.
"We're still looking for a real resolution," Tate said. "I knew they couldn't do what they were trying to do, and that's been proven now, so all we really need is a true solution." Two weeks ago, 170th District Court Judge Jim Meyer ruled in Tate's favor on his claim that the Balcones board violated the company's bylaws by taking action at board meetings that Tate has boycotted since July. Those actions included the August decision to suspend Tate for 90 days and seek the restraining order after months of disputes between Tate and the Oklahoma City-based investor group that purchased a majority stake in Balcones last year. The bylaws give Tate control over distillery operations, and require that he be present at board meetings for any votes to be binding.
Listen to Mark Gillespie's interview with Chip Tate:

While Tate has been sidelined by the restraining order, Jared Himstedt has been handling distilling and blending operations at the distillery. Tate said he has not been happy with the whiskey coming out of Balcones over the past four months, and even less happy with some employees who helped the majority investors engineer their attempt to oust him. Tate declined to be specific about who might be affected, but said some responsibilities will be reassigned.
"We're definitely going to be setting things right, putting things back on a good course…so, you know, we'll have to make some changes. It's hard to know who was told what at the distillery…there are certain people who were very much a part of making the investors' actions possible, and, you know, that'll be dealt with appropriately."
The two sides have been discussing a scenario in which one would buy the other out, but have not been able to reach a consensus. Tate has filed a claim against the investor group, known as PE Investors II LLC, accusing it of illegally trying to dilute his 27% ownership stake in Balcones through the funding plan for the company's new $15 million distillery. Clouston also suggested that a lawsuit between PE Investors II and Tate remains a possibility. While the two sides can veto a Balcones lawsuit against either Tate or PE Investors II, they remain free to take legal action against each other on their own.
Tate said he has investors willing to back his buyout bid, but can't bring them into the process until an agreement can be reached with the majority investors. "We're still trying to make offers to give them a return on their investment and part ways…we'll see if they're willing to do that," he said.
We have contacted Balcones for more information, and this story will be updated as needed.
Editor's note: This story was updated on December 6 to include details on the settlement between Tate and the Balcones ownership group. 
Links: Balcones Distilling
---