Each week, we bring you the latest whisky news on WhiskyCast, but a lot can happen during the week. Now, you can keep up with whisky news as it happens here on WhiskyCast.com!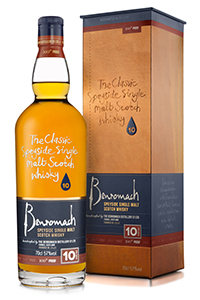 September 28, 2014 – Gordon & MacPhail is expanding the range of single malts available from its Benromach Distillery in Speyside with the release of Benromach 100 Proof. The name (and the whisky) are based on the old Imperial proof measurement, in which 100 Proof translates to 57% ABV. The whisky is a 10-year-old malt, and will use the same newly-designed packaging that made its debut earlier this year with the regular Benromach 10 Year Old expression.
Gordon & MacPhail has not specified which markets will receive the new expression first, but it is likely to make its debut in the UK and other European markets. Pricing has not been announced.
Meanwhile, Hunter Laing and Company has released its first new range since Stewart Laing founded the independent bottler following his split with brother Fred Laing last year. Highland Journey is a blended malt bottled at 46.2% ABV. As the name indicates, the malts used in the blend come from Highland distilleries. Pricing and availability are not available, but we expect more information on this whisky over the next several days.
Editor's note: This story was updated to correct an error. The Benromach 100 Proof is a 10-year-old whisky. 
Links: Benromach | Hunter Laing and Company
---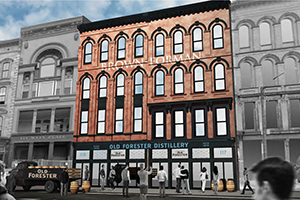 September 25, 2014 – Brown-Forman will expand its distilling capacity by returning to the company's roots, with plans to turn two Whiskey Row buildings that originally housed Brown-Forman operations into a new Old Forester Distillery. The $30 million dollar project will occupy buildings that served as offices and maturation warehouses before Prohibition, and is expected to be completed in the fall of 2016. The buildings had been used for a variety of purposes until they were abandoned in the 1980's, but will be completely rehabilitated as part of the construction project. The site is located at 117 and 119 West Main Street, near the Interstate 65 bridges and between the KFC-Yum! Center arena and the Louisville Slugger Field baseball stadium.
"To tour these buildings with hard hat and flashlight and know that these wooden floors and these walls were what our industry was like 100-plus years ago and just imagine all of the activity that went on is really neat," Brown-Forman Master Distiller Chris Morris said in a telephone interview. "It's going to be great to see it brought back to life." Brown-Forman reacquired the buildings several years ago, and plans for the new distillery have been quietly in the works since that time.
Listen to Mark Gillespie's interview with Chris Morris:

Old Forester is currently distilled at the Brown-Forman Distillery located on Louisville's west side, along with Early Times and most of the whiskey used for Woodford Reserve. The brand has seen double-digit growth in recent years, according to Brown-Forman, and Morris said the new distillery will essentially double production of Old Forester with the equivalent of 100,000 nine-liter cases of whiskey a year at full production. The new distillery will augment Old Forester production at the current Dixie Highway facility, but will also include a visitors center and tours not currently offered at the Brown-Forman Distillery. The distillery will include a "barrel-raising" cooperage using components trucked over from the Brown-Forman Cooperage on the city's south side, along with complete distilling, maturing, and bottling facilities on-site.
Ground-breaking is expected in early 2015, according to Morris. Preliminary work to stabilize the buildings has already begun, but final permits for the project are still being sought. As with all of the historic Whiskey Row buildings from the pre-Prohibition period, no distilling was ever done at the site, but the neighborhood was home to blending, maturation, and bottling work as well as serving as the headquarters for Brown-Forman and other whiskey companies of the time.
Brown-Forman has already received approval for up to $1.3 million dollars in tax rebates and incentives from the Kentucky Economic Development Finance Authority. The project will also be eligible for tax credits under a new state law approved earlier this year that allows whiskey companies to claim a credit against their Kentucky corporate income taxes against the local "ad valorem" taxes they pay on maturing barrels of whiskey, as long as the credits are reinvested on capital projects within the state.
Links: Brown-Forman | Old Forester
---
September 24, 2014 – Laphroaig Distillery will celebrate its 200th anniversary in 2015, and Beam Suntory plans several new expressions to debut during the year of celebrations along with a new event on Islay for members of the Friends of Laphroaig affinity group. The official announcement came today in Stockholm, Sweden as part of the annual Laphroaig Live webcast, as distillery manager John Campbell announced that the Laphroaig 15-year-old expression will return in early 2015 along with new 21 and 32-year-old expressions and hinted at several others while giving no details.
Laphroaig replaced the 15-year-old expression with an 18-year-old version several years ago, but global brand ambassador Simon Brooking said today during a webcast viewing party in Philadelphia that the decision to revive the expression was based largely on consumer interest. "There's been a lot of demand for the 15-year, so we're bringing that one back and I'm really excited about that…a beautiful whisky, a lot of fans of the 15-year." There will also be a very limited 32-year-old Laphroaig, along with a new 21-year-old version that will mark the 21st anniversary of the Friends of Laphroaig.
The affinity group has more than 630,000 members worldwide, and while Laphroaig will continue to welcome them during its annual day as part of the Islay Festival of Malt & Music next May, the distillery is working on a separate event to mark the 200th anniversary that will be held later in the year. Brooking said it would be logistically difficult to hold a major celebration as part of the "Feis Ile" – which already taxes Islay's infrastructure with thousands of visitors during the final week of May.
"For many folks who are coming across, accommodations and travel to and from the island are already booked, so it's going to be very difficult," Brooking said. "We're currently in the process of finalizing another month when we'll have a separate Friends of Laphroaig event to celebrate the 200-year anniversary, which actually we are planning on becoming an annual event. We have so many Friends of Laphroaig that we could support a separate FoL event from the Islay Festival itself."
Listen to Mark Gillespie's interview with Simon Brooking:

As Brooking said, details are still being worked out, but it is likely that the new event would be scheduled for August or September of 2o15. During the Laphroaig Live webcast, John Campbell all but confirmed that next year's webcast will come from the distillery on Islay. The series began in 2007 with a live webcast from the distillery, and has been produced each September in locations around the world ranging from Kentucky's Maker's Mark Distillery (which supplies the ex-Bourbon casks used to mature Laphroaig) to Australia.
Links: Laphroaig
---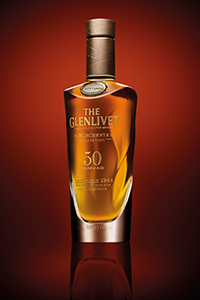 September 24, 2014 – The Glenlivet has kicked off a new range named for Master Distiller Alan Winchester with the release of a 50-year-old single malt distilled in 1964 under the supervision of Captain Bill Smith-Grant, the last descendant of Glenlivet founder George Smith to work at the distillery. Winchester was not available for an interview, but in a news release, he described the series as a milestone, since it will be limited to whiskies matured for 50 years.
"Casks of this age and quality are such a rare thing these days that I'm immensely proud to introduce the first of these rare Vintages of preserved stocks from the distillery's rich past. They're a testament to our legacy of excellence and to those who have nurtured this whisky over the years, including Captain Bill Smith-Grant, who played such a pivotal role introducing our single malt to the world."
Only 100 bottles of "Vintage 1964″ will be available, with the first bottle to go on sale at Harrods in London in October at a price of £25,000 ($40,850 USD). The remaining 99 bottles will carry the same price tag, and be available in other markets around the world.
The next release is scheduled for 2016, when "Vintage 1966″ will be released.
Links: The Glenlivet
---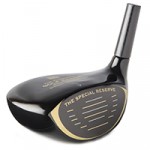 September 24, 2014 – On the eve of the 2014 Ryder Cup at Gleneagles in Scotland, Douglas Laing & Co. has revived its classic McGibbon's Golf Range line of blended Scotch whiskies. The revived range will include two expressions: Special Reserve bottled in a ceramic golf club decanter, and Premium Reserve, which will come in a ceramic golf bag decanter.
The McGibbon's Range was launched in 1990, and earned Douglas Laing the Queen's Award for Export Achievement that year. In a news release, managing director and master blender Fred Laing said "we are absolutely delighted to have refreshed and brought back these old favourites. The timing is perfect as the Ryder Cup excitement builds and it is an ideal way of combining two of Scotland's greatest passions – golf and Scotch Whisky."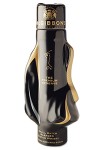 The Special Reserve's decanter is modeled on a 3-wood, and the whisky is matured and blended from three different types of casks: first and second-fill ex-Bourbon casks, along with ex-Oloroso Sherry casks. The Premium Reserve's blend is based on a high percentage of older malts, along with malts from ex-Oloroso casks. Both whiskies are bottled at 43% ABV in 50cl decanters.
The Special Reserve will carry a recommended retail price of £44.99 ($73.50 USD), while the Premium Reserve will be priced at £49.99 ($81.70 USD), and both will be available at UK whisky shops beginning this week.
Links: Douglas Laing & Co. 
---
September 22, 2014 – A Chicago-based law firm has targeted Iowa's Templeton Rye as the first whisky brand to face a class-action lawsuit over allegations that it misrepresented its whisky's origins. Edelson PC launched a web-based campaign in August looking for consumers to represent in legal action against Templeton and other "small-batch" whisky producers, and filed its first suit in Cook County Chancery Court September 9 with Christopher McNair as the lead plaintiff.
In McNair's complaint as reported by Courthouse News Service, he claims that he bought more than a dozen bottles of Templeton Rye between 2008 and 2014 based on the belief that the whisky had been distilled in Iowa, according to the distillery's own marketing materials. As Templeton's founders have told WhiskyCast for many years, the whisky is distilled at the MGP distillery in Lawrenceburg, Indiana, but blended and bottled in Templeton, Iowa, where the company maintains a small distillery that has been used primarily for tours. From the filing:
 "If plaintiff knew that Templeton Rye was not made in Iowa but was distilled and aged at MGP's facilities in Indiana, he would not have purchased Templeton Rye or he would have paid less for each bottle."
Templeton founders Scott Bush and Keith Kerkhoff said in last week's episode of WhiskyCast that they are working on plans to build a larger distillery in Templeton with a goal of replacing the bulk whiskey supplied by MGP-I with their own recipe. They also have committed to changing the Templeton Rye label to include "Distilled in Indiana" as required by federal regulations for whisky producers based in a different state than where their whisky is distilled. In a statement released Friday, Kerkhoff denied the suit's allegations that Templeton Rye tried to mislead its customers.
"The allegations made by the plaintiff are totally without merit and will be conclusively proven to be untrue. Templeton Rye Spirits will vigorously defend against these allegations and the Company has every confidence that it will be vindicated. It is an unfortunate circumstance of our system that such scurrilous and inaccurate allegations can be made with virtual impunity."
MGP is the former Seagram's Distillery in Lawrenceburg, Indiana, and produces bulk whisky, vodka, and other spirits exclusively for sale to independent bottlers and producers. Its whiskies are used in Diageo's Bulleit Rye and George Dickel Rye whiskies, as well as some of the bottlings from High West, Redemption, and other small whisky producers. The lawsuit claims Templeton is misleading consumers by claiming to be a "small-batch" handmade product, when it actually comes from a large commercial distillery's standard recipe.
No court date has been set for a hearing in the case, though the Chancery Court's docket lists a "case management" conference for January 7, 2015. WhiskyCast has contacted McNair's attorney, Amir Missaghi of Edelson, to request an interview, but we have not received a response.
This story will be updated as we receive additional information.
Links: Templeton Rye | Edelson PC
Editor's note: This story was updated to include a response to the lawsuit from Templeton Rye's Keith Kerkhoff. Court filings in civil cases only represent one party's side of the story, and civil courts allow each party time to file a response to filings made by other parties in the case. As of this posting, Templeton Rye's lawyers have not yet filed a response to the claims made in the McNair lawsuit. 
---
September 22, 2014 – Scotch Whisky exports fell 11 percent during the first six months of 2014 from the same period in 2013, according to new figures released today by the Scotch Whisky Association. The total value of Scotch Whisky exports for the period was £1.77 billion GBP ($2.89 billion USD), down from £1.99 billion in 2013, based on data from HM Revenue & Customs. The decline is being blamed on several factors, including economic uncertainty in several key markets, government austerity measures in China, and the strength of the British Pound on currency markets.
In a news release, Scotch Whisky Association officials described the downturn as a "leveling off" of demand, while remaining optimistic about the industry's long-term future. SWA chief executive David Frost said "we are confident that Scotch Whisky will continue to grow in the long-term as markets stabilise and new ones, such as emerging economies across Africa, open up. However, it is clear that in the short-run that there are economic headwinds affecting exports. The latest figures also act as a reminder that the success of Scotch Whisky can't be taken for granted. We need support from government to beat down trade barriers and help us access new markets overseas."
The announcement comes days after Scottish voters rejected a break with the United Kingdom, a position that received tacit support from the SWA and stronger support from several industry members. SWA executives and corporate leaders had suggested that an independent Scotland might face problems joining the European Union immediately, with the potential to lose tariff-free export status with key European trading partners. As an example, today's SWA report cited continued growth in France, where the value of exports grew by 6 percent during the first six months of 2014 to £211 million GBP ($345 million USD), cementing France's place as the second-largest export market for Scotch Whisky behind the United States. France is the top-ranked market by volume, with 86 million bottles of Scotch Whisky exported to France during the reporting period.
Scottish Cabinet Secretary Richard Lochhead said in a statement that "Scotch whisky is an iconic product, though I recognise is not immune from wider current economic difficulties across the globe. I welcome the industry's confidence in the long term future of Scotch Whisky, and its continued commitment to £2 billion of capital investment in Scotland."
Exports to the US dropped sharply during the period, with a 16 percent drop in value to ¢327.7 million GBP ($536 million USD) and a 12 percent drop in volume to 54.7 million bottles. China's anti-extravagance campaign led to declining imports of Scotch Whisky, with Brazil, Mexico, and Singapore also reporting declines. Singapore is significant because it serves as a regional transfer hub for shipping, and much of the whisky shipped through Singapore is destined for other Asia-Pacific markets. It should be noted, though, that some of that traffic may have been routed through the United Arab Emirates, where Dubai has become another major transfer point for shipments to Asia, Africa, and India. Exports to the UAE rose 54 percent during the period to an estimated £54 million GBP.
Other markets reporting gains in export value included Taiwan (39%), India (31%), Japan (18%), Canada (5%), and Australia (4%).
Links: Scotch Whisky Association 
---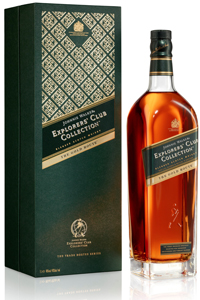 September 21, 2014 – After losing an initial round in New York Supreme Court and facing more costly legal battles ahead, Diageo has reached an agreement with The Explorers Club to settle the group's ongoing lawsuits over Diageo's use of the Explorers Club name on a line of Johnnie Walker whiskies. In August, Manhattan Justice Charles Ramos issued a permanent injection barring Diageo from using the Club's name on the travel retail range, citing a New York state law banning the commercial use of established names for "benevolent, humane, or charitable" organizations without permission. Diageo had appealed the ruling, and also faced a separate trademark infringement suit in federal court over its use of the name. Talks between the two sides had broken down before the range was launched in late 2012.
In a news release issued late Friday, both sides announced that Johnnie Walker will become a corporate sponsor for The Explorers Club through a global sponsorship and licensing agreement. In the release, Johnnie Walker Global Brand Director Guy Escolme said "this collaboration with The Explorers Club brings the history and importance of exploration to life and allows us to share our joint passion for exploration and discovery.  The Explorers Club is leading the way in world exploration, and we are privileged to be able to join them in this extraordinary effort."
The club's 3,000 members range from mountain climbers to astronauts, and past members have included legendary explorers such as Sir Ernest Shackleton. Explorers Club President Alan Nichols said in the release that "we salute Johnnie Walker for joining with us in furthering the quest for knowledge through exploration and discovery, which holds the key to all human progress.  With this new and exciting relationship, The Explorers Club will be able to enhance its grant programs, further develop its highly successful lecture series and educational events, and expand its role as the World Center for Exploration."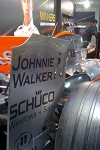 Terms of the agreement were not disclosed, but likely include royalties to be paid based on sales of the Explorers Club range in travel retail outlets worldwide. In the April court hearing before Judge Ramos, those sales during the first year of the Explorers Club range were estimated at $50 million USD.
Johnnie Walker has also decided to end its longtime support for the McLaren Formula One racing team, according to the Mirror, which placed the value of the sponsorship package at £155 million ($252.4 million USD) annually in a story published today. The brand will remain in Formula One by shifting that budget to become the official whisky of the series.
Links: Diageo | Johnnie Walker | The Explorers Club
---
September 19, 2014 – After a sleepless night of waiting for returns from around Scotland, Scotch Whisky Association leaders are praising the stability that will come from a rejection of the independence referendum. 55 percent of Scottish voters cast ballots opposing a break from the United Kingdom, and First Minister Alex Salmond has accepted the defeat while calling for Scots on both sides of the issue to unite.
"Something like 85 percent of Scots actually voted, which is an incredible turnout and shows just how important the debate has been," David Williamson of the Scotch Whisky Association said in a telephone interview Friday morning. "We have 55 percent of Scots voting to stay in the United Kingdom, and that from the Scotch Whisky perspective is welcome in that we've raised issues about potential business risks from Scottish independence and we welcome the stability that the decision this morning brings." The SWA's main concern in the weeks leading up to the election centered on an independent Scotland's ability to maintain uninterrupted membership in the European Union. A break in that membership, which was not guaranteed, would have affected the tariff-free status of Scotch Whisky exports within the EU, along with the protected status Scotch Whisky enjoys against counterfeiting.
UK officials have pledged to move forward with granting increased control over Scottish affairs to the Scottish Government and Parliament based in Edinburgh, and the BBC reports Prime Minister David Cameron has acknowledged that England, Wales, and Northern Ireland must have similar powers granted to them as well. Cameron has appointed Lord Smith of Kelvin to oversee negotiations on taxes, spending, and welfare, with basic agreements to be in place by November and draft legislation ready for Parliament by January.
Williamson said the SWA will take an active role in the talks. "We're looking forward to working with all parties going forward because this is a big industry in Scotland…we're the second-biggest industry behind oil and gas, and it was important that we made our views known…but Scotch is going to be a major cornerstone of the economy going forward, and I think we'll continue to work well with politicians from across the political spectrum."
Links: Scotch Whisky Association
---
September 17, 2014 – Ireland's newest distillery has opened as William Grant & Sons dedicated its Tullamore D.E.W Distillery, bringing whiskey production back to Tullamore for the first time since the old D.E. Williams Distillery was closed in 1954. The €35 million ($50 million USD) distillery has four copper stills designed to resemble those from the original distillery, and will be capable of producing 1.8 million litres of alcohol annually.
William Grant & Sons acquired the Tullamore D.E.W. brand from C&C International in 2011 and made the decision to build a distillery of its own the following year. The whiskey supply for the brand has come from Midleton since 1975 under a long-term supply contract, but the new distillery will eventually supply all of the whiskey bottled as Tullamore D.E.W.
To mark the occasion, William Grant & Sons is releasing a limited edition (2,014 bottles) of Tullamore D.E.W Celebratory Phoenix Single Batch. Tullamore has used a Phoenix as part of the town's crest ever since a fire destroyed most of the town in 1785. In addition to the dedication ceremony at the distillery, a special celebration is being held in New York City featuring the great-grandson of Daniel E. Williams. Patrick Williams will preside over a barrel-signing ceremony with guests invited to sign a special barrel that will be shipped to the distillery, filled with new make spirit, and laid to rest with a similar barrel signed at the distillery's event.
Links: Tullamore D.E.W.
---