Each week, we bring you the latest whisky news on WhiskyCast, but a lot can happen during the week. Now, you can keep up with whisky news as it happens here on WhiskyCast.com!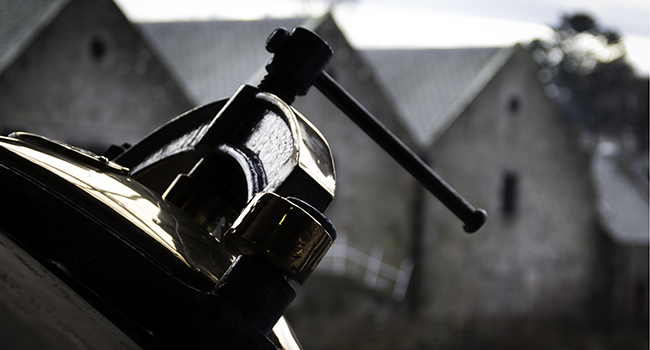 January 29, 2015 – A new report released Wednesday by the Scotch Whisky Association estimates the whisky industry's economic impact on the UK at £5 billion ($7.52 billion USD) annually, with the impact being felt not only in Scotland, but in England, Wales, and Northern Ireland. The study was done by the research firm 4-Consulting, and puts the direct impact at £3.3 billion, with secondary impacts such as packaging, logistics, and tourism accounting for around £1.7 billion.
"I think anybody who visits Scotland and visits the Scotch Whisky industry understands just what place it has in terms of Scottish society and the Scottish economy," said the SWA's David Williamson. "You don't have to go very far on Islay or in Speyside to see the evidence of that positive impact." The study puts total industry employment at 40,300 jobs, with 10,900 of those jobs directly within whisky-related businesses and the remainder employed indirectly through agriculture, logistics, manufacturing, and related industries. As a result, each whisky industry job supports 2.7 additional jobs in the UK economy.
Listen to Mark Gillespie's entire interview with David Williamson:

Additional impact comes from the location of many distilleries in rural areas, with around 20% of the whisky industry's work force located outside major cities and providing an estimated £250 million of income to rural communities. The study places Scotch Whisky as Scotland's third-largest industry, trailing only energy and financial services, with whisky accounting for 70% of the Scottish food and drink sector. The findings are based on data from the UK's Office of National Statistics and the SWA.
While 2014 export data will not be available until this spring, data from 2013 shows Scotch Whisky generates 1.4% of all UK exports but has a larger impact on the UK's trade balance. Since almost all of the industry's raw materials come from within the UK (except for imported casks, barley, and some capital equipment), 2013's £4 billion in Scotch Whisky exports made it a larger contributor to UK exports than the aviation, pharmaceutical, auto, steel, and all other industries except for mechanical equipment. The report estimates the UK's trade deficit for 2013 would have been 16% higher without the impact of Scotch Whisky exports.
The report's release comes as the SWA and other spirits industry groups are pushing for a cut in taxes on whisky and other spirits. Chancellor of the Exchequer George Osborne is scheduled to release the coalition government's next budget on March 18, and the industry wants more than just a second straight year of freezes on excise taxes and duties. The goal is a 2% cut in taxes on whisky sold within the UK, where taxes currently make up 78% of the average price of a bottle of whisky.
The SWA's Williamson cites economic studies showing that the 2% cut would generate an additional £1.5 billion each year in economic impact across the UK, but admits that the odds of getting a cut are long. "If you're paying four pounds of every five in tax to your Finance Minister, you can see that that is going to have an impact on your ability to compete," he said.
The entire SWA report is available to download.
Links: Scotch Whisky Association
---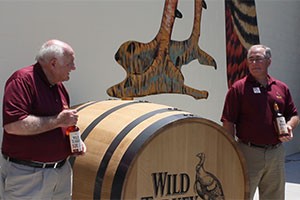 January 26, 2015 – For nearly 34 years, Wild Turkey's Eddie Russell has worked alongside his father, legendary Master Distiller Jimmy Russell. Now, he has the same title as his famous father after being promoted from Associate Master Distiller to Master Distiller – though he'll still be working alongside his father. In a news release and letter to members of the Russell's Reserve Legacy Society affinity group, Jimmy Russell said "after 34 years, I think he's finally earned it, but that doesn't mean I'm going to go any easier on him – or that I'm going anywhere anytime soon.  Eddie and I will work side by side as the industry's only father/son Master Distillers."
Reached in Brazil, where he is currently doing promotional work for Wild Turkey, Eddie Russell told WhiskyCast that his father had been planning the move for some time. "He really was going to do it last year, but for us it was about the Year of Jimmy Russell with his 60th anniversary, so we didn't want to take anything away from that." He created the Diamond Anniversary Bourbon released in 2014 to mark his father's anniversary at the distillery, and has been instrumental in all of the distillery's releases over the last several years. "34 years ago, I realized that I wanted to follow in his footsteps, and the footsteps of not only him, but all the other great master distillers," citing the late Booker Noe and Elmer T. Lee as just two of those who helped mentor him during his career.
Listen to Mark Gillespie's interview with Eddie Russell:

Eddie and Jimmy Russell have been collaborating on a new Russell's Reserve Single Barrel Rye expected to be released later this year, along with a 17-year-old Wild Turkey Bourbon that fits into what Eddie described as his more experimental nature. "Jimmy didn't really like the older whiskies, but I've really worked with it and moved it around…it's had a pretty good journey to make sure it doesn't get too oaky and too woody, which is his concern about older whiskies." Specifics on both whiskies will be announced at a later date.
Meanwhile, the next generation has already started on the path. Eddie's son Bruce received his degree from the University of Kentucky last month, and joined Wild Turkey on January 5. "He's going to take a little different approach to it…we're going to send him to Texas, which is our biggest domestic state, and be a brand ambassador for a couple of years," Eddie Russell said. "He's really interested in marketing, so he's going to learn the sales and distribution end of it, and eventually he'll come back to the distillery."
Editor's note: This story was updated with additional information following an interview with Eddie Russell. Also, Jimmy and Eddie Russell are featured in a WhiskyCast HD episode answering questions from listeners.
Links: Wild Turkey
---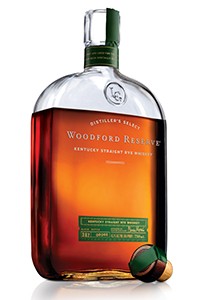 January 22, 2015 – Woodford Reserve is jumping on the Rye whiskey bandwagon with the release of Woodford Reserve Straight Rye next month. The whiskey uses a mashbill with 53% rye grain developed after years of work by Brown-Forman Master Distiller Chris Morris, and will be available in selected US markets.
In a telephone interview, Morris described the process that began in 2006. "I'm proud to say we were looking at making Rye whiskey before Rye whiskey was cool again, before its current popularity," he said. "You could count on one hand how many Rye whiskey brands were out in the marketplace…we thought we were going out on a limb taking a risk in making Rye whiskey, so we didn't make a whole lot for a number of those early years." As a result, availability of Woodford Reserve Straight Rye will be limited for the first several years while stocks of aging rye catch up.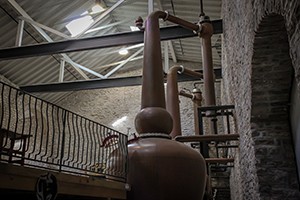 The new whiskey, like all of the Woodford Reserve expressions except for the Master's Collection releases, uses a blend of whiskies distilled at the Woodford Reserve Distillery in Versailles, Kentucky and the Brown-Forman Distillery in Louisville. The mashbills are identical at both distilleries, but the Versailles facility triple-distills its spirit using three pot stills, while the Louisville facility double-distills with column stills. There is one difference between the two, according to Morris, who said the difficult nature of distilling rye grain required one slight change. "We're using the same recipe, our unique strain of yeast, extra-long fermentation at both distilleries…it's still the same sticky substance, we just have to have a little more water in the beer flow in the column still production versus the pot still," he said. The pot stills in Versailles produce a more robust spirit than the lighter flavors produced by the column stills in Louisville, and blending the two creates a consistent flavor.
Listen to Mark Gillespie's interview with Chris Morris:

Woodford Reserve Straight Rye will carry a recommended retail price of $37.99 (750ml), and Woodford Reserve brand manager Jason Kempf said in a news release that he hopes it will satisfy the demands of Woodford consumers. "Time and time again, we kept hearing requests for a rye. Woodford Reserve has always maintained a commitment to the spirit of innovation, and the rye is no exception," he said. "We're excited to give our fans something they've been so vocal about for so many years, and that is finally ready to share with them."
Links: Woodford Reserve
---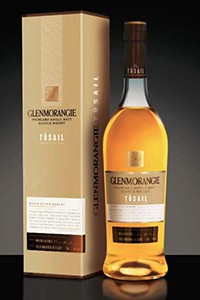 January 21, 2015 – Glenmorangie has revived a once-popular strain of barley for use in its 2015 Private Edition series release. Tùsail will be the sixth edition in the series, which began in 2010 with Sonnalta PX and has continued each year through last year's Companta. The name comes from the Scots Gaelic word for "initial" or "original".
The whisky was produced using Maris Otter barley, which was widely used in the 1960's but later fell out of favor as brewers and distillers switched to more efficient barley strains. Maris Otter was at risk of becoming wiped out by cross-pollination with other barley strains and the use of uncertified seeds in the 1980s, but was preserved and purified by seed merchants to prevent its extinction. Glenmorangie's Dr. Bill Lumsden ordered a batch of Maris Otter several years ago and arranged to have it malted using a traditional malting floor instead of the conventional commercial drum maltings.
Tùsail carries no age statement, and has been bottled at 46% ABV. It will carry a recommended retail price of £75.99 GBP ($114 USD).
Links: Glenmorangie
---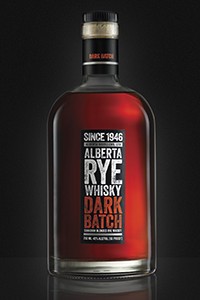 January 20, 2015 – Beam Suntory's Alberta Distillers distillery in Calgary has produced the award-winning Alberta Premium range of whiskies for many years, but those whiskies have only been available to Canadians until now. This spring, the company plans to start selling Alberta Premium Dark Horse in the US, but trademark restrictions will force the distilling giant to rename the export version.
"In the United States, it's going to be called Alberta Rye Dark Batch," said Beam Suntory's Dan Tullio shortly after announcing the launch during a tasting at the Victoria Whisky Festival. "There's a small microbrewery in northern Michigan that (makes a beer) called Dark Horse Lager, so after some thinking about it, we decided to call it Alberta Rye Dark Batch. It's the same liquid, just a different name because of trademark issues." The whisky is a blend of 91% rye whiskey from Alberta Distillers, 8% Old Grand-Dad Bourbon from Beam Suntory's distilleries in Kentucky, and 1% Oloroso Sherry, which Tullio said takes the edge off of some of the rye's harsher notes.
No details have been announced on the price for the new whisky, or which markets will receive it at first. Tullio is not ruling out expanded distribution of other Alberta Premium whiskies to the US, and said that the distillery is experimenting with different types of mashbills and casks for potential future releases.
Editor's note: For a tour of the Alberta Distillers distillery in Calgary, listen to Episode 451 of WhiskyCast from November 2013. 
Links: Alberta Premium
---
January 20, 2015 – Scottish environmental regulators ranked eight whisky plants as "poor" for exceeding their allowed water usage during 2013, according to a report in the Sunday Herald. The Scottish Environment Protection Agency released a redacted version of its annual report last November, citing "national security" reasons for refusing to list the performance of specific facilities. However, the agency released its complete findings on water use to the paper following a request under the UK's freedom of information laws. The redacted section of the annual environmental report included data on facilities handling radioactive materials as well as the water usage data.
"I don't think there's any evidence of deliberate intent to defraud the system by using more water than they should," Sunday Herald environment editor Rob Edwards told WhiskyCast in a telephone interview. "Certainly, the representatives of the whisky industry I spoke to last week when I was working on this story were very clear that they had made mistakes, errors had occurred, or misunderstandings had occurred which they were anxious to not occur again." In several cases, leaks in pipelines or valves that went undetected for several months caused distilleries to use more water than allowed by their permits.
Listen to Mark Gillespie's interview with Rob Edwards:

Diageo owns five of the plants on the list. Teaninich Distillery in Alness received a "poor" rating after a change in managers during the year led to over-abstraction (water use) that may have caused the burn that supply Teaninich's water to dry up. Cragganmore Distillery in Speyside and Islay's Port Ellen Maltings made the list for over-abstraction, while Dailuane Distillery in Speyside's problems were linked to a pipeline leak between the distillery and its bioplant that was not discovered for nearly five months before it was repaired. A leaking valve at Glendullan Distillery in Dufftown caused the boiler's feed tank to overflow several times over a four-month period in early 2013 before it was repaired.
In a statement provided to WhiskyCast by Diageo, Distilling and Maturation Director Keith Miller defended the company's overall record on environmental protection.
"Water is the life-blood of our business and we take the responsible stewardship of water extremely seriously. The incidents identified were caused by specific short-term issues which were resolved to SEPA's satisfaction. Across our business we abstracted significantly less water than the SEPA licences allow. In the cases identified our average daily abstraction rates were well below the licenced maximum. We monitor our water abstraction very closely and where issues do occasionally arise we take immediate and strong action to resolve them.

We are determined to protect water quality for all users and for wildlife. That's why we fund projects like the Spey Catchment Initiative, in partnership with the Spey Fisheries Board, which works specifically to enhance the water environment across a 3,000 km2 area of north east Scotland where there is the greatest concentration of whisky distilleries.

Diageo is recognised as a global leader in water stewardship and our commitment was set out in the ambitious long-term targets we recently announced for the sustainable management of water."
Diageo provided Edwards with more specific details on each of the facilities in an email shared with WhiskyCast. Cragganmore's over-abstraction was described as an administrative error with no actual violation, while Port Ellen's violation was described as a low-volume instance while the distillery's daily average during the year was nearly 100 cubic meters below its permitted levels. The leaks at Dailuane and Glendullan resulted in water being returned to the environment without being used, while Teaninich's issue was resolved with the construction of a new abstraction point to prevent future problems in dry weather. Again, Diageo cites Teaninich's daily average water usage as well within permitted levels.
Chivas Brothers was cited for problems at its Miltonduff and Longmorn distilleries in Speyside, with both linked to administrative issues. Longmorn pledged to implement a more efficient abstraction process in 2014 to improve water use, while Miltonduff had a malfunctioning meter in early 2013 that has since been repaired. In addition, the agency and Chivas Brothers agreed to review Miltonduff's license to adjust its water usage limits to acceptable levels for both the distillery and the surrounding environment. In a statement provided to WhiskyCast by Chivas Brothers, company officials said both distilleries have been brought back into compliance.
"Chivas Brothers takes its environmental responsibilities seriously. It worked closely with SEPA at the time to rectify this issue, and bring its water usage into compliance. This remains the case with both distilleries at present."
Ian Macleod's Glengoyne Distillery near Glasgow was the only other whisky plant to receive a "poor" rating after what the SEPA report described as an "environmental event in early October 2013 caused by human error." The event caused the distillery to breach its water usage limits, and took place just before a new balancing tank was put into use that helped bring the distillery back into compliance. Ian Macleod executives have not responded to our requests for more details on the finding.
In addition to the eight whisky plants receiving "poor" ratings, Ben Nevis (Asahi), Jura (Whyte & Mackay), Glencadam (Angus Dundee), and Deanston (Burn Stewart) were criticized in the report for failing to provide data on their water usage to SEPA.
Burn Stewart's Ian MacMillan explained the Deanston issue in a February 3 telephone interview. "The data was all there, but there was a fault with the data recorder with sending data to the PC which logged it all, and when you look back at our record over the years (on the SEPA web site), it shows Deanston as being excellent, excellent, excellent over the years." MacMillan noted that because the data had to be manually logged, it was not available by SEPA's reporting deadline, resulting in the "failed to provide data" listing. While the data has since been provided to the agency and Deanston is certified as being in compliance, MacMillan said SEPA's policy is to not retract the original listing in public reports.
While the Sunday Herald story did not list specific sites, the Herald's Edwards provided more complete reporting on his personal web site. "If you look at SEPA's wider compliance assessment of other industries and other pollutants, there are more serious things going on elsewhere…where people have been found guilty of polluting and causing distress to wildlife and death of fish in rivers, or releasing things into the environment they shouldn't," he said. "I wouldn't say that the failure to properly account for or breaching your license on water is among the top-ranking environmental crimes in Scotland, but it is important or serious…water is a natural resource, and if you use more of it than you say, particularly if it's been a dry season, streams and rivers can dry up, wildlife and ecosystems can suffer, and of course, other water users who have legitimate uses can be deprived."
In addition to the eight whisky facilities on the list, the SEPA report cited 22 farms, three golf courses, and the Baxter's soup production plant at Fochabers as receiving "poor" ratings.
This story will be updated as more information becomes available.
Editor's note: This story was updated following a February 3 interview with Ian MacMillan of Burn Stewart Distillers in which he explained SEPA's criticism of Deanston Distillery. The complete spreadsheet listing more than 900 Scottish water permits and their 2013 ratings can be downloaded from Edwards' web site. 
---
January 20, 2015 – With a growing number of complaints over lax enforcement of labeling standards for US-made whiskies, the Treasury Department's Tax & Trade Bureau has issued new guidelines that may help resolve at least one area of concern: age statements. The guidelines were quietly issued on December 29 at the TTB's web site while many whisky industry leaders and consumers were in the middle of holiday celebrations.
While other countries only require that if used, an age statement must reflect the age of the youngest whisky used in a particular bottling, the US requires age statements on all whiskies matured for less than four years. The new guidelines do not change current federal regulations, but clarify what will and will not be acceptable on labels.
For instance, whisky producers will no longer be allowed to describe a whisky as "aged less than four years" or similar language that gives a maximum age instead of a minimum age. In addition, whisky makers who choose to minimally mature their whiskies for a short period of time in oak barrels will have to be more specific about the practice on their labels:
"The age of the whisky must be stated in hours, days, months, or years, as appropriate. The age may be understated, but the age may not be overstated."
Longtime whiskey writer Chuck Cowdery has been one of the most vocal critics of the TTB's labeling oversight. Cowdery noted Monday on his blog that the new guidelines should bring an end to the "aged less than four years" age statements regularly approved by TTB officers in recent years.
"Those have always been the rules. This is, however, the TTB's way of putting the industry on notice that its lax enforcement of these provisions is in the past. It remains to be seen if their bite matches their bark."
It appears that existing labels that do not comply with the regulations will need to be updated. TTB spokesman Thomas Hogue told WhiskyCast in an email that "we will work directly with label holders to ensure that any labels that should comply with the requirements of the regulations do so."  Hogue indicated that TTB staff will be reviewing current labels on file with the agency and contacting label holders if changes are needed. 
Editor's note: This story was updated with additional information.
Links: Tax & Trade Bureau
---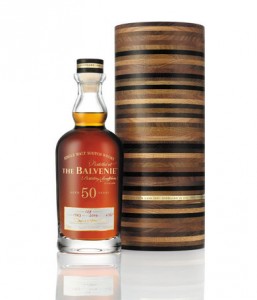 January 17, 2015 – Police are looking for the robber who held up the provincial SAQ liquor monopoly's flagship Signature store in downtown Montreal Thursday and ran off with an estimated $100,000 (CDN) of rare whiskies, including the one remaining bottle of The Balvenie 50 available in Canada valued at $49,500.
The CBC reports the robber brandished what was believed to be a handgun at store employees before smashing the glass case that held the store's rare whiskies and grabbing several bottles. Police have only identified the Balvenie bottle of those that were stolen, but the store's inventory includes at least two bottles of Highland Park 50 and one Macallan Lalique decanter, according to the store's online inventory.
The bottle that was stolen was released in 2012 to celebrate The Balvenie Malt Master David Stewart's 50th anniversary with William Grant & Sons, according to Beth Havers of PMA, The Balvenie's Canadian importer. "It was one of 88 bottles, and the SAQ had it brought in in April of last year," Havers said, noting that it was one of only two sold in Canada. The other one was sold in Vancouver in 2012 when the limited-edition release went on sale.
Investigators are reviewing the store's surveillance video for clues, but the suspect was wearing a mask, making it more difficult to identify a suspect. Anyone with information on the robbery is asked to contact Montreal Police.
Editor's note: This story was updated following an interview with Beth Havers of PMA.
Links: The Balvenie
---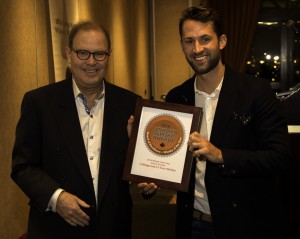 January 15, 2015 – Brown-Forman's Collingwood Rye 21-year-old whisky was named Canadian Whisky of the Year tonight in the fifth annual Canadian Whisky Awards. Collingwood Rye was also named Connoisseur Whisky of the Year (multiple-market) as one of the five finalists for the top honor. Canadian Whisky Awards founder Davin de Kergommeaux presented the awards during a ceremony at the Hotel Grand Pacific kicking off this weekend's Victoria Whisky Festival.
Brown-Forman regional sales manager Chase Stampe accepted the award for Collingwood. "It's something that we're really, really excited about," he said after the ceremony. "To be rewarded in a way that celebrates Canadian Whisky, number one…and the Collingwood brand, number two, in multiple areas was something that was super exciting for us." The whisky comes from Brown-Forman's Canadian Mist distillery in Collingwood, Ontario, when 50 barrels of 100% rye whisky were laid down by former distillery manager Harold Ferguson in the early 1990's. The barrels were found by current manager David Dobbin in late 2013 and bottled for release in 2014.
Other finalists included Canadian Club Chairman's Select 100% Rye, which was named Connoisseur Whisky of the Year (Canada-only), Masterson's Rye 10-Year-Old Batch 5 Barrel A2-062 as Connoisseur Whisky of the Year (export market), and Stalk & Barrel Rye Whisky from Still Waters Distillery was named Best New Whisky of the Year.
Canadian Club Chairman's Select 100% Rye was also honored with an Award of Excellence for extending the range of the Canadian Club brand, while Crown Royal's Single Barrel received an Award of Excellence for raising the profile of Canadian Whisky. Masterson's from California-based The Other Guys was honored with an Award of Excellence for its Rye barrel finishing program that takes whisky distilled at Calgary's Alberta Distillers and uses high-quality finishing barrels.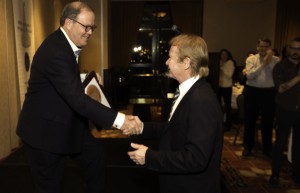 The evening's only standing ovation, though, went to Forty Creek founder John Hall, who received the CWA's first-ever Lifetime Achievement Award for his 20-plus years at Forty Creek. Hall sold the distillery to Gruppo Campari in 2014, but remains with Forty Creek as chairman and chief whisky maker. "Forty Creek has led the way for connoisseur Canadian whisky in the US, and has opened many doors for all Canadian whisky brands," Davin de Kergommeaux said in presenting Hall with the award.
"I had absolutely no idea…just speechless, I was shocked," Hall said after the ceremony. "It's really nice to receive that recognition, that in some small way I assisted in bringing Canadian whisky back to the center stage."
Other award recipients included:
"Sippin' Whisky of the Year"
Domestic: Crown Royal Limited Edition
Export: J.P. Wiser's Rye
Multiple markets: Royal Canadian Small Batch
"Value Whisky of the Year"
Domestic: Highwood Canadian Rye Whisky
Export: Canadian Mist
Multiple Markets: J.P. Wiser's Deluxe
"Flavoured Whisky of the Year"
Domestic: Forty Creek Cream
Export: Peach Mist
Multiple Markets: Tap 357
53 whiskies won medals in the competition, with 12 golds, 14 silvers, and 27 bronze medals. The blind judging was done by a group of whisky writers and bloggers, including WhiskyCast's Mark Gillespie. Complete results will be posted at de Kergommeaux's Canadian Whisky web site.
Links: Canadian Whisky
---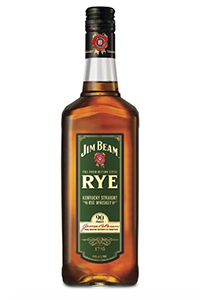 January 14, 2015 – With Rye whiskey booming in popularity, Jim Beam is re-launching its namesake Rye with a return to what the company describes as one of the Beam family's oldest recipes – and a new name. Jim Beam Pre-Prohibition Style Rye Whiskey will replace the current Jim Beam Rye in retail and on-premise accounts starting this month, with a recommended retail price of $22.99 per 750ml bottle.
Unlike the current version of Jim Beam Rye, the new version is bottled at 45% ABV (90 Proof). In a news release announcing the change, Beam's Fred Noe said the Pre-Prohibition Rye will have more flavor than the original. "We've heard loud and clear from bartenders and whiskey fans that they are looking for a bolder Rye that stands up better in cocktails," Noe said. 
The new version will also have updated packaging, complete with a new green label to distinguish it from the current Jim Beam Rye.
Tasting notes will be available at a future date.
Links: Jim Beam
---