Each week, we bring you the latest whisky news on WhiskyCast, but a lot can happen during the week. Now, you can keep up with whisky news as it happens here on WhiskyCast.com!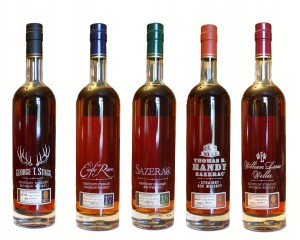 September 4, 2014 – Buffalo Trace has unveiled the five whiskies in this year's Antique Collection series of limited-edition whiskies, which will be available at selected retailers later this month. The collection includes the award-winning George T. Stagg Bourbon, bottled at 69.05% ABV from casks filled in the spring of 1998 and maintaining Stagg's tradition as an uncut, unfiltered whiskey.
The 2014 William Larue Weller wheated Bourbon is the strongest Weller in the 14 years of the Antique Collection, with a strength of  70.1% ABV from casks filled in 2002. The Thomas H. Handy Sazerac Rye, like the Stagg and Weller whiskies, is also uncut and unfiltered, and is bottled at 64.6% ABV from casks filled in 2008.
Rounding out the Antique Collection are the Eagle Rare 17-year-old Bourbon and Sazerac Rye 18-year-old whiskies. All five will sell for a recommended retail price of $80 each, and will be available in limited amounts.
Tasting notes for the Antique Collection whiskies will be available at a later date at WhiskyCast.com.
Links: Buffalo Trace | Antique Collection
---
September 4, 2014 – A management dispute is threatening the future of one of the whisky industry's most successful craft distillers, according to a report in the Waco Tribune. Majority investors in Balcones Distilling received a temporary restraining order August 22 to enforce the board's 90-day suspension against Balcones founder and head distiller Chip Tate after alleging that he "has  engaged in acts harmful to Balcones." A court hearing in the case is set for September 18 in Waco, Texas.
The report is based on publicly available court filings from attorneys for the Balcones directors that accuse Tate of threatening the life of Balcones chairman Greg Allen and hinting that he would rather burn the distillery down than let someone else run it. Tate's attorney, Peter Rusek of the Waco law firm of Sheey, Lovelace, and Mayfield, confirmed to WhiskyCast today that a response to the allegations has not been filed with the court yet. Because of that, the court filings only contain the Balcones point of view at this time. It should also be noted that the case is being heard in a civil court, and there is no report of a criminal investigation into the Balcones claims.
Tate founded Balcones in 2008, and took on additional investors last year to help fund construction of a new $10 million distillery in a historic Waco building. Since then, board members have accused Tate of missing important meetings and taking other unspecified actions that led to his suspension and the restraining order. The court order bans Tate from the Balcones facilities and communicating with employees, suppliers, and the media, along with a ban on using the distillery's social media accounts, credit and debit cards. Court records indicate the company has accused Tate of refusing to reimburse almost $15,000 in personal charges to a company credit card.
Tate's whiskies have received wide acclaim in the whisky industry, and he has become regarded as one of the leaders of the craft distilling movement. Balcones whiskies were among the first US-produced craft whiskies to be exported to Europe, and have won awards in international competitions.
In an email response to questions submitted today, Balcones spokesman and brand ambassador Winston Edwards said it would not be appropriate to comment on "ongoing personnel discussions" about the accusations against Tate and his future with Balcones. He said there will be no change in plans for the new distillery.
"The owners are absolutely committed to the distillery expansion and to the team here at Balcones. So much so, that they are investing more than double of what was originally proposed when they started working with the company 18 months ago – stay tuned, we'll keep you posted on our continued progress."
Edwards said Jared Himstedt, who was one of the original Balcones employees under Tate, remains as Production Manager and distiller, and will lead the distillery's blending team for the present time.
This story will be updated as more details become available.
Editor's note: This story has been updated to include comments from Balcones, along with the confirmation from Chip Tate's attorney that a formal response to the Balcones allegations has not yet been filed with the court. The story is based on the Waco Tribune's reporting of allegations that appear in court filings. Court filings often represent only one side of a story, and WhiskyCast has not been able to review the filings directly. Civil cases generally allow each party several days to file a response to filings made by other parties. 
Links: Balcones Distilling
---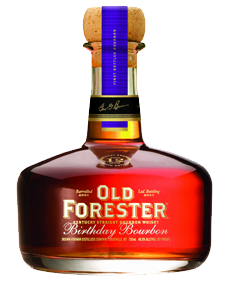 September 2, 2014 – This day marks what would have been Brown-Forman co-founder George Garvin Brown's 168th birthday (September 2, 1846), and for the 14th year, the company is releasing its annual edition of Old Forester Birthday Bourbon to mark the occasion. "Old Forester is the only bourbon still in existence today that was produced before, during and after Prohibition by its original distiller," said Master Distiller Chris Morris in a news release. 
The Birthday Bourbon comes from a single day's production at the Brown-Forman Distillery in Louisville selected by Morris. This year's version has been bottled at 48.5% ABV (97 proof), and will be on sale starting this month at US retailers with a recommended retail price of $59.99.
Links: Old Forester
---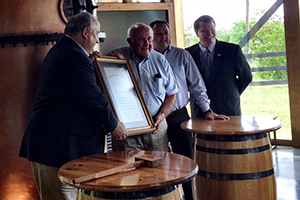 September 2, 2014 – Not much happens around Wild Turkey Distillery without longtime Master Distiller Jimmy Russell knowing about it, but his friends and colleagues managed to surprise the 79-year-old "Buddha of Bourbon" with a special luncheon at the distillery's visitors center today. Russell was honored with a lifetime honorary membership in the Kentucky Distillers Association, becoming only the sixth person to receive such an honor. The KDA had already inducted Russell into the Kentucky Bourbon Hall of Fame as part of its initial class in 2001.
"If there was a Mount Rushmore of Bourbon, Jimmy Russell would be one of the first faces on it," KDA President Eric Gregory said in a news release. "We are proud that he joins this elite group and welcome his continued service to the KDA, to our timeless craft and to our beloved Commonwealth." Russell has been active as a KDA director for the last 36 years, and currently serves as Wild Turkey's alternate director on the board.  The previous lifetime membership recipients include James Bigstaff O'Rear of Schenley Distilleries (1965), Charles King McClure of Stitzel-Weller Distillery (1968), Dr. Frank Kraus of Barton and Jim Beam (1979), T. William (Bill) Samuels Sr. of Maker's Mark (1982) and Bill Samuels Jr. of Maker's Mark (2011).
Wild Turkey has been celebrating Russell's 60th anniversary at the distillery with a number of special events in recent months. Today's luncheon also featured the premiere of a 15-minute documentary film honoring Russell.
Last month, Wild Turkey released a limited edition Diamond Anniversary Bourbon created by Eddie Russell, Jimmy's son and Wild Turkey's Associate Master Distiller.
---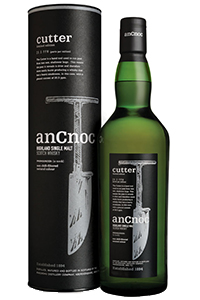 September 2, 2014 – anCnoc is building on the Peaty Collection range introduced earlier this year with the introduction of Cutter, the Knockdhu Distillery's most heavily-peated expression on record. The Inver House-owned brand released three peated malts earlier this year in various markets, with phenol levels for Rutter, Flaughter, and Tushkar ranging from 11 to 15 parts per million. Cutter is peated at 20.5 parts per million, and the company noted in a news release that the measurement comes from the final whisky as opposed to phenol measurements of new make or malted barley.
Cutter will be available in the UK, Europe, Australia, Canada, and other key global markets with a recommend retail price of £52 ($85 USD) starting this month, with availability in the US to be confirmed at a later date.
Links: anCnoc
---
September 2, 2014 – Planning permission has been granted for Dublin's second new whiskey distillery this year, with the Dublin Whiskey Company receiving approval for a €10 million project on Mill Street in the city's historic Liberties district. Construction is expected to start in early 2015 to renovate a historic building once used as a brewery and distillery, with production expected to begin by the end of 2015.
The company's founders, Marie Byrne, Edmond O'Flaherty, and Pat O'Brien, are still working on the financing package for the project, which will receive some government support according to a news release. Noted whisky consultant Dr. Jim Swan has signed on to serve as master distiller for what is expected to become a range of single pot still and single malt Irish whiskies from the distillery, which is projected to have an annual capacity of two million bottles. The project will also include a visitors center projected to attract 75,000 guests annually.
Construction is underway on Dublin's other distillery, the Teeling Whiskey Company distillery in Newmarket Square. That distillery is scheduled to begin production by the end of the year.
Links: Dublin Whiskey Company
---
August 30, 2014 – Templeton Rye, the Iowa-based producer of a whiskey linked to bootleggers during Prohibition, will change its label to come into compliance with current federal regulations. The brand's owners told the Des Moines Register Friday that the whiskey's labeling will be updated to reflect that Templeton Rye is actually distilled at the MGP-I distillery in Lawrenceburg, Indiana.
Chairman Vern Underwood and President Scott Bush also committed to being more transparent about the recipe used for Templeton Rye, which has been billed since its inception as being derived from the recipe used by Templeton's Kerkhoff family to make bootleg whiskey during Prohibition. They acknowledged that the Kerkhoff recipe cannot be the basis for the current whiskey, since it would not comply with federal standards of identity for rye whiskies. The whiskey is in fact MGP-I's standard mashbill of 95% rye and 5% malted barley that the company supplies for use in many rye whiskey brands, including Diageo's George Dickel and Bulleit ryes. Customers can vary the taste by using different age ranges, charcoal-filtering the whiskey as in Dickel's case, and as Templeton acknowledged Friday, by blending it with other whiskies and water to the desired strength.
Underwood and Bush denied any attempt to mislead consumers by not including the state of distillation on the label, and noted that the current labeling has been approved by the Treasury Department's Tax & Trade Bureau, which oversees alcohol labeling standards. They also told the paper they plan to start building a distillery next year that will eventually replace the need to source bulk whisky from MGP-I. In previous WhiskyCast interviews, Bush has acknowledged the MGP-I link, but has also said that their existing small distillery in Templeton has been unable to produce whiskey that recreates the flavor of what they now purchase from MGP-I.
Earlier this week, Templeton was one of the brands listed on a Chicago-based law firm's web site as the subject of an "investigation" into what the firm described as whiskies claiming to be handmade "small-batch" whiskies actually produced at a large commercial distillery. Edelson PC specializes in class-action lawsuits on behalf of consumers, and is believed to be looking for consumers to act as plaintiffs in a lawsuit against various distillers and producers. The firm has not returned our requests for more details on its plans, and took care to mention on its web site that none of the brands named on the site had been accused of illegal activity.
Templeton's Scott Bush has not returned our requests for an interview on either the Des Moines Register story or the Edelson investigation. This story will be updated as needed.
Links: Templeton Rye
---
August 28, 2014 – Pernod Ricard has announced plans to eliminate a total of 900 jobs worldwide as part of its "Project Allegro" cost-cutting program, with an overall goal of cutting $198 million in costs between now and 2017. CEO Pierre Pringuet disclosed the cuts in an interview with Bloomberg News as the company announced an 8% drop in annual earnings for the fiscal year ending June 30. The project is being led by chief operating officer Alexandre Ricard, who is scheduled to succeed Pringuet as chief executive and become company chairman in 2015. Ricard plans to reinvest at least a third of the savings into marketing for the Pernod Ricard brand portfolio.
Pringuet did not disclose specific targets for the cuts in the Bloomberg interview, but Aberdeen's Press & Journal reports 100 jobs will be eliminated at the Paris-based company's headquarters. Chivas Brothers, the company's Scotland-based whisky and gin unit, is one of the largest divisions in the company. The number of cuts at Chivas Brothers has not been disclosed, but spokesman Jim Long tells WhiskyCast that the cutbacks will target back-office and support functions with little impact on production. Pernod Ricard is the world's second-largest spirits company, and its extensive Scotch whisky portfolio includes Chivas Regal and Ballantine's, along with the Glenlivet, Aberlour, Strathisla, and Longmorn malt distilleries. Chivas Brothers reopened Glen Keith distillery in Speyside last year to increase its malt whisky supplies, and is nearing completion of a new malt distillery on the site of its former Imperial distillery in Speyside.
Pernod Ricard USA spokesman Jack Shea told WhiskyCast today that the total of 900 jobs includes positions already eliminated at the US distribution unit earlier this year. Pernod Ricard USA recently revamped its distributor network, with a number of employees transferring to distributors to work specifically on the Pernod Ricard brand portfolio. Irish Distillers has already completed a program of voluntary buyouts that eliminated 35 jobs, with 600 employees remaining on board. A spokesman for Corby Distillers, the Pernod Ricard majority-owned Canadian distiller, told WhiskyCast there will be no significant impact from the cuts on Canadian operations.
Editor's note: This story was updated with details on cuts at Pernod Ricard's Chivas Brothers and Irish Distillers divisions.
Links: Pernod Ricard
---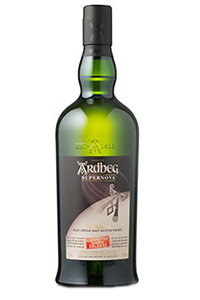 August 28, 2014 – After three years in orbit as part of an experiment on board the International Space Station, a vial of Ardbeg whisky is set to return to Earth next month. The sample will be carried on a Soyuz capsule that will land in Kazakhstan, and will eventually be returned to NASA's Johnson Space Center in Houston, Texas for analysis.
Ardbeg provided the sample to NASA contractor NanoRocks LLC for an experiment billed as testing the differences between maturing whisky on earth and in zero gravity, but which actually had the scientific goal of testing the difference in chemical reactions that take place in whisky maturation and other processes. The sample will be compared with a reference sample taken from the same Ardbeg cask that has been stored in Houston for the past three years.
During a June interview in New York, Glenmorangie director of whisky creation Dr. Bill Lumsden hinted that something special was in the works to mark the sample's return. Ardbeg is reviving Supernova, the heavily-pleated expression that was produced in 2009 and 2010. The 2014 version, like the previous versions, carries no age statement. However, it has been bottled at 55% ABV, lower than the earlier releases bottled at 59.9% ABV in 2009 and 60.1% ABV in 2010. It will go on sale September 12, the day the Soyuz capsule is scheduled to return to Earth, at Ardbeg Embassies around the world with a recommended retail price of £124.99 ($207.30 USD).
Editor's note: This story was updated with additional information on the 2009 and 2010 Ardbeg Supernova bottlings. 
Links: Ardbeg
---
August 27, 2014 – A Chicago-based law firm is looking for consumers who bought "small-batch" whiskies from craft distillers and bottlers under what the firm suggests may be false pretenses. The site Consumer Class Actions.com suggests that a number of craft whisky brands have misrepresented their whiskies as coming from "small, independent distilleries when they are actually all made in the same large, generic distillery." The distillery is not named, but is the MGP Ingredients (MGP-I) distillery in Lawrenceburg, Indiana (formerly known as Lawrenceburg Distillers, Inc., or LDI), which produces bulk whisky for sale to bottlers and whisky producers.
The web site names 10 whisky brands and producers, while maintaining that naming those brands does not "state or imply" that an illegal act was committed. The list includes Templeton Rye, Angel's Envy Bourbon, Diageo's Bulleit Rye, George Dickel Rye, and Seagram's 7 whiskies, Breaker Bourbon (California), High West, WhistlePig Rye, Redemption Bourbon & Rye, and KGB Spirits' Rancho de Los Luceros Destileria in New Mexico. The site suggests that its attorneys are investigating to see whether "legal rights have been violated." Redemption co-owner Dave Schmier told WhiskyCast that "Small batch is not a legal term , so they need to define it and the first brands that really popularized the term were the Jim Beam small batch brands." Beam's original Small Batch Collection includes Knob Creek, Booker's, Baker's, and Basil Hayden's Bourbons.
While federal regulations ban so-called "non-distiller producers" from using the term "distilled by" in their labeling, they are allowed to use the language "bottled by" or "produced by". As Chuck Cowdery said during this week's episode of WhiskyCast, there are a number of cases where non-distiller producers appear to be violating a federal regulation requiring that the state of distillation be disclosed on whisky labels when it is different from the producer's home state. For example, the owners of Iowa's Templeton Rye have acknowledged in previous WhiskyCast interviews that their whisky is distilled at MGP-I, but that does not appear on the Templeton Rye labels. The Treasury Department's Tax & Trade Bureau is responsible for enforcing labeling regulations, but has not focused on the "state of distillation" regulation in recent years. There are no federal standards in place for defining the terms "small-batch" or "craft" whiskies.
At least five of the listed brands have either built or are in the process of building their own distilleries, including Templeton Rye, Angel's Envy, High West, Ascendant Spirits (Breaker Bourbon) and WhistlePig. It should be noted that WhistlePig does not source its whiskies from MGP-I, but from Alberta Distillers in Canada. WhistlePig owner Raj Bhakta declined to comment on the law firm's characterizations in an email to WhiskyCast.
High West distills its own whiskies in Park City, Utah, but founder David Perkins has been open in previous interviews and seminars about sourcing whisky from MGP-I. In an email, Perkins said he is "not very disturbed by this nor am I worried for anyone named. It sounds ludicrous!" 
"We absolutely do purchase whiskeys from other distillers and have always been open about this on our labels, our website, on our tours, in stories about us, in events that we hold, and in whiskey blogs."
Ascentant Spirits founder Steve Gertman told WhiskyCast that he has always been open about his company's sourcing of bulk whiskey for Breaker Bourbon while the whiskey at his California distillery is maturing, and that his labels comply with the TTB's regulations. KGB Spirits co-founder John Bernasconi ridiculed the law firm's comments in an email, saying that "I can't imagine a smaller batch than single barrel straight whiskey. We average 240 bottles/ batch (barrel)."
Seagram's 7 has been produced at MGP-I for many years, dating back to when Seagram owned the distillery (and has not been marketed as a "small-batch" whisky).
The site is owned by Edelson PC, a Chicago law firm with offices in Denver and Los Angeles that specializes in class-action litigation. Class-action lawsuits typically are brought on behalf of a group of potential clients, with the suit representing all potential victims of an action, with the goal of helping individuals take on an industry or corporation as a group instead of filing thousands of individual lawsuits.
WhiskyCast has asked the firm's designated spokeswoman for more information on Edelson's plans, but has not received a response. We have also contacted each of the brands mentioned on the firm's web site. This story will be updated with more information.
Editor's note: This story has been updated to include responses from Ascendant Spirits, KGB Spirits, WhistlePig, and Redemption, in addition to previously added comments from High West's David Perkins.
---