Each week, we bring you the latest whisky news on WhiskyCast, but a lot can happen during the week. Now, you can keep up with whisky news as it happens here on WhiskyCast.com!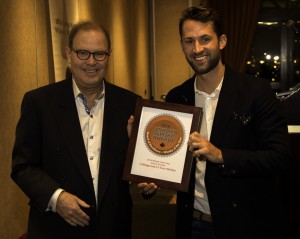 January 15, 2015 – Brown-Forman's Collingwood Rye 21-year-old whisky was named Canadian Whisky of the Year tonight in the fifth annual Canadian Whisky Awards. Collingwood Rye was also named Connoisseur Whisky of the Year (multiple-market) as one of the five finalists for the top honor. Canadian Whisky Awards founder Davin de Kergommeaux presented the awards during a ceremony at the Hotel Grand Pacific kicking off this weekend's Victoria Whisky Festival.
Brown-Forman regional sales manager Chase Stampe accepted the award for Collingwood. "It's something that we're really, really excited about," he said after the ceremony. "To be rewarded in a way that celebrates Canadian Whisky, number one…and the Collingwood brand, number two, in multiple areas was something that was super exciting for us." The whisky comes from Brown-Forman's Canadian Mist distillery in Collingwood, Ontario, when 50 barrels of 100% rye whisky were laid down by former distillery manager Harold Ferguson in the early 1990's. The barrels were found by current manager David Dobbin in late 2013 and bottled for release in 2014.
Other finalists included Canadian Club Chairman's Select 100% Rye, which was named Connoisseur Whisky of the Year (Canada-only), Masterson's Rye 10-Year-Old Batch 5 Barrel A2-062 as Connoisseur Whisky of the Year (export market), and Stalk & Barrel Rye Whisky from Still Waters Distillery was named Best New Whisky of the Year.
Canadian Club Chairman's Select 100% Rye was also honored with an Award of Excellence for extending the range of the Canadian Club brand, while Crown Royal's Single Barrel received an Award of Excellence for raising the profile of Canadian Whisky. Masterson's from California-based The Other Guys was honored with an Award of Excellence for its Rye barrel finishing program that takes whisky distilled at Calgary's Alberta Distillers and uses high-quality finishing barrels.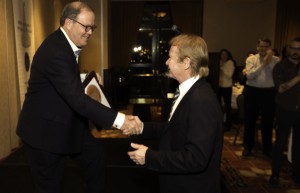 The evening's only standing ovation, though, went to Forty Creek founder John Hall, who received the CWA's first-ever Lifetime Achievement Award for his 20-plus years at Forty Creek. Hall sold the distillery to Gruppo Campari in 2014, but remains with Forty Creek as chairman and chief whisky maker. "Forty Creek has led the way for connoisseur Canadian whisky in the US, and has opened many doors for all Canadian whisky brands," Davin de Kergommeaux said in presenting Hall with the award.
"I had absolutely no idea…just speechless, I was shocked," Hall said after the ceremony. "It's really nice to receive that recognition, that in some small way I assisted in bringing Canadian whisky back to the center stage."
Other award recipients included:
"Sippin' Whisky of the Year"
Domestic: Crown Royal Limited Edition
Export: J.P. Wiser's Rye
Multiple markets: Royal Canadian Small Batch
"Value Whisky of the Year"
Domestic: Highwood Canadian Rye Whisky
Export: Canadian Mist
Multiple Markets: J.P. Wiser's Deluxe
"Flavoured Whisky of the Year"
Domestic: Forty Creek Cream
Export: Peach Mist
Multiple Markets: Tap 357
53 whiskies won medals in the competition, with 12 golds, 14 silvers, and 27 bronze medals. The blind judging was done by a group of whisky writers and bloggers, including WhiskyCast's Mark Gillespie. Complete results will be posted at de Kergommeaux's Canadian Whisky web site.
Links: Canadian Whisky
---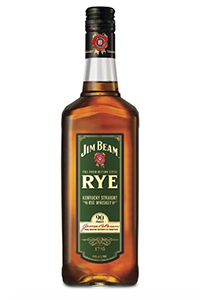 January 14, 2015 – With Rye whiskey booming in popularity, Jim Beam is re-launching its namesake Rye with a return to what the company describes as one of the Beam family's oldest recipes – and a new name. Jim Beam Pre-Prohibition Style Rye Whiskey will replace the current Jim Beam Rye in retail and on-premise accounts starting this month, with a recommended retail price of $22.99 per 750ml bottle.
Unlike the current version of Jim Beam Rye, the new version is bottled at 45% ABV (90 Proof). In a news release announcing the change, Beam's Fred Noe said the Pre-Prohibition Rye will have more flavor than the original. "We've heard loud and clear from bartenders and whiskey fans that they are looking for a bolder Rye that stands up better in cocktails," Noe said. 
The new version will also have updated packaging, complete with a new green label to distinguish it from the current Jim Beam Rye.
Tasting notes will be available at a future date.
Links: Jim Beam
---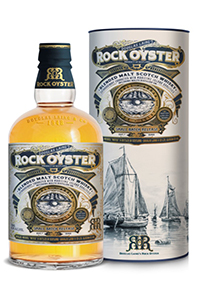 January 14, 2015 – "Island Time" may be a more appropriate expression for the Caribbean than Scotland, but Douglas Laing & Co. is looking to Scotland's islands as the inspiration for its latest Blended Malt. Rock Oyster uses malts from several of Scotland's island distilleries, including Islay, Jura, Orkney, and Arran. The result is a blend with a maritime character, according to Douglas Laing managing director Fred Laing.
"Rock Oyster showcases the archetypal Island character of gentle peat-smoke, vanilla'd honey and salt. If I could select just one dram to transport the Whisky enthusiast to the Islands of Scotland, it would be this one," he said in a news release announcing the launch of Rock Oyster. The new expression joins other similarly-themed Blended Malts in the Douglas Laing range, including Big Peat (Islay), Scallywag (Speyside), and Timorous Beastie (Highlands).
Rock Oyster is bottled at 46.8% ABV and will be available at whisky specialist retailers starting this month.
Links: Douglas Laing & Co.
---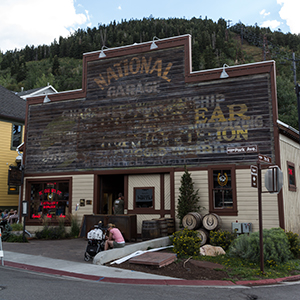 January 10, 2015 – High West, the Park City, Utah-based whiskey distiller and blender, is updating all of its whiskey labels to include more details on the sources of the spirits used in each expression. High West has been distilling whiskey since 2009 at its own distillery and restaurant located in the center of the ski resort community east of Salt Lake City, but many of its expressions use whiskey sourced from MGP-I in Lawrenceburg, Indiana and other distilleries, including the 1792 Barton Distillery in Bardstown, Kentucky.
While High West founder David Perkins has been open about his use of so-called "sourced" whiskey in many of his products, he told WhiskyCast's Mark Gillespie in an interview for this week's episode that he wanted to make it "crystal-clear" for consumers. "We've always been up-front about it…it hasn't always been on our labels, but it's been on the website or we talk about it," he said. "The consumer deserves to have their questions answered, and we're happy to answer them…I think it's good to have transparency in the industry."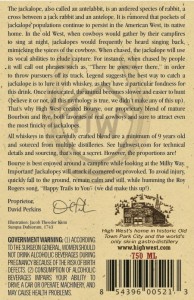 While several of High West's new labels are still being reviewed by the US Treasury Department's Tax & Trade Bureau in an approval process that can take 90 days or longer, the distillery received approval in December on new labels for Bourye and American Prairie (formerly known as American Prairie Reserve). The Bourye rear label (shown at left) uses the language "All whiskeys in this carefully crafted blend are a minimum of nine years old and sourced from multiple distilleries. See highwest.com for technical details and sourcing, that's not a secret. However, the proportions are!" The Bourye web page at High West's site describes all four whiskies used to make the blend, along with their sources and mashbills. Three come from MGP-I, with the fourth from 1792 Barton. According to Perkins, the new labels will be phased in as the TTB approves them, with plans to have all of the new labels into the marketplace within six to eight months.
High West's move comes as other US whisky producers have been criticized for not disclosing the source of their whiskies on labels as required by federal law when the distiller and bottler are in different states. Iowa-based Templeton Rye is facing a lawsuit in Chicago filed by a consumer for not disclosing that its whiskey is distilled at MGP-I in Indiana. Templeton received TTB approval in October for new labels carrying "Distilled in Indiana" that are now being used on shipments of Templeton Rye.
Links: High West | Templeton Rye
---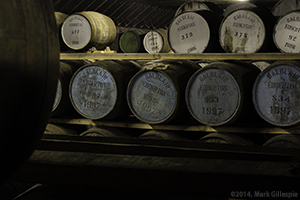 January 9, 2015 – Inver House-owned Balblair Distillery will be releasing four expressions in the US market this month. The arrival of the 2003, 1999, 1990, and 1983 vintages marks the first time Balblair has released four different expressions in the US at the same time.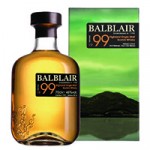 All four have been available in other markets, with the 1999 Second Edition being released globally in mid-2014 following its debut in travel retail at the beginning of 2014. However, bringing the whiskies to the US market required new bottles and labels to comply with the US-mandated 750ml bottle size as opposed to the global standard of 700ml.
Distillery manager John MacDonald selected American Oak ex-Bourbon casks for the 2003 and 1983 vintages, while picking a combination of ex-Bourbon and Spanish Oak ex-Sherry butts to create the 1999 and 1990 vintages. Balblair is the only distillery in Scotland that uses vintage dates exclusively instead of age statements or names for its whiskies.
Recommended retail prices for the four expressions will range from $70 for the 2003 to $330 for the 1983 vintage. They will replace the current 2002, 1991, and 1989 vintages currently available in the US.
Editor's note: This story was updated to include details on vintages the new Balblair expressions will be replacing. 
Links: Balblair
---
January 8, 2015 – The Scotch Whisky Association is looking for a new executive to head up the trade group's global lobbying and export promotion work. The new Global Affairs Director will be based at the association's new office to be opened in London later this year after the UK's general elections.
In a news release, SWA Chief Executive David Frost said the new executive will lead staff in London and Edinburgh to open up more markets for Scotch Whisky. "We believe that a permanent London presence will enhance our ability to engage effectively and build relationships both with the UK Government and with other governments and bodies represented there," he said. The association will soon begin recruiting staff with international relations and public affairs experience for the London office. 
The announcement comes as Frost announced the departures of two longtime SWA executives who had been responsible for managing global affairs. European Affairs Director Nick Soper left the association in November, while current International Affairs Director Campbell Evans will step down later this year – likely after the new executive comes on board. Frost paid tribute to both men for their service to the industry. Soper's portfolio included working with European Union officials in Brussels, while Evans also oversaw the association's media relations work at times in addition to working on international issues such as counterfeiting and trademark protection.
Links: Scotch Whisky Association
---
January 7, 2015 – Even as Chip Tate begins work on his new Tate & Company distillery in Waco, Texas, he is taking legal action against the distiller who succeeded him at Balcones Distilling, Jared Himstedt, along with Himstedt's wife Laura. Tate and his attorney, David Clouston, filed suit Tuesday in McLennan County District Court against the Himstedts on two different grounds.The lawsuit accuses Jared Himstedt of defaming Tate in several media stories published since the December 2, 2014 settlement between Tate and the owners of Balcones to buy out Tate's 27% ownership stake in the distillery. The suit also seeks to declare that Tate need not repay a $10,000 loan from Laura Himstedt made several years ago to help Balcones, following a "demand letter" seeking repayment of the loan after Tate received an undisclosed amount of cash for his shares in Balcones.
According to the Waco Tribune, Jared Himstedt said his wife offered to loan Tate the $10,000 in May, 2013 because Balcones was running out of money. This would have been around the same time Tate was finalizing the deal with a Oklahoma City-based private equity firm led by Greg Allen to acquire a majority stake in Balcones. The Himstedts maintain the loan was a personal loan to Tate that should be repaid from the proceeds of the sale of his Balcones shares in December. In a statement provided to WhiskyCast on behalf of the Himstedts, attorney Jeffrey Armstrong accused Tate of reneging on his agreement to repay the loan.
"This lawsuit is yet another attempt by Mr. Tate to avoid his responsibilities to business associates and investors at every turn.  Jared Himstedt is well respected within the craft distilling community with award-winning blends, and is an invaluable part of the Balcones business and brand.  Jared Himstedt has now been apart of Balcones longer than anyone else as he and Mr. Tate started distilling Balcones whisky together.  Jared has a passion for craft whisky and for protecting the Balcones brand and its employees.   His wife, Laura Himstedt, helped Mr. Tate to grow Balcones at a time when Mr. Tate desperately needed money.  Once again, Mr. Tate is reinventing the narrative to avoid repaying the debt and promises he made to her."
Tate and Clouston tell a different story, citing in the court filing a written agreement between Tate and Laura Himstedt that repayment was tied to future Balcones profits.
"The terms of the loan provided that Chip would only repay Defendant Laura if/when Chip received profit sharing cash distributions from Balcones and that he would repay Defendant from any profit sharing cash distributions he received as a member of Balcones using a calculation equal to a 1% interest in Balcones."
In a statement provided to WhiskyCast, Tate said he resented the implication that he owes Laura Himstedt any money, and that Laura Himstedt was given details of the settlement and buyout agreement that were to have been kept confidential.
"The Himstedts know that money was invested in the company. In truth, the funds that Laura lent the company were used to pay Jared's salary, even though I wasn't making a dime back then."
Tate had hoped to announce more plans for his new distillery today, but said in an email to WhiskyCast that the "real announcement got sidetracked by the other matter." He had hoped the December settlement would allow him to move forward with plans for his new distillery, and Clouston described the lawsuit as an attempt to protect the interests of Tate and his family.
The Himstedts and Armstrong have not filed their official response to Tate's lawsuit. This story will be updated as more information becomes available.
Editor's note: A PDF version of the Tate lawsuit is available to download here. Court filings in civil cases only represent one side's version of a story, and civil courts generally allow each side in a lawsuit a set amount of time to respond to the other's filings.
Links: Tate & Company | Balcones Distilling
---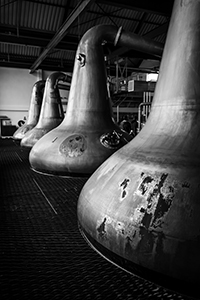 January 6, 2015 – Dewar's is moving ahead with plans to challenge Diageo and Chivas Brothers in the single malt Scotch whisky market with a new range of malts from its portfolio of distilleries with today's official announcement of the first distillery releases from Aultmore Distillery in Speyside.
With the exception of a few releases over the years, Aultmore's output has been used for blending purposes since the distillery opened in 1897 – except for the occasional bottling that made it to local pubs for those who knew to ask for "a nip of the Buckie Road." The range initially includes 12 and 25-year-old expressions to be available in ten markets around the world, while a 21-year-old expression geared for the travel retail market has been available in select UK airport outlets since November.
The Aultmore malt has been highly prized by blenders for the ease with which it works with other malts and grain whiskies to create Blended Scotch whiskies. "Aultmore is ranked top class in the whisky industry…it's one of the 12 whiskies ranked top class, so it's incredibly in demand for blends," said Stephen Marshall of Dewar's during a November interview with WhiskyCast's Mark Gillespie.
For the last several years, Dewar's whisky makers have been going through the company's cask inventory to gauge the potential for expanding the company's single malt lineup. The "Last Great Malts of Scotland" range launched in 2014 with updated packaging for Aberfeldy's single malts and four new releases from Craigellachie, and single malts from Deveron (Macduff) and Royal Brackla are planned for release later this year.
While not a part of the official "Last Great Malts" range, the Bacardi-owned Dewar's also released a special 28-year-old Aberfeldy Gold of Pitlie edition recently at the DFS Group's Masters of Wines & Spirits event in Singapore. Only eight bottles were produced from a single cask, with all eight selling at the event for $4,000 USD each. The name comes from the Pitlie Burn, which is the distillery's water source.
Links: Aultmore | Last Great Malts of Scotland
---
January 4, 2015 – Takeshi Taketsuru, the nephew and adopted son of Japanese whisky pioneer Masataka Taketsuru and retired president of Nikka Whisky, has died in Japan at the age of 90, according to the Financial Times. Taketsuru died December 17.
Takeshi Taketsuru was born in a village near Hiroshima in 1924 to Nobuyo Taketsuru, the older sister of Masataka Taketsuru. After the US atomic bomb attack on Hiroshima in 1945 that left widespread damage, he moved north to Yoichi to live with Masataka and Rita Taketsuru and joined the family's Nikka Whisky business upon his graduation from college in 1949. He eventually became Nikka's master blender, and was named Nikka's president in 1985, six years after the death of Masataka Taketsuru.
Under his leadership, Nikka slowly began exporting its whiskies outside of Japan and acquired the Ben Nevis distillery in Scotland in 1995. He remained a key adviser to the company after it was acquired by the Asahi Group in 2001 until his death.
Editor's note: This story was updated to include the date of Taketsuru's death.
Links: Nikka Whisky
---
January 3, 2015 – Renowned craft distiller Chip Tate is expected to reveal more details about plans for his new distillery on Tuesday. As Tate told WhiskyCast last month following a buyout agreement that severed his ties to Balcones Distilling, he plans to build a new distillery in the Waco area that will produce brandy and other spirits while he serves out a non-compete clause that will prevent him from making whisky until March 5, 2016.
Tate has been dropping hints on his Twitter feed about the new distillery, which will be called "Tate & Company" to — as he put it during his December 5 interview, "avoid any confusion in the future about who's going to be working there for a long time."

The Waco Tribune reported this weekend that Tate has signed a contract to build his new distillery in an 11,000 square foot building near Waco Regional Airport northwest of the city, and has secured construction financing from a local bank. Tate plans to use the proceeds of his buyout from Balcones to finance the distillery's operations, and told the paper he will never again allow himself to give up majority ownership of his business. He also has hired two distillers away from Balcones under terms of the buyout agreement that exempted them from his general ban on soliciting other Balcones employees to join the new distillery.
This story will be updated as more details become available.
Links: Tate Distillery
---