Each week, we bring you the latest whisky news on WhiskyCast, but a lot can happen during the week. Now, you can keep up with whisky news as it happens here on WhiskyCast.com!
March 21, 2014 – Diageo took "Distiller of the Year" honors in Whisky Magazine's annual Icons of Whisky Awards presented last night in London on the eve of Whisky Live London. Diageo had already won the Scottish regional competition in December for its massive investment in expanding production at many of its Scotch whisky distilleries, and beat out Irish Distillers (Rest of the World), Buffalo Trace (USA), and Balcones (USA Craft Distiller) in the final round. William Grant & Sons was named "Brand Innovator of the Year", while Michael Foggarty of Ireland's L. Mulligan Grocer/Swallow was named "Brand Ambassador of the Year." Ardbeg's Mickey Heads won "Distillery Manager of the Year" honors.
Laphroaig Distillery took top honors as "Visitor Attraction of the Year," while Canadian Club's Tish Harcus was named "Visitor Centre Manager of the Year." In the retail categories, The Whisky Exchange in London (single-store), Paris' La Maison du Whisky (multiple store), and Master of Malt (online) all won global Icons awards.
The ceremony also included the announcement of Icons winners for the Rest of the World regional competition, which covers everything other than Scotland and the US. As previously mentioned, Irish Distillers, Michael Foggarty, Tish Harcus, the Whisky Exchange, La Maison du Whisky, and Master of Malt were regional winners. Jean Donnay of France's Glann ar Mor Distillery was named "Distillery Manager of the Year," Compass Box "Brand Innovator of the Year," and the Old Jameson Distillery in Dublin "Visitor Attraction of the Year."
All three regional rounds and the final selections were voted on by members of the Whisky Magazine editorial staff from a shortlist of nominations compiled by editor Rob Allanson.
Links: Whisky Magazine
---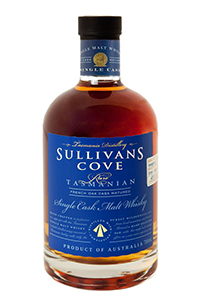 March 21, 2014 – Call it an upset…call it a surprise…call it what you will, but the reputation of Australian whisky has received a major boost. Sullivan's Cove French Oak Cask from Tasmania Distillery took top honors as the "World's Best Single Malt" in Whisky Magazine's World Whiskies Awards competition. The results were announced Thursday night in London on the eve of Whisky Live London, with the Sullivan's Cove malt defeating 12 other regional award-winning single malts from Scotland, Ireland, Europe, and Asia. Whisky writers (including WhiskyCast's Mark Gillespie) and retailers judged the first two rounds of the competition with blind tastings, while a panel of master distillers, blenders, and brand ambassadors judged the final round in blind tastings.
"I was asked to come over to London for the awards," distillery manager Patrick Maguire told WhiskyCast's Mark Gillespie in a telephone interview from his home in Hobart, Tasmania. "That happens every year that we enter something, but we don't always win something…so I said, look, it's a long way to go just for one night, unless I'm really going to win something, and of course, they didn't tell me that we'd won anything…they said 'it'd be really nice if you could come over', so unfortunately, I didn't go.
Listen to the entire interview:

In the first 24 hours after the announcement, Maguire's distributors around the world have been flooded with requests for the French Oak Cask. Earlier this year, the distillery put it on allocation for export customers in order to save some stocks for domestic customers in Australia and ensure enough ongoing supply to last for several years. "I've been getting emails and calls from our distributors in the UK…they've been slammed and have sold all of their stock now, and they're desperately running around trying to find other stock…they're talking to our Dutch distributors and our French distributors," Maguire said. "Our mainland distributors in Melbourne, they've been slammed as well…they've been sending emails out to their network around the country saying 'everybody calm down, we've run out of stock.' We're just going to have to have a strategy meeting to see what we can do."
"To say it was surprising would be a little bit of an understatement," Whisky Magazine editor Rob Allanson said of the victory for Sullivan's Cove. "The single malt final category had some belters of whiskies…it really is quite an incredible whisky. I'm so pleased that it won, and it's a bit of a statement." Maguire sees it as confirmation that Australian malts can compete with other single malt whiskies from around the world as well.
"We've been making incredible whiskies in Australia, and especially in Tasmania. There's a group of distillers here now, there's 9 in Tasmania, there'll be 12 later this year. They're all very small, and that's the thing for everyone to understand…we're all tiny producers, but I think this award should cement the idea to whisky consumers that Australia is capable of producing world-class whiskies, and to me, that's a fantastic thing."
In other categories, Nikka's Taketsuru 17 took top honors among blended malt whiskies, while The Lost Distilleries Blend Batch #1 from The Blended Whisky Company was named "World's Best Blended Whisky."  Redbreast 15 was named "World's Best Pot Still Whisky," while the Teeling Single Grain won among grain whiskies. Balcones Brimstone Resurrection was named "World's Best American Whiskey," and Sazerac's Thomas H. Handy Sazerac Rye took the award for rye whiskies. Pike Creek 10 won for Canadian whiskies, while the Sons of Liberty Pumpkin Spice from Rhode Island's Sons of Liberty Distillerty won best flavored whisky honors. Finally, Master of Malt 40 Years Old was named the world's best whisky liqueur.
A complete list of award winners can be found at the Whisky Magazine web site.
Editor's note: This story was updated following interviews with Patrick Maguire and Rob Allanson. 
Links: World Whiskies Awards
---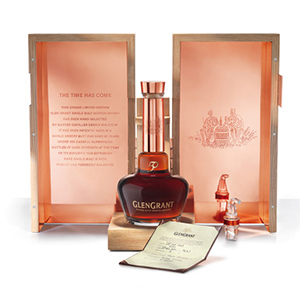 March 21, 2014 – Glenglassaugh and Glen Grant are unveiling new single malts in time for Spring, with a vintage malt from Glen Grant in Rothes and a rare peated malt from Glenglassaugh.
Glen Grant's longtime distillery manager, Dennis Malcolm, filled the cask that would eventually become the new Glen Grant 50 Year Old as a young distillery worker on October 28, 1963. 50 years and a few days later, that cask yielded just 150 bottles of whisky. In a news release, Malcolm described the whisky as a masterpiece.
"Only time measures our pursuit of perfection. Maturation cannot be rushed. Like people, casks mature at their own pace. I have protected and cared for this barrel for 50 years, letting it breathe and patiently waiting for the magic and interaction of whisky and wood."
The Glen Grant 50 comes in a Glencairn crystal decanter that replicates Glen Grant's pot stills, along with a hand-crafted Scottish Oak box. It will be available starting today at Hong Kong's airport, and soon at travel retail shops in Singapore, Seoul, Beijing, Shanghai, and Taipei airports. Whatever remains will be available in other markets starting in June. The whisky carries a recommended price of around £8,400 ($13,850 USD).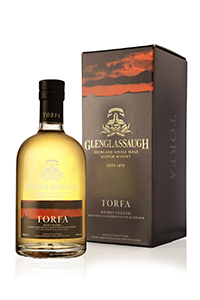 Glenglassaugh's Torfa is a change of pace for the distillery, which was acquired by the BenRiach Distillery Company last year. It is a "richly peated" no-age-statement single malt that will become the third expression in Glenglassaugh's core range alongside Revival and Evolution. The name is derived from the Old Norse word loosely translated by Scots as "turf" or "peat".
Torfa is being bottled at 50% ABV, and the distillery's Alistair Walker has confirmed that the whisky is exclusively from stocks produced since Glenglassaugh was reopened in 2008 after more than 20 years. It will be available globally through whisky specialist retailers at a recommended price of £41.99 ($69 USD).
Editor's note: This story was updated with additional information from Glenglassaugh.
Links: Glen Grant | Glenglassaugh
---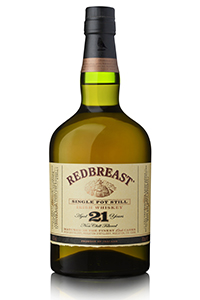 March 20, 2014 – For the second consecutive year, a whisky has received a perfect 100-point score from the judging panel for the Ultimate Spirits Challenge. Redbreast 21 received the highest possible score, along with a Chairman's Trophy for winning the Irish Pot Still Whiskies category. Last year, Highland Park's 25-year-old single malt became the first whisky to receive a perfect score in the competition. The competition is chaired by F. Paul Pacult, and the judging panel includes industry experts and spirits writers.
A total of 37 Chairman's Trophy winners were presented for various spirits, along with 218 finalists. Other whiskies honored include Glenmorangie 25, Ballantine's 17, and Douglas Laing's "Big Peat" in Scotch whiskies, Tullamore D.E.W 12 Special Reserve and Bushmills 16 in the Irish Whiskey categories, Wild Turkey Forgiven, George T. Stagg, and Bulleit 95 Small Batch among American whiskies, Alberta Premium Dark Horse in the Canadian Whisky category, and Nikka Coffey Grain in the Japanese Whisky category.
A complete list of award winners is available at the competition's web site.
Links: Ultimate Spirits Challenge
---
March 19, 2014 – With debate in the Tennessee General Assembly stalled until next Tuesday on proposed changes to the state's law setting specific standards for "Tennessee Whiskey", the debate outside of the Capitol building in Nashville is getting louder. Brown-Forman, the owner of Jack Daniel's Tennessee Whiskey, plans to urge its employees, suppliers, and supporters to contact their legislators in Nashville to oppose changes in the law passed last year. That law, referred to by its critics as "the Jack Daniel's law", requires the use of new charred oak barrels and the "Lincoln County" charcoal-filtering process for any whiskey to be legally called "Tennessee Whiskey". Those critics include Diageo, the owner of the George Dickel Distillery in Tullahoma, as well as a number of the state's small-scale craft distillers who want the freedom to use rejuvenated casks to mature their whiskies. Brown-Forman executives insist that allowing the use of used barrels would lead to inferior whiskies that could hurt the global image of "Tennessee Whiskey".
Monday, Diageo responded to Brown-Forman's news release blasting the Diageo-led movement as an attempt to undermine the entire "Tennessee Whiskey" category. The Diageo news release defended the "honor and quality of Early Times Whiskey", which is produced by Brown-Forman at its distillery in the Louisville suburb of Shively, Kentucky using used barrels. Early Times Kentucky Whisky (without the "e") is only available in the US, while Early Times Bourbon is sold in Japan and other export markets. In 2010, Early Times 354 Bourbon was introduced in the US with plans to replace the export-only Bourbon over time. Both Early Times Bourbon and Early Times 354 are made using new charred oak barrels. In the release, Diageo defended the use of used and rejuvenated casks while criticizing Brown-Forman for trying to use its dominance in Tennessee to establish a standard for others to meet.
Therefore, by their logic, Brown-Forman has deemed its own product inferior."
In a telephone interview with WhiskyCast's Mark Gillespie, Brown-Forman spokesman Phil Lynch said what he described as "Diageo's snarky press release" makes his company's case for keeping the 2013 standards in place:
"We don't consider it (Early Times) premium, and it's not premium-priced, and one of the key reasons why is that we use used barrels instead of new barrels. Jack Daniel's, on the other hand, is a very premium product, and we want to make sure that it maintains that premium image and premium reputation."
Listen to the entire interview:

Lynch cited one legislator's comments during Tuesday's House committee debate as the key reason why the current law should not be changed.
"He said 'I don't care if they brew stuff in their bathtub, they still ought to be able to call it Tennessee Whiskey.' That, therein, lies the problem, because the standards of identity need to be established, which they are, and enforced so that when people buy Tennessee Whiskey, they know they're getting a high-quality premium product, not something that someone's made in their bathtub."
The Tennessee Alcoholic Beverage Commission has been interpreting the 2013 law to allow the use of adjectives such as "unaged," "white," and grain descriptors such as "corn" between the words "Tennessee" and "Whiskey" on labels. However, it should be noted that the law gave distillers 3 years to sell off existing stocks of whiskey that did not meet the standards, and no distiller has been sanctioned yet for failing to comply with the law.
Traditionally, so-called "standards of identity" are established by the US Treasury Department's Tax & Trade Bureau, which regulates alcoholic beverage production and sales nationally. There is no TTB federal standard of identity for "Tennessee Whiskey", other than the regulations requiring "straight whiskey" to be distilled and matured within the same state in order to be called a "(state name) Straight Whiskey". However, the North American Free Trade Agreement (NAFTA) between the US, Canada, and Mexico defines "Tennessee Whiskey" as "a straight Bourbon Whiskey authorized to be produced only in the State of Tennessee." This would appear to preclude Tennessee whiskey producers from maturing their whiskies outside of the state of Tennessee under federal law, even though one of the proposals being considered by state legislators would remove that requirement from the current state law.
This story will be updated as more details become available.
Links: Brown-Forman | Jack Daniel's | Diageo | George Dickel | Tennessee General Assembly
---
March 19, 2014 – Chancellor of the Exchequer George Osborne is yielding to the Scotch whisky industry's calls for tax relief in the UK Government's 2014 budget, freezing taxes on Scotch whisky at their current level for the first time since at least 2008. In the final budget before Scottish voters go to the polls for September's independence referendum, Osborne scrapped a planned 4.8% increase in excise taxes on whisky and the standard escalator on alcohol duties that adds 2% above the rate of inflation each year. Osborne also froze taxes on ordinary cider and lowered the taxes on beer by one pence for the second consecutive year. However, all other spirits and wines will see additional increase in excise taxes, and Osborne pledged that the escalator clause will be extended after its scheduled expiration next year.
"Scottish whisky is a huge British success story. To support that industry, instead of raising duties on Scotch whisky and other spirits, I'm today going to freeze them."
Scotch whisky sales fell 3% in the UK last year, and Scotch Whisky Association leaders placed much of the blame on Westminster's tax policy since the escalator clause was introduced in 2008. SWA Chief Executive David Frost praised Osborne's decision in a news release:
"We are delighted that the Chancellor and the Chief Secretary to the Treasury listened to our case for scrapping the unfair alcohol duty escalator and freezing whisky duty. It is a move that supports hard-pressed consumers, a major manufacturing and export industry and the wider hospitality sector. This fairer tax treatment in the UK, the third biggest market for Scotch Whisky, also sends the right signal on excise policy to the governments of the 200 countries to which we export.  So its effects will be felt around the world."
In addition to going along with the whisky industry's calls for a tax freeze, Osborne also announced other budget moves aimed directly at Scotland, including pension and savings tax cuts, economic development assistance for Scottish airports, and a review of taxes on the North Sea oil and gas industry. The moves are seen by many analysts as part of the coalition government's campaign to urge Scots to vote against independence in the September 18 referendum. Scottish National Party leaders welcomed the budget changes, while continuing to criticize the government in London. Moray MP Angus Robertson represents the Speyside area, and noted in a SNP news release that even with the one-year duty freeze, approximately 80% of the price of a bottle of whisky goes to taxes.
"It's worth remembering that UK Governments have repeatedly acted against the interests of the Scotch whisky industry, with Labour introducing the duty escalator, and the Tory/Lib Dem coalition keeping it going for years. The escalator has meant duty increasing by 2% above the rate of inflation each year since 2008. Tax on Scotch whisky has risen by 44% over five years."
The SWA had projected that Osborne's planned increases would have raised the average price of a bottle of blended Scotch whisky to more than £20 ($33 USD), with prices for single malts rising to more than £40 ($66 USD).
Links: Scotch Whisky Association
---
March 19, 2014 – No action came during Tuesday's Tennessee General Assembly hearings on proposals to change the Jack Daniel's-backed law passed last year that sets strict standards for what can be called "Tennessee Whiskey". Critics of the law want to either repeal the entire law or roll back provisions that require the use of new charred oak barrels and charcoal filtering (the "Lincoln County Process"). According to The Tennesseean, the bill's House sponsor says last year's legislation overstepped their boundaries. "We're going to make something right that we did wrong last year," Rep. Bill Sanderson told the newspaper.
Jack Daniel's owner Brown-Forman pushed for the law last year to establish standards similar to those for Bourbon, Scotch Whisky, Champagne, and other products with geographic designations. Jack Daniel's is the largest Tennessee Whiskey producer, with 11.5 million cases of Jack Daniel's Black Label sold worldwide last year, and Brown-Forman spokesman Phil Lynch accused Diageo Friday of attempting to undermine the category on fears that Jack Daniel's sales were cutting into sales of Johnnie Walker and Diageo's other Scotch whisky brands. Diageo owns the second-largest Tennessee distillery, the George Dickel Distillery in Tullahoma, and has joined forces with many of the state's craft distillers to overturn the 2013 legislation. They see the 2013 law as anti-competitive and allowing one dominant company to dictate standards for the rest of the industry.
Tuesday, a Tennessee House committee considered proposals to repeal the law entirely or modify it to require only that whiskey be fermented, distilled, and matured within the state in order to carry the "Tennessee Whiskey" designation, but took no votes. The Senate State Government Committee was scheduled to consider similar proposals, but ran out of time during Tuesday's meeting.
Brown-Forman executives say the original law protects the quality of "Tennessee Whiskey" by banning whiskies made using "inferior" production methods from hurting the state's reputation, and have vowed to fight to keep any changes from being made to the 2013 law. The company has its own supporters within the General Assembly, and the debate could last through the remaining weeks of this year's session, which is expected to end around May 1.
Links: Brown-Forman | Jack Daniel's | Diageo | George Dickel | Tennessee General Assembly
---
March 17, 2014 – One of Scotland's smallest distilleries is to be sold after a dispute between brothers led to a court-ordered windup of the business. Bladnoch Distillery in Wigtown was ordered into administration last week at the request of Colin Armstrong, one of the four owners of the distillery. Raymond Armstrong, the distillery's managing director, posted this note on the Bladnoch web site's discussion forum in response to questions about the court ruling.
"It's important to say that the company was not bankrupt, so there are no financial difficulties. The four directors/shareholders could not agree, two wanted to sell, two did not. Unfortunately there were no buyers wishing to acquire a 50% share holding and as the value of the distillery as a whole had increased considerably it was not possible to reach an amicable agreement. The relationships were appalling and to the detriment of the company."
Armstrong noted that he expects the distillery and its maturing stocks of whisky to be sold as a going concern. In the meantime, production has been halted and the status of the distillery's workers is unclear. A court-appointed receiver has been appointed to handle the sale of Bladnoch's assets.
"I first came across Bladnoch in May 1994, so it's nearly twenty years ago. I would have liked to have seen the distillery's bi-centenary in 2017 but that wasn't to be. My time at Bladnoch resulted in me getting a son in law from Glasgow and a daughter in law from Wigtown who has provided me with a Scottish grandson. I've also made friends all around the world so you can't say anything bad about that. The end wasn't the nicest but you can't have everything."
Armstrong and his partners acquired the distillery in 1994 after UDV (now Diageo) had closed it the previous year, but the sale came with a clause forbidding the new owners from re-starting production. In 2000, Diageo agreed to waive the restriction, but limited production to 100,000 liters of spirit annually. Since 2008, Bladnoch has released small amounts of its own whisky while selling older expressions produced under UDV ownership. The distillery has also hosted a series of whisky schools, and profited from leasing space in its maturation warehouses to other distillers.
Editor's note: We have reached out to Raymond Armstrong, but have not received a response. This story will be updated as more details become available. 
Links: Bladnoch
---
March 17, 2014 – In a public relations war, the news release is often the simplest, yet one of the deadliest ways to strike back at an opponent. The winner is often decided not by facts, but by which side gets the most attention, and in the developing war over legal standards for "Tennessee Whiskey" — the volume is being turned up to 11.
Diageo responded today to Brown-Forman's Friday attack on a Diageo-led attempt to persuade Tennessee state lawmakers to amend a bill passed just last year that sets legal standards for what can be called "Tennessee Whiskey". Brown-Forman spokesman Phil Lynch took the initial press release attack a step further in an interview with WhiskyCast's Mark Gillespie, accusing Diageo of sacrificing its George Dickel brand to undermine the entire "Tennessee Whiskey" category out of fears that Brown-Forman's Jack Daniel's whiskies were cutting into Diageo's Scotch whisky sales worldwide.  The bill being considered in Nashville would amend last year's legislation to allow for the use of used oak barrels in maturation and allow maturing whiskey to be stored outside of Tennessee.
Diageo's response — a news release defending the "honor and quality of Early Times Whiskey". Note that Early Times is not a Diageo product nor a "Tennessee Whiskey", but is owned and distilled by Brown-Forman at the Early Times Distillery in the Louisville suburb of Shively. In the release, Diageo attempted to undermine the arguments that Brown-Forman is making against the proposed legislative changes.
"Claiming the integrity of Tennessee whiskey is "under attack" Brown-Forman's Jack Daniels asserts the only way for Tennessee whiskey to be a "premium product representing a world-class standard and utmost quality" is for it to be aged in new oak barrels.  Interestingly, according to the website of Brown-Forman owned Early Times whiskey, the brand is aged and barreled in "used oak barrels".  Therefore, by their logic, Brown-Forman has deemed its own product inferior."
Diageo's Mike DaRe told WhiskyCast on Friday that the bill, which the news release refers to as "the Jack Daniel's recipe bill", is anti-competitive and hurts smaller distillers while allowing one company to define an entire category of whiskey.
To set the record straight, Brown-Forman produces two versions of Early Times. Early Times Kentucky Whisky uses used barrels, and is not available outside of the US market. Early Times 354 Bourbon was first released in 2010, matured in new oak barrels, and replaced the Early Times Bourbon that was sold in export markets in addition to being sold in the US market. Brown-Forman's own web site describes Early Times Kentucky Whisky as a "value" whisky — meaning one sold at lower prices and not intended to compete with "premium" brands. While Brown-Forman does not give a "pecking order" for its American-made whiskies, Early Times would likely be ranked at the bottom of the list behind Jack Daniel's, Woodford Reserve, and Old Forester.
The legislation would allow for the use of so-called "rejuvenated casks" in "Tennessee Whiskey" production, meaning casks that have been used previously and then planed on the inside to remove layers of charred and whiskey-soaked wood to expose fresher wood underneath. The bill's sponsor, Sen. Mark Green, explained in a March 16 email that this would help smaller distillers save money while still preserving the quality of their whiskey.
"The newest amendment provides the smaller manufacturers the ability to use barrels that have had the inner core ground out exposing new wood. The goal is to keep the tradition of the whiskey touching new wood, while providing the smaller distillers the ability to lower costs and compete."
The bill is scheduled for a Senate State Government Committee hearing on Tuesday.
Links: Diageo | George Dickel | Brown-Forman | Jack Daniel's | Early Times 
---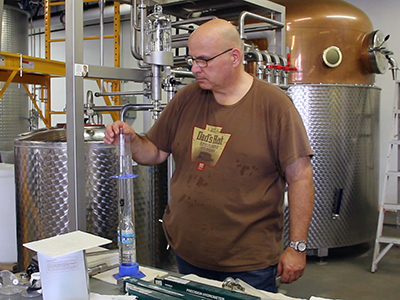 March 16, 2014 – Dad's Hat Pennsylvania Rye will become one of the rare American-made craft whiskies to become available in Europe when it goes on sale in France and other European markets in April. As first reported on this week's WhiskyCast, Bristol, Pennsylvania-based Mountain Laurel Spirits, which distills Dad's Hat in a converted wool mill north of Philadelphia, shipped 300 cases of its whiskey to La Maison du Whisky in Paris last week.
Co-founder Herman Mihalich told WhiskyCast's Mark Gillespie that La Maison du Whisky contacted them to inquire about distributing Dad's Hat in Europe. "When I lived in France, it was a cute little store downtown, but now it turns out they distribute all over Europe, Mihalich said. "They told me it'll be some time in the middle of April or so until they have everything in place, but we'll be distributed by them in France and across the EU." Mihalich was surprised by the inquiry, since he and co-founder John Cooper had not planned on seeking export partners for some time. In addition to operating two retail stores in Paris, La Maison du Whisky is a major distributor of spirits throughout Europe. It also publishes the French-language edition of Whisky Magazine and owns the Whisky Live Paris festival held each September.
The launch will include the flagship Dad's Hat Pennsylvania Rye, along with the vermouth cask-finished version released in 2013. Mihalich and Cooper only had to make minor changes to their packaging to comply with European Union standards. The labels were changed to read "Dad's Hat Pennsylvania Rye" — with the word "Whiskey" removed, since European law mandates a minimum of three years of aging for whiskies. They were able to use their existing 750ml bottles, but modified the bottling line slightly to fill the Europe-bound bottles at 700ml to comply with EU regulations.
The partners plan to release a straight rye whiskey later this year once their stock of maturing whiskey reaches two years of age. As of now, there are no plans to export that version to Europe.
Links: Dad's Hat | La Maison du Whisky
---