Each week, we bring you the latest whisky news on WhiskyCast, but a lot can happen during the week. Now, you can keep up with whisky news as it happens here on WhiskyCast.com!
December 5, 2014 – "There are 105 Scottish distilleries of significance…there are four in Ireland. You figure it out…"
That's how former Bruichladdich managing director Mark Reynier describes the prospects for his newest venture, the Waterford Distillery in Waterford, Ireland. Earlier this week, Reynier and his investors signed a deal to buy Diageo's former Guinness brewery in Waterford with the intent to begin distilling single malt Irish whiskey in the facility in early 2016. Reynier's team includes former Bruichladdich chairman Sir John Mactaggart and finance director John Adams, along with other investors in Bruichladdich who profited significantly from the Islay distillery's 2012 sale to Rémy Cointreau for $90 million USD and several new investors.
In a telephone interview with WhiskyCast's Mark Gillespie, Reynier described the Guinness facility as ideal for conversion into a whiskey distillery. "It's in the best barley-growing region in Europe, if not the world," he said. "It's a fantastic facility built in 2003 for 30 million Euros, absolutely state of the art stuff, and it's a combination of both things." Reynier plans to have stills installed once final environmental approvals are in place, with that being the only step needed to create a modern distillery. "It's like a giant Meccano (Erector) set…it's like a big Christmas present, you've got the biggest, most humongous kit of Meccano of all time, and that's what it feels like…I've got stainless steel coming out of my ears!"
Listen to Mark Gillespie's entire interview with Mark Reynier:

Unlike Bruichladdich, which relied on cask sales to individuals during its early years after reopening in 2001, Waterford will have enough working capital to cover the first five years of production without having to generate income. "You won't be hearing from me at all…we don't need to do anything, heads down and distill like mad…after five years of production, six years from now, we'll be ready to go," Reynier said. There will not be a master distiller, but Waterford will have a head brewer and head distiller in the traditional way distilleries were managed decades ago.
However, one Bruichladdich tradition is expected to be carried over at Waterford. When Bruichladdich re-opened in 2001, Reynier's young son Ruari helped fill the first cask. Now 14 years old, Ruari will likely be given the honor of filling the first cask at Waterford when production begins. This time, he'll likely be expected to roll it into the warehouse as well.
---
December 1, 2014 – With the growth in Irish Whiskey sales worldwide, more entrepreneurs are looking at opportunities in the fastest-growing sector of the whisky market. Former Bruichladdich managing director Mark Reynier is the latest, and has reached an agreement to buy Diageo's Guinness brewery in Waterford, Ireland with plans to convert it into a whiskey distillery. No purchase price was announced.
Reynier has reunited with his former Bruichladdich backers Sir John Mactaggart and John Adams to form Renegade Spirits Ltd. with a group of private investors from the UK and Ireland. Mactaggart was Bruichladdich's chairman, while Adams served as finance director during the rebirth of Bruichladdich from 2001 until the distillery was sold to Rémy Cointreau in 2012 for $90 million USD.
The company will begin renovation of the brewery in 2015, with plans to begin distilling in 2016. Diageo closed the Waterford brewery last year after consolidating Guinness production at the main St. James Gate brewery in Dublin. There have been breweries on the Waterford site since 1792, and the current facility opened in 2004.
This story will be updated as more details are available.
---
November 29, 2014 – While the details aren't known yet, former Bruichladdich managing director Mark Reynier is apparently getting back into the distilling business. Reynier posted a note on his Twitter feed Friday that is generating a lot of speculation.

While Reynier has not responded to the speculation online about what his new project will be, he did offer some hints in an email to WhiskyCast's Mark Gillespie.
"Don't get too excited – it's start up – so a few years will need to pass."
Reynier was responsible for assembling the investor group that acquired and reopened Bruichladdich in 2001, and served as managing director until his fellow investors voted to accept a $90 million offer from Rémy Cointreau in 2012 over his objections. While he still has a home on Islay near Bruichladdich, Reynier returned to Edinburgh full-time after the sale to Rémy was completed and has remained relatively quiet since then.
This story will be updated as more details become available.
Links: Mark Reynier on Twitter
---
Editor's note: Chip Tate and the Balcones majority owners reached a settlement December 3 in which Tate sold his 27 percent ownership stake in Balcones to the ownership group and left the company. Details are available here.  
November 26, 2014 – Balcones Distilling founder Chip Tate plans to return to the Waco, Texas distillery on December 5, now that he and the distillery's majority investors have agreed on a compromise to end the temporary restraining order that has banned Tate from any role in Balcones since August. In a telephone interview with WhiskyCast's Mark Gillespie, Tate described the past four months at Balcones as "wasting time, wasting whiskey, and wasting money." As part of the compromise to end the restraining order, Tate will not return until December 5, though the two sides remain far apart on an agreement over the future of Balcones. Tate's attorney, David Clouston, told The Waco Tribune that the December 5 date was chosen to allow both sides to get through the Thanksgiving holiday and allow time for more talks next week.
"We're still looking for a real resolution," Tate said. "I knew they couldn't do what they were trying to do, and that's been proven now, so all we really need is a true solution." Two weeks ago, 170th District Court Judge Jim Meyer ruled in Tate's favor on his claim that the Balcones board violated the company's bylaws by taking action at board meetings that Tate has boycotted since July. Those actions included the August decision to suspend Tate for 90 days and seek the restraining order after months of disputes between Tate and the Oklahoma City-based investor group that purchased a majority stake in Balcones last year. The bylaws give Tate control over distillery operations, and require that he be present at board meetings for any votes to be binding.
Listen to Mark Gillespie's interview with Chip Tate:

While Tate has been sidelined by the restraining order, Jared Himstedt has been handling distilling and blending operations at the distillery. Tate said he has not been happy with the whiskey coming out of Balcones over the past four months, and even less happy with some employees who helped the majority investors engineer their attempt to oust him. Tate declined to be specific about who might be affected, but said some responsibilities will be reassigned.
"We're definitely going to be setting things right, putting things back on a good course…so, you know, we'll have to make some changes. It's hard to know who was told what at the distillery…there are certain people who were very much a part of making the investors' actions possible, and, you know, that'll be dealt with appropriately."
The two sides have been discussing a scenario in which one would buy the other out, but have not been able to reach a consensus. Tate has filed a claim against the investor group, known as PE Investors II LLC, accusing it of illegally trying to dilute his 27% ownership stake in Balcones through the funding plan for the company's new $15 million distillery. Clouston also suggested that a lawsuit between PE Investors II and Tate remains a possibility. While the two sides can veto a Balcones lawsuit against either Tate or PE Investors II, they remain free to take legal action against each other on their own.
Tate said he has investors willing to back his buyout bid, but can't bring them into the process until an agreement can be reached with the majority investors. "We're still trying to make offers to give them a return on their investment and part ways…we'll see if they're willing to do that," he said.
We have contacted Balcones for more information, and this story will be updated as needed.
Editor's note: This story was updated on December 6 to include details on the settlement between Tate and the Balcones ownership group. 
Links: Balcones Distilling
---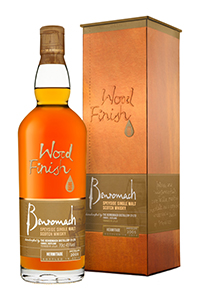 November 24, 2014 – Gordon & MacPhail-owned Benromach is releasing two new single malts finished in French Oak wine casks.
The Hermitage Wood Finish (shown at right) uses Benromach single malt matured originally in first-fill Bourbon casks, then finished for 27 months in Hermitage wine casks from the Rhône region of France. The Château Cissac Wood Finish is similar in that the whisky began its maturation in first-fill Bourbon casks, but spent the final 20 months in Haut-Médoc Bordeaux wine casks.
In a news release, Gordon & MacPhail Chief Operating Officer Ewen Mackintosh said the two finishes add a unique character to the Benromach malt. "We are proud of our role as custodians of the old crafts of distillation and maturation and as those who are familiar with Benromach know, we like to experiment a little," he said. "These two wood finishes – Hermitage and Château Cissac – have been finished in casks from two distinguished French wine regions and have a lot of character, which we expect will appeal to both existing and new customers."
4,200 bottles of each whisky will be available through whisky specialist retailers, with a recommended retail price of £39.75 GBP ($62 USD).
Links: Benromach 
---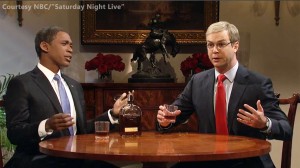 November 16, 2014 – While newly re-elected Senator Mitch McConnell told Kentucky Republican Party leaders Saturday the "Bourbon Summit" with President Barack Obama will take place, it's a safe bet that the meeting will not wind up the way NBC's Saturday Night Live portrayed it during the show's cold opening last night. After the Republicans scored a decisive victory in the midterm elections two weeks ago, President Obama told reporters he would welcome the chance to enjoy a glass of Kentucky Bourbon with McConnell, expected to become Senate Majority Leader when Republicans take control of the Senate in January.
NBC's parody of the summit featured Taran Killam as McConnell, Jay Pharoah as Obama, and two uncredited bottles of Woodford Reserve as the Bourbon. The summit included nine drinks each, a prank call to Hillary Clinton and ended with the traditional "Live from New York, it's Saturday Night!"
Brown-Forman spokesman Phil Lynch praised the show's choice of Woodford Reserve, telling WhiskyCast in an email that "SNL has already decided which Bourbon the President and Senator McConnell should drink at the "Bourbon Summit" – Woodford Reserve.  So that's one issue that doesn't need further debate."
Editor's note: This story was updated to remove a link to the video of the "SNL" sketch that had been taken off the Internet at NBC's request. 
Links: Saturday Night Live
---
November 14, 2014 – Balcones Distilling founder Chip Tate has won a key battle in his fight with the majority investors who now control 73% of the Waco distillery's ownership. In a ruling issued earlier this week, Texas 170th District Court Judge Meyer ruled that the majority owners violated company bylaws by making decisions in board meetings that Tate had boycotted. The bylaws require Tate to be present at a board meeting in order for action taken at that meeting to be binding.
Tate last attended a board meeting in July, making all board actions since August invalid according to Judge Meyer's ruling according to the Waco Tribune. That would include the decision to suspend Tate for 90 days August 22 and seek the restraining order barring Tate from the distillery's premises and contacting Balcones employees. In addition, it invalidates the distillery's plan to raise an additional $15 million dollars in financing from the majority owners with debt that could be converted into equity in Balcones, which would have reduced Tate's ownership stake from 23% to 9% and limited his control of the company. It is not clear whether the restraining order remains in effect. Judge Meyer's contempt of court citation against Tate for failing to promptly return a company-owned computer, hard drive, and mobile phone is on hold while the two sides are in mediation.
As Tate told WhiskyCast last month after the restraining order was modified to allow him to speak publicly about the case, the Oklahoma City-based investor group led by Balcones Chairman Greg Allen started holding board meetings and making decisions that violated the management agreement giving Tate final authority over Balcones operations. The two sides are discussing a settlement expected to lead to one side buying the other out, but a previously scheduled board meeting set for this past Tuesday was cancelled after Tate refused to attend. 
In a statement provided to WhiskyCast by Balcones attorney Jeffrey Armstrong, Greg Allen said the judge's ruling jeopardizes the distillery's immediate future:
"We were surprised and naturally disappointed by the court's ruling.  But given this ruling, it does make sense for Chip to either buy us out, or be bought out, because the court essentially has declared that the current owners can't put any more of their money into the Company.  Staying in a holding pattern is also not the best thing for the employees, customers and our loyal consumers because at some point we will run out of money.  There are many people who depend on their paychecks coming each week from Balcones, and our decisions need to continue to have these people and their families in mind.  So, our hope is that we will have something good to announce with Chip within the next few weeks.  In the meantime, and most importantly, the Company is doing great.  Our production is improving in quality and quantity over 2013, and our customers and loyal consumers remain thrilled.  Bottom line is that Balcones will continue to do great things regardless who is in charge in the board room."
We have reached out to Chip Tate and his attorney, David Clouston, for their response to the ruling. This story will be updated as more information becomes available.
Editor's note: This story was updated with a response from Balcones Distilling Chairman Greg Allen. 
Links: Balcones Distilling
---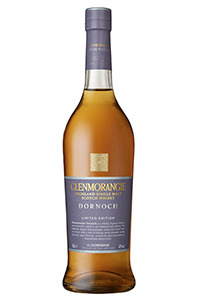 November 12, 2014 – Glenmorangie is launching a new travel retail range over the next two years, with the first expression in the series to be available later this month exclusively at World Duty Free's World of Whiskies stores at airports in the UK and Spain. Glenmorangie Dornoch will be exclusive to the World Duty Free stores for two months starting November 26, and will be available in global travel retail and at the Tain distillery's gift shop after that.
The whisky is a combination of unpeated and lightly peated Glenmorangie spirit matured in ex-American Oak barrels and Amontillado Sherry casks. It takes its name from the Dornoch Firth, which the distillery overlooks. The recommended retail price is £59.99 ($95 USD), and a portion of sales will be donated to the Marine Conservation Society to help preserve the firth.
Links: Glenmorangie | World of Whiskies
---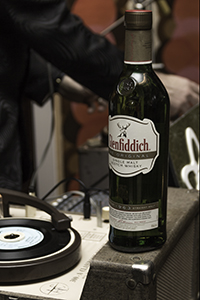 November 4, 2014 – Glenfiddich Malt Master Brian Kinsman wasn't alive when his predecessors introduced the concept of a single malt Scotch Whisky to the world in 1963, but he was tasked with the challenge of re-creating what was known back then as a "straight malt" for a limited-edition release marking that key time in Scotch Whisky history. Kinsman researched the notes of former Master Distiller Hamish Robertson from the distillery's archives to create "The Original", which will be available in the US, Taiwan, and Australia starting this month with a recommended retail price of $99 USD.
"When you go to the distillery and see all of the amazing things we've done, one of the things we haven't really talked about a lot is the role Glenfiddich played in creating the single malt category," said Andy Nash, Scotch Whisky category director for William Grant & Sons USA, during an interview at Monday night's launch event in New York City. "Many talk about it and give us the credit for that, and it's great to actually go back into our archives and see all of those elements and recreate them for a new audience now. It's really showing the pioneering that Glenfiddich was doing back in the 60's and that we're continuing today. "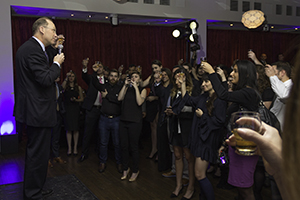 While the original 1963 straight malt was released that year, the plans for that whisky dated back to shortly after brothers Charles and Alexander Grant Gordon inherited control of the family business following the death of their father. "The idea came from Charlie and his younger brother, my father, realizing that when they were taking people around the distillery, people were saying "Blimey, that's completely different!", Peter Grant Gordon said Monday night. Gordon is part of the current generation of family members who own the company. "It was not that they said "oh, why don't you make this available", but it became an idea that, OK, if we made it a little bit older, this could be something special…and looking back on it now, that decision was probably made back in 1956 and 1957." At the time, the only Glenfiddich "straight malt" was a 5-year-old version sold only in Northeast Scotland, and Gordon said the decision was made to produce a new whisky based on 8-year-old malt blended with 12 and 13-year-old casks. That whisky is widely regarded as the first "straight malt" to be widely exported outside of Scotland, starting with the 1963 launch in the US.
The US version will have special packaging that includes a booklet on the whisky's origins. 24,000 bottles will be available worldwide.
Tasting notes for The Original will be available soon at WhiskyCast.com.
Links: Glenfiddich
---
November 3, 2014 – As expected, Diageo has announced a deal in which it will swap the Bushmills Irish Whiskey brand with Jose Cuervo Overseas for the remaining 50% of the Don Julio Tequila brand and $408 million (USD) in cash. The deal was first reported Saturday by the Wall Street Journal, and confirmed by Diageo before the start of stock trading in London this morning. The swap is expected to be completed in early 2015, and Diageo spokeswoman Lisa Crane told Bloomberg News that all of the current Bushmills employees will stay with the brand once the transition is completed.
The move gives Diageo complete control of one of the fastest-growing premium tequila brands, while shedding an underperforming asset in Bushmills. During a conference call with analysts and reporters last July, Diageo CEO Ivan Menezes acknowledged that Bushmills has failed to capitalize on the recent boom in Irish Whiskey sales. "We have tried hard over the years to get this brand into growth, and we've struggled," he said at the time.  Diageo acquired Bushmills in 2005, just as the Irish Whiskey market was starting to record double-digit sales increases annually based on renewed worldwide  interest in Irish Whiskey. Bushmills sales remained relatively stagnant, though, and the brand is #3 in sales behind Jameson and Tullamore Dew.
The two companies have been partners in Don Julio since 2003, when Diageo sold a 50% interest in the brand to the Beckmann family-controlled Jose Cuervo. They spent almost two years negotiating a sale of the flagship Jose Cuervo brand, in which Diageo owns a 45% interest, but broke off talks at the end of 2012 after failing to reach an agreement that would have seen Diageo pay more than $3 billion for control of the brand.
---