Each week, we bring you the latest whisky news on WhiskyCast, but a lot can happen during the week. Now, you can keep up with whisky news as it happens here on WhiskyCast.com!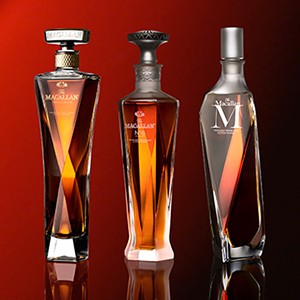 February 19, 2015 – Following up on the 2013 launch of The Macallan M, Edrington has expanded what will now be known as The 1824 Masters Series with two new luxury expressions.
The Macallan Reflexion is a no-age-statement single malt matured in first-fill hogshead casks, and will sell for a recommended retail price of £900 ($1,385 USD) per bottle. The Macallan No. 6 also carries no age statement, and the name is a reflection of the brand's "Six Pillars" heritage. The whisky was matured in Sherry casks, and is bottled in a Lalique-crafted decanter similar to the one used for The Macallan M. It will carry a price tag of £2,800 ($4,317 USD). Both follow last fall's introduction of The Macallan Rare Cask, and were initially announced at that time with releases set for now.
This makes the third Macallan range branded with 1824, the year the distillery opened across the River Spey from Craigellachie. The 1824 Series is the mainstream range available in many markets around the world, with the Amber, Ruby, Siena, and Gold expressions. The 1824 Collection is the travel retail range, with the Whisky Maker's Edition, Select Oak, Estate Reserve, Oscuro, and the Limited Edition MMXII.
The new expressions are initially available at whisky specialist retailers in the UK and other markets.
Links: The Macallan
---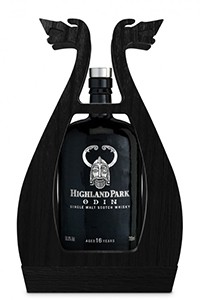 February 16, 2015 – After four years of annual releases, Highland Park has completed its Valhalla Collection of limited-edition single malts with the release of Odin. As with the previous Thor, Loki, and Freya editions, Odin is a 16-year-old single malt bottled at cask strength (55.8% ABV).
The Valhalla Collection honors Orkney's ancient links to Nordic mythology, in which Odin was regarded as the father of all other Gods. While the Orkney Islands were originally settled by the Picts, historians say Vikings invaded the islands many times before finally annexing them to Norway in 875 AD. Scotland finally gained control of the islands in 1468.
Highland Park Odin will be available in limited quantities at whisky specialist retailers in Europe and the UK, as well as the Highland Park Distillery on Orkney, with a recommended retail price of £180 GBP ($277 USD). A US release (750ml bottles) is expected during March, according to Stephanie Ridgway of Edrington Americas.
Editor's note: This story was updated with new information on the US release for Odin. 
Links: Highland Park
---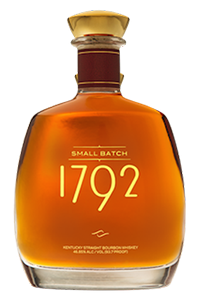 February 16, 2015 – Nips, tucks, and facelifts aren't a part of the current makeover craze in Bourbon Country, but new labels, bottles, and even new names are.
Sazerac's 1792 Barton Distillery is home to the latest makeover, with its flagship 1792 Ridgemont Reserve Bourbon receiving a new bottle design and a new name. "Ridgemont Reserve" is gone from what will now be known as 1792 Small Batch, along with the burlap trim on the neck. The basic bottle remains the same, as does the whiskey inside, and no change is planned in pricing.
Sazerac inherited the original name and packaging when it acquired the former Tom Moore Distillery in Bardstown from Constellation Brands in 2009, along with more than 40 other whiskey brands. In a news release, Sazerac's Elizabeth Hurst explained the reason behind the makeover. "Many bottles in the bourbon category have quite a traditional look, but we realize some bourbon consumers are looking for something different, perhaps more contemporary," she said.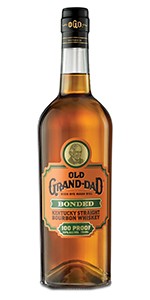 Traditional is one of the first words that comes to mind when describing Beam Suntory's Old Grand-Dad, one of the heritage brands in Bourbon history dating back to 1882 when Col. R.B. Hayden decided to name his family's Bourbon in honor of his grandfather, Basil Hayden. Basil Hayden created the original recipe for the high-rye content Bourbon and passed it on to his son and grandson.
The "bottled in bond" version of Old Grand-Dad has also been given a slight makeover, while maintaining the brand's traditional style. It's now being called "Old Grand-Dad Bonded", with a cleaner label that gives Hayden's legacy more prominence. The screw-cap has been replaced with a cork closing on the new traditional-style bottle. As with the 1792 Small Batch, the whiskey inside remains the same; four years old, distilled in the same bottling season, and bottled at 100 proof (50% ABV). Recommended retail pricing for 750ml bottles is $24.99 USD.
Links: 1792 Small Batch | Old Grand-Dad
---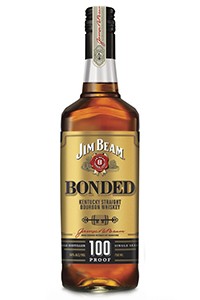 February 11, 2015 – Another week, another batch of new Bourbons.
Jim Beam is returning to a place in Bourbon history with the release of Jim Beam Bonded, a 4-year-old Bourbon that takes some of its heritage from the US Government's "Bottled in Bond Act of 1897." That law reserves the labeling of "Bottled in Bond" for whiskies at least four years old, bottled at 50% ABV (100 proof) and produced at a single distillery in a single distilling season. It's not one of the more widely-known facts about American whiskeys, but distillers work with a two-season year: Spring season is January 31 through June 30, and Fall season runs from July 1 through December 31.
Jim Beam Bonded made its debut Monday night with a launch party at Bourbons Bistro in Louisville, Kentucky. It will be available at selected US retailers starting this month in 750ml and 1-liter sizes with a recommended retail price of $22.99 USD (750ml).
In addition, Beam is kicking off a special series of limited edition Booker's Bourbon releases featuring labels inspired by the late Booker Noe. The year's first batch of Booker's has a label showing Noe sipping Bourbon in his famous rocking chair with his dog Dot at his feet. The scene is similar to Booker Noe's memorial statue at the Jim Beam American Stillhouse in Clermont, Kentucky, and carries the name "Big Man, Small Batch." Batch 2015-1 follows the Booker's tradition of being uncut and unfiltered, and the 7-year-old batch is bottled at 64.35% ABV (128.7 proof).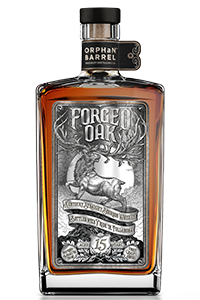 Meanwhile, Diageo is releasing Forged Oak, the fifth edition in its Orphan Barrel series of Bourbons.  As with the previous four editions, the 15-year-old Forged Oak was matured primarily in the warehouses at the Stitzel-Weller Distillery in Louisville, and was distilled at the nearby New Bernheim Distillery in 1997 and 1998 from a mashbill of 86% corn, 8% rye, and 6% malted barley.
Forged Oak will be a limited release, though there are plans to release future editions as more whiskey reaches maturation. It is being bottled at 45.25% ABV (90.5 proof), and will carry a recommended retail price of $65 (750ml bottle).
Tasting notes for Forged Oak will be available soon here at WhiskyCast.com.
Editor's note: This story was updated to include details on the new release of Booker's Bourbon. 
Links: Jim Beam | Booker's Bourbon | Diageo
---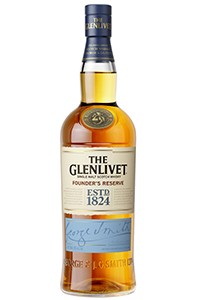 February 11, 2015 – Chivas Brothers is rolling out a new expression of The Glenlivet in approximately 60 markets worldwide this spring, with the no-age-statement Founder's Reserve slated to replace the flagship 12-year-old Glenlivet expression in a number of countries. A Chivas Brothers spokesman has confirmed a February 6 report by Thijs Klaverstijn of the Words of Whisky blog that the new expression will replace The Glenlivet 12 in the UK and Germany as early as next month, but declined to be more specific about the plans in other key markets. The announcements are being made in emails to members of The Glenlivet Guardians affinity group in each affected market.
Founder's Reserve was officially announced last October with plans to release it starting in March. However, the October 30 news release described it as being "priced alongside The Glenlivet's 12 Year Old expression," with no indication that it would replace that expression in some markets. In other  markets, the 12-year-old will remain the primary offering, while a number of key markets will offer both versions. As reported on this week's WhiskyCast, The Glenlivet Canadian brand manager Taryn Denman confirmed that both versions will be available in Canada. Pernod Ricard USA's Lauren Nodzak confirmed Wednesday afternoon that the US market will keep the 12 Year Old, with Founder's Reserve coming this autumn.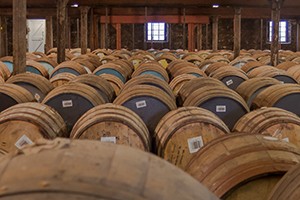 The Glenlivet Founder's Reserve is blended using a higher percentage of first-fill ex-Bourbon casks than the recipe for The Glenlivet 12. "It's a product that we think will really give everyone a classic Glenlivet that they'll love," the spokesman (who asked to not be recorded or identified by name) said. "Really, why we're doing it is to continue hopefully supplying all our fans with the classic Glenlivet style in the future." He denied rumors circulating on the Internet that the move is linked to shortages of aged whisky, but said that bringing out the no-age-statement version now will give Chivas Brothers flexibility to deal with supply problems that may develop in the future as global demand increases. The Glenlivet's most recent distillery expansion was completed in 2010, and planning permission was recently granted for another expansion that could potentially triple the distillery's output from its current level of 10.5 million liters of spirit annually.
Chivas Brothers and Pernod Ricard executives made the decisions on which countries will get Founder's Reserve and which will lose The Glenlivet 12 Year Old at the corporate level, based on what the Chivas Brothers spokesman described as "markets where consumers have a thirst for new products" and are "used to getting new and different products." The move will largely bypass the Asia-Pacific region, where a slightly different version of The Glenlivet 12 Year Old is sold.
We have asked Chivas Brothers to make a representative available for a broadcast interview in time for this week's episode of WhiskyCast. This story will be updated as more information is available.
Editor's note: This story was updated with additional information on the US market and a response from Pernod Ricard USA. 
Links: The Glenlivet | Chivas Brothers
---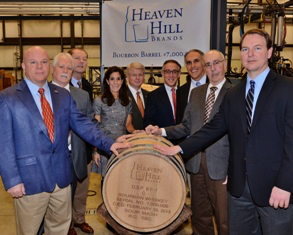 February 10, 2015 – Heaven Hill Brands marked two milestones at a ceremony today in Bardstown, Kentucky: the company's 80th anniversary and the filling of its seven millionth Bourbon barrel. The celebration comes just 23 months after the filling of barrel number 6,500,000 — meaning that Heaven Hill is laying down approximately 250,000 barrels of whiskey each year.
Master Distiller Emeritus Parker Beam joined Co-Master Distiller Denny Potter and Artisanal Distiller Charlie Downs to "bung off" the ceremonial cask along with members of the Shapira family, which founded Heaven Hill in 1935 shortly after the end of Prohibition. In a news release, Heaven Hill President Max Shapira called the dual celebration a momentous achievement for the company.
"To think, my father and four uncles rolled out Heaven Hill's first barrel 80 years ago. Here we are, eight decades later, filling our seven millionth barrel at the height of the greatest Bourbon boom since Prohibition. And, the Shapira family is still at the helm of Heaven Hill. Our founders would certainly be proud to see this day."
The ceremonial cask was signed by Heaven Hill employees and will be placed alongside previous milestone barrels in Rickhouse Y at the company's Bardstown campus. The rickhouse is part of the tour for visitors to Heaven Hill's Bourbon Heritage Center.
Links: Heaven Hill
---
February 9, 2015 – With Lunar New Year celebrations underway in many parts of the world, Johnnie Walker is releasing its second in a series of special Blue Label bottles for collectors. Johnnie Walker Blue Label Year of the Ram comes in a special ceramic decanter with etched artwork featuring three rams, in what the brand describes as a "traditional reference to the Book of Changes signifying a New Year of great fortune."
In a news release, Diageo North America Scotch Whisky Director Brian Cox described the release as a blend of the best of Chinese ceramic artwork with the finest of Scotch whiskies. "The Lunar Year is an incredibly exciting and significant holiday in the Chinese tradition. We are proud to honor it with our finest blend—Johnnie Walker Blue Label—so that people can enjoy the Lunar New Year responsibly and with quality."
The special edition will be available throughout the US, with a recommended retail price of $258. Separate special gift packs for Johnnie Walker XR, Black Label, Gold Label Reserve, Platinum, and Blue Label will be available in the Asia-Pacific region.
Links: Johnnie Walker
---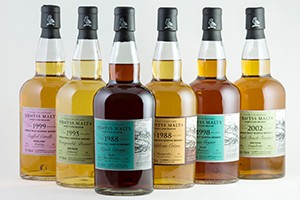 February 9, 2015 – Wemyss Malts is releasing six new single cask Scotch whiskies for the UK, European, and Asian markets. The casks were selected by the company's tasting panel under the direction of veteran whisky writer and consultant Charles Maclean, with names that reflect the character of each cask.
"Kirsch Gateau" – 1988 Bunnahabhain (Islay)
"Cacao Geyser"  – 1998 Bowmore (Islay)
"Snuffed Candle" – 1999 Aberfeldy Distillery (Highlands)
"Dark Treacle Fondant" – 2002 Craigellachie (Speyside)
"Honeysuckle Bower" – 1995 Linkwood (Speyside)
"Caribbean Crème" – 1988 Invergordon single grain
Recommended retail prices for the six bottlings range from £65 to £130 GBP ($99-$200 USD).
Links: Wemyss Malts
---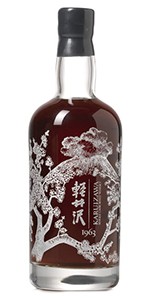 February 7, 2015 – While two rare Macallan single malts led the overall bidding, Japanese whiskies dominated the action at Bonhams' latest whisky auction Friday in Hong Kong. The most recent Macallan Lalique decanter, a 62-year-old expression released in 2013, brought a high bid of HK$325,000 ($41,923 USD), as did the second release in the series, a 55-year-old expression released in 2007. In all, 363 lots went on the block.
There was intense demand for whiskies from the now-closed Karuizawa Distillery in Japan, with the bidding reaching HK$ 250,000 ($32,249 USD) for a 50-year-old Karuizawa distilled in 1963. A 1971 41-year-old Noh series Karuizawa released by Number One Drinks Company in 2013 brought a high bid of HK$ 87,500 ($11,287 USD), while bottlings produced for whisky shows in Tokyo and Taipei also drew interest. A 1968 Karuizawa single cask bottled in 2010 for that year's Whisky Live Taipei brought a winning bid of HK$ 52,500 ($6,772 USD). A 1982 Kawasaki Sherry Cask bottled for Whisky Live Tokyo in 2011 sold for HK$ 8,125 ($1,048 USD), while the 2012 bottling of a 1999 Yamazaki single cask for Whisky Live Tokyo and the Tokyo International Bar Show sold for HK$ 8,750 ($1,128 USD). The 2013 bottling of a 2000 Karuizawa from the distillery's final year for the Tokyo shows went for a high bid of HK$ 15,000 ($1,934 USD).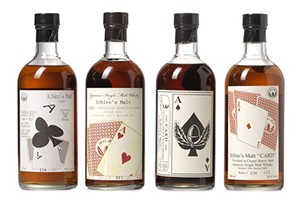 Hanyu single malts from Ichiro Akuto's famous "cards" series also were in demand, with a 4-bottle set of the Aces selling for HK$ 200,000 ($25,799 USD) and a single bottle of the Ace of Spades going for HK$ 81,250 ($10,480 USD). A 5-bottle set featuring four Kings and the "5 of Diamonds" brought a winning bid of HK$ 150,000 ($19,349 USD). A pair of the Jokers went for HK$ 118,750 ($15,318 USD).
There was also demand for Single Malt Scotch Whiskies, with a 50-year-old Glenfiddich distilled in 1937 selling for HK$ 181,250 ($23,380) and a variety of whiskies from closed distilleries, including Port Ellen, Rosebank, Brora, and St. Magdalene.
One American whiskey went on the block – a bottle of Pappy Van Winkle's Family Reserve 20-year-old. It sold for HK$ 17,500 ($2,257 USD).
The next Bonhams auction in Hong Kong is scheduled for May 29, while the next auction in Edinburgh is set for March 11.
Links: Bonhams
---
February 6, 2015 – A class-action lawsuit against Louisville Distilling Co., the producer of Angel's Envy whiskies, has been moved to Federal District Court in Chicago. The suit accusing Louisville Distilling of misleading consumers about the origin of its Angel's Envy Rye was originally filed last October in Cook County Circuit Court by plaintiffs Mario Aliano and Due Fratelli, Inc. However, lawyers for Louisville Distilling successfully challenged the local court's jurisdiction over the case under the Class Action Fairness Act of 2005. The law gives federal courts jurisdiction over class-action lawsuits seeking more than $5 million in damages or when fewer than two-thirds of the proposed class of plaintiffs live in the same state as the defendant.
According to Legal Newsline, the plaintiffs claim Louisville Distilling lied about the source of Angel's Envy Rye by claiming that it was a "small-batch" whiskey made by the late Lincoln Henderson in Bardstown, Kentucky, when it actually comes from the MGP-I distillery in Lawrenceburg, Indiana using the same recipe as other Rye whiskies made there. The lawsuit is similar to one filed in Chicago last September against the makers of Iowa's Templeton Rye, and that lawsuit has also been moved to Federal Court.
In a statement provided Friday to WhiskyCast, Marc Bushala, the CEO of Louisville Distilling's parent company Angel's Share Brands LLC, said the company will fight a lawsuit that he claims lacks merit.
"We do not claim to distill our rye- we claim to barrel finish our rye in Caribbean rum casks in very small quantities.  Our final product is unique and 'small batch' by anyone's definition."   Indeed, the label on the bottle clearly states: "This rare rye starts like every other, but it's then finished in vintage casks…" 
The statement acknowledged the origin of the Rye whiskey as MGP-I, noting that Lincoln Henderson was able to secure a supply of 6-year-old Rye from the distillery before the recent boom in demand for Rye whiskey. There is no definition under US Federal regulations for "small-batch" whiskies, and the definition of the term is generally left to the producer of a whiskey brand. Louisville Distilling has sourced all of the whiskey used in its Angel's Envy expressions from other distillers, and is building a new distillery of its own in downtown Louisville. Lincoln Henderson passed away in September of 2013. His son Wes Henderson and grandson Kyle Henderson are continuing to produce Angel's Envy to Lincoln Henderson's specifications.
The case was re-filed in the US District Court for Northern Illinois on January 27. No date has been set for a hearing in the case.
Editor's note: The complete text of the Angel's Envy statement is available here. 
Links: Angel's Envy
---