Each week, we bring you the latest whisky news on WhiskyCast, but a lot can happen during the week. Now, you can keep up with whisky news as it happens here on WhiskyCast.com!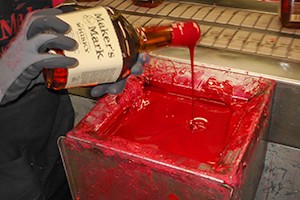 March 2, 2015 – A hearing originally scheduled for today in the proposed class-action lawsuit against Maker's Mark has been cancelled. U.S. District Court Judge John Houston issued an order canceling the hearing on a motion by attorneys for Maker's Mark to dismiss the lawsuit accusing the Bourbon brand of misleading California consumers with claims that it is "hand-made" at the Maker's Mark Distillery in Loretto, Kentucky. Judge Houston's order states that the court has enough information from both sides to issue his ruling on the order without oral arguments, with a ruling expected "in due course."
The lawsuit was filed in December by lawyers representing plaintiffs Safora Nowruzi and Travis Williams, with a request to expand the plaintiff class to include all California residents who purchased Maker's Mark within the past four years. The suit claims that Maker's Mark labeling violates California's false advertising and consumer protection laws by billing the Bourbon as "hand-made," when it comes from a distillery using extensive amounts of machinery. The lawsuit seeks at least $5 million in damages, along with punitive damages and attorneys' fees.
In its motion to dismiss the lawsuit filed January 16, attorneys for Maker's Mark and brand owner Beam Suntory argued that the complaint falls within California's "safe harbor" doctrine protecting businesses from claims, since all of the brand's labels with the "hand-made" language have been reviewed and approved by the US Treasury Department's Tax & Trade Bureau. In addition, the motion argued that a reasonable consumer would not be misled by the labeling.
"The reasonable consumer analysis starts, of course, with common sense. And common sense dictates that "handmade" bourbon does not mean, as Plaintiffs would have it, that every step of the process—from grinding the grain to affixing the label on the bottle—was done by hand and without the use of any machinery. Moreover, as evident from Plaintiffs' own allegations and information referenced in their Complaint, the Maker's Mark label could not have misled a reasonable consumer to believe that the entire process for making the bourbon was done by hand, because Maker's Mark publicly discloses its process for making bourbon. Indeed, as Plaintiffs allege in their Complaint, Maker's Mark's public website contains detailed information about the production process. What's more, the Maker's Mark label expressly invites consumers to visit its website and contains the website address. Given these facts, a reasonable consumer could not plausibly believe that the bourbon is literally made entirely by hand and without the use of any machinery."
In their response, attorneys Abbas Kazerouni, Mona Amini, and Joshua Swigart argued that the "safe harbor" defense does not apply in this case, since it is intended to cover laws and regulations, not agency actions such as a TTB label approval process.
"It would contravene public policy and reason in general to immunize an alcohol manufacturer from consumer fraud suits because the labels of its products had been approved by the TTB. Unlike, for example, the FDA's "rigorous" pre-approval process for drugs, the TTB's approval of alcohol labels hinges on self-reporting. 2 Thus, the TTB's approval of Defendant's label demonstrates nothing more than that Defendant repeatedly affirmed to the TTB that its product is truly handmade. It does not suggest that if the TTB had known the true process by which Maker's Mark was actually made, it would have concluded that Defendant's label complied with federal law."
The two firms have also filed a similar lawsuit against Beam Suntory's Jim Beam brand based on similar claims. Beam Suntory spokesmen have declined to comment on either case, citing a company policy against commenting on pending litigation.
Editor's note: We have provided links in this story to the actual court filings in the lawsuit. Note that in civil cases, the arguments made by either side are not considered to be proven as fact until argued in open court. 
Links: Maker's Mark | Kazerouni Law Group
---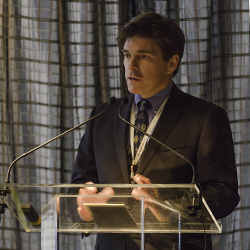 March 1, 2015 – For Bourbon lovers, it seems like the "Bourbon Boom" has been going on forever. Not true, according to Chris Bauder, general manager of Whiskies and Cognacs for Beam Suntory. During his keynote address at last Tuesday's Whiskies & Spirits Conference in New York City, Bauder pointed out that US whiskey sales have only risen in three of the last 25 years — the last three. By comparison, vodka sales have risen in 23 of the last 25 years and tequila sales have risen for 23 consecutive years. "When people ask if this is a trend that is going to continue, we think it has a very long runway," he said, citing recent sales figures showing growth among all sectors of the whisky industry.
Bauder points to several key factors for the "Bourbon Boom." Whisky's recent return to relevance as a cultural touchpoint through references on popular television shows such as "Mad Men" and "Boardwalk Empire" helped draw attention back to brown spirits, leading to the often-cited growth in interest among women. Bauer cited a demographic shift showing that more women now drink spirits in general than men, with a relatively even split between the genders in whisky consumption. He also referred to the emphasis on innovation and new product development, with the recent trend in flavored whiskies and the growth of craft distillers opening up the flavor profile of whisky to new consumers. At the other end, the boom in premium and unique expressions are bringing connoisseurs back to the Bourbon sector.
Listen to Mark Gillespie's interview with Chris Bauder:

Before joining Beam in 2011, Bauder was a senior marketing executive at consumer goods giant S.C. Johnson & Co., and learned quickly that solving the perceived shortage of whisky isn't as simple as that for other products. "If you want more Windex, you put more chemicals and water together and you get more Windex," he said in an interview following his speech. "That was a revelation…wait a minute, how can this allocation be what it is," referring to small supplies of whiskies from Beam Suntory's distilleries and the need to balance global demand with short supply.
Bauder said Beam Suntory will invest hundreds of millions of dollars over the next several years to expand whisky production at all of its facilities worldwide, but cautioned consumers to expect more whiskies without age statements. "Everybody…Scotland, Japan, and the US are struggling with this, and one of the things that's been encouraging is brands like (The) Macallan which first did it have actually been quite successful because the liquid's good and the way they blend has actually given them a good taste, plus the concept around the naming has been really interesting to consumers."
"I think talking people away from age statements is helpful…it's an easy way to think older is better, but brands like Maker's Mark or Woodford Reserve haven't traded in age statements and they're doing just fine."
In 2014, Beam Suntory removed the 8-year-old age statement from its Jim Beam Black Bourbon and introduced the no-age-statement Laphroaig Select, and Bauder said that practice will be extended to Beam Suntory's Hibiki range this year. "You're going to see your first one coming in July of this year in the US, and they're going to be launching in April in Japan." Bauder also confirmed that Beam Suntory plans to expand its Japanese whisky portfolio across the US. In the past, Suntory and its US importers focused on a handful of major cities, but part of the reason for Suntory's $16 billion acquisition of Beam in 2014 was to expand the footprint for its Japanese whiskies as well as acquire new brands for global distribution.
Editor's note: This story has been updated to remove Chris Bauder's reference to a Yamazaki Sherry Cask bottling being planned for a US release in 2015. According to a company spokesman, Bauder misspoke, and there are no plans to release one this year. 
Links: Beam Suntory
---
February 28, 2015 – Whistlepig Rye will be releasing the first in its "Old World Series" of three wine cask-finished expressions in the coming days leading up to a new permanent expression this summer. The first release will be a 12-year-old Sauternes cask finish, with a 12-year-old Madeira finish and a 12-year-old Port finish to follow.
"By June, we're going to release the first real line extension, and that line extension will be a married finish that combines the best of the Sauternes, Port, and Madeira," said Master Distiller Dave Pickerell during an interview at Whisky Live New York Wednesday night. "I can't tell you the percentages, because the percentages will be at least in part determined by the feedback from consumers and bartenders that taste the products." While the final version will be widely available, the three individual finishes will only be available in New York, Chicago, San Francisco, and other major US markets.
Listen to Mark Gillespie's entire interview with Dave Pickerell:

Pricing for the three individual finishes was not immediately available.
Pickerell said construction work continues on the WhistlePig Farm Distillery in Vermont following final environmental approvals from the state. The stills are scheduled to be installed in June, and Pickerell hopes to begin distilling around July 4th. "I intend to celebrate with a marching band and fireworks," he said.
WhistlePig is also updating its labels to reflect the whisky's current Canadian origin at the request of the US Treasury Department's Tax & Trade Bureau. Ironically, the TTB had earlier insisted that the Canadian origin be removed from WhistlePig labels once Pickerell's team started doing secondary maturation at the farm in Vermont. "The government came back and said wait a minute, it's not a product of Canada any more because the Canadian juice is now an ingredient, so take 'Product of Canada' off the label," Pickerell said. "With all the fluff that's been going on recently, the government came back and said, yeah, can you put Canada back on the label again…so it makes us look stupid."
Pickerell is also working with Hillrock Estate Distillery in New York on a peated single malt that will be released later this year, and is also working with the J. Reiger & Co. Distillery in Kansas City. In addition, he will be making whiskey at George Washington's Distillery at Mount Vernon in Virginia later this month.
Links: Whistlepig Rye | Hillrock Estate | J. Rieger & Co.
---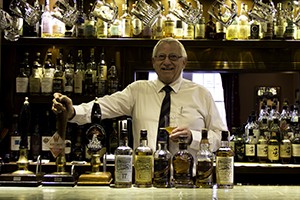 February 26, 2015 – Duncan Elphick's retirement plans are on hold for at least a month. The owner of the Highlander Inn and its renowned whisky bar had planned to close on a sale to longtime colleague Tatsuya Minagawa this weekend. However, paperwork snags have delayed the closing until at least the end of March.
"I'm wanting to get out and enjoy some time for myself, and Tatsuya's wanting to buy it," Elphick told WhiskyCast's Mark Gillespie in a telephone interview today. "We're going through the process at the moment…it's been a bit delayed because of lawyers, but we're now looking at the 30th of March as being the handover date." Elphick said health issues a couple of years ago prompted him to start looking for a buyer to continue the tradition he started when he left the Craigellachie Inn across the street in 2005 to buy the hotel. "I want some time for me before the Grim Reaper decides that he wants to call me."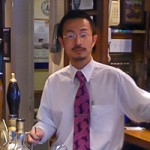 Minagawa was Elphick's bar manager and right-hand man from 2005 until three years ago, when he left to work as a European brand ambassador for Suntory. He continued to live in Craigellachie, though, and expressed an interest in taking over the inn as soon as he heard Elphick was thinking of selling. "He's the ideal purchaser for the property, because he knows the business, he knows these whiskies, he knows what we've been doing before, and he wants to take it and build it further," Elphick said.
Elphick hasn't decided on what he will do after his retirement, noting that "I'm not one of these people that likes to count eggs until they're hatched."
Links: Highlander Inn
---
February 25, 2015 – Production is scheduled to resume later today at Diageo's Burghead Maltings in Moray, Scotland, following a fire inside one of the facility's kilns Tuesday night. Firefighters from as far away as Inverness spent about 12 hours fighting the fire at the facility, which supplies malted barley for Diageo's malt whisky distilleries in the Speyside region.
A Diageo spokesman told WhiskyCast via email that the fire was confined to one of the facility's seven kilns, which are used to dry wet barley at the conclusion of the malting process. The damage is reported as minor, and there were no injuries reported.
There is no word on what caused the fire.
Editor's note: This story was updated with additional information. 
Links: Diageo | BBC Scotland
---
February 24, 2015 – Pappy Van Winkle Family Reserve 20-year-old was named Best Bourbon in the 2015 World Whiskies Awards presented by Whisky Magazine, while Forty Creek Confederation Oak took top Canadian Whisky honors. North American winners in the annual competition were announced today during the Whiskies & Spirits Conference in New York City.
The Pappy Van Winkle 20 won the Best Bourbon with an Age Statement category, and was then judged blindly last week by a panel in London against Elijah Craig Barrel Proof, which won the category for Bourbons without an age statement. The judges selected the Pappy for overall Best Bourbon honors.
In other categories, Balcones Texas Single Malt won Best American Single Malt honors, Thomas H. Handy Sazerac Rye was named Best US Rye Whiskey, and Parker's Heritage Collection 2014 Original Batch won for Best US Wheat Whiskey. Mellow Corn was named the Best Non-Bourbon US Whiskey, and Sons of Liberty Seasonals Hop Flavored Whiskey took top honors in the flavored whiskey category.
The overall winner of Best American Whiskey honors will not be announced until March 19, when the remainder of the World Whiskies Awards winners will be announced at the Whiskies & Spirits Conference in London.
Here is a rundown of medalists in the various categories as announced during the ceremony:
Best Flavored Whiskey
Winner: Sons of Liberty Seasonals Hop Flavored Whiskey
Gold: Knob Creek Smoked Maple
Silver: J.P. Wiser's Spiced Vanilla
Best American Single Malt
Winner: Balcones Texas Single Malt
Gold: Balcones Fr. Oak Single Malt
Silver: Sons of Liberty Battle Creek Single Malt
Best American Wheat Whiskey
Winner: Parker's Heritage Collection 2014 Original Batch Wheat Whiskey
Gold: Bernheim Original Wheat Whiskey
Silver: Bainbridge Battle Point Wheat Whiskey
Best American Rye Whiskey – No Age Statement
Winner: Thomas H. Handy Sazerac Straight Rye
Gold: Col. E.H. Taylor Jr. Straight Rye
Silver: Sonoma Rye
Bronze: Rittenhouse Bottled in Bond
Best Rye Whiskey – Age Statement
Winner: Redemption Rye Barrel Proof 7YO
Medal winners not announced
Best American Non-Bourbon
Winner: Mellow Corn
Gold: Balcones Brimstone
Silver: Rogue Dead Guy
Bronze: Balcones Baby Blue
Best Bourbon – No Age Statement
Winner: Elijah Craig Barrel Proof
Gold: Buffalo Trace
Silver: Col. E.H. Taylor Single Barrel and Four Roses Single Barrel
Bronze: William Larue Weller Bourbon
Best Bourbon – Age Statement
Winner: Pappy Van Winkle Family Reserve 20 Years Old
Gold: Four Roses 2014 Limited Edition Small Batch
Silver: Four Roses 2014 Limited Edition Single Barrel
Bronze: W.L. Weller 12
Editor's Note: This story was updated to include the medal winners announced during the awards ceremony.
Links: World Whiskies Awards | Whiskies & Spirits Conference
---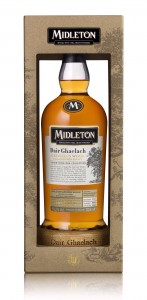 February 24, 2015 – For the first time, Irish Distillers will release a special version of Midleton finished in virgin Irish Oak casks made of trees harvested from sustainably-managed forests. Midleton Dair Ghaelach is the result of a project that began six years ago when Master Blender Billy Leighton and Master of Maturation Kevin O'Gorman led a group of colleagues in trying to produce a whiskey using native Irish Oak.
The wood came from Ballaghtobin Estate in County Kilkenny, where ten 130-year-old Irish oak trees from Grinsell's Wood were harvested in April of 2012. The wood was sent to Spain for drying and coopering, and the resulting casks were filled with a blend of Midleton from ex-Bourbon casks between 15 and 22 years old for almost a year of finishing. Each cask will be bottled separately, with bottling strengths of between 58.1% and 58.5% ABV.
Dair Ghaelach is the first in a series of single pot still Whiskies from Midleton to be finished in virgin Irish Oak. The whiskey will be available in Ireland, the UK, France, Germany, and South Africa with a recommended retail price of $250 USD. There are no plans to make the initial release available in the US.
---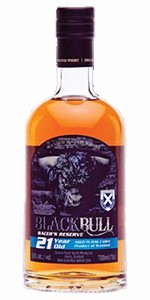 February 23, 2015 – Duncan Taylor & Company's Black Bull Blended Scotch Whisky is hitting the track for the third straight season with the Ecurie Ecosse sports car team, and for the first time, the brand is marking the partnership with a special bottling. Black Bull Racer's Reserve is a 21-year-old blend that was created in partnership with the team's four drivers following a 2013 nosing and blending session in Huntly. The drivers selected casks from Springbank, Bladnoch, Glen Moray, and Royal Brackla, as well as other malt and grain whiskies to be used in the blend.
Ecurie Ecosse's Black Bull BMW Z4 GT3 will compete in the Blancpain Endurance Series for the second consecutive season after making its initial debut in the European Le Mans Series in 2013. The team is best-known for winning in the 24 Hours of Le Mans in 1956 and 1957, along with sports car championships in the 1980's and 1990's.
The Racer's Reserve is bottled at 50% ABV, and is available in the UK through Master of Malt and Single Malt Direct. It is also available in other markets, though according to Duncan Taylor's Peter Currie, there are currently no plans to make it available in the US.
Links: Black Bull | Ecurie Ecosse
---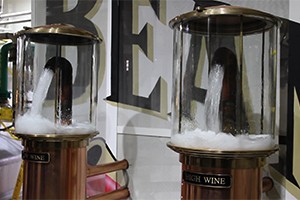 February 21, 2015 – A California law firm is doubling down in its legal fight against Beam Suntory over claims that two of the company's Bourbons are "hand-made." Costa Mesa-based Kazerouni Law Group has filed a class-action lawsuit in US District Court in San Diego on behalf of a consumer who claims he was misled by the "hand-crafted" label on Jim Beam Bourbon. The lawsuit seeks to include all California consumers who purchased Jim Beam over the previous four years, and asks for at least five million dollars in damages in addition to legal fees.
Kazerouni Law Group filed a similar suit against Beam Suntory-owned Maker's Mark in December on the same grounds. Both lawsuits accuse the whisky brands of violating California state laws on false advertising and unfair competition, and allege that consumers paid more for the two whiskies than they would have because of the labels' claims that they were hand-made. Both suits rely on images, video, and documents from the brands' web sites showing the various steps in the distilling process.
Lawyers for Beam Suntory have already filed a motion seeking to dismiss the lawsuit against Maker's Mark. The company issued a statement after the suit against Jim Beam to the Lexington Herald-Leader that nearly matches the one provided to WhiskyCast in December following the Maker's Mark lawsuit word for word:
"This claim is frivolous. We will defend our case vigorously and we are confident that we will prevail. Beyond that, as a matter of company policy, we don't comment on the details of matters in litigation."
No hearing date has been set, and lawyers for Beam Suntory have not yet filed their response to the second lawsuit. This story will be updated as more information becomes available.
Editor's note: Court filings in civil cases present only one side of a story, and any claims made in a filing are not proven as factual until subject to cross-examination and rebuttal during a trial. A complete copy of this lawsuit is available to review at the WhiskyCast web site.
---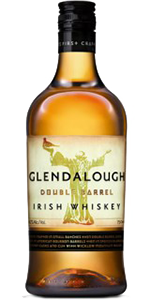 February 19, 2015 – Irish craft distiller Glendalough has added a new whiskey to its range, the single grain Double Barrel. The whiskey is distilled from a mash of malted barley and corn using Glendalough's traditional Coffey still, then matured for three and a half years in first-fill ex-Bourbon barrels. The final step is an additional six months of maturation in Oloroso Sherry casks.
Double Barrel is bottled at 42% ABV, and will initially be available in Ireland for around €35 ($40 USD). It is believed to be the first whiskey release from Glendalough distilled at the Wicklow-area distillery, which has released 7 and 13-year-0ld Irish single malts sourced from other distilleries in addition to its own poitins and gins.
Links: Glendalough
---