Each week, we bring you the latest whisky news on WhiskyCast, but a lot can happen during the week. Now, you can keep up with whisky news as it happens here on WhiskyCast.com!
January 7, 2015 – Even as Chip Tate begins work on his new Tate & Company distillery in Waco, Texas, he is taking legal action against the distiller who succeeded him at Balcones Distilling, Jared Himstedt, along with Himstedt's wife Laura. Tate and his attorney, David Clouston, filed suit Tuesday in McLennan County District Court against the Himstedts on two different grounds.The lawsuit accuses Jared Himstedt of defaming Tate in several media stories published since the December 2, 2014 settlement between Tate and the owners of Balcones to buy out Tate's 27% ownership stake in the distillery. The suit also seeks to declare that Tate need not repay a $10,000 loan from Laura Himstedt made several years ago to help Balcones, following a "demand letter" seeking repayment of the loan after Tate received an undisclosed amount of cash for his shares in Balcones.
According to the Waco Tribune, Jared Himstedt said his wife offered to loan Tate the $10,000 in May, 2013 because Balcones was running out of money. This would have been around the same time Tate was finalizing the deal with a Oklahoma City-based private equity firm led by Greg Allen to acquire a majority stake in Balcones. The Himstedts maintain the loan was a personal loan to Tate that should be repaid from the proceeds of the sale of his Balcones shares in December. In a statement provided to WhiskyCast on behalf of the Himstedts, attorney Jeffrey Armstrong accused Tate of reneging on his agreement to repay the loan.
"This lawsuit is yet another attempt by Mr. Tate to avoid his responsibilities to business associates and investors at every turn.  Jared Himstedt is well respected within the craft distilling community with award-winning blends, and is an invaluable part of the Balcones business and brand.  Jared Himstedt has now been apart of Balcones longer than anyone else as he and Mr. Tate started distilling Balcones whisky together.  Jared has a passion for craft whisky and for protecting the Balcones brand and its employees.   His wife, Laura Himstedt, helped Mr. Tate to grow Balcones at a time when Mr. Tate desperately needed money.  Once again, Mr. Tate is reinventing the narrative to avoid repaying the debt and promises he made to her."
Tate and Clouston tell a different story, citing in the court filing a written agreement between Tate and Laura Himstedt that repayment was tied to future Balcones profits.
"The terms of the loan provided that Chip would only repay Defendant Laura if/when Chip received profit sharing cash distributions from Balcones and that he would repay Defendant from any profit sharing cash distributions he received as a member of Balcones using a calculation equal to a 1% interest in Balcones."
In a statement provided to WhiskyCast, Tate said he resented the implication that he owes Laura Himstedt any money, and that Laura Himstedt was given details of the settlement and buyout agreement that were to have been kept confidential.
"The Himstedts know that money was invested in the company. In truth, the funds that Laura lent the company were used to pay Jared's salary, even though I wasn't making a dime back then."
Tate had hoped to announce more plans for his new distillery today, but said in an email to WhiskyCast that the "real announcement got sidetracked by the other matter." He had hoped the December settlement would allow him to move forward with plans for his new distillery, and Clouston described the lawsuit as an attempt to protect the interests of Tate and his family.
The Himstedts and Armstrong have not filed their official response to Tate's lawsuit. This story will be updated as more information becomes available.
Editor's note: A PDF version of the Tate lawsuit is available to download here. Court filings in civil cases only represent one side's version of a story, and civil courts generally allow each side in a lawsuit a set amount of time to respond to the other's filings.
Links: Tate & Company | Balcones Distilling
---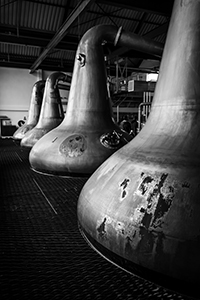 January 6, 2015 – Dewar's is moving ahead with plans to challenge Diageo and Chivas Brothers in the single malt Scotch whisky market with a new range of malts from its portfolio of distilleries with today's official announcement of the first distillery releases from Aultmore Distillery in Speyside.
With the exception of a few releases over the years, Aultmore's output has been used for blending purposes since the distillery opened in 1897 – except for the occasional bottling that made it to local pubs for those who knew to ask for "a nip of the Buckie Road." The range initially includes 12 and 25-year-old expressions to be available in ten markets around the world, while a 21-year-old expression geared for the travel retail market has been available in select UK airport outlets since November.
The Aultmore malt has been highly prized by blenders for the ease with which it works with other malts and grain whiskies to create Blended Scotch whiskies. "Aultmore is ranked top class in the whisky industry…it's one of the 12 whiskies ranked top class, so it's incredibly in demand for blends," said Stephen Marshall of Dewar's during a November interview with WhiskyCast's Mark Gillespie.
For the last several years, Dewar's whisky makers have been going through the company's cask inventory to gauge the potential for expanding the company's single malt lineup. The "Last Great Malts of Scotland" range launched in 2014 with updated packaging for Aberfeldy's single malts and four new releases from Craigellachie, and single malts from Deveron (Macduff) and Royal Brackla are planned for release later this year.
While not a part of the official "Last Great Malts" range, the Bacardi-owned Dewar's also released a special 28-year-old Aberfeldy Gold of Pitlie edition recently at the DFS Group's Masters of Wines & Spirits event in Singapore. Only eight bottles were produced from a single cask, with all eight selling at the event for $4,000 USD each. The name comes from the Pitlie Burn, which is the distillery's water source.
Links: Aultmore | Last Great Malts of Scotland
---
January 4, 2015 – Takeshi Taketsuru, the nephew and adopted son of Japanese whisky pioneer Masataka Taketsuru and retired president of Nikka Whisky, has died in Japan at the age of 90, according to the Financial Times. Taketsuru died December 17.
Takeshi Taketsuru was born in a village near Hiroshima in 1924 to Nobuyo Taketsuru, the older sister of Masataka Taketsuru. After the US atomic bomb attack on Hiroshima in 1945 that left widespread damage, he moved north to Yoichi to live with Masataka and Rita Taketsuru and joined the family's Nikka Whisky business upon his graduation from college in 1949. He eventually became Nikka's master blender, and was named Nikka's president in 1985, six years after the death of Masataka Taketsuru.
Under his leadership, Nikka slowly began exporting its whiskies outside of Japan and acquired the Ben Nevis distillery in Scotland in 1995. He remained a key adviser to the company after it was acquired by the Asahi Group in 2001 until his death.
Editor's note: This story was updated to include the date of Taketsuru's death.
Links: Nikka Whisky
---
January 3, 2015 – Renowned craft distiller Chip Tate is expected to reveal more details about plans for his new distillery on Tuesday. As Tate told WhiskyCast last month following a buyout agreement that severed his ties to Balcones Distilling, he plans to build a new distillery in the Waco area that will produce brandy and other spirits while he serves out a non-compete clause that will prevent him from making whisky until March 5, 2016.
Tate has been dropping hints on his Twitter feed about the new distillery, which will be called "Tate & Company" to — as he put it during his December 5 interview, "avoid any confusion in the future about who's going to be working there for a long time."

The Waco Tribune reported this weekend that Tate has signed a contract to build his new distillery in an 11,000 square foot building near Waco Regional Airport northwest of the city, and has secured construction financing from a local bank. Tate plans to use the proceeds of his buyout from Balcones to finance the distillery's operations, and told the paper he will never again allow himself to give up majority ownership of his business. He also has hired two distillers away from Balcones under terms of the buyout agreement that exempted them from his general ban on soliciting other Balcones employees to join the new distillery.
This story will be updated as more details become available.
Links: Tate Distillery
---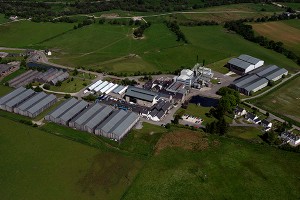 December 27, 2014 – Pernod Ricard's Chivas Brothers unit is laying the groundwork for another expansion at the Glenlivet Distillery in Speyside. The Cairngorms National Park Authority has approved plans for future expansion projects at the distillery, which is located within the park's boundaries. However, Chivas Brothers executives have told the Aberdeen Press & Journal that plans for the expansion are still in the exploratory stages, with no concrete decisions on when work might begin or the scope of the initial projects.
Should Chivas Brothers move forward with everything requested in its planning application, the capacity at Glenlivet could be tripled from its current capacity of 10.5 million liters of spirit annually. The approval covers a new production building to house distilling operations, along with new space for tanks and equipment, an updated biofuels plant, upgrades to the distillery's piping and feed plant, and new access roads. The Glenlivet's last expansion was completed in 2010, when the distillery's new stillhouse expanded capacity to 14 stills.
The last aspect was one of the more controversial parts of the application, with opponents asking for improvements to the roads around the distillery because of heavy truck traffic. The approval indicates that Chivas Brothers will fund improvements on the road leading to the distillery in the early stages of the project. The company will also help fund future improvements on the B9008 road between Dufftown and Tomintoul that carries truck traffic to and from the distillery. In addition, opponents requested and received commitments to protect water quality along the River Livet, which runs near the distillery and supplies cooling water for production use.
This story will be updated as more details become available.
Links: Chivas Brothers | The Glenlivet
---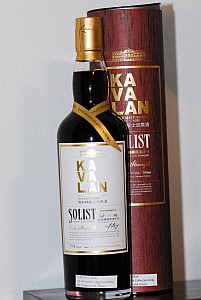 December 15, 2014 – A Kavalan single malt from Taiwan's King Car Distillery took the overall "Supreme Champion" award in the 2014 Malt Maniacs Awards. The 2014 Solist Sherry Cask bottling was one of four gold medal winners overall, and received an average score of 92 from the 10 members of the Malt Maniacs on the judging panel. Three of the four gold medalists are from Asian distilleries, with Kavalan winning two and Nikka's Koichi Distillery winning one. The highest-ranked Scotch whisky was a 59-year-old Glen Grant bottled by Gordon & MacPhail for La Maison du Whisky in Paris, which received the fourth gold medal. Only whiskies receiving an average score of 90 or higher from the judges are eligible for gold medals.
Here's a list of all award-winning whiskies from the competition, with the four gold medal winners marked with an asterisk:
Supreme Champion
Kavalan 'Solist' (57.8%, OB, NAS, Sherry Cask C#S060904031, 516 Bts., 2014*)
Ultra Premium 
Supreme Winner: 
Yoichi 1991/2014 (62%, OB for LMDW, heavily peated, new puncheon, C##129459, 423 bts.*)
Best Sherried Whisky: Glen Grant 59yo 1955/2014 (60.8%, Gordon & MacPhail Book of Kells for LMDW, 1st Fill Sherry Hogshead C#845*)
Best Peated Whisky: Benriach 29yo 1984/2014 (50.3%, OB, Peated, Tawny Port Finish, C#4051, 267 Bts.)
Best Natural Cask Whisky: Karuizawa 34yo 1980/2014 (63%, No.1 Drinks for LMDW, ex-Bourbon Cask C#6476)
Thumbs Up Award: Glengoyne 25yo (48%, OB, Sherry Casks, 2014)
Premium
Supreme Winner: Kavalan 'Solist' (57.8%, OB, NAS, Sherry Cask C#S060904031, 516 Bts., 2014*)
Best Sherried Whisky: Kavalan 'Solist' (57.8%, OB for LMDW, NAS, Sherry Cask C#S060821047, 497 Bts., 2014*)
Best Peated Whisky: Kavalan 2007/2014 'Peaty Cask' (55%, OB, Distillery Reserve No. 04459)
Best Natural Cask Whisky: Bowmore 13yo 2001/2014 (57.2%, Blackadder Raw Cask, Hogshead C#20066, 292 Bts.)
Thumbs Up Award: Glenrothes 7yo 2007/2014 (66.7%, Adelphi, 1st Fill Sherry Hogshead C#3529, 320 Bts.)
Daily Dram
Supreme Winner: Smoking Islay (60.5%, Blackadder Raw Cask, NAS, Sherry Finish C#BA2013/452, 325 Bts., 2013)
Best Sherried Whisky: Nantou 5yo 2009/2014 (58%, OB, Sherry Cask C#852, 246 Bts.)
Best Peated Whisky: Smoking Islay (60.5%, Blackadder Raw Cask, NAS, Sherry Finish C#BA2013/452, 325 Bts., 2013)
Best Natural Cask Whisky: Inchmurrin (54.7%, Boutique-y Whisky Co., NAS, 543 Bts., 2014)
Thumbs Up Award: Lagavulin 16yo (43%, OB, 2014)
The categories are based on price, with "Daily Drams" for whiskies with a retail price under €50 ($62 USD), "Premium" for whiskies priced between €50 and €150 ($186 USD), and "Ultra Premium" for those priced over €150. 
The Malt Maniacs is a worldwide group of whisky lovers made up of amateur connoisseurs and professional whisky writers, with the judging panel drawn from the group's amateur ranks. The Maniacs have been conducting the annual competition since 2003, and a complete list of medalists is available at the group's web site.
Editor's note: WhiskyCast's Mark Gillespie is a member of the Malt Maniacs, but does not participate in judging for the competition. This story was updated to correct an error in the Malt Maniacs release's description of the "Ultra Premium" winning Yoichi whisky.
Links: Malt Maniacs
---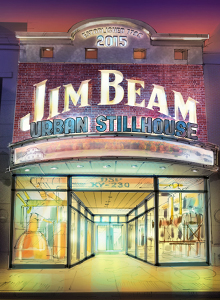 December 10, 2014 – Louisville is cementing its status as Bourbon's tourism center, as Beam Suntory committed today to build a new $5.2 million Jim Beam Urban Stillhouse visitor attraction in the Fourth Street Live entertainment district. The announcement follows a vote by the Kentucky Tourism Finance Development Authority for preliminary approval of $1.3 million in tax incentives for the project, with final approval expected later this year after a final review of expected tourism impact. The project will also be eligible for tax credits under a new state law allowing distillers to claim a credit for the taxes they pay on barrels of maturing whiskey against their state income taxes, as long as they reinvest the money on capital projects within Kentucky.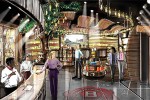 The Urban Stillhouse will be modeled on Beam's American Stillhouse at the distillery in Clermont, and will include a small-scale craft distillery similar to the one on the tour in Clermont, along with a hand-bottling line for guests, tasting room, and gift shop. It will take up space on the ground floor of Beam Suntory's Fourth Street offices in what was previously a Borders bookstore, and becomes the latest Bourbon-related visitor attraction in downtown Louisville. Similar projects include the Evan Williams Bourbon Experience and the planned Michter's attraction on West Main Street, along with Brown-Forman's planned Old Forester Distillery and the Louisville Distilling Company (Angel's Envy) distillery to be built at the eastern end of Main Street.
According to the Louisville Courier-Journal, the authority also gave preliminary approval to an incentive package worth $1.7 million for a project to restore the Old Taylor Distillery in Woodford County near Versailles. Peristyle LLC has started work on a $6.8 million project to turn the historic site into a craft distillery.
Links: Jim Beam
---
December 10, 2014 – For the first time in the company's history, one of Heaven Hill's master distillers will not have the last name of Beam. The company has named Bernheim Distillery manager Denny Potter to the post of co-Master Distiller alongside Craig Beam, who has been serving as Master Distiller since his father, Parker Beam, stepped aside earlier this year for health reasons. Craig and Parker Beam had been co-Master Distillers for the last several years, while Parker inherited the title from his father Earl in 1975.
In a news release, Heaven Hill president Max Shapira praised the Louisville native's contributions since joining the company.
"His knowledge of Bourbon production and aging—and his ability to teach and relate these subjects to the trade and consumers—make him an ideal person to help carry forth Heaven Hill's leadership position and reputation into the future. Denny is grounded in the traditions of our company and industry yet has a keen eye for innovation and emerging trends."
Potter joined Heaven Hill last year after 12 years of service at Beam, where he worked his way up to assistant distillery manager at Maker's Mark before taking up the manager's role at Beam's Cruzan Rum distillery in the Virgin Islands. He wound up his Beam career as general manager of the company's production facility in Frankfort, Kentucky. While at Maker's Mark, Potter was instrumental in designing and implementing an anaerobic processing facility that turns the distillery's waste products into methane gas for use in the distillery's boilers.
Links: Heaven Hill
---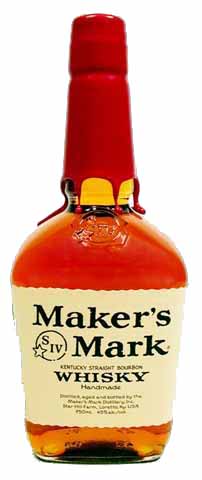 December 9, 2014 – Another lawsuit has been filed challenging the authenticity of whiskies claimed to be "handmade", this one in California against Beam Suntory's Maker's Mark Bourbon. Safora Nowruzi and Travis Williams are the lead plaintiffs in a class-action lawsuit filed December 5 in U.S. District Court in San Diego seeking more than $5 million in damages. The lawsuit alleges Maker's Mark violates California consumer protection laws by claiming to be "handmade", even though all of the equipment used in the Loretto, Kentucky distillery is mechanized.
In an email to WhiskyCast, Beam Suntory spokesman Clarkson Hine declined to comment on the specifics of the lawsuit.
"This claim is without merit, we will defend this case vigorously and we are confident that we will prevail. Beyond that, as a matter of company policy, we don't comment on the details of matters in litigation."
The lawsuit seeks to have all California residents who purchased bottles of Maker's Mark over the past four years certified as members of the class of plaintiffs in the case. Beam Suntory's attorneys have not responded to the initial filing, and as in all civil cases, are given a period of time to file their response with the court.
The lawsuit is the sixth filed this year against spirits producers accused of misleading consumers by claiming to be handmade. In September, Templeton Rye was sued in a Chicago court for not disclosing on its labels that its whiskey is distilled at MGP-I's distillery in Lawrenceburg, Indiana, and not at the company's small Iowa facility. Texas-based Fifth Generation Inc. faces at least four lawsuits in California, Florida, Illinois, and New Jersey over claims that its Tito's Handmade Vodka is not handmade, but produced in a large-scale commercial distillery.
Editor's note: The complaint against Maker's Mark is available to review here. Note that in civil cases, court filings are drafted to present the best case possible for that side's arguments, and unlike sworn testimony in depositions or a trial, are not filed under oath as to their accuracy. 
Links: Maker's Mark
---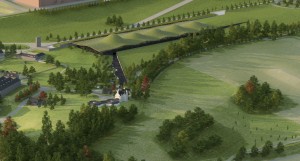 December 6, 2014 – Construction work has started on Edrington's new Macallan Distillery near Craigellachie, Scotland. Edrington chairman Ian Curle presided over a groundbreaking ceremony Monday for the £100 million ($168 million USD) project scheduled for completion in 2017.
The new distillery and visitors center will be built alongside the current Macallan distillery, which will be mothballed once the new distillery comes on line and kept in reserve for future use if needed. London-based architects Rogers, Stirk, Harbour and Partners designed the new complex, with much of the facility to be located below ground level and covered with hills to mimic the surrounding landscape. 
"We're well on track…it's hugely exciting," said Edrington director of malts Ken Grier during an interview Wednesday night in New York City. "The great thing about is the whisky will be just as good, if not better, than it always was…all the work we've done has been put in place to preserve the fine quality that we have, but we're going to have a site that will be the envy of everyone in the world."
The new distillery will be capable of producing 15 million liters of spirit annually, compared to 9.5 million for the current distillery.
Links: The Macallan | Edrington
---