Each week, we bring you the latest whisky news on WhiskyCast, but a lot can happen during the week. Now, you can keep up with whisky news as it happens here on WhiskyCast.com!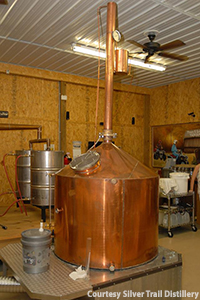 May 22, 2015 – While the Kentucky State Fire Marshal has not issued an official cause for the April 24 explosion that leveled Silver Trail Distillery, investigators have said that a "catastrophic failure" of the still was likely to blame. The explosion happened as distillers Jay and Kyle Rogers opened a door to the stillhouse, leaving both men critically burned. Kyle Rogers died from his injuries on May 11 at Vanderbilt University Medical Center in Nashville, while Jay Rogers continues to recover in the hospital's burn unit. Now, Jay Rogers and Silver Trail owner Spencer Balentine have filed a lawsuit against the maker of the still in Marshall County Circuit Court blaming the still's construction for the explosion. Balentine issued his first public comments on the tragedy Saturday via the distillery's Facebook page.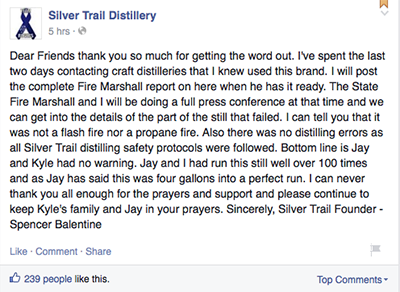 The still that exploded was not the original one used at Silver Trail that had been handed down through Spencer Balentine's family of moonshiners, but a commercially-produced 300-gallon still built by Revenoor Stills in Yamhill, Oregon. The company had been in the business of supplying stills for beverage alcohol and fuel production for nearly five decades, but current owner Terry Wilhelm has shut the business down because of a family dispute over ownership.
Silver Trail's Amanda Powell posted the following on the distillery's Facebook page Thursday:
Attempts to reach the Revenoor web site receive the response "Error establishing a database connection." Terry Wilhelm told WhiskyCast's Mark Gillespie in a telephone interview that with regards to the accusations made in Silver Trail's Thursday Facebook post, "absolutely none of that was true." While expressing his concern for the Silver Trail victims and their families, he said he has been locked out of the Revenoor shop on the family's farm since February 23 with no access to the company's equipment or records because of a family dispute over the company's ownership.
"I started to pull the website and the phone number down on February 24th, not the day after the explosion…there hasn't been anything done about a bankruptcy filing. I simply did it because there were some health and some personal family issues that were just getting to be too much along with the work with Revenoor. I simply wasn't in a good mind to take any more orders…"

Listen to Mark Gillespie's interview with Terry Wilhelm:

Wilhelm confirmed that Revenoor built the still for Silver Trail, but without access to his company's records, could only estimate that the still was built "three or four years ago." His stills carry a one-year warranty, and Wilhelm told a Kentucky lawyer who contacted him after the explosion that the still was out of warranty. He said he has not been contacted by the Kentucky investigators, but is willing to cooperate in any way that he can with the investigation. As for the possible cause of the explosion, Wilhelm said his pot stills are not designed to build up pressure in any way, and the only way one could build up pressure inside the still would be for the outlet tube to become clogged or blocked. The company has produced "thousands of stills" over its 47 years in the business, and Wilhelm said he is not aware of any accidents or explosions involving those stills since he bought the company from its founder in 2000.
A search of the docket for the US Bankruptcy Court in Portland shows no filing for Revenoor Stills, though the Oregon Secretary of State's business registry shows an "administrative dissolution" for the company on April 24, the same day as the explosion. Typically, the state uses that term when a business fails to file annual reports or other required documents after a set period of time. Wilhelm said the annual renewal for Revenoor was due March 24, and the state automatically dissolves any business that fails to file within a 30-day grace period.
WhiskyCast has not been able to discuss Wilhelm's comments or the investigation with the Kentucky State Fire Marshal's office because of the Memorial Day holiday weekend.
Editor's note: Tips of the hat to Fred Minnick for originally reporting Silver Trail's warning, and to WPSD-TV in Paducah for the PDF file of the lawsuit. This story has been updated to include images of the Silver Trail Distillery Facebook posts, additional details of the lawsuit, and Wilhelm's claim that he is not aware of any other accidents or explosions involving the company's stills. Note that in civil lawsuits, court filings only represent one side's version of the case and should not be viewed as proven facts until argued and ruled upon in court. 
Links: Silver Trail Distillery | Revenoor Stills
---
May 22, 2015 – The alleged ringleader of a group charged with stealing Bourbon from Kentucky's Buffalo Trace and Wild Turkey distilleries pleaded not guilty today at arraignment hearings in Frankfort. Former Buffalo Trace employee Gilbert Curtsinger and eight other suspects in the case were indicted last month by a Franklin County Grand Jury on various charges including receiving stolen property, participating in an organized criminal syndicate, trafficking in controlled substances, and possessing drug paraphernalia. The suspects are charged with selling whiskey stolen from the distilleries through connections made at softball tournaments, and several face charges of dealing in anabolic steroids.
The Lexington Herald-Leader reports Curtsinger and his wife, Julie Curtsinger, pleaded not guilty at their first arraignment hearing to the stolen property and drug charges, while Christopher Preston pleaded not guilty to a single charge of trafficking in a controlled substance. All three went before a second judge later in the day along with defendants Joshua Preston and Robert McKinney, where the five pleaded not guilty to the charge of participating in an organized criminal syndicate. Two others indicted in the case face arraignment hearings May 29, along with the most recent suspect indicted in the case. Former Buffalo Trace security guard Leslie Wright was indicted earlier this week on charges of complicity in the theft of full barrels from Buffalo Trace, though she is said to be cooperating with investigators. The cases are expected to be consolidated before one judge before trials begin, however, no trial dates have been set.
Two other defendants have already pleaded guilty to misdemeanor conspiracy charges in connection with the case. Ronnie Lee Hubbard and Shaun Ballard have agreed to testify against the other suspects when those cases go to trial, and prosecutors are expected to recommend that both be sentenced to probation in exchange for their cooperation.
Links: Buffalo Trace | Wild Turkey | Lexington Herald-Leader
---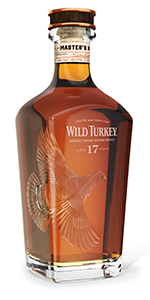 May 22, 2015 – Here's a roundup of new whiskies announced this week…
On this week's episode of WhiskyCast, we had hints of the first release that Eddie Russell has created for Wild Turkey since being promoted earlier this year to Master Distiller alongside his father, Jimmy Russell. We have more details now on Master's Keep, a 17-year-old Bourbon that will be released in August.
Master's Keep is the oldest whiskey Wild Turkey has ever released, largely because Jimmy Russell has never wanted to release anything older than 15 years. The limited-edition Bourbon was matured in so-called "traveling casks" that were moved every few years between various Wild Turkey-owned wood and stone warehouses around Kentucky. It has been bottled at 43.4% ABV, and will have a recommended retail price of $150 (USD) per bottle.
Also on the Bourbon front, Buffalo Trace has released the latest two Bourbons in its Experimental Collection series. While there's a common belief that US law requires the use of American White Oak barrels to mature Bourbon, the requirement only states "new charred oak" – and Buffalo Trace laid down several casks of whiskey in 2005 using French Oak. Some of the barrels were 100% French Oak, while others were made with French Oak heads and traditional American White Oak staves, but all were filled with the same spirit using the distillery's rye-focused Bourbon mashbill. The experiment is reminiscent of one of Buffalo Trace's first Experimental Collection releases using French Oak barrels in 2006. The 100% French Oak Barrel Aged Bourbon and French Oak Barrel Head Aged Bourbon were bottled at 45% ABV in 375ml bottles, and will be available in limited quantities for a recommended retail price of $46.35 (USD).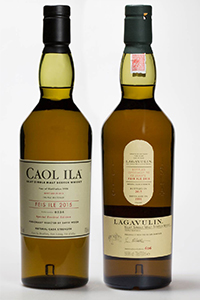 This weekend marks the beginning of the annual Islay Festival of Malt & Music in Scotland, and Diageo has unveiled the two Feis Ile bottlings to be available exclusively at Lagavulin and Caol Ila distilleries during the festival from May 23-30.
Lagavulin's bottling was selected again this year by longtime warehouse manager Iain MacArthur, and is a triple-matured single malt originally distilled in 1991. Following the original maturation period in ex-Bourbon casks and a second maturation in Pedro Ximenez sherry casks (similar to the formula for the Lagavulin Distiller's Edition release), the whisky was filled into old oak puncheons and allowed to rest until bottling at a cask-strength 59.9% ABV. 3,500 bottles will be available beginning Saturday, May 23 at the distillery for £128 ($198 USD).
Caol Ila's bottling was selected by distillery manager David Wood, and followed a similar process to the Lagavulin malt following its distillation in 1998. The original maturation in ex-Bourbon casks was followed by time in Moscatel wine casks (also the formula for the Caol Ila Distiller's Edition), with final maturation in old oak puncheons. It has been bottled at 57.3% ABV, and 1,500 bottles will be available starting on Caol Ila's open day Monday, May 25 at £99 ($153 USD). Diageo plans to limit purchases by visitors at both distilleries to make sure more people have a chance to obtain them.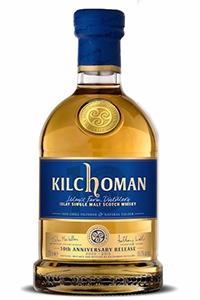 Kilchoman is celebrating its 10th anniversary during this year's Festival, and will release a special bottling blended from ex-Bourbon and ex-Sherry casks filled between 2005 and 2012, including a small amount of whisky from the very first cask filled when the distillery opened in 2005. 3,000 bottles (58.2% ABV) will be available for purchase exclusively at the distillery for £89 ($137 USD) per bottle.
While none of the Islay distilleries have acknowledged it as a specific reason, all three of the festival bottlings are bottled below 60% ABV. Islay's Glenegedale Airport bans passengers on Flybe flights between Islay and Glasgow from traveling with whisky stronger than 60% ABV in checked baggage, and airport security officers have been known to confiscate cask-strength bottlings above the limit. There is no such limit for passengers on the CalMac ferries from Islay to the Scottish mainland.
Arran plans to limit purchases of its newest single malt, which will be available exclusively to members of the distillery's White Stags affinity group beginning June 15 at the Arran web site. Members of the group picked the 18-year-old ex-Sherry hogshead cask from five finalists selected by the distillery team during a tasting session at Glasgow's Oran Mor whisky bar in January. 214 bottles will be available at £95 ($148 USD), and each bottle will carry the names of the members of that tasting panel.
Editor's note: This story was updated with details on the Kilchoman Feis Ile anniversary bottling.
Links: Wild Turkey | Buffalo Trace | Lagavulin | Caol Ila | Kilchoman | Arran
---
May 20, 2015 – A tenth person has been indicted in connection with a series of thefts from Buffalo Trace and Wild Turkey distilleries dating back to 2008. The Louisville Courier-Journal reports a Franklin County grand jury indicted former Buffalo Trace security guard Leslie Wright Tuesday on charges of complicity in receiving stolen property over $10,000. Wright admitted to investigators that she was paid to look the other way as accused ringleader Gilbert Curtsinger took 11  stainless steel barrels of whiskey from Buffalo Trace for "scrap metal." Assistant Commonweath's Attorney Zachary Becker told the Courier-Journal that Wright received $800 for her help, which "certainly did provide an easier means in order to commit this very valuable theft."
Curtsinger and six other people indicted last month face an arraignment hearing Friday in Frankfort. Two other suspects have already pleaded guilty to reduced charges and are cooperating with prosecutors. Becker told the newspaper more indictments are possible as investigators keep uncovering more details about the thefts.
Wright worked at Buffalo Trace for about two years. Her arraignment hearing has not been scheduled.
Links: Buffalo Trace | Wild Turkey | Louisville Courier-Journal
---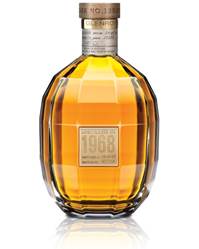 May 18, 2015 – The Glenrothes only releases one new addition to its Extraordinary Cask Collection each year, and this year's release comes from a single cask filled at the Rothes distillery on November 19, 1968. Cask #13507 was a second-fill ex-Sherry hogshead, and produced just 148 bottles at 41.9% ABV when it was emptied. It's the third release in the series, following the release of single casks from 1970 and 1969.
The whisky comes in a hand-blown Portuguese crystal decanter with a stopper that includes wood from Cask #13507. 28 bottles will be available in the US, where it will carry a recommended retail price of $9,250 USD. Pricing and availability in other global markets was not immediately available.
Links: The Glenrothes
---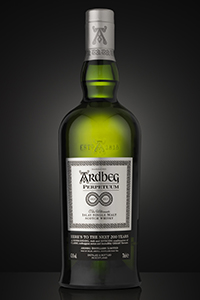 May 18, 2015 – Islay's Ardbeg Distillery will celebrate its 200th anniversary later this month during the Islay Festival of Malt & Music, and while the celebrations will look ahead to the next 200 years, Dr. Bill Lumsden couldn't rely on that to create this year's limited-edition Ardbeg Day release. Instead, he looked back to many of the special releases he's created for Ardbeg since he started working with the distillery in 1997 to create Perpetuum.
"Obviously, I couldn't bottle something that I haven't yet made, but may make over the next five to ten years," Lumsden said in a telephone interview. "What I did was to celebrate the history of the distillery – the very checkered history of the distillery…I put together a mélange of many different types of whisky."
"There is the classic ex-Bourbon barrels, there are sherry casks…more than one type of sherry…there's Oloroso, there might even be a little bit of PX in there, but there's definitely Manzanilla a la Ardbog. There's a little frisson of Alligator because I didn't bottle out every single cask I had for that. There is some new French Oak, i.e., the heart of Corryvreckan, and one or two other things…"
Dr. Bill Lumsden discusses Ardbeg Perpetuum:

In addition, Lumsden believes Ardbeg lovers who found Auriverdes and Galileo, the two previous limited-edition releases, perhaps too delicate will be pleased with Perpetuum. "I've tried to make a whisky which has that classic Ardbeg punch to it," he said. There will be two different bottlings of Perpetuum: the Ardbeg Committee release also available at the distillery and bottled at 49.2% ABV, and the retail version to be available May 30 worldwide in limited quantities at 47.4% ABV at a recommended US retail price of $100.
Editor's note: Mark Gillespie's tasting notes for Ardbeg Perpetuum are available here. 
Links: Ardbeg
---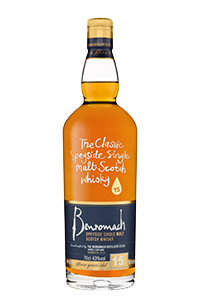 May 18, 2015 – It's been 17 years since Gordon & MacPhail reopened Benromach Distillery in Speyside, and the distillery is now releasing a new 15-year-old single malt as a permanent part of the Benromach range. While the distillery has released older expressions of Benromach in recent years, the whisky in this expression comes from stocks produced since Benromach reopened in 1998.
In a news release, Gordon & MacPhail chief operating officer Ewen Mackintosh said "the whisky has a great deal of character and we hope it will appeal to whisky lovers who have tried other Benromach single malts and to those who would like to see what a classic pre-1960s Speyside malt is like." The company's goal in reopening Benromach was to produce whiskies similar to those distilled in Speyside during the years between the end of World War II and the 1960's.
The Benromach 15 is bottled at 43% ABV, and will be available in the UK, Europe, and other export markets with a recommended UK retail price of £48.99 GBP ($77 USD).
This week's episode (May 23) of WhiskyCast will feature an audio tour of Benromach with distillery manager Keith Cruickshank.
Links: Benromach
---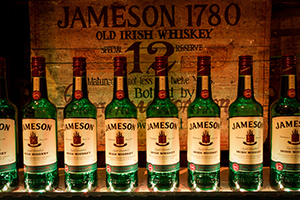 May 15, 2015 – During the "golden age" of Irish Whiskey in the late 1800's, Irish Whiskey was more popular worldwide than Scotch or any other style of whisky. While many factors were responsible for the sharp decline in Irish Whiskey's popularity during the 20th Century, there's no doubt that the current boom in Irish Whiskey sales has sparked a renaissance of distilling in Ireland, with annual exports up 220% since 2003 and growing consistently each year.
Irish Agriculture Minister Simon Coveney and the Irish Whiskey Association announced a new "Vision for Irish Whiskey" plan this week at the Old Jameson Distillery in Dublin. The plan projects at least 26 new distilleries over the next ten years – with several already under construction, and an ambitious goal of tripling the sector's share of the global whisky market from 4% to 12% by 2030. Other key proposals include:
Raising Irish Whiskey exports from the current 6.5 million (9-liter) cases to 12 million by 2020
Doubling those exports between 2020 and 2030
Increasing annual production by 41% by 2025
Increasing whisky-related tourism from 600,000 visitors annually to 800,000 by 2020
Increase whisky sector employment by 30% to 6,500 direct and indirect jobs by 2025.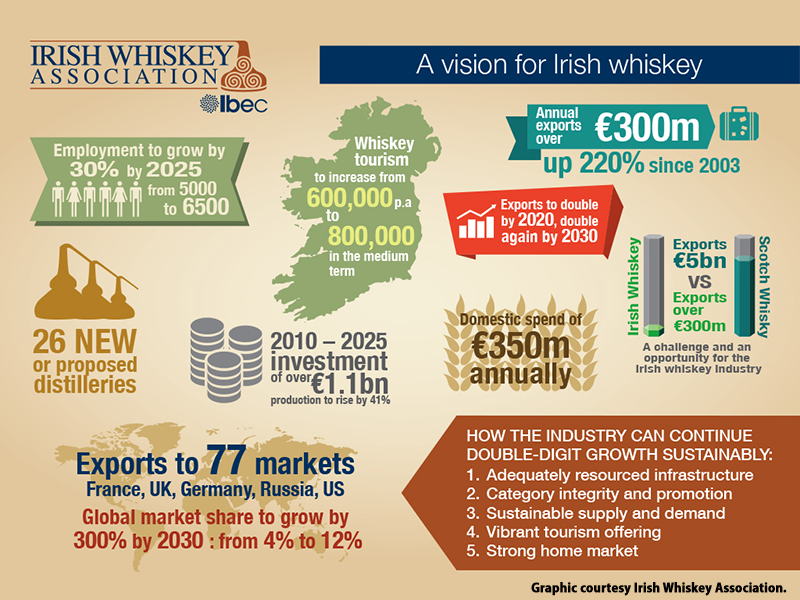 The plan projects total investment of €1 billion ($1.14 billion USD) between 2010 and 2025, including investments already made at the Irish Distillers-owned Midleton Distillery and new projects such as the new Tullamore D.E.W Distillery in Tullamore, the Teeling Whiskey Company in Dublin, and the Walsh Whiskey Distillery in Carlow scheduled to open by the end of 2015. 
Links: Irish Whiskey Association
---
May 15, 2015 – Bernard Walsh's Walsh Whiskey Distillery is still several months away from producing its first spirit, but the fledgling project is already facing a massive bill from Irish Water. The national water utility has hit Walsh Whiskey with a €500,000 ($572,550 USD) bill for the costs of upgrading the local water treatment plant in Carlow to handle the extra demand anticipated once the distillery goes on line.
According to TheJournal.ie, Walsh has "no intention" of paying the bill, which he was notified of in March. Walsh and his investors have spent approximately €25 million ($28.6 million USD) to build the distillery in County Carlow. While most of the water the distillery uses will be recycled, the project received approval from local officials in 2013 to send its waste water to the local treatment plant. "This is something they should have sorted out with the local authority," he told the Journal. Walsh was unavailable for interviews this week.
The timing of that approval may be critical to resolving the process. The Irish Government created Irish Water in 2013 to take over water and wastewater services from local governments, in a move that created significant controversy as the takeover took effect in early 2014. In a statement provided to The Journal, Irish Water noted that all planning applications for construction projects since January 1, 2014 require separate applications to the utility for water and sewer services.
"If a business is making a planning application that needs new water infrastructure, which is solely required to service the development, then Irish Water is obliged to recover the costs of delivering this infrastructure from that business."
Walsh has pledged to pay the distillery's actual water and waste-treatment bills, but told the Journal that the distillery's permits were granted in 2013 before the establishment of Irish Water, and that he will "absolutely not" pay for the costs to upgrade the local water treatment facility.
We have asked Irish Water for an explanation of the charges, given the timeline for planning permission and discharge permit approvals in 2013. This story will be updated when we receive a response.
Links: Walsh Whiskey Distillery | Irish Water
---
May 12, 2015 – Kyle Rogers, the younger of the two cousins critically burned in a distillery explosion April 24, died Monday night at Vanderbilt University Medical Center in Nashville, Tennessee. Rogers and his older cousin Jay were opening the stillhouse door at Silver Trail Distillery in Hardin, Kentucky when the blast blew them 25 to 30 feet away from the building. Both men were flown by helicopter to the Vanderbilt burn unit.
According to Kentucky Distillers Association president Eric Gregory, Kyle Rogers was the more seriously injured of the two. Gregory has been serving as a spokesman for the Rogers families, and told WhiskyCast in a telephone interview that Kyle Rogers had not been responding well to treatment. "He had developed a bacterial infection, and they removed his foot in hopes of stopping it…but that didn't stop it," Gregory said. "The doctors did everything they could, and finally, I think, it just took over his body…there was nothing more that the doctors could do, so the family decided to remove the ventilator and put him in God's hands."
Listen to Mark Gillespie's interview with Eric Gregory:

Infection is the major cause of death in patients with severe burns. According to research for the  National Institutes of Health, 75% of all deaths in patients with burns over more than 40% of the body are caused by infections or infection-related complications.
Kyle Rogers' family released this statement through the KDA Tuesday afternoon:
"We are deeply saddened to report that our son, Kyle, passed away last evening. And yet, we take solace in the fact that he is in God's comforting hands and is being greeted by cherished loved ones. We know Kyle is at peace and free of the pain from the last two weeks. We cannot begin to express our thanks for the wonderful and caring medical team at Vanderbilt Hospital and the tremendous outpouring of support from friends and loved ones, especially the family of Jay Rogers who have stood by our side and shared in our prayers. We also would like to thank Spencer Balentine and all of Kyle's colleagues at Silver Trail Distillery. Kyle took so much pride in being a moonshiner, and we are grateful that he was able to work in a profession that he loved so much. It is now our turn to pray for all those who knew and loved Kyle, and to show our thanks through God that we were blessed to call him son, brother and friend for 27 years. He will be with us always."
Jay Rogers continues to improve gradually, and Gregory said he has been able to walk around the hospital for short periods of time. "He's still got a long way to go…we're all still praying for him and he's going to need all the help we can offer as well."
The "Lifting Spirits – Jay and Kyle Rogers Support Fund" established after the explosion has raised more than $20,000 so far, with several fundraisers in the works. Donations are also being accepted at CFSB Bank in Benton, Kentucky. Gregory indicated that plans are also in the works to establish a scholarship at Murray State University in Kyle Rogers' name.
The cause of the explosion remains under investigation, though investigators with the Kentucky State Fire Marshal's office have indicated that high pressure caused a "catastrophic failure" of the still. The two men had entered the building to check on a distilling run that had been going on for several hours when the explosion occurred.
Links: Silver Trail Distillery | Kentucky Distillers Association
---