This is where you'll find extended versions of WhiskyCast interviews, along with audio and video from special events that were just too long to include in a regular episode of WhiskyCast. The original idea behind WhiskyCast was to help gather oral histories of whisky, and this is a place where you can listen and learn more about the "water of life".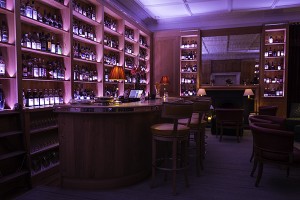 November 22, 2014 – Speyside's historic Craigellachie Hotel has been a fixture in the town of Craigellachie for 120 years. Last year, Piers Adam bought the hotel, and invested £3 million ($4.7 million USD) in a complete renovation. The final step in that process was completed earlier this month when the hotel's legendary Quaich Bar re-opened. The Quaich has been considered one of the world's best whisky bars for many years, but as with the rest of the hotel, was in need of some tender loving care.
While local craftsmen and artisans took care of the decor, Quaich Bar manager Lyndsey Gray worked with longtime whisky writers Dave Broom and Charles MacLean on the whisky selection. On November 19, 2014, WhiskyCast's Mark Gillespie sat down with Lyndsey and the hotel's general manager, Kevin Smith, to discuss the renovation.
Editor's note: This interview was conducted during a press trip sponsored by Dewar's, but as with all stories on WhiskyCast, we retained complete editorial control over the content. 
Links: Craigellachie Hotel
---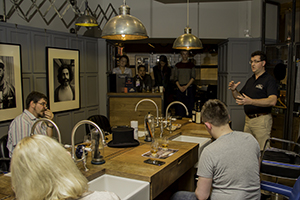 November 14, 2014 – Stuart Harvey has spent the last 11 years at Inver House as the Master Blender for the company's entire range of Scotch whiskies, including four different single malts and the Hankey Bannister, Catto's, and Inver House blends. That's a lot of different styles of whisky to keep track of, including award-winners such as the Old Pulteney 21-year-old single malt and the Hankey Bannister 40-year-old blend.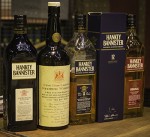 WhiskyCast's Mark Gillespie had the chance to sit down with Stuart Harvey over dinner during an Inver House press trip for a group of whisky writers in October of 2014. During this extensive interview, Stuart discussed his development as a blender, along with the unique characteristics of each of Inver House's five malt whisky distilleries (Old Pulteney, Balblair, Knockdhu, Speyburn, and Balmenach), and the differences between blending for a single malt and for a blended Scotch whisky. The entire 40+minute interview is available here.
Editor's note: This interview was conducted during a press trip in which Inver House Distillers covered travel expenses for its guests. However, WhiskyCast's Mark Gillespie retained full editorial control over the content.
Links: Inver House | Hankey Bannister | Old Pulteney | Balblair | anCnoc | Speyburn
---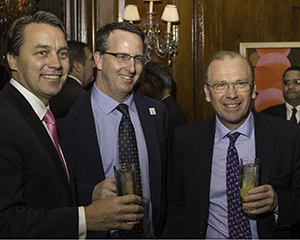 November 9, 2014 – On November 3, 2014, WhiskyCast's Mark Gillespie had a chance to sit down and talk whisky for a few minutes with Peter Grant Gordon and Andy Nash of William Grant & Sons. Gordon is one of the company's directors and a descendant of founder William Grant, while Nash is the Scotch Whisky category director for the company's USA unit.
The evening was focused on the launch of the Glenfiddich Original, but our conversation covered a wide range of topics from Irish Whiskey to the state of the Scotch Whisky industry as well as the Glenfiddich Original. We also discussed the company's recent launches of Girvan Single Grain Scotch Whisky and the single malts from Grant's Kininvie and Ladyburn distilleries, as well as the future in the U.S. for the company's namesake Grant's Blended Scotch Whisky.
Links:
William Grant & Sons
---
November 7, 2014 – Phil and Simon Thompson have been managing their family's Dornoch Castle Hotel since they were practically teenagers, and have created one of Scotland's best whisky bars at the hotel. This week, the Dornoch Castle Hotel was named as Scotland's Whisky Bar of the Year by the Scottish Licensed Trade News, and the Thompsons have developed their own reputation as two of the most outspoken whisky lovers — and critics — around. The Dornoch Castle has a few mainstream Scotch whiskies, but the bar is best known for older bottlings of those mainstream malts — because the Thompsons prefer those older bottlings to today's versions.
Last week, I stayed at the Dornoch Castle as part of an Inver House Distillers press trip. After an evening at nearby Balblair Distillery, I found Phil and Simon behind the bar at the end of a long day. Our interview lasted nearly 40 minutes — far longer than we could run in a single episode of WhiskyCast, but their views on the state of whisky today are well worth listening to. They're outspoken, occasionally profane, and don't pull their punches. Our conversation covered everything from the ethics of whisky bloggers to the lack of support distilleries give to Scotland's own whisky bars and which distillers make whisky better now than they did in past years — and the Thompsons rarely hesitate to name names.
The Thompsons hope to have their own distillery one day. Here's hoping that they succeed…and are able to make whisky the way it was done in the old days.
Links: Dornoch Castle Hotel
---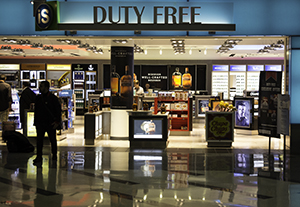 October 21, 2014 – Airports are investing a lot more money in travel retail these days, largely because the rent and revenue from retail sales can account for between 20 to 55 percent of an airport's annual revenue. In other words, think of an airport as a shopping mall with a really big parking lot.
One of the questions we receive most frequently from community members goes along the lines of "I'm traveling through X airport…what whiskies should I look for at the duty-free shop?" Of course, we also hear "can I really save money at the duty-free shop?" and "why don't US airports have any decent duty-free shops?"
Michael Payne can help answer many of those questions. Payne is the executive director of the Washington, DC-based International Association of Airport Duty Free Stores, and his members include most of the major airport retail operators around the world. Payne addressed the state of the travel retail market at this year's World Whiskies Conference in New York City, and talked with WhiskyCast's Mark Gillespie after his session.
If you have suggestions for airports with good duty-free whisky selections, we'd love to share them with other WhiskyCast community members! Just add a comment to this story with your recommendations.
Links: International Association of Airport Duty Free Stores
---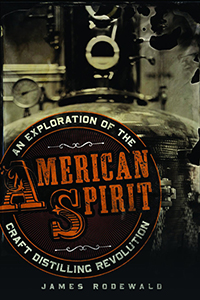 October 12, 2014 – Veteran journalist and former Gourmet Magazine drinks editor James Rodewald spent more than a year visiting distillers around the United States for one of the first books covering the boom in craft distilling. "American Spirit: An Exploration of the Craft Distilling Revolution" isn't a how-to guide, but documents the stories of individuals who thought they could make whiskies, brandies, gins, and vodkas just as well as the big corporate distillers — if not better.
Many of the subjects Rodewald profiles are familiar ones to WhiskyCast listeners, including Chip Tate, the Erenzos of Tuthilltown, Dave Pickerell, and other whisky distillers. During our conversation recorded on September 30, 2014 at The Dead Rabbit in New York City, James discussed how he found some of his subjects by asking other craft distillers whom they most respected, and discovered distillers he'd never heard of in years of covering the spirits industry. You'll discover some of those distillers in this complete version of the interview (an edited version appears in Episode 501 of WhiskyCast).
"American Spirit" is available to purchase in the WhiskyCast Bookstore powered by Amazon.com.
---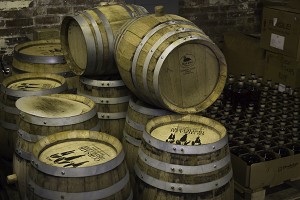 October 12, 2014 – Darek Bell and his colleagues at Corsair Artisan Distillery have become known throughout the craft distilling community for their innovative style, as well as their willingness to share what they've learned with others.  Since Darek founded Corsair with his childhood friend Andrew Webber and his wife Amy Lee Bell in 2007, they've created hundreds of different whisky recipes, from simple mashbills to audacious experiments such as a 12-grain Bourbon. In his first book, "Alt Whiskeys", Bell explored the steps in developing a microdistillery, along with recipes for fledgling and expert distillers alike.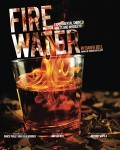 Now, Bell has published his second book based on his passion for smoky Islay-style whiskies. "Fire Water" looks at different ways of imparting that smoky flavor during the distilling process, including techniques using peat, wood, roots, bark, and herbs. Bell also includes recipes for cocktails made with smoky whiskies that bring out the flavors of the whisky without overwhelming the other ingredients.
An edited version of this interview appears in Episode 501 of WhiskyCast, but we're glad to make the entire interview available here.
"Fire Water" is available to purchase in the WhiskyCast Bookstore powered by Amazon.com.
Links: Corsair Artisan Distillery
---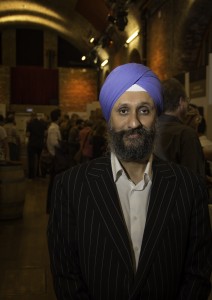 October 6, 2014 – Sukhinder Singh has seen the growing interest in whisky collecting and investing from multiple points of view. As the co-founder of The Whisky Exchange in London, he's made rare bottles available to collectors and investors, and his own personal whisky collection is one of the world's largest. While he's not sure exactly how many bottles he has in a secured warehouse, he estimates his collection at between 6,000 and 8,000 bottles. That includes one of the rarest and most expensive whiskies ever, one of the three bottles of The Dalmore Trinities, for which he paid £100,000 (approximately $165,000) in 2010.
During a lunch break in the brasserie at The Whisky Show (organized by The Whisky Exchange), we sat down for a conversation about the growth of the show, along with his own views on whisky collecting and investing. He also gives us some of his personal "go-to" whiskies, as well…

Links: The Whisky Exchange | The Whisky Show
Editor's note: Support for our coverage of the 2014 Whisky Show was provided by The Whisky Exchange. However, WhiskyCast's Mark Gillespie retained full editorial control over the content.
---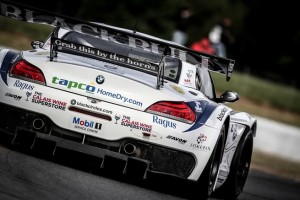 June 15, 2014 – If you're a longtime WhiskyCast listener, you're probably aware that motorsports is one of my other passions. I've been a racing fan since I was old enough to have a toy checkered flag and race cars as a kid growing up in Indianapolis.  For years, I've dreamed of going to France to watch the 24 Hours of Le Mans…and it's one of the things on my "bucket list."
Since I couldn't make it this year, I decided to do the next best thing…
The 24 Hours of Whisky.
During this year's race, I posted a new tasting note each hour on the Tasting Notes page, and tried to tie in some of the whiskies to Le Mans or racing-related subjects. In the interests of transparency (and responsibility), I did not stay up for 24 hours straight tasting whiskies. While I did taste 17 whiskies during the weekend, the remaining notes came from recent competitions I helped judge blindly and received the entry lists later, allowing me to cross-reference my notes against the entries and add them to the site. Here's the complete list with links to each tasting note:
9:00am (3:00pm in France): The race begins with Sazerac Rye 18's 2013 Edition
10:00am: Cutty Sark 12
11:00am: Wiser's 18
Noon: Stauning Young Rye (9-time Le Mans winner and this year's runner-up Tom Kristensen is from Denmark)
1:00pm: Zuidam Rye from The Netherlands
2:00pm: Label 5 Extra Rare 18
3:00pm: J.R. Ewing Private Reserve ("Super Tex" A.J. Foyt is the only driver to win the Indianapolis 500, Daytona 500, and Le Mans)
4:00pm: MaQintosh Silver Edition from India
5:00pm: Pappy Van Winkle's Family Reserve 15 Year Old 
6:00pm: Glenfiddich Age of Discovery Bourbon Cask
7:00pm: Nikka Yoichi 10 (Toyota's LMP1 car was leading Le Mans at the time)
8:00pm: Lark Single Cask #659 (in memory of the late Sir Jack Brabham, the first post-war racer to be knighted)
9:00pm: Halfway there with the Col. E.H. Taylor Single Barrel Bourbon
10:00pm: Dad's Hat Pennsylvania Rye (the closest distillery to Le Mans legend Mario Andretti's home)
11:00pm: Blackadder Raw Cask Macallan 1990
Midnight: Thomas H. Handy Sazerac Rye
1:00am: Ron Burgundy's Great Odin's Raven (Le Mans is "kind of a big deal" in racing)
2:00am: Last Mountain Private Reserve from Canada
3:00am: K5 Himalayan Whisky (Hemingway said the only true sports are auto racing, mountain climbing, and bull fighting)
4:00am: OYO Michelone Reserve Bourbon from Ohio
5:00am: Gordon & MacPhail 1991 Balblair (finished in Crozes-Hermitage casks from France)
6:00am: Arran 1997 Sherry Single Cask
7:00am: The Macallan Cask Strength
8:00am: The final hour, and a French single malt seemed appropriate: Armorik Classic 2013 Edition
Links: 24 Hours of Le Mans | Sazerac Rye | Cutty Sark | Wiser's | Stauning | Zuidam | Label 5 | J.R. Ewing Bourbon | MaQintosh | Old Rip Van Winkle | Glenfiddich | Nikka | Lark | Col. E.H. Taylor | Dad's Hat | Blackadder | Ron Burgundy Scotch | Last Mountain | Spirits of Bhutan | Middle West Spirits | Gordon & MacPhail | Arran | The Macallan | Armorik
---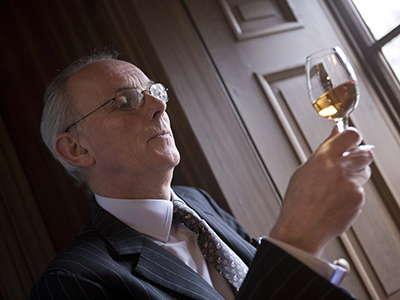 January 25, 2014 – Colin Scott is marking two anniversaries: his 40th year with Chivas Brothers in 2013 and his 25th year as Master Blender in 2014. He joined The Glenlivet Distillers in 1973 as a trainee, following in the footsteps of his father and grandfather, and became Master Blender in 1989 after an apprenticeship under the legendary Jimmy Lang.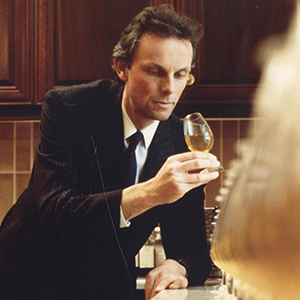 Over the years, he expanded the Chivas Regal range from its flagship 12-year-old blend to include the 18 and 25-year-old expressions, while developing Royal Salute with the Stone of Destiny, Tribute to Honour, 62 Gun Salute, 100 Casks Selection and Diamond Tribute expressions. His most recent release, the Royal Salute World Polo Batch, honors Royal Salute's growing ties with professional polo and the World Polo Series.
WhiskyCast's Mark Gillespie talked with Colin by phone on January 22, 2014.
In addition, you can hear Mark's 2009 interview with Colin on his history in the whisky business in Episode 195 of WhiskyCast.
Links: Chivas Regal | Royal Salute
---