Many press releases from Whisky PR firms come with a cocktail recipe or two. Rather than waste the hard work of bartenders who created those recipes, we're sharing them with the WhiskyCast community here. Recipes provided by whisky companies and their PR firms will be identified as such, and just because a recipe specifies a certain brand doesn't mean you can't use what you already have at home.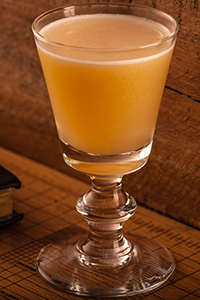 June 5, 2013 – The traditional recipe for the Army & Navy uses gin, but in this recipe supplied by Chivas Regal, London-based mixologist Tony Conigliaro substitutes Chivas Regal 18 for the gin:
50ml Chivas Regal 18
25ml lemon juice
15ml Cherry Orgeat
Add to a cocktail shaker over ice and shake. Double-strain and serve in Coupe glassware, garnished with a lemon twist.
---
June 5, 2013 – Chivas Regal provided us with London mixologist Tony Conigliaro's take on the classic Rob Roy cocktail:
20ml Chivas Regal 18
40ml Chivas Vermouth
2.5ml Maraschino Liqueur Luxado
3 dashes of Angostura Bitters
Add the ingredients to an ice-filled cocktail shaker and stir. Serve in a small coupette with a fresh cherry to garnish.
---
June 5, 2013 – Chivas Regal provided this recipe for Tony Conigliaro's unique take on the Bellini:
20ml Chivas Regal 18
75ml fresh peach juice
Add the Chivas Regal 18 and peach juice to a soda stream bottle and carbonate, then serve in a champagne flute.
---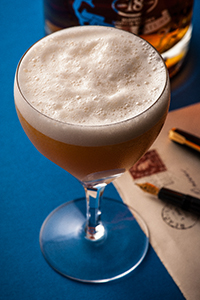 June 5, 2013 – Chivas Regal provided this recipe from noted London mixologist Tony Conigliaro:
50ml Chivas Regal 18
25ml fresh squeezed lemon juice
25ml egg white
15ml chamomile syrup
3 dashes Angostura Bitters
Add the ingredients to a cocktail shaker (no ice) and shake. Add ice to the shaker and then hard shake. Strain and serve simply as it is in coupe glassware.
---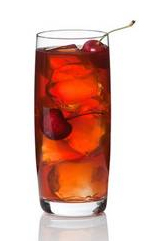 May 31, 2013 – Iced tea is a traditional refresher on a hot summer day, and Wild Turkey passed along this recipe for kicking it up a bit. This recipe makes one pitcher:
4 cups water
8 red herbal tea bags (such as lemon zinger or hibiscus)
2 cups Wild Turkey 81
Splash of club soda
Juice of one lemon
Cherries for garnish
In a large saucepan, boil 2 cups of water. Remove from heat. Add tea bags. Steep 10 minutes; discard tea bags. Add 2 cups of cold water to tea. Stir in Wild Turkey 81. Transfer to pitcher and chill. Just before serving, add lemon juice and a splash of club soda for a touch of refreshing fizz. Serve over ice.
---
May 13, 2013 – Kilbeggan provided this recipe created by Darren McGettigan of the Bar Beoga at Galway's Menlo Park Hotel:
1 1/4 parts Kilbeggan Irish Whiskey
2 1/2 parts pressed apple juice
1 1/4 parts pressed pineapple juice
6 fresh blueberries
1 dash of cherry bitters
1 bar spoon of white Sugar
---
April 26, 2013 – Wild Turkey provided this recipe created by the staff at Blue Smoke in New York City:
1 and a half ounces Wild Turkey
¾ ounce fresh squeezed grapefruit juice
1 teaspoon of honey
---
April 26, 2013 – Wild Turkey provided us with this recipe for an American Honey Julep created by Tinika Green of New York City's Blue Smoke:
2 ounces Wild Turkey 81
1 ounce Wild Turkey American Honey
1 and a half ounces of Lemon juice
Mint Sprigs
Crushed Ice
Slap the mint springs in the palm of your hand to release oils. Tear them into pieces and add to a shaker filled with all other ingredients and ice cubes. Shake vigorously. Pour over crushed ice and garnish with a sprig of mint.
---
April 26, 2013 – Wild Turkey provided the recipe for a Bourbon Mojito created by Jeff Shaw of Bourbons Bistro in Louisville:
Muddled mint, lime, and simple syrup
3 ounces Wild Turkey 101
House Sour mix
Top with Ginger Beer
---
January 11, 2013 – Travis Fourmont of Roast in Detroit won the 2013 Woodford Reserve Manhattan Experience competition with this recipe that he shared with us in Episode 406 of WhiskyCast:
2 ounces of Woodford Reserve
1/2 ounce Italian Amaro
1/2 ounce Cherry Heering
1/2 ounce Campari
4 dashes of orange bitters
---