Many press releases from Whisky PR firms come with a cocktail recipe or two. Rather than waste the hard work of bartenders who created those recipes, we're sharing them with the WhiskyCast community here. Recipes provided by whisky companies and their PR firms will be identified as such, and just because a recipe specifies a certain brand doesn't mean you can't use what you already have at home.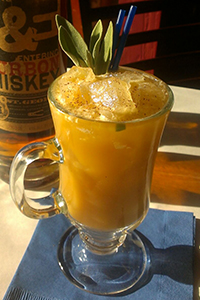 October 17, 2013 – Alexa "Pixie" Bowler of Cowboy Ciao in Scottsdale, Arizona created this Southwestern-themed Bourbon cocktail:
1.5 ounces "Breaking and Entering" Bourbon by St. George
1.5 ounces Butternut Squash Agua Fresca*
0.5 ounce rich coconut sugar syrup
0.5 ounce Frangelico
4 fresh sage leaves
Muddle sage and coconut syrup in a mixing glass. Add all other ingredients and shake for 30 seconds. Double strain into a glass coffee mug filled with ice. Garnish with fresh grated nutmeg and sage leaves.
*Butternut Squash Agua Fresca:
In a mixing bowl, combine the juice of one small butternut squash (approximately 2 1/2 cups), 1 cup of raw maple syrup, and 1 cup of coconut milk. Stir until combined.
---
October 17, 2013 – Louisville-area mixologist Marie Zahn created this cocktail recipe for Beam's Basil Hayden's Bourbon by combining two classic cocktails, the Blinker and the Brown Derby:
2 parts Basil Hayden's Bourbon
1 teaspoon Honey Syrup*
1 teaspoon Raspberry Vinegar
Grapefruit Soda
*Honey Syrup:
In a small saucepan, heat 1 cup of honey and 1 cup of and water. Stir until fully incorporated, then let cool and refrigerate.
Add Basil Hayden's Bourbon, honey syrup and raspberry vinegar over ice in a Collins glass and stir. Top with grapefruit soda and garnish with a grapefruit peel.
---
October 17, 2013 – Here's one of Fred Noe's Halloween cocktail recipes using Jacob's Ghost White Whiskey:
2 parts Jacob's Ghost White Whiskey
1 half orange slice
1 stemmed cherry
2–3 dashes of bitters
1–2 sugar cubes
A splash of club soda, lemon-lime soda or ginger ale
In an Old Fashioned glass, muddle the orange slice, cherry, bitters and sugar cubes. Fill the glass with cracked ice and add bourbon. Gently stir the cocktail to bring the fruit up and around the ice. Splash with your choice of soda.
---
October 17, 2013 – Fred Noe passed along this recipe for a Halloween-themed cocktail using Jim Beam Devil's Cut:
1 1/2 parts Jim Beam Devil's Cut
2 parts fresh pressed apple juice
1 part fresh lemon sour
Combine ingredients in a mixing glass. Serve with or without ice in a cocktail glass and garnish with a lemon wheel or apple wedge.
---
October 17, 2013 – This recipe was provided by the folks at Speyburn and Inver House Distillers:
A dram of Speyburn Single Malt
1 teaspoon of honey
Boiled water
1 slice of fresh lemon
1 cinnamon stick
1 clove
Put the honey in a mug and dissolve in a little boiled water, then add Speyburn Single Malt. Top up with more boiled water, add the cinnamon stick and cloves. Leave to stand for about 5 minutes, then take out the cinnamon stick and cloves. Add the fresh lemon, stir well, and serve.
---
July 5, 2013 – Noted chef Michael Symon is working with Knob Creek on a series of summer events, and created this cocktail:
1 ¼ Parts Knob Creek Rye
½ Part fresh lime juice
½ Part orange liqueur
¼ Part white Crème de Cocoa
Pour all ingredients into a shaker, then shake vigorously with ice and strain into a cocktail glass. Garnish with lime wheel.
---
July 4, 2013 – Jason Craig of Cutty Sark passed along this cocktail recipe he brought back from South Africa, where Appletiser is a popular brand of sparkling apple juice. Feel free to substitute any other type of sparkling apple juice instead:
50ml Cutty Sark Storm
330ml (12 ounces) of Appletiser or other sparkling apple juice.
Combine in a serving glass with a twist of lemon over ice.
---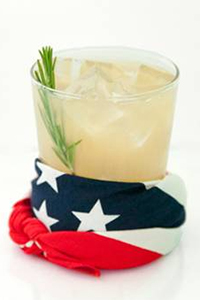 June 25, 2013 – Wild Turkey provided this cocktail recipe suitable for summertime entertaining:
3 ounces Wild Turkey 81
6 ounces fresh squeezed grapefruit juice
2 dashes Angostura Bitters
1 sprig of rosemary
Combine the Wild Turkey 81, grapefruit juice and bitters in a tumbler with ice and stir. Strain into a Collins glass filled with ice. Garnish with a sprig of rosemary.
---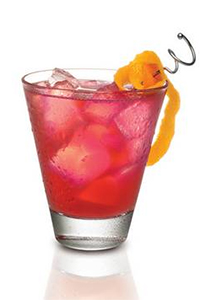 June 25, 2013 – Wild Turkey provided this recipe for a Fourth of July (or other summertime occasion) cocktail:
1 ounce Wild Turkey 101
3/4 ounce Wild Turkey 81
3/4 ounce Cointreau
1/2 ounce Carpano Antica
1/2 ounce cranberry juice
1 dash of orange bitters
Orange twist
Combine all ingredients in a shaker with ice. Shake and pour over fresh ice. Garnish with an orange twist.
---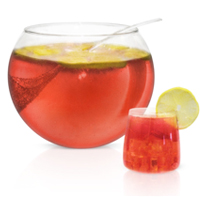 June 19, 2013 – This recipe supplied by Kilbeggan can be served either as an individual drink or in a punch bowl:
2 parts Kilbeggan Irish Whiskey
1 part DeKuyper Apricot Brandy
1 part cranberry juice
2 parts champagne
1 lemon wheel (thinly sliced)
To serve as a cocktail: Build all ingredients over ice in a stemless red wine glass. Garnish with a lemon wheel.
To serve as a punch: Double the recipe and multiply by the number of guests you plan to serve. Add Kilbeggan Irish Whiskey, DeKuyper Apricot Brandy and cranberry juice to a punch bowl, stir and refrigerate. When guests arrive, add champagne and lemon wheels. Serve over ice in stemless red wine glasses.
---