Many press releases from Whisky PR firms come with a cocktail recipe or two. Rather than waste the hard work of bartenders who created those recipes, we're sharing them with the WhiskyCast community here. Recipes provided by whisky companies and their PR firms will be identified as such, and just because a recipe specifies a certain brand doesn't mean you can't use what you already have at home.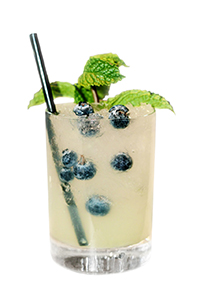 April 24, 2013 – Beam's PR team passed along this variation on the Mint Julep created by Los Angeles bartender Rob Floyd using Basil Hayden's Bourbon:
2 parts Basil Hayden's Bourbon
8-10 mint leaves
8 blueberries
1 part fresh lime juice
3/4 parts simple syrup
 
Muddle the mint leaves and blueberries in a mixing glass. Add remaining ingredients and shake over ice. Fine strain into a rocks glass with crushed ice, then garnish with blueberries and a sprig of mint.
---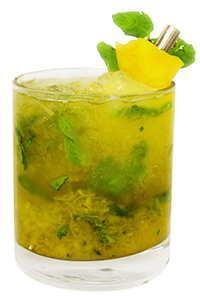 April 24, 2014 – With the Kentucky Derby coming up soon, Beam's master mixologist Bobby "Bobby G" Gleason created this take on the classic Mint Julep:
1½ parts Knob Creek Bourbon
½ part thin honey syrup (3 parts honey, 2 parts water)
1½ parts fresh pressed pineapple juice
6 fresh mint leaves
Club sodaMuddle the pineapple juice, honey syrup and mint in a tall highball glass. Fill with ice, add Knob Creek Bourbon and stir with club soda. Garnish with a pineapple clip and mint on top.
---
April 21, 2014 – This recipe comes from Charlie and Andy Nelson, who are reviving their family's Nelson's Green Brier Distillery in Tennessee. It's a twist on the traditional Bloody Mary using Bourbon instead of vodka to add more flavor.
2 ounces Belle Meade Bourbon
Desired Zing Zang Mix (or Bloody Mary mix of your choice)
1 tablespoon olive brine
1 dash Worcestershire Sauce
2-3 dashes Tabasco Sauce
3/4 ounces Lemon juice
1 teaspoon Horseradish
2-3 turns Fresh ground black pepper
Build over ice in a pint glass over ice, then roll back and forth 3-4 times from one glass to another to mix. Garnish with olives, celery, and a lemon wedge.
---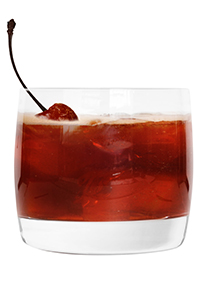 February 11, 2014 – With President's Day coming up on the 17th — purists will remember when we used to celebrate Lincoln's birthday on February 12 and Washington's birthday on the 22nd — the PR folks for Beam's Basil Hayden's Bourbon shared this recipe from Chicago mixologist Charles Joly of The Aviary.
2 parts Basil Hayden's Bourbon
3⁄4 part Heering Cherry Liqueur
1 dash Fee Brothers Old Fashioned Aromatic Bitters
2 parts Milk Stout Beer
Fresh nutmeg
Combine the Bourbon, cherry liqueur and bitters in a mixing glass, add ice and shake. Roll in the milk stout beer, then strain into an Old Fashioned glass with ice. Garnish with freshly grated nutmeg and cherry on top.
---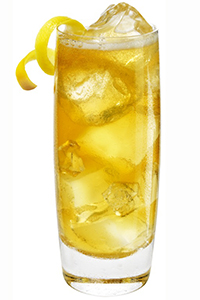 January 27, 2014 – With the Super Bowl coming up, the folks at Beam's PR agency passed along this punch recipe featuring Basil Hayden's. This recipe serves 12 people.
12 parts Basil Hayden's Bourbon
36 parts light beer
12 parts frozen lemonade concentrate
12 lemon wedges
Mix all ingredients in a pitcher, and pour into a highball glass over ice. Garnish with a lemon wedge.
---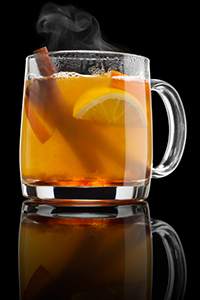 January 27, 2014 – This recipe for the classic winter pick-me-up comes from the PR folks for Beam, and was created by Luca Zanirato of Miami's Casa Tua.
2 parts Basil Hayden's Bourbon
¼ part honey
1-2 star anise
2 parts hot water
Orange zest
Lemon zest
3 Cinnamon Sticks
Add all ingredients to a cocktail shaker. Shake and strain into a hot toddy glass and garnish with a cinnamon stick.
---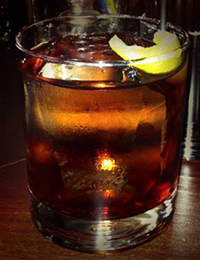 December 18, 2013 – It's hard to believe that several generations now consider "National Lampoon's Christmas Vacation" to be a holiday classic, but this cocktail may help you get through the 15th rendition of the Chipmunks Christmas song with a smile. It's provided by Drambuie via their PR agency.
1/2 part Drambuie liqueur
1 1/2 parts Bols Genever
1 part Barolo Chinato
1 dash of Jerry Thomas Decanter Bitters
Stir ingredients until chilled, then strain into a cocktail glass filled with ice cubes. Garnish with a lemon zest.
---
December 17, 2013 – Punch is a staple at holiday parties, and the bartenders at The Dead Rabbit in New York City created two punch recipes featuring Redbreast that might just be hits at your party. Thanks to Pernod Ricard USA and Access Communications for supplying these recipes.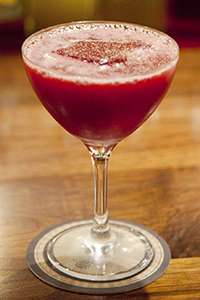 Bankers Punch
3 dashes of DR Orinoco Bitters
3/4 ounce fresh lime juice
1 ounce raspberry cordial
1 ounce Graham's LBV Port
1 ounce DR Jamaican Rum
1 ounce Redbreast 12 Year Old Cask Strength
Add all ingredients into a shaker, then shake vigorously and strain into a punch goblet with one chunk of cracked ice. Finish with freshly grated nutmeg.
Punch a la Taylor
Place the following ingredients into a mixing bowl:
Oleo-Saccharum of 8 clementines
Oleo-Saccharum of 8 lemons
200 ml fresh lemon juice
200 ml fresh clementine juice
200 mg Turbinado sugar
1 ounce Tamarind Nectar
2 oz Suze Gentiane
750 ml Redbreast 12 Year Old
15 dashes DR Orinoco bitters
10 dashes Eucalyptus tincture
750 ml Assam tea
Pulverize the zest of the clementine and lemon into the sugar until all the oils have been extracted. Add the remaining ingredients and stir until all sugar has been dissolved. Strain out the zest and the punch is ready. Finish with freshly grated nutmeg.
---
December 6, 2013 – Jack Daniel's and mint? Frank Sinatra might not approve, but then again…you never know. This cocktail was created by Master Barista Ahmet Ozeren of Le Méridien Istanbul Etiler, and supplied by the PR agency for Le Méridien Hotels.
20 ml of Jack Daniel's
4 mint leaves
80 ml milk
2 bar spoons powdered chocolate
2 chocolate covered almonds
Double espresso
Pour all ingredients in a shaker full of ice. Shake well and pour into a rocks glass.
---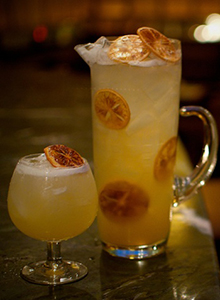 December 6, 2013 – The bartenders at the Stanton Social in New York City created this punch recipe shared with us by their PR firm. While it calls for Stranahan's Colorado Whiskey, you may well need to substitute another type of Bourbon or American whiskey because of the limited availability of Stranahan's.
1 1/4 cups Pineapple Infused Stranahan's
3/4 cup of Coriander Pineapple Syrup
1/4 cup of fresh Lemon Juice
4 cups of Fresh Pineapple (Puréed)
Begin by infusing the Stranahan's Colorado Whiskey with 1/4 cup of fresh cubed pineapple for 24 hours. Then, purée 4 cups of fresh pineapple in a blender and strain well through a fine strainer.
Combine pineapple infused Stranahan's, strained pineapple purée, 3/4 cup of coriander pineapple syrup, and fresh lemon juice in a pitcher or punch bowl, and chill for at least one hour. When ready to serve, add ice. We love using large cubes of frozen pineapple instead of ice for great fresh and long-lasting fruit flavor. Garnish with several caramelized lemon slices. Serves 8-12 guests.
---