Many press releases from Whisky PR firms come with a cocktail recipe or two. Rather than waste the hard work of bartenders who created those recipes, we're sharing them with the WhiskyCast community here. Recipes provided by whisky companies and their PR firms will be identified as such, and just because a recipe specifies a certain brand doesn't mean you can't use what you already have at home.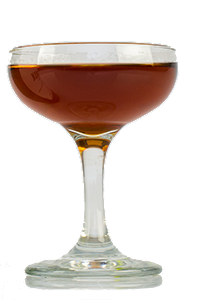 March 25, 2015 – April 6 is National Tartan Day celebrating the contributions of Scotland and Scottish-Americans, and Laphroaig's PR firm is sharing this cocktail recipe to mark the occasion:
1 part Laphroaig Quarter Cask
1⁄2 part dry Vermouth
1⁄2 part Cynar
1⁄2 part elderflower liqueur
Combine all ingredients in mixing glass with ice, stir well and strain into a chilled cocktail glass.
---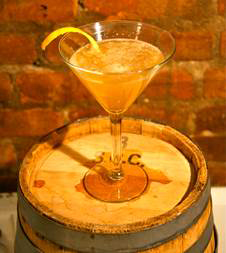 February 20, 2015 – This variation on the classic Rusty Nail was created by Drambuie brand ambassador Anthony Caporale. Here's the recipe:
In a mixing tin half-filled with ice, add:
1 ounce Drambuie Scotch Liqueur
1 ounce Dewar's White Label Scotch Whisky
1/2 ounce St. Germain elderflower liqueur
Juice of 1/2 lemon (1/2 ounce)
Shake until the tin is frosted, then strain into a martini glass and garnish with a lemon twist.
---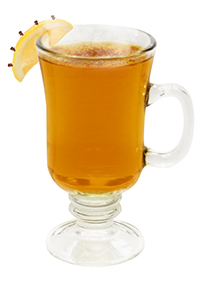 December 11, 2014 – With the holidays coming up, our friends at Laphroaig have created a hot and smoky drink to help keep whisky lovers warm during the winter. Here's the recipe:
1 part Laphroaig 10-Year-Old Scotch Whisky
½ part DeKuyper Mixologist Series Ginger Liqueur
3 parts hot apple cider
Build in a pre-heated coffee mug. Garnish with a lemon wedge studded with cloves and a dash of fresh ground cinnamon.
---

July 23, 2014 – The PR firm for William Grant & Sons USA sent this Balvenie-based recipe out to promote "National Scotch Whisky Day." While the holiday is mythical, the cocktail is a variation on the Bellini.
2 parts Balvenie DoubleWood
3 parts fresh, cloudy Fiji apple juice
4 parts brut Champagne
Combine ingredients in a flute, and stir gently before serving
---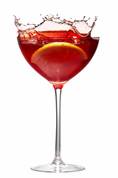 July 23, 2014 – Glenfiddich's PR firm sent around this recipe for the classic Blood & Sand cocktail around for "National Scotch Whisky Day." While we don't need a special day dedicated to Scotch, the cocktail itself dates back to 1922 and Rudolph Valentino's movie "Blood & Sand" during the heart of the Prohibition era.
1 part Glenfiddich 15 Year Old Scotch Whisky
1 part Cherry Herring Liqueur
1 part Lillet Rouge (or other Sweet Vermouth)
1 part fresh orange juice
1 Orange half-moon slice
Combine all ingredients in a mixing glass and stir with ice. Pour over fresh ice in a rocks glass and garnish with an orange half-moon slice.
---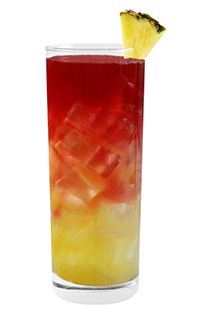 July 21, 2014 – Laphroaig's crack PR team sent this cocktail recipe around for the mythical "National Scotch Day" on July 27. Not sure who came up with the idea, but personally, I've never needed a holiday (official or not) to enjoy a dram. However, Laphroaig's peaty and medicinal nature makes it a challenge for bartenders to use in a cocktail – so any time someone comes up with a recipe using Laphroaig, I'm interested.
1 1/2 parts Laphroaig 10
1 1/2 parts pineapple juice
1 1/2 parts cranberry juice
Build over ice in a highball glass, and garnish with a slice of pineapple on the rim.
---
July 18, 2014 – Jeff Bell is the head bartender at PDT in New York City's East Village, and created this punch recipe for a Johnnie Walker press event focusing on whisky cocktails. It can be made in two ways: as a punch with 25 servings, or as a single shandy-like cocktail with some preparation ahead of time.
As a punch (25 servings):
1 750ml bottle of Johnnie Walker Double Black
2 whole lemons (peeled)
1 Ruby Red Grapefruit (peeled)
3 ounces of fresh grapefruit juice
3 ounces of fresh lemon juice
16 ounces of water
16 ounces of Pilsner Beer
Combine ingredients into a punch bowl and serve in a pint glass.
Here's where it can get tricky. If you have enough preparation time, you can make Jeff's Lemon Grapefruit Oleo-Saccharum ahead of time and store it in the refrigerator.
12 ounces of granulated sugar
3 whole lemons
3 whole grapefruit
12 ounces of hot water
Zest the entire peels of the lemons and grapefruit with a microplane, then mix thoroughly with the sugar and let sit for one hour in a non-reactive bowl. Add 12 ounces of boiling hot water, then stir to dissolve any remaining sugar. Fine-strain to remove citrus zest. Allow to cool before mixing into punch.
To make the punch this way, substitute it for the whole lemons, grapefruit, sugar, and water. If you want to make just one or two drinks, pour two ounces of Johnnie Walker Double Black and two ounces of Pilsner beer into a pint glass, then fill with the Lemon Grapefruit Oleo-Saccharum.
---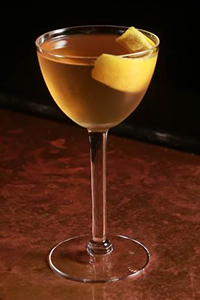 June 25, 2014 – Mixologist Jim Meehan created this cocktail as part of a series of signature drinks for the American Express Centurion Lounges at Dallas-Fort Worth and Las Vegas' McCarran airports. Thanks to PMK-BNC for supplying the recipe and photo.
2 ounces George Dickel #12 Tennessee Whiskey
3/4 ounce Cocchi Americano
1/2 ounce Canton Ginger Liqueur
2 Dashes of Miracle Mile Bergamot Bitters
Stir with ice and strain into a chilled coupe. Garnish with a lemon twist.
---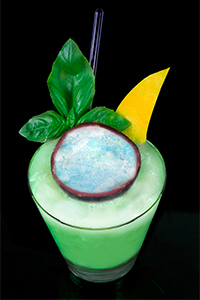 June 25, 2014 – With a certain international football tournament (the name of which is trademarked and heavily enforced), underway in Brazil, the folks at The Wild Geese Irish Whiskey have created a special cocktail featuring their Irish whiskey with a South American flair.
2 parts The Wild Geese Classic Blend Whiskey
1/2 part lime juice
1/2 part coconut cream
1/2 part sugar syrup
Basil leaves
Garnish:
1/2 part of blue curaçao
lemon
1 passion fruit shell
Blend a small handful of basil leaves, coconut cream and lime juice together until you have a liquid form. Pour into a cocktail shaker with sugar syrup and The Wild Geese Classic Blend Irish whiskey, then shake hard with ice. Serve in a rocks glass over crushed ice and add a passion fruit shell. Fill the shell with blue curaçao and garnish with the zest of a lemon. Add your nation's flag to celebrate your team for the final, champion touch.
---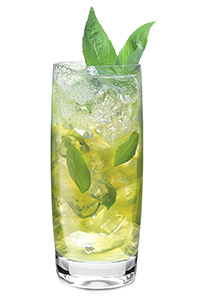 April 28, 2014 – Wild Turkey is supporting Kentucky Derby jockey Rosie Napravnik, who's hoping to become the first woman to win the Derby. The brand has created a special cocktail in her honor, and is also raising money for the Old Friends Thoroughbred Retirement Center with a social media campaign around the hashtag #RideWithRosie.  The donation starts at $10,o00, and the first 10,000 tweets with the hashtag to @WildTurkey until post time on Derby Day will generate a dollar for each tweet. If Rosie's horse wins the Derby, Wild Turkey will double the overall donation up to $40,000.
The cocktail is a variation on the classic Mint Julep:
2 ounces Wild Turkey 81
1 ounce Wild Turkey American Honey
1.5 ounces of lemon juice
Mint sprigs
Crushed ice
Slap mint sprigs in the palm of your hand to release oils. Tear them into pieces and add to a shaker filled with all other ingredients and ice cubes. Shake vigorously. Pour over crushed ice and garnish with a sprig of mint.
---