Last week, Scotland…this week, Kentucky! We'll look at plenty of vacation options in and around Louisville in the heart of...
Read More
We're getting into the start of the vacation season, and there are plenty of whisky-related places to see in Scotland....
Read More
Colin Scott has been the Master Blender at Chivas Brothers for years, overseeing the consistency of Chivas Regal Scotch. He's...
Read More
This has been a busy week for whisky lovers, with three major festivals in the past week. This week's episode...
Read More
55 years ago, Jimmy Russell got a job at the Wild Turkey Distillery in Lawrenceburg, Kentucky, and it was the...
Read More
It's been about a year and a half since we lost Michael Jackson, and his friends are honoring the best...
Read More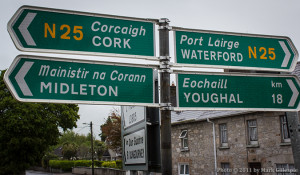 It wouldn't be March without a look at Irish whiskies, and Heidi Donelon gives us a look at the history...
Read More
This week's episode features special coverage from the Whisky Classic festival in Morristown, New Jersey. We'll hear from Wild Turkey...
Read More
Mike Nicolson spent 36 years working at some of Scotland's leading distilleries before retiring to British Columbia a few years...
Read More