Crown Royal master blender Andrew Mackay didn't have to look far when it came time to create a successor to...
Read More
Whisky lovers tend to be passionate about other things as well. For Mark Dermul of Belgium, it's whisky and "Star...
Read More
How do you spend a billion and a half dollars? Believe it or not, it's hard to spend that much...
Read More
This month, our tasting panel gathered at the home of WhiskyCast listener Christopher Winters in the Indianapolis suburbs. It's the...
Read More
This week's episode was recorded on location at the Indianapolis Motor Speedway on the day before the 2012 Indianapolis 500...
Read More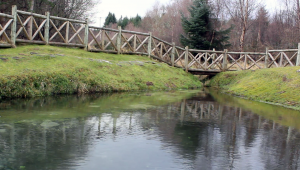 Many whisky distilleries guard the source of their water supply carefully, but in this episode of WhiskyCast HD, you'll get...
Read More
1964 was an iconic year at Scotland's Bowmore Distillery, though that fact wouldn't be known for decades. The casks laid...
Read More
It's festival week in Speyside, and the Spirit of Speyside Festival has become one of the region's largest events of...
Read More