Want access to WhiskyCast episodes when you're traveling?  The WhiskyCast smartphone apps give you that, along with access to the WhiskyCast Facebook page and our Twitter feed! What's more, they're FREE!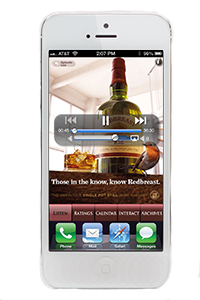 WhiskyCast is available now for iPhone™ and Android™ users worldwide. Please note that several functions of the current app are not currently working following the redesign of our web site and switch to a new hosting service.However, you can still listen to each week's episode with the apps.
We're working on a new series of apps that will include a separate version for tablet users, but in the meantime, you can access the Tasting Notes and Calendar of Events by bookmarking them on your smartphone. Our web site is designed to offer a mobile version of each page, but with all of the same functions that you get on the full version of the site.
Obligatory legal language and credits: The WhiskyCast smartphone apps are produced by Jacobs Media in association with WhiskyCast.  There are a lot of trademarks on this page, For instance, "Android" is a trademark of Google, Inc. "iPhone", "iPhone App Store", and "Apple" are all trademarks of Apple, Inc. "Facebook" is a trademark of Facebook, and "Twitter" is a trademark of Twitter. The use of these trademarks does not imply any endorsement of the WhiskyCast smartphone apps by the trademark owners, all of whom have extremely tough legal teams responsible for keeping an eye on these things. The WhiskyCast smartphone apps are intended for use by those of legal drinking age. Please drink responsibly, and put the phone down while you're driving!