Want access to WhiskyCast episodes when you're traveling, compare tasting notes with the menu at the bar, or find a whisky tasting near you? The WhiskyCast smartphone apps give you all of that, along with access to the WhiskyCast Facebook page and our Twitter feed!
The WhiskyCast apps feature tasting notes and scores for nearly 1,000 whiskies and the same calendar of events that you'll find here on the WhiskyCast web site. They're designed to make sure you get the most updated data without having to wait for a software download…and what's more, they're FREE!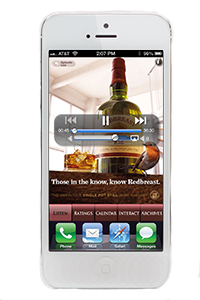 WhiskyCast is available now for iPhone™ and Android™ users worldwide.
Obligatory legal language and credits: The WhiskyCast smartphone apps are produced by Jacobs Media in association with WhiskyCast. If you're even thinking of developing a smartphone app, contact them first. There are a lot of trademarks on this page, For instance, "Android" is a trademark of Google, Inc. "iPhone", "iPhone App Store", and "Apple" are all trademarks of Apple, Inc. "Facebook" is a trademark of Facebook, and "Twitter" is a trademark of Twitter. The use of these trademarks does not imply any endorsement of the WhiskyCast smartphone apps by the trademark owners, all of whom have extremely tough legal teams responsible for keeping an eye on these things. The WhiskyCast smartphone apps are intended for use by those of legal drinking age. Please drink responsibly, and put the phone down while you're driving!